Anna Maria Island is a lovely seven mile stretch of land off the western coast of Florida.  The island is shared by the cities Anna Maria, Holmes Beach, and Bradenton Beach.  It's white, sandy beaches and relaxed atmosphere have made the island an increasingly popular vacation destination over the years.  Of course, it doesn't hurt that Anna Maria Island is close to several theme parks including Busch Gardens Tampa, Universal Studios Florida, and Walt Disney World.
I've had a special introduction to the area as Mr. Meena's grandparents actually lived on the island for over a decade.  Mr. Meena visited frequently throughout his childhood and his grandparents still live nearby.  We've returned to the island every year since we met – even staying at the Harrington House for part of our honeymoon.  I love visiting, and so I'm sharing my recommendations for some of the most enjoyable things to do on Anna Maria Island.
See the birds.
I recommend starting any trip to the island in Anna Maria City proper, but you have to pass by these birds in Holmes Beach on your way there, anyway.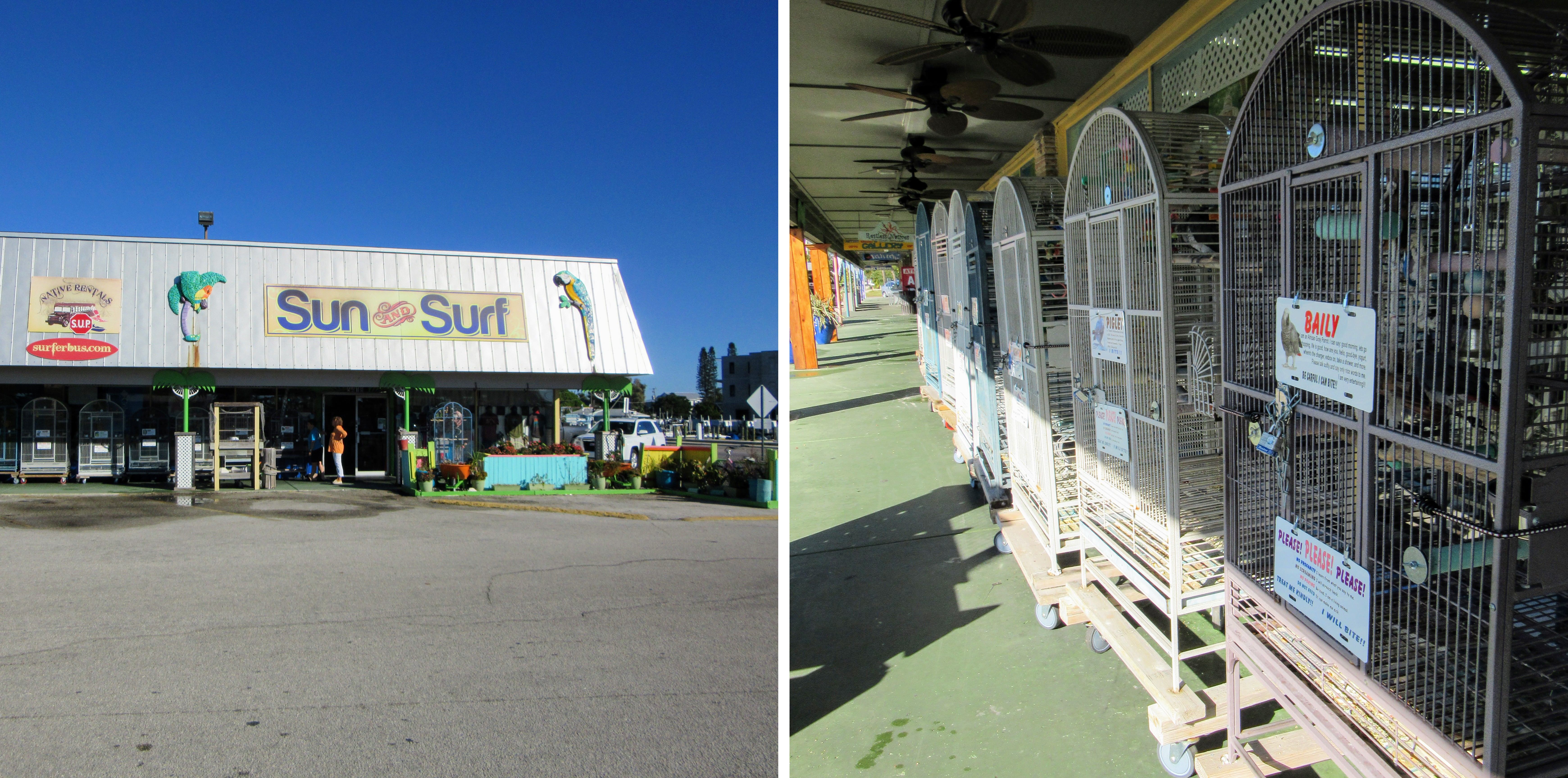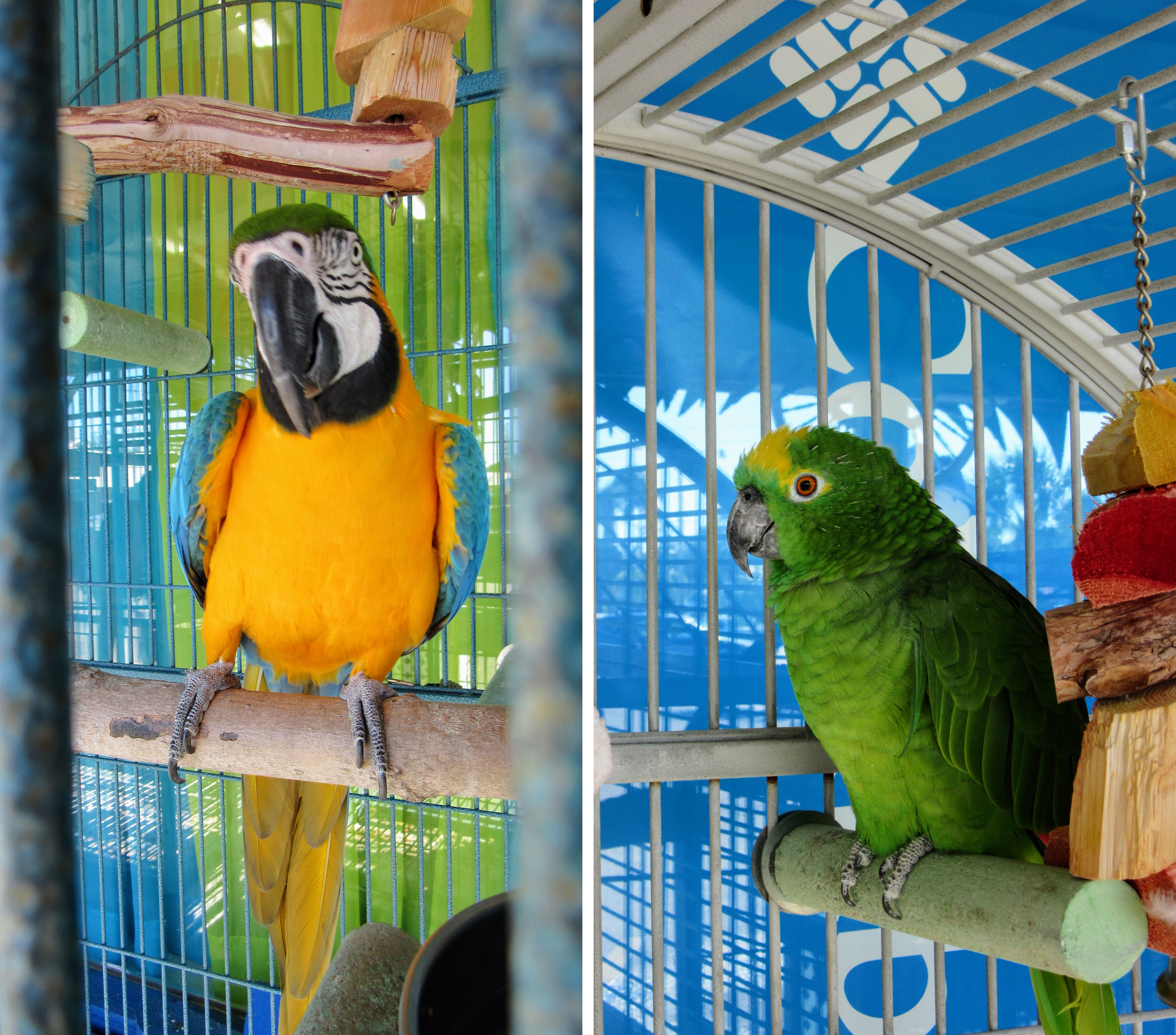 I am a hopeless bird fanatic, so this is the first thing we do on each trip.  The birds are located outside of Sun & Surf Lifestyle Apparel shop (all locations and/or attractions are provided in a map at the end of this post).  Each bird has its own sign with its name, breed, preferences, and some of its quirkier characteristics.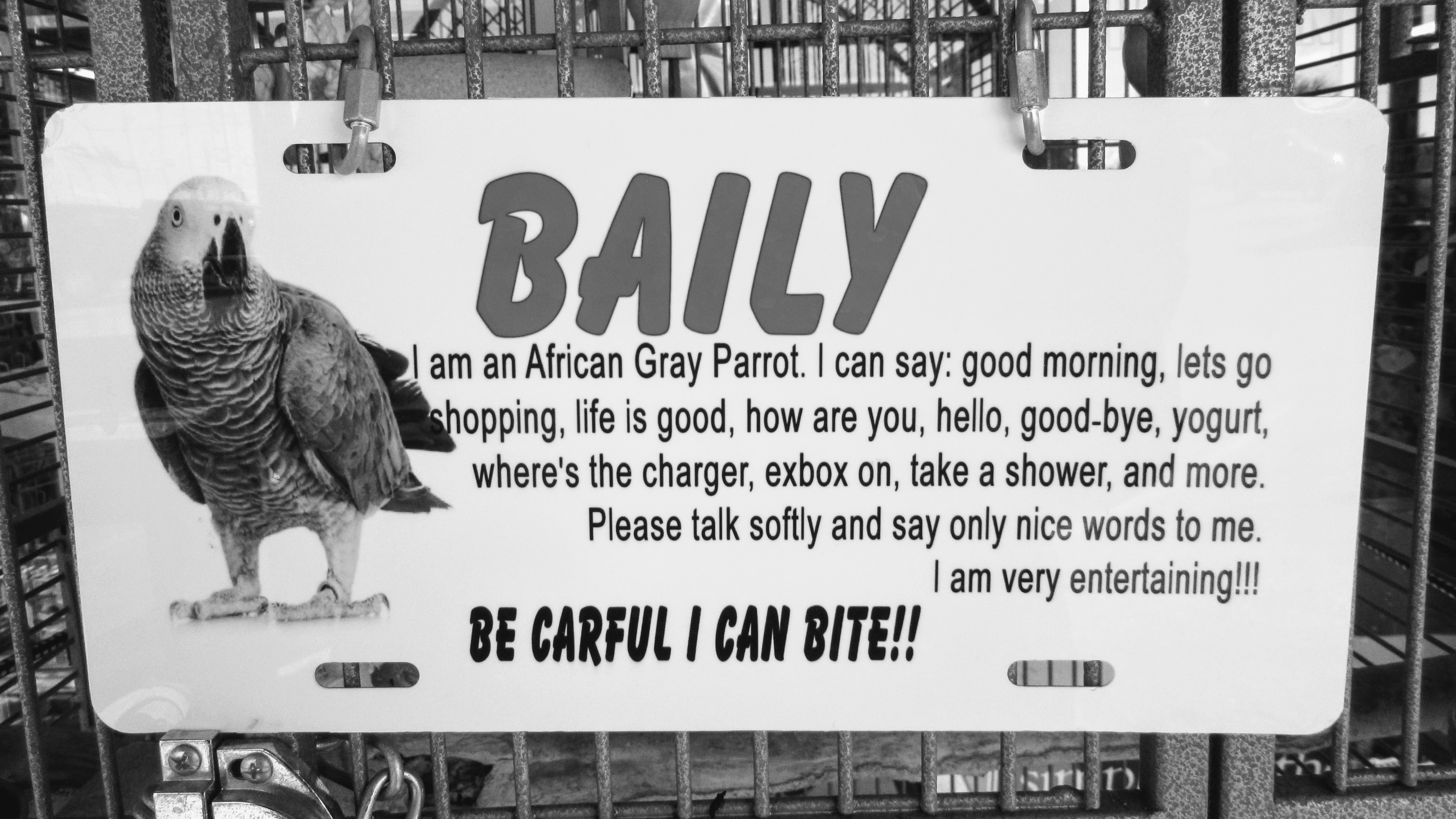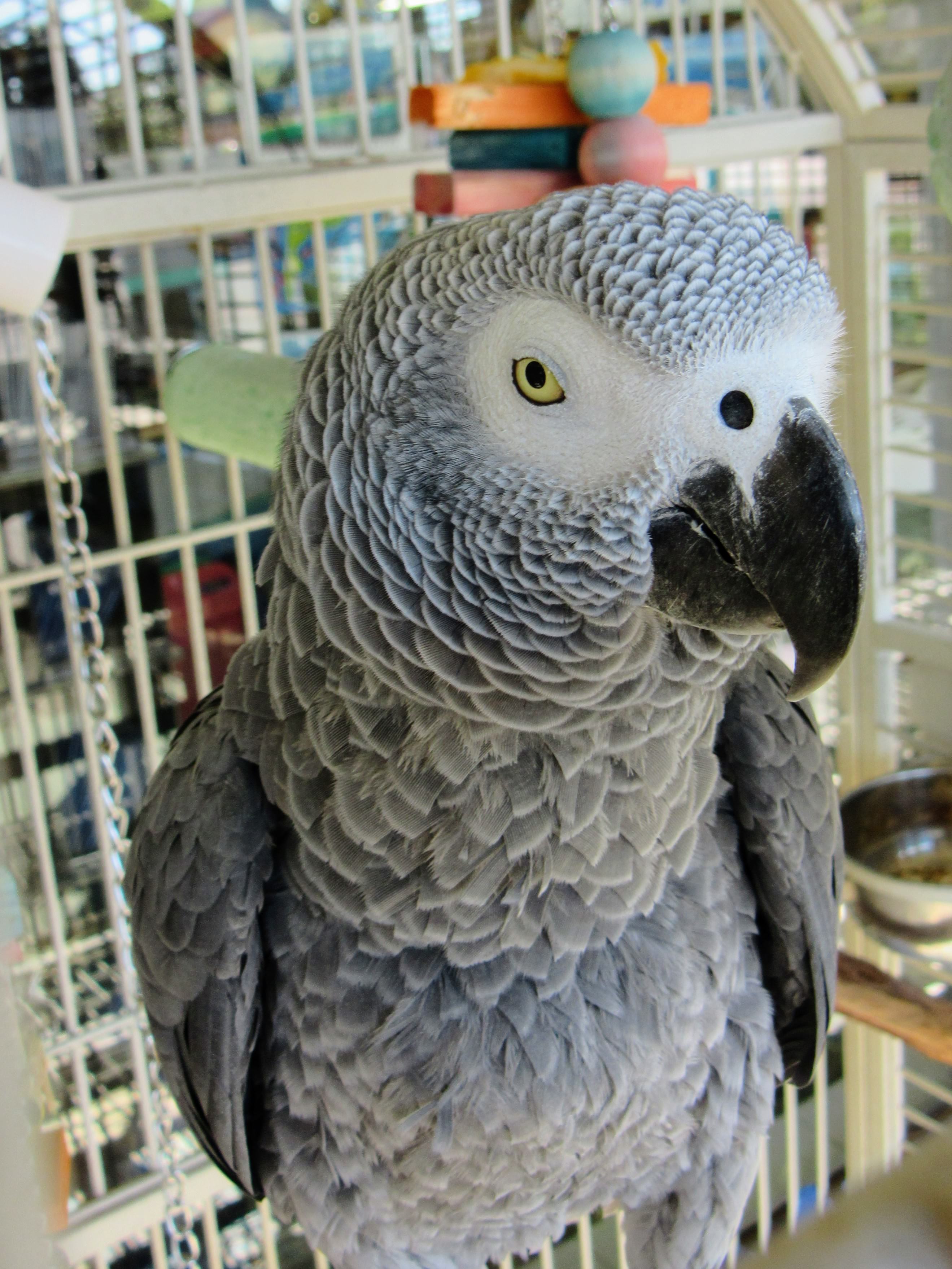 The birds are very entertaining.  Some sing and dance, some say strange things, and others like to sit and observe you.  They will definitely put a smile on your face.  Keep in mind that the birds are only outside when the store is open and they like to be treated kindly.
Visit the Old City Jail.
After you've hopefully stopped to see the birds, find a parking spot somewhere on Pine Avenue – just make sure you pay close attention to the signs.  You must park in a designated parking area and have all four wheels of your vehicle off the pavement to avoid any parking fines.  Now you're ready to go directly to jail. (Do not pass Go. Do not collect $200.)
This is a surprisingly fun activity and a great photo opportunity.  Mr. Meena has taken me to visit the jail on several occasions, but we enjoyed learning more about it on our last visit when we were greeted by a docent from the neighboring Anna Maria Island Historical Society (visit their website here).  She told us that the front of the jail, pictured below, was actually just the processing center.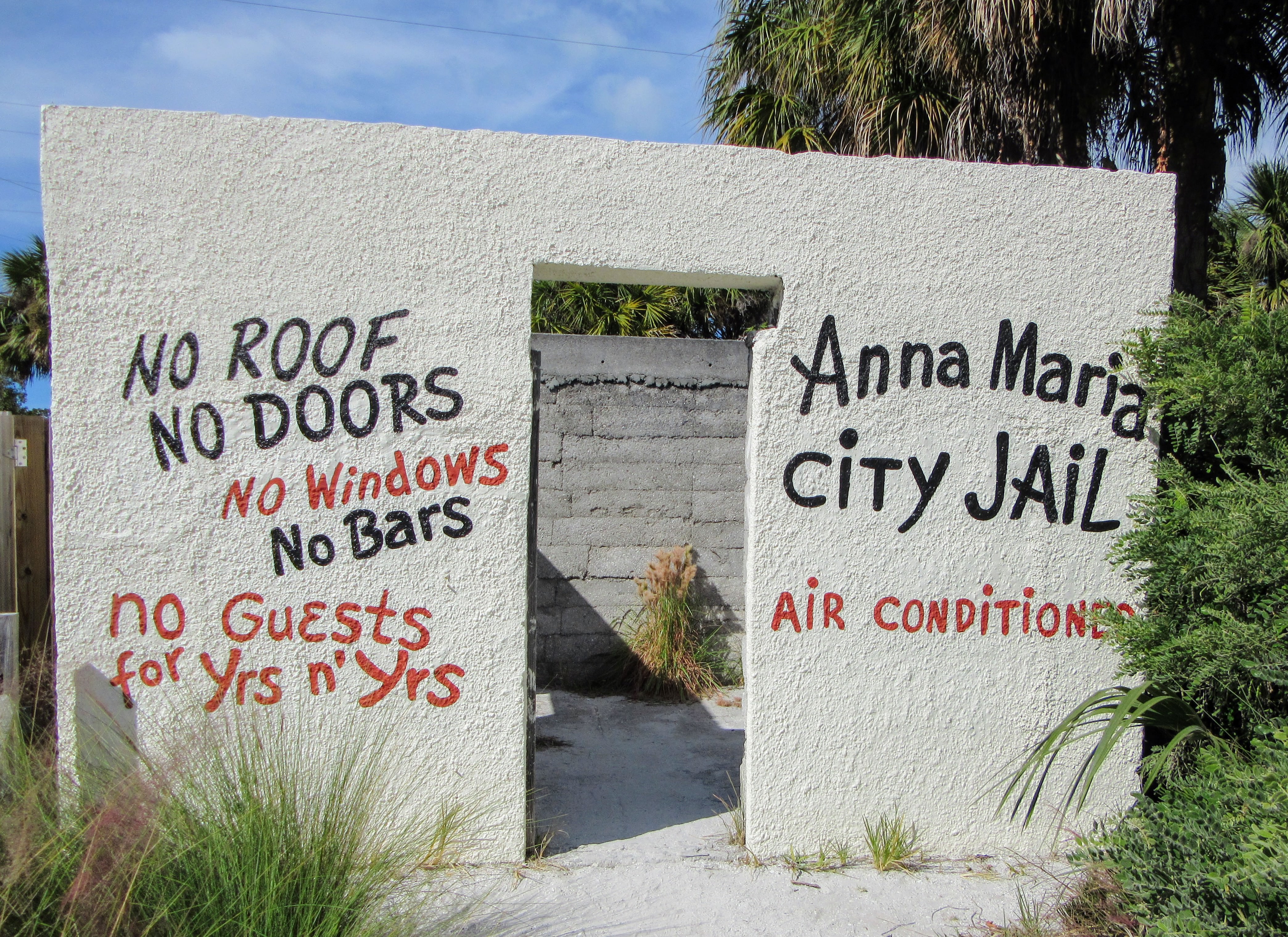 The true jail cells are located in the back of the structure and can be accessed when the fence is open – typically 5am to 3pm on weekdays.  The jail, built in 1927, was turned into a tourist attraction in the 1940s after a fire burned away the roof.  During its operational years the sheriff would gather rowdy citizens, book them overnight, and then leave them in the hot cells until late the next day.  He did this in the hopes that the occupants would learn a lesson and not turn into repeat offenders.  Unfortunately, he still had to enforce the rule of kicking people off the island after three visits to the jail.
The original structure still stands, inviting you to take part in a 60 year tradition by taking a photo in front of its funny slogan or behind its bars.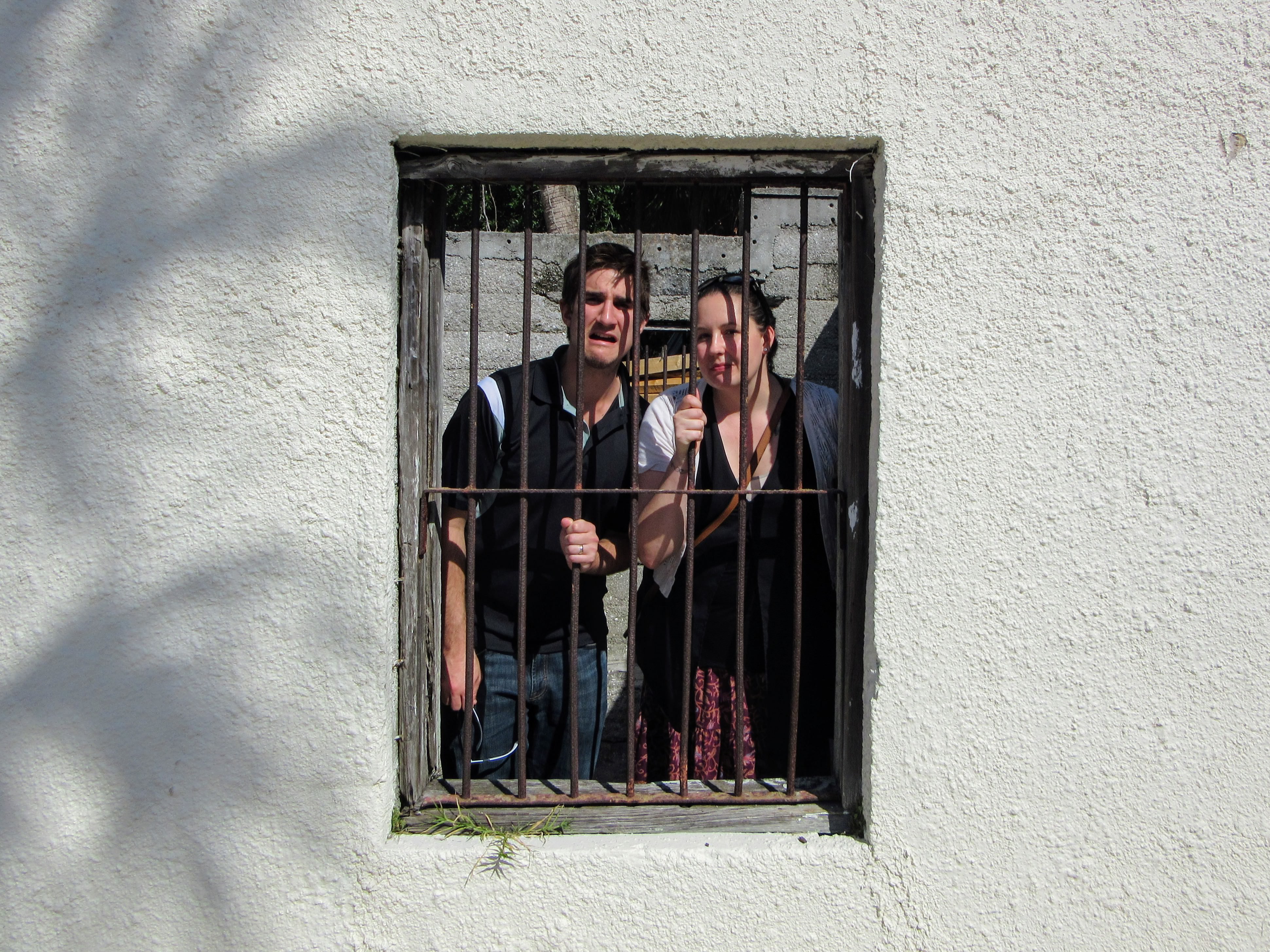 The docent also showed us a recent mural painted by her husband, John Allinson, across the street from the jail.  The mural combines images from the early 1900s to show what life was like on the island.  Passengers arrived at the city pier by boat, finding themselves welcomed at some establishments (primarily the bar and brothel) but very unwanted by the wealthier residents of Anna Maria Island.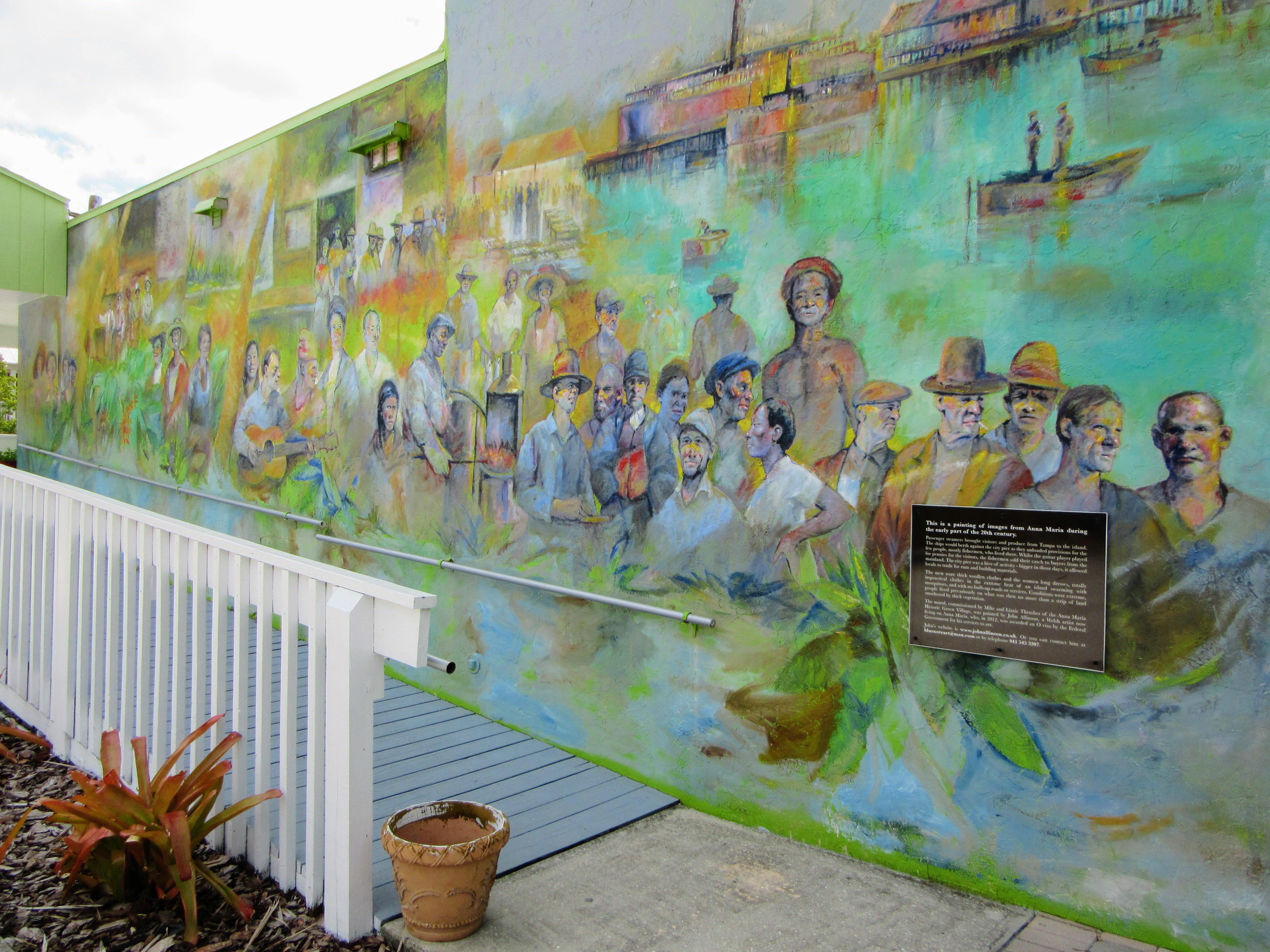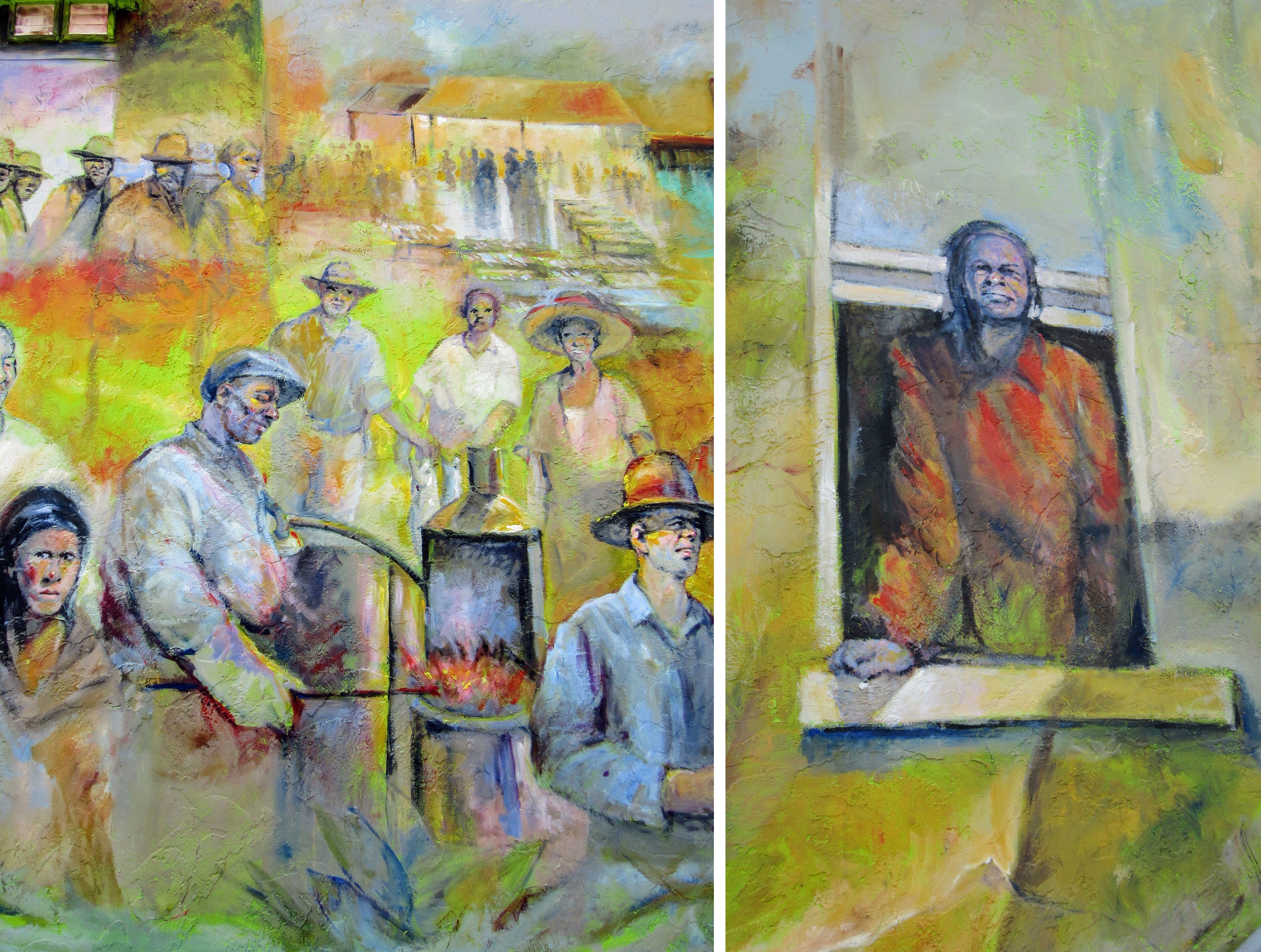 Indulge your sweet tooth.
One of the best places to do this is The Donut Experiment, which specializes in cake like donuts and has a huge variety of icings and toppings to choose from.  There are so many options, in fact, that you have to fill out an order form even if you just want one donut.  This helps keep their popular operation running smoothly and gives you plenty of time to drool over your choices.  I had the Andes mint donut, which was a daily special when we visited.  It was crispy, minty, and melt in my mouth delicious.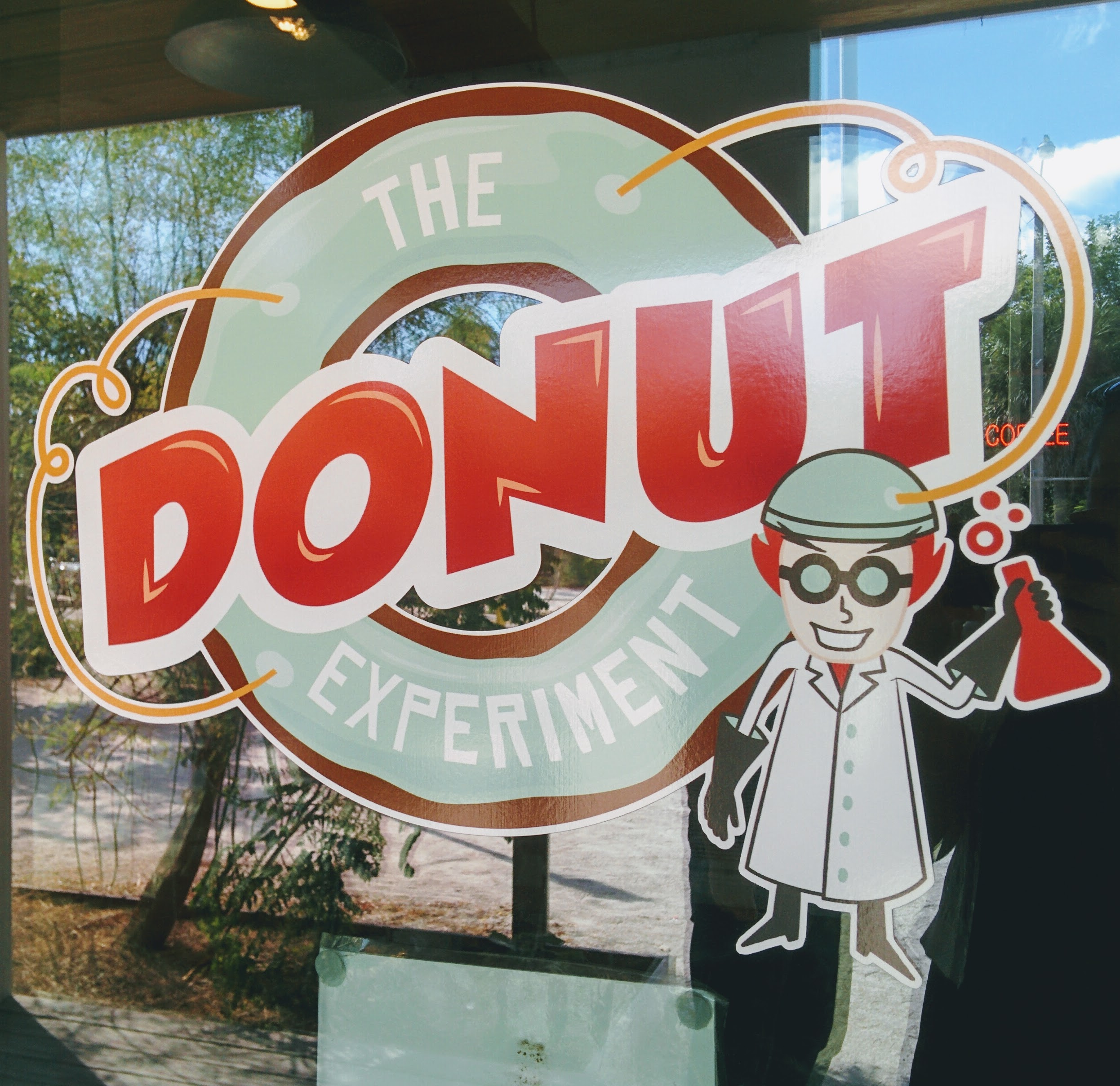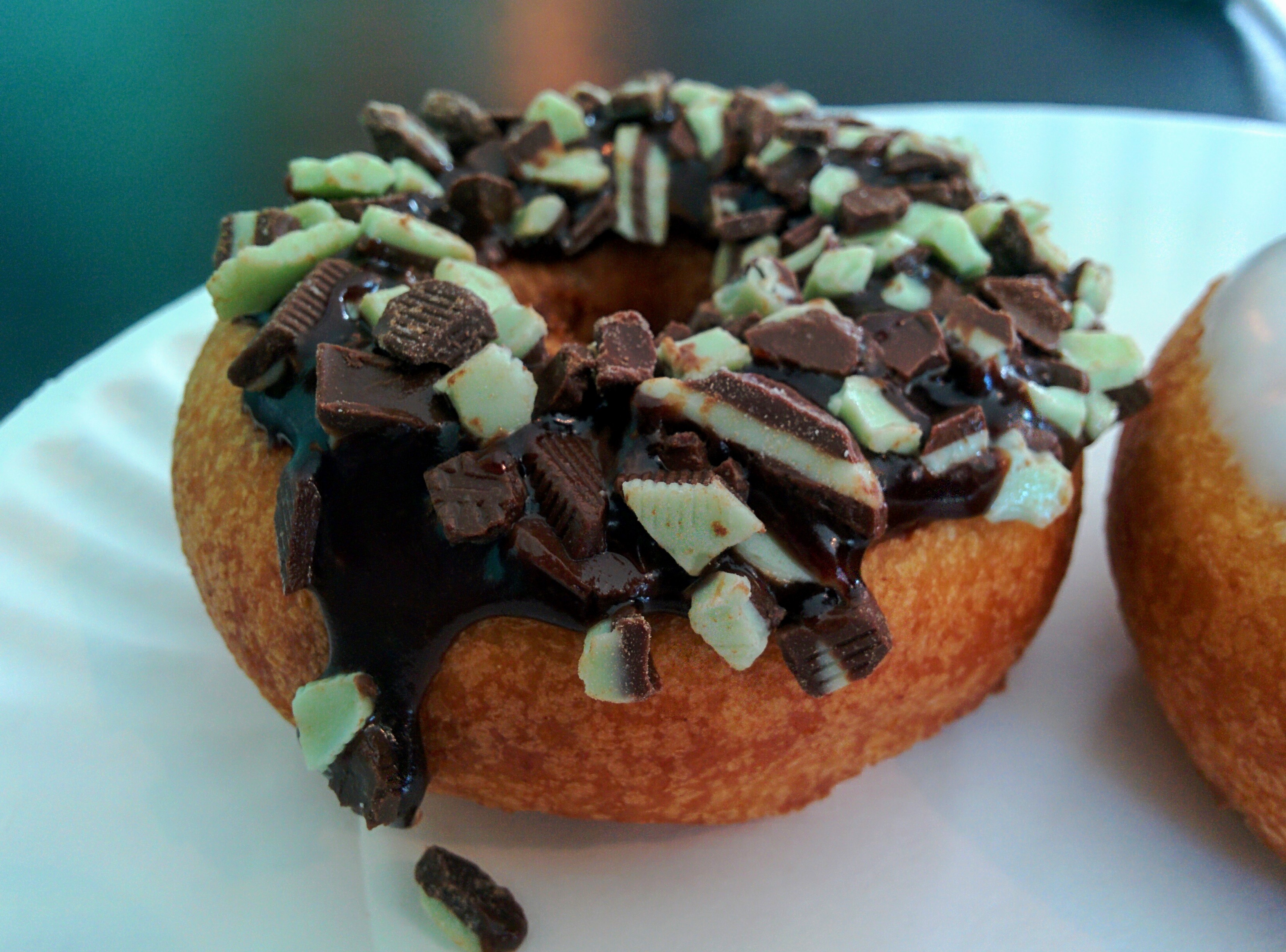 I recently found out that they have a store closer to me – in Greenville, SC – and I can't wait to visit and enjoy another delicious donut!  Keep in mind that The Donut Experiment closes at 1pm daily.
Another great place to stop in for a sweet treat or lunch is Two Scoops, which is on the other end of Pine Avenue near the City Pier.  They serve delicious ice cream in hearty scoops and have great quick lunch options (I'm a fan of the BLT).  Kids will enjoy the quirky shop decorations and you'll enjoy the AC if you're visiting during the hot months (i.e. the majority of the year in Florida).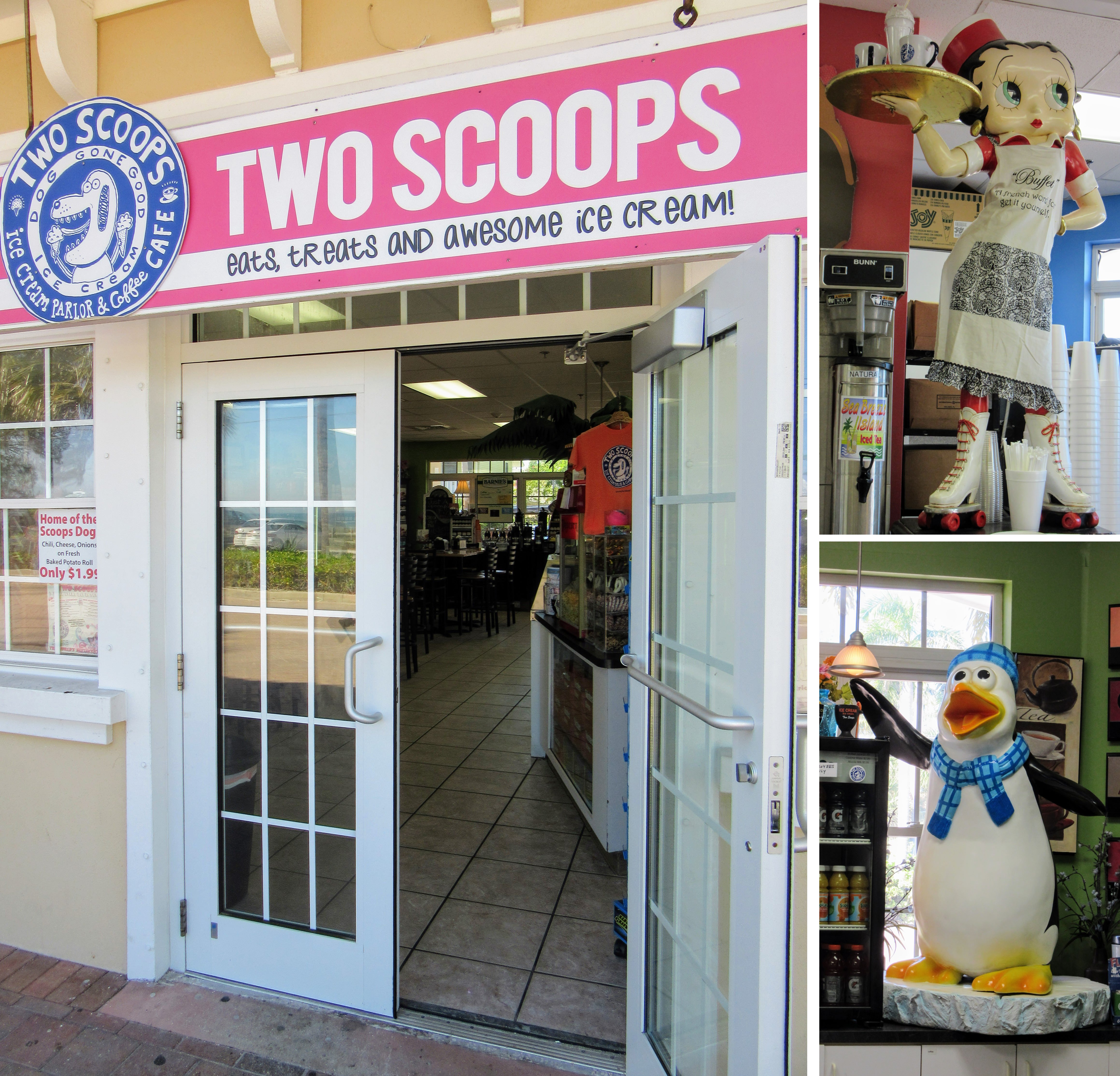 Walk the City Pier.
The City Pier is located at the far end of Pine Avenue but is easily reachable by foot from the Old City Jail or The Donut Experiment.  In fact, if you've partaken of a few sweet snacks, walking over may be just what you need.
The pier faces north, towards Tampa Bay, and you can see the Tampa skyline on a clear day.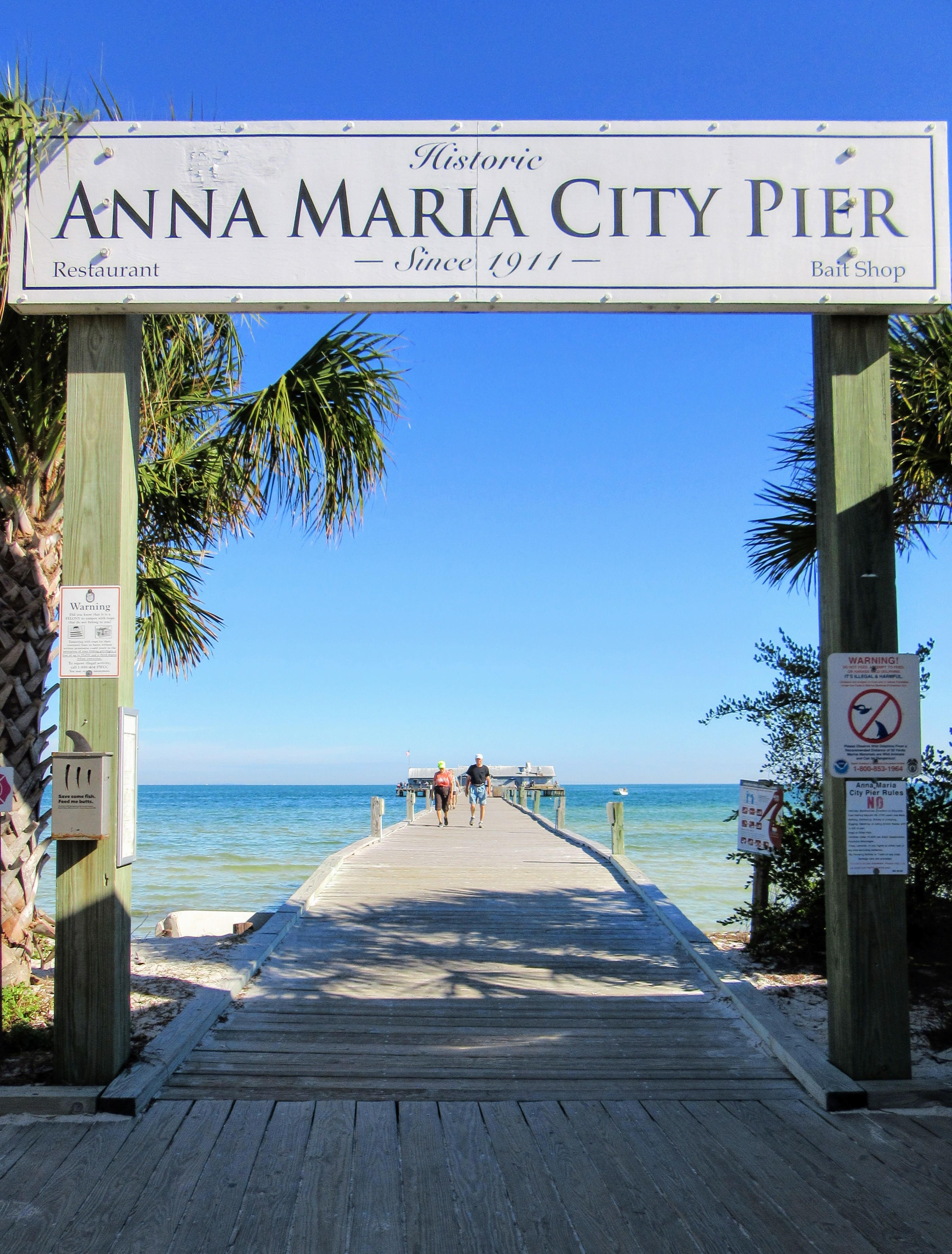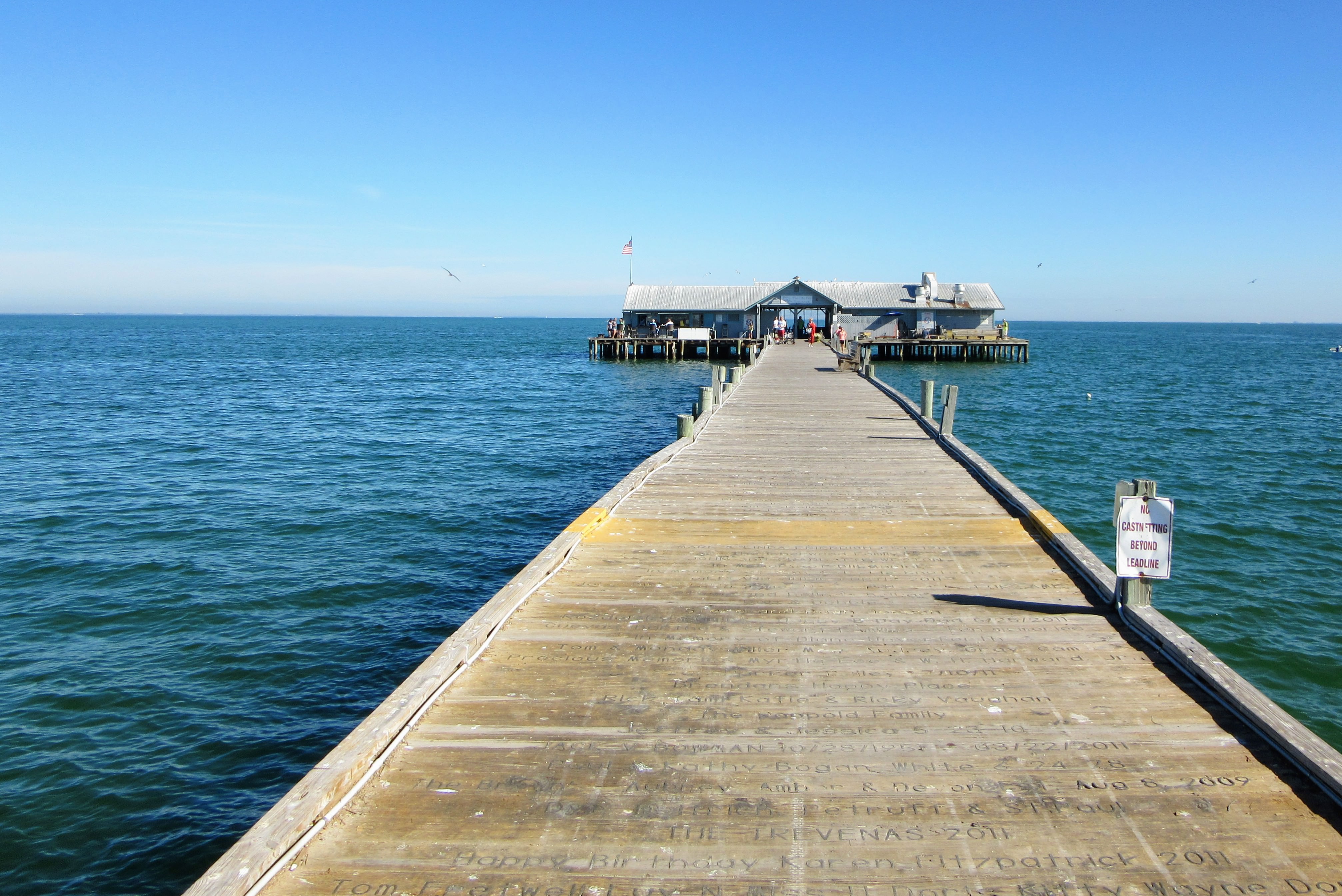 You can enjoy the serene view on one of the benches along the pier or at the City Pier Restaurant.  You never know who might join you.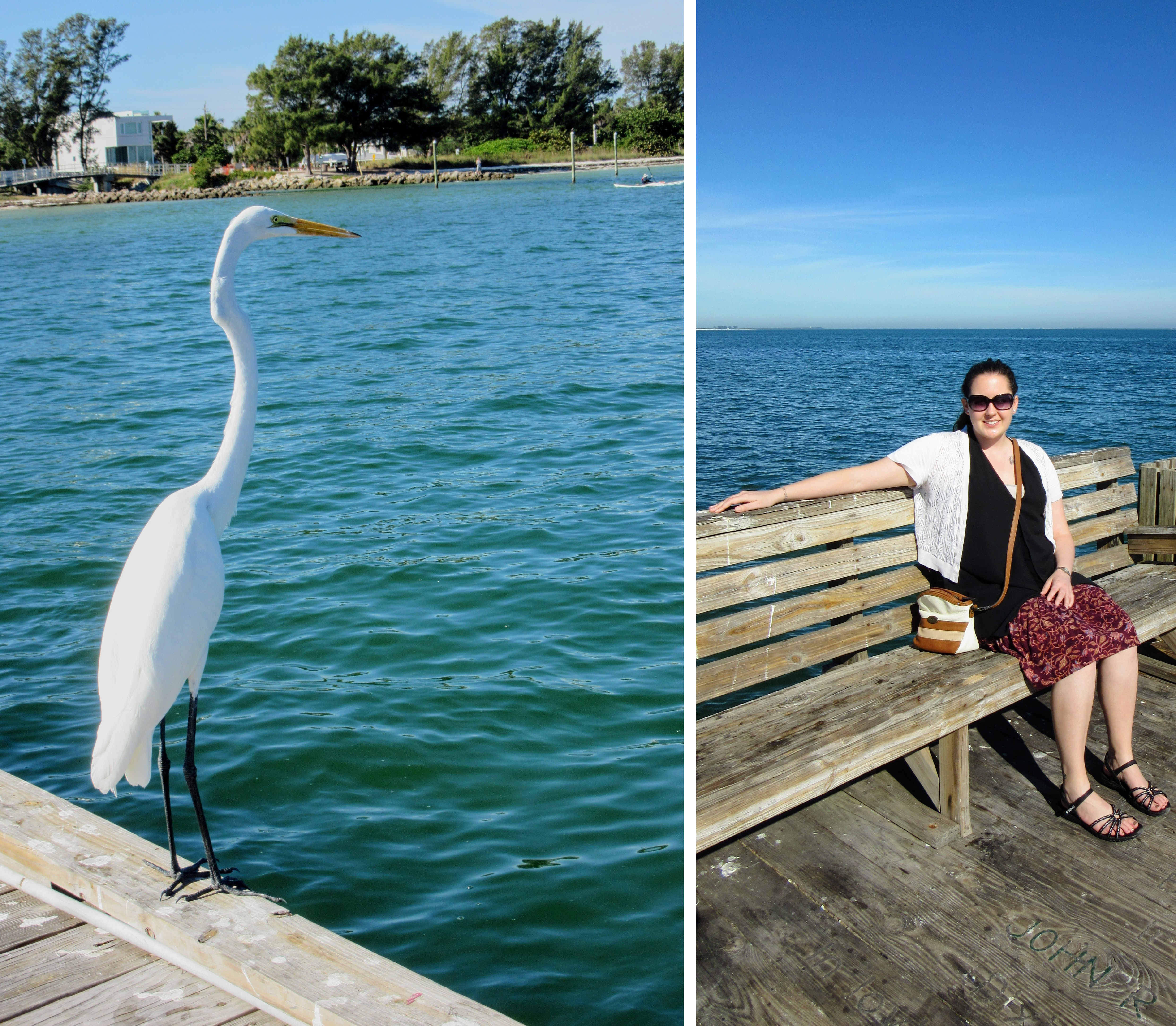 There are two other piers on the island, the Rod and Reel Pier, which is a short pier leading to a restaurant, and the Historic Bridge Street Pier in Bradenton.
Walk through Bayfront Park.
Located next to the city pier, this would be a great place to picnic if you're a budget traveler.  But even if you have other plans for lunch, you can still enjoy the beach side view or indulge your kids at the playground.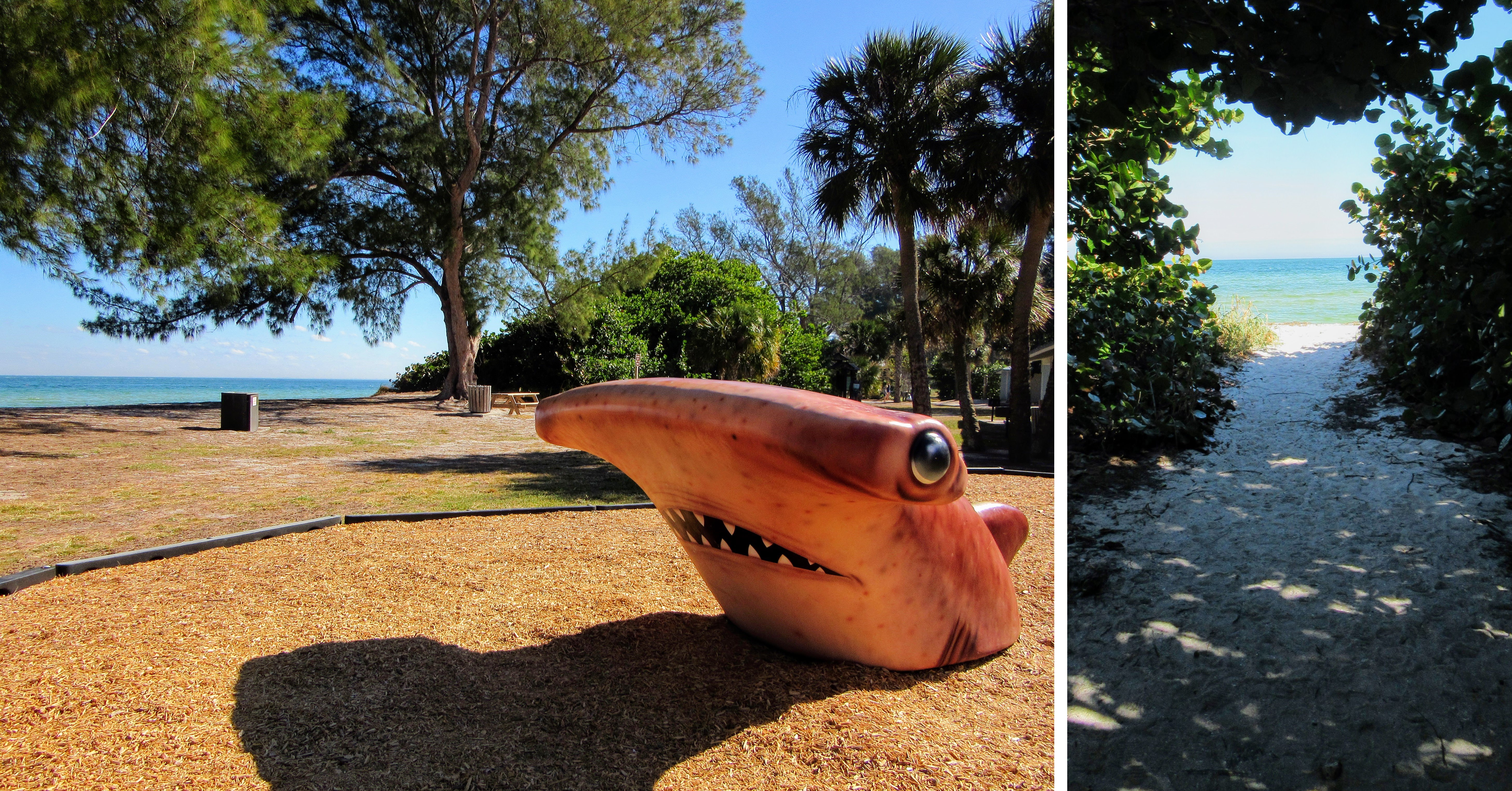 Head to Bean Point.
If you've parked, you may want to move your car closer to the beach at this point.  We chose to walk along North Bay Boulevard and enjoy looking at the water, the Rod and Reel Pier, and interesting rental properties along the way.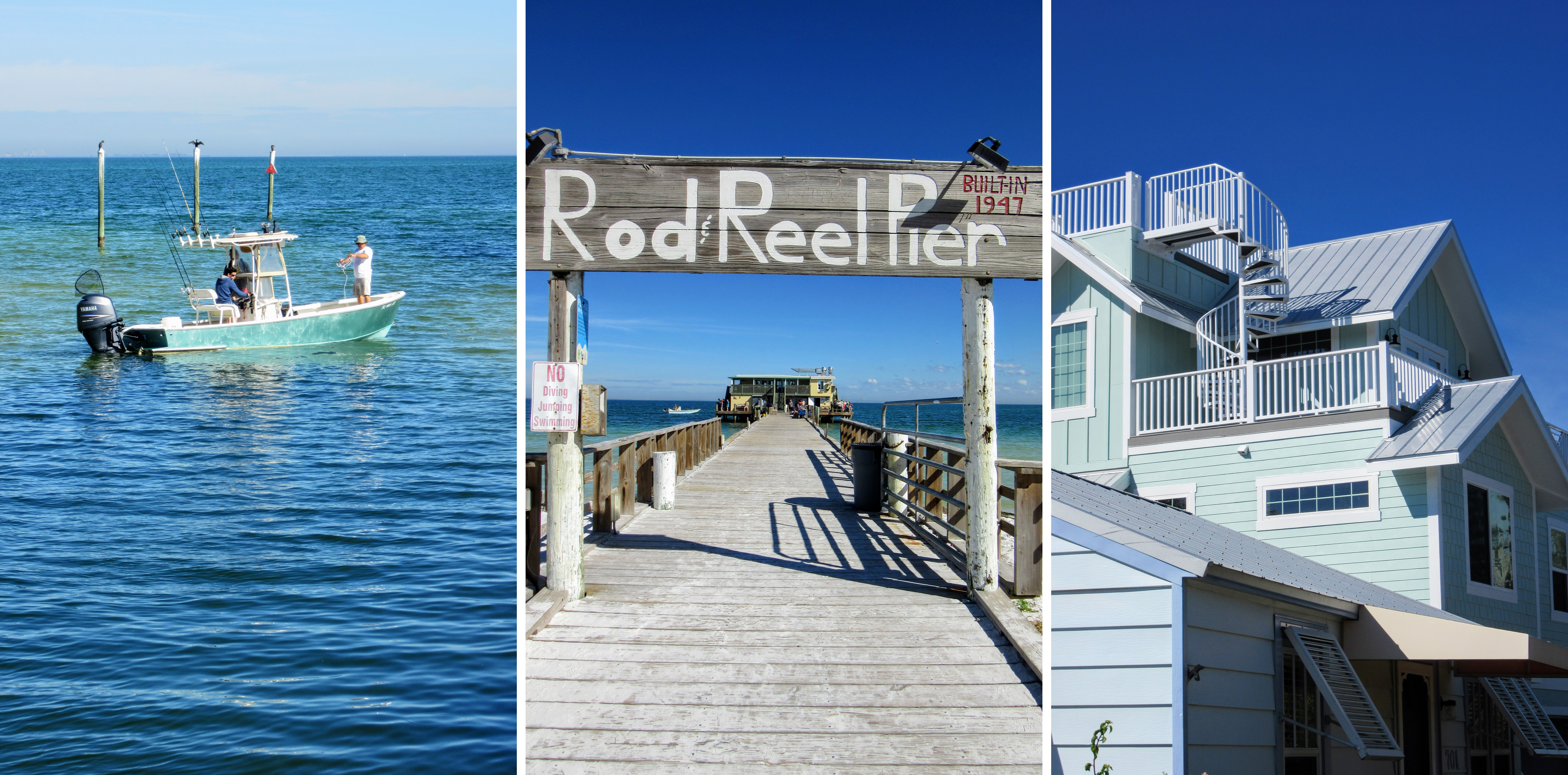 Bean Point is the northernmost tip of the island where the Gulf meets Tampa Bay.  It's a lovely spot to sit and enjoy the blue water, white sands, and dune grasses waving in the wind.  The beach is secluded compared to Holmes Beach, which is more easily accessed and has a playground (and subsequently lots of loud children).  I've marked two entrances to Bean Point Beach on my map at the bottom of this post (you can also get directions here).  There are frequently strong rip tides, so be careful if you go swimming.
As soon as we approached the water on our most recent trip we saw about a dozen dolphins playing together.  They were very entertaining and I'd never seen dolphins play so joyfully before.  Dolphin sightings are fairly common so keep your eyes open.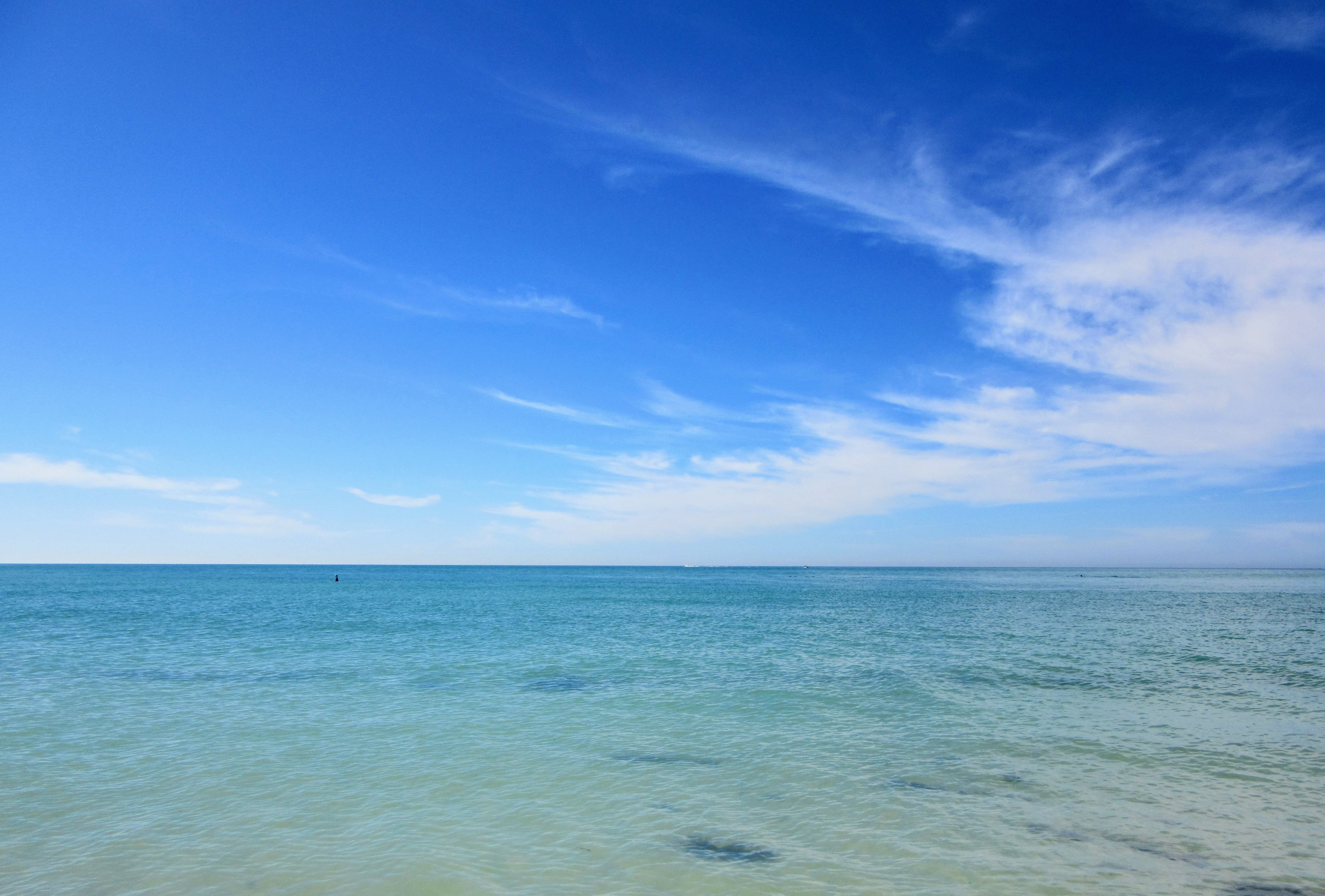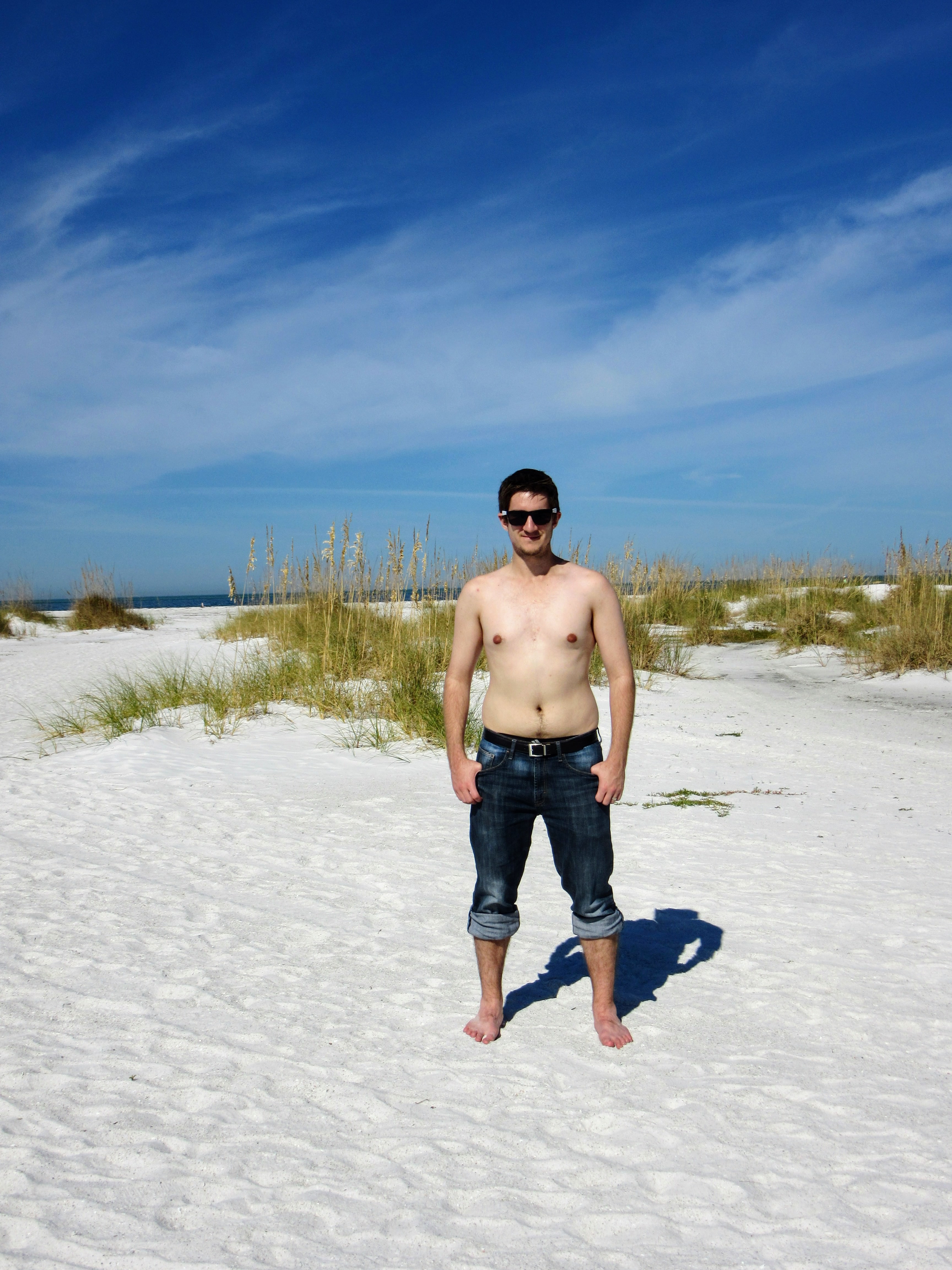 You'll definitely want to bring a towel or beach chair and plan to enjoy at least one sunset at Bean Point during your trip.  They are often spectacular.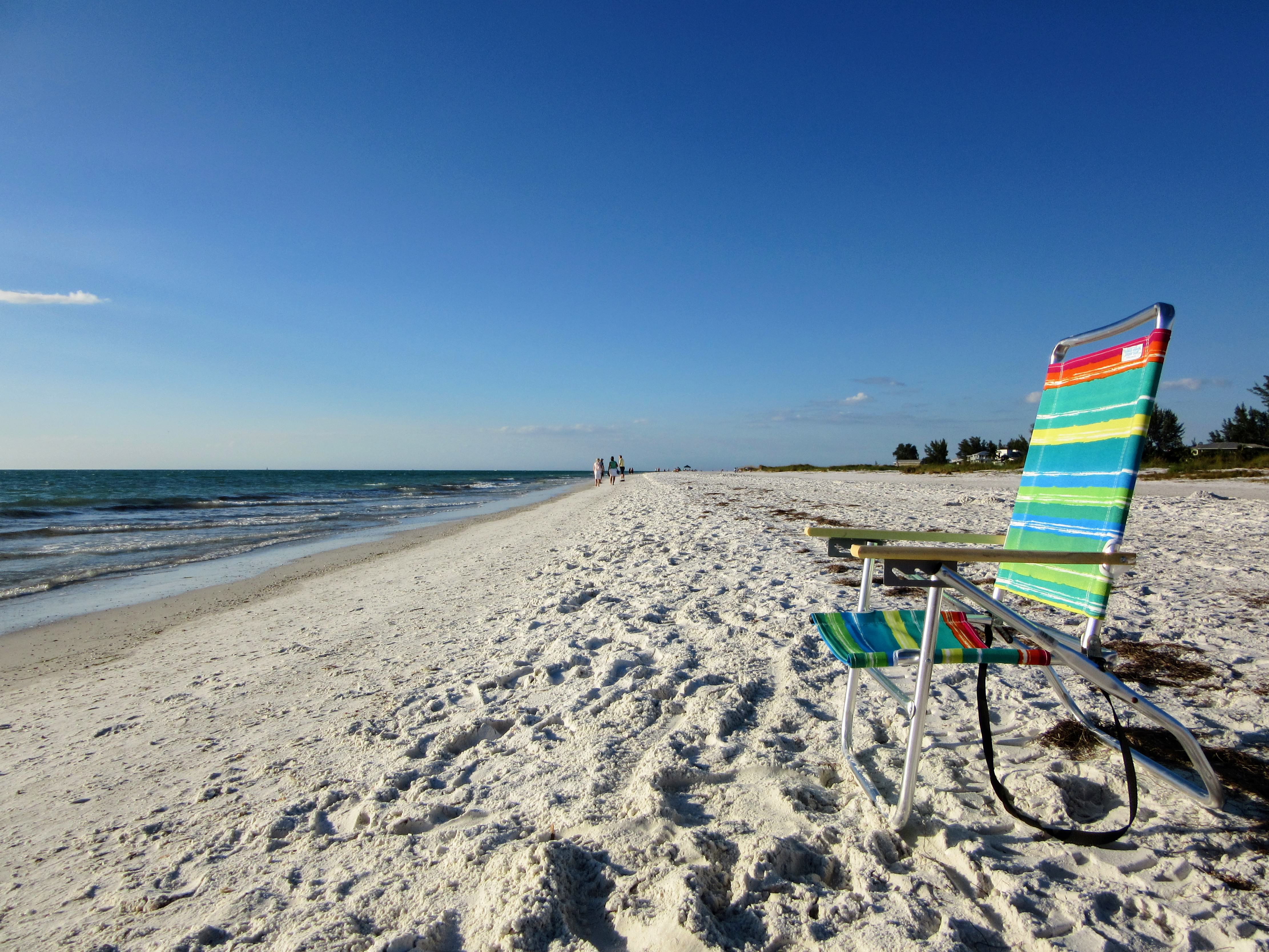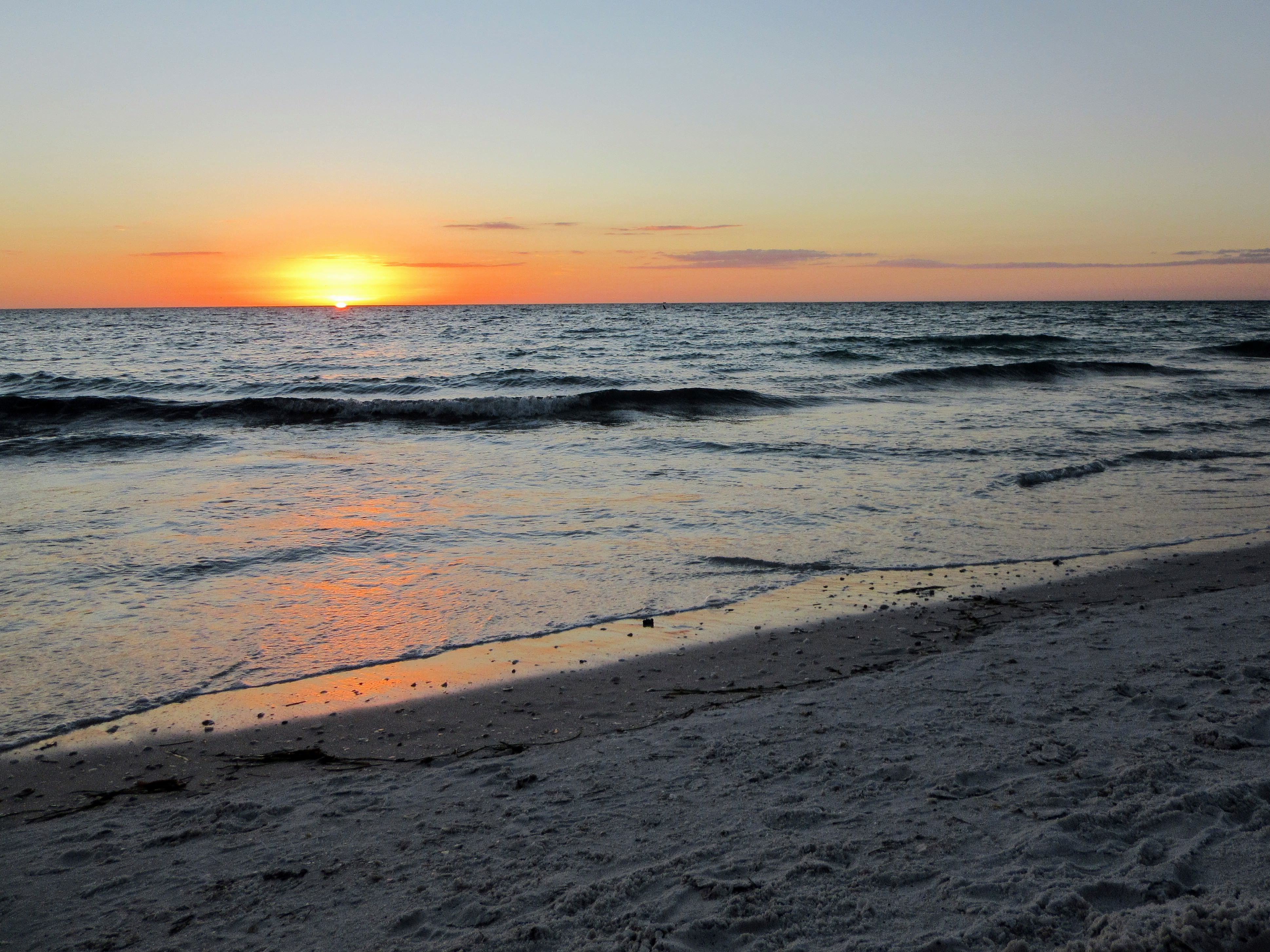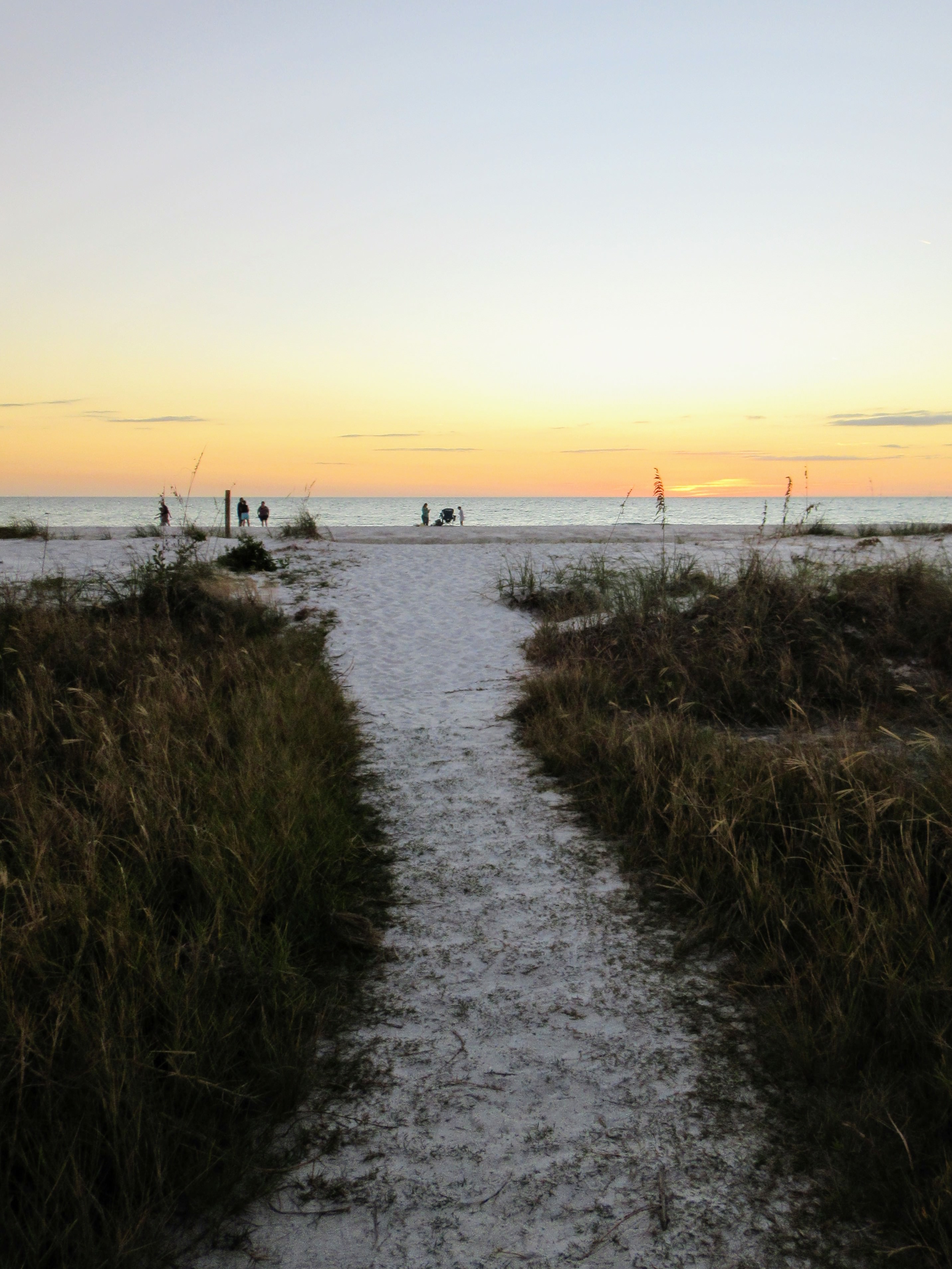 This is the first sunset I saw on the island in 2012: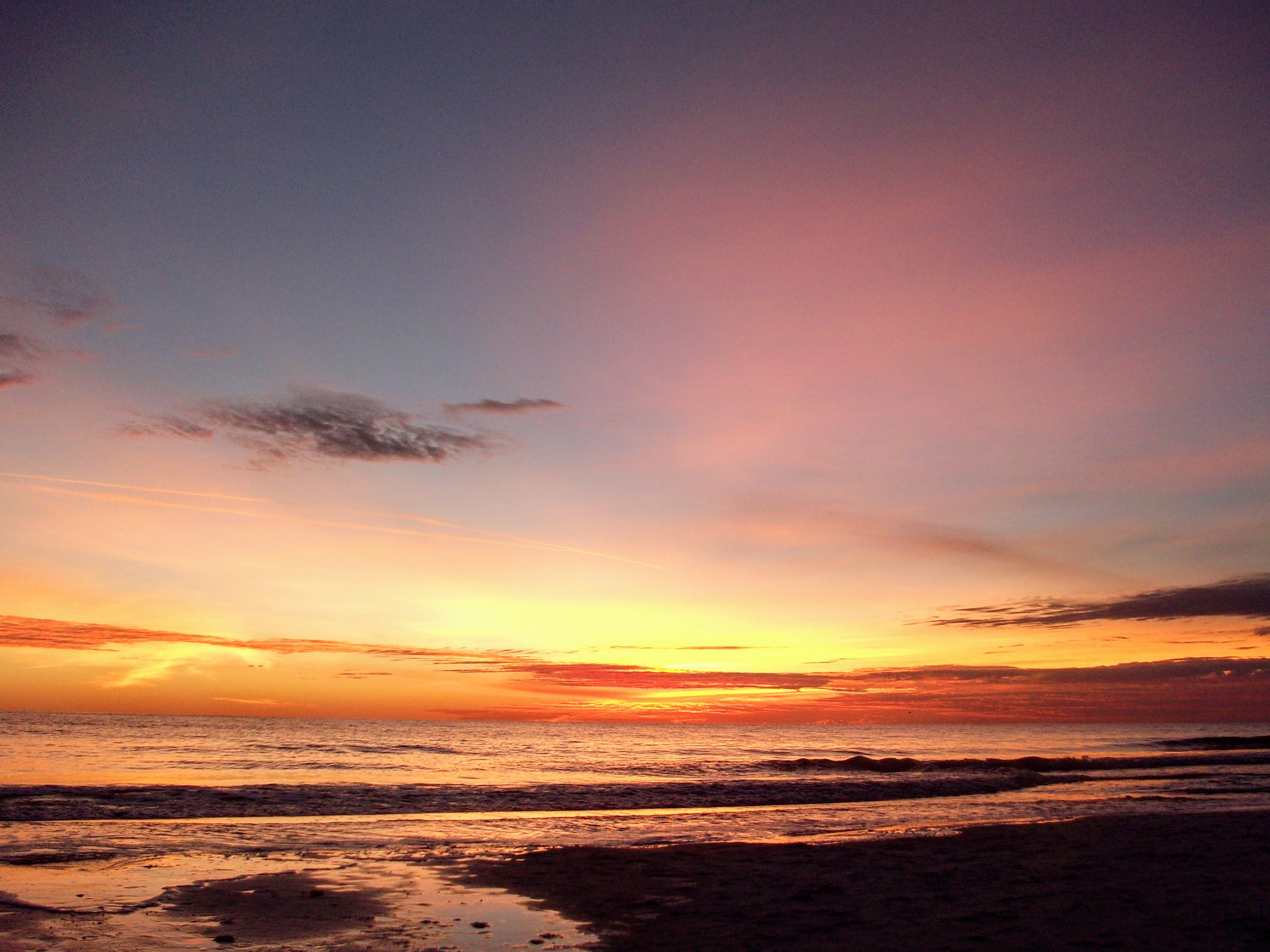 Go for a bike ride.
Renting a bike is a great way to explore Anna Maria Island.  Mr. Meena and I rode bikes around for hours on our 2013 trip to the island.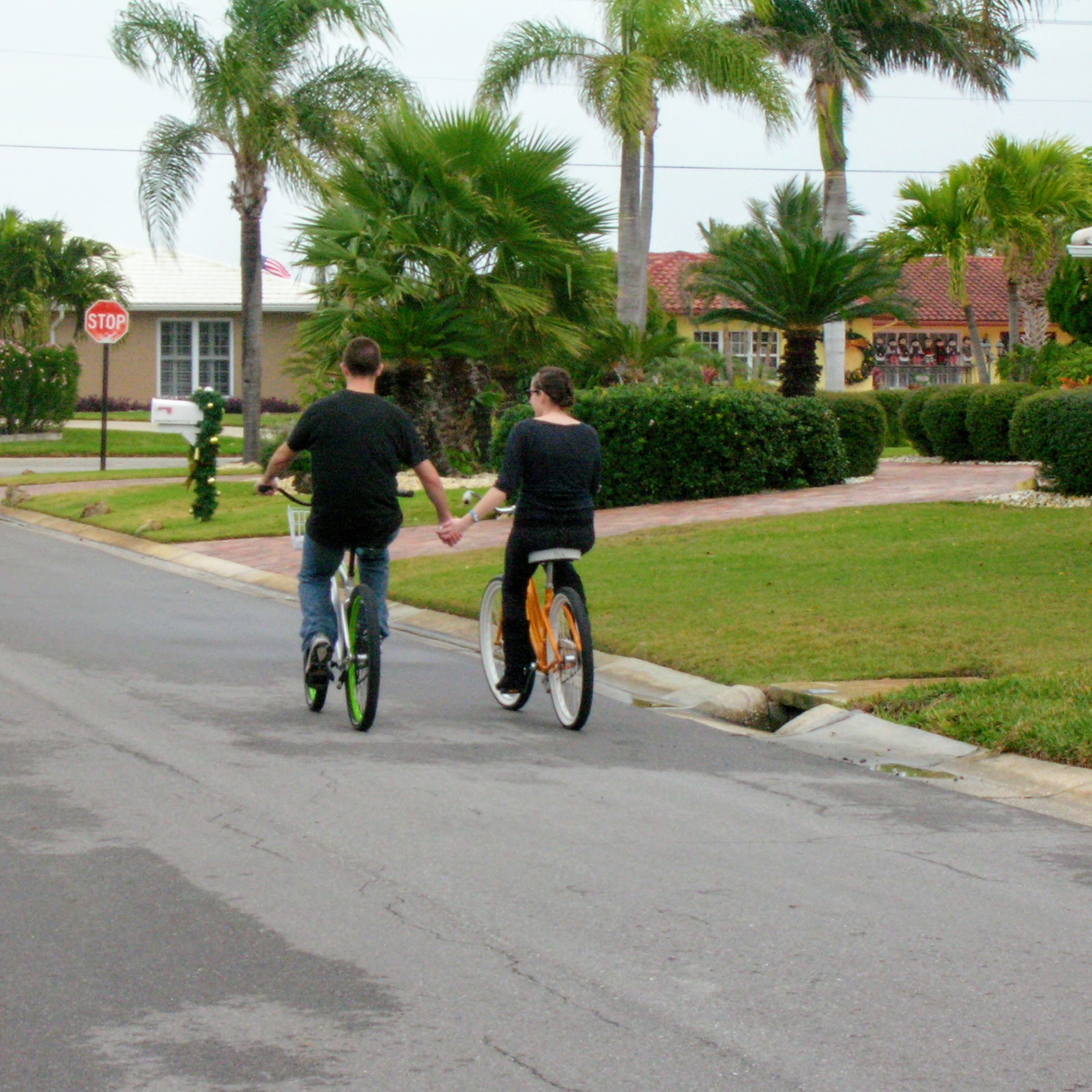 There isn't a ton of traffic on the island, but you'll still want to be careful on the main roads.  You can rent bikes from Beach Bums in Anna Maria City.
Eat and drink.
We aren't big on eating out so I only have a few recommendations for you.
+ Brunch at Anna Maria Island Beach Café (visit their website here) is a Meena family favorite.
+ The Sandbar is wildly popular, especially since you can sit beachside during your meal.
+ We discovered the Old Hamburg Schnitzelhaus on our last visit as we were really missing Germany.  The owner, Gary, was extremely welcoming and everything we had was absolutely delicious.  We both ordered schnitzel and felt like we'd been transported back to Germany.  It's not a cheap meal experience, but one I definitely recommend if you like German cuisine.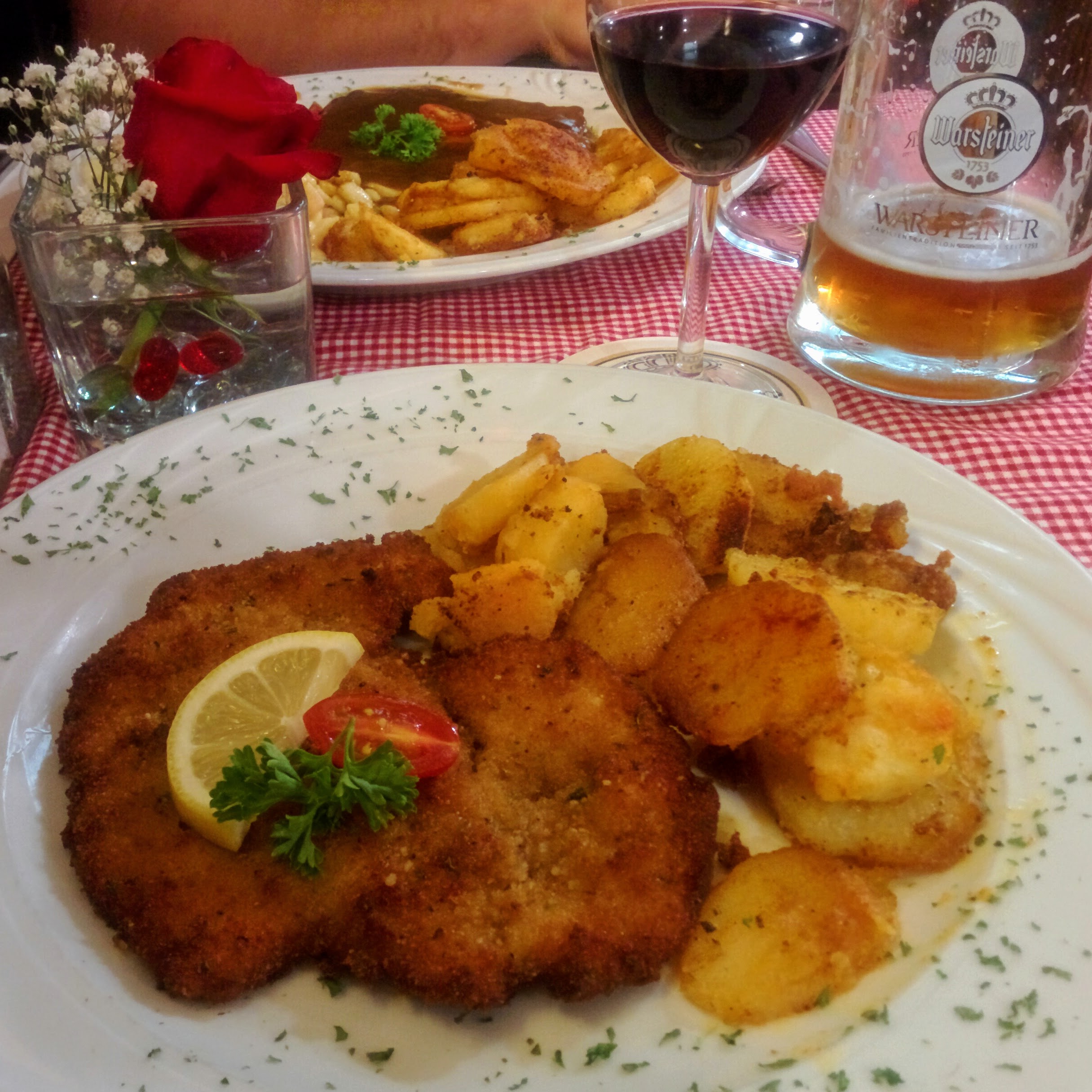 Other things to do in the area.
These recommendations aren't on the map below, so I've included their addresses.
+ Mote Marine Laboratory & Aquarium is located just south of Anna Maria Island on Lido Key.  This is a great educational activity, especially for families, as the aquarium is also a research facility.  Massive tanks hold manatees, the symbol of Manatee County, and you can also see 100 other species of marine life including sharks, sea turtles, and dolphins.
Address: 1600 Ken Thompson Pkwy, Sarasota, FL 34236
+ Brandenton Riverwalk has been on my local to-do list for years and, while I still haven't managed to make it there, it certainly looks beautiful.
Website | Directions
+ Mixon Fruit Farms, marketed as Florida's sweetest attraction, is a fruit farm and store located in Bradenton.  They have lots of fresh fruit, specialty items, and delicious samples for you to enjoy.  On our last visit we took a tour of the grove and wildlife refuge (full post coming soon).  You can also see their butterfly garden, coy pond, maze, or take a self-guided tour of their processing plant.
Address: 2525 27th St E, Bradenton, FL 34208
Anna Maria Island Activities Map:

Have you visited Anna Maria Island?  What activities would you recommend?
---
Enjoy a visit to Anna Maria Island in #Florida.
Click To Tweet
Pin this: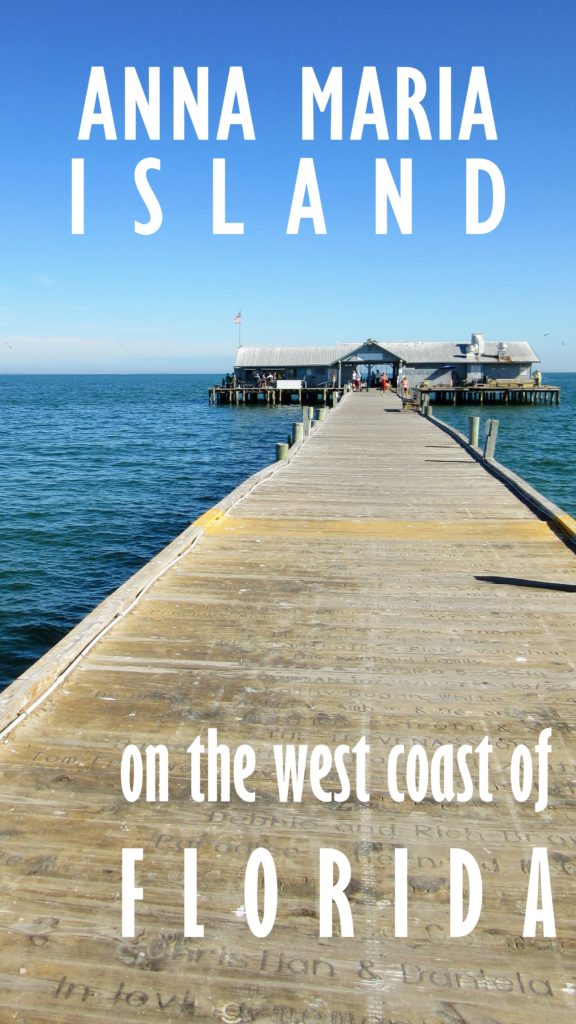 This post is linked up with Faraway Files, Feet Do Travel, Weekend Wanderlust, The Weekly Postcard, City Tripping, Wanderful Wednesday (with Isabel, Lauren, Van, and Marcella), Fly Away Friday, and Monday Escapes: