Busch Gardens Williamsburg is a beautiful, thrilling theme park located in – you guessed it – Williamsburg, Virginia.  The park is so gorgeous that it's been named the World's Most Beautiful Theme Park by the National Amusement Park Historical Association every year since 1990!  Surely this is because the park is channeling the charm and beauty of Europe through its nine villages, which represent six different European countries.  You can take a photo in a typical red English phone booth, eat gelato in Italy, visit the sheep of Scotland, or have a beer in Germany – all within a few hours.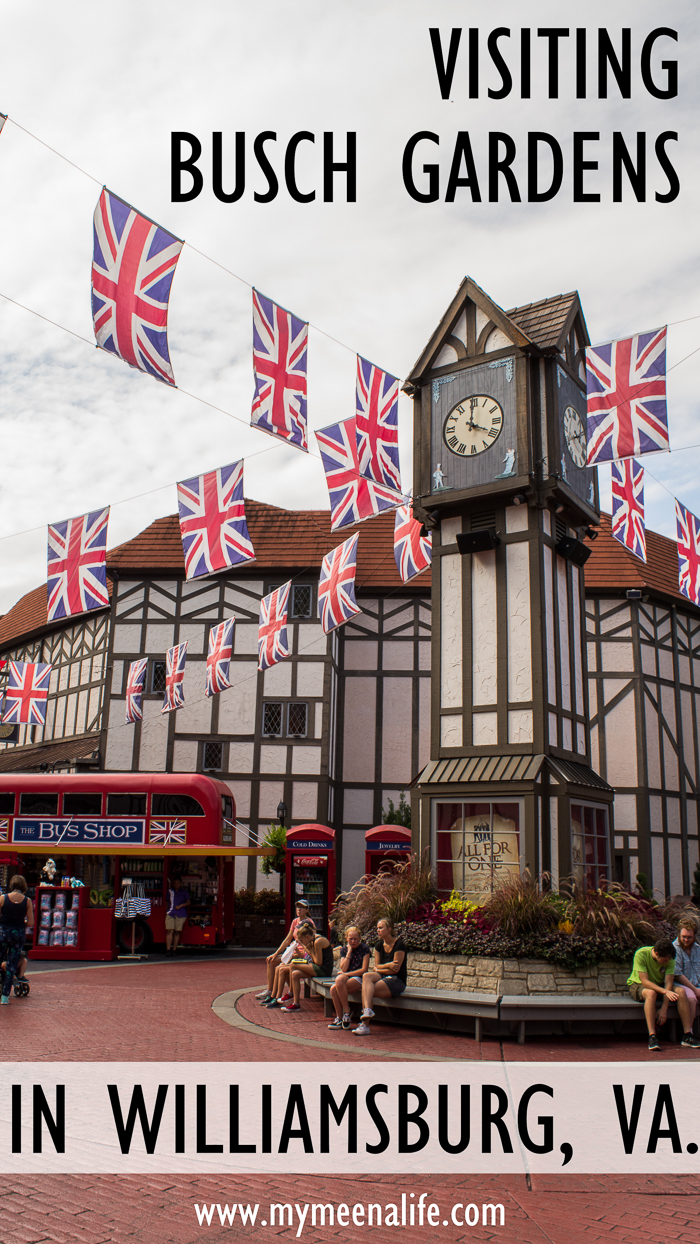 The thrill rides complement the beauty of the park as they weave in and out of the attractive landscape.  There are eight roller coasters, a drop tower, and a big water ride, plus plenty of less intense rides for those seeking a calmer adventure.  In this post, I'll be introducing, reviewing, and rating the roller coasters of Busch Gardens Williamsburg, sharing about other rides, such as the Skyride, and, finally, I'll include my tips for visiting the park (click here to skip to the tips section).
Disclosure: I was given complimentary tickets to Busch Gardens Williamsburg in exchange for this post.  As always, all opinions are my own and were not influenced by the sponsor.
Roller Coasters at Busch Gardens Williamsburg.
One thing I absolutely LOVED about Busch Gardens Williamsburg is that they did not overly moderate their roller coasters.  What I mean is that park employees were not assigning seats on the trains.  My husband, Mr. Meena, and I visit theme parks frequently and one of our biggest pet peeves is not being allowed to queue in a specific row of a coaster if/when we want to.  In this section I will be introducing you to each roller coaster and then rating them using a scoring system of European villages (this is a habit of mine when reviewing theme parks, for example I used Vienna sausages for Wurstelprater and giraffes for Busch Gardens Tampa).
InvadR.
InvadR is the parks newest coaster; it actually just opened a few months ago in April 2017.  It's also the parks first wooden coaster.  It's meant to be an invasion of New France by The Vikings and my husband stated that (in his not so humble opinion) it was the best ride in the park.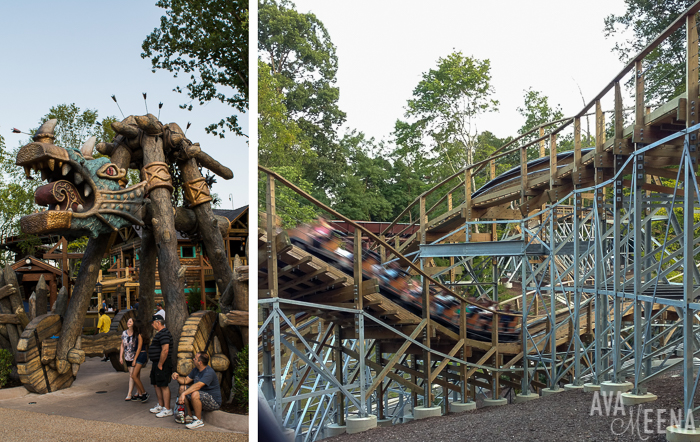 Even though the theme is meant to be intimidating, the ride is actually more of a family coaster.  InvadR drops from 74 ft., takes you through nine air-time hills, and hits a max speed of 48 mph.  Each element of the ride is great without being overly intense.
It's a great ride, but I feel like it's missing that extra "wow" factor that many 5/5 wooden coasters have.  Also, just as an FYI, the misting fans in the line queue were quite obnoxious when we visited, in fact they were forcing people to leave huge gaps in the line to avoid being soaked.
Rating: 4/5 European villages.

Apollo's Chariot.
This roller coaster is a typical B&M (Bolliger & Mabillard – a roller coaster design company) monster in that it gives an excellent, smooth, and consistently intense ride.  Or perhaps I should call it a coaster god since it's themed after Apollo, who is the god of light, purity, and the sun in Greek mythology.
There's a "fake-out" dip after the top of the lift hill, which seems like the designers are playing a joke on you, but in truth it is there because B&M wanted to lessen the stress on the chain used to haul the coaster up the hill (they eventually figured out how to do this without the dip).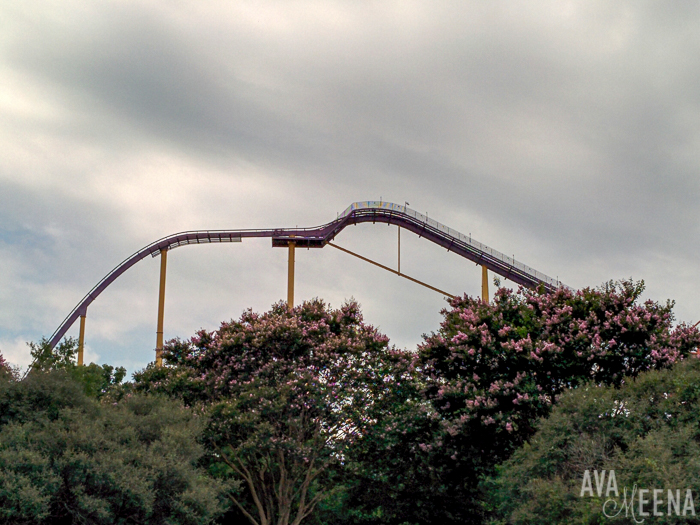 The first drop dives into a ravine, which is pretty cool because it makes the full drop 210 ft. even though the lift hill is only 170 ft. tall.  The ride then takes you through eight hills, each with fabulous airtime, as if you were with Apollo as he drives his chariot across the sky.
Apollo's Chariot is a top notch ride, which is why it ranked as the fourth best steel coaster in 2012 by the Golden Ticket Awards and regularly makes the top 10 lists for best steel coasters worldwide.  Mr. Meena and I only rated it as 4/5 though, because we couldn't help but compare it to rides such as Fury 325 at Carowinds and Shambhala at Portaventura.
Rating: 4/5 European villages.

Alpengeist.
Alpengeist is another B&M monster, although it seems to have aged a lot more than Apollo's Chariot despite only being two years older (it opened in 1997).  This coaster is inverted, meaning your feet are hanging from the ground, but unfortunately it is rough on its riders.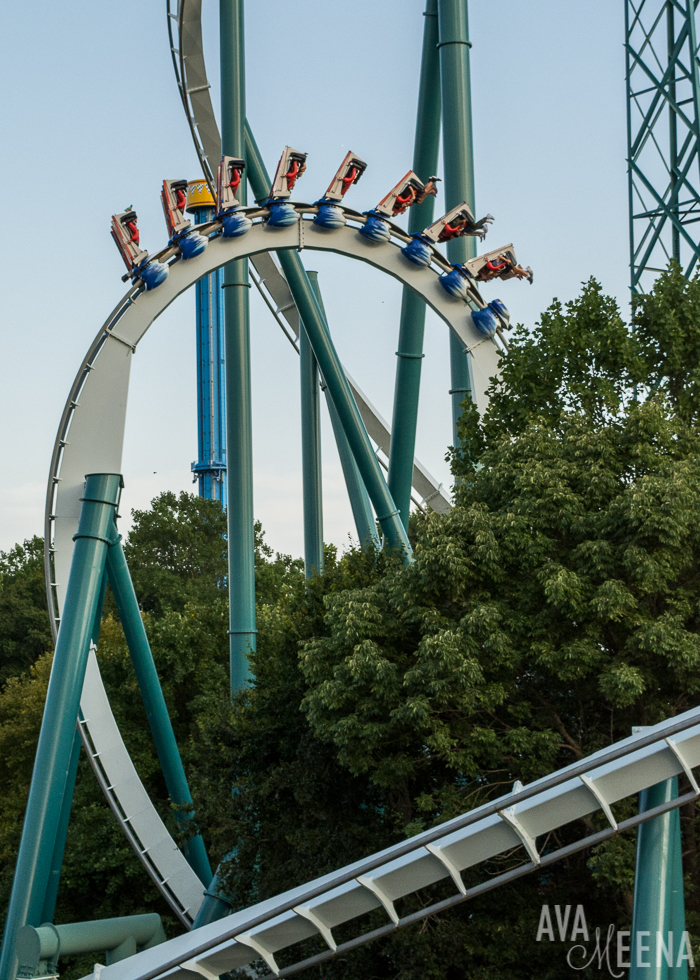 The coaster is named after a snow beast in the Alps; "Alpengeist" means "Ghost of the Alps" in German.  The queue area is full of skiing paraphernalia and during the ride you'll fly past white snow on the ground and hear beast-like sounds played over the speaker systems.
Alpengeist is very tall for an inverted coaster at 195 ft. – I loved seeing the park from the top of the lift hill.  Another unique feature of the ride is how the first drop twists to the right as it plummets 170 ft. downwards.  The coaster also has six thrilling inversions – more than any other ride in the park.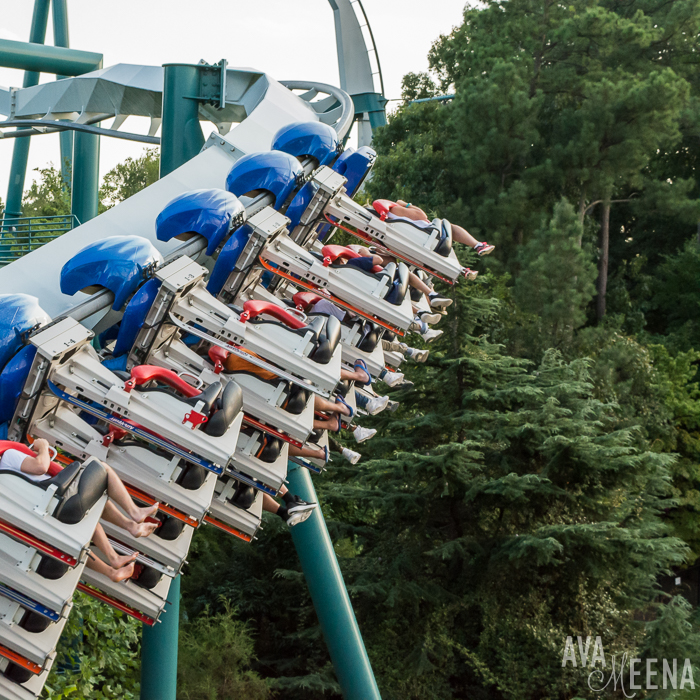 If this coaster gave a smooth ride it would easily be a 5/5.  Perhaps I am a bit biased after riding so many coasters because one of the kids in line behind me stated that it was the smoothest ride he'd ever been on.
Rating: 4/5 European villages.

Griffon.
Griffon was actually my favorite ride at Busch Gardens Williamsburg – which really speaks volumes about it because I normally abhor dive coasters.  In fact, I insisted on riding it three times.  If you aren't familiar with dive coasters, they are extra wide floorless coasters and their signature move is holding you at a 90˚ angle over their big drop.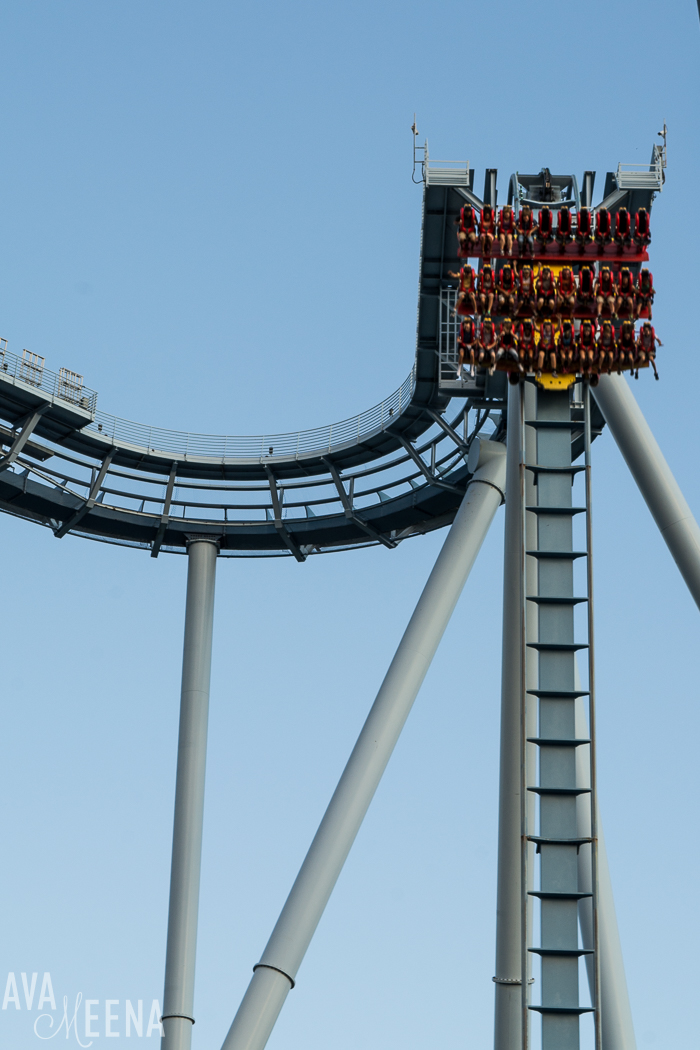 This hold normally freaks me out – it certainly did on SheiKra at Busch Gardens Tampa – but Griffon did it very well.  The coaster didn't shake at all (perhaps because it is newer) and the view at the top was so beautiful that I kind of forgot to be scared of the dive.  At the top of the lift hill you get an expansive view of the James River (which is particularly great at sunset) and, once you are hanging over the drop, you can see a massive coke painted on the ground.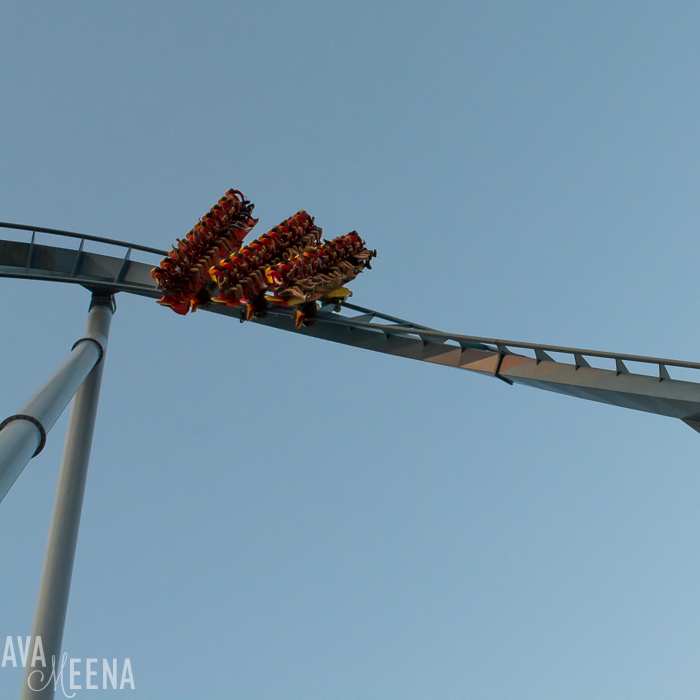 Griffon drops from 205 ft. high, has two inversions, and can speed along at up to 71 mph.  It's a smooth ride, if a bit dizzying, and overall is very well done.  I really enjoyed the water feature at the end of the ride, where the train runs through the water and then quickly turns around to do another pass over it.
Griffon is a great dive coaster and a smooth ride, I only wish it was longer!
Rating: 4/5 European villages.

Verbolten.
Verbolten is a play on words as "verboten" is the German word for forbidden (something we learned quickly when we were living in Germany).  The coaster theming is based on an accidental detour through the Black Forest in Germany.  The first half is an indoor track complete with flashing lights and growling animal sounds, while the second half emerges outside next to the park's Rhine River.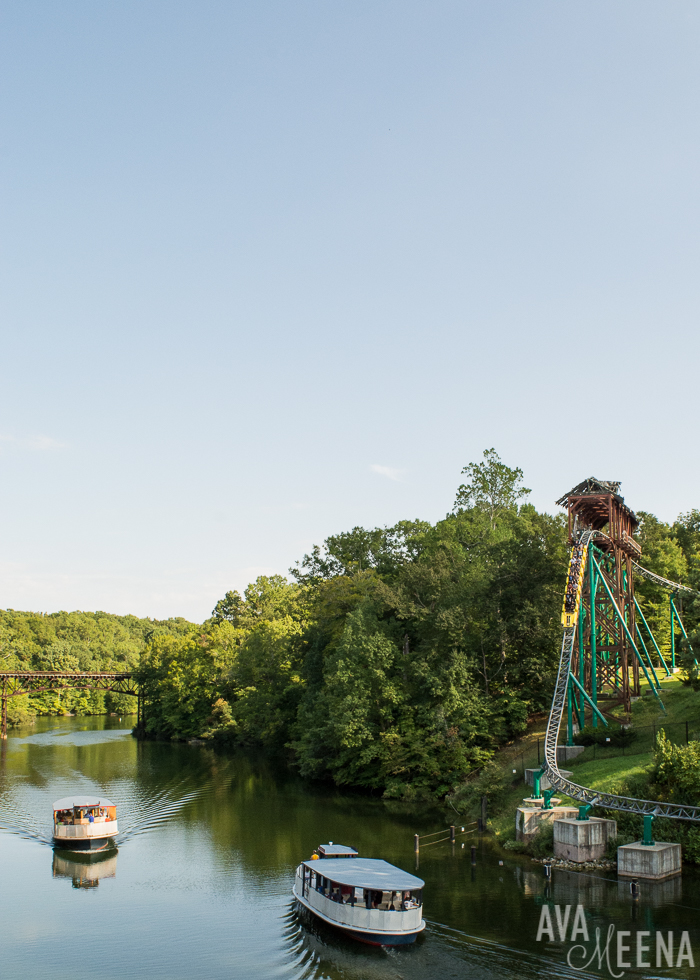 The designers really packed a lot of fun into this coaster with three launches, a vertical drop, and the 88 ft. drop by the river.  It's so exhilarating, beautiful, and unpredictable that we had to ride it at least twice.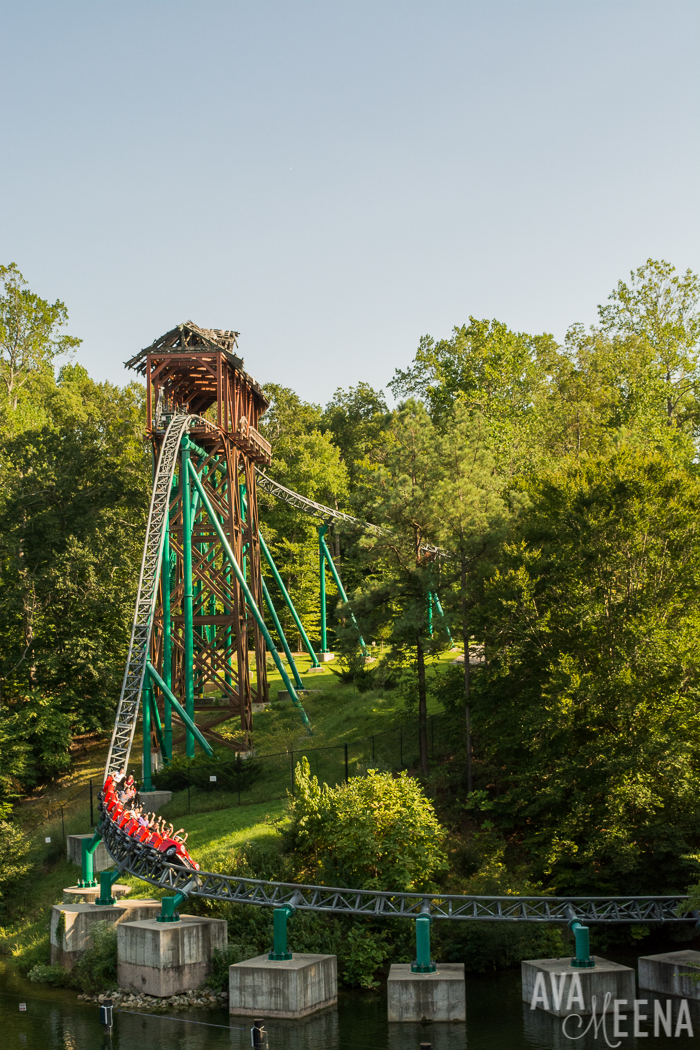 Rating: 4/5 European villages.

Loch Ness Monster.
This bright yellow ride has been running since 1978 and is themed after the mythical loch ness monster of Scotland.  The coaster starts out by traveling through a forested area before dropping 114 ft., looping over the water, spiraling through a tunnel, and finally returning for its second loop.  It's certainly a must-ride at Busch Gardens Williamsburg despite its roughness, which really is to be expected considering the age of the ride.
This coaster tends to be very well known because of its iconic interlocking loops.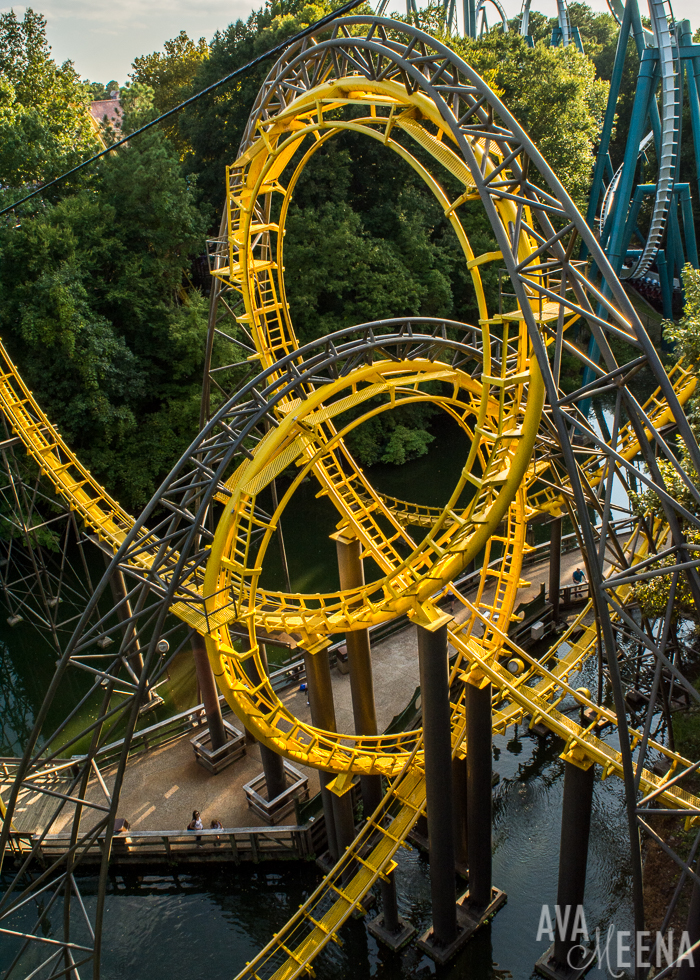 What a beauty!  It was the first coaster in this world to ever have this unique feature and (at the time of writing) is currently the only one that has it.  As beautiful as the loops are, the end of each one is, unfortunately, forceful to the point of being painful.
Rating: 3/5 European villages.

Tempesto.
This relatively new coaster features a massive loop and a rather intense launching experience (much like Sky Scream at Holiday Park in Germany).  The ride is named after a fictional Italian daredevil and has a circus-like theme.  The coaster certainly can do some stunts; it launches you forwards, backwards, and then forwards again before you finally reach the top.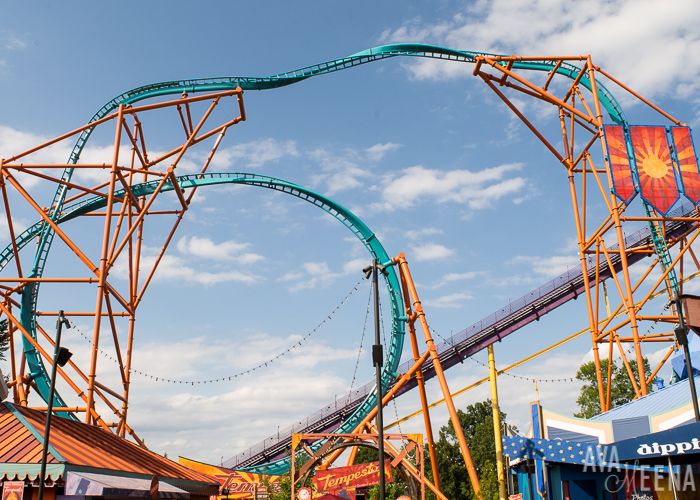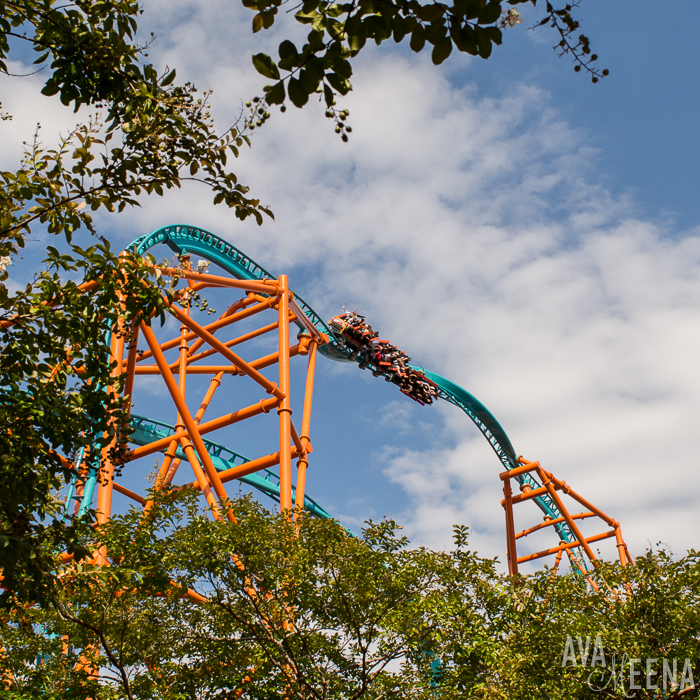 I felt like the vertical twists were very painful, but Mr. Meena thinks they only felt that way because we were sitting in the back.  Nonetheless, I wasn't willing to ride again to find out.  Tempesto also has an extremely strict loose article policy (something I discuss further in the tips for visiting section) in that they won't allow you to wear glasses on the ride.  (This was a problem for me since I need to wear motorcycle glasses on roller coasters because I have chronic dry eye and have to protect my eyes.)  The good news is that the workers hand out fanny packs for you to use during the ride for those loose articles that you need immediately following the ride.
Rating: 3/5 European villages.

That's all the coasters at Busch Gardens Williamsburg except for Grover's Alpine Express, which is a kiddie coaster.  Normally Mr. Meena would have ridden this one just to keep another coaster credit but we ran out of time at the park.
Other Rides. 
Escape from Pompeii.
This is a classic water ride where you hop in the boat, take a tour of ancient ruins, then quickly drop and make a big splash you're trying to escape the rumblings of Mt. Vesuvius.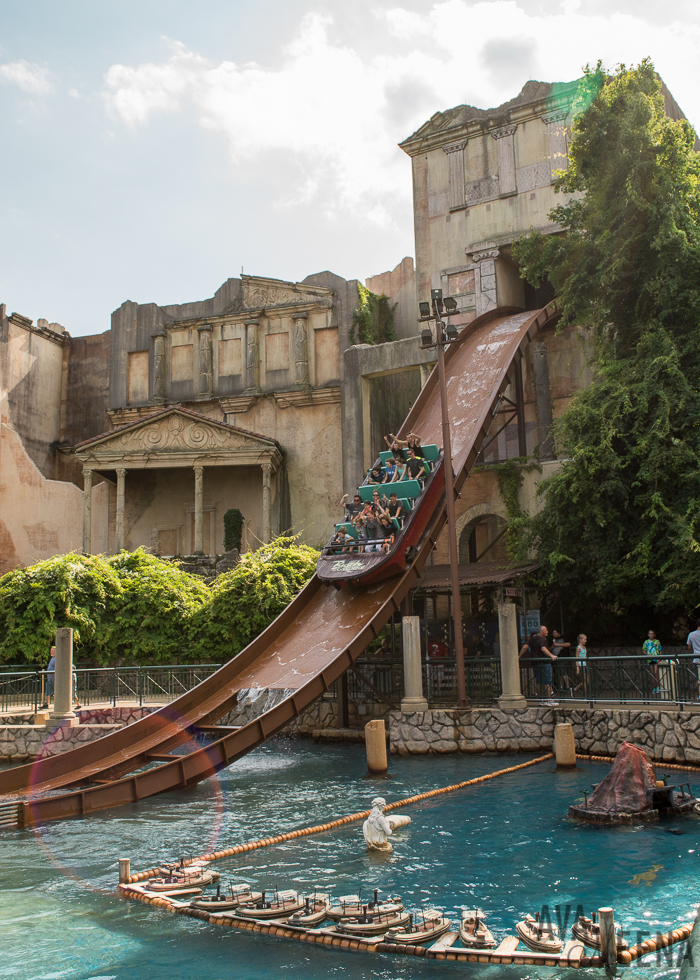 And of course there's a huge splash zone for those wanting to cool off during the hot summer days.
I personally think the theme is a tad insensitive and I'm not a big fan of these water rides, but Mr. Meena definitely enjoyed it.
Aeronaut Skyride.
This is part ride and part mode of transportation around the park.  It dangles 80 ft. in the air and traverses part of each country.  There are three stations, going from England to France, France to Germany, and Germany to England, which are all marked clearly on the park map.  We rode the entire circuit and my favorite section was from France to Germany because the takes you between the Griffon and Loch Ness Monster coasters, providing great photo opportunities.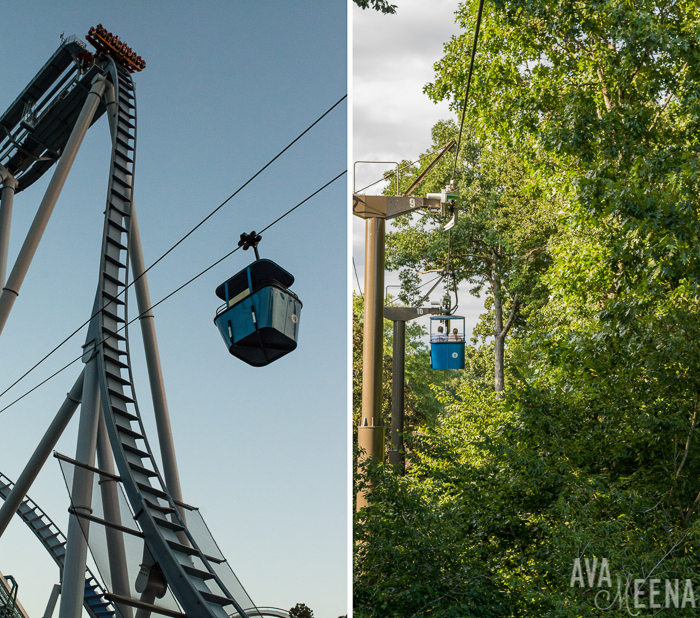 A couple things to keep in mind about the Skyride:
– It doesn't open until 11am.
– In the morning the England station will be busy as people arrive, and in the evening the Rhinefield station will be busy as people leave.
– You do have to get off at each station.
– It's a pretty short ride, so it isn't really worth waiting in a long queue line.
– There can only be three adults per cart and there's also a weight limit.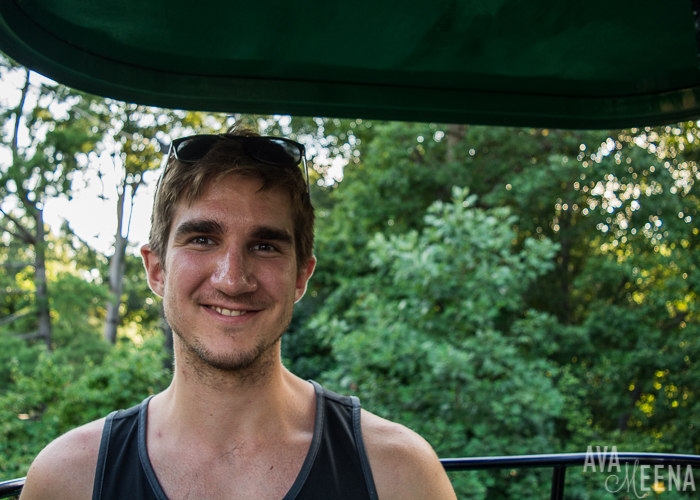 Here are a few more noteworthy rides that we didn't quite get to that day but would have ridden if we'd had more time:
Mäch Tower – a 240 ft. drop ride themed after a Bavarian maypole.  I'm sure it provides a great view of the park.
Rhine River Cruise – a boat ride that starts near Loch Ness Monster and takes you down the artificial Rhine River past Verbolten and the train tracks.  You may want to check the cruise schedule when you arrive at the park because we didn't see these running until later in the day.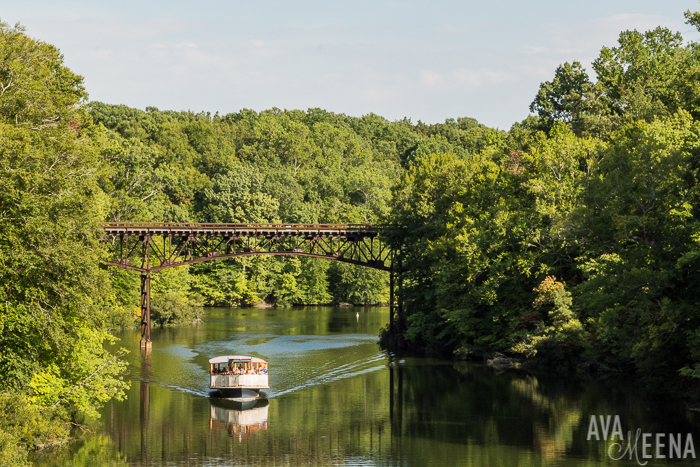 Busch Gardens Railway – a 20 minute train ride around the park in steam-powered locomotives.  Stations are located in France, Scotland, and Italy and train operation starts at 10:30am.  I'm more than a little heartbroken that we ran out of time to tour Busch Gardens Williamsburg via train.  We'll just have to visit again!
There are so many attractions at Busch Gardens Williamsburg that I couldn't possibly cover them all in this post, but you can find them all listed on the parks website here.
Food & Drink.
Mr. Meena and I are by no means foodies and we typically don't eat at theme parks because the food can be so expensive.  However, we waived our rule about eating theme park food at Busch Gardens Williamsburg because the park has done such a great job recreating foods from all over Europe.  These were our three must do's:
– Have a beer from Munich on tap at Das Festhaus.
– Order a bouquet of delicious fries with a variety of toppings at Les Frites (France).
– Eat Italian gelato at Gelato di San Marco.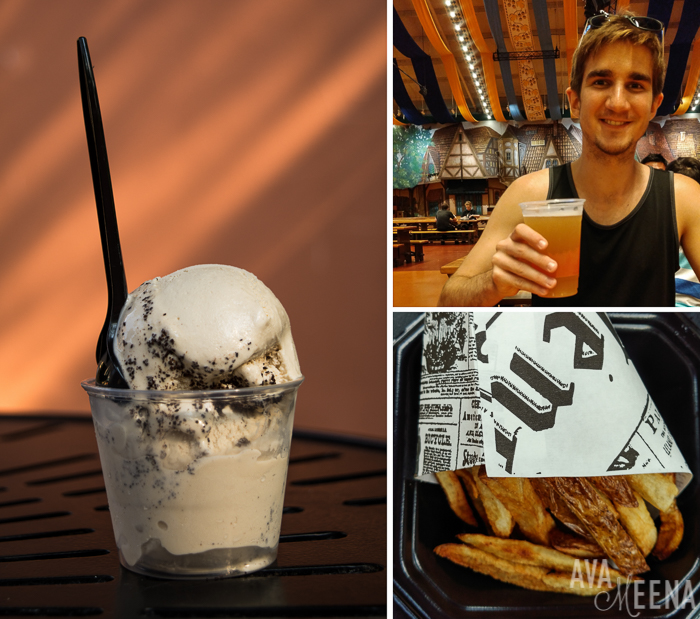 You can find all of the dining options at the park here, be sure to click on the tabs for each country.
Tips for Visiting Busch Gardens Williamsburg.
1| The most important tip I can give you, in my opinion, is that Busch Gardens Williamsburg has a staggered opening, meaning that when the park opens at 10am you are only able to visit five of the nine villages!  This may not matter to you (especially if you typically arrive late) but it really drives me nuts when parks do this – especially if they aren't super upfront about it!  We strategically plan our day to ride the low capacity coasters as quickly as possible before the crowds arrive in full.  So imagine our frustration when we headed right to Festa Italia to start our day with Tempesto only to find that area of the park blocked off until 10:30am.  I inquired at Guest Services about this and was told that the village opening times are on the website, but I have scoured the park site and cannot find them.  So here they are:
Open at 9:45am: England, Scotland.
Open at 10:00am: Ireland, France, New France.
Open at 10:30am: Festa Italia, Italy.
Open at 10:45am: Germany/Oktoberfest.
2| Here is our recommended park route for the morning, now that we are aware of the staggered opening times, if you want to ride all the roller coasters:
Loch Ness Monster → Tempesto → Apollo's Chariot → Verbolten → Alpengeist → Invadr → Griffon.
We took that route (although we had to modify our original route on the fly), and were able to ride all the coasters except for InvadR by 11:30am (This is because InvadR had a long queue, which is to be expected since it is the newest coaster).  In fact, we actually rode Verbolten, Alpengeist, and Griffon twice on that route and didn't wait more than 10 minutes for any of our rides.
We then left the park for about three hours (I have lupus photosensivity so I try to avoid strong UV light during the day) and returned that afternoon to do our second loop around the park.  We then rode all the non-coaster rides that were important to us, sampled the food and drink, and rode InvadR around 7:00pm when the line finally died down.
3| As I've mentioned previously, lots of the roller coasters at Busch Gardens Williamsburg have a no loose articles policy.  Most parks only have one or two rides where you aren't allowed to bring bags with you in line, but at this park it seemed like nearly all the coasters had a strict no loose articles policy.  However, there are tons of lockers available throughout the park and their prices are extremely reasonable.  We paid $1 to store my camera for two hours while we rode InvadR and Griffon in the evening and, if I remember correctly, you can buy an all-day locker pass for just $5.
4| Free water is available throughout the park, usually at places with a soda fountain, you just have to ask for a cup of water.  However, these places don't open until about 11:30am – and the places where you can purchase bottles of water didn't open until about that time, either.  I was incredibly thirsty by the time we finished our morning coaster tour and places started to open.  If you're visiting the park early on a hot day you could prepare by hydrating before you arrive, carrying a water bottle (which – remember – you can't take on some rides), or bookmarking the water fountains along your route.
5| If you are visiting with kids be sure to check out the KIDsiderate program at Busch Gardens Williamsburg, which lists all the kid-friendly park activities and shares tips for your visit.
6| Busch Gardens Williamsburg isn't a huge park, but it is big enough that you won't be able to see all of it in one day, even when the park isn't very crowded.  We visited on a light weekday in August and ran out of time to do everything we wanted to.  Even if we had skipped our break it would have been difficult to squeeze everything in, especially since there tend to be big crowds in the early afternoon.  If you have a long to-do list for the park you may want to consider purchasing a multi-day pass.
7| If you purchase a single-day ticket, do not throw it away after you arrive!  We had to show our tickets in order to receive a hand stamp when leaving and again when we re-entered.
8| We usually download the park map before any visit (you can find the one for Busch Gardens Williamsburg here) but keep in mind that this park also has a mobile app, with plenty of useful information, such as ride wait times, that might make your day easier.
9| Don't worry about paying for preferred parking!  The regular parking is $15/day and there is a tram that takes you from the various parking lots to the park entrance.
10| Stay close by.  We stayed at the DoubleTree by Hilton Hotel Williamsburg, which is the closest hotel to Busch Gardens Williamsburg, and we can definitely recommend it.  The hotel also runs a shuttle to the theme park, but at $5 per person roundtrip it could easily cost more than the parking pass if you have more than three people or want to take a break in the afternoon.
Have I told you all you need to know about visiting Busch Gardens Williamsburg?  You can ask me a question or leave your feedback in the comment section below!  Or visit the park website here.
---
Almost everything you need to know about visiting Busch Gardens Williamsburg.
Click To Tweet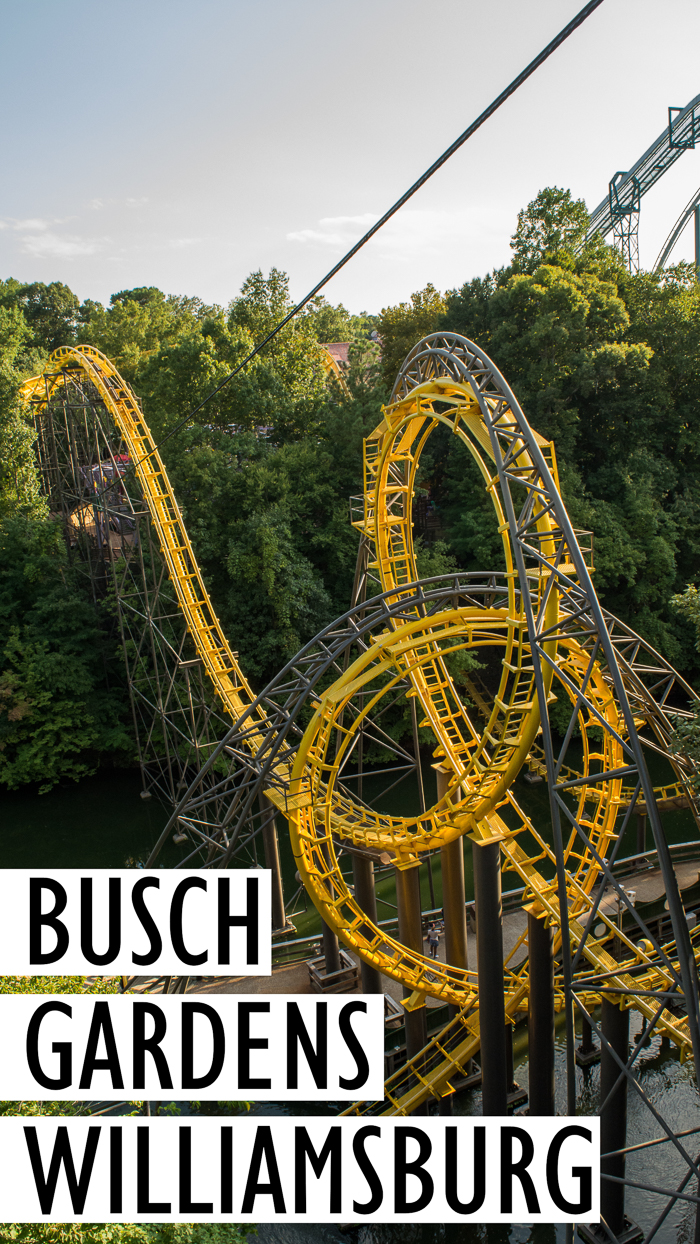 This post is linked up with Wanderful Wednesday (with the hosts Lauren, Van, Isabel, and Marcella), Faraway Files, The Weekly Postcard, and Monday Escapes.
Village icon by Freepik from Flaticon licensed by CC 3.0 BY.