I shared one fact about Christmas in Germany on my Facebook page for each of the 12 Days of Christmas.  Here you can see the compiled list.
Day 1/12
In Germany, especially in the Bavarian region, St. Nicholas Day (the 6th of December) is celebrated with a visit from St Nick.  Children will put their clean shoes out the night before so that old St. Nick can fill them with goodies like gingerbread (lebkuchen) and chocolate.  According to the story, he has a golden book where he records all the good and bad things that children have done throughout the year.  Sometimes St. Nick will visit elementary schools to ask children if they have been good that year.
You can read more about this Christmas in Germany tradition here.
Day 2/12
Since St. Nick has already delivered his presents on December 6th, many Germans (mostly in Bavaria) believe that the Christkind delivers gifts on Christmas instead of Santa.  The Christkind, or Christ child, is a golden female angel that has Christ-like qualities.  The Christmas Market in Nürnberg often features a young girl with blond curly hair as the Christkind; she wears a white and gold dress, a gold crown, and wings like an angel.
You can read more here.
Day 3/12
You might get more than a bag of coals if you make the naughty list in Germany.  According to Austro-Bavarian folklore, Krampus will come punish whoever has misbehaved.  He's depicted as a horned, goat-like demonic monster that makes appearances in parades and shows throughout the region.  Krampus has been striking fear into the hearts of German children and adults for years, but for the first time this year you can see the scary beast featuring in his own film.  I would definitely prefer St. Nick.
Day 4/12
Most Americans will tell you that the Christmas season doesn't start until the day after Thanksgiving.  But here in Germany people start celebrating Christmas on the First Advent Sunday (which is four Sundays before Christmas).  Advent calendars are much more popular in Germany, as well as an Advent wreath that holds four candles – one for each Sunday during Advent.  Families often gather around the wreath each Sunday to light a candle and sing Christmas carols.  In years past, Germans didn't put up their Christmas tree until Christmas Eve – so the wreath held more importance as the go-to evergreen in the days leading up to Christmas.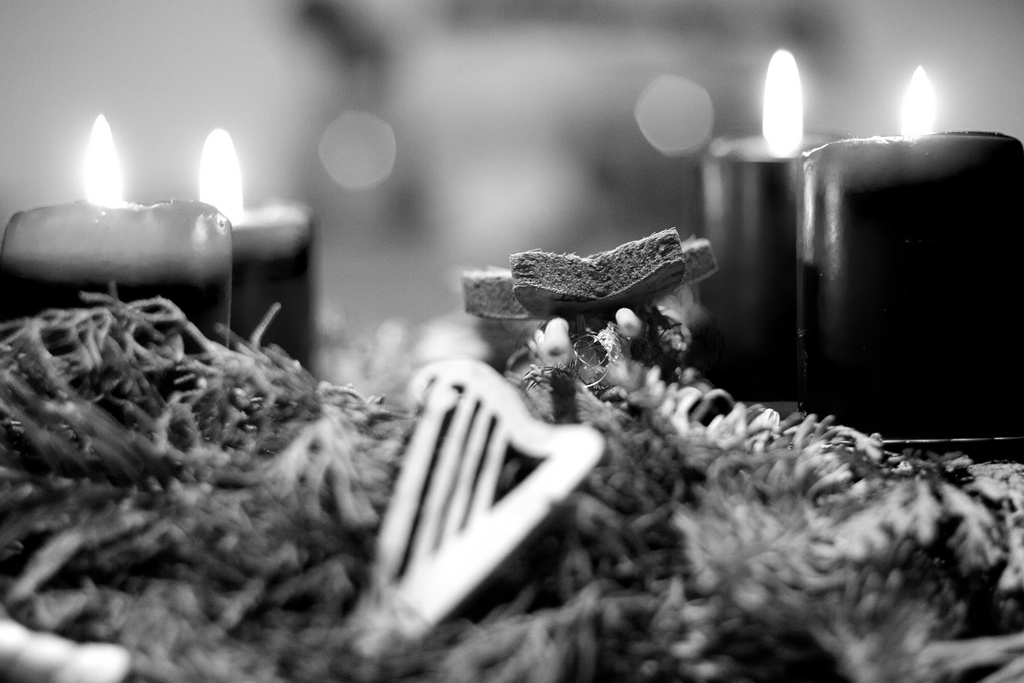 Photo by Jannis licensed under CC BY-SA 2.0.
Day 5/12
This is another tradition specific to southern Germany, especially Bavaria.  It's called "Christbaum-Loben": the act of going to a friend or relatives house, praising the beauty of their Christmas tree (Ein schoener Baum!), and then being offered schnapps as thanks from the host.  In some towns people travel along a specific route to praise tree after tree and to receive schnapps after schnapps.  This usually happens on St. Stephen's day, which is the day after Christmas.
Day 6/12
Gifts are typically opened on the evening of Christmas Eve and accompanied by a simple meal.  There aren't any stockings hung by the chimney with care, either; St. Nick already came on Dec. 6th (remember day two?).  Since the gifts are out of the way, Christmas Day is reserved for preparing and enjoying a feast with family.  Also, the Advent wreaths and Christmas trees are often adorned with real candles – lending an air of danger to the whole celebration.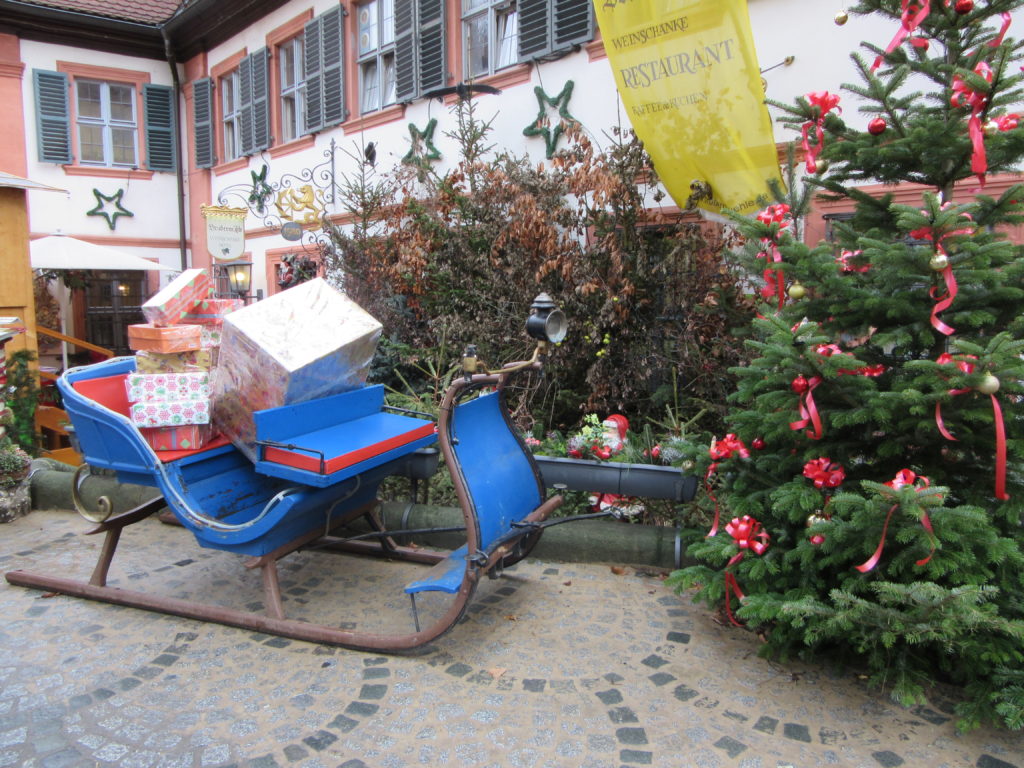 Day 7/12
Not only does Christmas tend to start earlier here, but it ends later too.  The season lasts until Three Kings' Day (January 6); a day when children get to dress up as the Three Wise Men and visit houses to sing songs.  Depending on the region, there are a variety of activities for this day, such as burning frankincense, drinking a special beer (bockbier), or going to a special church service.
You can read more here.
Day 8/12
Most stores in America will close early on Christmas Eve and are closed on Christmas. But they'll open again on December 26th so that people can make use of their new money (or outfits). That's not the case in Germany. Many stores will have a half day for Christmas Eve and then close completely for Christmas and the next day – St. Stephens Day. This year, St. Stephen's Day was on Saturday so the stores were also closed on Sunday , leaving Germans without access to groceries for least three and a half days. Mr. Meena and I went to the store on Monday morning and quickly become lost amongst the crowd of Germans (who all had very full grocery carts). Talk about needing to stock up!
Day 9/12
Did you know that glass Christmas ornaments were invented in Germany?  Hans Greiner started making glass Christmas ornaments in 1847 in Lauscha, Germany.  Two years later Prince Albert of Great Britain (a native of Germany) used them to decorate the royal tree.  The ornaments became popular in Europe shortly afterwards and were imported to the U.S. in the 1880s.  It's also thought that tinsel was first made in Germany, out of real silver!
You can read more about this here.
Day 10/12
I am so relieved that I finally figured out what all the writing on doors is about!  "20+C+M+B+15" is something I've seen written on tons of doors for churches and homes all throughout Bavaria.  The three letters are for the three wise men (Caspar, Melchior, and Balthasar) and the numbers are for the year.  Traditionally it's written in chalk on the doors some time before January 6th (Three Kings Day or Epiphany), but we saw them show up the first week of November.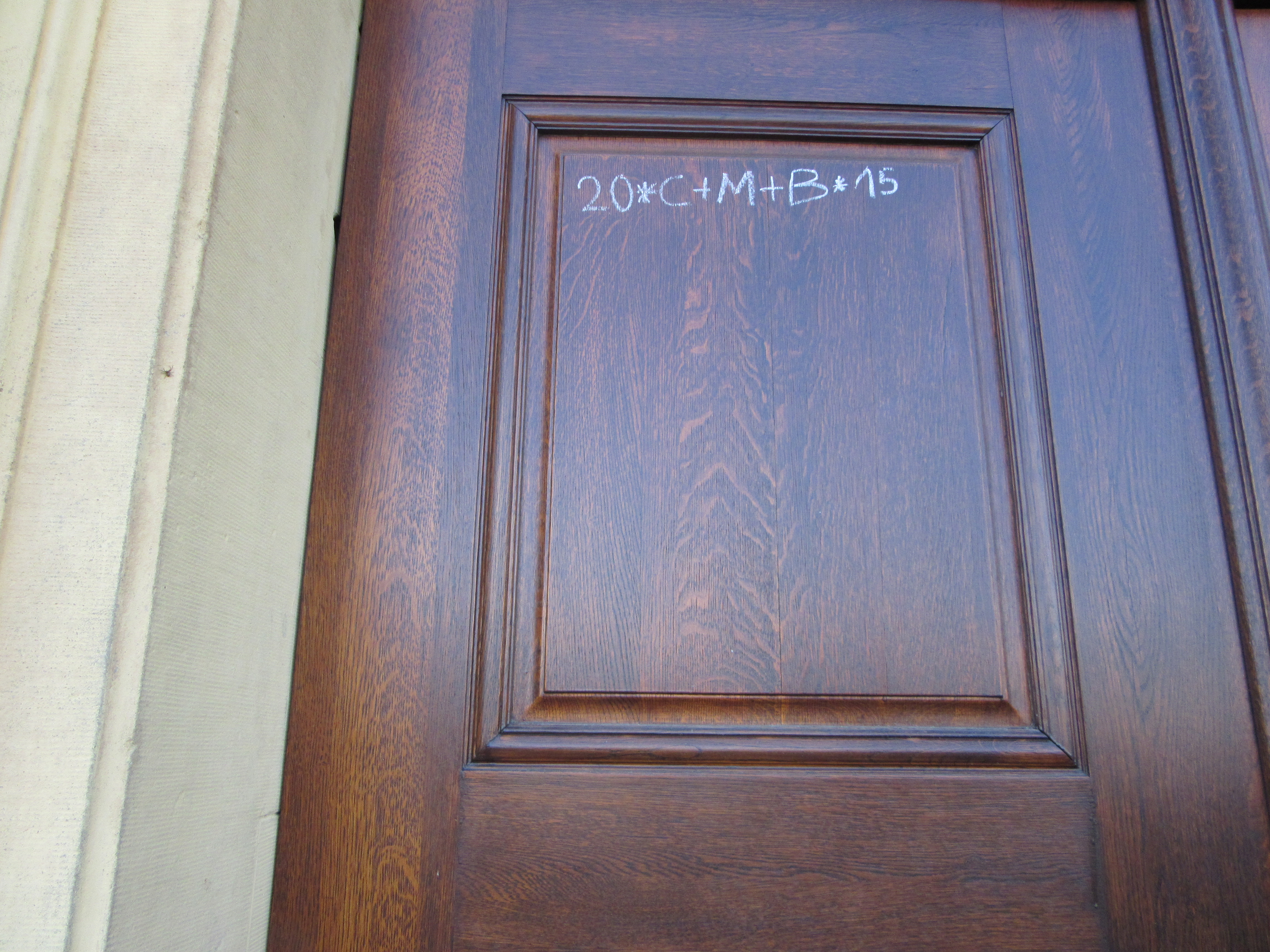 Day 11/12
What is the German word for Santa?  Well, Germans usually refer to Father Christmas (Weihnachtsmann) instead of Santa Claus and the names vary by region.  Some of the more common  names include Aschenmann, Belsnickel, Klaus, and Niglo.  Of course, St, Nicolas (Heilige Nikolaus), who is the patron saint of children, is the one that usually delivers presents on December 6th.   Upper Bavaria (where we are) tends to use the name Nikolo for St Nick.
Day 12/12
December 4th is St. Barbara's Day; a day when many Germans obtain a cherry branch (or similar cutting) and place it in water.  The hope is that there will be blossoms on the branch by Christmas day – if it happens to bloom on Christmas then that is considered a good omen.  This tradition, called Barbarazweig, originated from the story of a young girl named Barbara who was tortured and beheaded by her father.  Quite ghastly.
You can read more about this Christmas in Germany tradition here.
---
Didn't get enough of Christmas in Germany?  Check out my posts on The Christmas Market in Bamberg, Germany and The Würzburg Christmas Markets.
12 Facts about #Christmas in #Germany.
Click To Tweet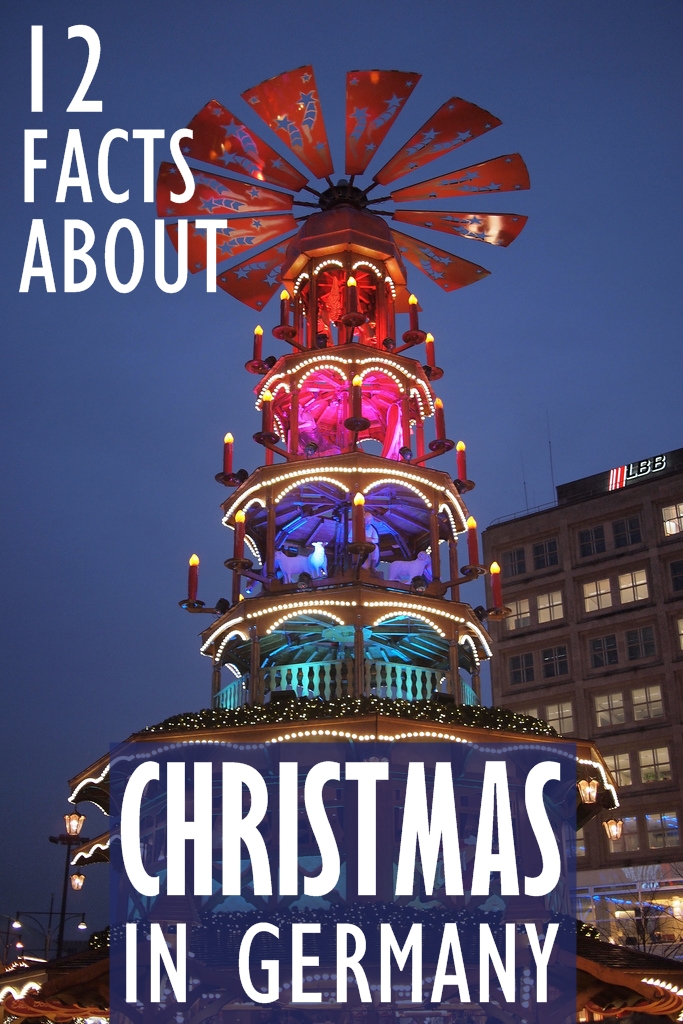 Photo by skittledog licensed under CC BY-NC-SA 2.0; modifications were made by My Meena Life.
Featured photo by Heartlover licensed under CC BY-NC-ND 2.0.