Kolmården Wildlife Park is a large zoo in Sweden that opened an incredible wooden roller coaster last year.  Paradoxically, the park boasts 370 acres of property, 600 animals from all over the world, and now three roller coasters.  It's an unusual combination, but one that we enjoyed greatly.  Over 50 years old, Kolmården is one of the most popular tourist attractions in Scandinavia.  It's located south of Stockholm near Norrköping and is home to the first Scandinavian dolphinarium, the worlds first cable car safari, and (currently) the fastest wooden roller coaster in Europe.
One month after we planned our trip to Kolmården, the European Coaster Club (ECC) happened to plan a nearly identical trip.  We were ECC members because the membership saved us money when visiting several theme parks throughout Europe.  Being able to join this trip was an added bonus to our membership – it meant that we'd get a behind the scenes tour and exclusive ride time on the new coaster after the park closed.
In this post I'll share primarily about the parks new coaster, Wildfire, and the safari ride, but I'll also include an overview of other park attractions and resources.
A Day at Kolmården Wildlife Park in Sweden.
Kolmården is an easy day trip from Stockholm, where we were staying, as the drive is only 140 km / 87 miles and absolutely gorgeous.  It was during this drive that I began to fall in love with Sweden.  I wanted to stop and admire every stretch of countryside and idyllic red home along the way.
We arrived as the park was opening on a surprisingly cold August morning.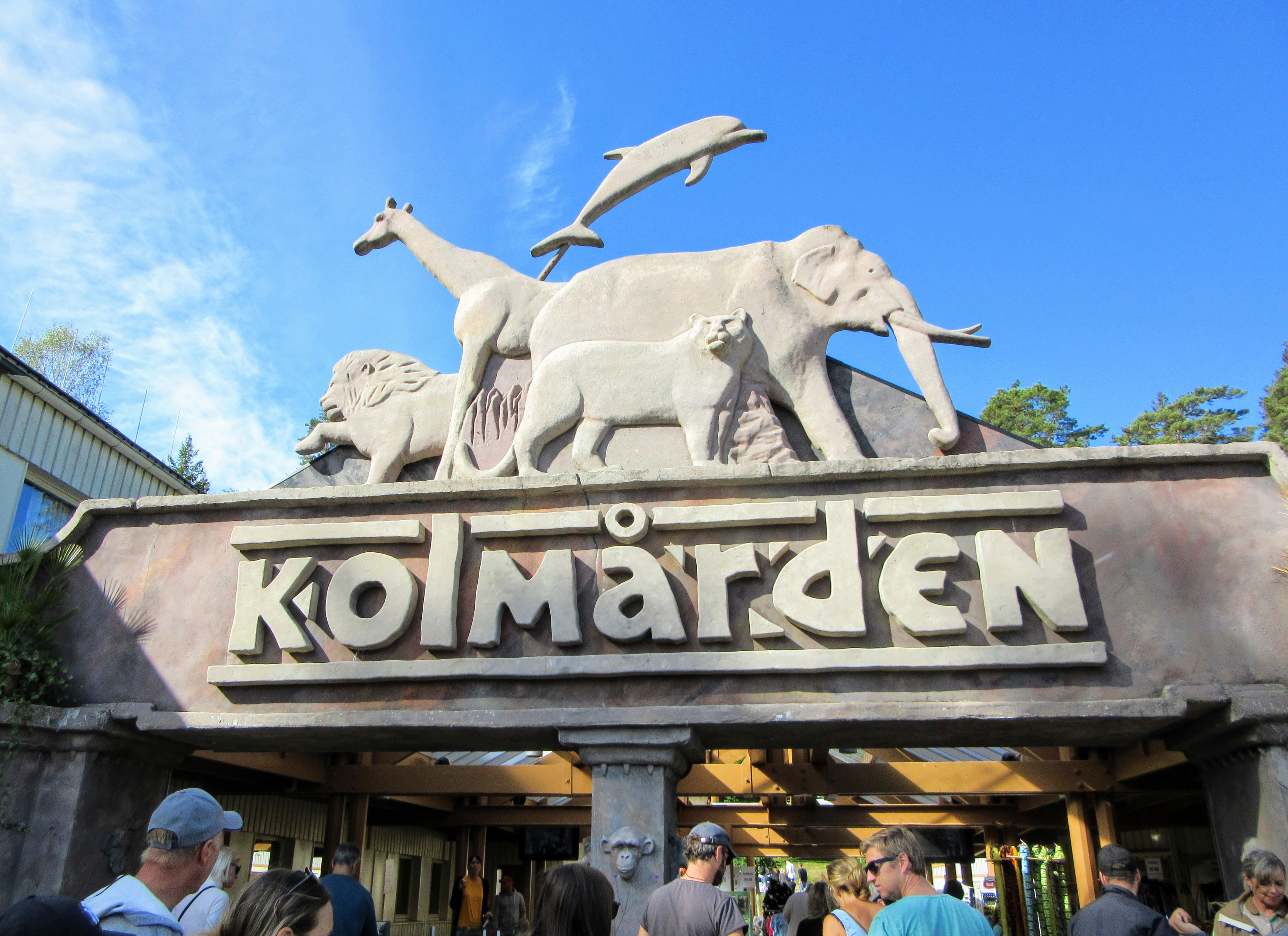 Wildfire.
Riding Wildfire was the ultimate purpose for our trip, so we headed for the coaster straightaway.  Although I did get distracted by views of Bråviken Bay – a beautiful stretch of water that I could gaze at for hours (if it wasn't for the important coaster riding, of course).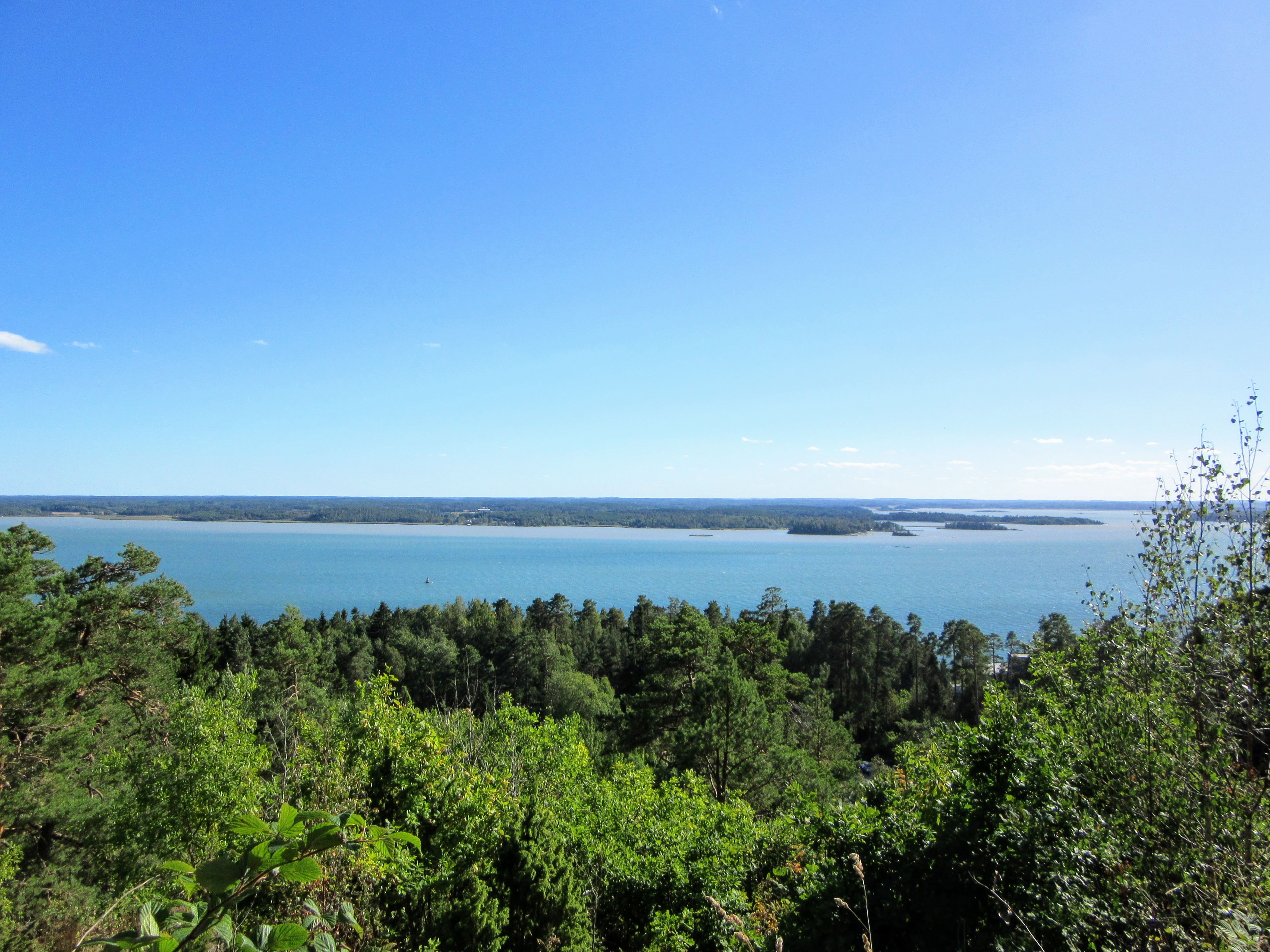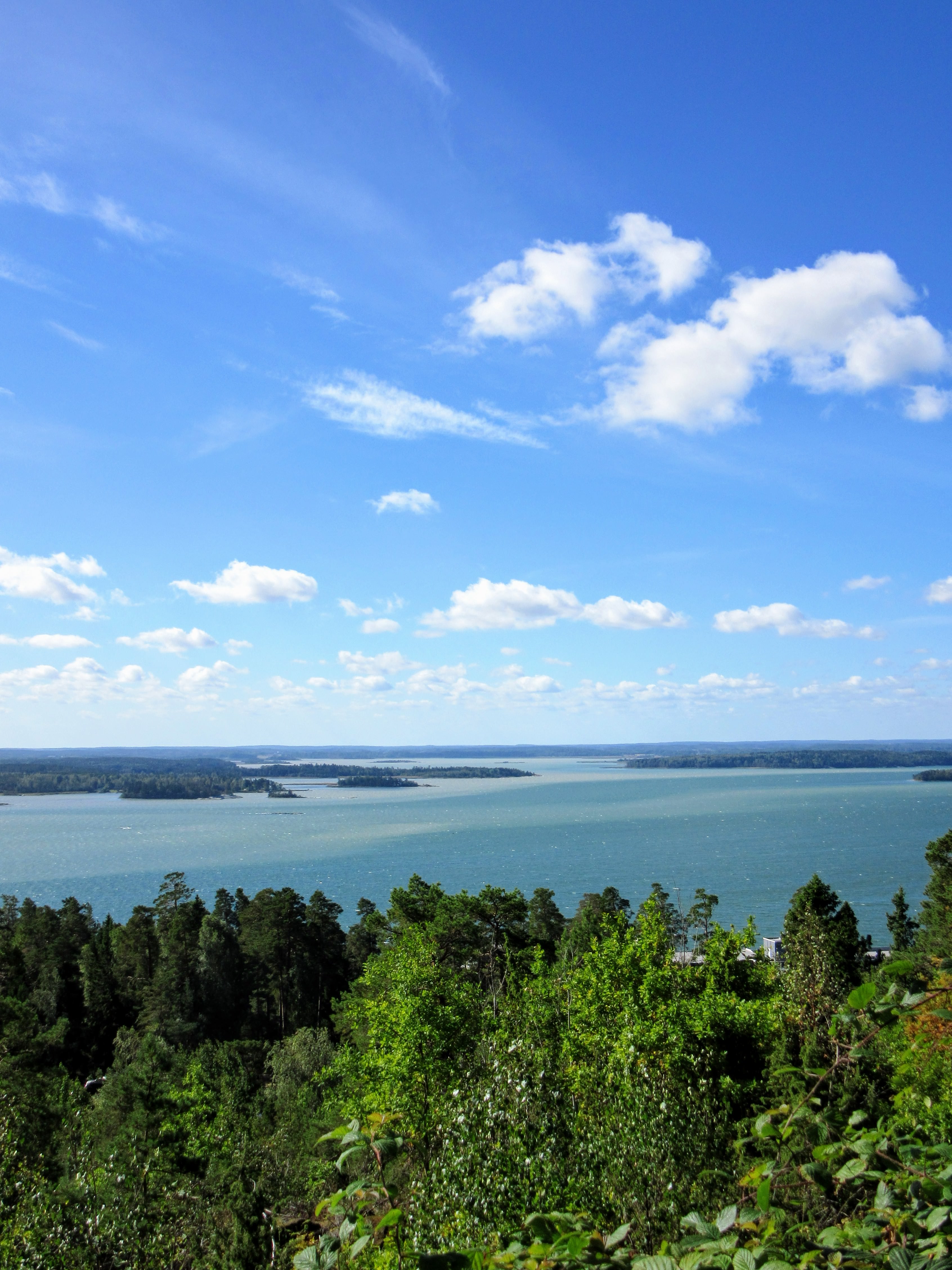 We walked for about 30 minutes through the vast, hilly park before we finally arrived at the wooden monstrosity that is Wildfire.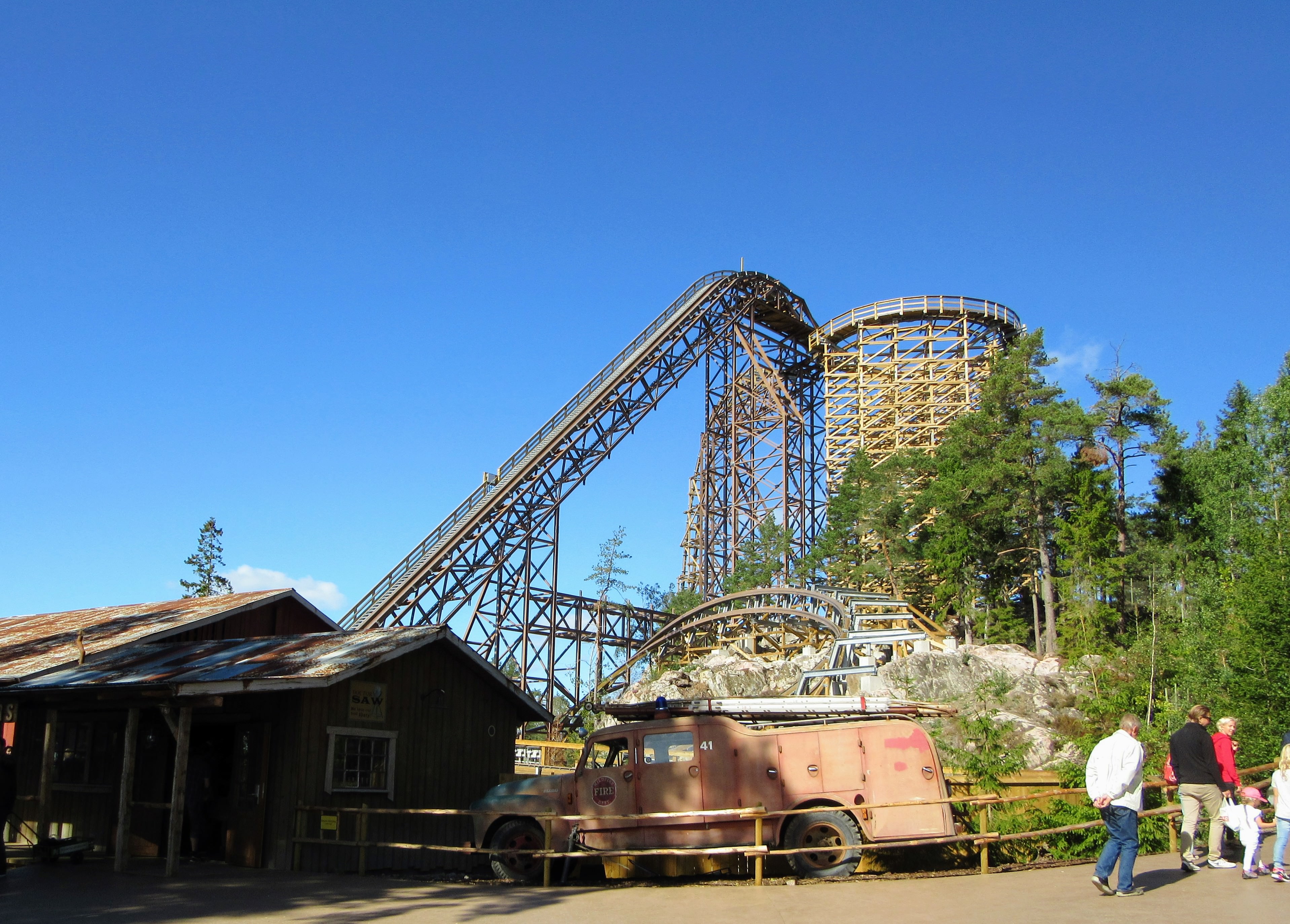 Why is this roller coaster so special?  To start with, Wildfire has 12 air-time hills and three inversions.  It's unusual for wooden coasters to turn upside down; this is made possible by incorporating steel rails into the design.  Wildfire currently holds the titles of fastest wooden coaster in Europe and second tallest wooden coaster in the world.  It is the first Rocky Mountain Construction (RMC) coaster manufactured in Europe and it has been uniquely incorporated into the terrain of the park.
With all this in mind, we were so excited to hop on for our first ride.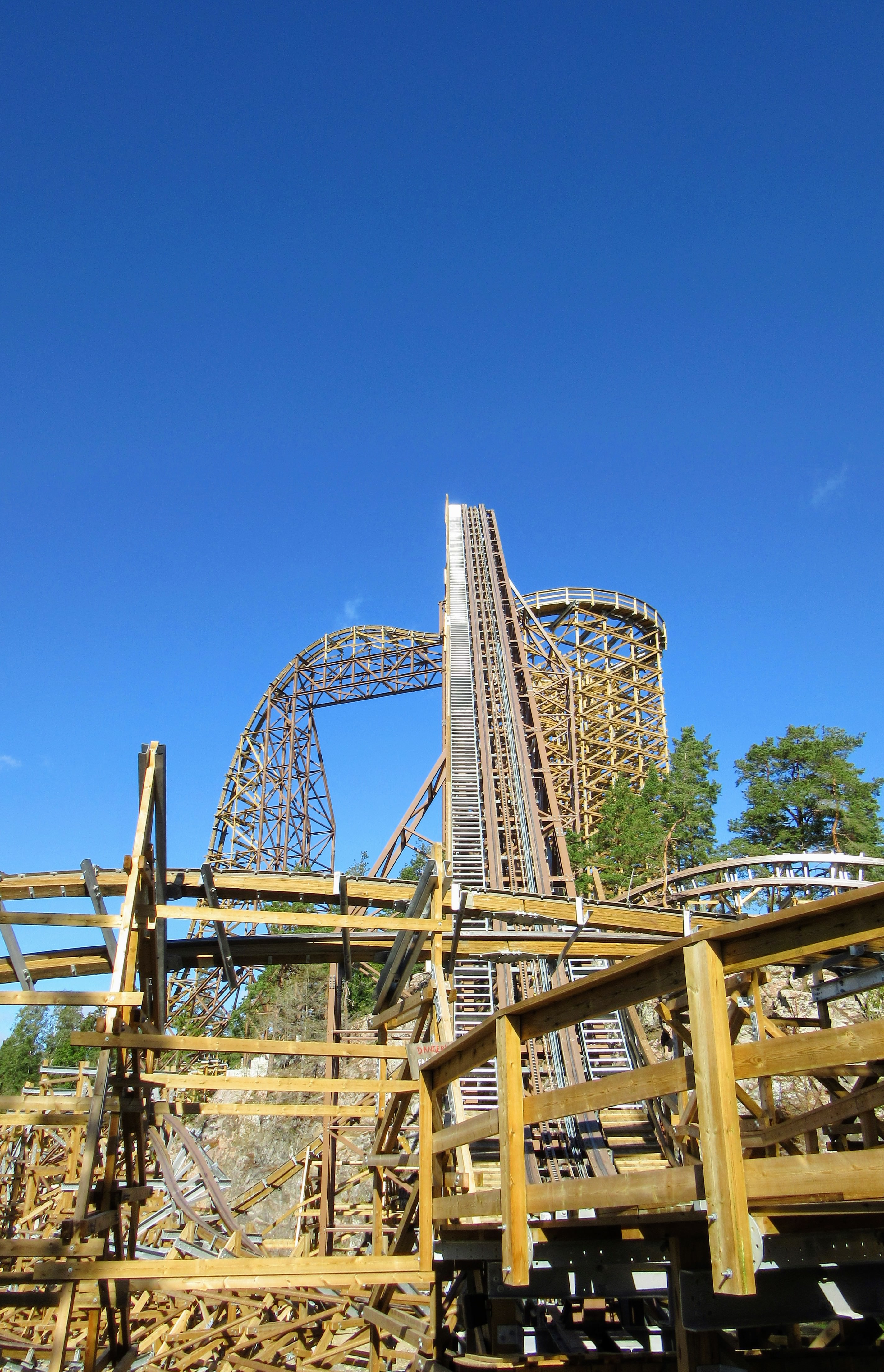 The train climbed to a height of 180 ft. and then accelerated through a banked turn that made our heads spin with views of the gorgeous Swedish countryside.  The coaster quickly crested before it dropped 160 ft. at an 83˚ angle.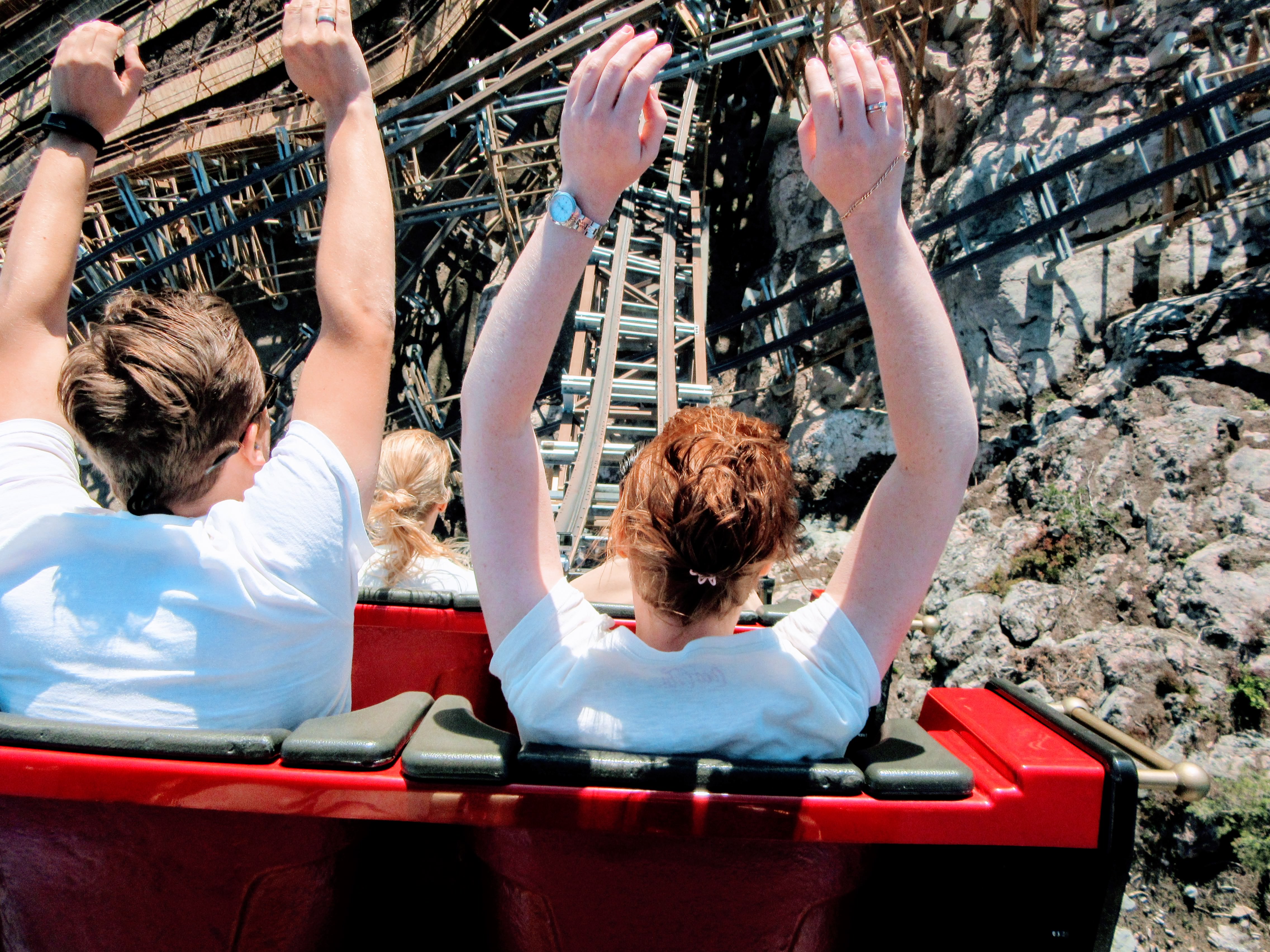 Note: you aren't typically allowed to take pictures while riding – this was a perk of the coaster club event.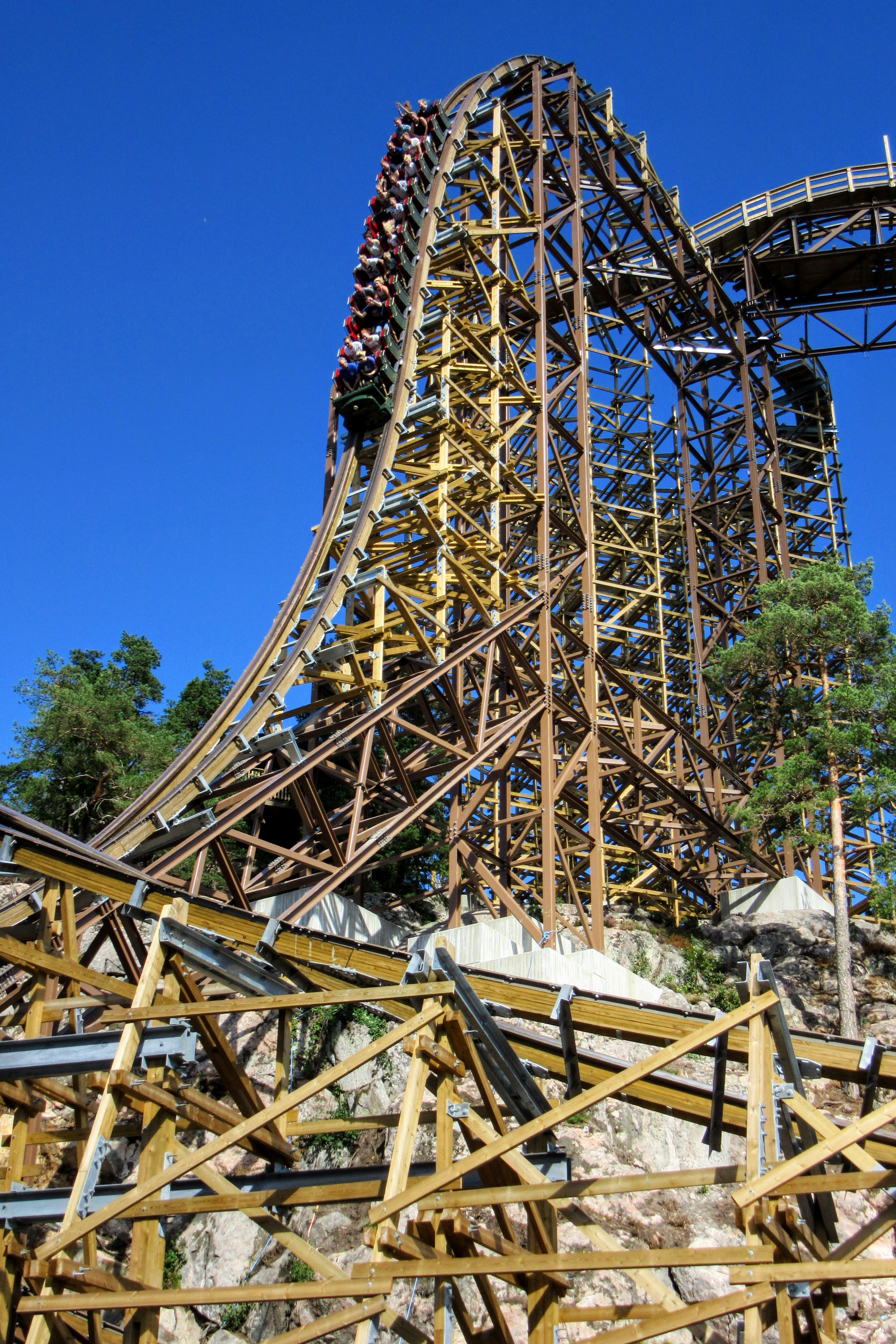 Throughout the two minute ride, we enjoyed a zero gravity inversion, two heartline rolls, quality airtime, and intensely banked turns.  The train reached speeds of 70 mph (110 km/h) throughout its twisting journey, and at times I could hardly keep up as the coaster raced through different elements.  I had to ride it several times before I could grasp much of the layout.
This coaster certainly deserves superlatives such as out of this world and crazy awesome.  Of course, you don't have to take my word for how much fun this ride is, you can see for yourself by watching our on-ride video here or watching a standard POV here.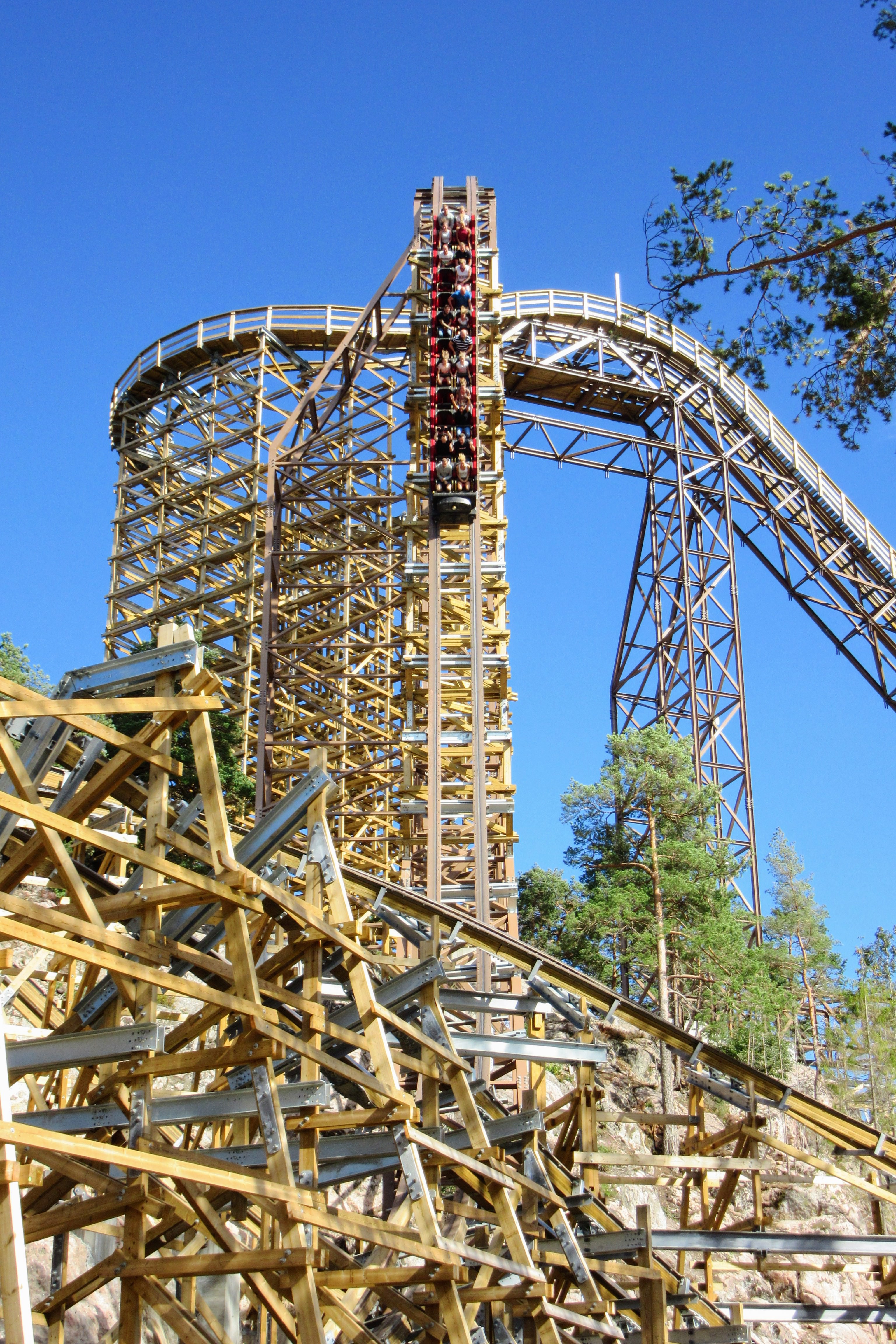 I enjoyed this coaster to the point where I would ride as much as I could physically handle.  In fact, I got the chance to do exactly that in the evening as the ECC had arranged for exclusive ride time (ERT).  I rode Wildfire 10 times during the one hour of ERT, chatting with other enthusiasts and frequently not changing seats between rides.  While this caused me pain later, it was a once in a lifetime experience that I wasn't going to turn down.
After the ERT we were given a behind the scenes tour of the coaster accompanied by RMC employees.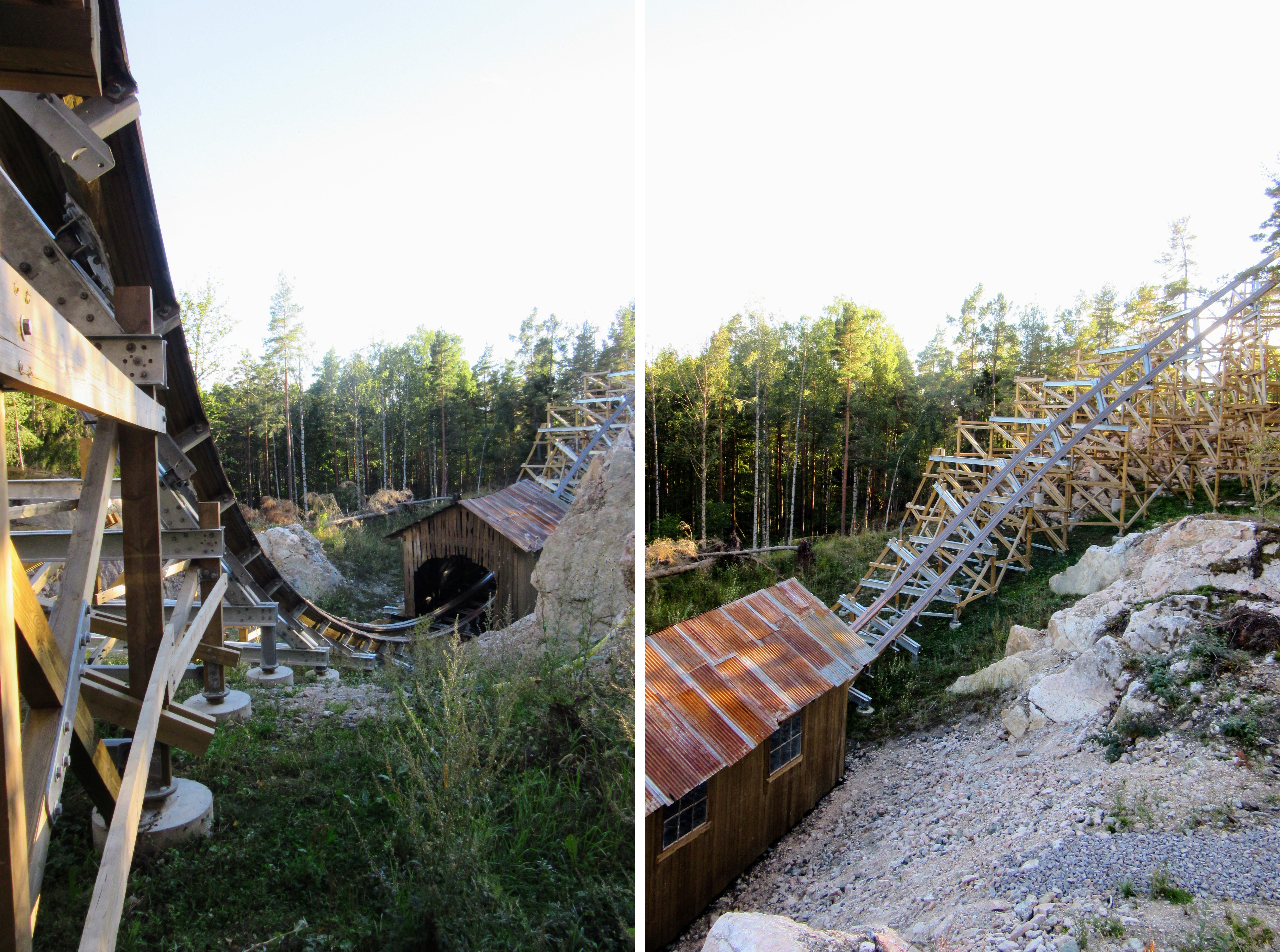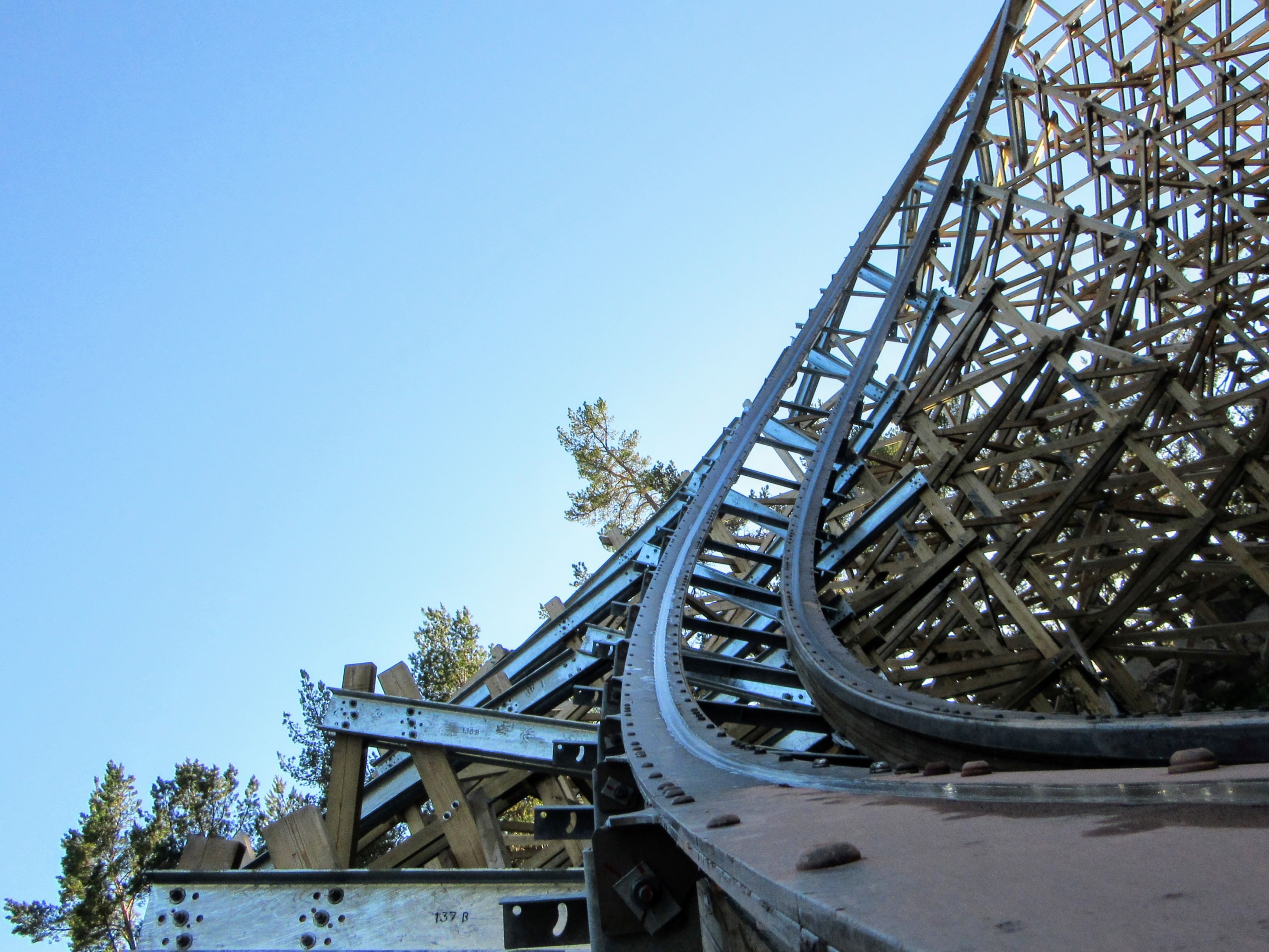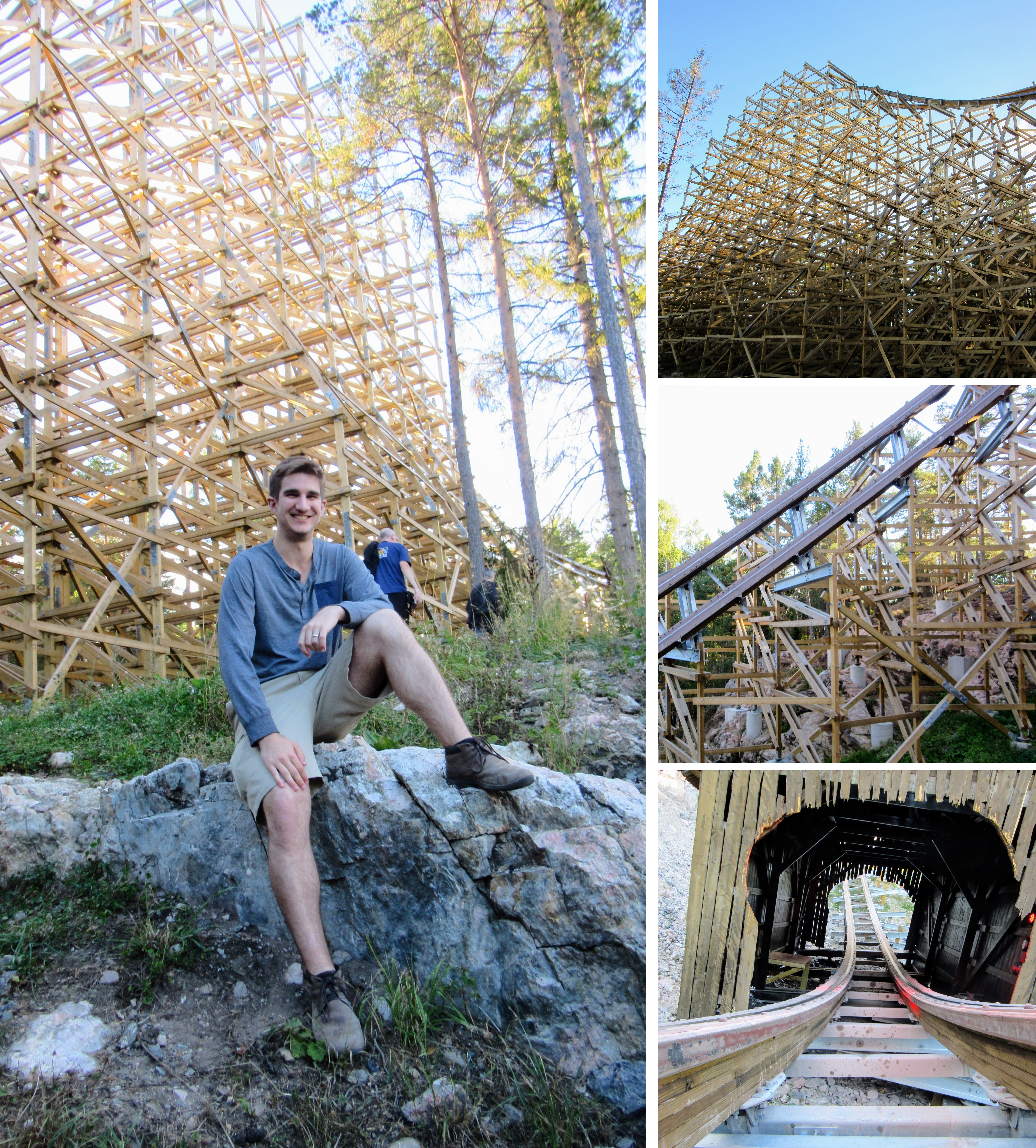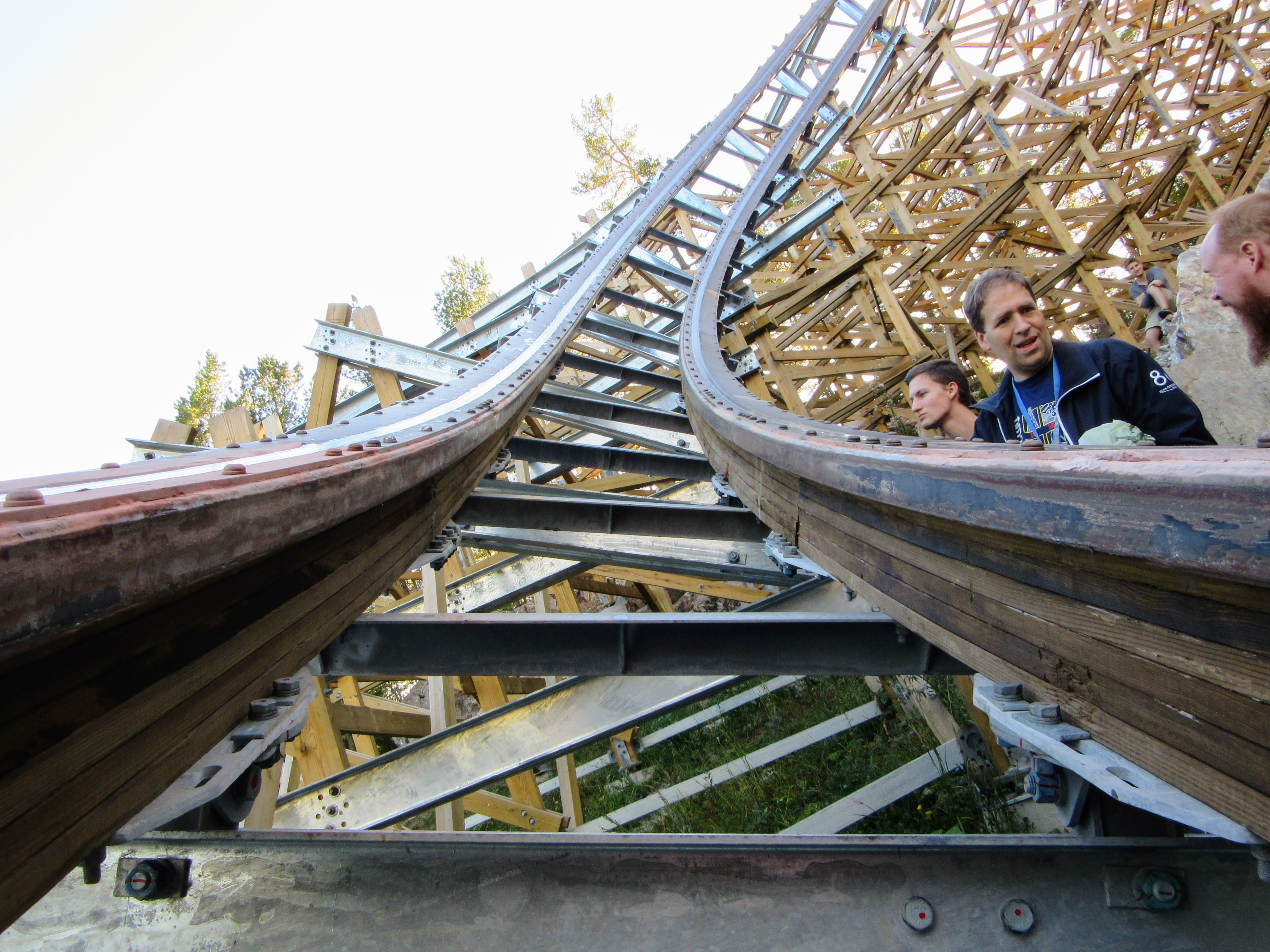 Our day at Kolmården started and ended with Wildfire and we came to know this wonderful coaster on a deeper level than most we've ridden.  Unfortunately, Wildfire was shut down shortly after our visit and there were rumors of demolishing the 110 million SEK (12.5 million USD) investment.  There had been objections from environmentalists throughout the construction process; many complaints focused on the noise from the coaster and how it might harm the animals at the zoo.  For some reason the original building permit for Wildfire was later retracted by the government – after the coaster was completed and had been operating for several months.  Coaster enthusiasts raced to sign petitions to keep the coaster and fretted about the potential outcome.  Recently, news surfaced that Wildfire may finally be in the clear.
We certainly hope that this coaster doesn't suffer any misfortunes, especially as the noise levels weren't overwhelming and the nearby wildlife seemed fine during our visit.  Furthermore, the park is only open from April – October, giving the animals a break during the winter (and every night during the season).
Delfinexpressen & Godiståget.
The other two roller coasters at Kolmården are much calmer.  Godiståget, Swedish for "Candy Train", is a small coaster located in the kiddie section of the park.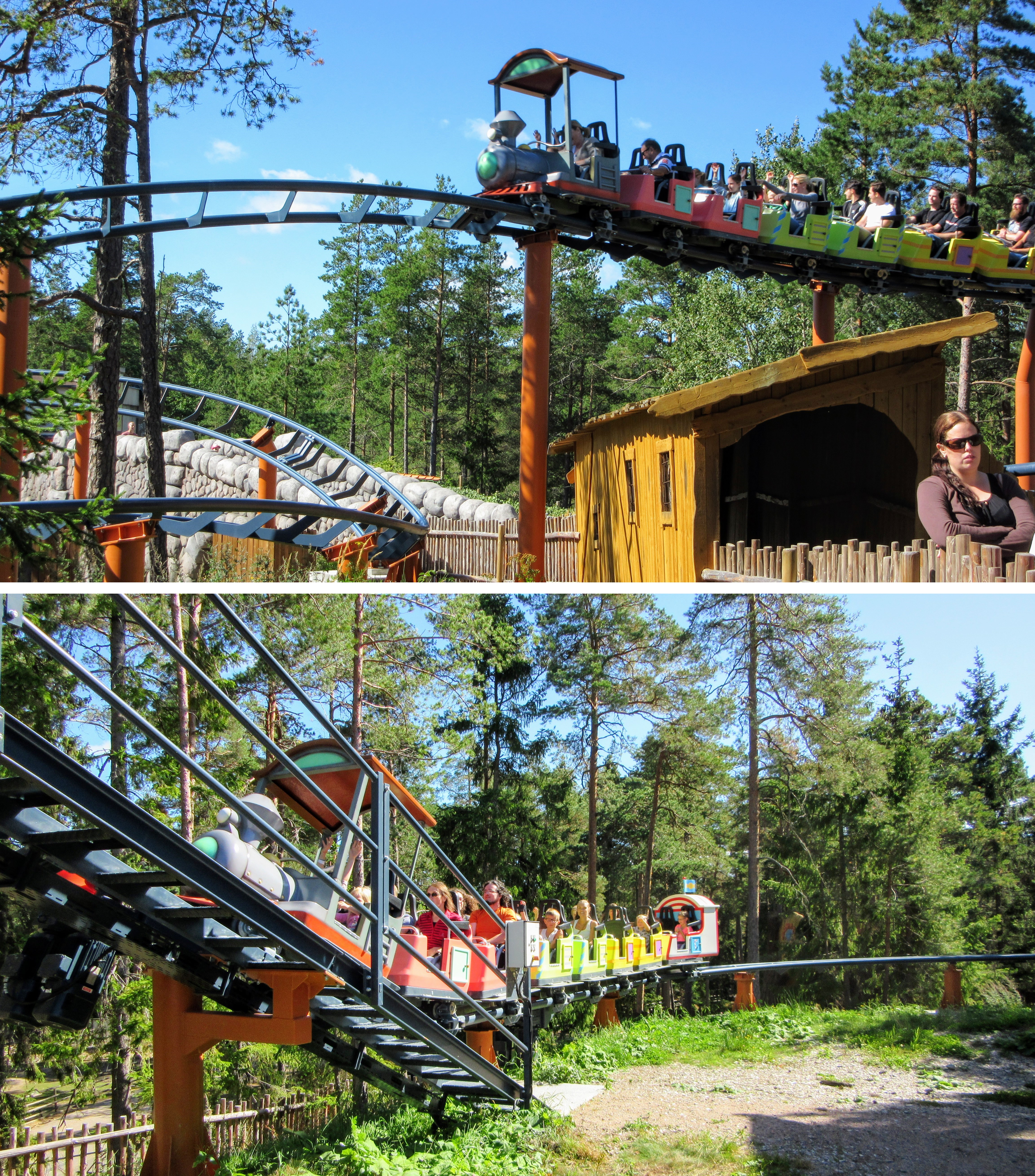 We enjoyed riding this colorful kid coaster.  The kids loved it too, waving and yelling throughout the short ride.  It was a great family experience.  The kids section of the park was pretty expansive and seemed very popular, I would absolutely recommend it for people with younger kids.
The other coaster, Delfinexpressen, is a dolphin themed ride located next to Wildfire.  The front and back of the coaster is a dolphin, and this low intensity ride certainly fits in well with Kolmården's dolphin show, dolphinarium, and overall love of dolphins.  I didn't manage to get any photos of this coaster but you can see what it looks like here.
The Safari.
The safari area of the park was originally a drive through attraction.  In 2011 the park instead opened a cable car system that drops quite low to the ground throughout the ride, giving you a chance to experience wild animals in surprisingly close quarters while remaining safe.  It's very well done and turned out to be one of my all-time favorite wildlife experiences.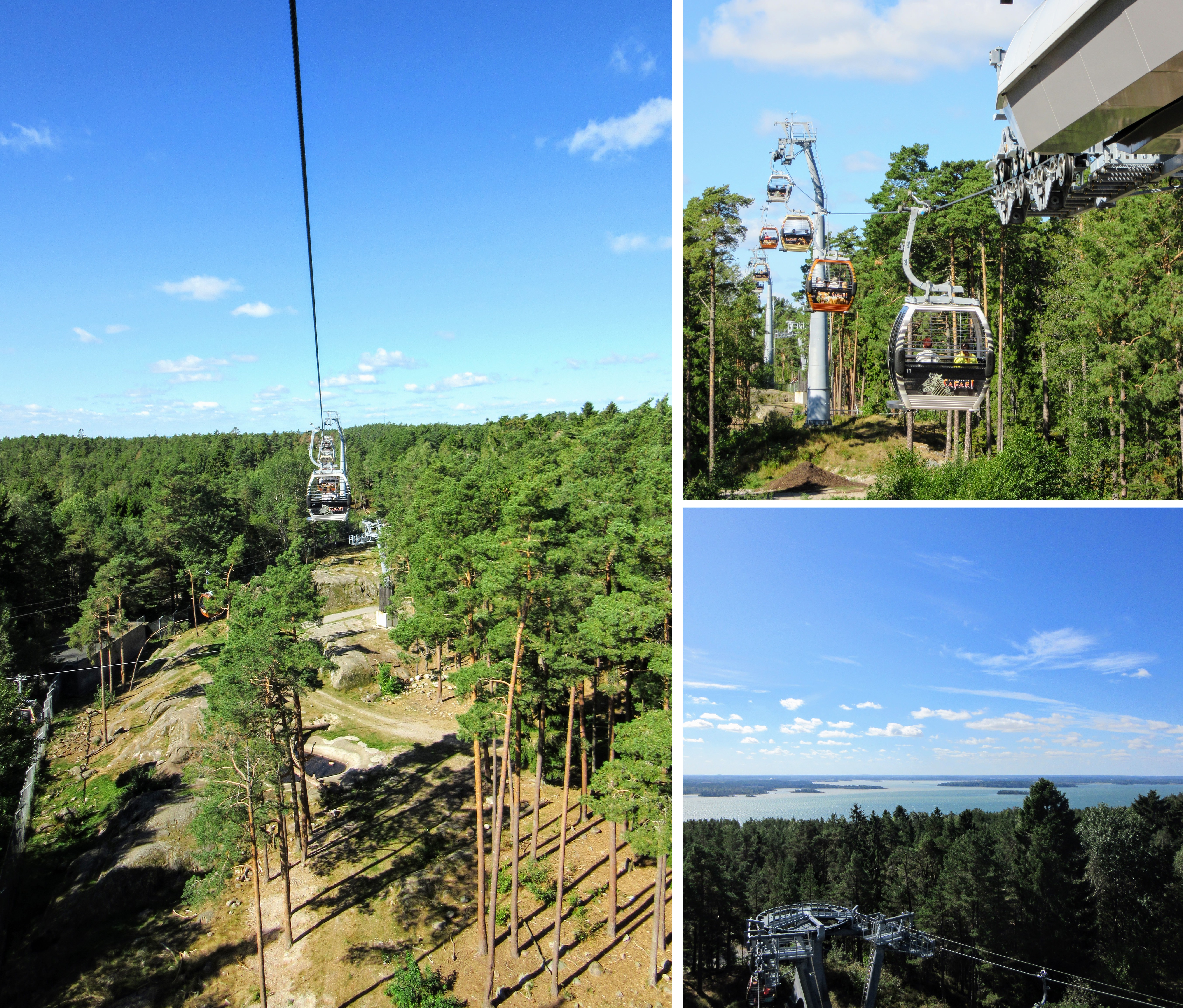 I was quite happy when we got a gondola all to ourselves for this ride.  We could have easily been paired with another couple or family, but perhaps the attendant chose not to since we asked if the audio guide had English (it did).
The first section of the safari goes past the length of Wildfire, which was of course thrilling for us.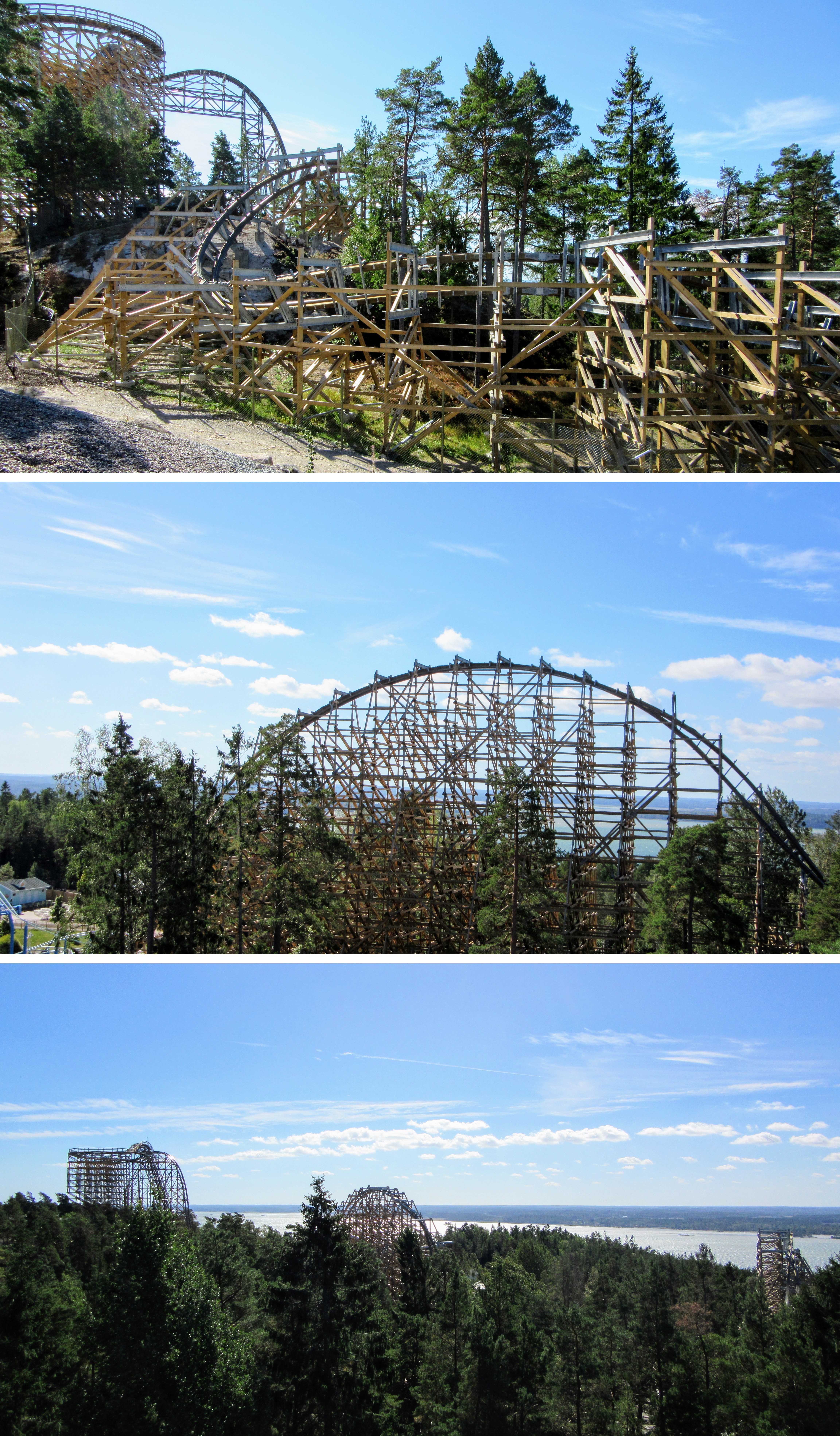 The gondolas are open air, which really makes you feel like you've stepped into the animals' home.  As we glided along we saw a brown bear roaming, giraffes eating, antelope running together, and a moose bathing.  The animals completely disregarded our presence and seemed very comfortable.  The lions were especially sleepy when we drifted above them.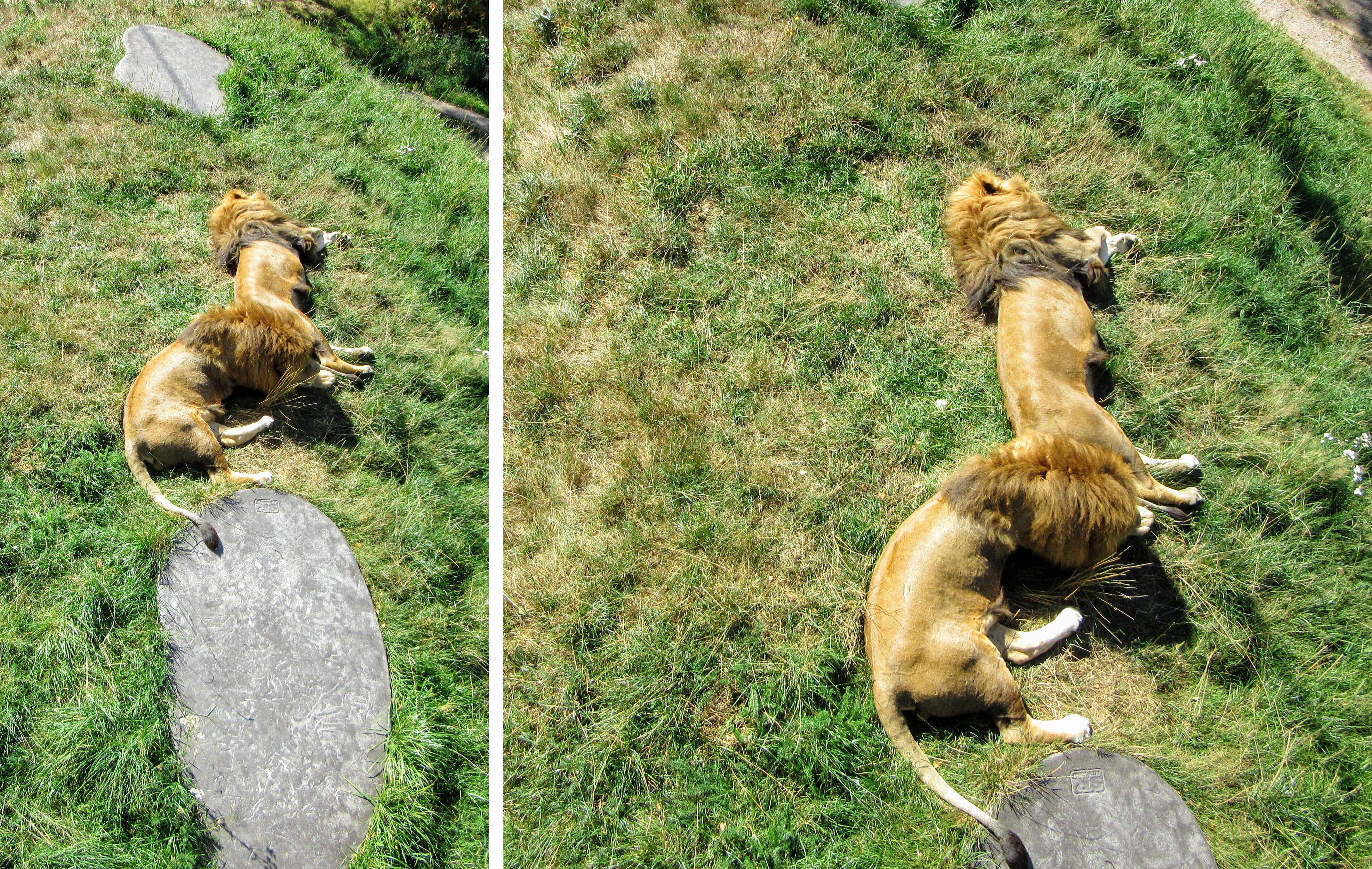 The ride twists and turns, going through five different themed areas: the highland, forest of the bears, savannah, Scandinavian forest, and valley of the lions.  It's a wonderful experience that I'm labeling as a must-do, in fact I would not want to visit the park if this attraction was closed for maintenance.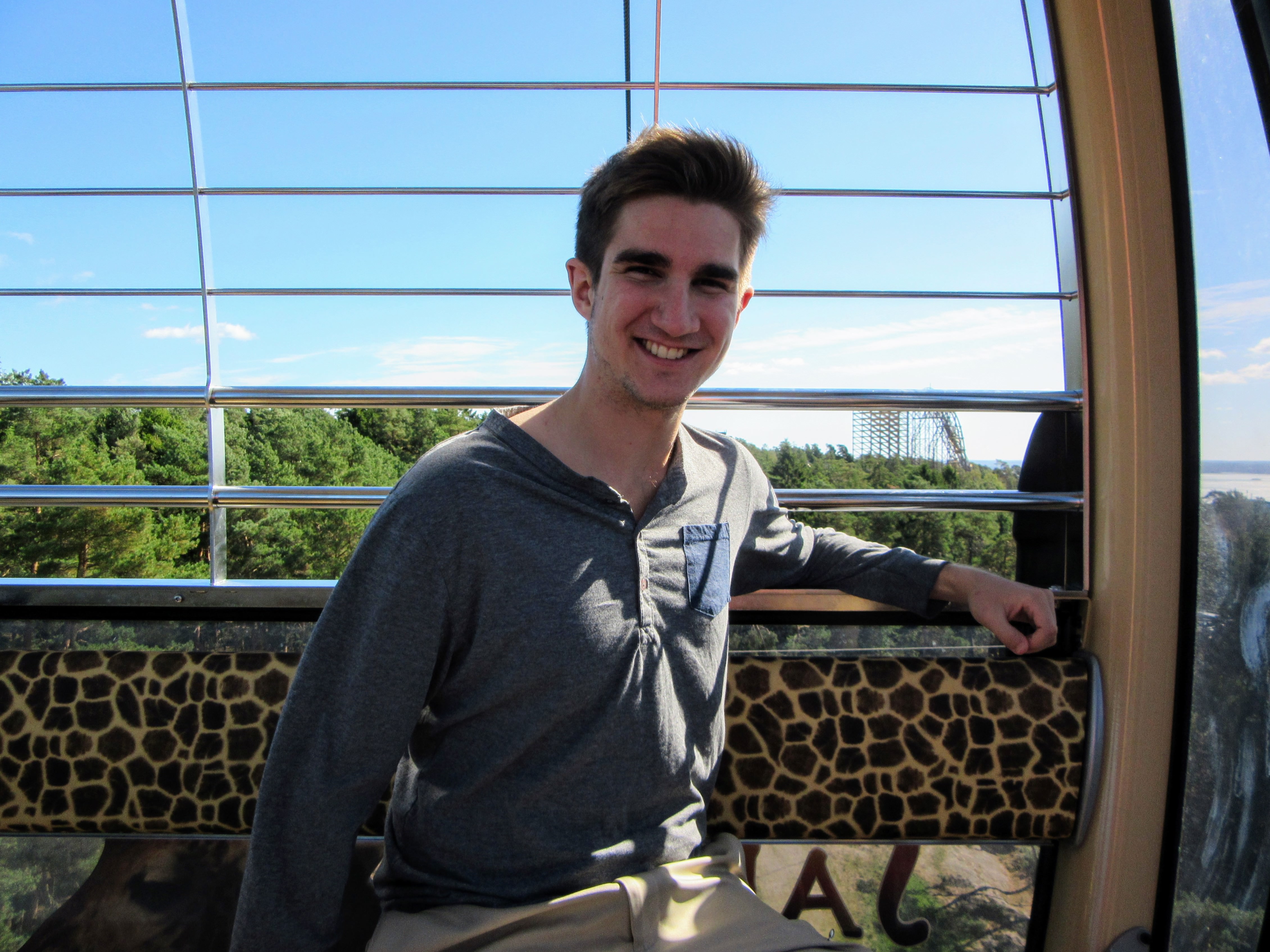 Other attractions.
What I've covered so far hardly scratches the surface of all that Kolmården has to offer.  It was hard to keep track of all the animals we saw in the park – and we only saw a few as we were focusing on Wildfire.  I do remember a lemur exhibit, an elephant home, and a tunnel in Tiger World where you can get alarmingly close to the big cats.  The overall park experience is educational thanks to the informative displays in different areas (most with English translations) and demonstrations by park staff (these seem to be primarily in Swedish).
The parks puts on two shows, the Dolphin Show "Life" and the Birds of Prey Show "Wings".  There are two areas, "The World of Bamse" and "Marine World", created specifically for kids to enjoy.  We observed lots of families with small children on the small rides and in play areas, shops and food courts.   I was very worn out from how far we walked inside the park and I can imagine small children would need a stroller or one of the wagons available for rent.
The zoo is so large you could easily spend two days seeing everything.  If you want to have multiple days you can chose from two options for staying at the park.   One is the Vildmarkshotellet hotel that comes with a private park entrance and two day pass plus child friendly activities and a spa.  The other option, the Safari Camp, is quite the opposite experience as you stay in an African-style tent village inside the Safari area.  Both sound remarkable and I'd love to try one on another visit.
Cost.
We received free admission thanks to the ECC, but the one day pass currently costs 429 SEK / 49 USD for an adult and 379 SEK / 43 USD for a child (depending on the conversion rate, of course).  We spent approximately 176 SEK / 20 USD on a small lunch, a snack, and water at the park.
Fortunately, the admission fee covers all the attractions.  This is not always the case at parks and having to pay extra for experiences is a pet peeve of mine (specifically on our recent trip to Busch Gardens).
Resources.
Kolmården Wildlife Park Website (English): http://www.kolmarden.com/sprak/english
Parks and Resorts Scandinavia: http://www.parksandresorts.com/English/
Wildfire Site: http://wildfire.kolmarden.com/
You can also follow the park on Instagram here or follow their Wildfire account here.  I've found that following places on Instagram before I visit them helps me to plan my trip and be more excited about it.  Also, the photos of Wildfire are gorgeous.
Tack (thank you in Swedish) for reading!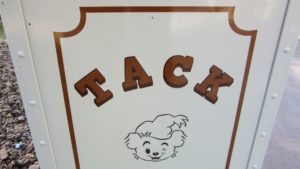 A Day at Kolmården Wildlife Park in Sweden.
Click To Tweet
Pin this: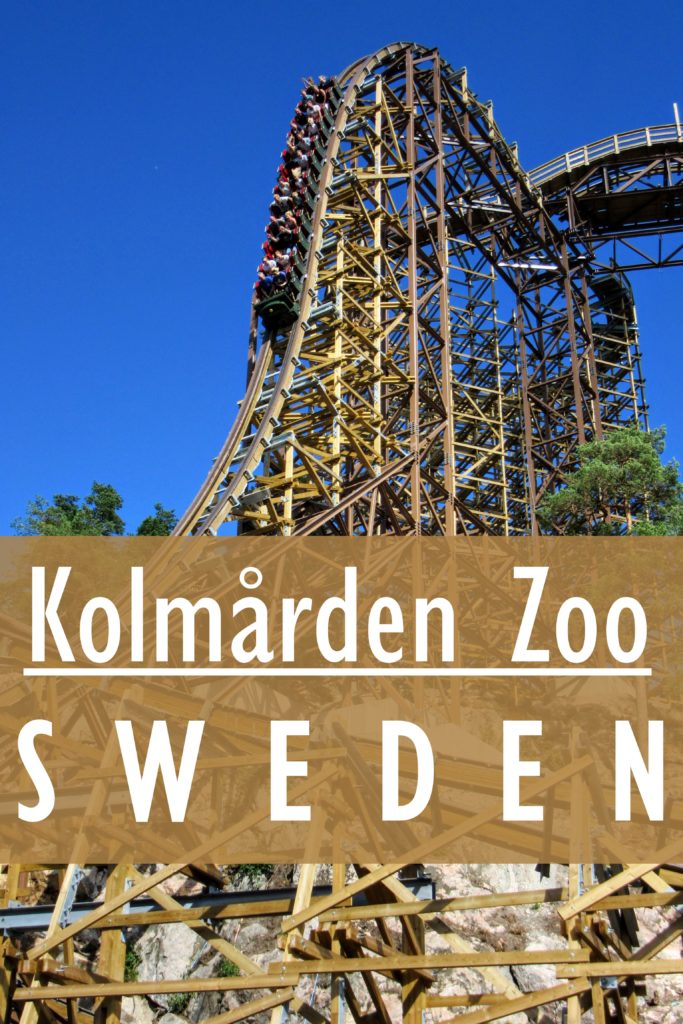 This post is linked up with The Weekly Postcard, Weekend Wanderlust, Wanderful Wednesday (with hosts Isabel, Marcella, Van, and Lauren), Farway Files, Fly Away Friday, and Feet Do Travel: