Allow me to introduce Koopa, my four year old pet budgie, emotional service animal, and pint sized travel companion.  He's named after Koopa Troopa, a turtle-like character from the Super Mario series.  His favorite foods include corn, applesauce, and tortilla chips.  He can talk a little bit, and really enjoys saying "baby bird" and "pew pew pew".  His most treasured toys include a 'no smoking' sign (that we may or may not have stolen for him) and a gold dollar sign on a chain that cost 50 cents at Walmart.  He loves climbing in my hair, flying laps around our apartment, and taking ice baths in my water.  He requires constant supervision.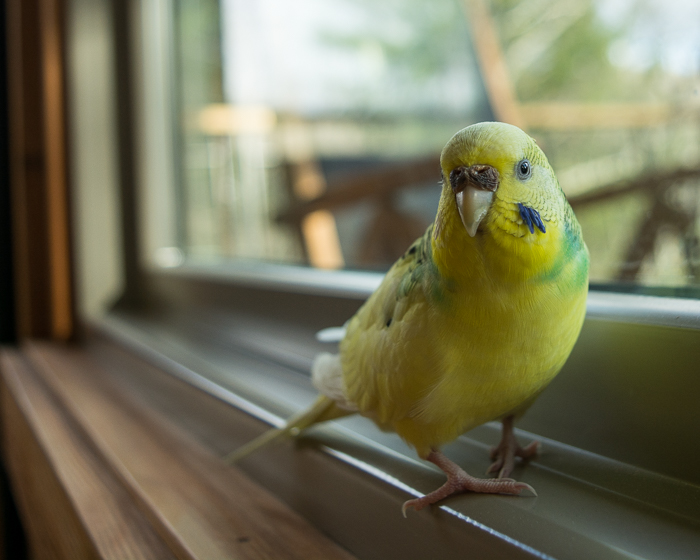 I love him so much it hurts.
Perhaps the most interesting thing about Koopa is that he travels with us!  People are always very surprised that we have a pet budgie, and then even more surprised to learn that we treat our bird like most people treat their dogs – including taking him along on trips.  So today I'm going to tell you all about Koopa's life and travels.
Koopa the Traveling Pet Budgie.
Mr. Meena and I got Koopa in September of 2013 after I spent the entire summer wearing down my soon-to-be husband with my repeated requests for a pet budgie.  He showed up at my apartment one morning and said those words I'd been longing to hear for so long, "Let's go get a bird."  And so we did.
Three short months later we took our pet budgie on his first trip – our honeymoon.  Our family enjoyed five nights together at a cabin in the mountains of Pigeon Forge, Tennessee.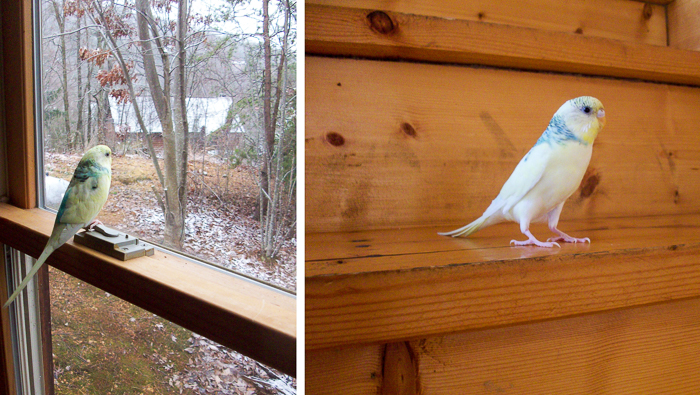 We then moved to Charlotte, North Carolina to start our life together.  This is when we began spoiling Koopa in earnest.  We bought him way too many toys and even got him a real tree to play on.  When I started a full time job later in the year, we bought him a bird mansion so he'd have lots of space to play during the day while we were gone.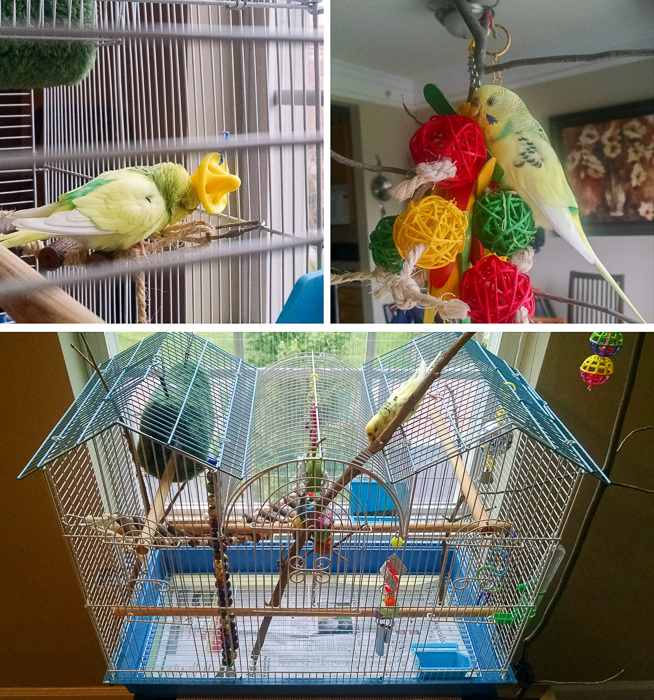 It wasn't long before we took our first big trip without Koopa.  We left him with plenty of food and entertainment, had family check on him, and even set up Skype so I could call and video chat with him 26 times a day.  But the trip took a bigger toll on him than we'd expected (and I really hated leaving him behind).  So we tried our best to either take short trips or plan trips where Koopa could come along.  It's really hard to take him on trips where don't have a home base for him to stay at during the day.  For example, if we are checking out of a hotel and then spending the day at a theme park, we can't take him along or check him into a kennel like a dog owner could.
We did take him back Pigeon Forge for our anniversary trip, however, and down to Florida to visit Mr. Meena's grandparents.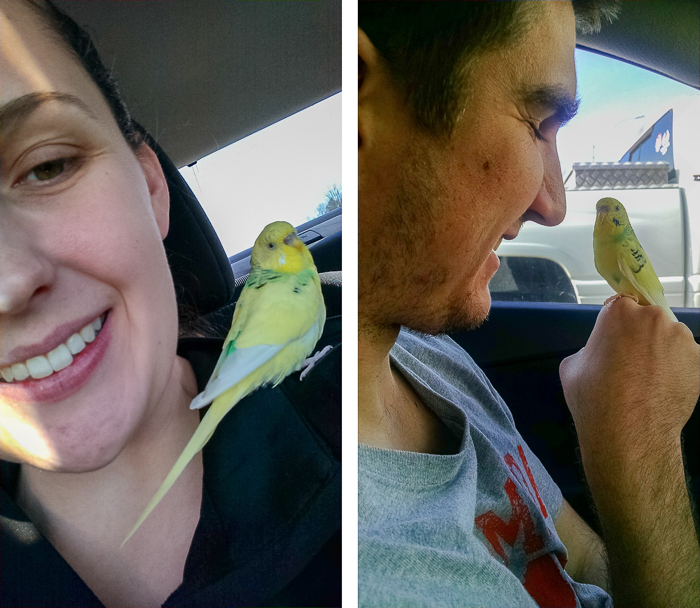 Koopa loves road trips.  He chirps along with the music and loves to look out the window.  We have definitely surprised some fellow drivers we pass along the way.  I love how easy it is to travel with a bird – we don't have to stop for pee breaks and all his food and water is contained inside his carrier.
When we got the opportunity to move to Germany in 2015 I knew that leaving Koopa behind was not an option.  We moved heaven and earth to take him abroad with us (actually, Mr. Meena did most of the work because I'd have a meltdown each time someone said it wouldn't be possible to take him).
Taking any kind of bird across country lines is unbelievably difficult because of the bird flu.  In the end it cost us $700 and we spent countless hours on the phone with the USDA, the extremely unhelpful import staff at the Frankfurt airport, and US Wildlife Services.  It also took three trips to our amazing veterinarian, one trip to the USDA office in Raleigh two days before our flight, and one overnighted package to a lab in Nevada that agreed to test Koopa's saliva for the avian flu even though there is no test available for parakeets (we had to prove that he wasn't infected since there is also no vaccine available for parakeets).  Truly, the requirements we had to jump through in order to import our pet budgie into the European Union were far beyond reasonable, especially when you compare them to what is required to bring a pet dog or cat.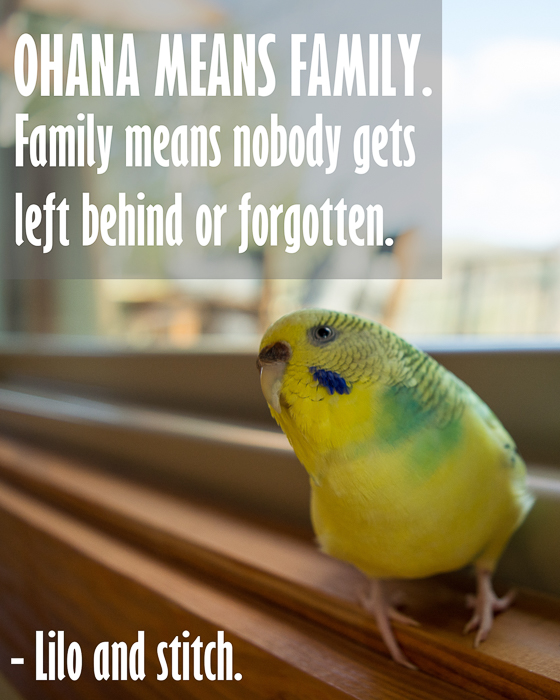 Aside from the logistical nightmare of it, we had great fun actually taking Koopa to Germany.  Everyone working airport security was delighted to meet him and Koopa chirped throughout the entire airport.  The stewardesses on the plane exclaimed when they saw him and Koopa actually did quite well on his first flight across the Atlantic.  When we landed in Frankfurt and met our driver, Uwe, Koopa chirped a welcome to him, too.
We encountered a few issues when we settled into our new home – a hotel in Schweinfurt.  There were no window screens (and also no AC, so we needed to open the windows often), which meant Koopa had to be locked up each time we had to open a window.  (We eventually installed window screens, to the frustration of the hotel owners.)  The hotel staff repeatedly used their cleaning solutions when he was in the room – a big no no – even after repeatedly being asked not to.  They would also turn off the electricity to our rooms if we weren't there, which put Koopa at risk of freezing to death in the winter.  It was frustrating to have to constantly protect our pet budgie, because he is very delicate and not many people are aware of the dangers he faces.
It wasn't long before Koopa took his first trip within Germany, though.  He accompanied us to Munich in November, traveling on a train for the first time.  He also came with us on our anniversary trip to Tannheim, Austria a month later.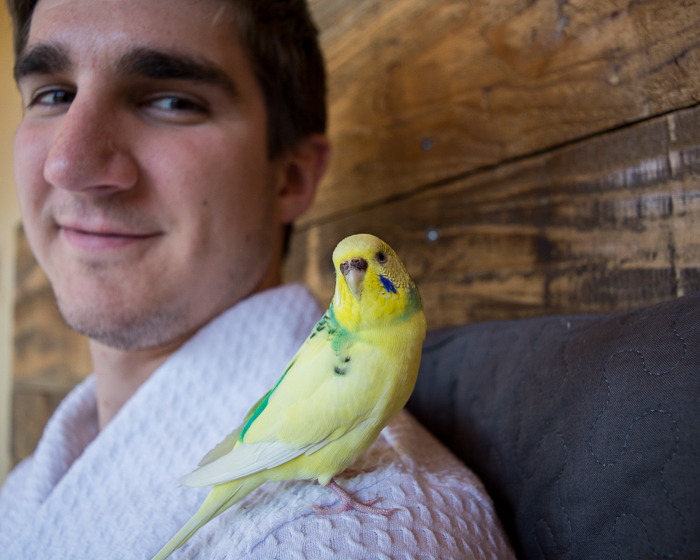 Halfway through our time in Germany, Koopa surprised us all when he laid an egg.  Our vet had told us that Koopa's coloring could be either male or female, but it wasn't until we discovered the egg that we knew for sure.  But Koopa's import paperwork listed him as male and our attempts at switching from "good boy" to "good girl"failed miserably.  So decided to keep referring to Koopa as male unless we"re at the veterinarian or it's medically relevant for some reason.
In the summer of 2016 we took Koopa to Hamburg, Germany.  He sat on the dashboard while we zoomed along the autobahn and joined us outside for pit stops along the way.  When we stopped in Hildesheim to walk the Rose Route we took Koopa on the walk with us in his travel carrier.  We confused a lot of Germans that day.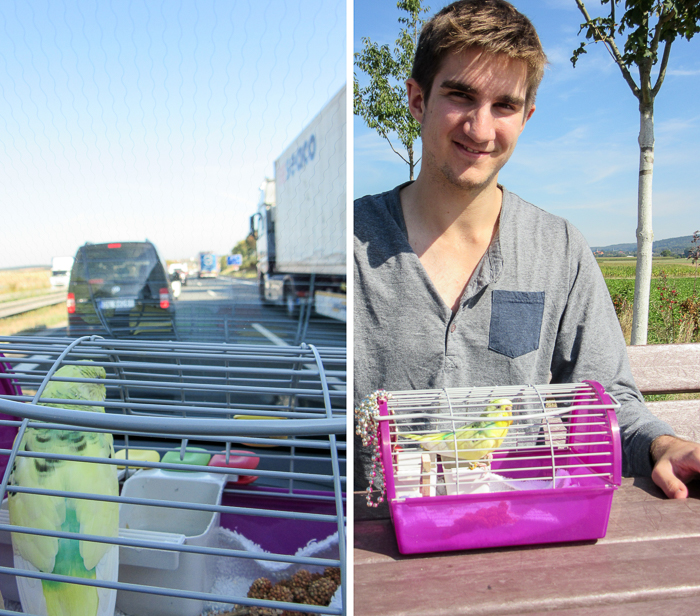 That trip was a bit rough for us because, despite asking the hotel staff multiple times not to clean our room, our room was cleaned every day with strong cleaning solutions that could have hurt or even potentially killed Koopa.  It was an extremely frustrating situation and part of the reason why it is so difficult to travel with a pet bird.  We've almost never had problems in the United States with hotel staff cleaning our room when we've given them explicit instructions not to.  We have gradually transitioned to using Airbnb rentals (or something similar) where it's stated up front that your room will not be cleaned during your stay.  It's really the only way we can be sure that Koopa is safe while we go out to do something.
We flew home with Koopa in October 2016 after once again meeting a long list of exhausting import / export requirements.  The Frankfurt airport staff told us many times, with uncharacteristically big smiles, that our Wellensittich was Wunderschön.  Other travelers with pet carriers kept asking if we had a hamster because our carrier was too small for most cats or dogs.  Imagine their surprise when a bright yellow head popped up in response.
As soon as the USDA quarantine period was over (Koopa was not allowed to leave our home for 30 days after being imported) we headed to Florida with our pet budgie.  He was surprisingly unfazed by his recent international journey and was an absolute delight during the trafficky road trip south.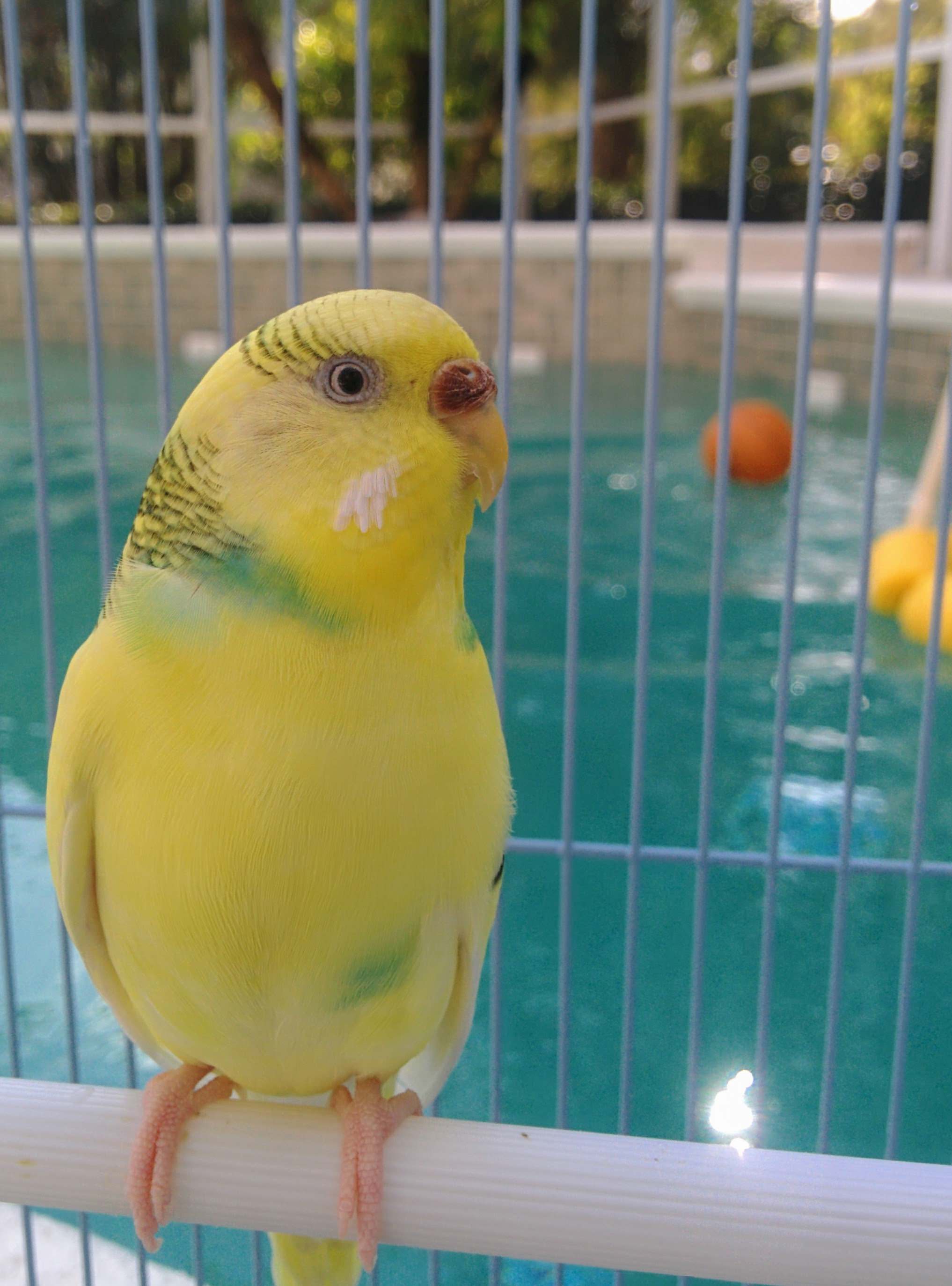 A month later we took him to a rustic cabin in the mountains of North Carolina for our third anniversary.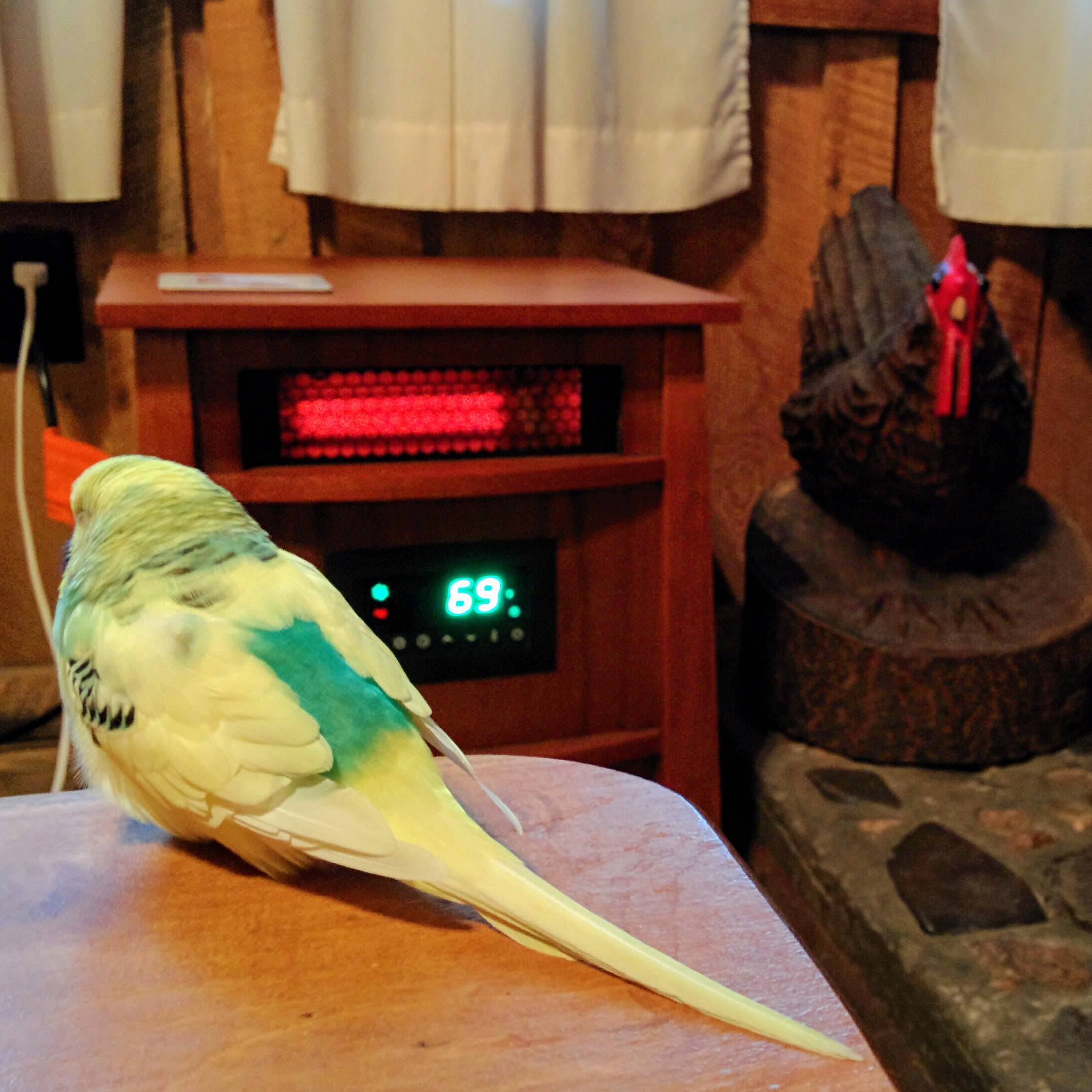 Koopa's most recent trip was to the Stecoah House, a super luxurious two story cabin that's also located in the mountains of North Carolina (one of our favorite nearby getaway locations).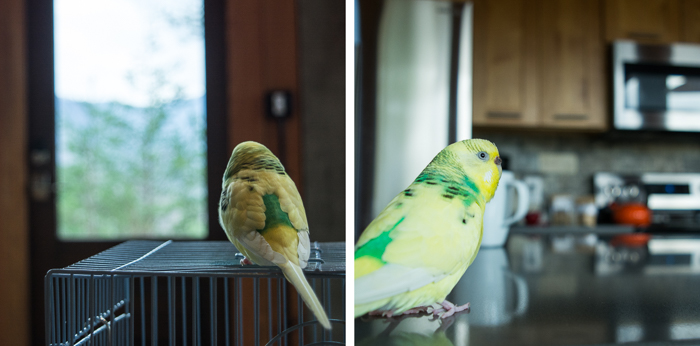 We love traveling with Koopa so much and hope that we can do it even more in the future.  (In case you're wondering, budgies often live to be 12 years old.)  Taking Koopa along enhances our travels in the same way that he enhances our lives.  When there is a traffic jam, Koopa is there wanting to play games.  When we have a disagreement, Koopa hops between us and makes us smile.  Unless he is tired or molting, Koopa is full of pure, infectious happiness.  As someone with chronic pain, it really helps me to have such a sweet pet along on trips, especially because my pain can be severe while traveling.  Koopa is a great distraction and gives me something positive to focus on when my pain flares up.  Traveling with a pet budgie can be difficult at times, but it's absolutely worth it.
So there you have it, the bird that has been to Germany and back.  He's probably traveled to more places than a lot of people have!
Do you travel with your pet?  Tell me all about it in the comments!
---
Koopa the Traveling Pet #Budgie.
Click To Tweet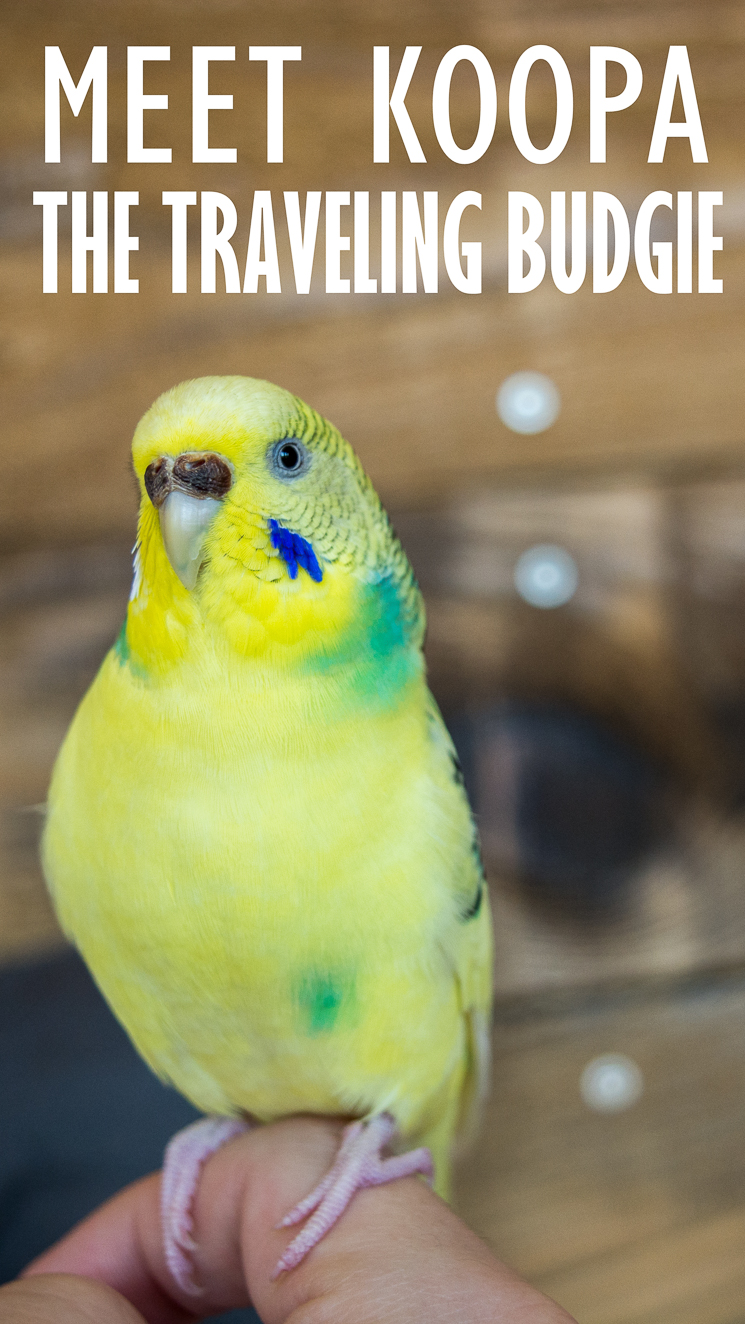 This post is linked up with Faraway Files, Feet Do Travel, Weekend Wanderlust, and The Weekly Postcard: