The Stecoah House is a two story luxury cabin rental located 20 minutes from downtown Bryson City, North Carolina.  Its stunning floor to ceiling windows, open loft design, and 180 degree mountain views create a dreamy atmosphere.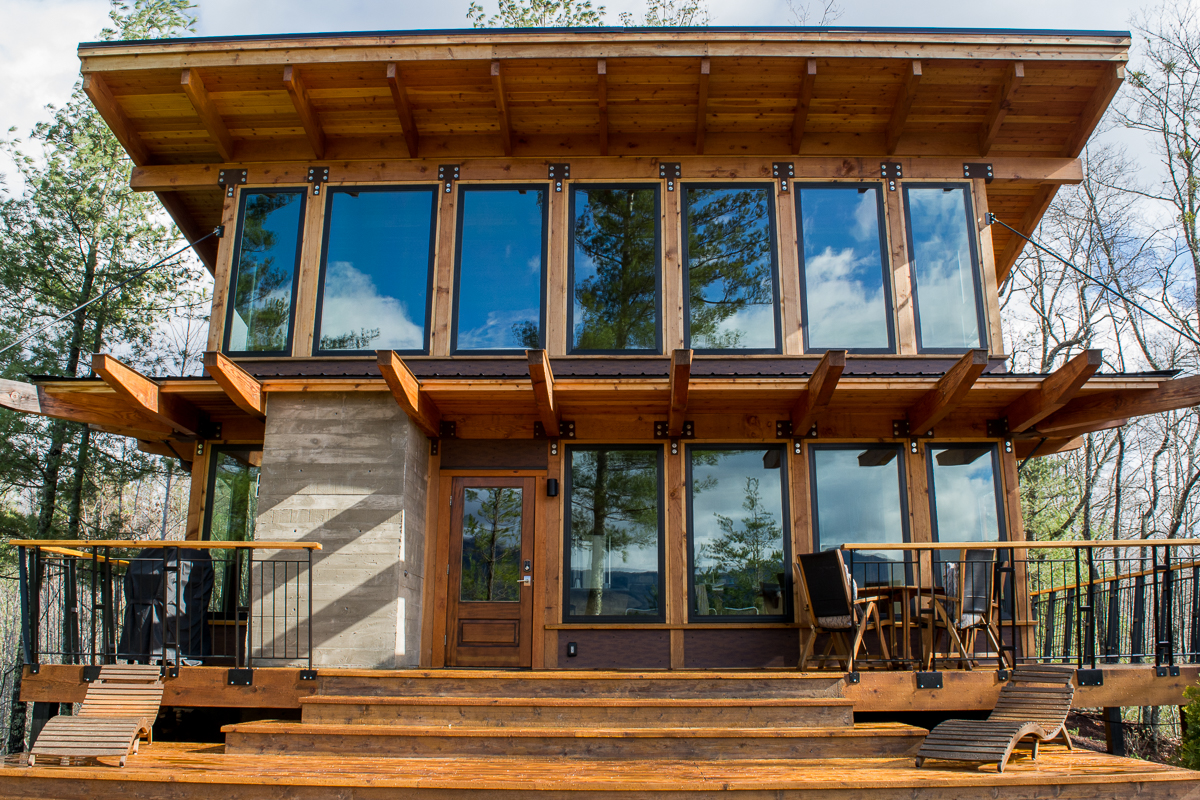 The cabin is situated on a ridge not far from a yurt glampground and it's one of my favorite places in the world.  The Stecoah House, owned by Sky Ridge Yurts, is unmatched in location, design, and personalization compared to other luxury cabin rentals in the area.  In this post, I'll be sharing a typical day at the Stecoah House to show you why I found vacationing there to be so extraordinary.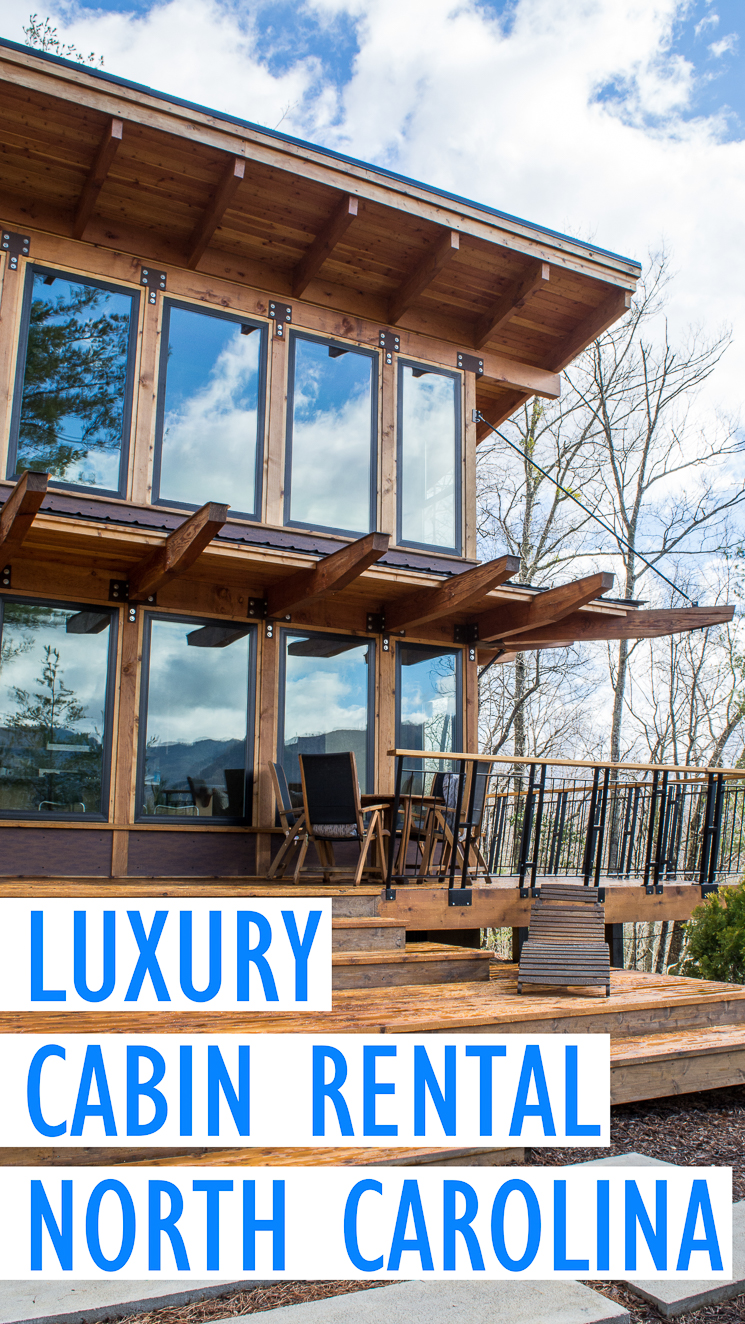 Disclosure: I received a complimentary stay in exchange for this post. As always, all opinions (and tendencies to over pack) remain my own and were not influenced by the sponsor.
A Day at the Stecoah House – Luxury Cabin Rental in North Carolina.
Mornings were my favorite time of day at the Stecoah House.  I loved watching the sunrise from the comfortable king bed upstairs in the loft.
Where else can you wake up like this?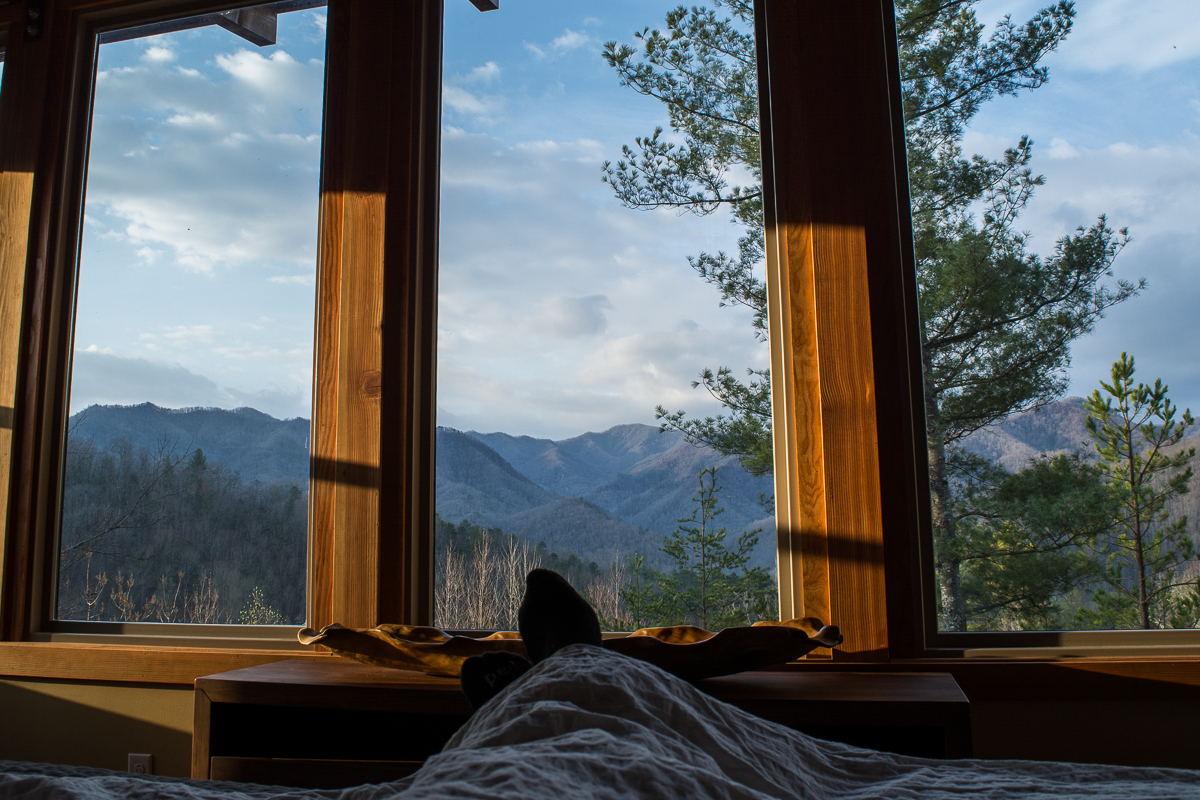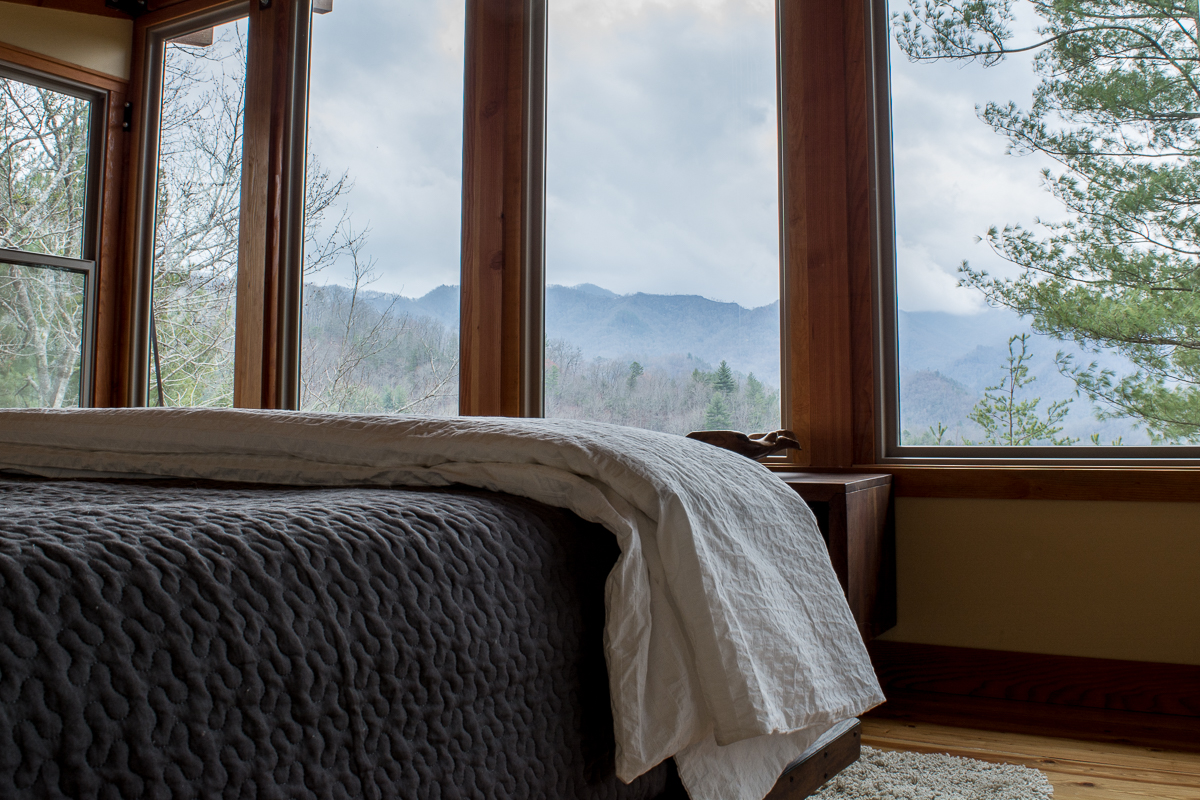 No two mornings were quite the same; some were misty and dark while others were bright and clear.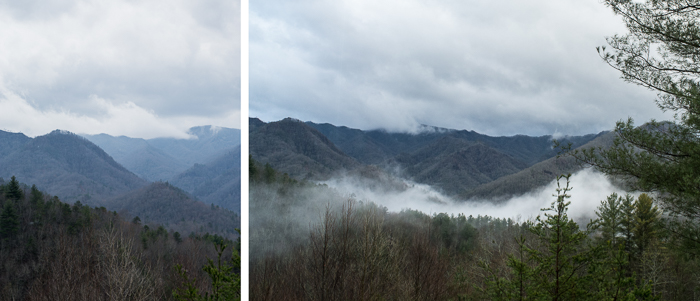 I made sure my glasses were right next to the bed so there would be no delays between waking up and taking in the view outside those huge windows.
A few times I voluntarily set my alarm – on vacation no less – just so I could head downstairs to the spacious patio in time to watch the sun peak over the mountains.  It was a bit cool during my visit at the end of March, so I took a blanket and a hot cup of the complimentary coffee outside with me.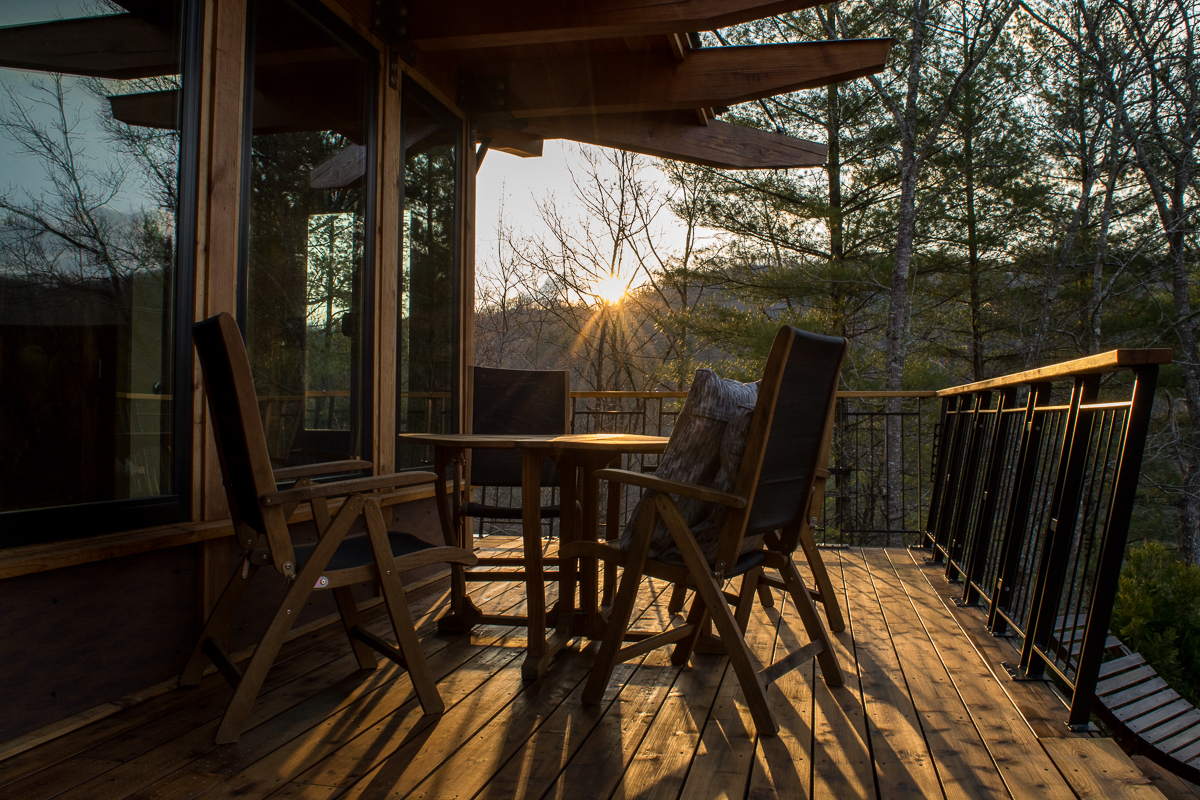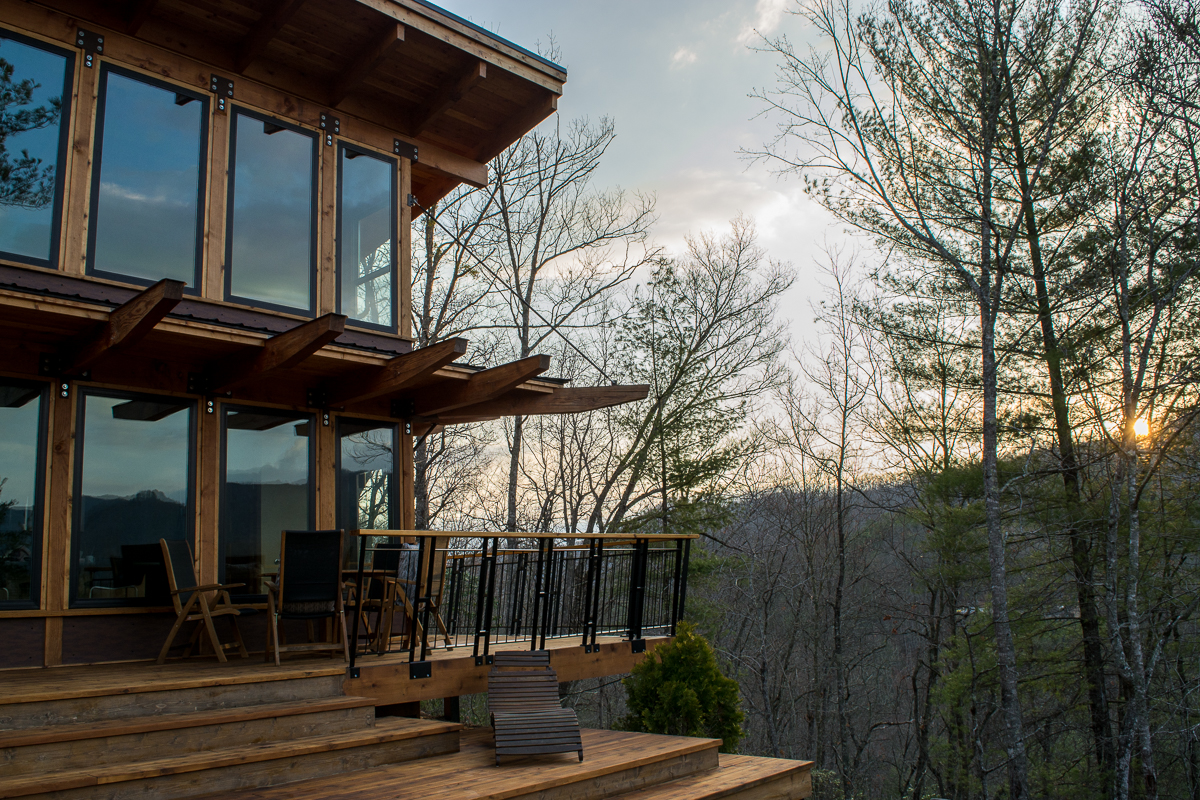 The faint light of the early morning bathed the Stecoah House and the surrounding landscape in soft colors.  I was content to sit outside, camera in hand, and take it all in.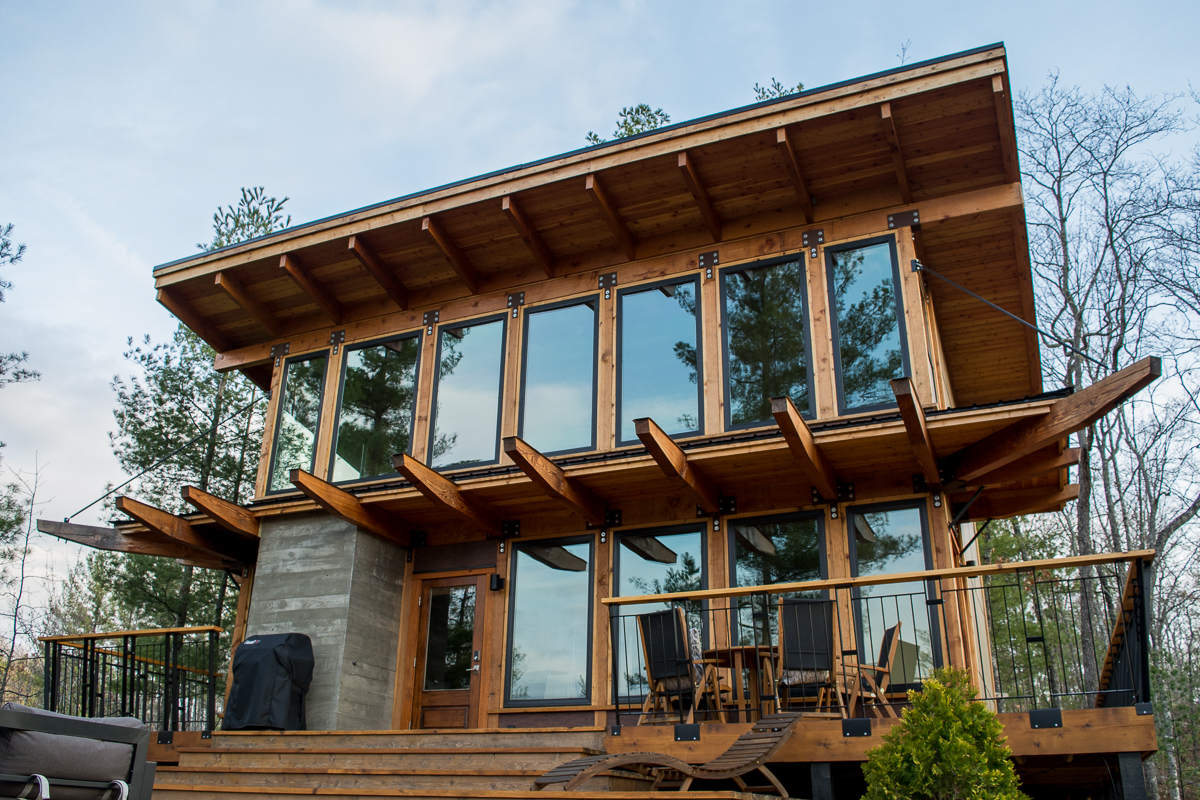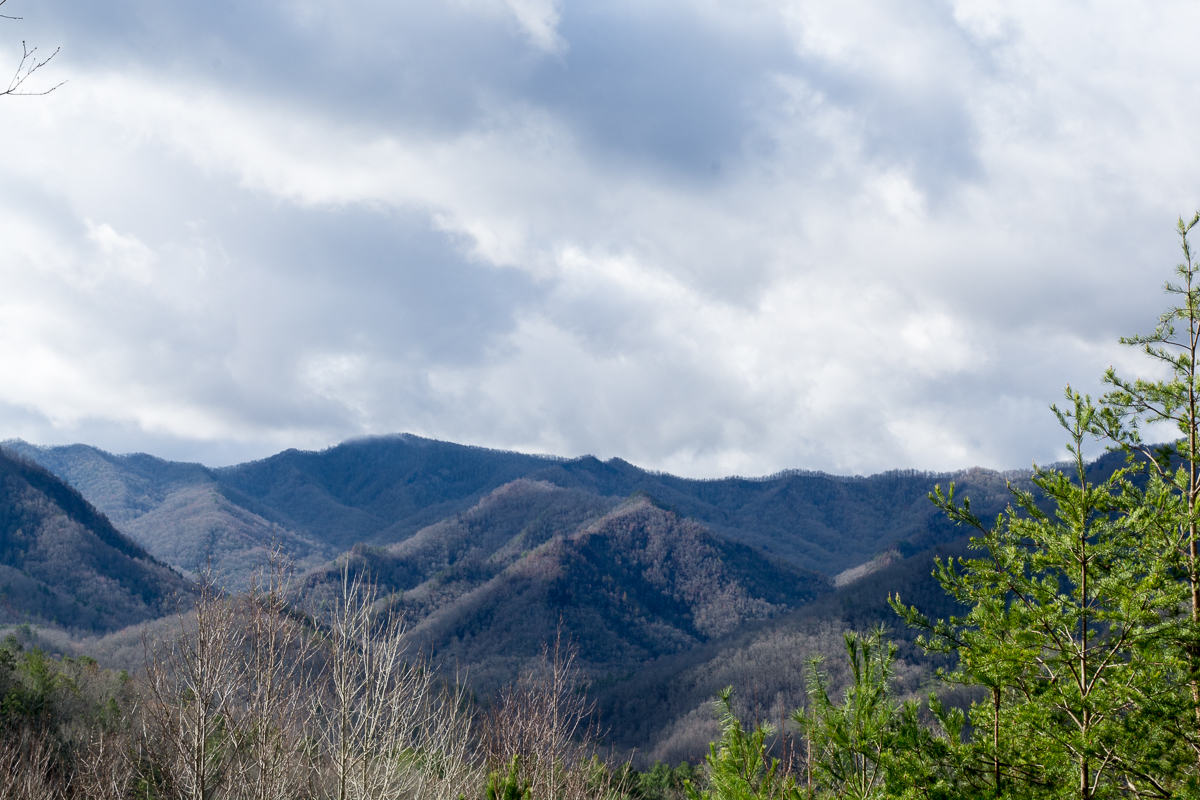 It was hard to tear myself away from such a scene, but eventually hunger and cold fingers dictated my return indoors.  Fortunately, I still had a great view from the large, open kitchen space as I cooked bacon for my indulgent vacation breakfast (I stick to smoothies at home).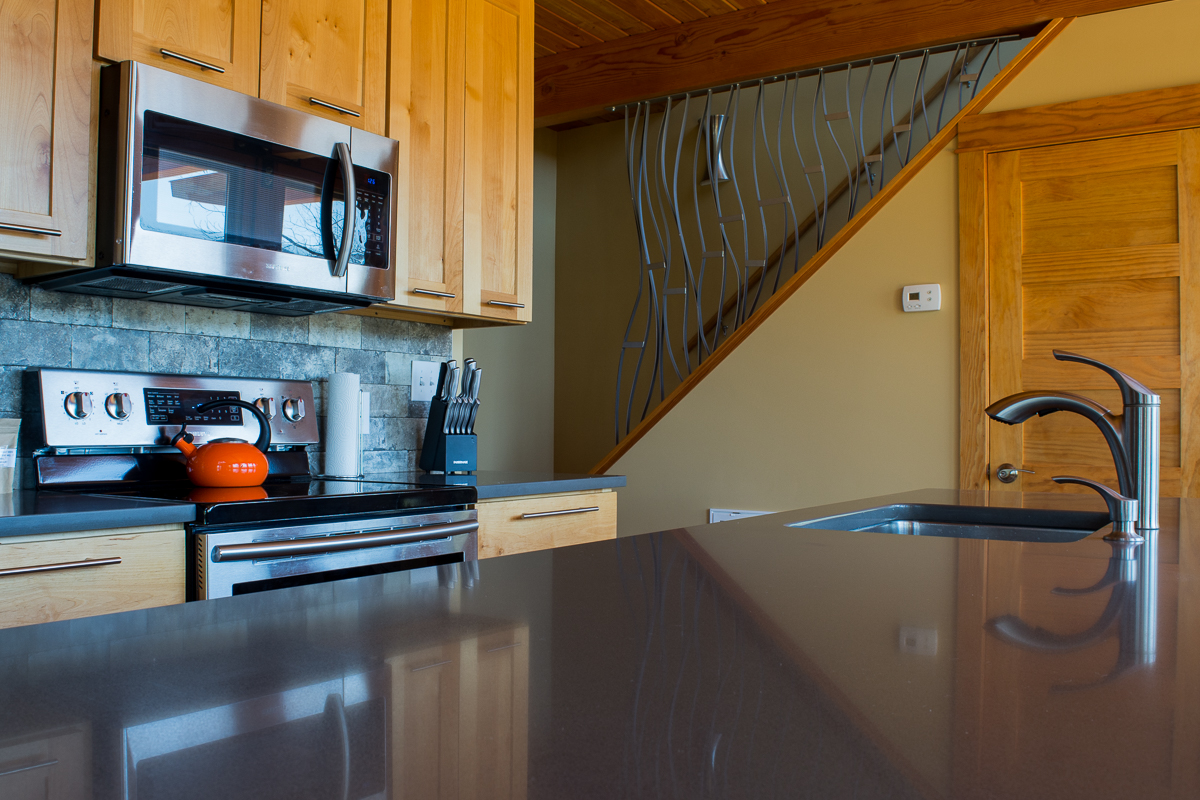 I found every kitchen appliance and utensil I needed during my stay – even Tupperware containers for storing my leftovers.  A fully stocked kitchen is a mandatory part of any luxury cabin rental for me because I tend to have more time and energy to cook when I'm on vacation.
After a breakfast feast, my standard vacation protocol included taking a hot shower, donning one of the soft bathrobes available, and returning to bed for at least another hour.
Oh, and taking pictures of my handsome husband, Mr. Meena, as he relaxed in one of the bathrobes, too.  He was only able to join me at the Stecoah House for a portion of my stay, but I was happy that I could share such a lovely getaway with him nonetheless.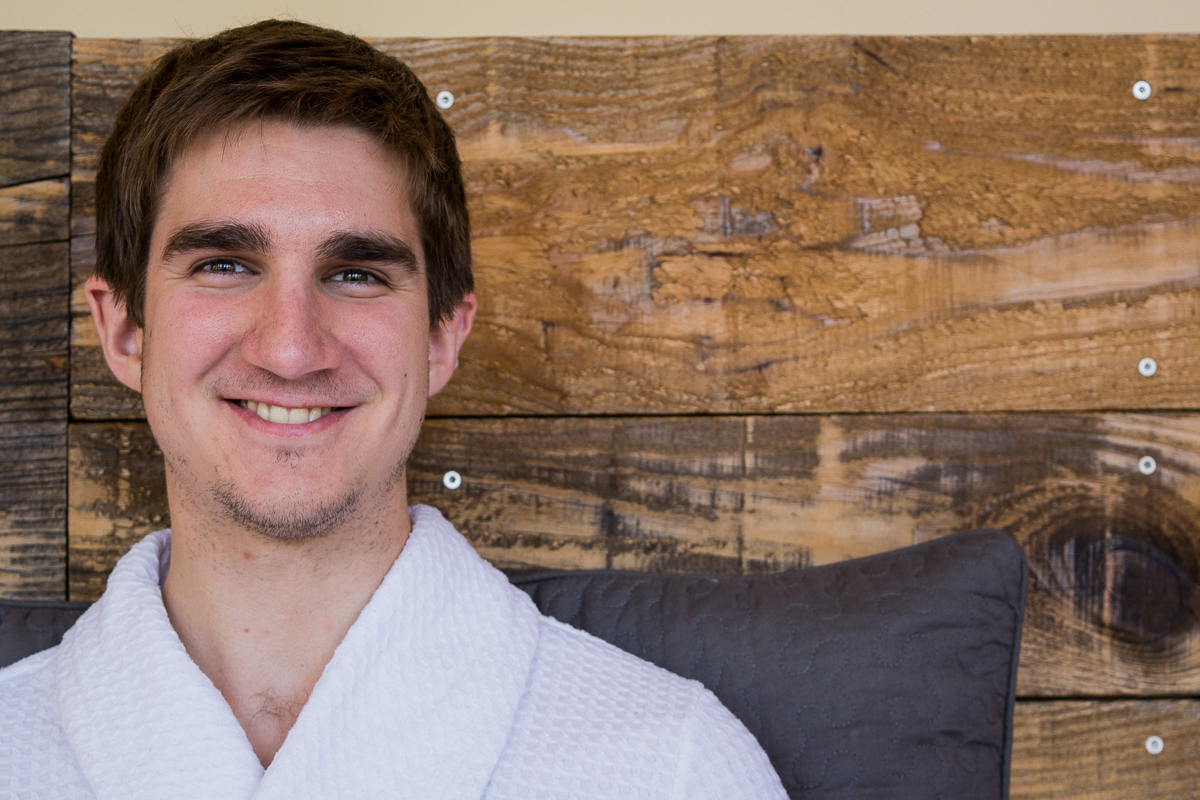 Lounging around in a bathrobe did require a bit of extra consideration, however, because the floor to ceiling windows that create such a wonderful interior living space also allow for others to see inside.  In my opinion, the small lack of privacy inherent in the open design was absolutely worth the trade-off for the views.  After all, the cabin is very secluded; I only saw people driving to and from the yurts and the occasional dog walker on the road that runs past the living space.
The upstairs loft certainly is more private compared to downstairs.  In addition to the bed, the loft features a half bathroom, a closet / laundry room, an extra AC unit, and a couch that pulls out into a queen bed.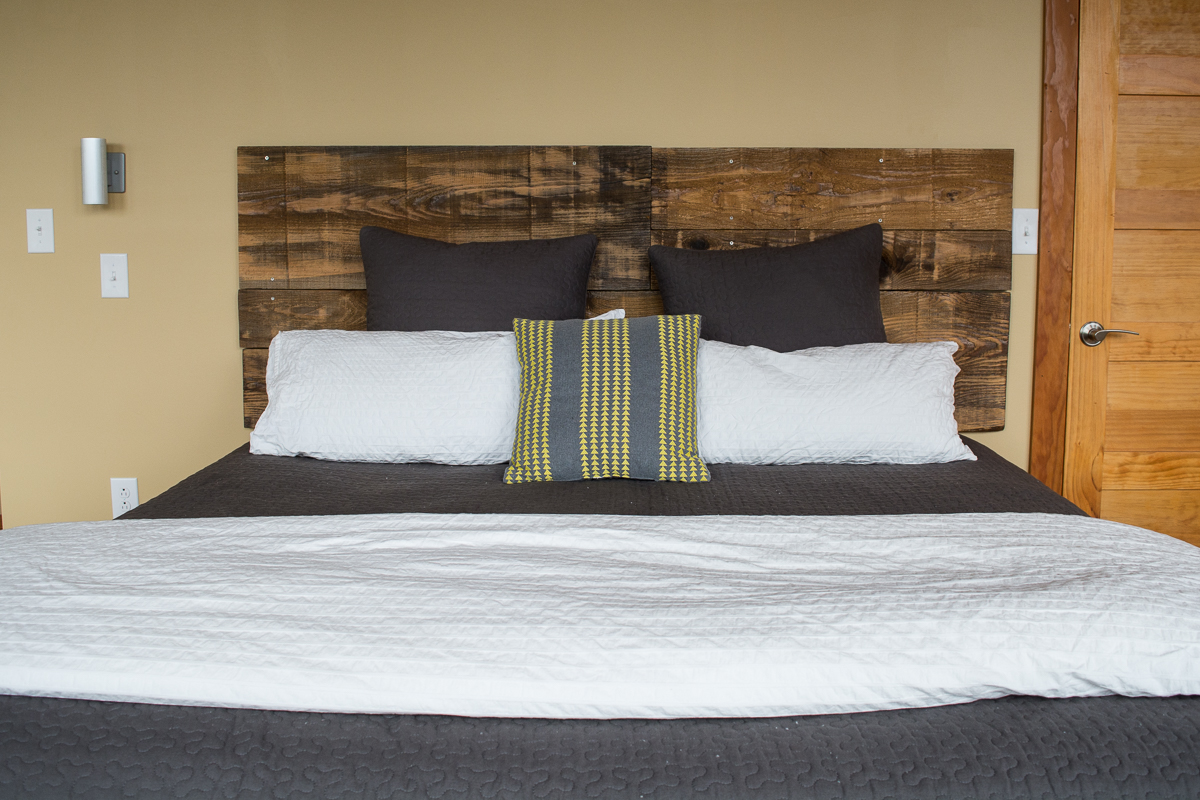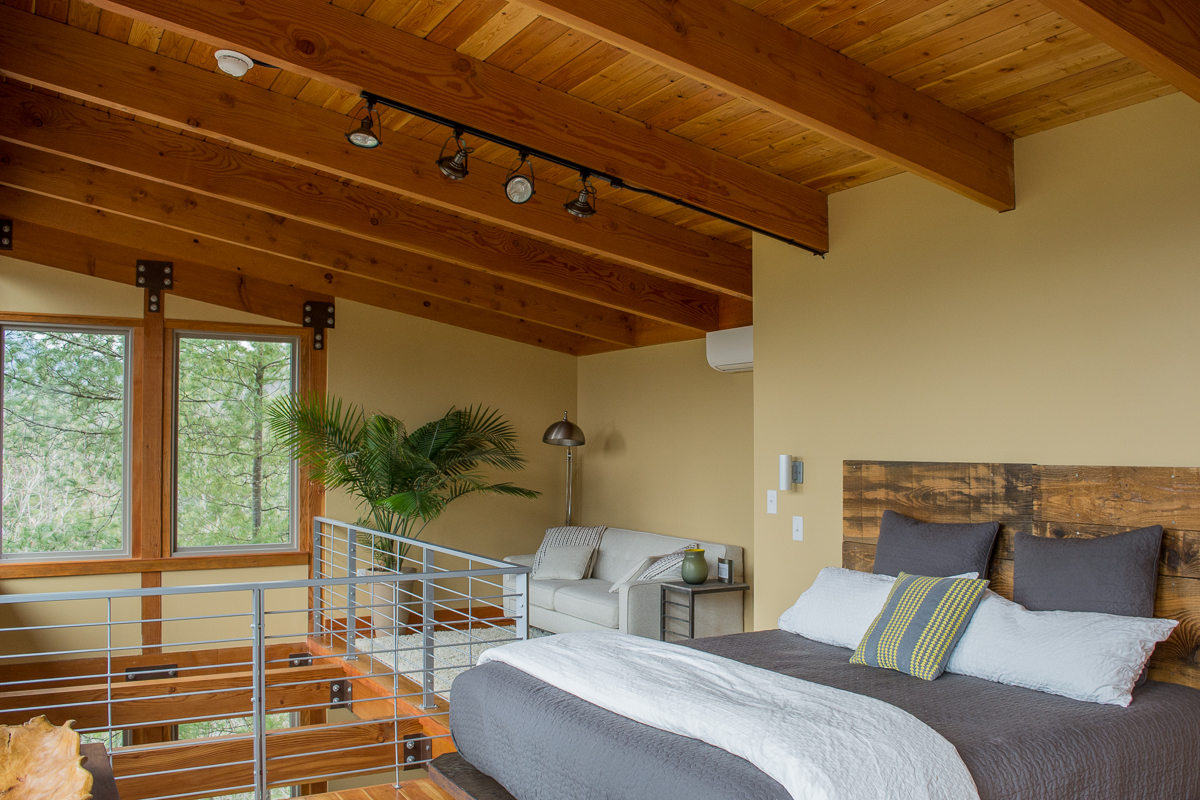 I typically spent the rest of the morning in full relaxation mode in the loft.  Having a comfortable place to rest is a huge factor when I'm booking any accommodation because I have a chronic autoimmune disease and a great deal of chronic pain to contend with every day.  This is part of the reason why I am drawn to luxury cabin rentals and why I was so pleased with the Stecoah House.  I really appreciated the owner's attention to detail in making the cabin a restful space.
In the afternoons I camped out downstairs on either the bright orange couch (which is also a queen pullout bed) or the sleek slingback recliner.  I was excited that the television has an option to connect a Netflix account – a huge plus as I was currently binge watching a TV series.  (And who doesn't do some Netflix binging on vacation? Just don't forget to log out of your account before you leave!)

I didn't have any cell phone reception to speak of (with T-mobile), but the Wi-Fi was good enough that I could video chat and use the internet with no problems.  I took advantage of this and sent pictures of the beautiful scenery to my friends and family, who responded with higher levels of jealousy than I'd ever experienced before (even when I was sending them photos from all over Europe).
I can't blame them, of course, because this place is definitely worth a little jealousy.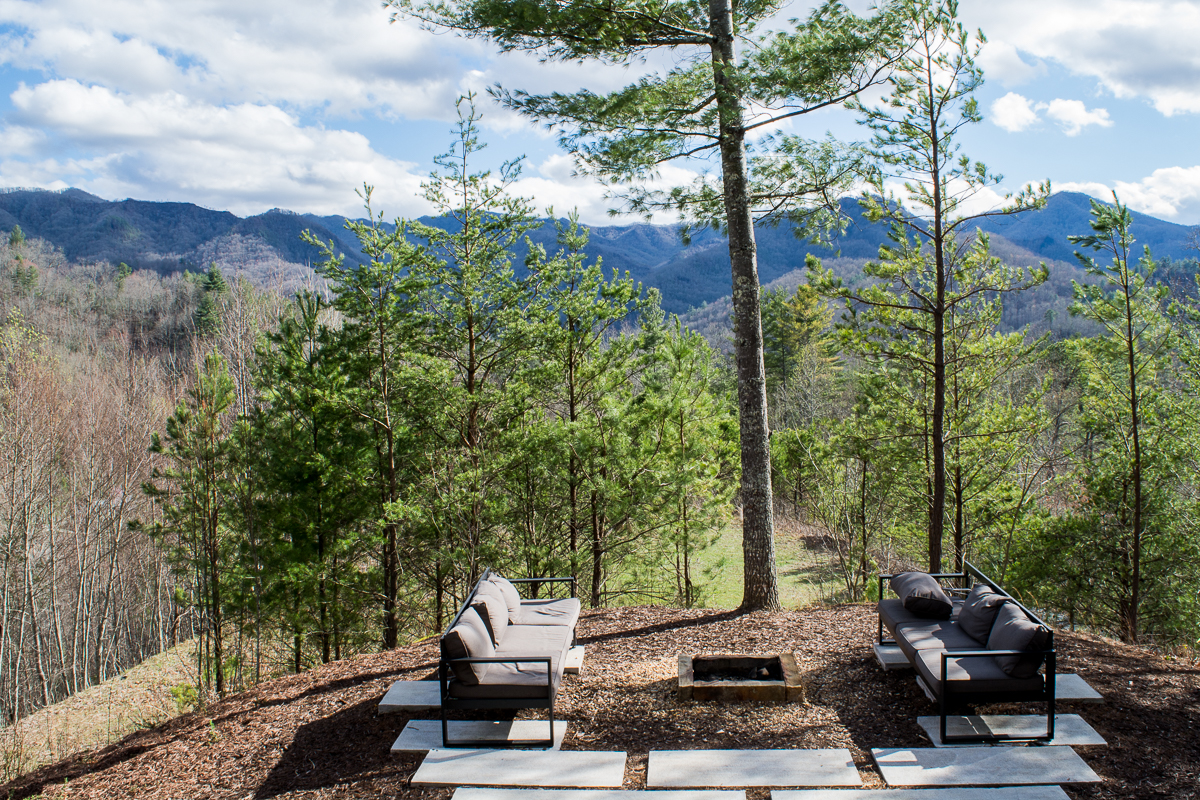 I also spent a lot of time at the cabin playing with my pet budgie, Koopa.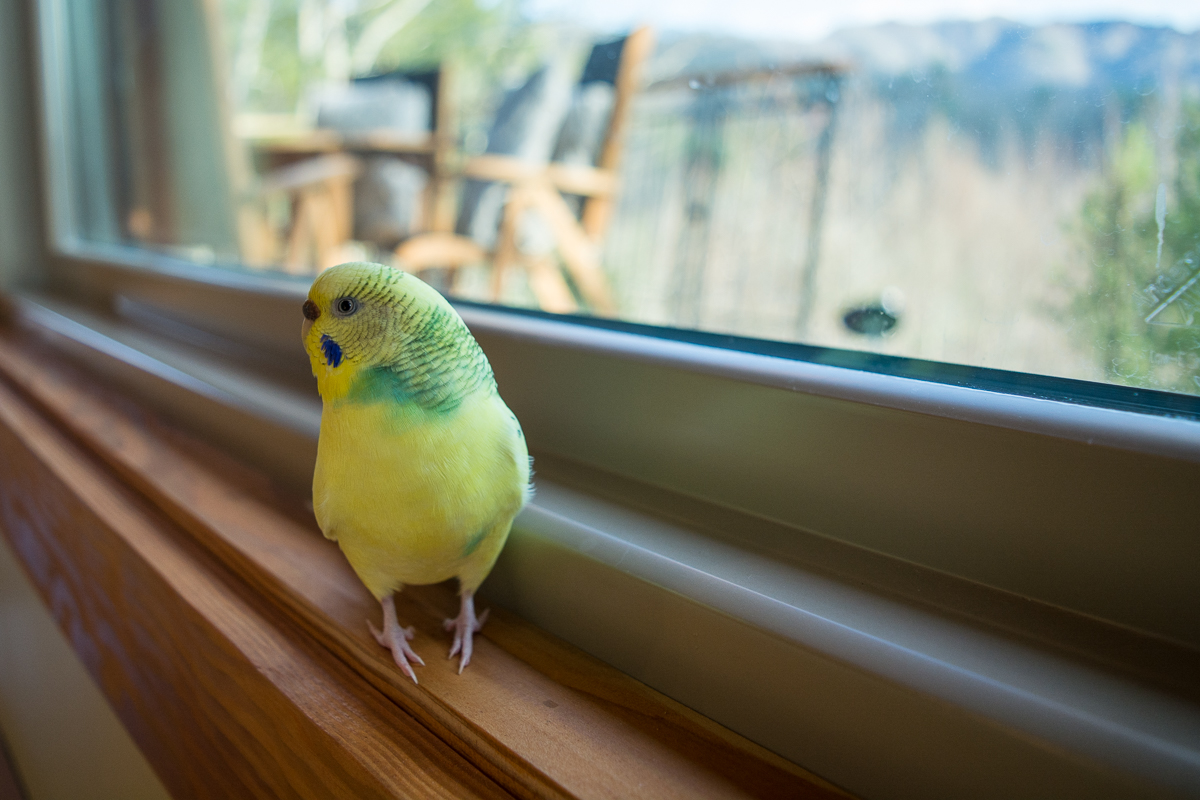 I was thrilled that this luxury cabin is pet friendly because Koopa is such an important part of my family.  I love to travel with him and, aside from having to get in his travel carrier, he loves traveling with me.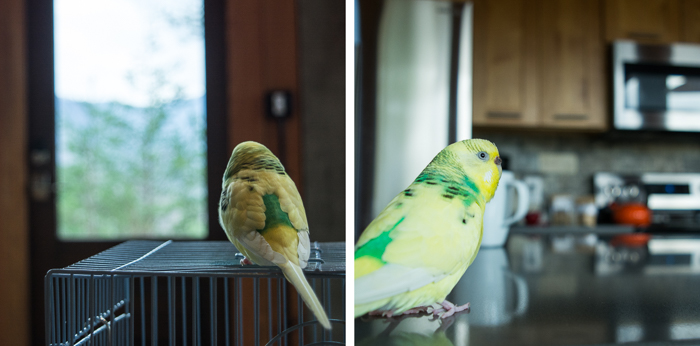 Koopa spent his cage free time gazing out the windows, chattering happily, and diving straight down from the loft to ground level.  (Don't worry, he was closely supervised in the cabin for his own safety.)
I found that time passed far too quickly at the Stecoah House (as time is apt to do when you're having fun).  All too quickly evening would approach – a great time to head outside with one of my favorite beverages.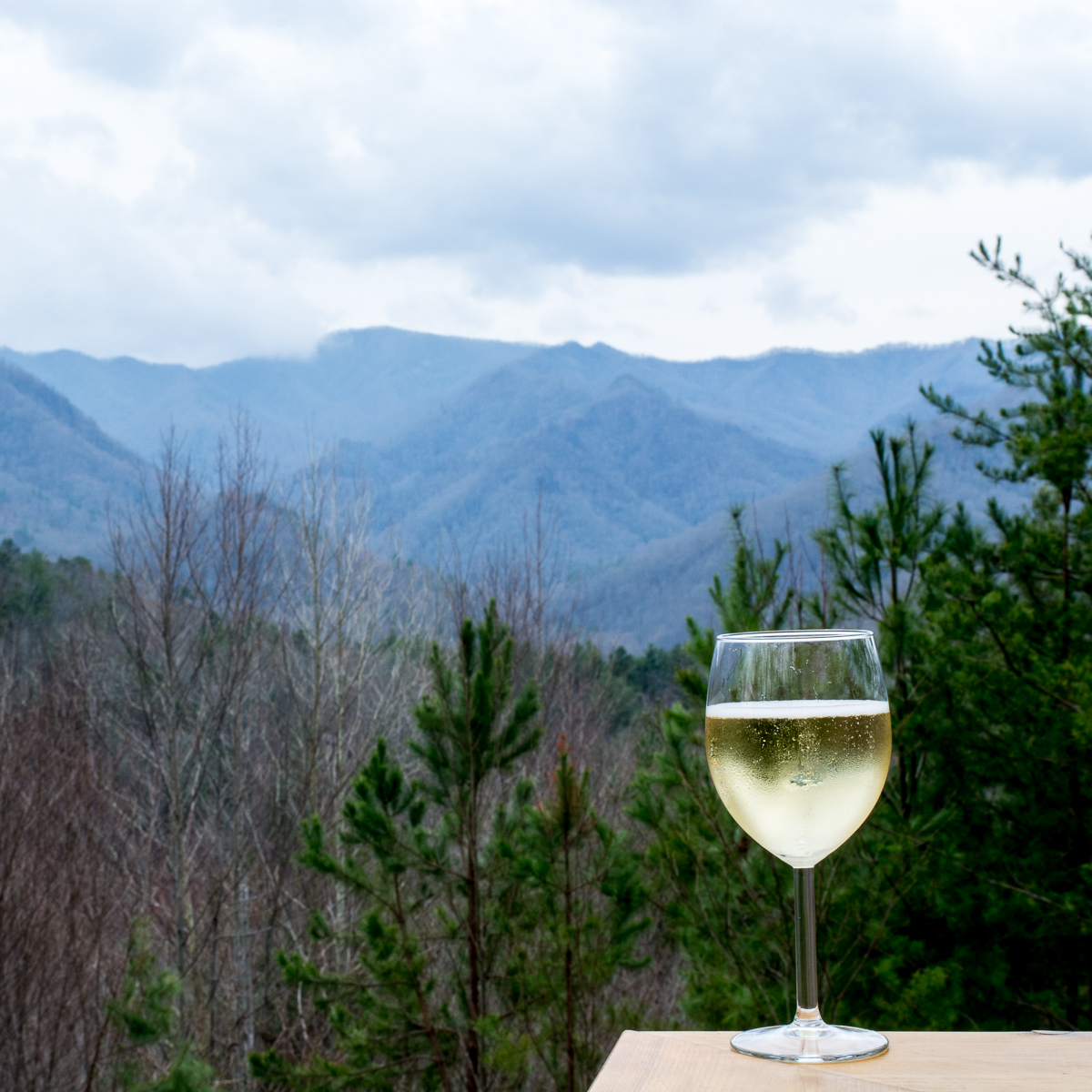 How I wish I was there right now.
I loved to watch the last rays of sunlight stretch out over the mountains in the distance.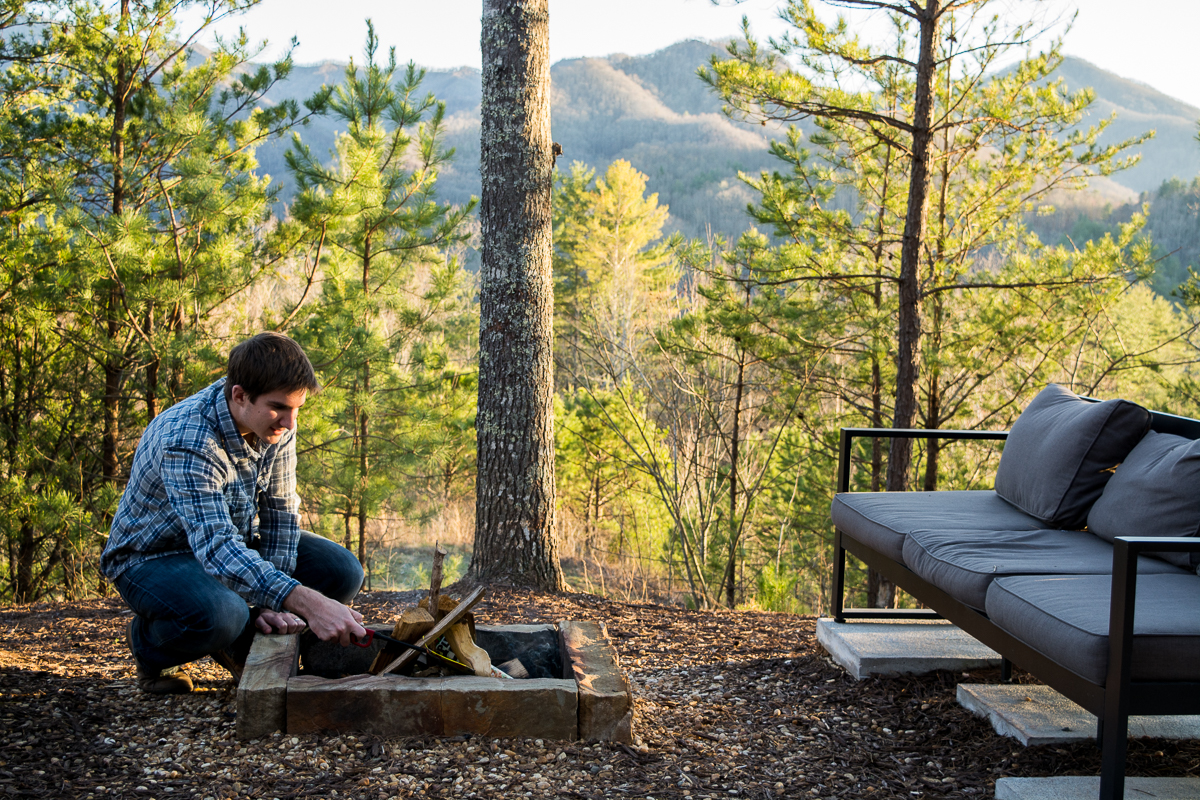 Mr. Meena started working on the fire while I searched for marshmallow roasting sticks.  It was quite the adventure.
We quickly gave up on our marshmallows, however, since we didn't have the rest of the ingredients for proper s'mores anyway, and settled for watching the fire from the comfy outdoor couches.  Afterwards, I was pleased to deposit our smoke scented clothing into the washer.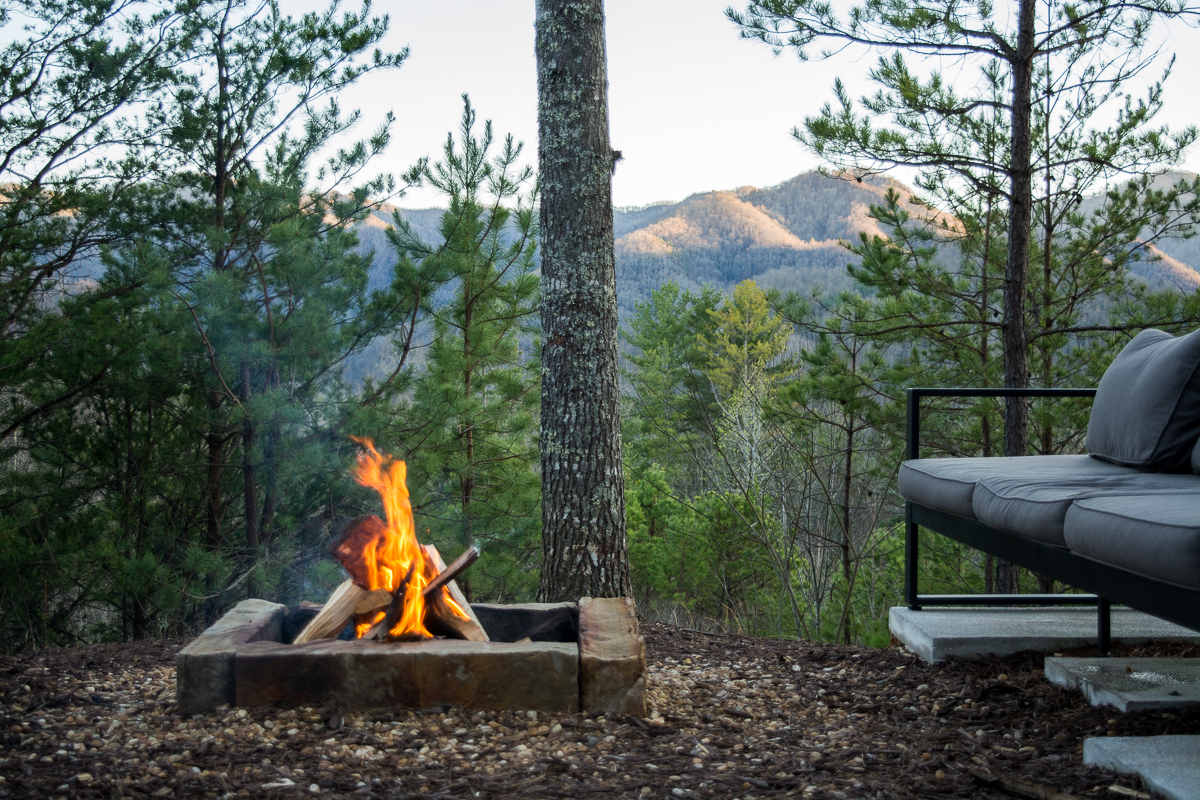 I found the end of the day at the Stecoah House to be a supremely peaceful occasion.  I'd put the house to sleep early and climb into bed to watch the mountains go to sleep.  They would slowly get darker until only their silhouettes were visible as stars began appearing in the sky.  It was almost like the ring of mountains were watching over the cabin as I drifted off to sleep.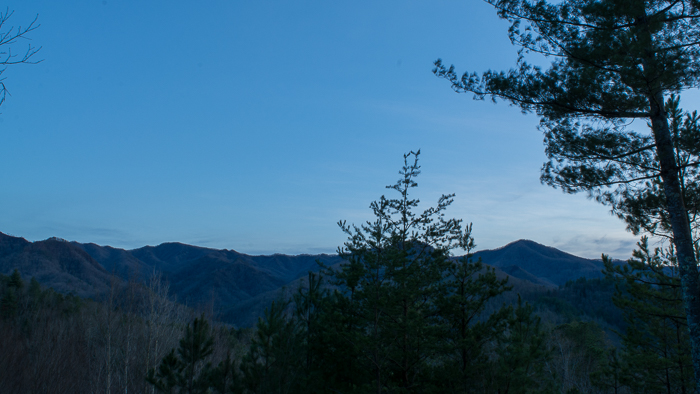 One night during my trip there was a superb thunderstorm.  I stayed up and watched the lightning flash across the mountains.  It was a marvelous experience – I'd never been able to see across a landscape during a lightning storm before.  The pounding rain and bright flashes kept me up for a while, but I didn't mind in the slightest.  In fact, I was sad when the storm finally subsided – yet consoled that I'd soon be waking up to another glorious morning in the cabin.
Mornings were my favorite.
---
Part of what made my vacation experience at the Stecoah House so exquisite is the newness of the cabin.  Don't get me wrong, I also love older, more rustic cabins, but they simply can't beat the luxury and amenities of a modern cabin.  That being said, there are a handful of flaws at the Stecoah House that I must mention.
The first is that the loft space could potentially be an issue for parents with young children.  There is a railing, but you may want to take extra precautions (especially if you have a particularly curious or mischievous child).  A potential solution would be to not allow children upstairs or even bring a childproof gate for the stairway.
The second issue is less worrisome, being that there isn't much space to put clothing away.  Upstairs there are only three small drawers in the dresser and two hooks plus a shelf in the closet.  Downstairs there is space to stash your suitcases, but no storage options for personal items.  This could be problematic if you tend to over pack (guilty) or if you have a large group – the Stecoah House can sleep up to six guests.  However, since you can do laundry at the cabin you can bring less clothing (provided you have the self-control to do so).
The third problem is really more of a warning; the Stecoah House is a highly desirable luxury cabin rental with lots of happy, return customers (myself included – I will definitely be staying again).  So you run the risk of it not being available for your vacation.  If you think you will love this cabin as much as I did, then I encourage you to book your stay in advance.
Click here to reserve the Stecoah House.
You won't regret choosing this luxury cabin for your next vacation or special event, especially as the owners offer a more personalized experience compared to large cabin rental companies with several properties to manage.  You can count on a quick response if have you any issues or needs during your stay.
You can also follow the Sky Ridge Yurts on Facebook or Instagram.
So what do you think? Do you love this luxury cabin as much as I do?
The Stecoah House - a Luxury Cabin Rental in North Carolina.
Click To Tweet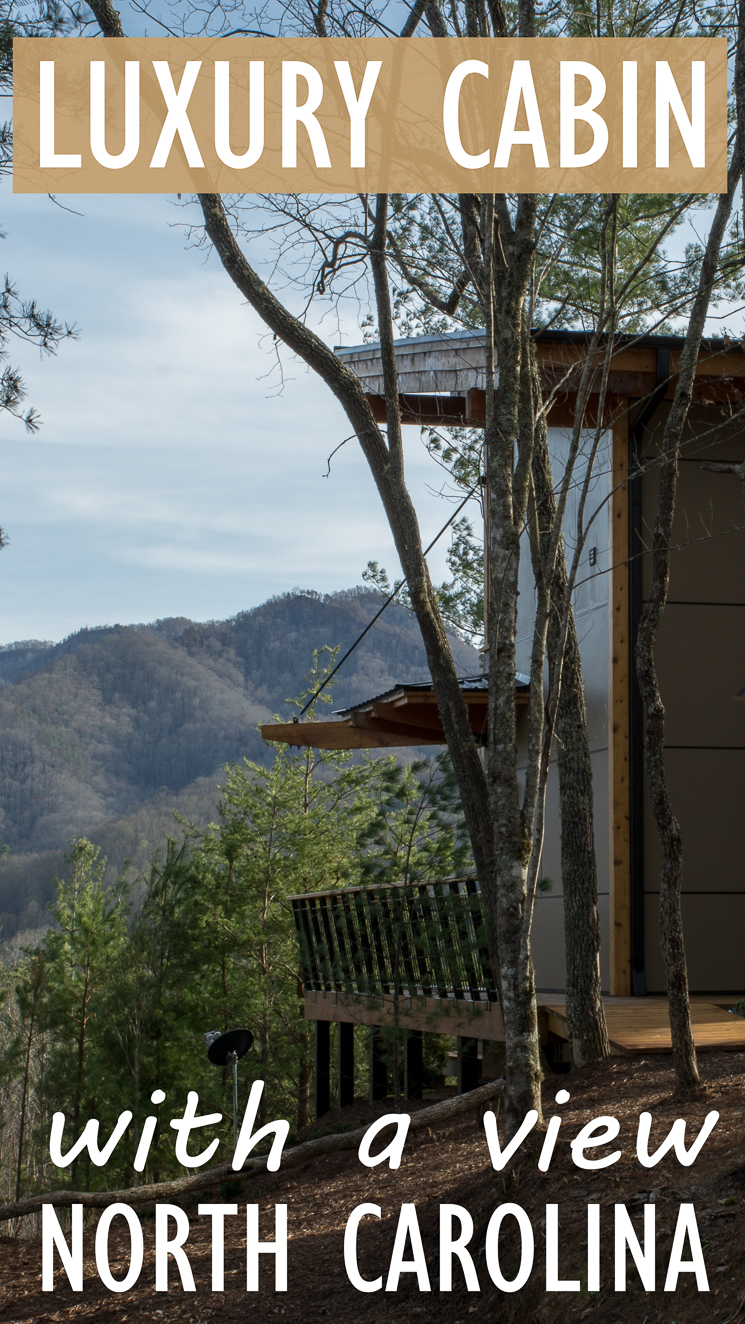 This post is linked up with Weekend Wanderlust, FlyAwayFriday, Wanderful Wednesday (with the hosts Lauren, Van, Marcella, and Isabel), Faraway Files, Feet Do Travel, The Weekly Postcard, and Monday Escapes: