"A day in the life" posts have become really popular on Imgur (an online image sharing community); people all over the world have been taking photos throughout a normal day of their life and sharing them.  The Imgur blog said the following about this idea:
As we go about our daily routines, we rarely stop to consider how fascinating our lives may be to others. Our homes, the commute to work or school, what we have for dinner, and how we spend our free time are so normal to us. Yet, when we get a chance to peek into how others live it is fascinating.
You can experience a day in the life in Saudi Arabia, the Philippines, rural Vietnam, Japan, several European locations, and my personal favorite – Hawaii.  And now you can also experience a day in my life as an expat in Germany!  I originally shared this post on Imgur (of course) but I've edited it a bit to share here as well.  Enjoy!
A Day in the Life: Expat in Small Town Germany.
I moved to Schweinfurt, Germany from the USA in September 2015.  The small city is located in northern Bavaria (not far from Würzburg).  The population here is around 50K but the city has the third highest per capital income in Germany (after Wolfsburg and Frankfurt am Main) thanks to all the industries located here.  There isn't a whole lot to do in Schweinfurt, in fact most Germans I've met who knew of the city told me that I absolutely must move elsewhere!  I don't mind it too much; it's nice to live in a non-tourist destination at times.  We are only here for 13 months anyway and it's very convenient to live only 10 minutes from my husband's job.
This day in my life was actually last Friday, 22 July 2016.
I usually wake up right after Mr. Meena leaves for work.  One of the first things I do in the morning is open the roller blinds.  Check out these bad boys.
via GIPHY
Ours are automatic which I'm very grateful for.  As you can tell they can make the room completely pitch black – even in the middle of the day.  This is great for sleeping and we also close them during the heat of the day (blocking the sunlight keeps the place cooler, which is extra important because we don't have air conditioning).
We live in a hotel.  We were originally supposed to have an apartment through the company when we moved here but the housing market here is crazy and the hotel ended up being our best option.  It's nice and spacious, though, perhaps even nicer than some apartments nearby because it was recently renovated.  I'm not a huge fan of living in a hotel for a year but they clean once a week so I can't complain too much.
I had Nürnberger bratwurst (my favorite kind), peaches, and grapes for breakfast.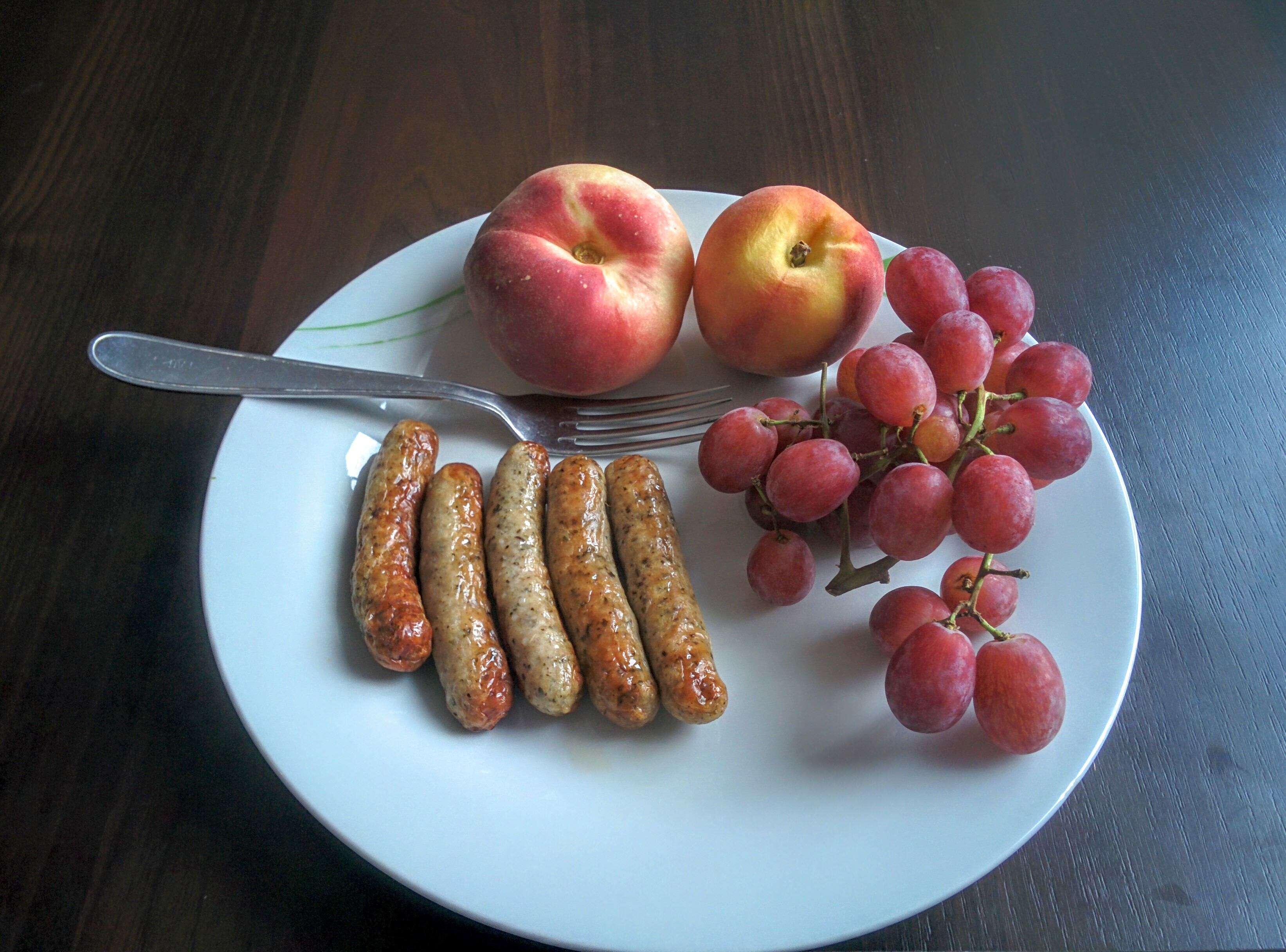 Every Friday morning I lead an "English to go" group.  I started it through a local intercultural group that also offers "German to go" and "Spanish to go" classes, among other things.  My group is really informal, however, and different from the others because we walk while speaking conversational English.  I started the group so that I could help others to improve their English and also have a group to walk since I needed to exercise more.
So I headed out around 8:45am to meet my group.  Right away I passed a Schweinfurt pig.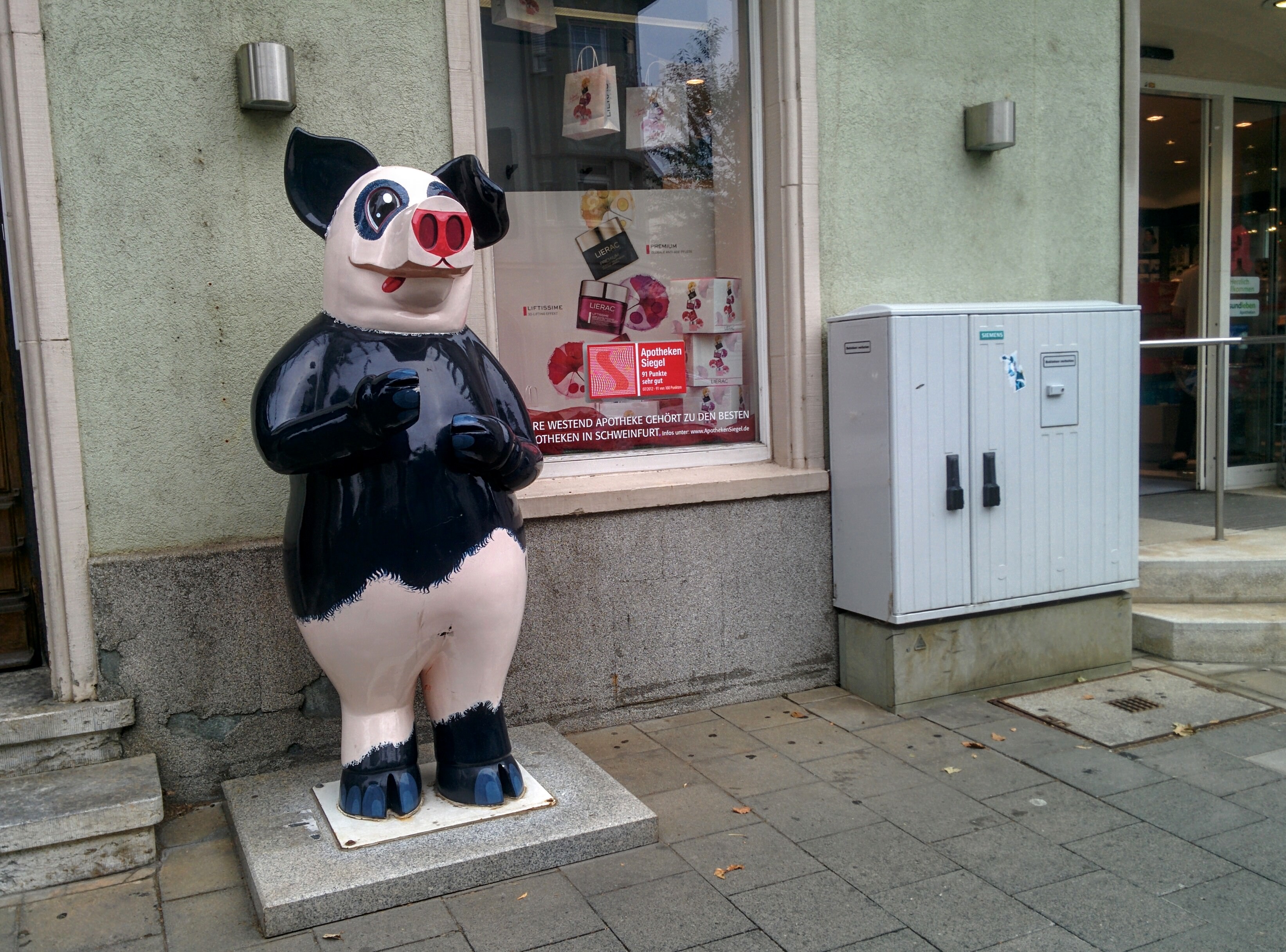 His name is Pig Panda.  The "schwein" in Schweinfurt means pig, and there are lots of these pigs in various spots throughout the city.  They are quite large, have unique themes, and are sometimes silly looking.  I absolutely love them.  It's actually rather common for German cities to do things like this with their mascot (for example Berlin has bears decorating the city).
Next I passed the main bus hub.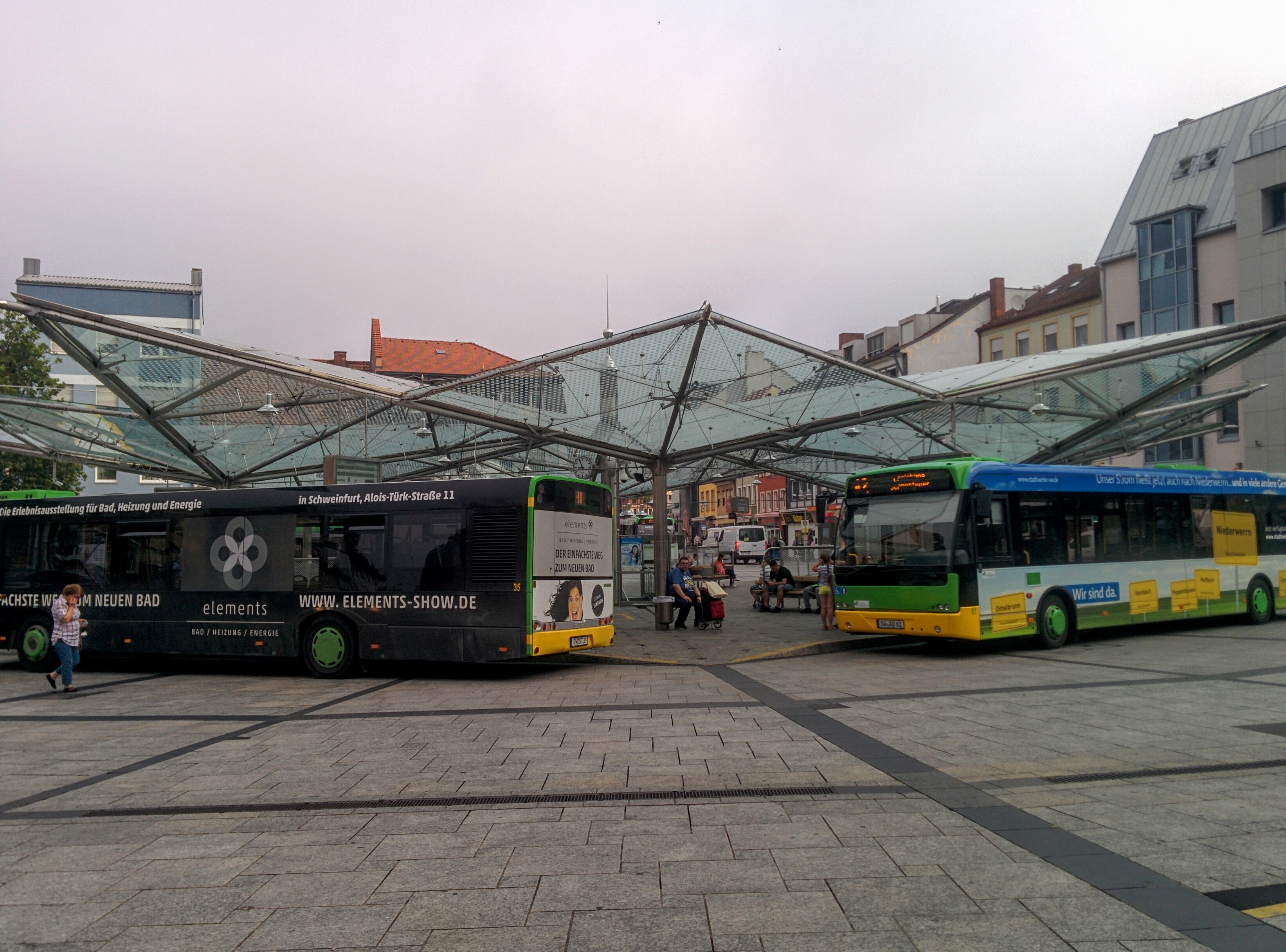 I could have taken a bus since where I was going is a 50 minute walk from my hotel (we don't have a car here), but it was only 68°F (20°C) and I needed the exercise so I walked.
My path went through the main square in the city, where the farmers market was setting up.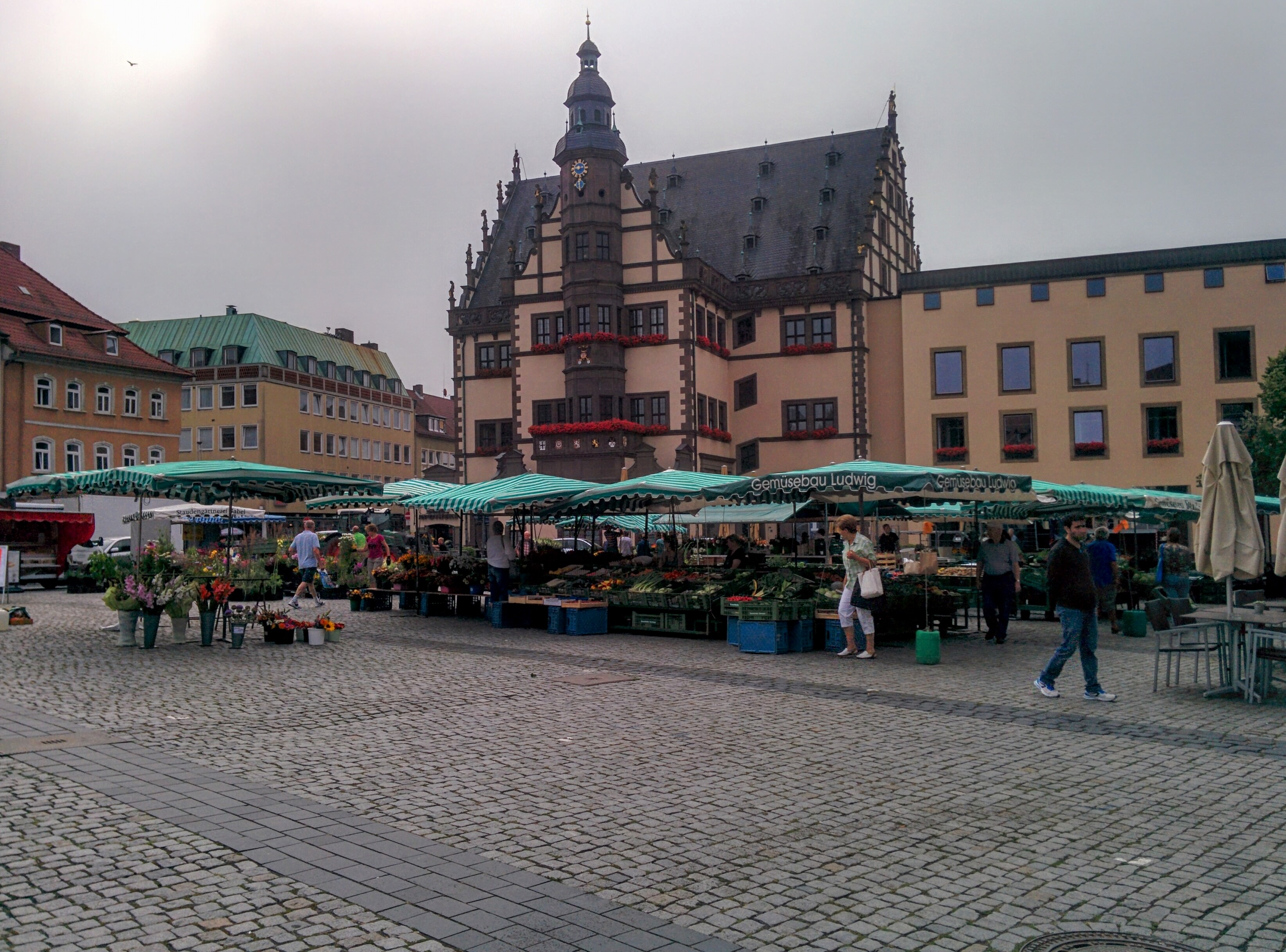 Germans love to buy local and organic produce so this market is always popular.  The building you see behind the market is the Rathaus (town hall).  It was built in 1570 and is one of the few buildings that hasn't been damaged in various wars (more on that later).  According to the city it's regarded as one of the most important profane Renaissance buildings in southern Germany.  I also walked past part of the old city wall (from the 1200s).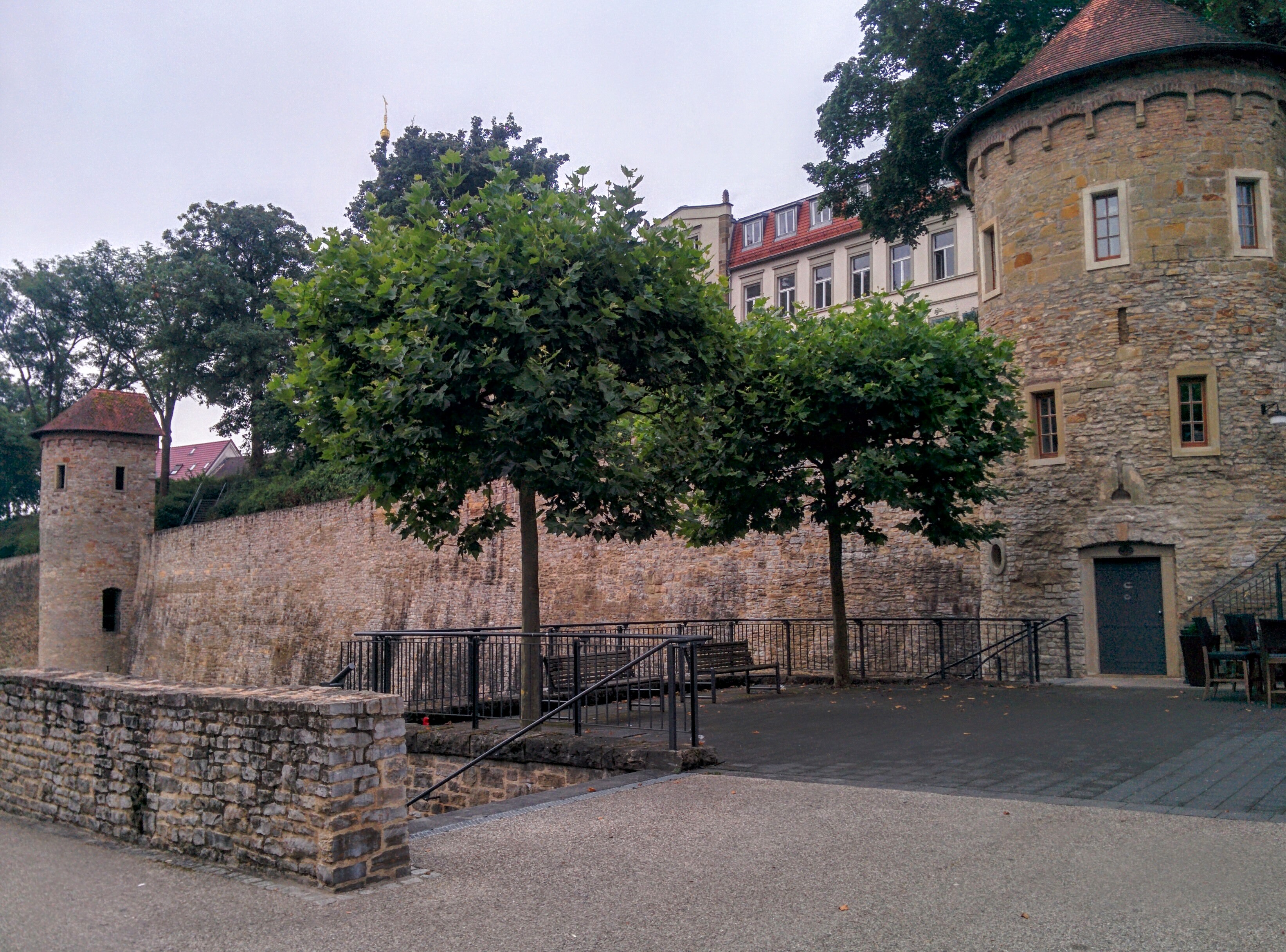 The tower you see on the right has been turned into a wine bar featuring local Franconian wines.
I usually prefer to take peaceful walkways instead of the busier main roads.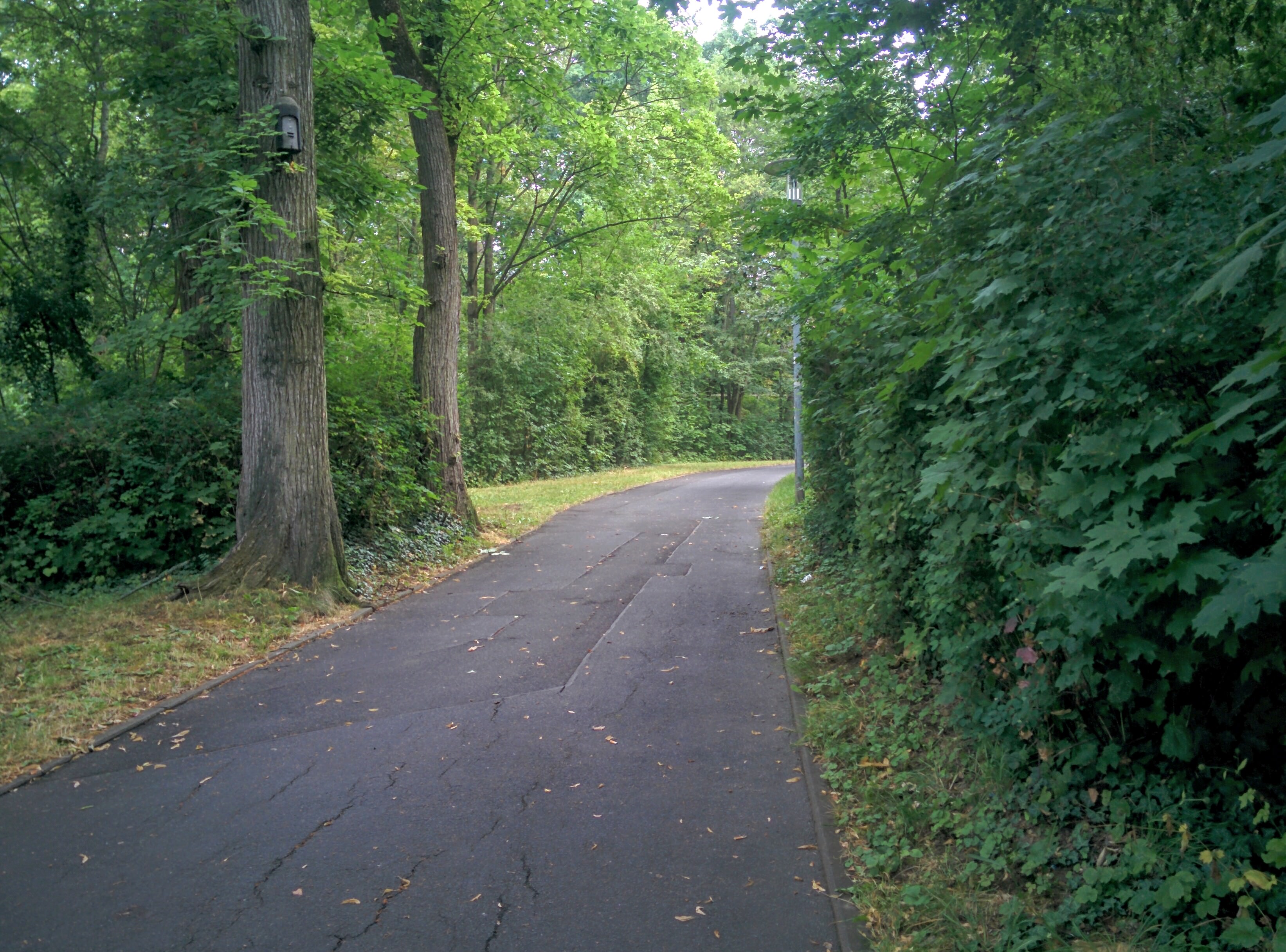 I often see flowers throughout the city.  They are everywhere.  Lawns, windows, shops, parks… anywhere there is space for them.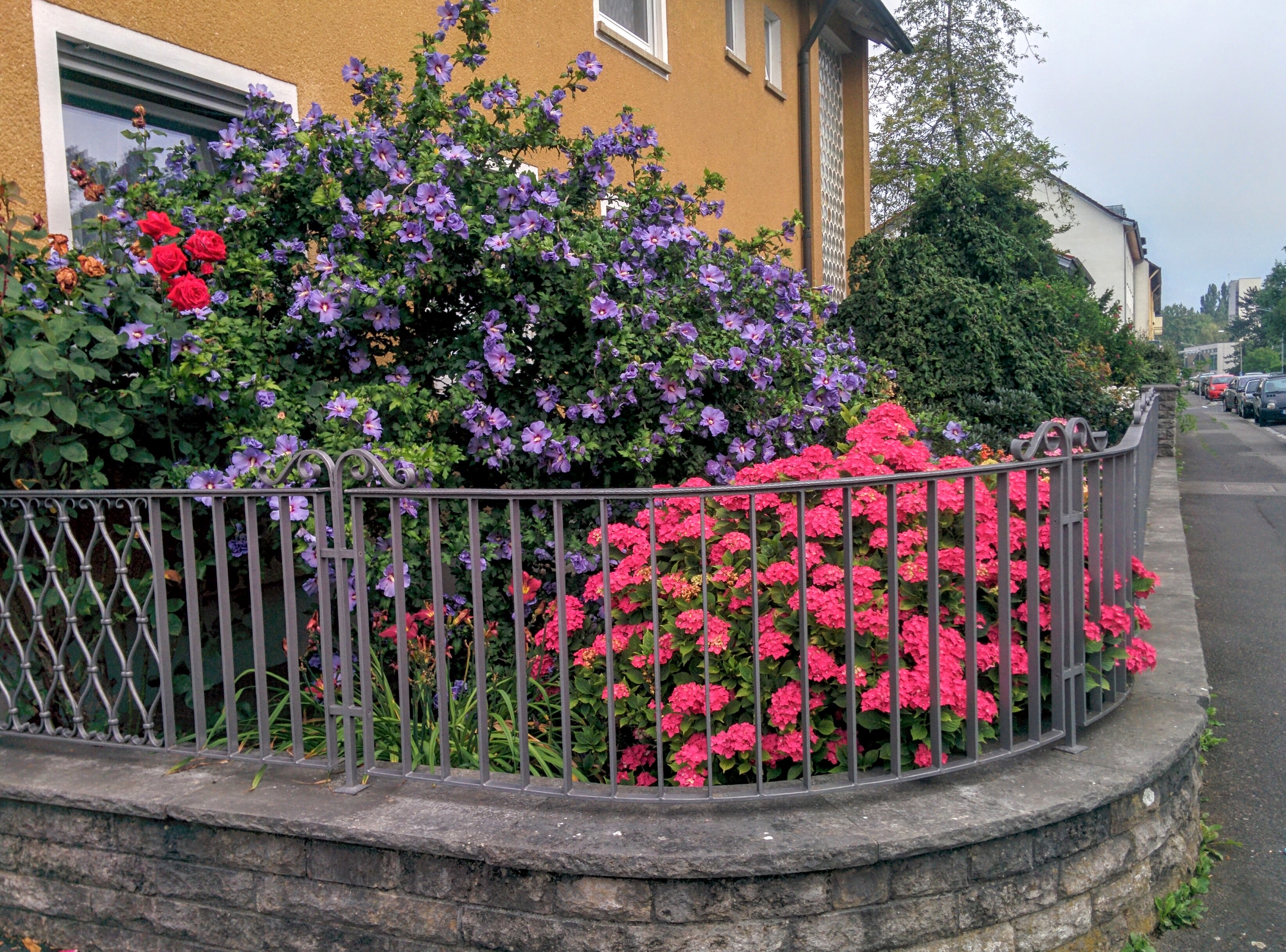 There are also glass recycling bins located throughout the city.  It's really important to recycle here.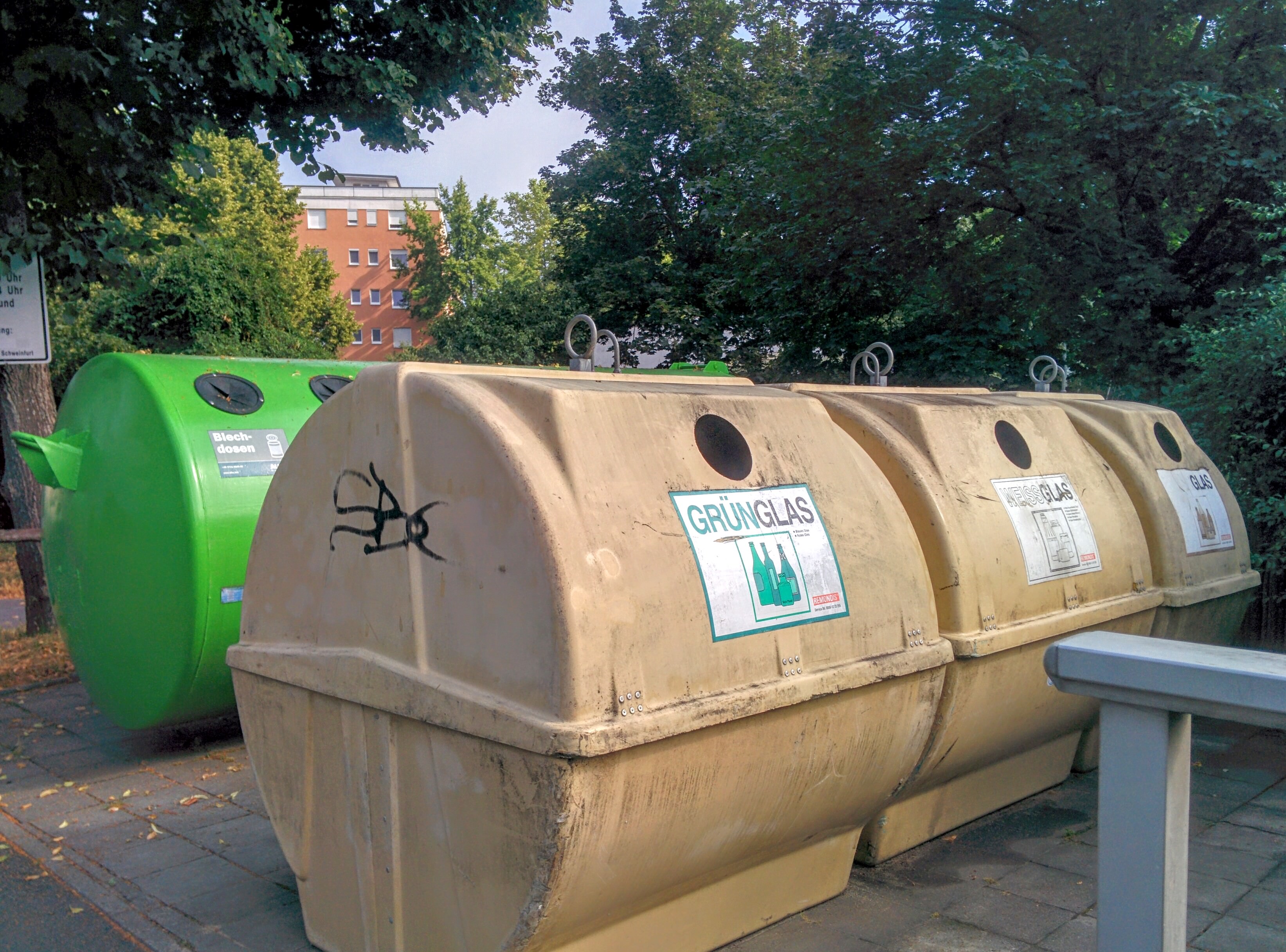 You can't throw away your glass during quiet hours (it makes too much noise).  There are signs next to these bins stating that you can only deposit glass from 7am to 7pm Monday through Friday and only from 7am to 2pm on Saturday.
Finally I made it to the Wildpark, which is a free wildlife park in Schweinfurt where we were meeting to walk that day.  The park has 50 different species and about 500 animals overall, all local to Germany.  It's great.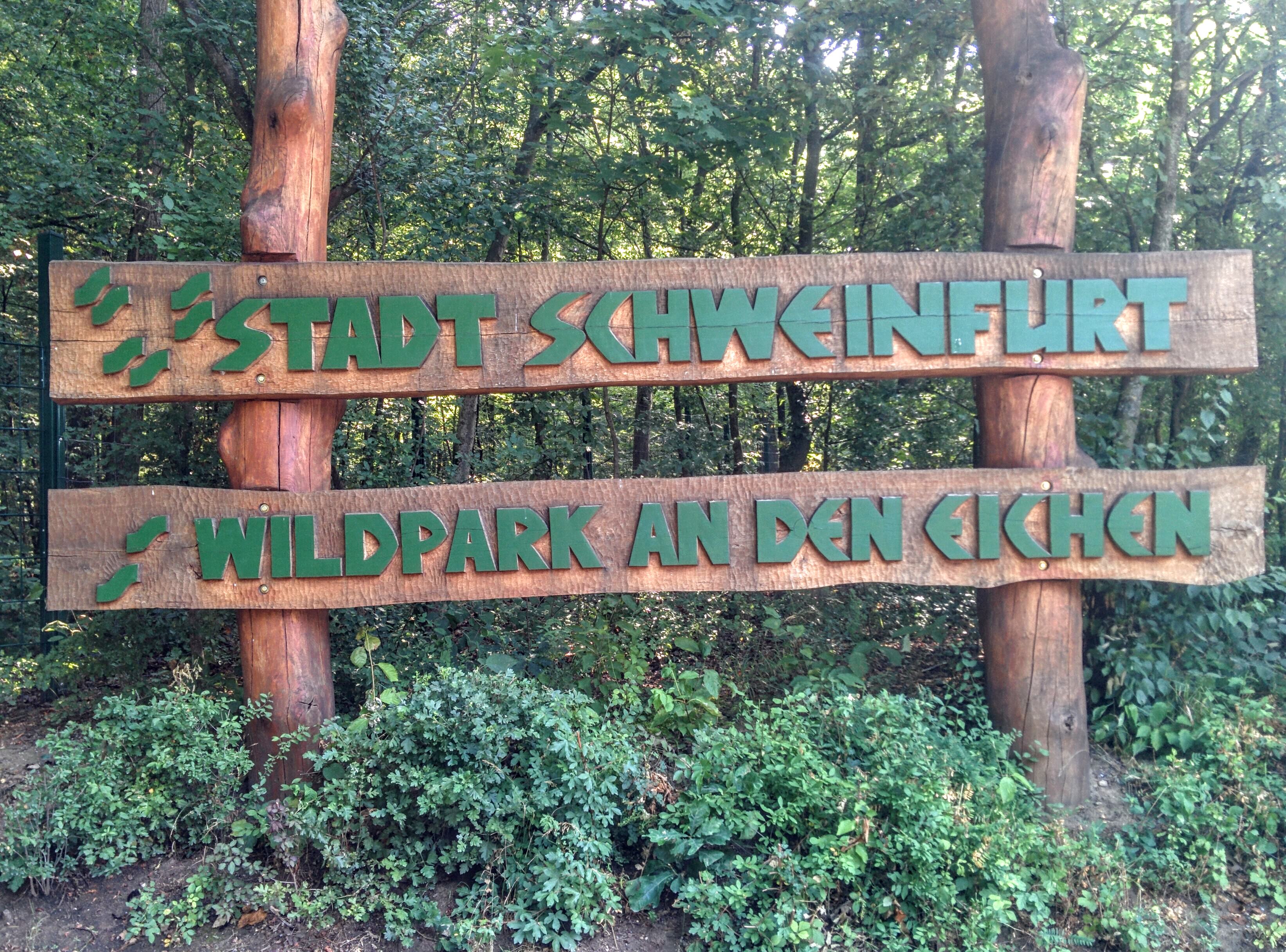 There are six women in my group, two from Germany and four from Mexico (or near Mexico).  But only one, Michaela, showed up.  Michaela is from Schweinfurt and has become a good friend of mine.  She speaks German, English, and Spanish and loves to travel.
We started our walk and I was surprised and delighted to find a brand new Schweinfurt pig!  He was still covered in plastic and everything.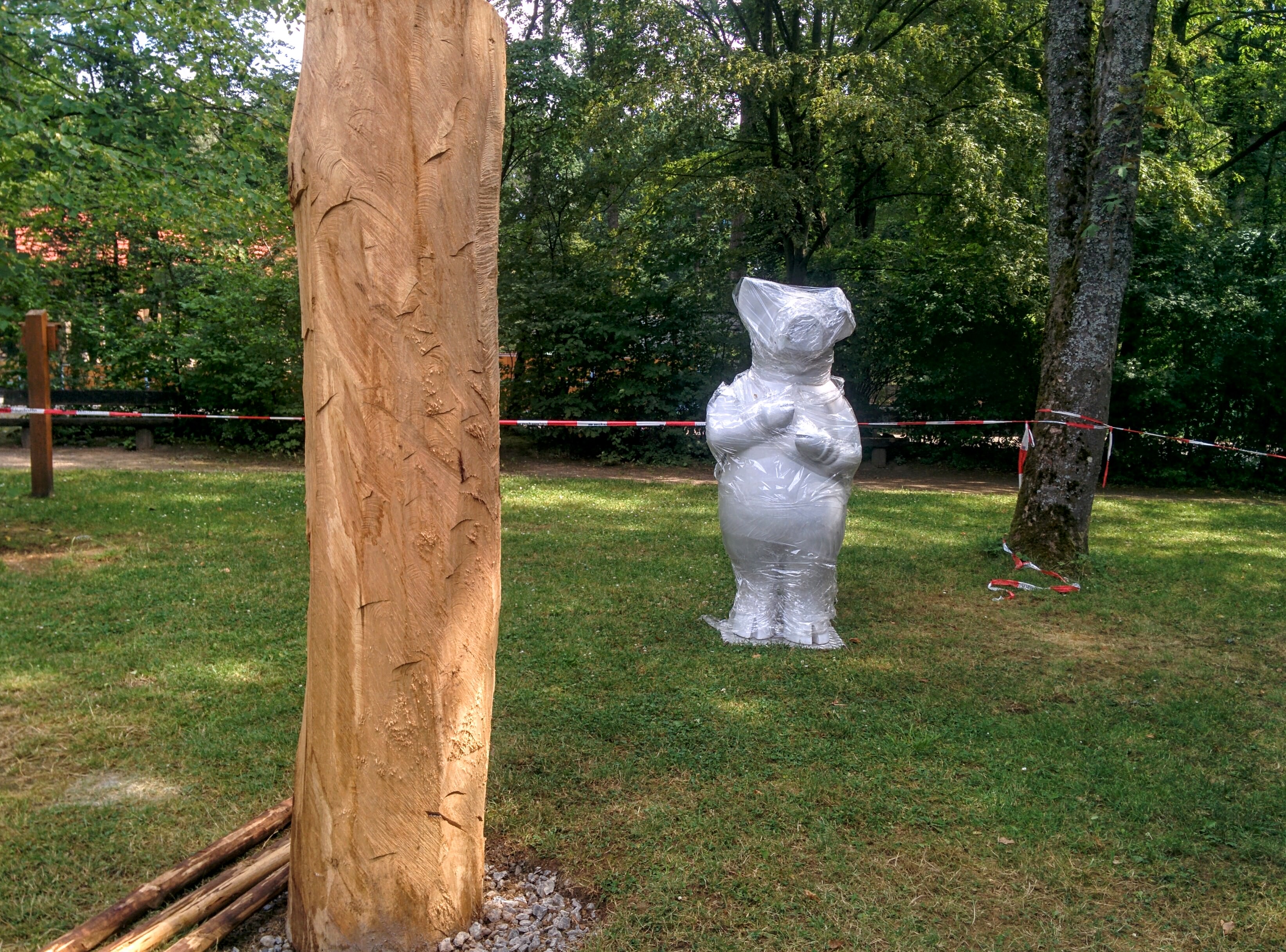 He was there because the Wildpark was about to celebrate the opening of a new area as well as their 50 year anniversary.  The wood you see to the left was actually carved into a pig during the ceremony on Sunday.
I also wanted to mention this crazy contraption in the play area of the park.  It's a swing, I guess, where kids stand on a log and go back and forth on it.  It seems so very dangerous to me – what if a kid walked in front of it?!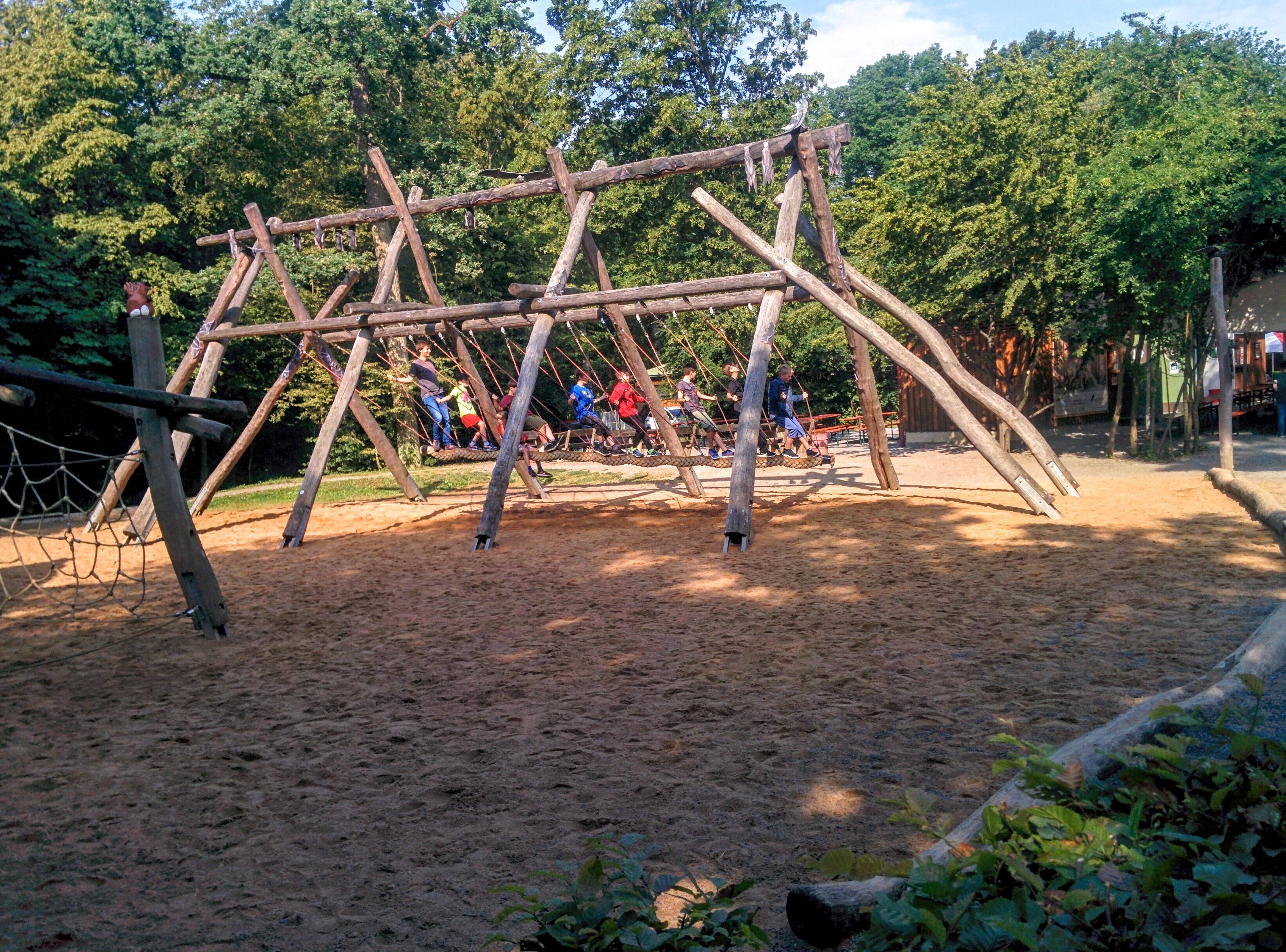 Germans do lots of things that seem dangerous to me.  I'm becoming less surprised each time.
After our walk Michaela invited me for ice cream at my favorite café so of course I agreed.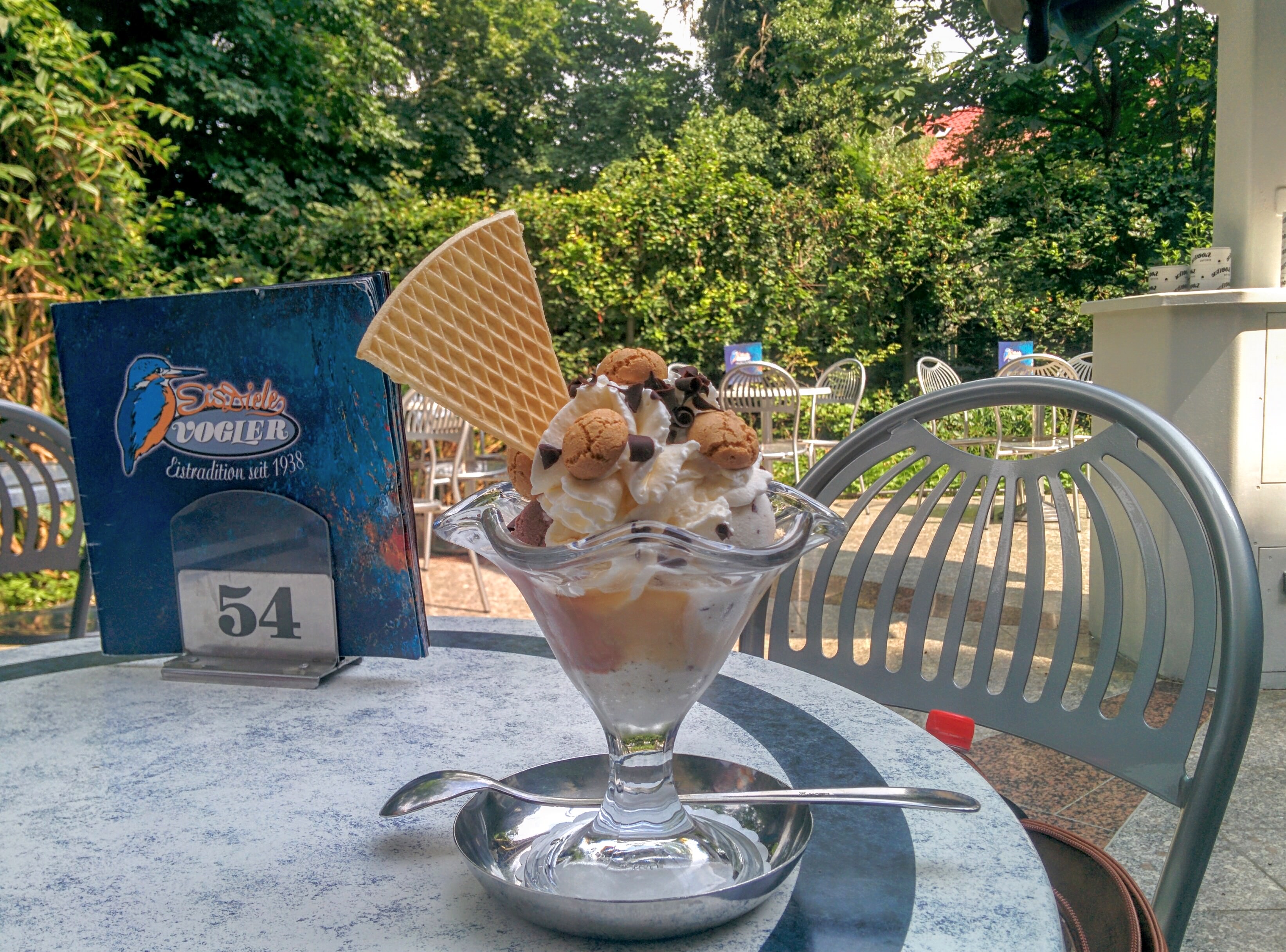 I have learned not to turn down German ice cream.  This café is only twenty minutes from where I live so I walked home afterwards.
Here I'm waiting at the intersection even though I could have crossed because that's what you (should) do in Germany.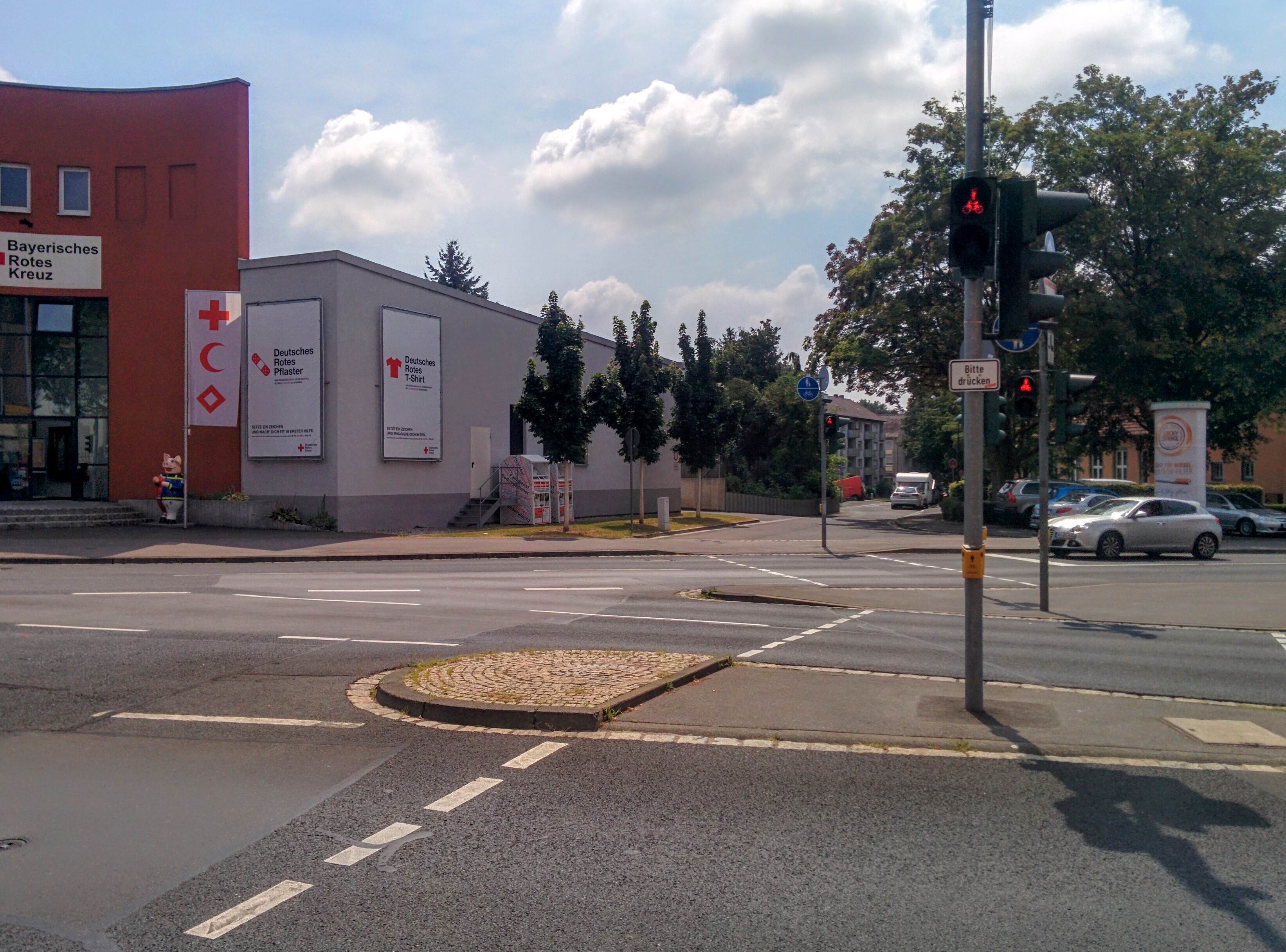 The good thing about walking in Germany is that the cars are supposed to wait for you to cross (when you have the right of way) and they almost always do.  The bad thing is that their version of waiting for you to cross might be rolling within a few inches of your legs.  This always freaks me out.  You also have to be careful walking on the sidewalk because it's very normal for a car to drive up onto the sidewalk and park.  Or come out of a driveway between stores that you didn't realize was there.
I try my best to blend in and greet like a German when I pass others on the street but sometimes I forget where I am and bust out a big smile.  This can startle people or make them nervous (smiling for no reason isn't exactly normal here) so I try to reign it in, but it's one of those habits that's hard to stop.
Here's another Schweinfurt pig I passed.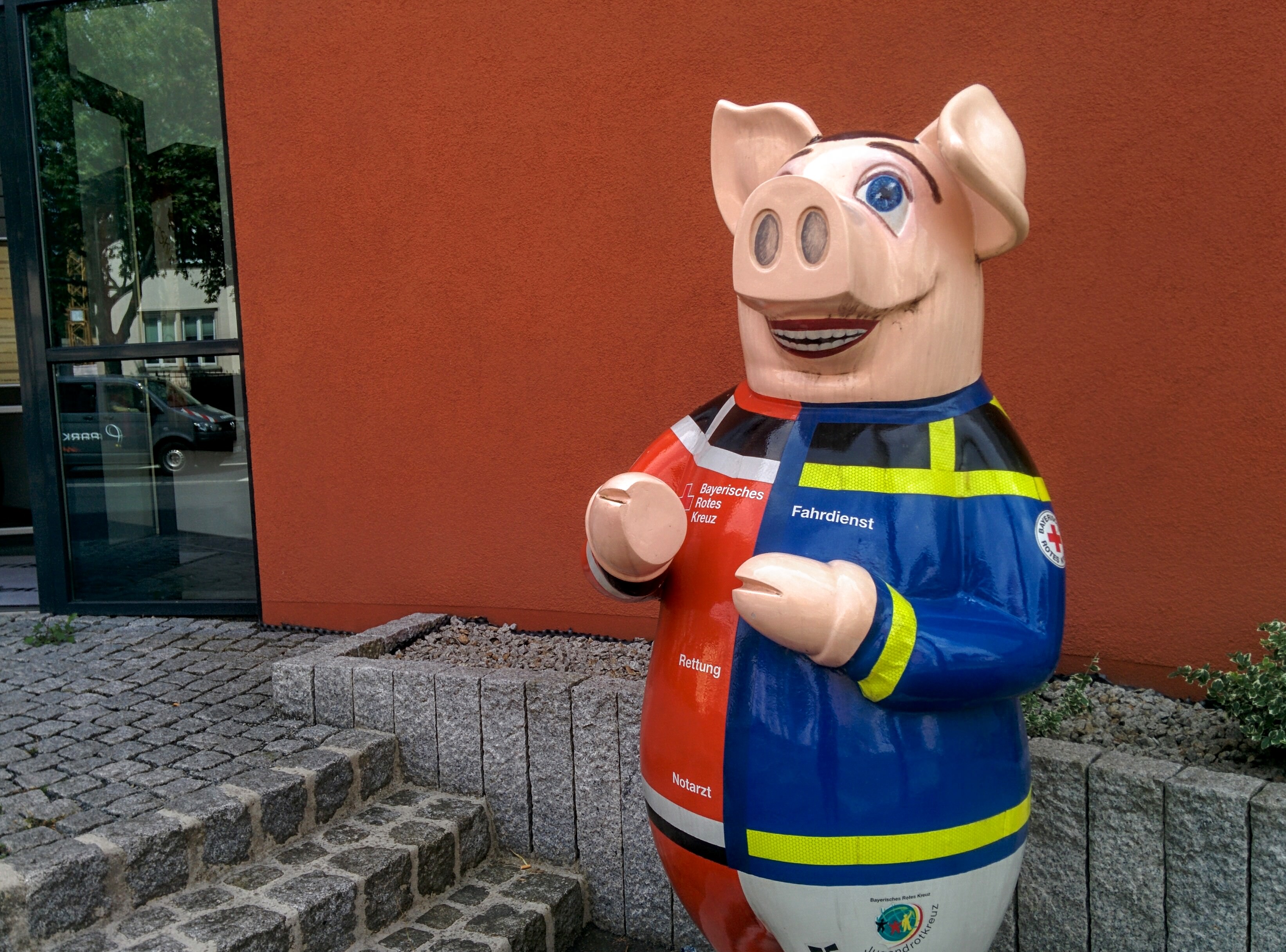 This one belongs to the local Red Cross.
I also walked through a park with a huge bearing in it.  To give you an idea I could easily stand inside it and I'm 5'9 (175 cm).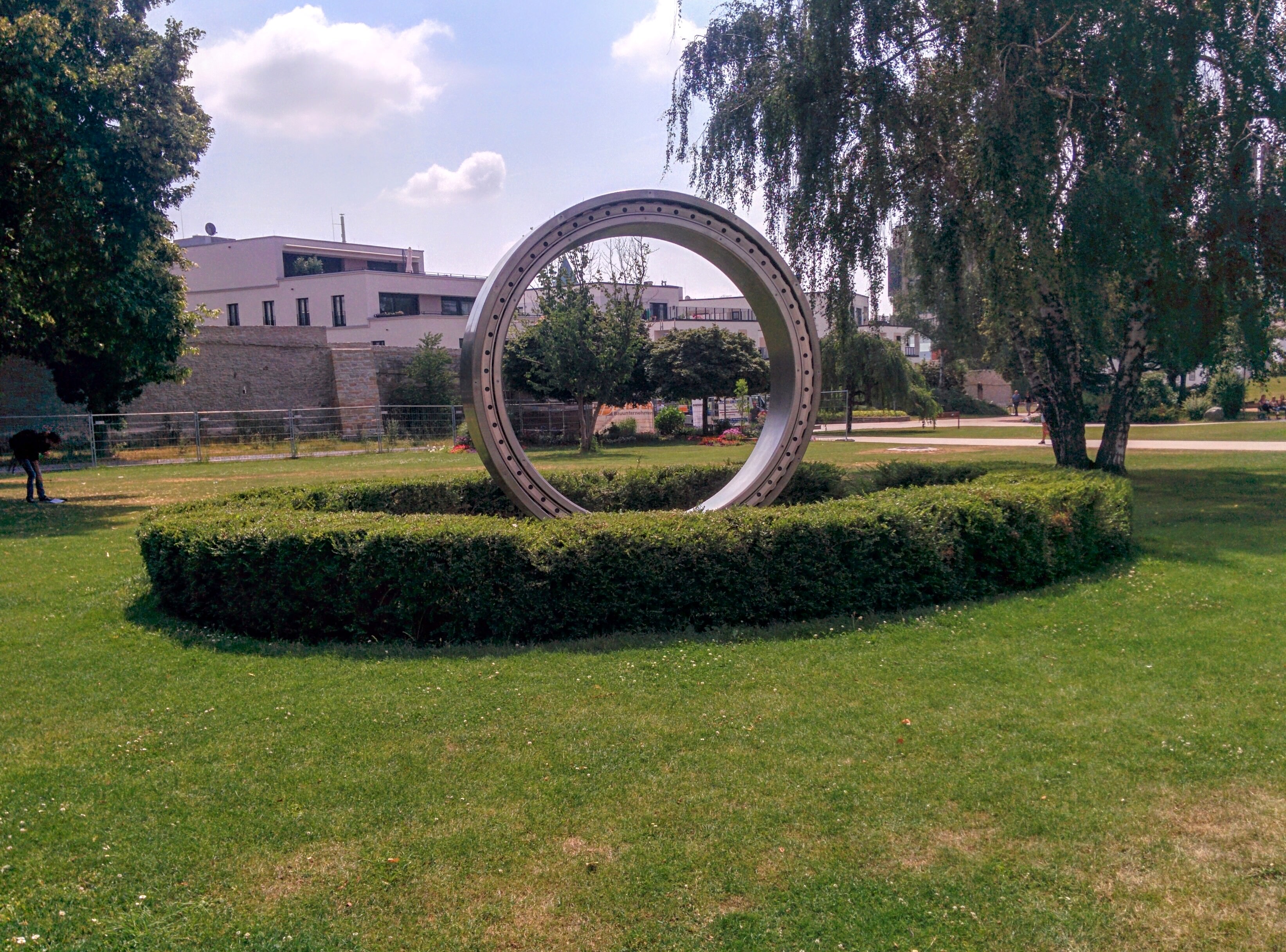 If you're wondering why I haven't shown you any lovely half-timbered German houses, this is why.  Schweinfurt manufactured most of Nazi Germany's ball bearings and was bombed to pieces during WWII.  Although they spread out the manufacturing facilities afterwards there are still a lot of companies here that make bearings.  That's also why we are here, because Mr. Meena works for a German company and is here learning about bearing design.  I think the bearing is in the park because it was defective (or something like that).
I actually headed to another ice cream café afterwards because I needed a gift for a friend's birthday and they are the only place I know of that makes lactose free ice cream.  This route meant that I went past the Stadtgalerie (city mall) which is only two blocks from my hotel.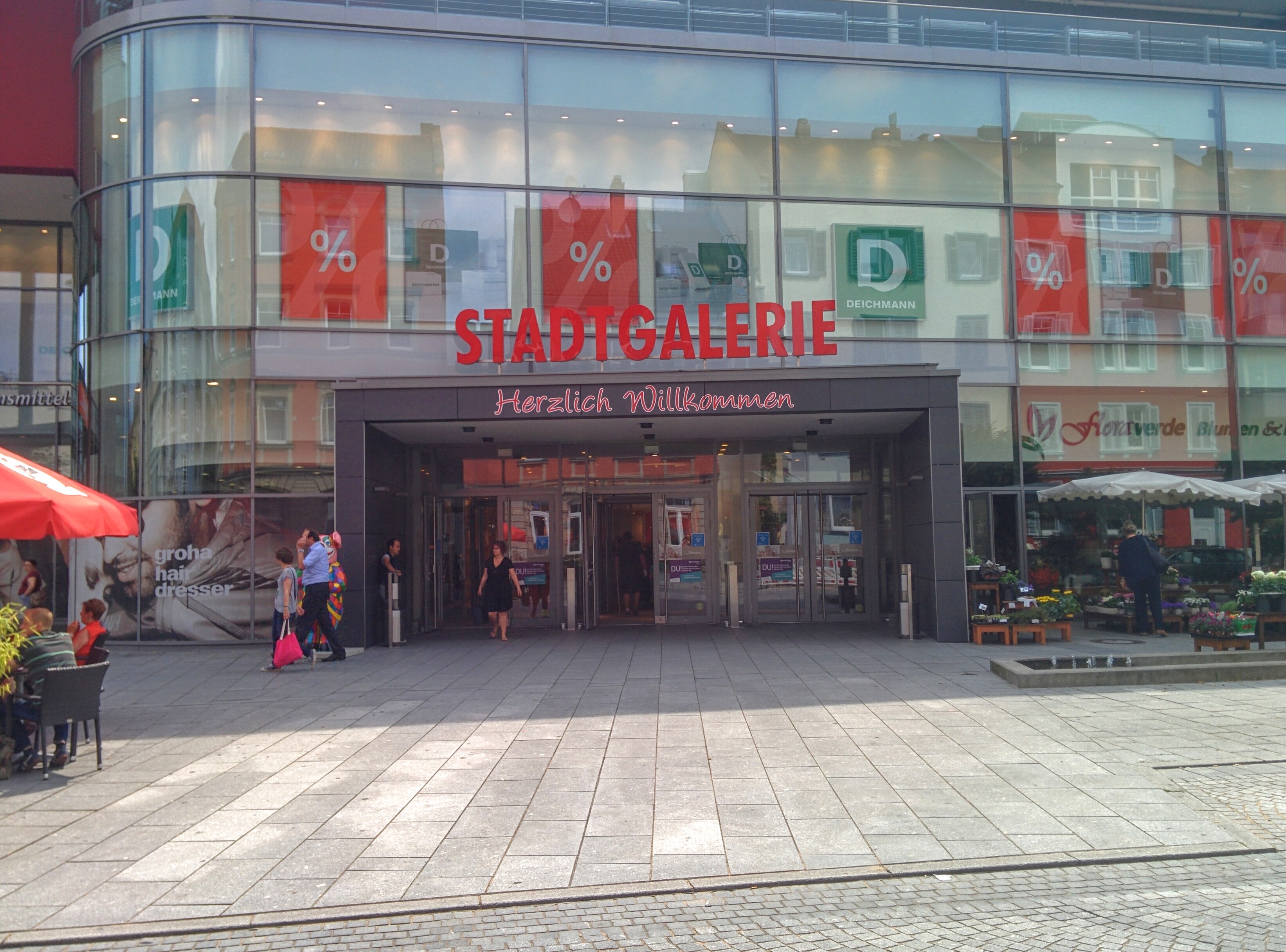 The mall is a decent size (two floors) and has a grocery store, which is quite convenient since I prefer not to carry heavy grocery bags very far.
By the time I got home I had walked 7.2 miles (11.6 km).  I love the walking culture here and I'll miss the convenience of having stuff so nearby when we leave.  I made a smoothie for lunch and worked on my computer for the rest of the afternoon.  I had to finish planning our trip to Erfurt the next day.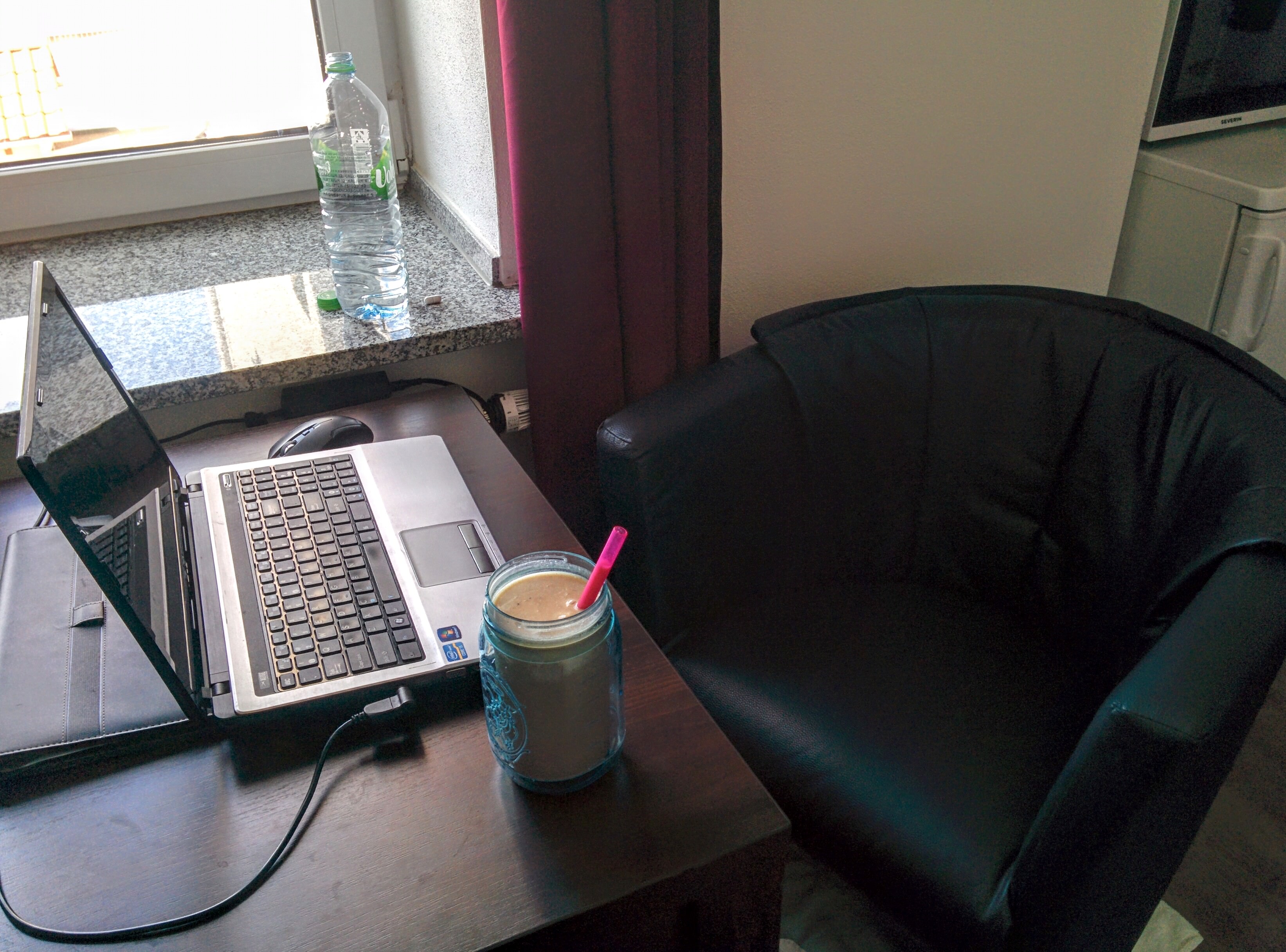 In case you're wondering (or are new to my blog), I'm not currently working.  I worked as a chemist in the USA but decided not to pursue a job in Germany for variety of reasons, which range from the fact that I don't speak German fluently  to my desire to focus on traveling as much as possible while living aboard.  We've been fortunate to travel all over Germany and have also visited the Netherlands, Spain, Austria, and Switzerland.   In my free time I plan our trips, meet up with friends, and write this blog.
Mr. Meena arrived home around 4pm and we went grocery shopping.  We have to do this often because we have a microfridge and very little storage place,  so we're constantly needing to get more food.  It's normal in Germany to go shopping a few times each week.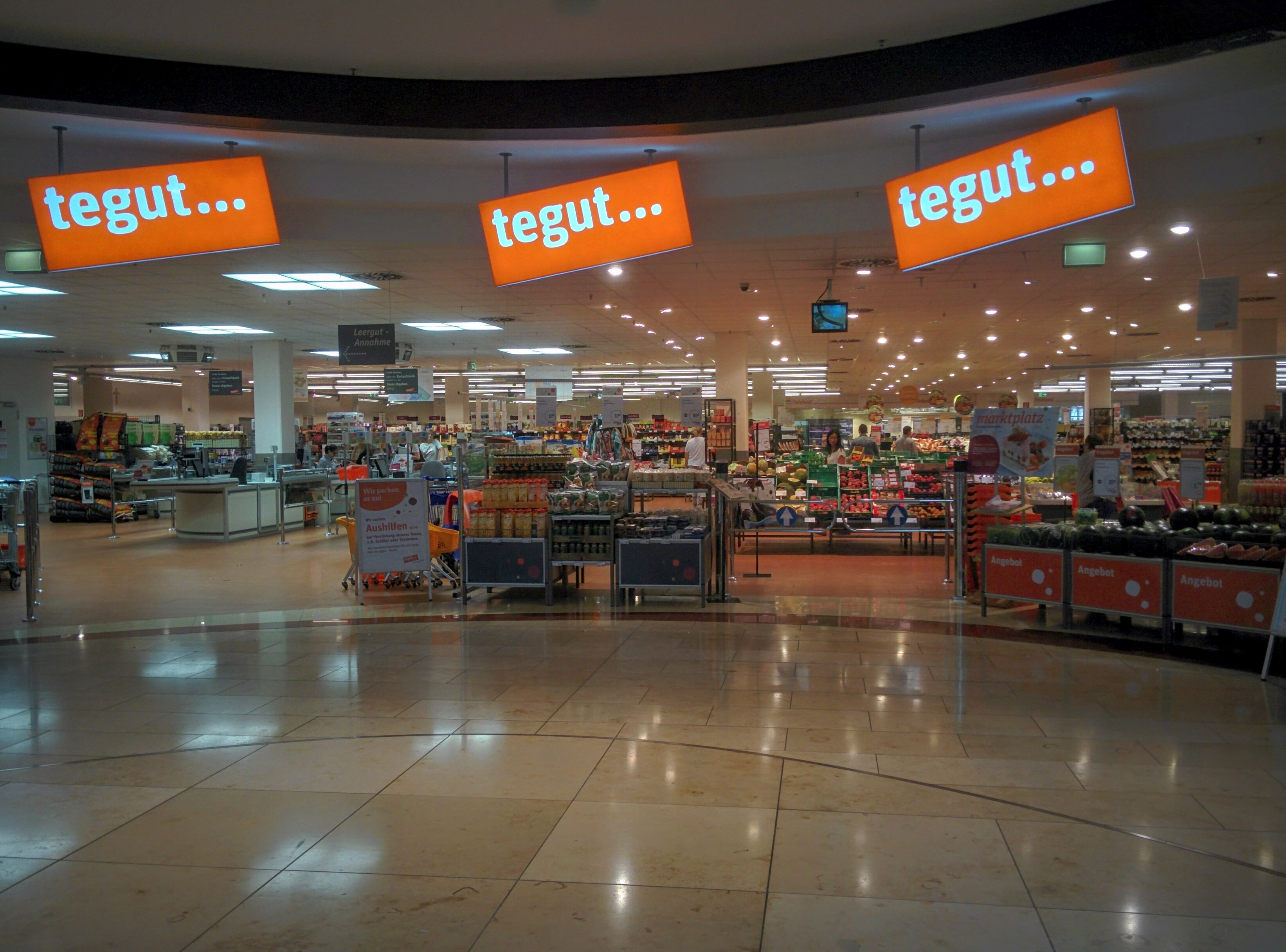 And what kind of post would this be about Germany if it didn't include bread?  You can get bread in the grocery stores and it's good, although not as good as a local bakery.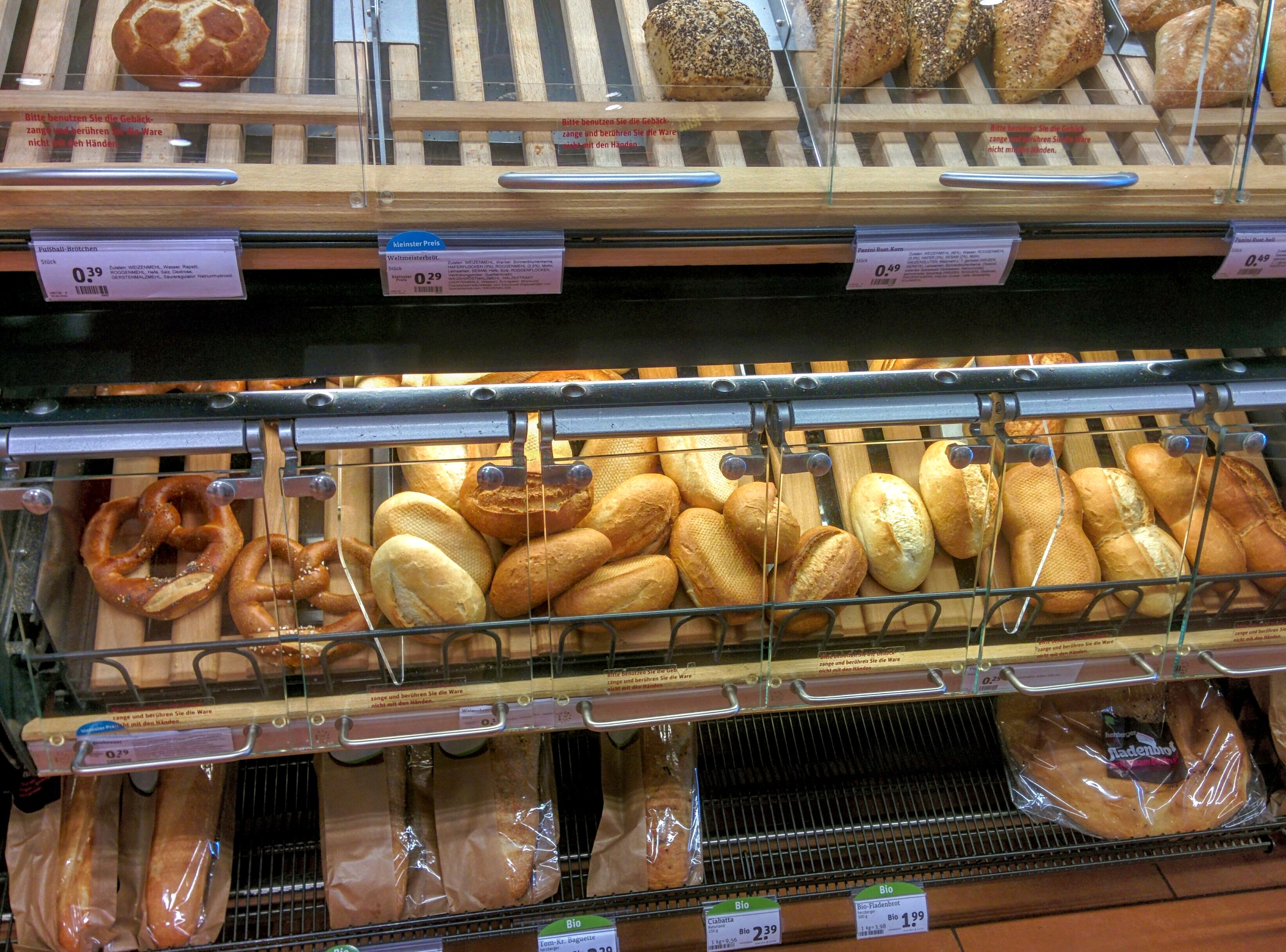 The Brötchen (bread roll) you see there is only 13 cents!  Crazy wonderful price.
Afterwards I put the groceries away while Mr. Meena went to our favorite pizza place.  It's only a few minutes' walk from us and is a dual pizza service and Indian curry house.  It's a family run business and the youngest child (2ish years old) always tries to get Mr. Meena to play games with her while her parents make the pizza.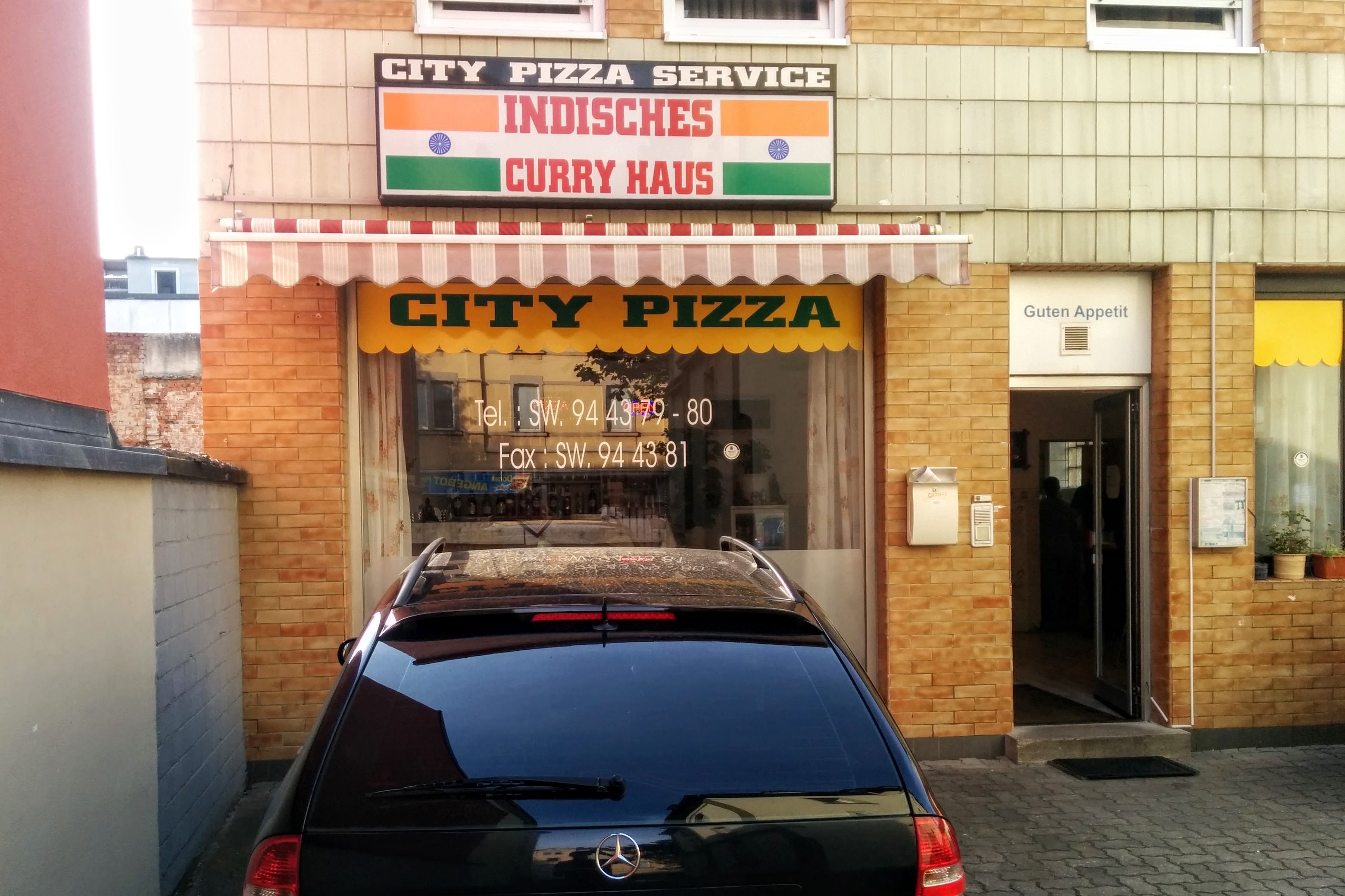 On the way back Mr.Meena passed Panda Pig and decided to have some fun (since he knew I was making this post).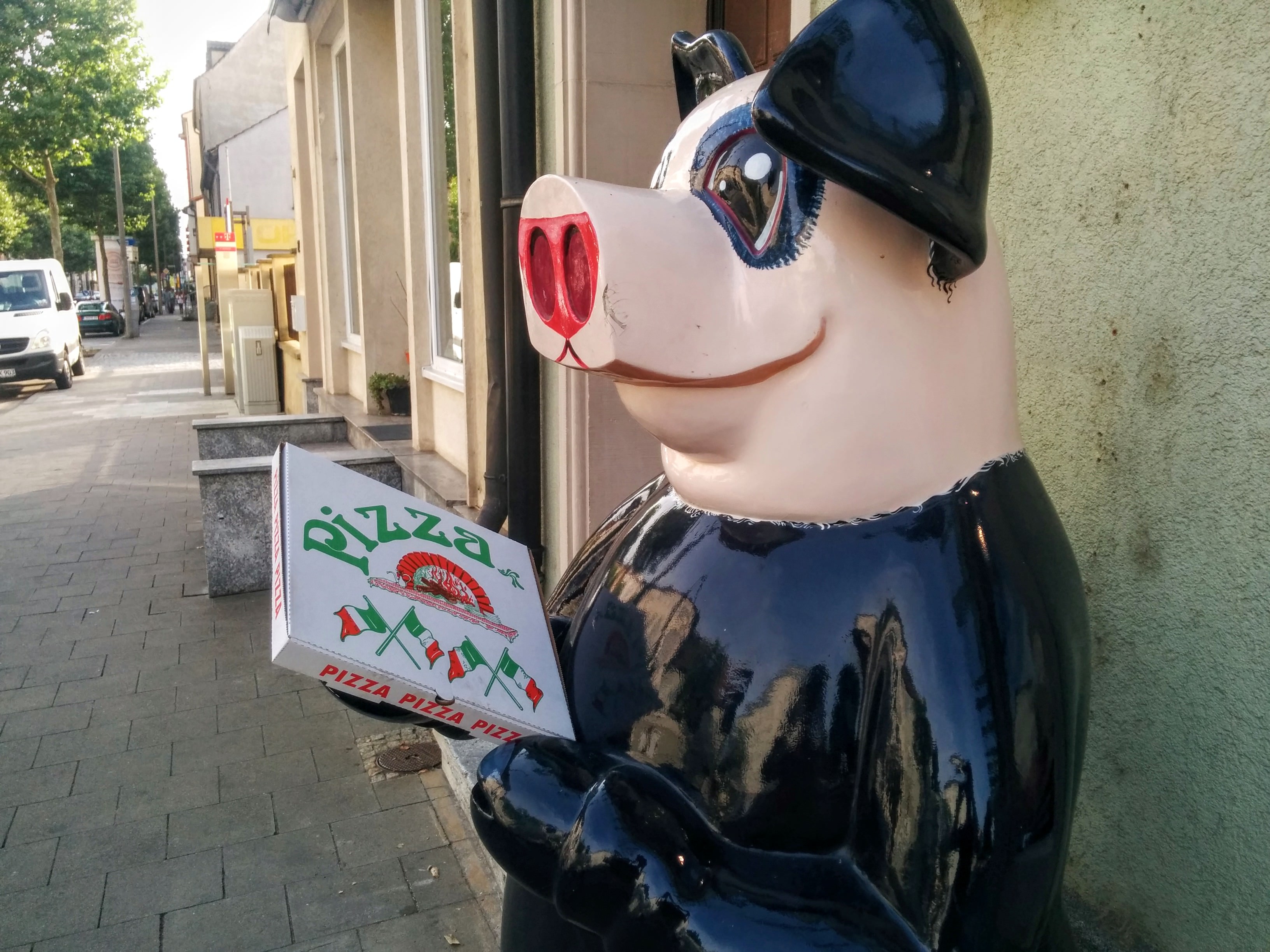 Here's our fresh and spicy Peperoniwurst pizza.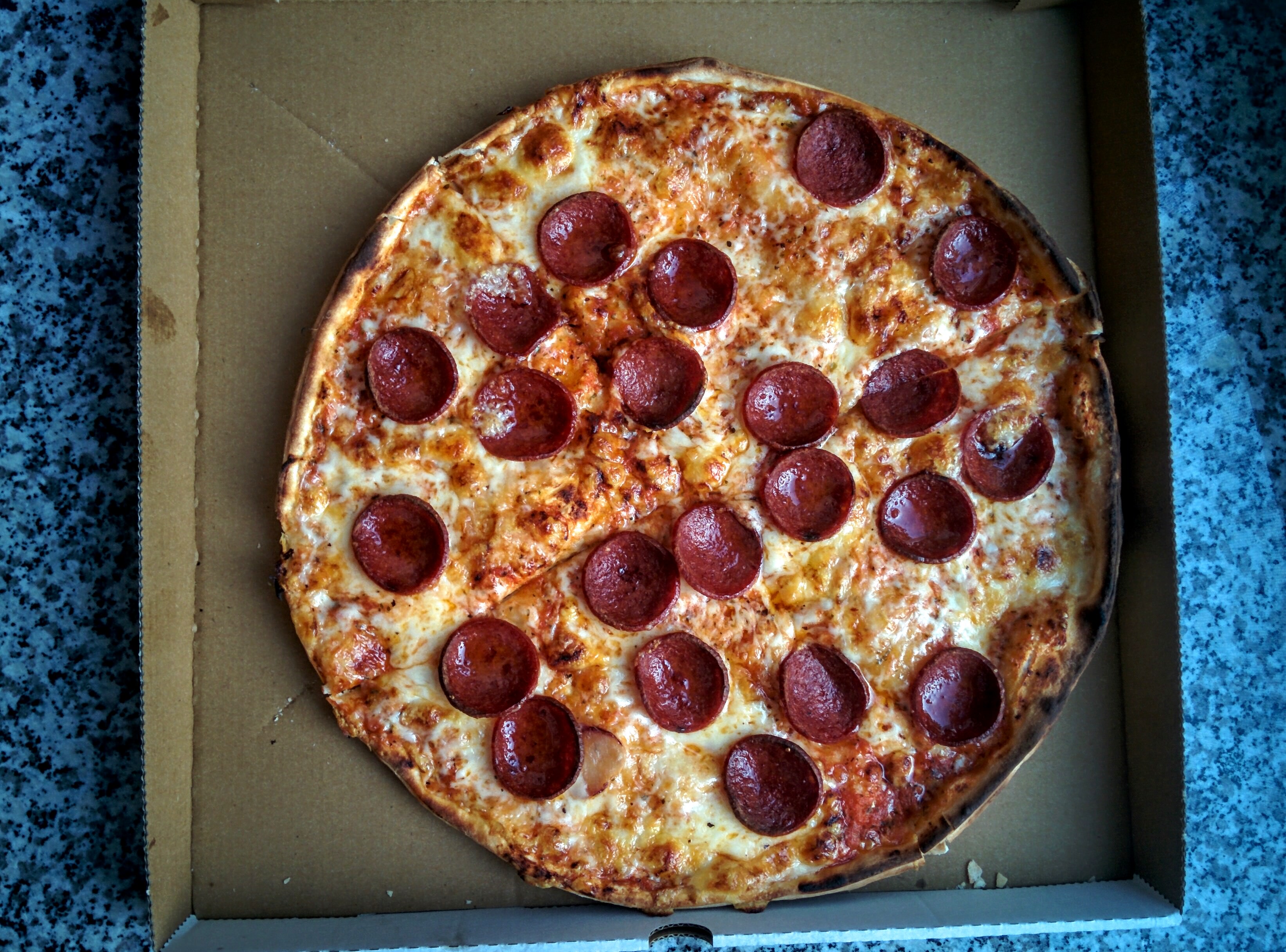 I would eat this every day if I could.  It can be hard to find pepperoni in Germany (they tend to use salami instead) so this helps me cope with missing home.
We spent the evening trying to stay cool, watching movies, and finishing our trip planning for the next day.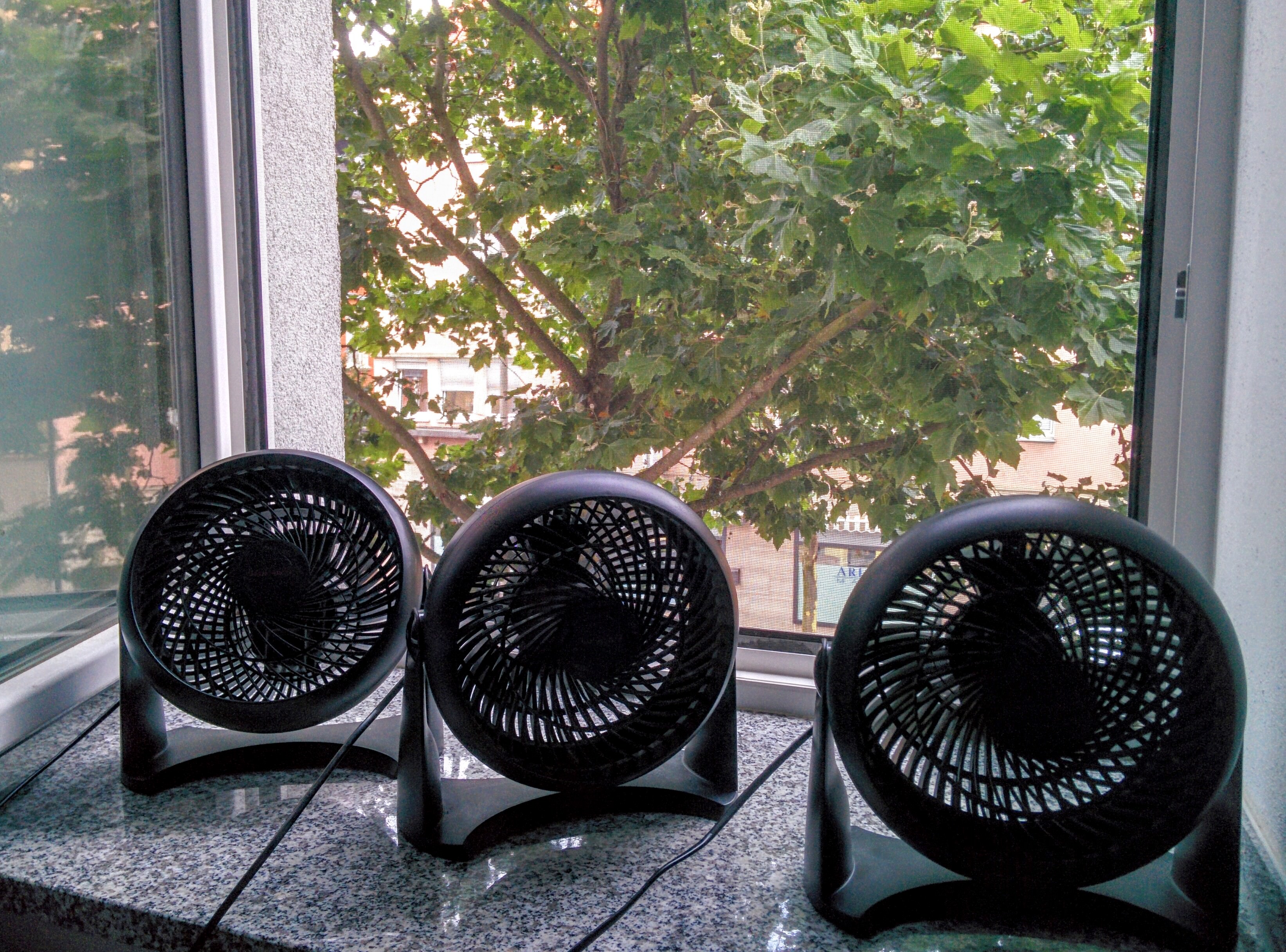 We have five fans.  I'm hot natured and our bodies are not adjusting very well to the first summer without AC.  We're getting creative with ways to stay cool but honestly it's very frustrating to not be able to control your climate.  It's still in the 60s at night but it's hard to cool the place down because we live on a main road with noise levels that will keep me awake.  I don't agree with the culture of not using AC here, not when you live in a first world country and have the means to do so.  Maybe in northern Germany it'd be easier for us since the climate would be milder.  At least when we go home we'll be a lot more environmentally conscious as a result.
So there you have it!  A normal day in my life.  What's a normal day look like for you?
A day in the life of an expat in small town Germany.
Click To Tweet