A little over a year ago I had the great pleasure of visiting the Baumwipfelpfad Steigerwald in Bavaria with a dear friend of mine.  You may be asking, "The Baumwipfelp… uh, what?"  Well, "Baumwipfelpfad" is German for treetop path and "Steigerwald" is simply a region of Germany, which includes the Steigerwald Nature Park.  But the term 'treetop path' doesn't fully describe just how awesome this attraction truly is.
Visiting the Baumwipfelpfad Steigerwald.
The Baumwipfelpfad Steigerwald is located in Ebrach, which is in between the better known cities of Bamberg and Würzburg.  There is a bus station nearby, but the best and easiest mode of transportation would likely be by car.  You will need to park a bit down the road from the entrance, near the restaurant and gift shop.  Visiting is not a cheap experience; tickets are nine euros for an adult and six euros for children.  However, there are options for family prices, group prices, and annual tickets on the Baumwipfelpfad Steigerwald website.
The wooden pathway starts once you've passed through the entrance gate, and it's immediately exciting.  It is nearly three quarters of a mile (1.15 kilometers) long with some sections rising quite high above the landscape.  You will have a great perspective of the local flora and fauna.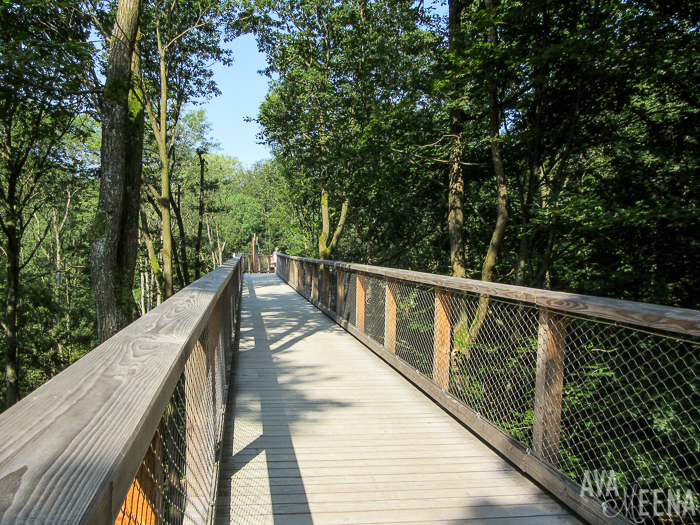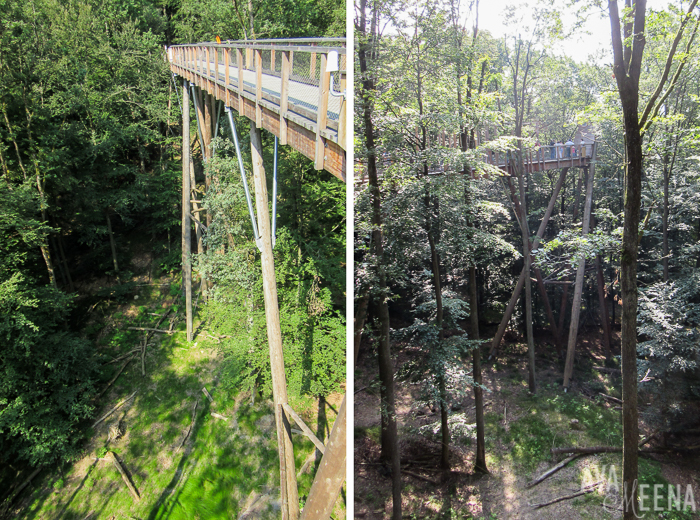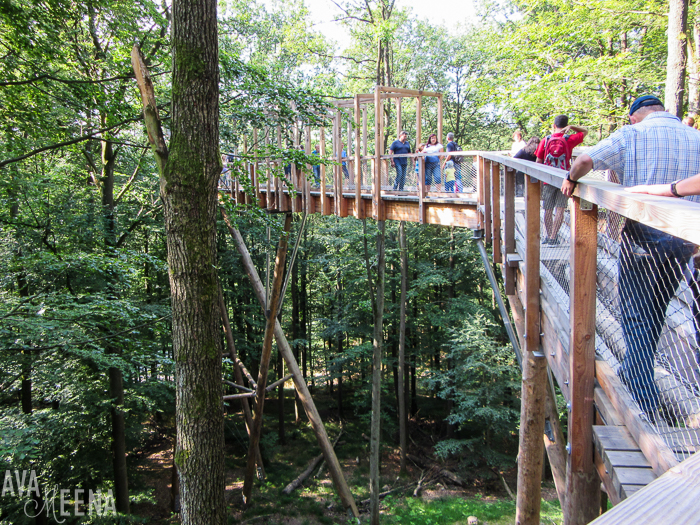 There are also play areas, information boards, and interactive games available if you download the phone app.  When I visited everything was in German and my friend helped me understand what was going on.  I made use of a few of the play areas as we made our way through the path.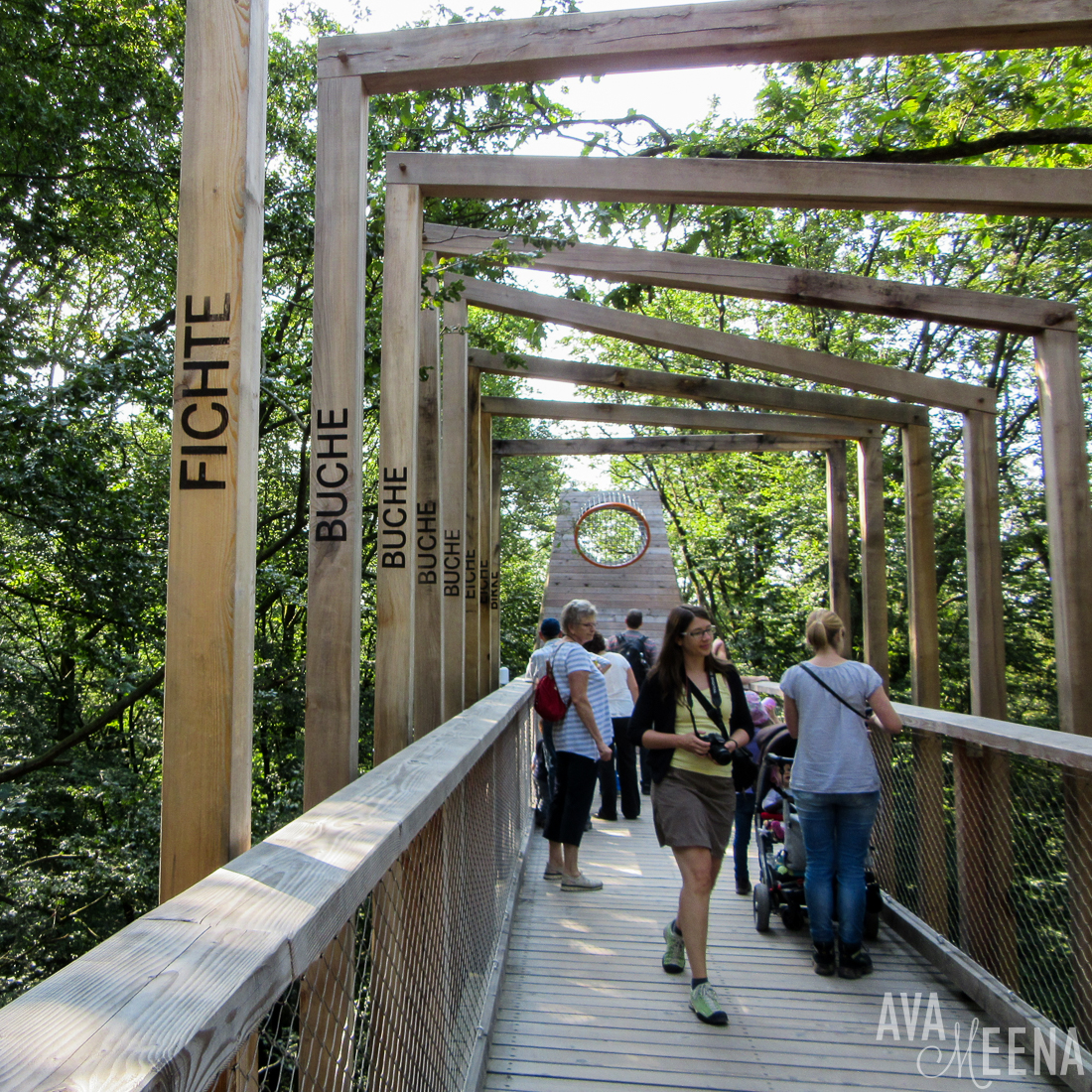 Towards the end you'll find the main attraction – the incredible wooden tower that is approximately 135 feet (41 meters) tall.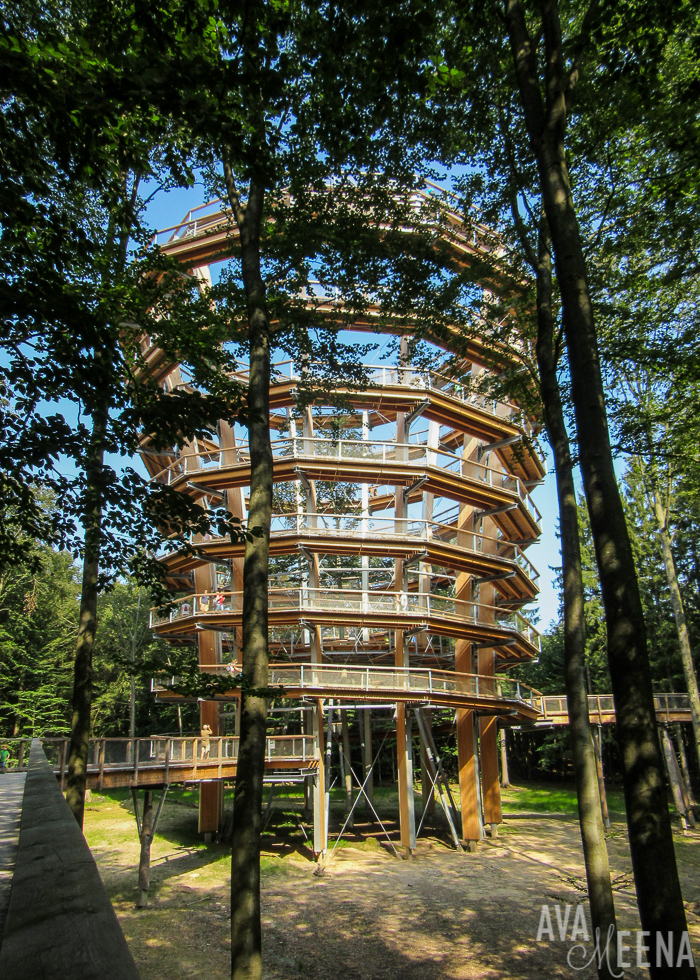 I was so excited when we finally reached the tower.  I had seen pictures of it, but you really can't get a feel for just how huge it is until you are standing in front of it.
And good news – the entire path and the observation tower are wheelchair and stroller friendly – the grade only goes up to six percent on the circular stairway.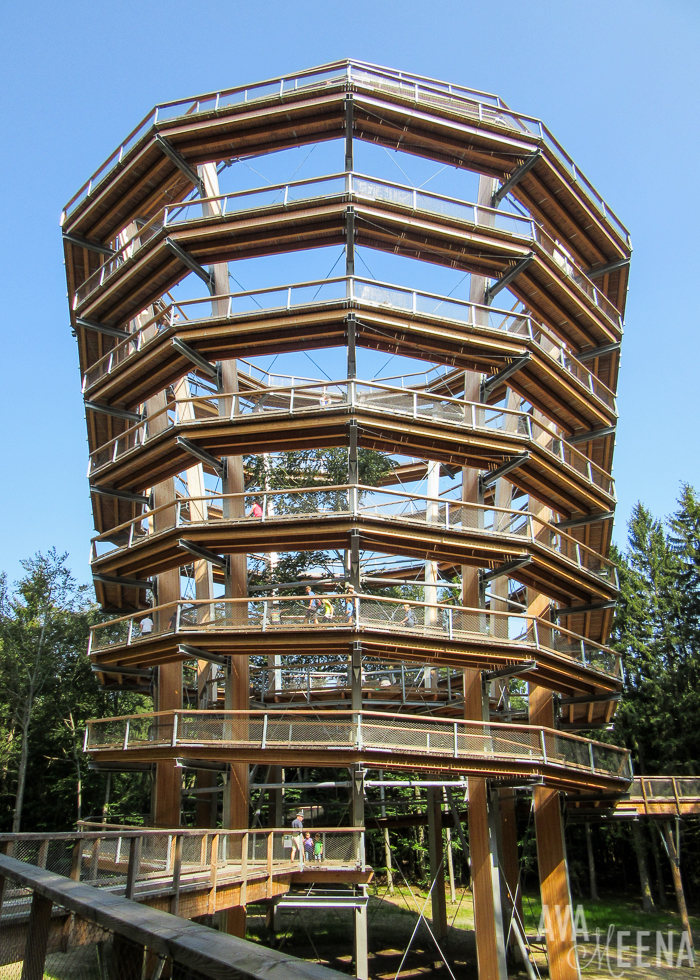 We took the first few loops and then stopped on an interior platform, where there were several benches and a tree growing up through the structure.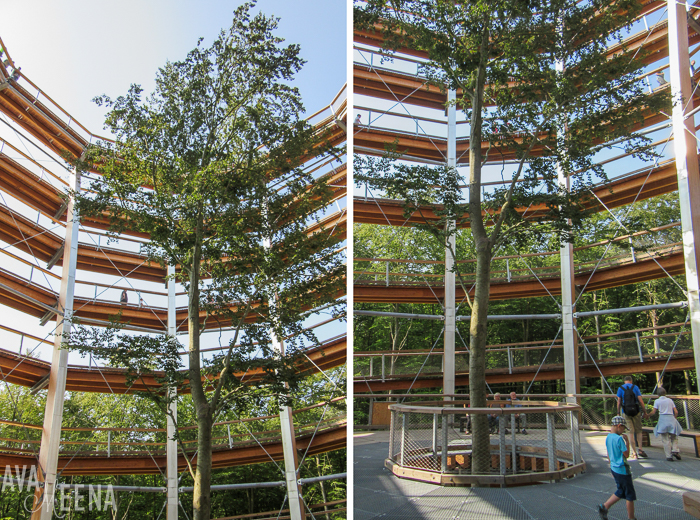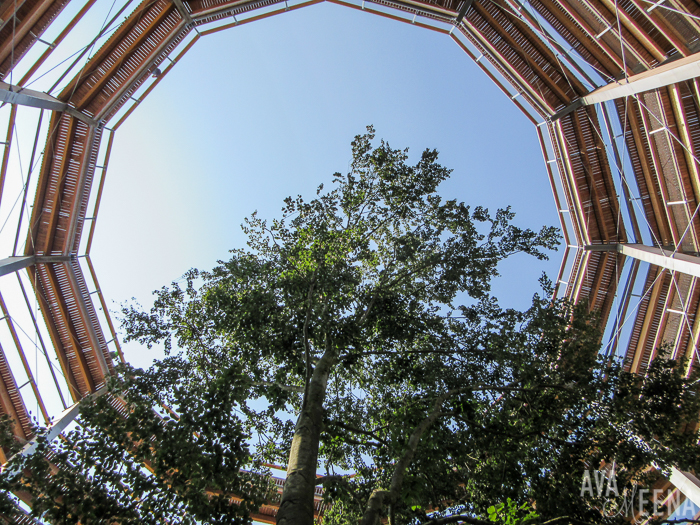 As we continued upwards along the path, each loop brought something new into our field of vision.  It was so thrilling and I was torn between stopping every few minutes to take it in and booking it to the top to get the best view.  Fortunately it wasn't a very long journey to the top (or at least it didn't feel like it).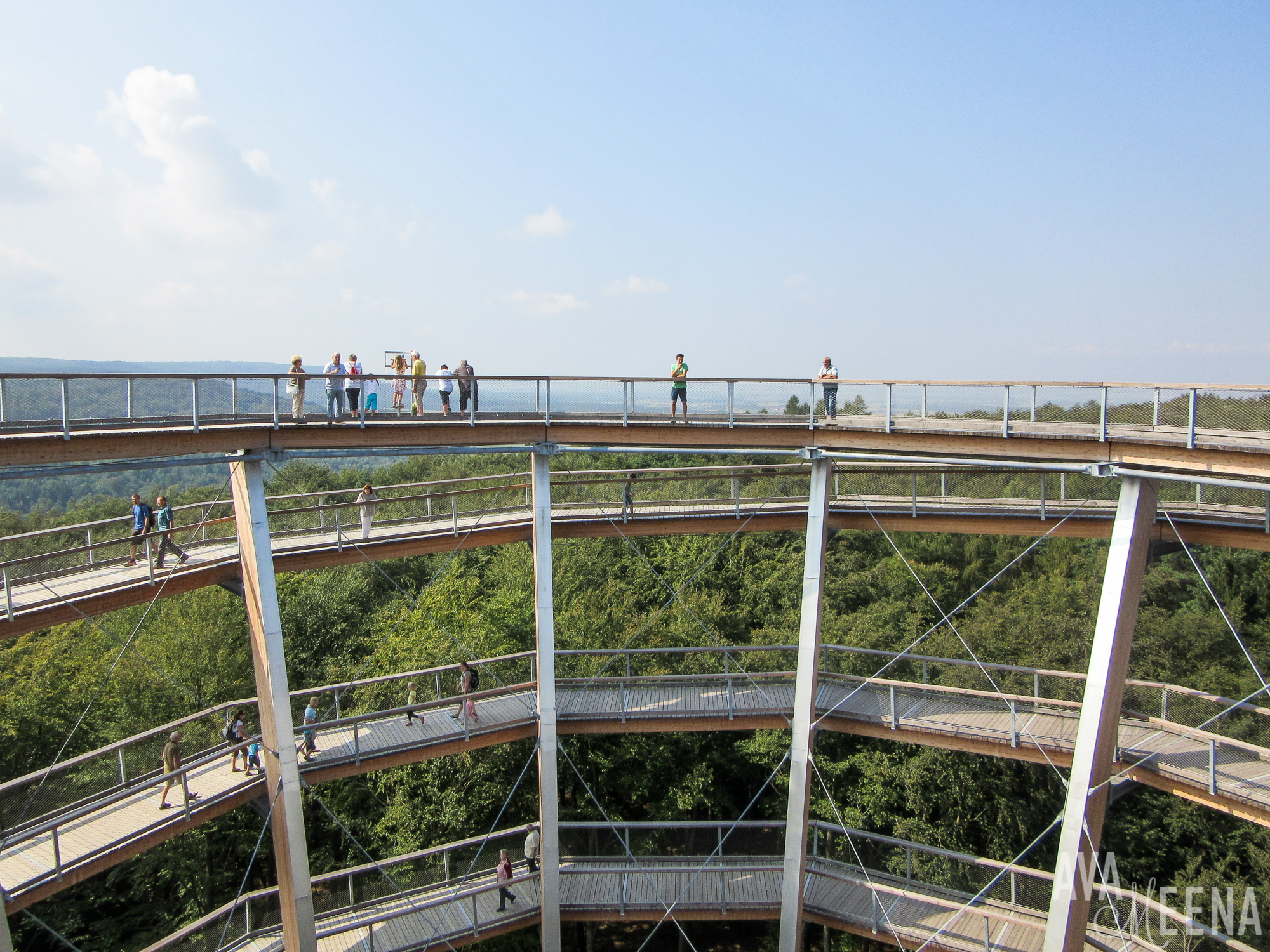 The weather was pretty nice – a bit windy but sunny and not too cold.  We could see a great deal of the forest in the distance, although my friend told me that we could have seen much further – even to Würzburg – on the clearest of days.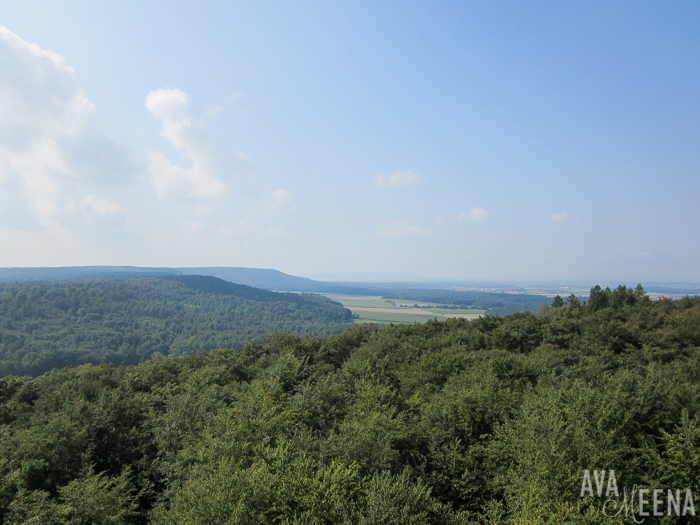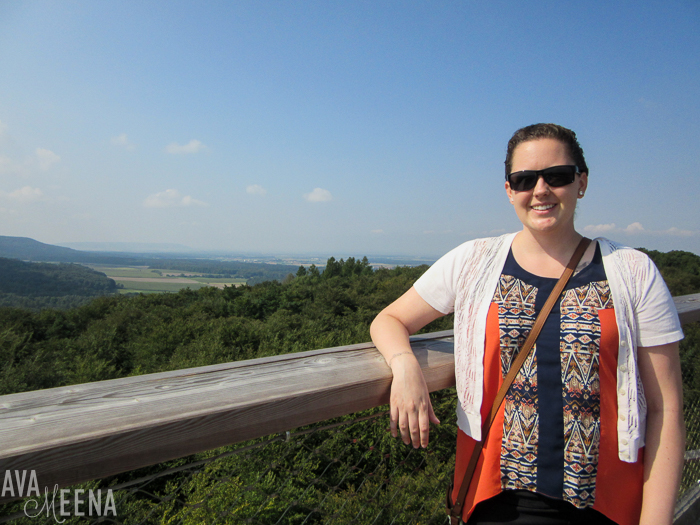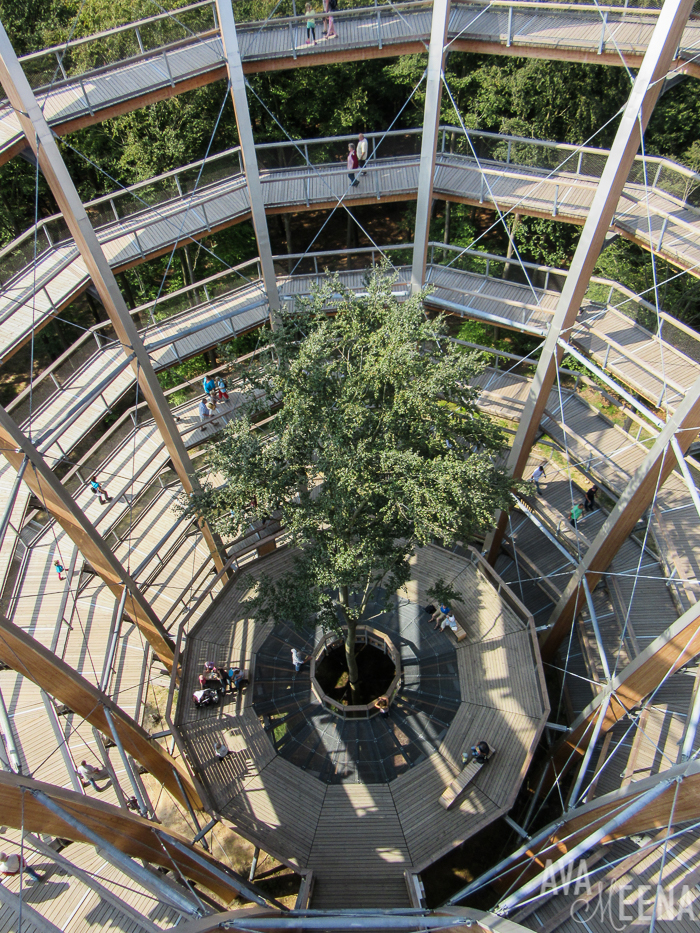 We took in the views all over again as we headed back down the tower.  The walk was over shortly afterwards and we headed to the restaurant for a lunch.  In total we spent about an hour on the treetop path, although we certainly could have lingered much longer.  It was a wonderful experience that I would love to repeat and would recommend for anyone visiting Bavaria.
The Baumwipfelpfad Steigerwald holds events throughout the year, such as nighttime walks and their upcoming Christmas Markets.  These events are easy to keep track of on their Facebook page (listed below).
Website: http://www.baumwipfelpfad-ebrach.de/
Facebook page: https://www.facebook.com/Baumwipfelpfad.Steigerwald/
Address: Radstein 2, 96157 Ebrach, Germany – https://goo.gl/maps/Qxz3KTWdJAN2
Hours: April – October 9am to 6pm, November – March 10am to 4pm, last entry one hour before closing time.
Would you like to visit the Baumwipfelpfad Steigerwald?  Or have you visited a similar treetop path?  Please share in the comments!
---
Visiting the Baumwipfelpfad Steigerwald – an Incredible Treetop Path in Bavaria, #Germany.
Click To Tweet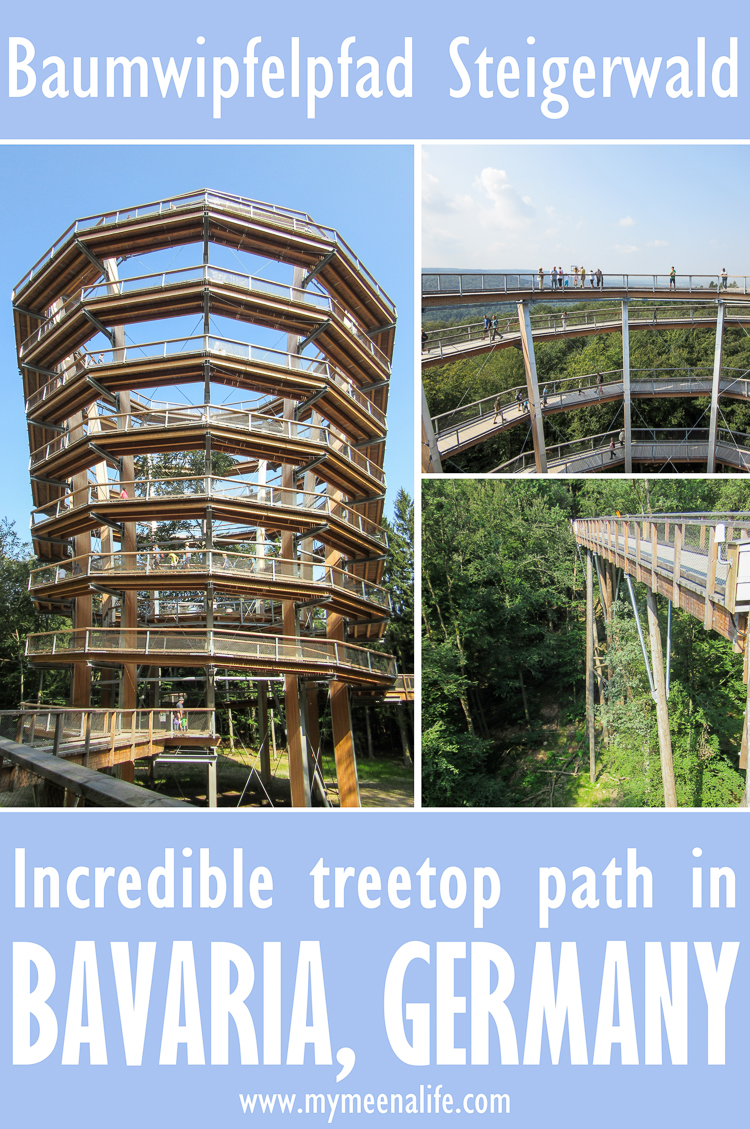 This post is linked up with The Weekly Postcard and Faraway Files: