This was our first hike in a little over a month and also our first hike since we moved back to the USA, so I'm glad we found one that was relatively short, flat, and easy.  We wanted to ease back into hiking as we start to explore the lovely region that's currently our home in the Carolinas.
This hike was also a good choice because it features a historic wooden railroad trestle bridge and 120 foot long suspension bridge.  These fun elements are combined with periodic views of the First Broad River, beautiful trees, wildlife, and a brand new, well-maintained natural surface trail thanks to the Carolina Thread Trail and Catawba Lands Conservatory.
We hiked this trail as part of the Hike NC program, which is offering many free, guided hikes in the region to anyone who would like to get outside and see the abundant natural beauty in North Carolina.
Here's everything you need to know about hiking the First Broad River Trail in Shelby, North Carolina:
About the trail.
Address: 940 West Grover Street, Shelby, NC 28150
There is a small paved parking lot with 20 spaces available but you can also park on the grass or gravel a bit further down the road – just don't block access to the boat ramp.  While this hike is named the First Broad River Trail by the Carolina Thread Trail, it's referred to as the Twin Trestle Trailhead by the city of Shelby.  You'll find it on Google Maps as the latter.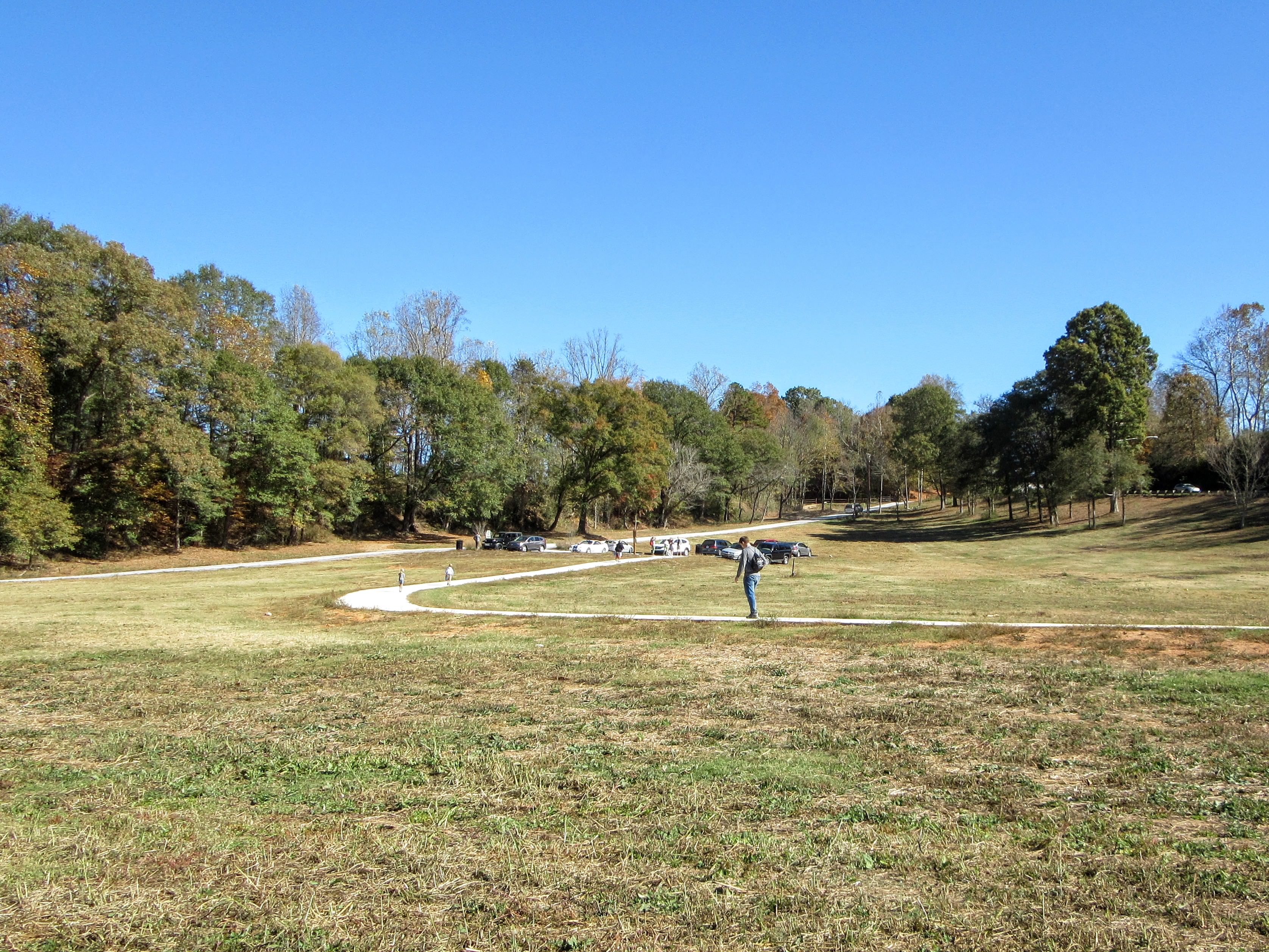 Hike time: 2 – 3 hours
The hike time will vary according to your hiking speed.  The trail took us about 2.5 hours with a fairly quick walking pace and small children in the group.  It would have taken me longer if I was alone, on a leisure hike, or if I'd stopped to take more photos.  However, I don't recommend hiking the upper part of the trail head until it's been further developed (which I'll discuss further on), so skipping that section would probably bring the hike down to the 1 – 2 hour range.
Total distance: 4.4 miles
The trail is a one way path that currently stretches 2.2 miles, but we were told by our guide that the Catawba Lands Conservancy plans to add to and lengthen the route over time.
Other: No restroom facilities are available.  See more detailed information about the trail and a map here.
The experience.
After misspelling the address in our navigation app and heading to the wrong place, we finally arrived to the trailhead five minutes late.  We found our guide, Mary Ann, and joined a group of nearly 30 people (and a handful of kids) who were all pretty excited to go hiking on that beautiful Carolina day.
For the first part of the hike we walked up a rather short section of the trail that takes you uphill near the road.  While we were able to look out over the countryside and see the First Broad River on our left, the view on our right (of an electrical substation) was less attractive.  This part of the trail didn't offer much before it ended abruptly.  I don't recommend hiking that portion (shown inside the white box below) until the trail has been extended.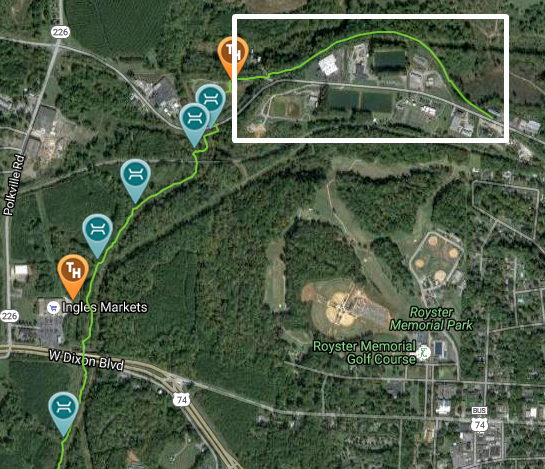 We reversed direction and soon were passing back through the parking lot to continue hiking the First Broad River Trail.  We quickly reached the 120 foot long suspension bridge that crosses over the river.  It can only hold 12 people at a time, so we carefully waited and counted in order to cross safely.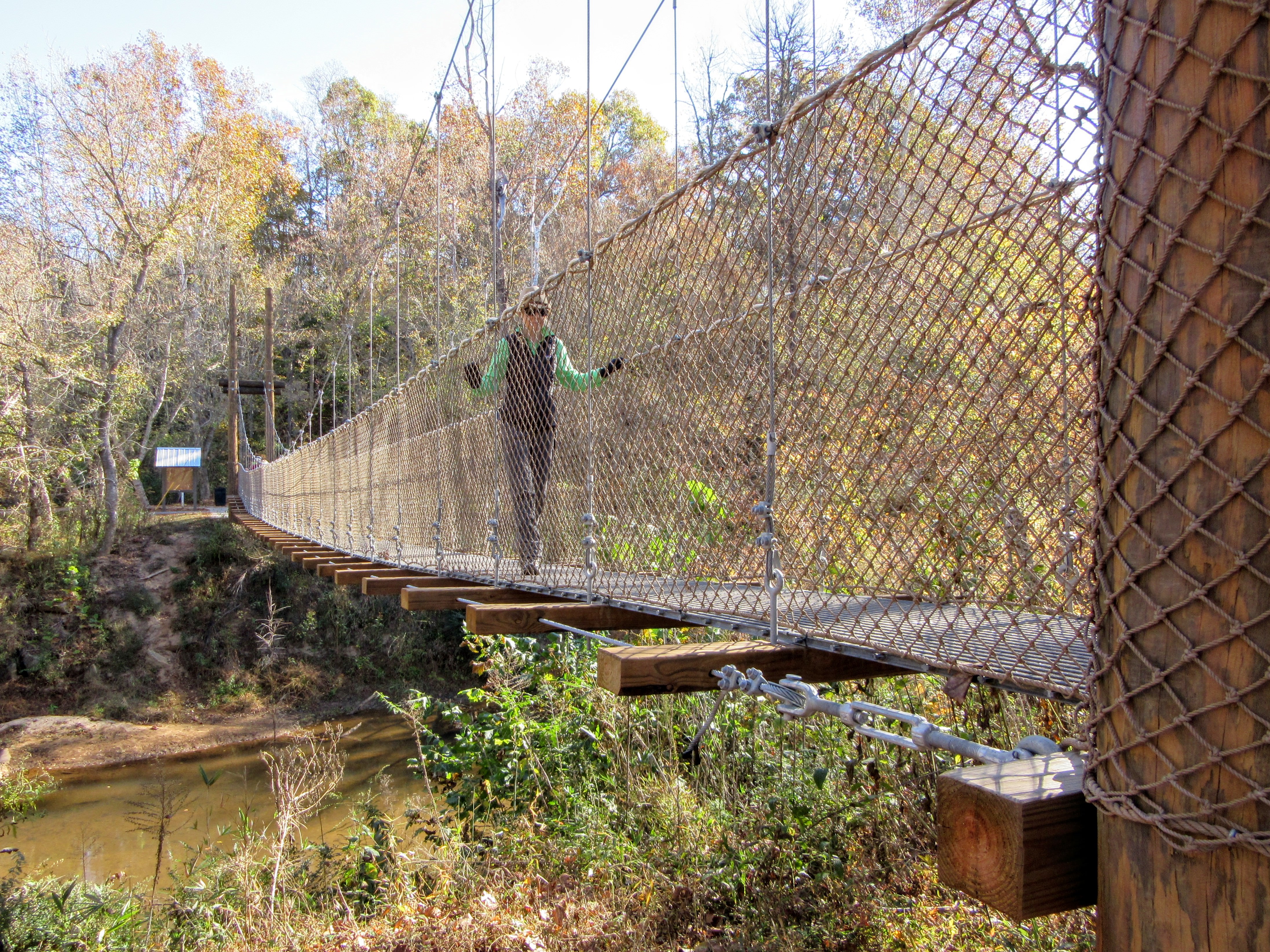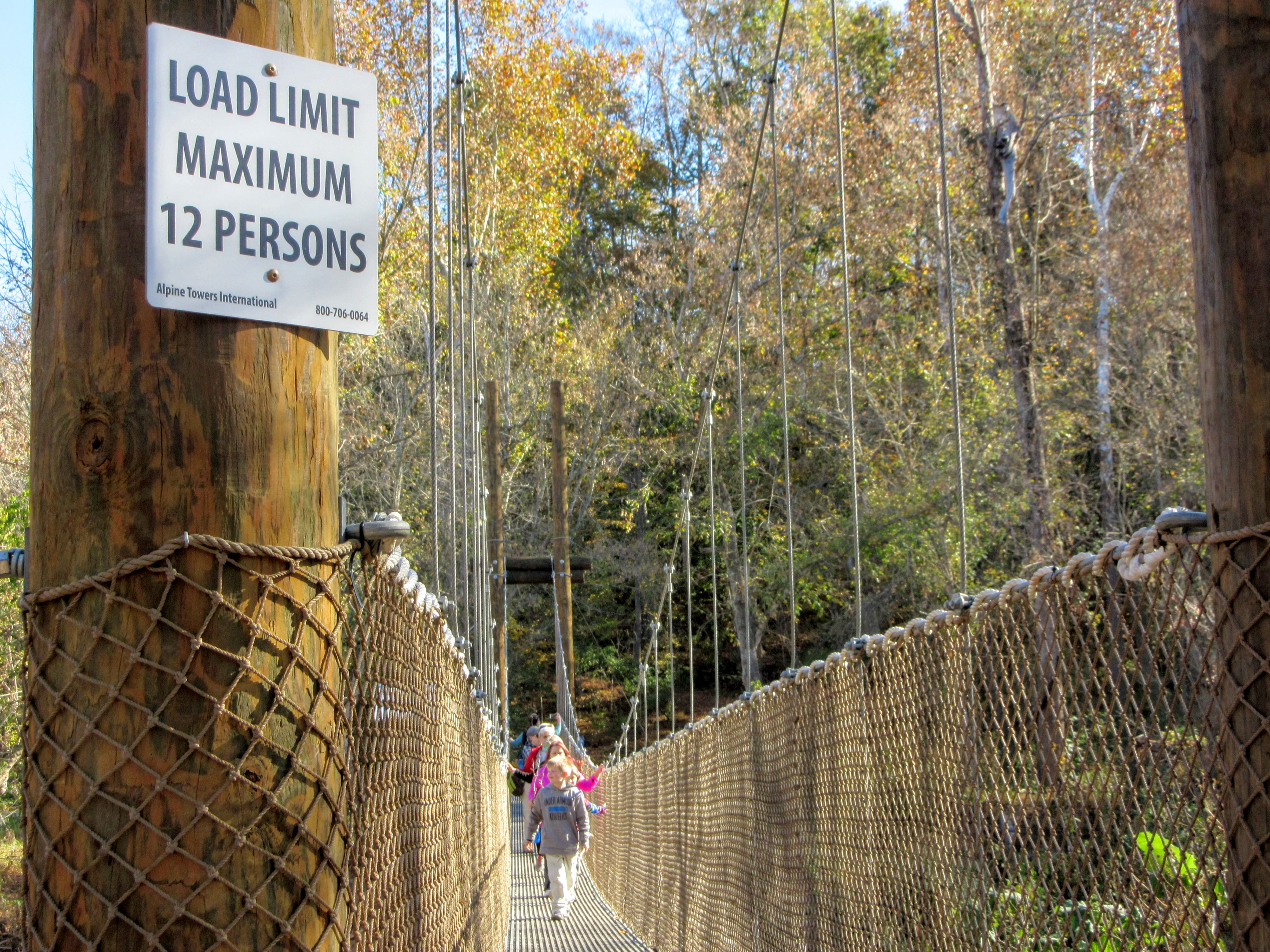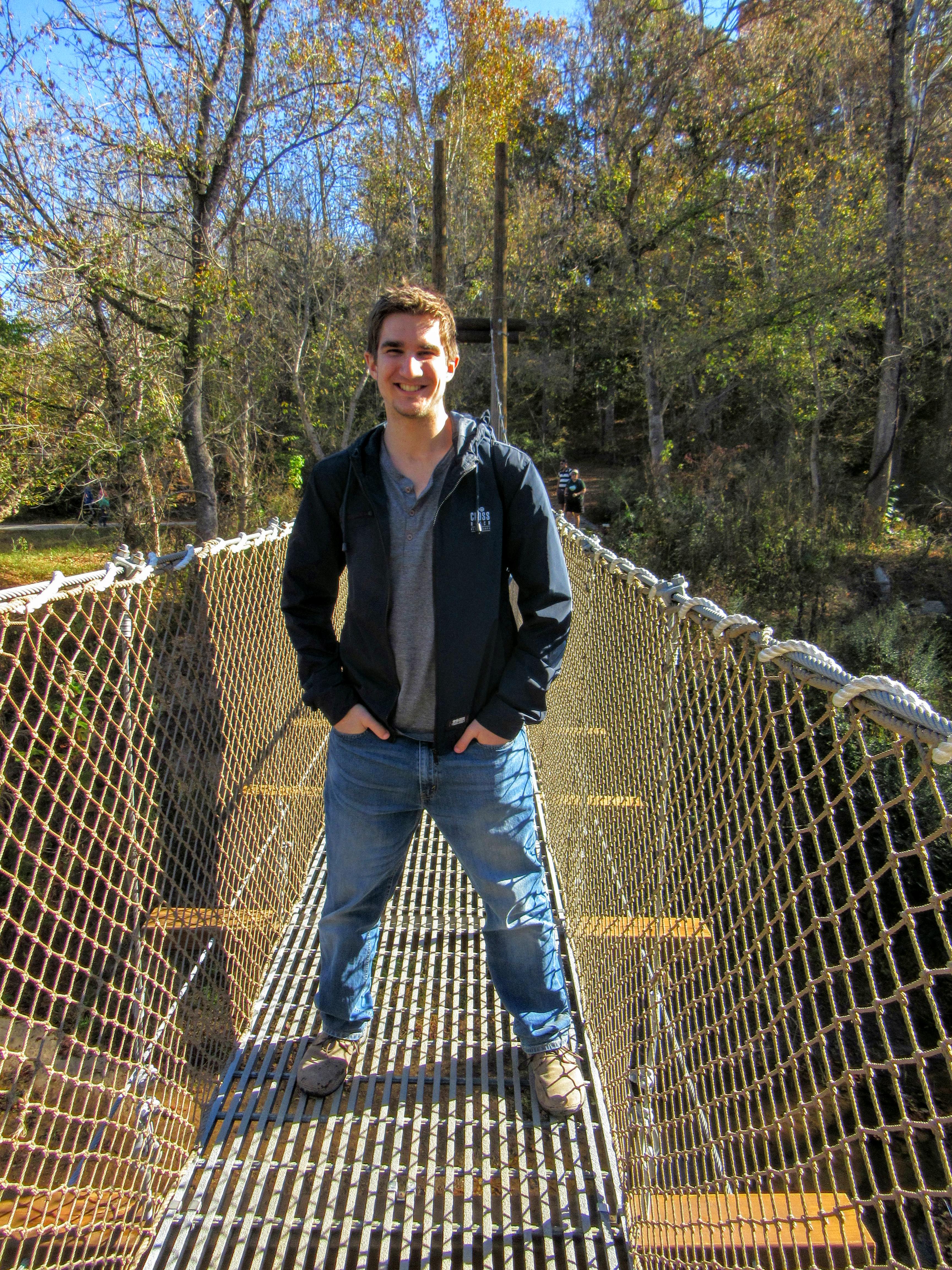 The bridge was marvelously fun – especially for the kids who were along – but it bounced more than I anticipated.  Unless you have excellent balance you'll want to hold on to the ropes with both hands as you cross (especially if you are crossing with several other people).
As you're walking across the bridge you can see the historic railroad trestle bridge over the river to your left.  The trail then takes you directly underneath this cool piece of history and, if you're lucky, you'll get to see a train go across (we did)!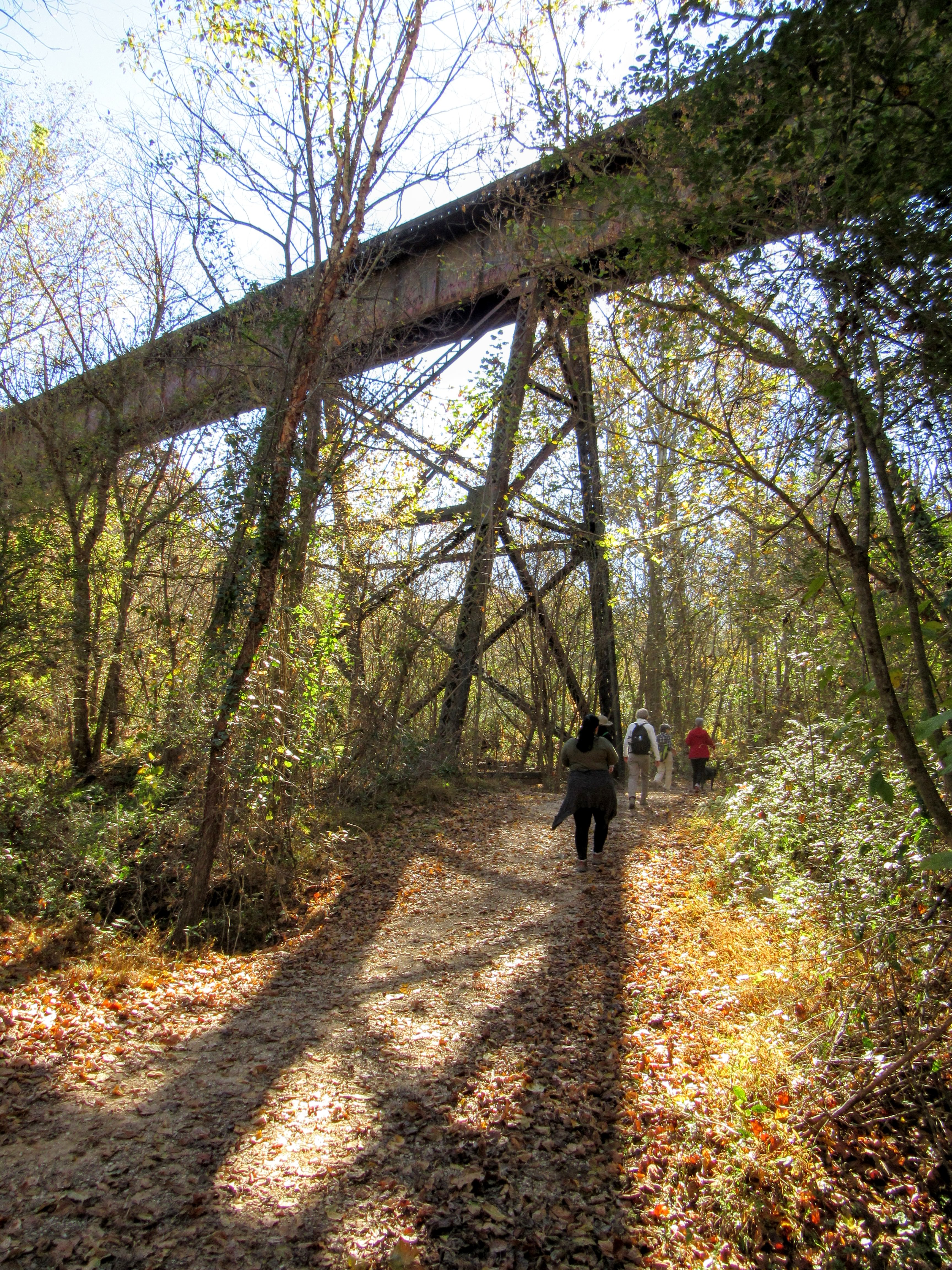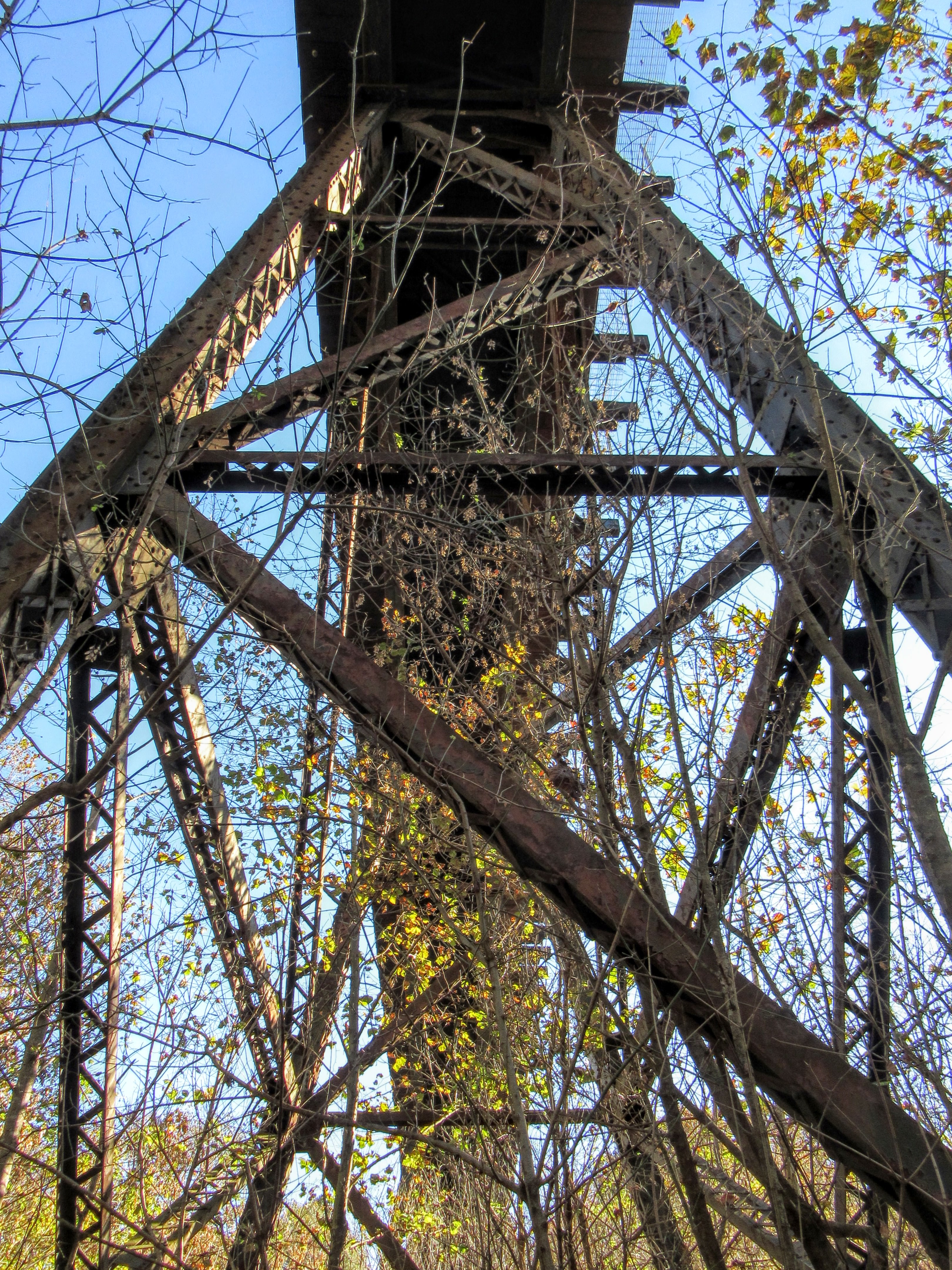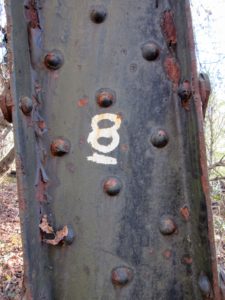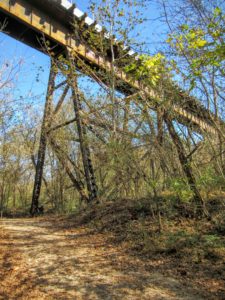 It was beautiful.
After the first two bridges and a viewing area for the river, which are within the first ten minutes of the hike in that direction, the rest of the trail might seem uneventful by comparison.  You'll cross under several highway bridges (which can be noisy) and have some views of the river but nothing else quite as exciting, although that could change once that end of the trail is extended.  The hike is still pleasant, of course, and you'll see flora and fauna representative of the region.  There are several large trees that have branches low enough to sit or climb on.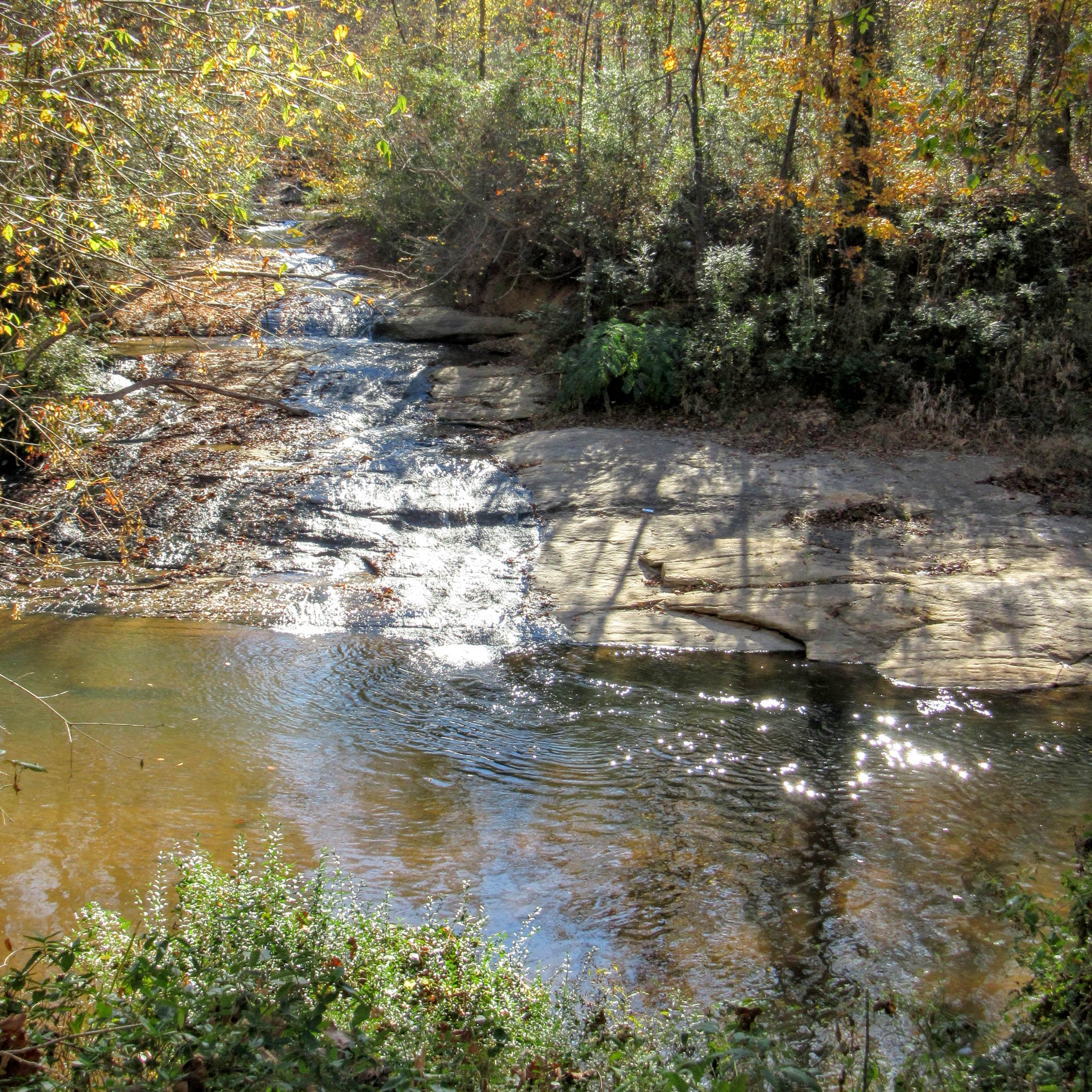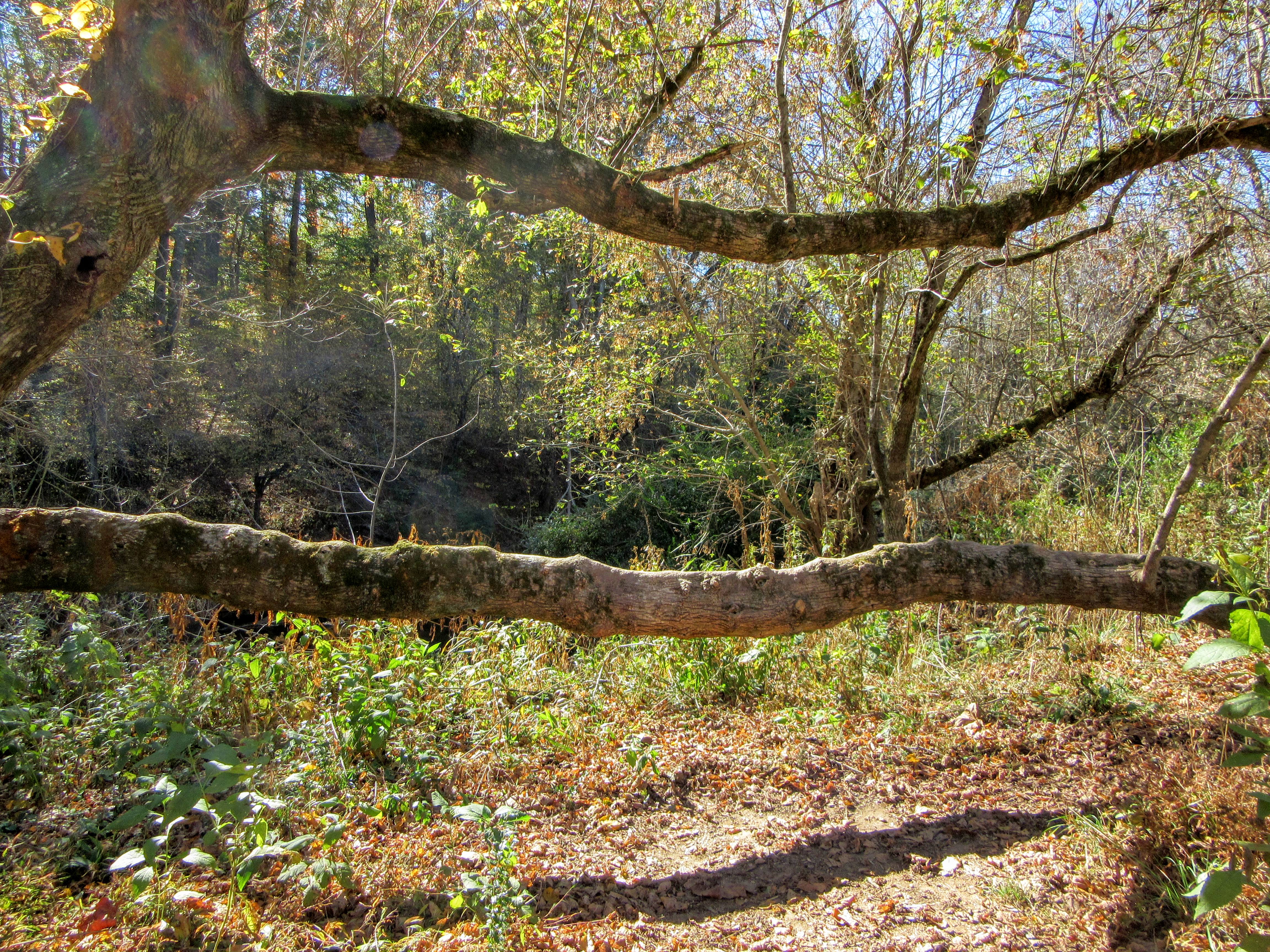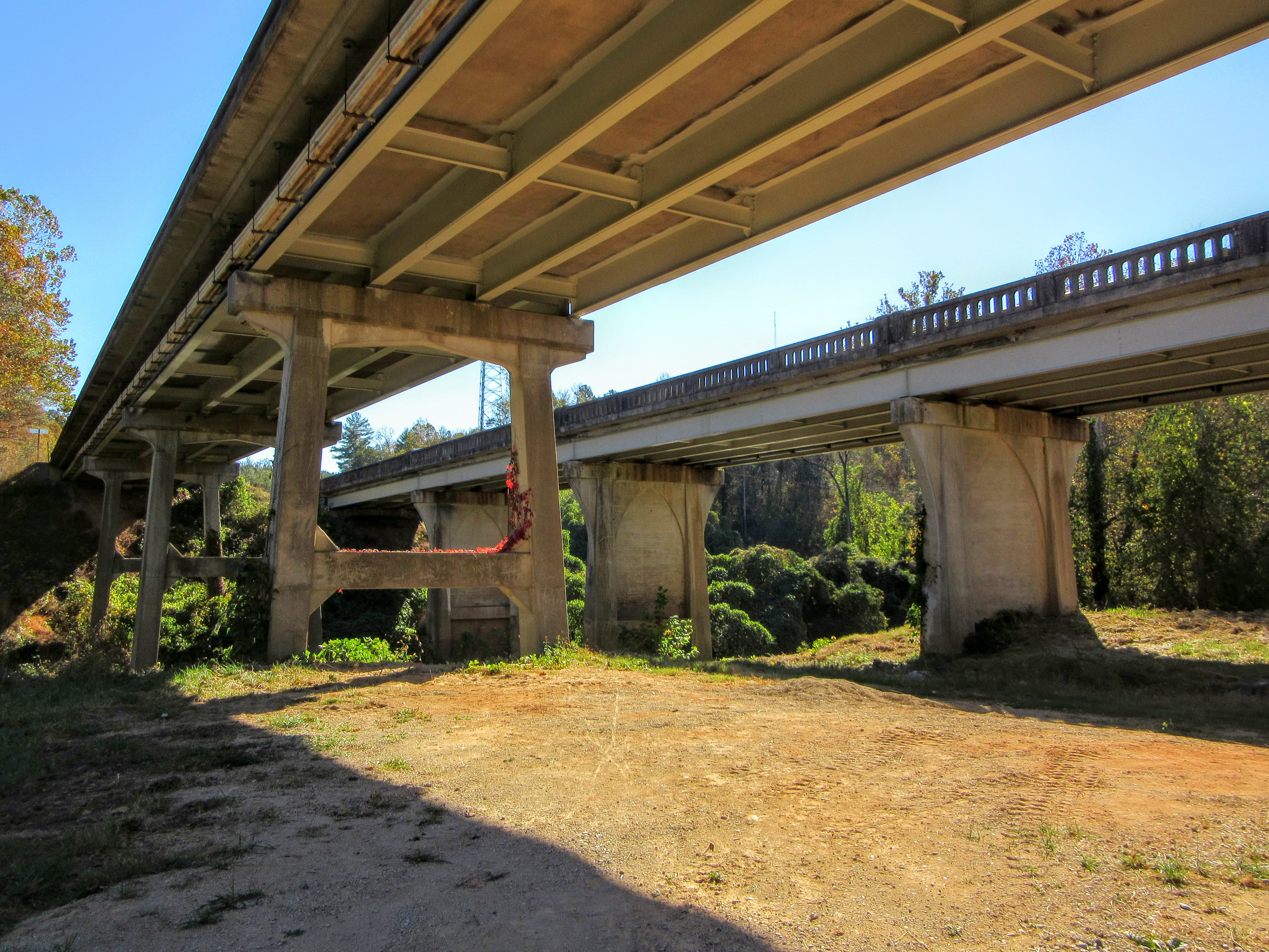 One of the best things about this trail is that it's brand new.  The footbridges are in great condition, the trail is clear of debris, and there are several stone benches available throughout the trail if you need to rest.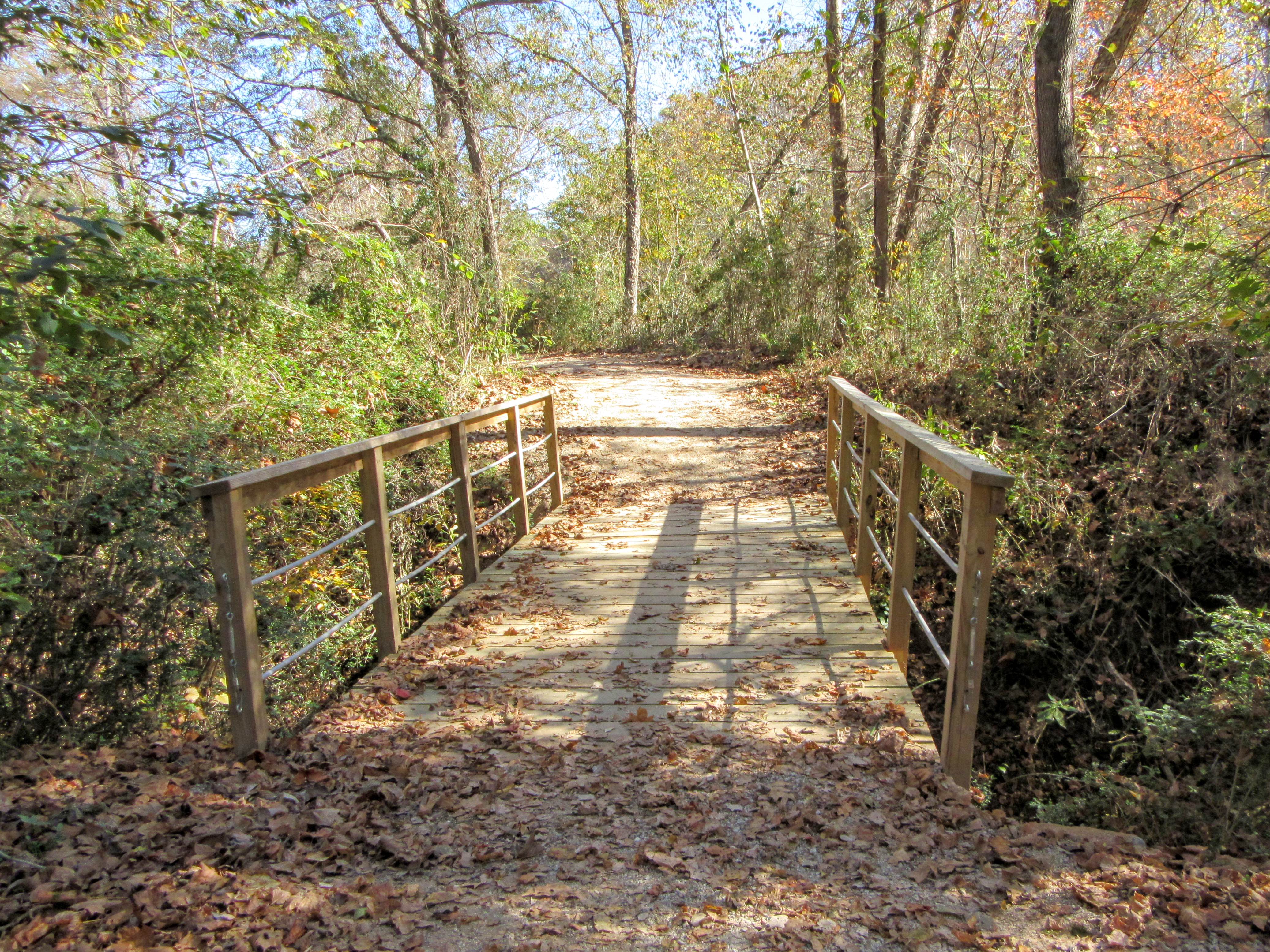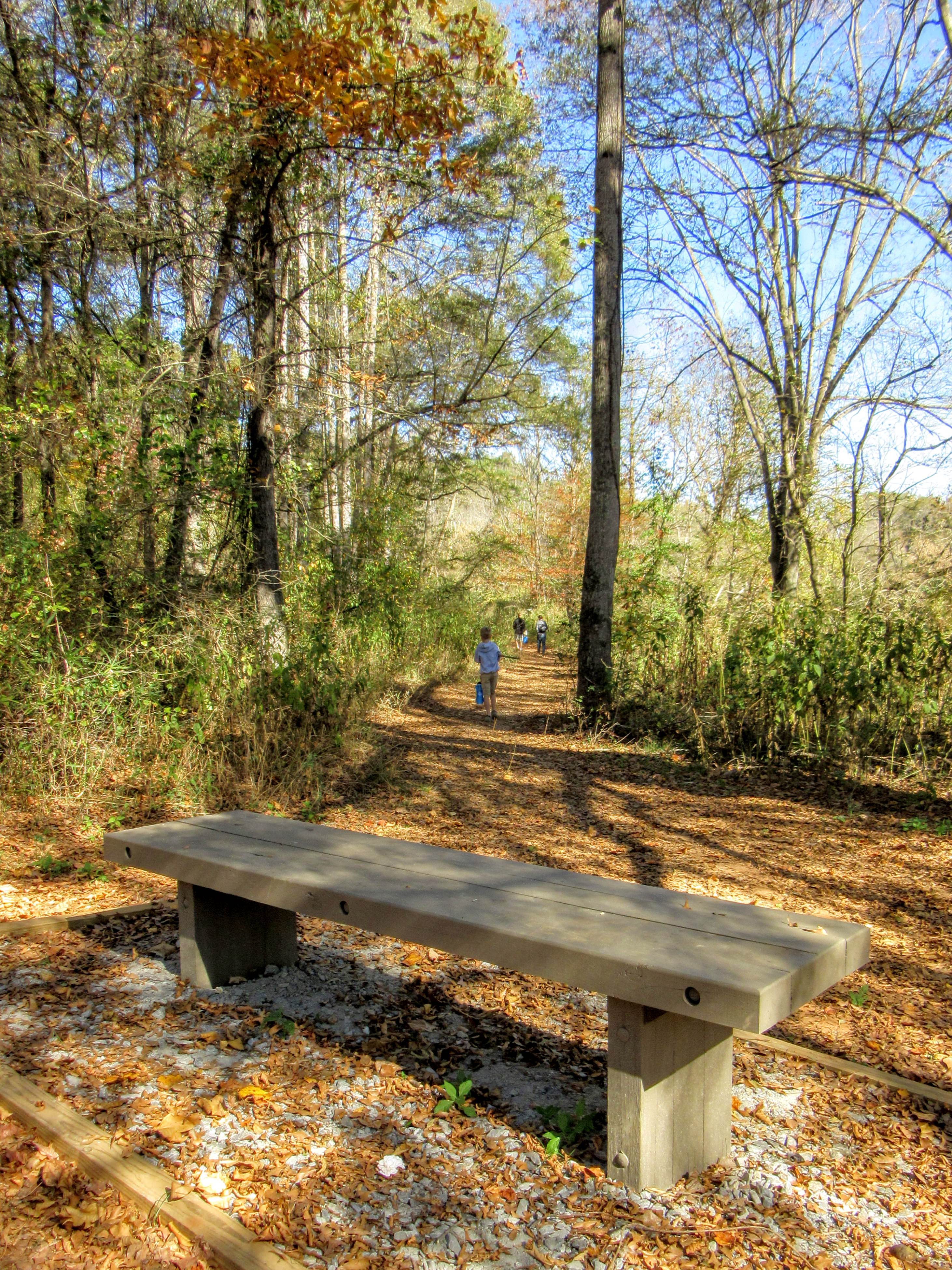 Overall, this is an excellent hike for families, beginners, or anyone looking for an easy hike that can be completed in a short amount of time.
On group hikes.
Group hikes are interesting.  I haven't been on one since my undergrad days at college (which was over four years ago) and back then I only joined group hikes that were comprised of extended friend groups.  This time, however, I had fun meeting and hiking with all sorts of different people.  I spent at least half the hike far enough away from Mr. Meena that I couldn't see him as we both carried on conversations with other people.  There was one young boy who took a liking to us and enthusiastically asked to take our photo whenever we stopped.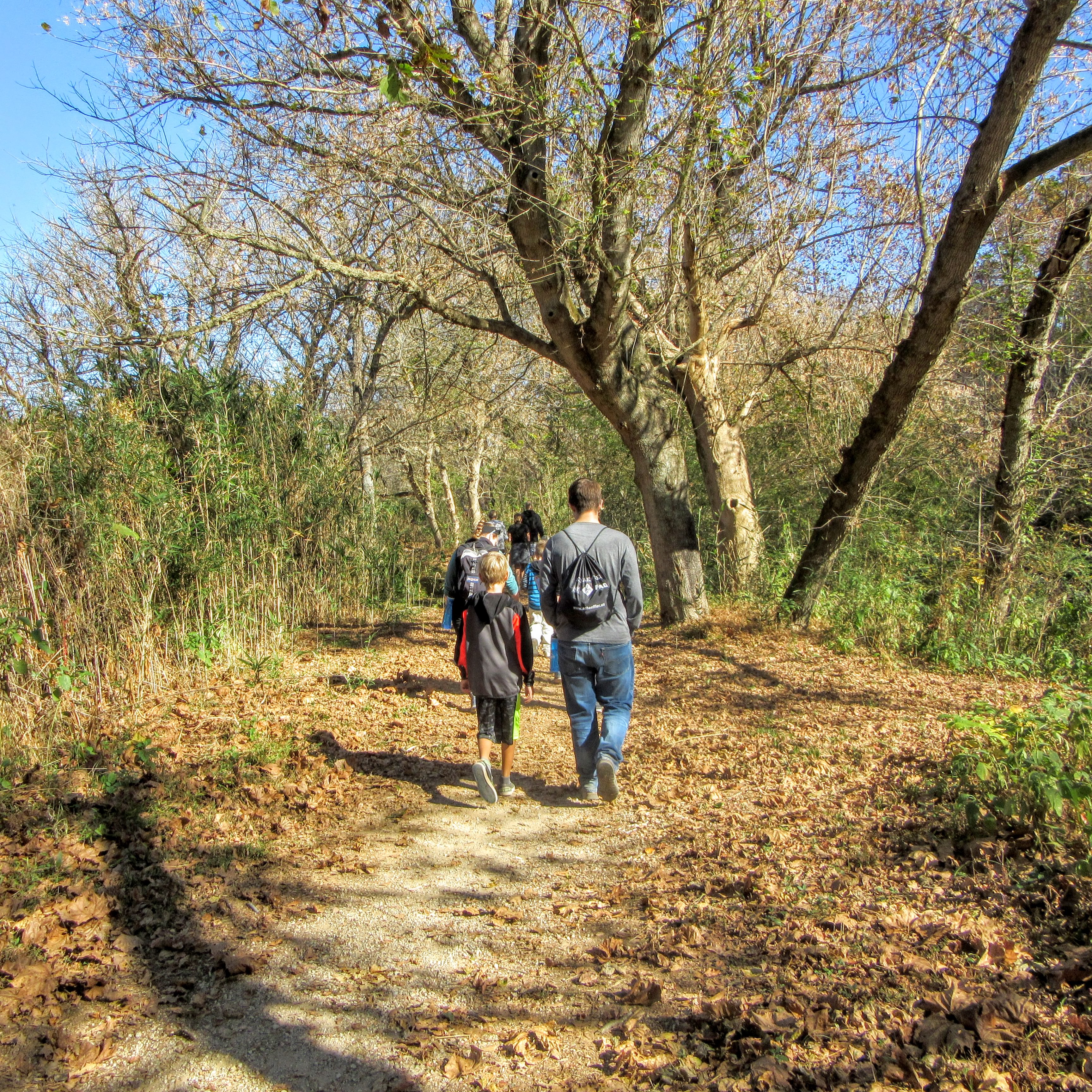 As someone who frequently has difficulty hiking or traveling in general because of my chronic pain, the experience of being separated from Mr. Meena's physical support, should I need it, made me nervous at first.  Fortunately the hike was easy enough that I didn't need his help and my fellow hikers (as well as the volunteer holding the rear) were kind people and wouldn't have left me behind.  In fact, I was grateful to be distracted from my pain because I was paying attention to the people around me.  When it's just me and Mr. Meena it's easier to fixate on my pain or even make it worse.
Eating lunch after the hike.
We enjoyed eating lunch at Bar Celona Tapas and Wine in downtown Shelby, which you can read more about in my mini guide to Shelby.
---
Have you been hiking in Shelby or somewhere nearby?  Would you like to do this hike?
Pin this:

This post is linked up with Lauren, Isabel, Van, and Marcella from Wanderful Wednesday and Kana from Fly Away Friday: