In December we celebrated our fourth wedding anniversary in a luxury yurt in Afton, Virginia.  Little did we know when we booked this "anniyurtsary" last August that it would also be serving as our babymoon!  We found out we were expecting in late September and also realized that time and financial limitations would prevent us from taking a dedicated babymoon (something I've always wanted to do).
Fortunately, this luxury yurt was so fantastic that it helped me forget my disappointment about the babymoon.  The bright blue yurt sits on a small hill within a hollow (or "holler" if you're from the region) in the foothills of the Blue Ridge Mountains, looking down on the host's farmhouse and pond.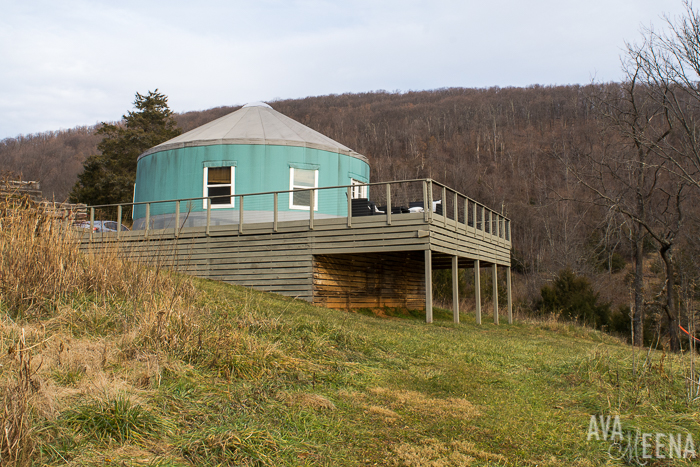 Mr. Meena and I discovered our love of yurts last year when we stayed at the Sky Ridge Yurts in Bryson City, North Carolina.  That experience is what led us to seek out another yurt for our annual anniversary trip.  This luxury yurt was definitely less of a "glamping" experience compared to the Sky Ridge Yurts, with its central heating, full kitchen, and hot tub.  But it was exactly what we were looking for this time around.  Our two night visit was far too short, of course, but I'll share it nonetheless.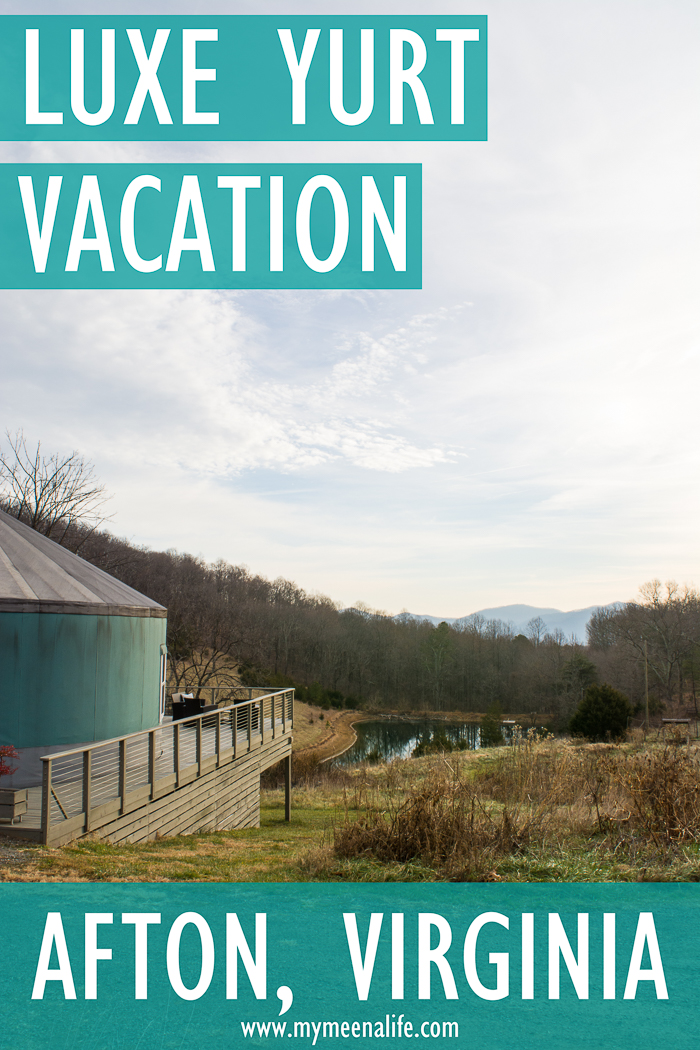 Disclosure: This post is not sponsored in any way; we paid in full for our vacation and I'm choosing to share it so that others can know about our wonderful experience.  There is, however, an affiliate link for Airbnb at the end of the post (you can read my affiliate disclosure here).
Our Stay at a Luxury Yurt in Afton, Virginia.
We arrived on a Wednesday afternoon and found the yurt easily thanks to the clear directions from our host, Chantal.  The road to the yurt is not paved and quite bumpy – I would recommend using a larger vehicle if you have one and going slowly but we did manage it with our Mazda3.
Chantal had been checking in with us leading up to our visit, providing plenty of info about the yurt and recommendations about what to do in the area.  She came to say hello shortly after we pulled up and remind us that she was just down the road if we needed anything.
We stepped inside and, to our surprise and delight, found that she had left us anniversary gifts!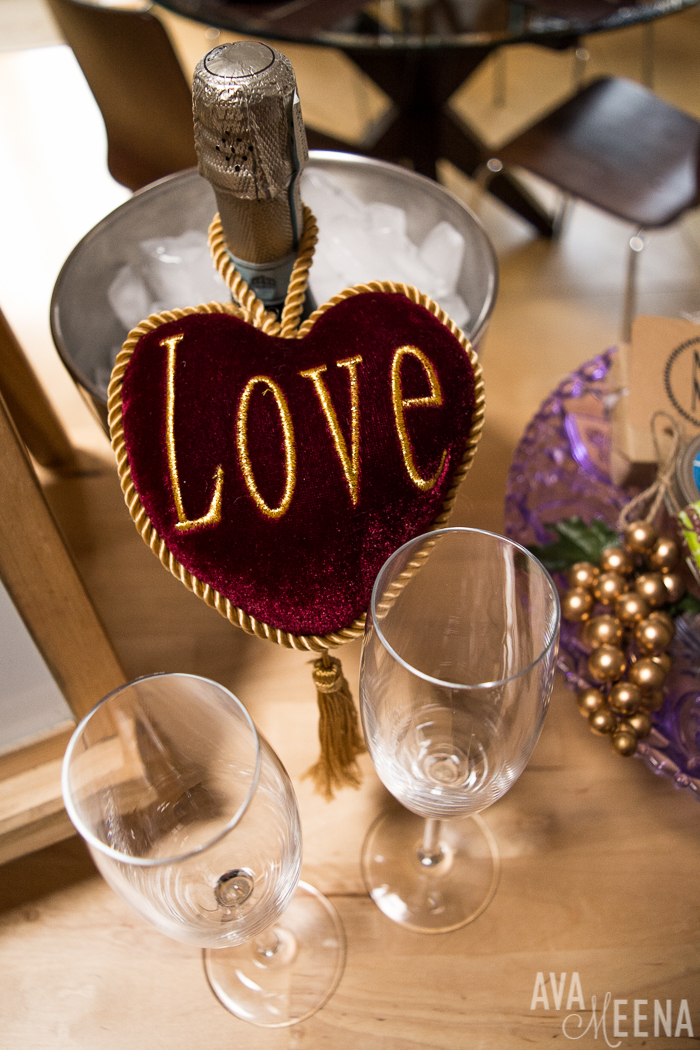 We were really touched by her kindness and generosity.  There was bubbly wine (I treated myself to just a few sips since I was four months pregnant), chocolate, a card, homemade butter – it was really over the top!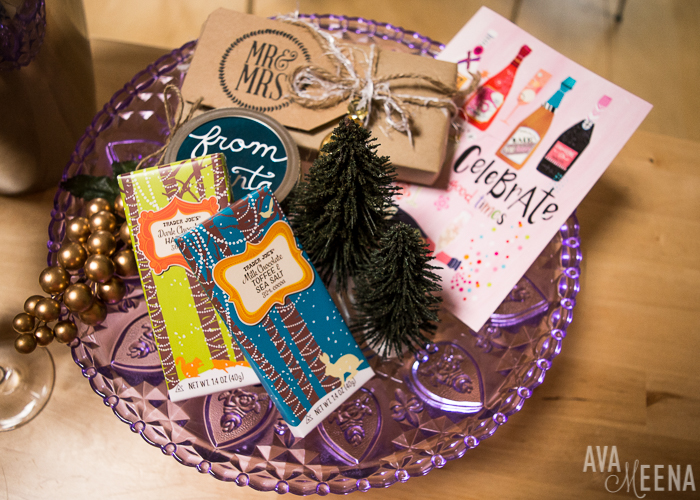 It meant so much to us that she made the effort to celebrate us in that way.  It's part of what made her such a superhost.
We settled in quickly, especially since we had packed all the groceries we needed for the trip.  I stretched out on the couch with a book straightaway.  Mr. Meena took a bit longer to disconnect since it turned out we actually had excellent cell phone service – something we weren't expecting.  There's no wifi available and we were planning on disengaging from the internet and other people while on vacation, but having cell coverage did turn out to be rather tempting for us both.
All too quickly the sun had set and we were ready to tuck into the comfy bed for the night.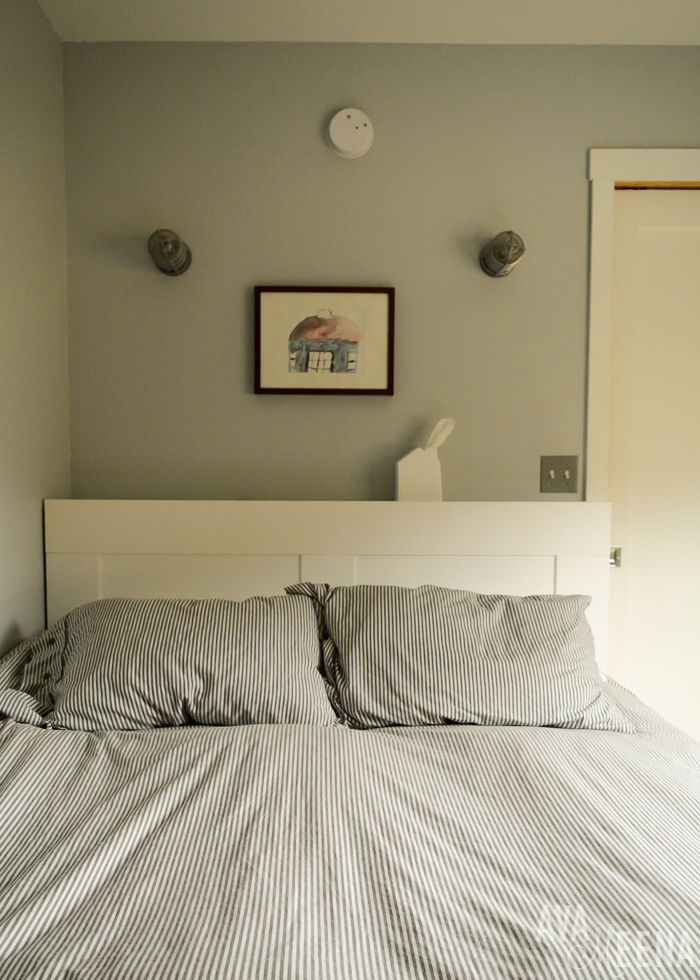 In the morning I was ecstatic to wake up to the sounds of birds chirping right outside the window.  Yurts are like tents in that way – they don't really block outside sounds.  This location turned out to be a bit of a bird lover's paradise; I even got to see a bluebird up close on the deck at one point.
Mr. Meena had actually set his alarm so that we could get up and watch the sunrise on our first day.  We always try to do this on or around our anniversary because we got married at sunrise.  We got up, me with the camera and Mr. Meena with bleary eyes, and watched as the sun made its way over the trees by the pond.  It was beautiful.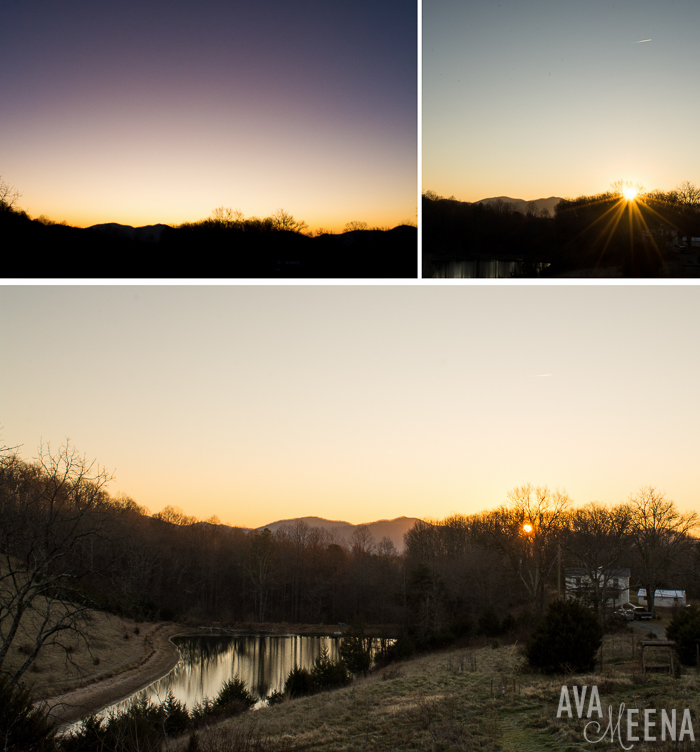 We spent the first day in our luxury yurt decompressing and not doing much of anything.  Well, perhaps doing a bit too much eating.  I took approximately five naps and enjoyed a dip in the hot tub – fortunately it was cold enough outside (in the 30s) that I could use the hot tub without being overheated.  Hot tubs are technically a no-no for pregnant women, but since it was so cold I just kept about half my body out of the water and that kept my core body temperature from rising precariously.  I probably would not have booked a place with a hot tub if I'd known I would be pregnant, but it worked out just fine.  Plus, look at this gorgeous hot tub and tell me you wouldn't at least dip your feet in!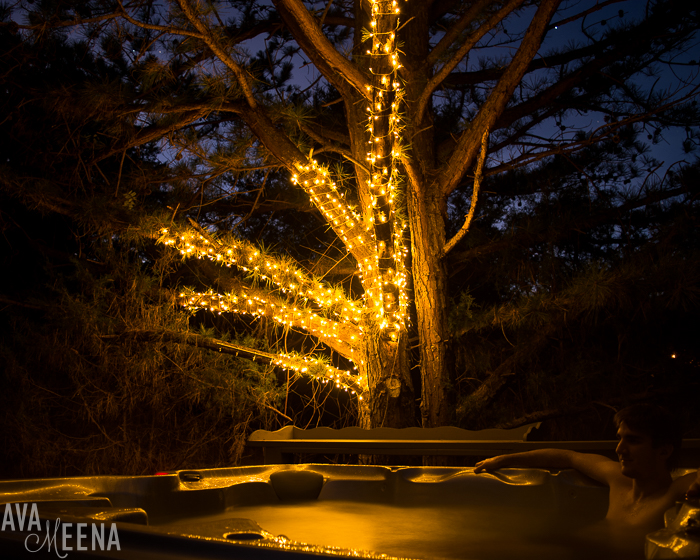 The tree lights had a mesmerizing twinkling pattern and made the hot tub feel absolutely magical.  The tub was roomy and well shielded so you could also use it during the day with privacy.  On our second night there were no clouds and we were treated a gorgeous view of the night sky since there's very little light pollution in the area.
The hot tub is actually down a short path from the yurt so you'll want to bring shoes that are easy to slip on (we didn't and had to wear our boots).  There are solar lights on the path and also a handy old-fashioned light in the yurt that you can use.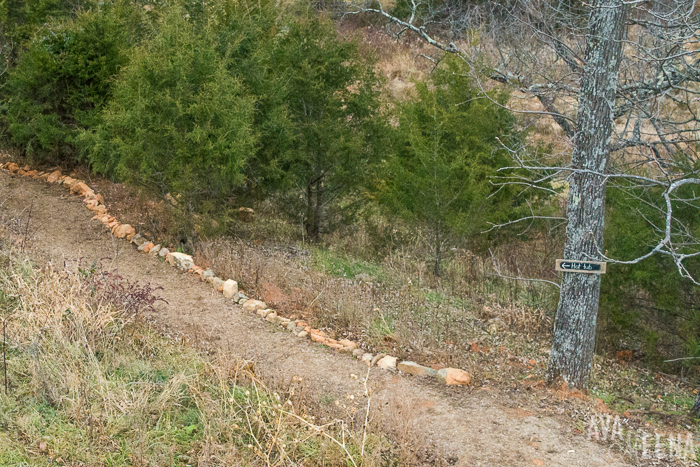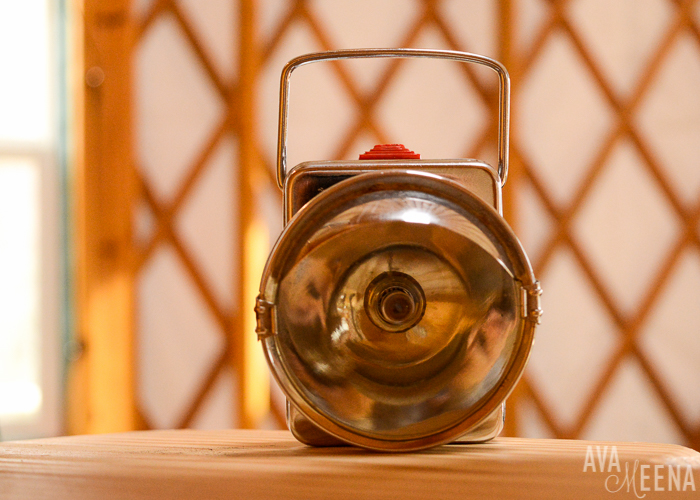 Each day we enjoyed the warm sunlight that streamed in from the yurt's French doors, windows, and overhead dome.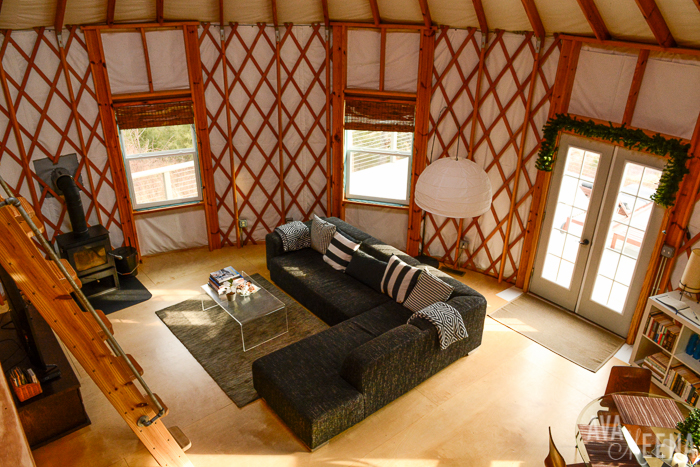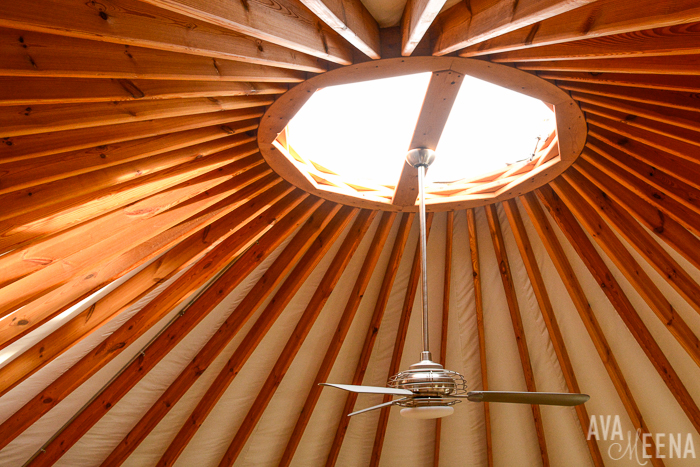 The whole place felt spacious, which is no small feat since this luxury yurt is 30 feet in diameter and has a walled bedroom and bathroom.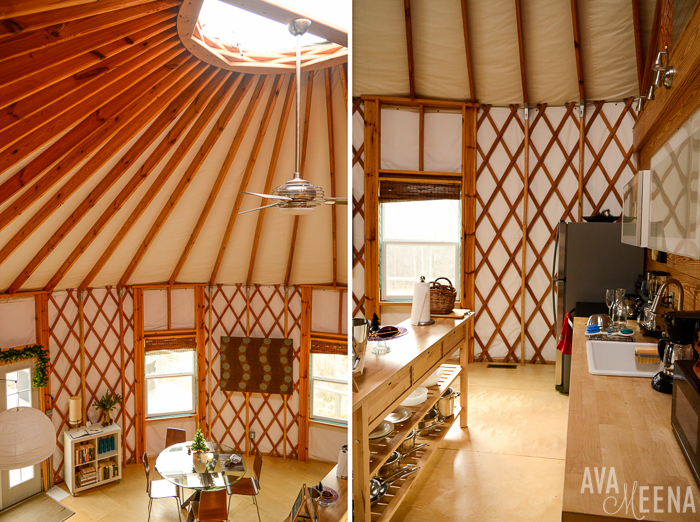 There were beds in the loft that I would likely have enjoyed if I had been more comfortable climbing up the ladder.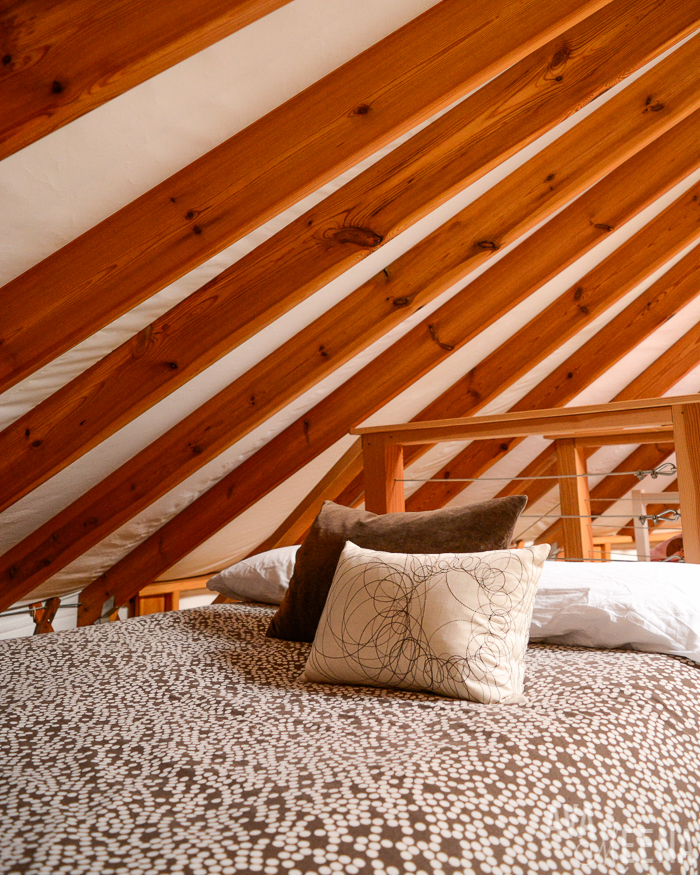 My only complaint during our stay was that the showerhead in the tub is too low – I had to squat down and lean back to wash my hair, which felt perilous.  Knowing how attentive the host is, though, I wouldn't be surprised if she remedied this problem soon.
Mr. Meena and I are both about 5'9", for reference.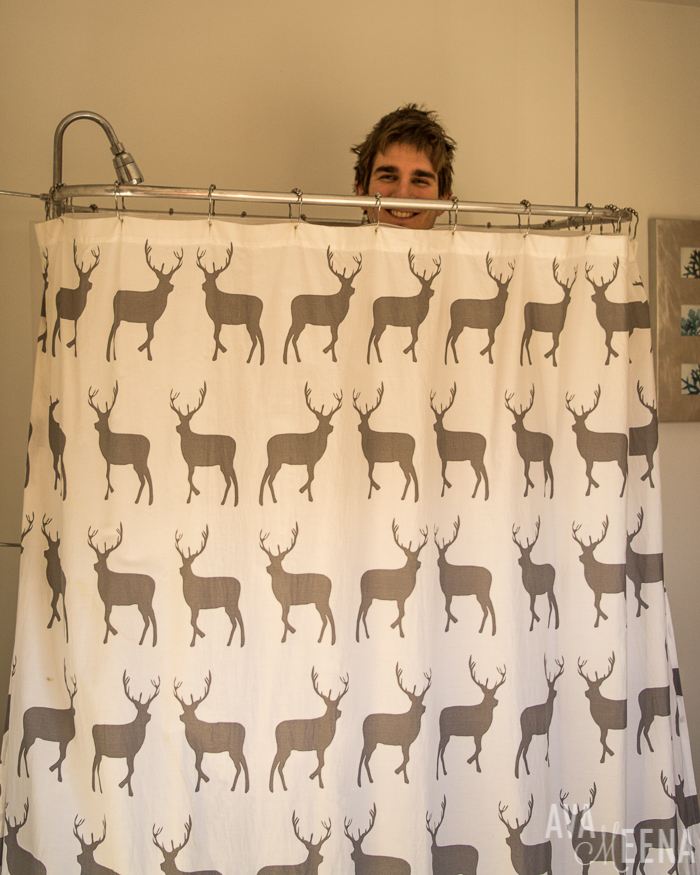 We managed to catch the sunrise again on our second morning even though we didn't set an alarm.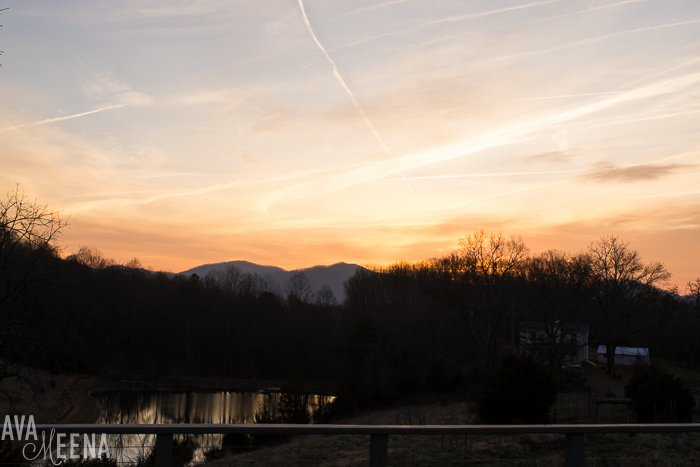 On day two we decided it was time for a local adventure.  One of the coolest things about this yurt in Afton is that it's actually within walking distance of Humpback Rocks – a massive rock formation that has a summit elevation of 3,080 feet.  There is a three and a half mile trail leading from the yurt to the Humpback Rocks hike (which is one mile) and the hosts have provided a map and marked the trail with signs.  Unfortunately, I can only hike about three miles a day right now because of how my lupus has affected my knees so we decided to drive there instead.
Even though the yurt is so close to Humpback Rock it actually takes a while to drive there because you must use the Blue Ridge Parkway.  If you plan to do this hike you may want to check the status of the parkway because sometimes certain entrances or parts are closed.  We were pretty excited to drive there because we had never driven on the northern part of the Blue Ridge Parkway before.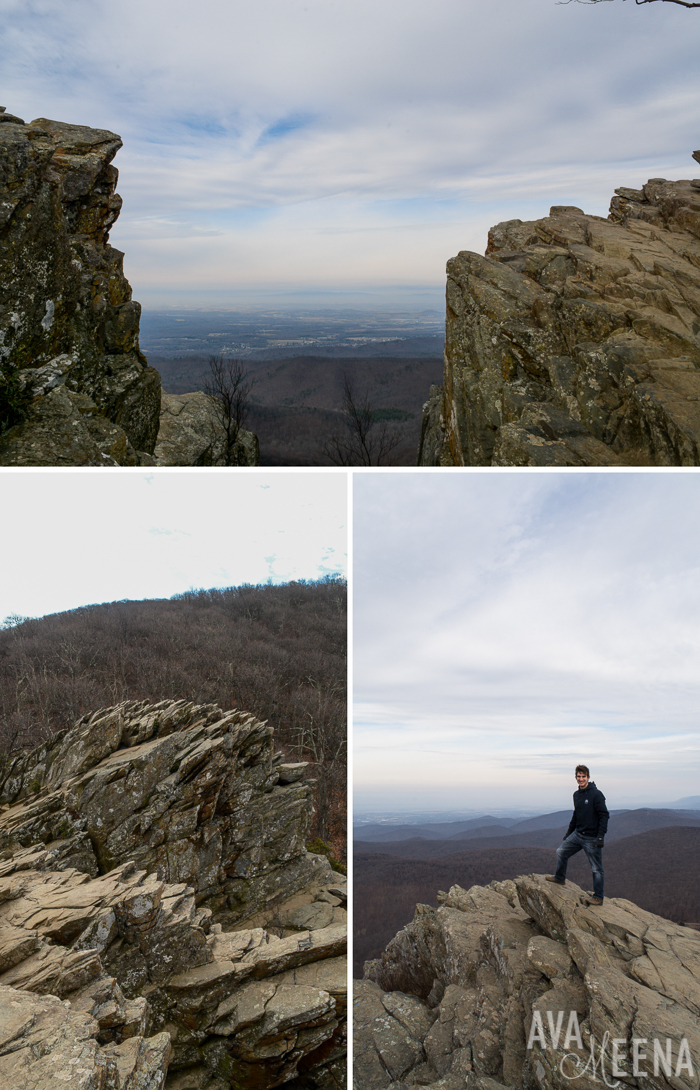 We made it back to our yurt away from home by lunch time.  We ate lunch on the deck and tried to pretend like it wasn't our last full day of vacation.  We soaked in the views, napped a few more times, took some photos, and even played with the neighbor's sweet dog.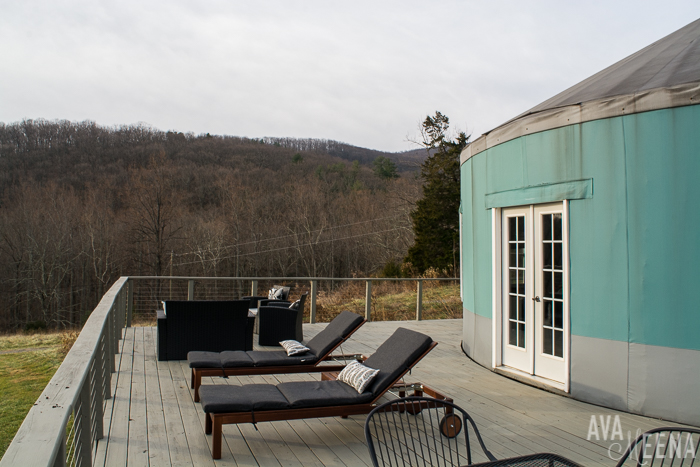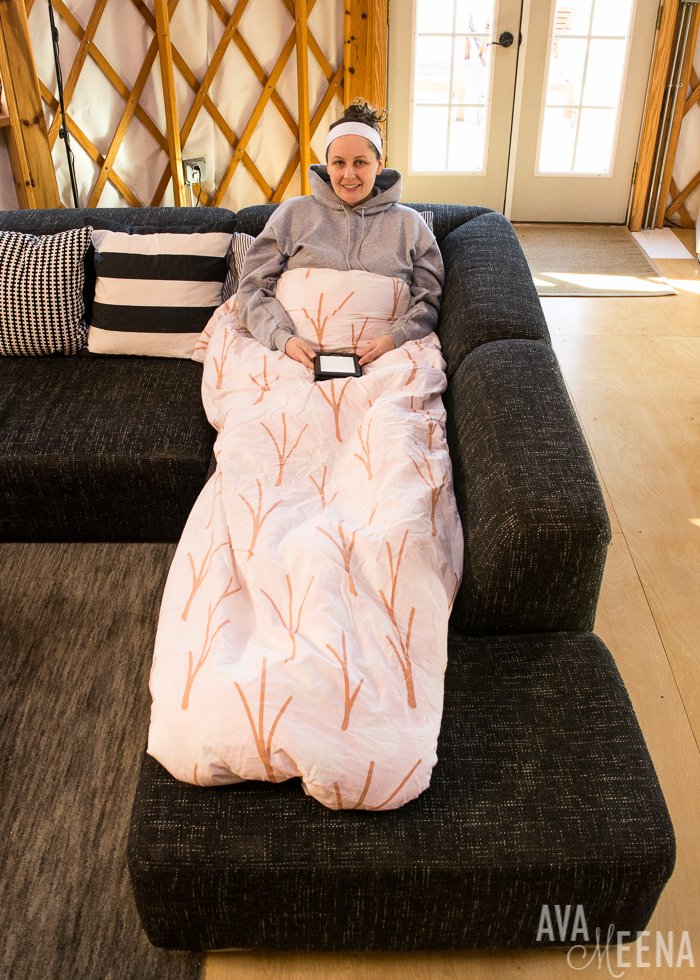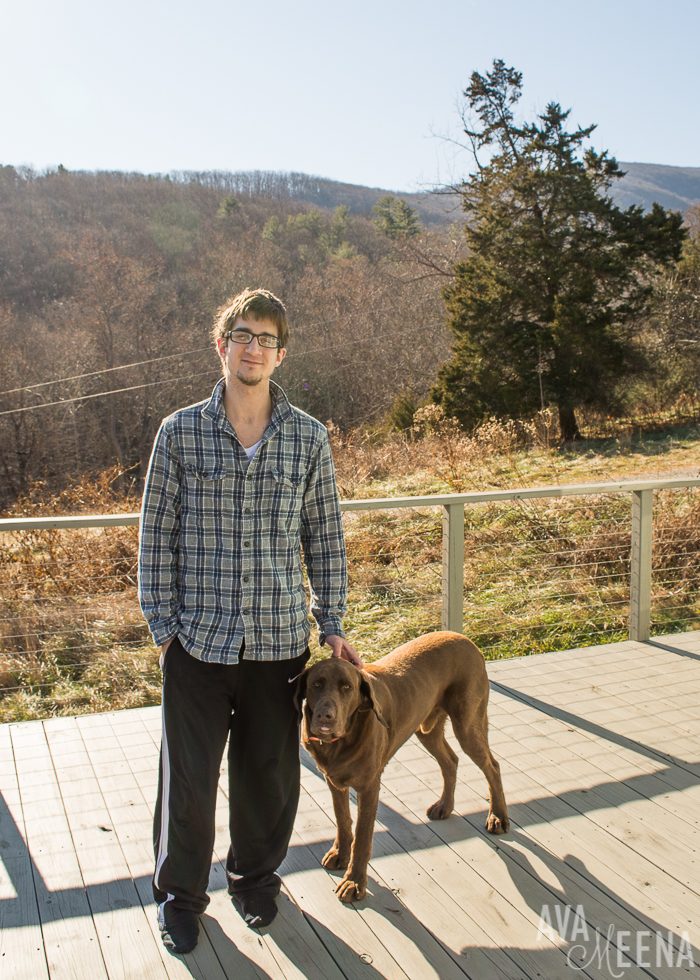 Chantal texted me on our final morning to let me know we could stay a bit longer since the next guests wouldn't be arriving until fairly late in the evening.  I was sorely tempted to take her up on the offer, but we had a four and a half hour drive ahead of us and the next day was (a very busy) Christmas Eve.
We definitely felt like our stay was too short; if you are considering a trip to this luxury yurt in Afton then I would recommend you plan on at least three nights.  (And don't forget your hot tub shoes!)  I also recommend that you bring all groceries with you and that you let someone know where you are in case you don't have cell phone coverage while you're there – I gave my family the contact info for the host in case they needed to reach us for any reason.
I have to admit, even though sites like Airbnb and Homeaway have become increasingly popular, it still seems a little nuts to go stay in a luxury yurt glorified tent in the backyard of someone that you don't know or have any connection to through friends or family.  I can't imagine many people would have entertained the notion even just 10 or 20 years ago.  I've been super picky about where we stay when we use Airbnb (this was only our second stay, actually – you can read about our first Airbnb stay in North Carolina here) and fortunately each time the hosts have connected with us and felt like friends before we've even arrived.  Still, sometimes I am a bit startled at the novelty of vacationing on the land of someone who I never would have met if it wasn't for the internet.  I'm really thankful that these digital resources have enabled us to find people like Chantal who have created an oasis for us to take time off from our everyday lives.
You can view the Airbnb listing for this luxury yurt here: Luxe Yurt w/Hot Tub in the Heart of the Blue Ridge.
If you haven't used Airbnb before, please consider signing up through this link because you will get a $40 credit for your first trip of $75 or more.  (The value and terms of this promotion change periodically – this is what it was at the time of publication.)
One more fun fact – Airbnb actually reached out to us to thank us for choosing them to celebrate our anniversary and babymoon.  They sent us a beeswax candle as a congratulatory gift.  How cool is that??
Thanks for reading all about our stay at a luxury yurt in Afton, Virginia.  Feel free to share feedback in the comments or tell me about a time that you stayed somewhere special!
---
Our Anniyurtsary – Staying at a Luxury #Yurt in Afton, Virginia. #LoveVA
Click To Tweet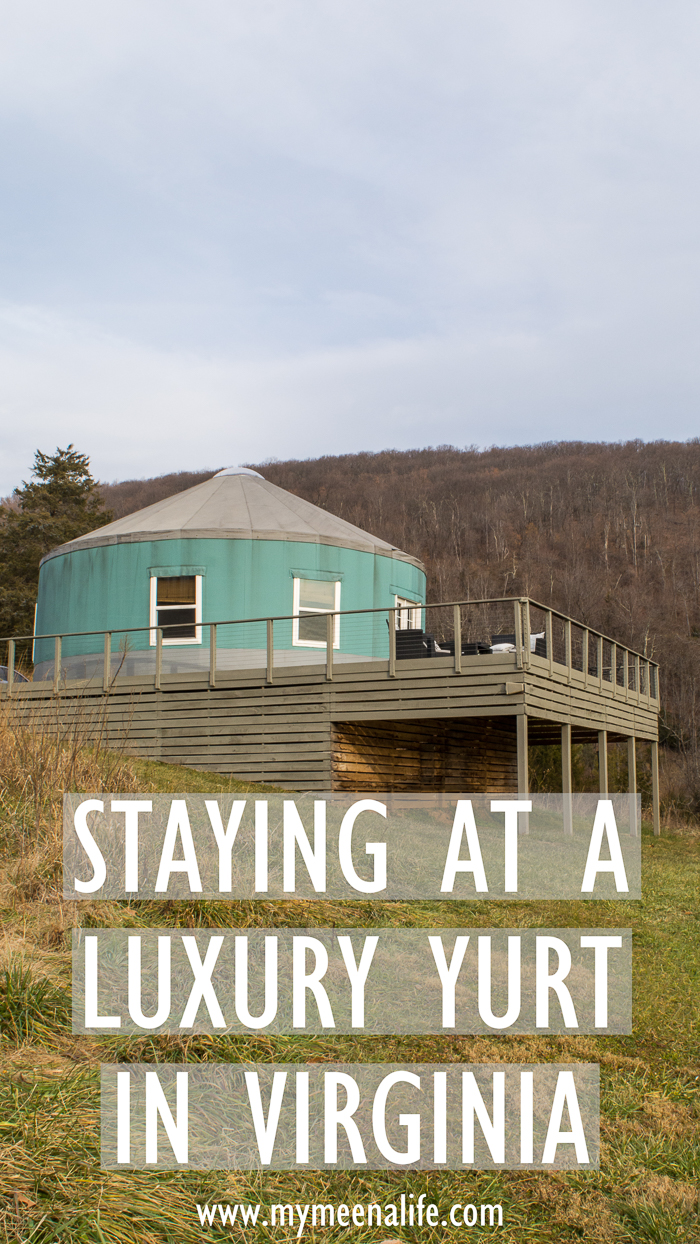 This post is linked up with Faraway Files and The Weekly Postcard: