PortAventura World is an entertainment resort located along the eastern coast of Spain next to the Balearic Sea.  In fact, you can see the blue water from many rides.  The resort is comprised of five hotels, two golf courses, and three parks: PortAventura Caribe Aquatic Park, Ferrari Land (opening April 2017), and PortAventura Park (which we visited).
The colossal PortAventura Park has six themed areas within, and each is inundated with warm Spanish culture.  It is certainly one of Europe's most iconic theme parks, listed as the sixth most visited theme park in Europe by the Themed Entertainment Association.  And to top it all off, the park is only an hour long drive from Barcelona.  (Or 1.5 hours if you drive along the coast like we did.)
We arrived on a sunny day after a confusing encounter with the local highway system.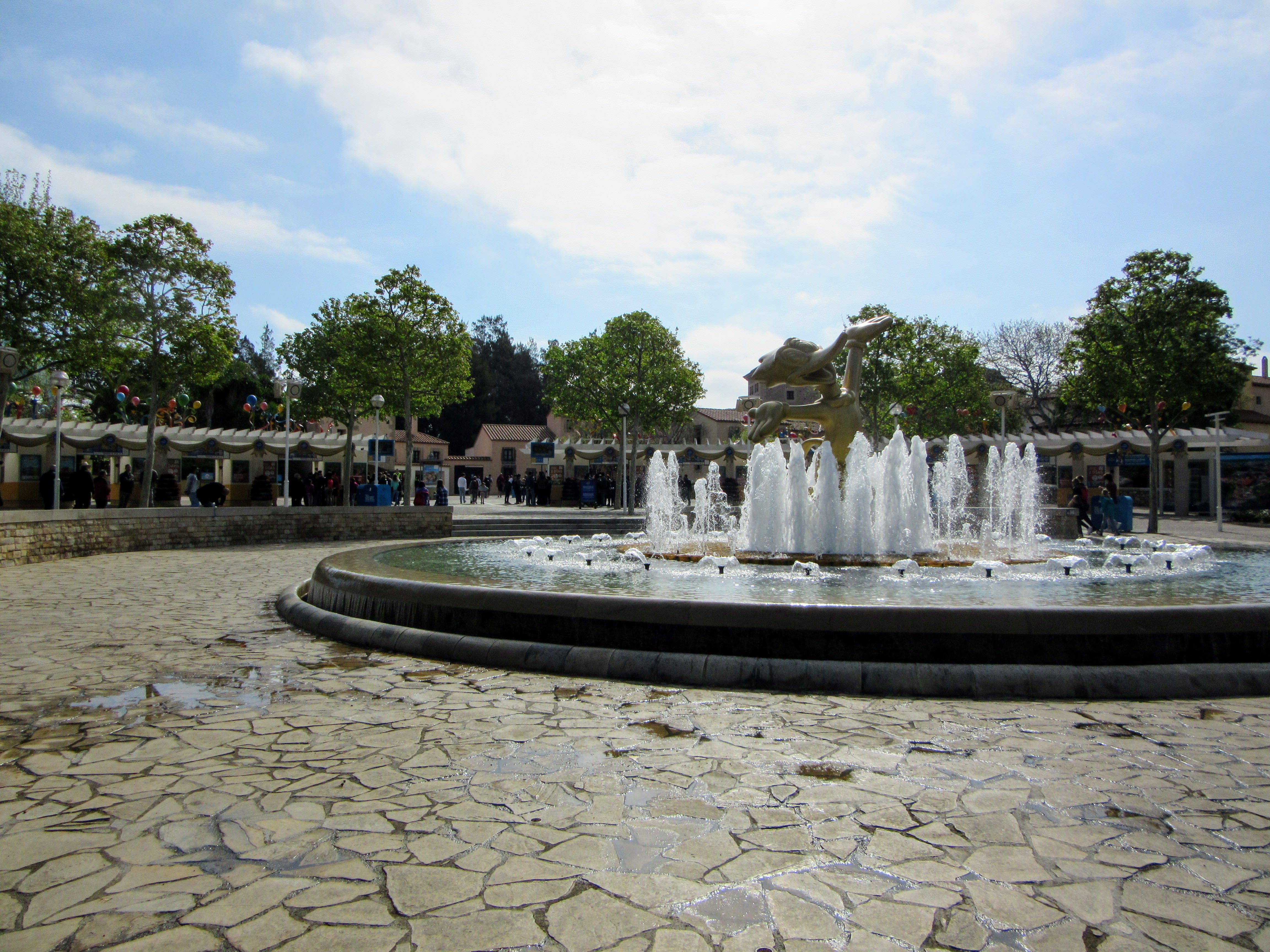 Their new coaster, the 112 meter / 367 foot tall vertical accelerator, was under construction during our visit (April 2016).  We looked up at its impressive height as we approached from the parking lot.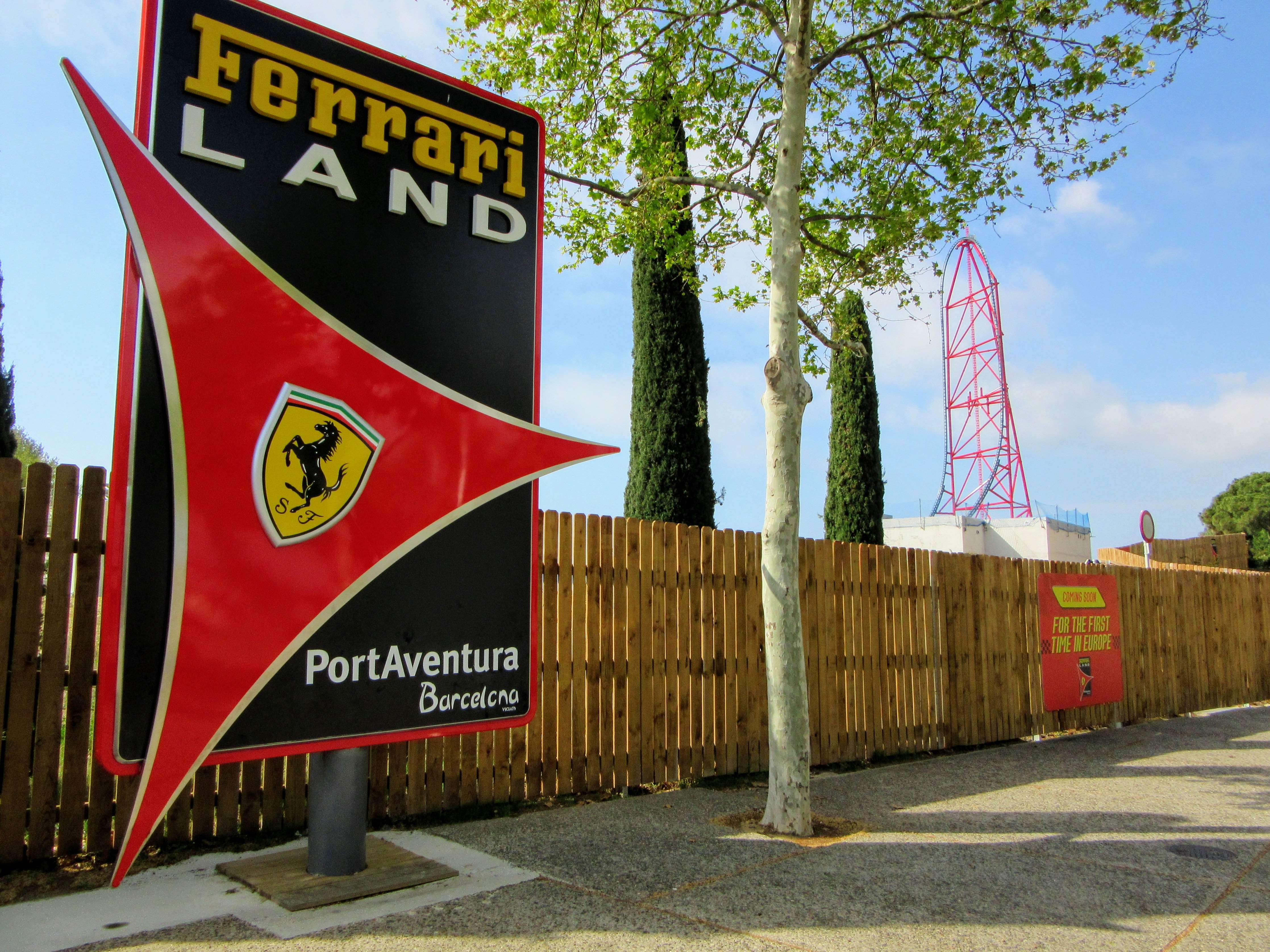 This ride will be the tallest and fastest coaster in Europe, reaching a top speed of 111.9 mph.  I have no plans to ride it as I've already ridden the similar Top Thrill Dragster at Cedar Point  and determined that once was enough for a lifetime.  (I also wouldn't pay the separate entrance fees for Ferrari Land and PortAventura Park.)
After purchasing our tickets for PortAventura Park we headed to the back section, where two massive coasters intertwine across the landscape.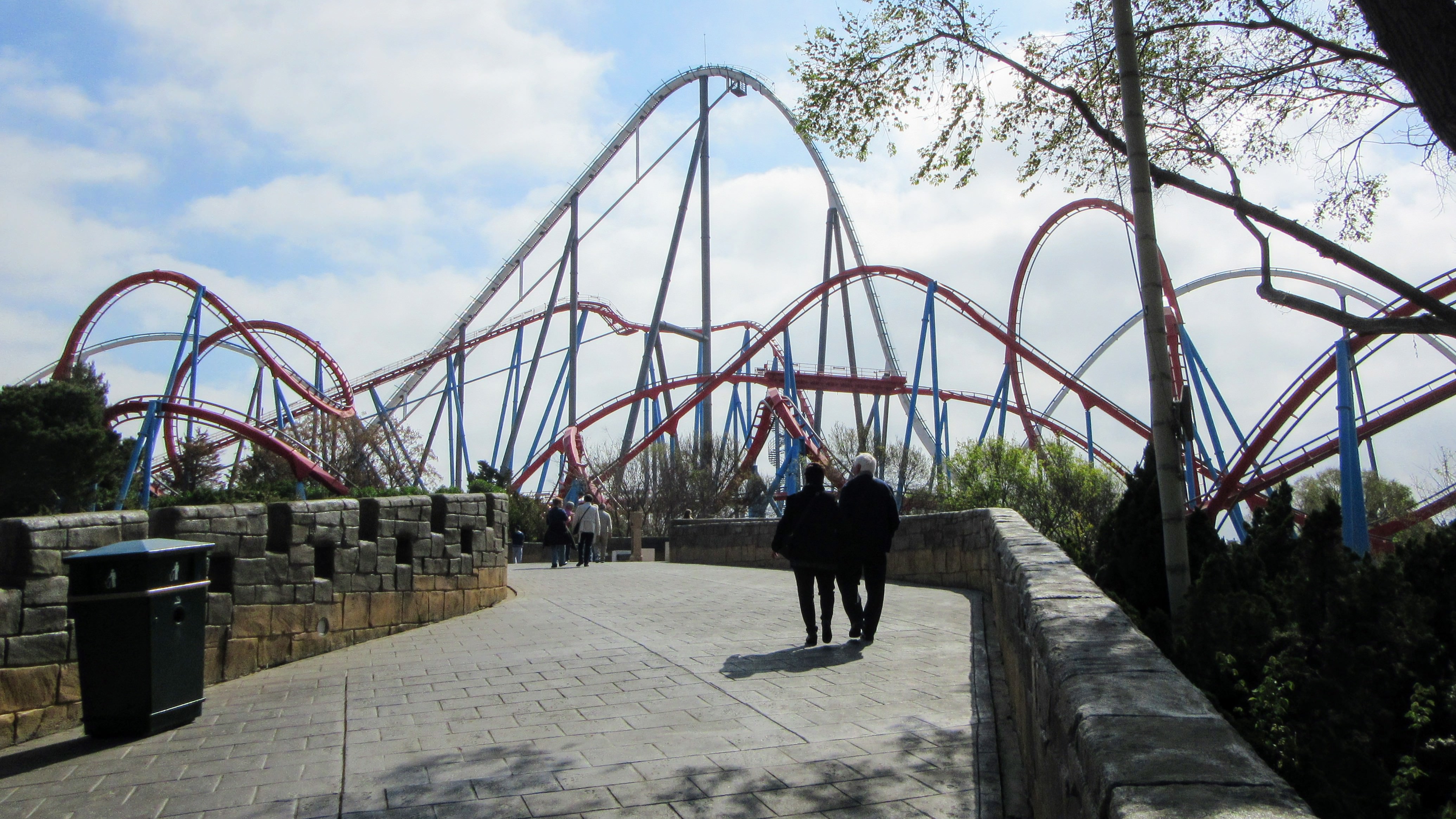 Coaster 1: Dragon Khan.
First up was Dragon Khan, a B&M coaster that Mr. Meena had been wanting to ride since he was six years old.  After waiting for nearly 20 years, he wasn't going to wait any longer.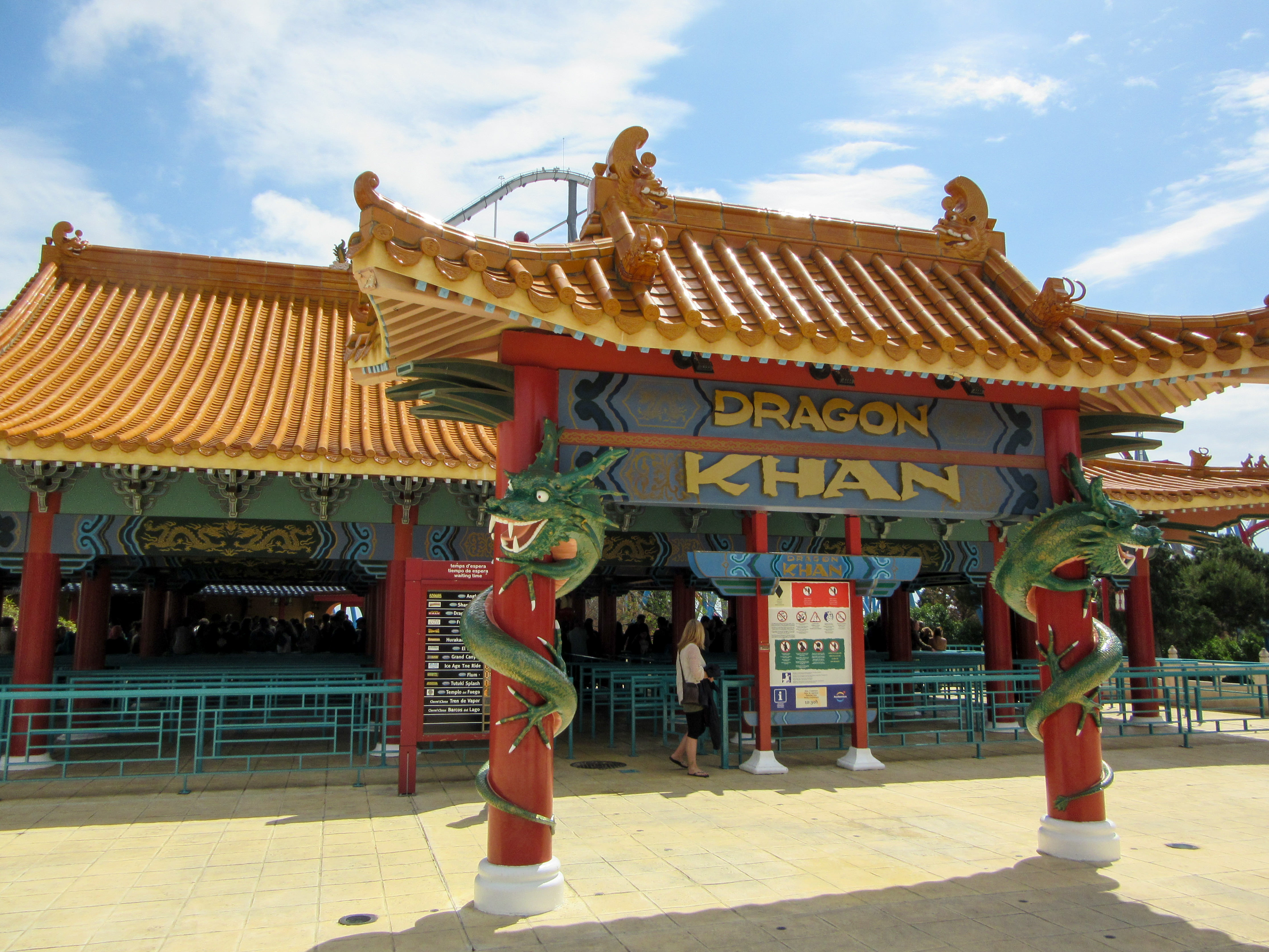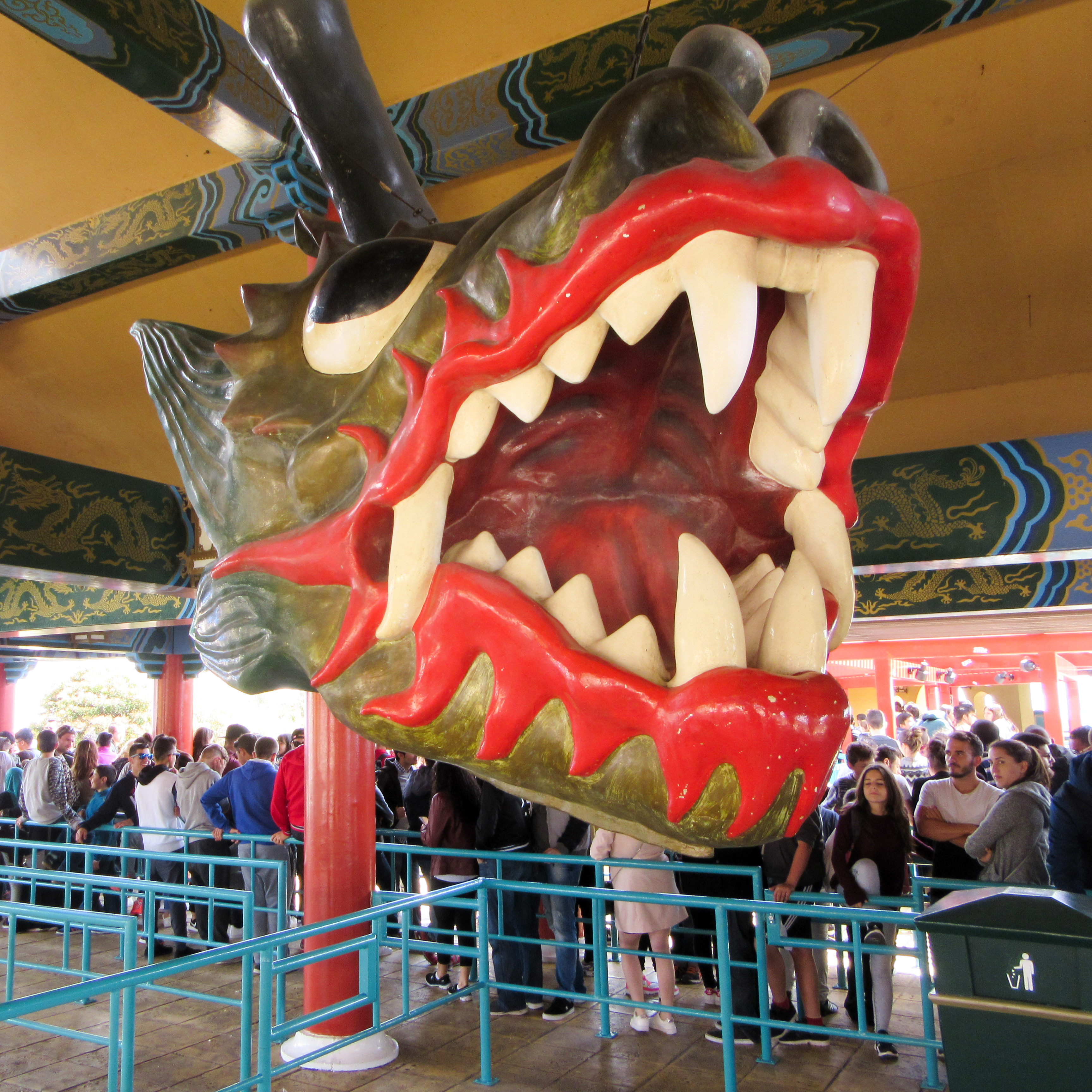 Dragon Khan has eight inversions, which was a world record for most inversions on a roller coaster for seven years until a 10 inversion coaster opened in England in 2002.
The massive first inversion, a vertical loop, was the largest in the world when it opened.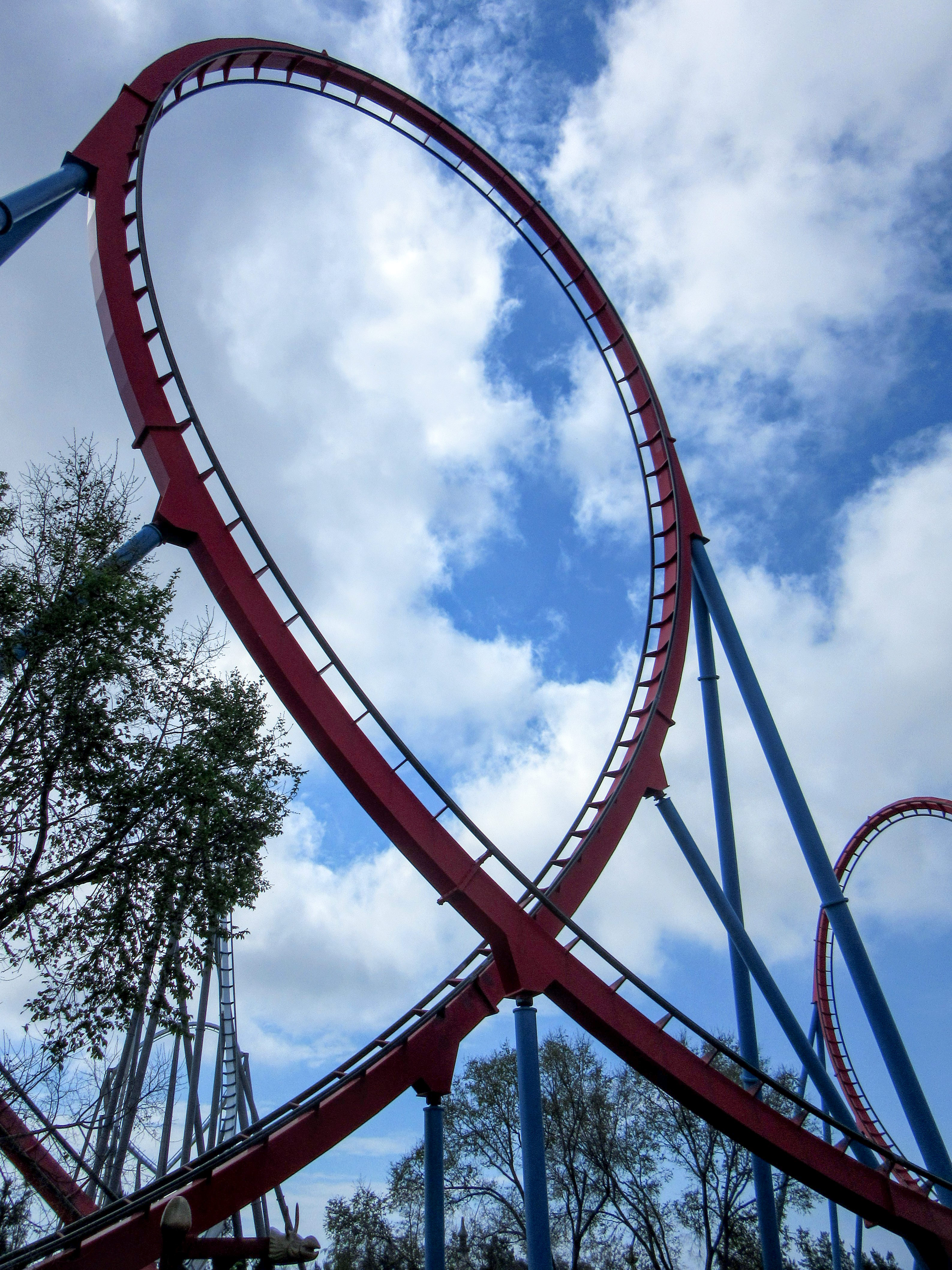 It's an intense, thrilling ride from start to finish.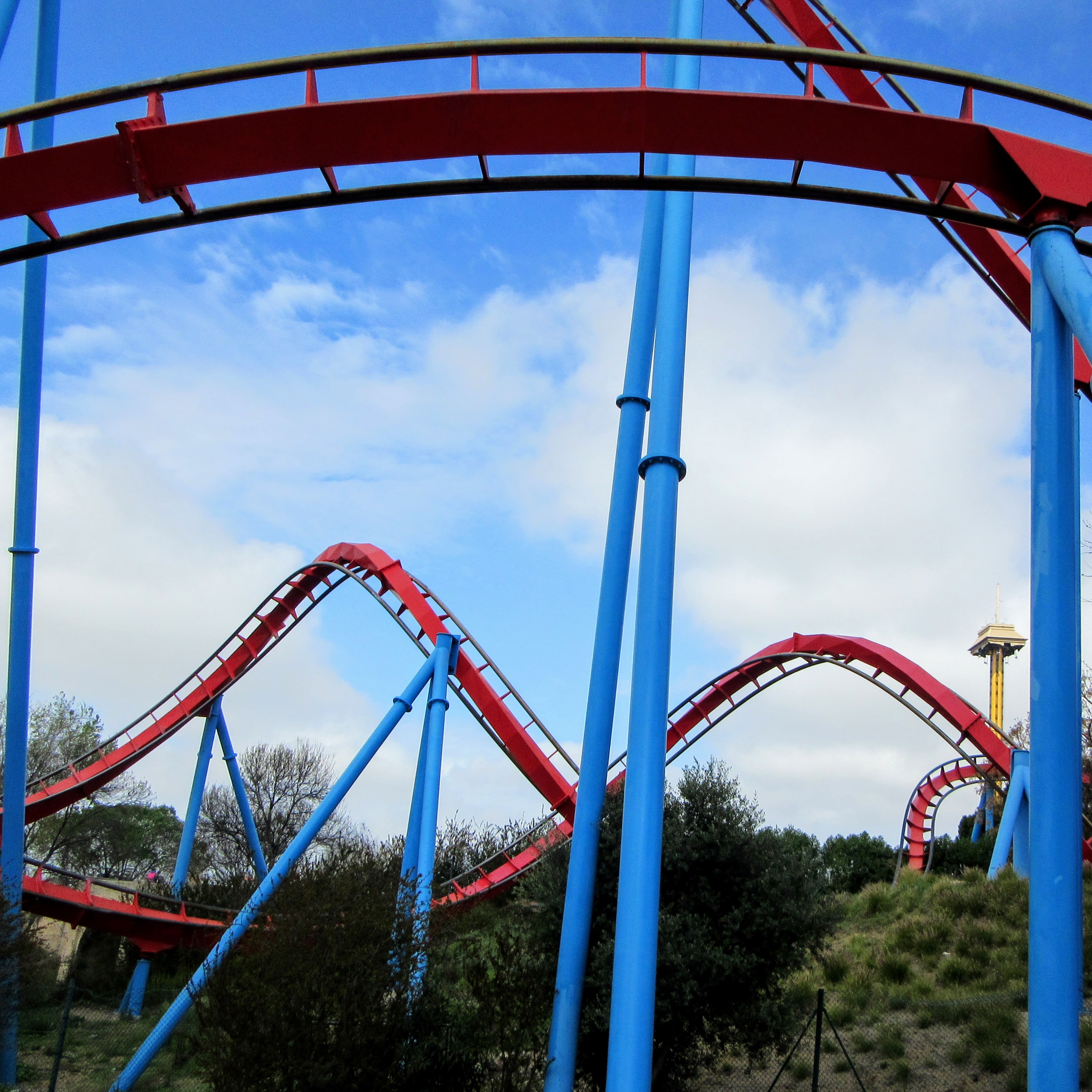 While we were pleased to finally ride this legendary coaster, the ride was rougher than we expected.  Dragon Khan has been operating since 1995, so this isn't entirely unreasonable, but the experience was painful and we only rode it once more.
Unexpected frustration.
Disappointment reared its ugly head far earlier in the day than we expected as the park was only running one train on Dragon Khan – meaning the line was long and it moved extremely slowly.  We had hoped this was an isolated experience, but it wasn't.
Since I suffer from chronic pain and illness, it's difficult for me to stand in long lines.  We usually pick one park each year to visit early in the season in order to avoid crowds and lines.  (If we have the time and money, we also pick one to visit late in the season.)  We had chosen PortAventura for that valuable first park slot and we were very upset when we realized that the park was artificially creating lines during their off season.
Due to my health situation and our limited time, we decided to purchase fast passes even though we are strongly opposed to them in general.  (Why? Because it makes long lines even longer for the average customer who may not be able to afford "elite" passes.)  Unfortunately, this was also a disaster because we were unable to get any information about the system and accidentally purchased passes from the self-service kiosk that were, quite honestly, a rip-off.  For somewhere around €60 we received two rides each on six different attractions.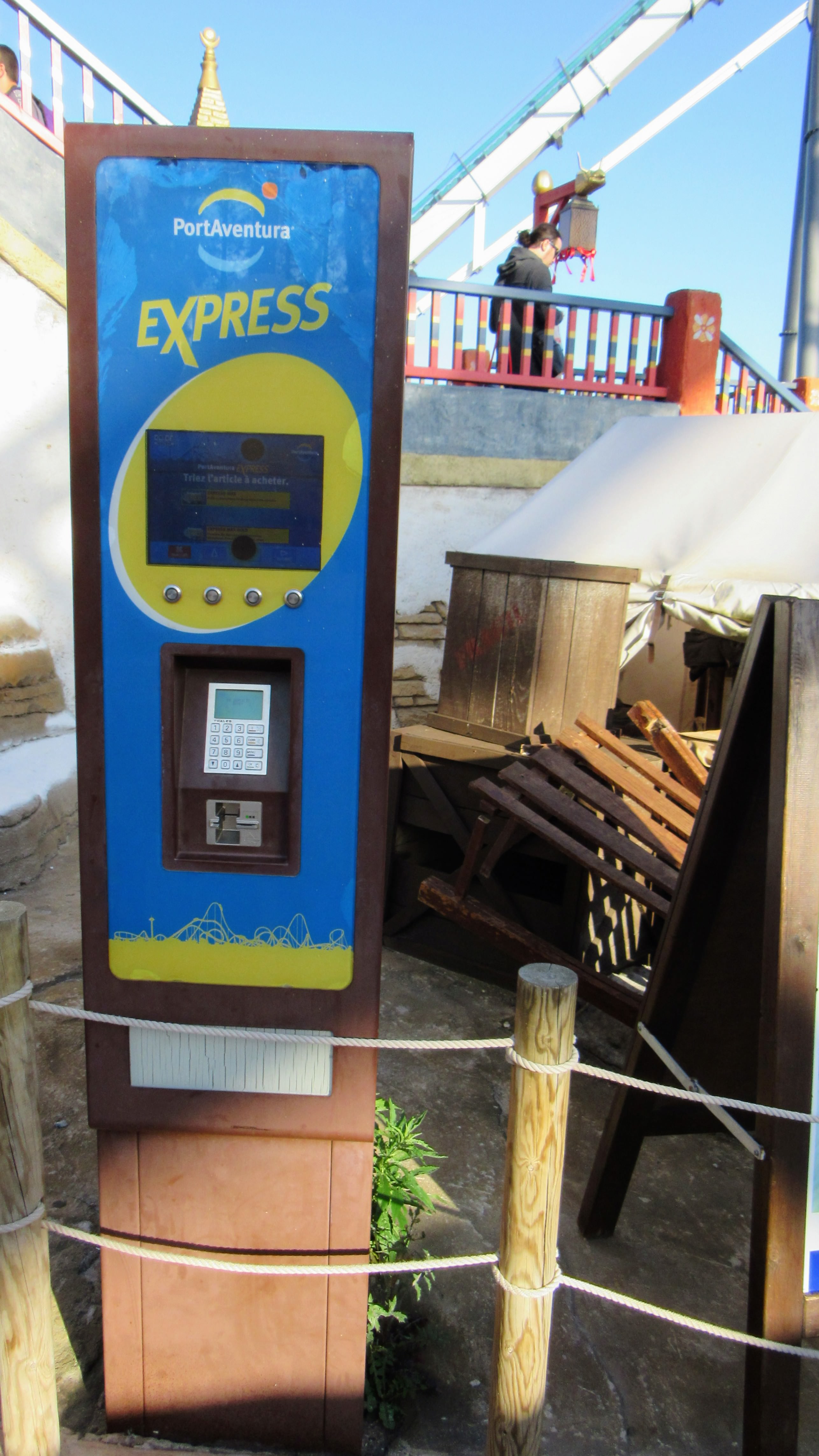 Since we couldn't undo the transaction (or change our choice of theme park), we tried to move forward and make the most of our day.  PortAventura still had a lot of positives to offer us.


Coaster 2: Shambhala.
This B&M hyper coaster almost makes up for every single thing that went wrong at the park that day.  Named after a mythical untouched paradise in the Himalayas, it feels as if you've just reached a wintry mountain summit as you approach the ride queue.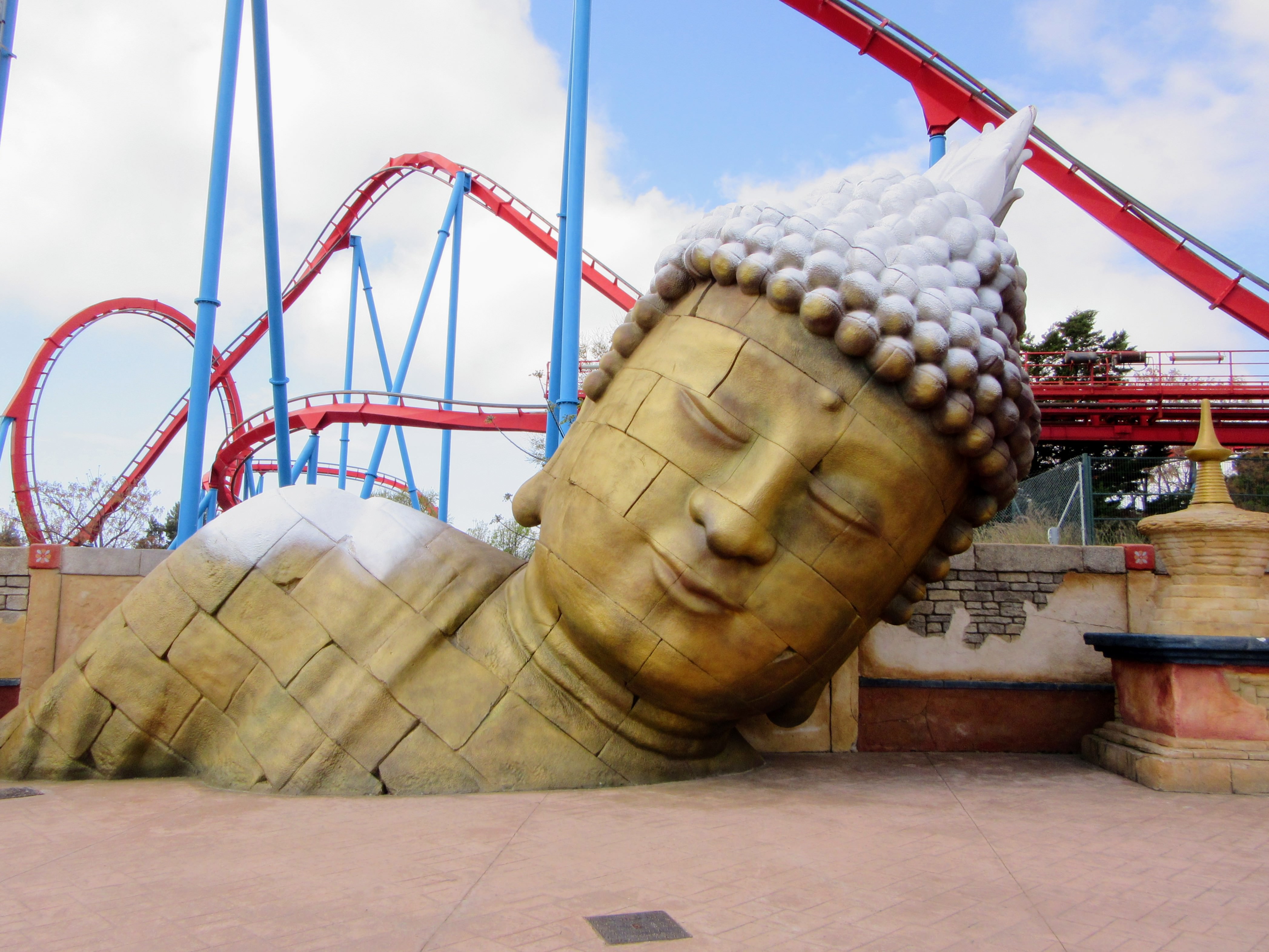 Shambhala means place of peace, tranquility, happiness.  That describes exactly how I felt on the coaster as the first drop plummeted 256 feet and the train reached nearly 84 mph throughout its course.
(I'm not being sarcastic, I really did find it peaceful.)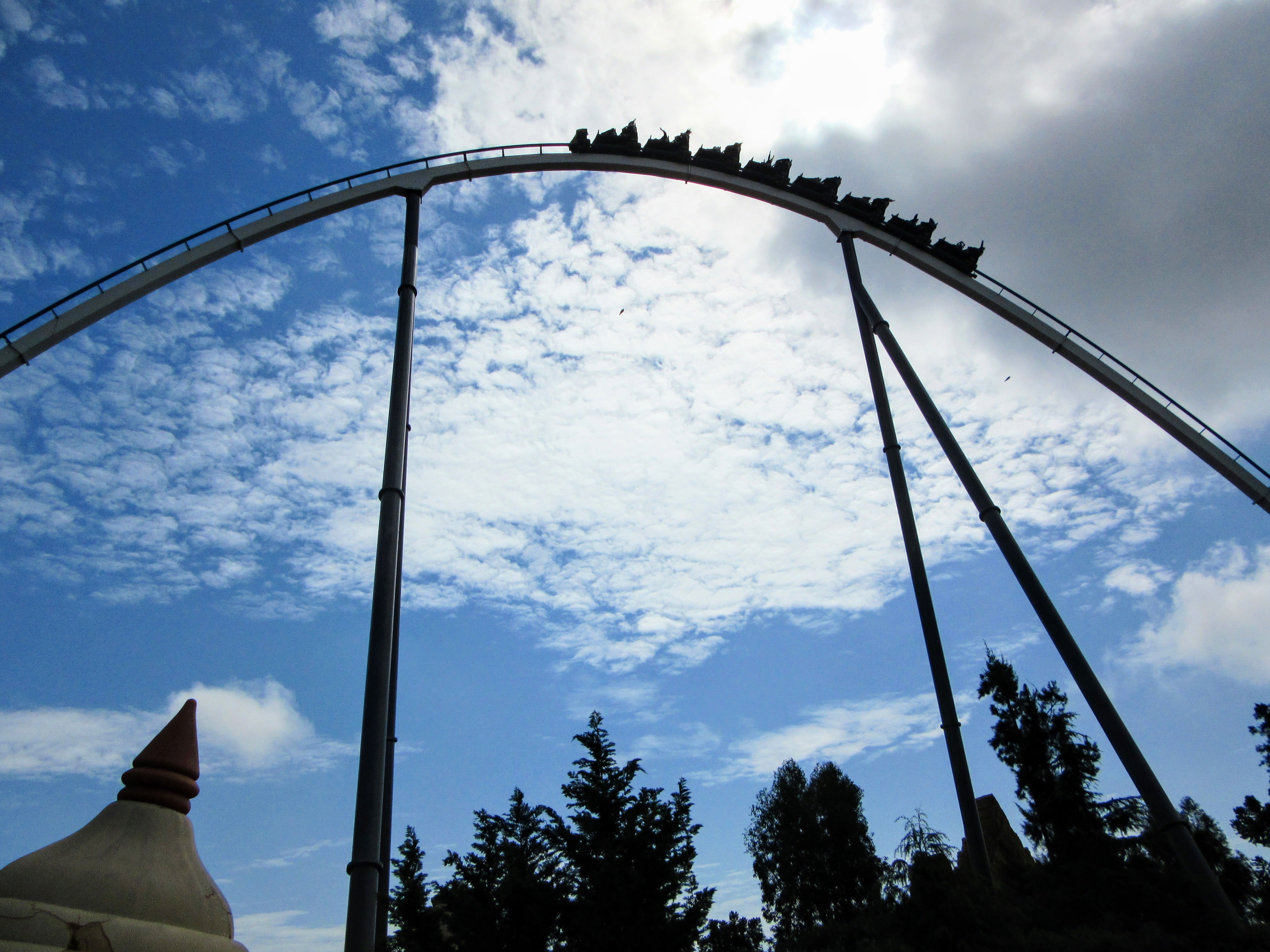 This ride feels gigantic.  It's like I've climbed onto the wings of an ancient, powerful bird and I'm holding on tightly as we soar.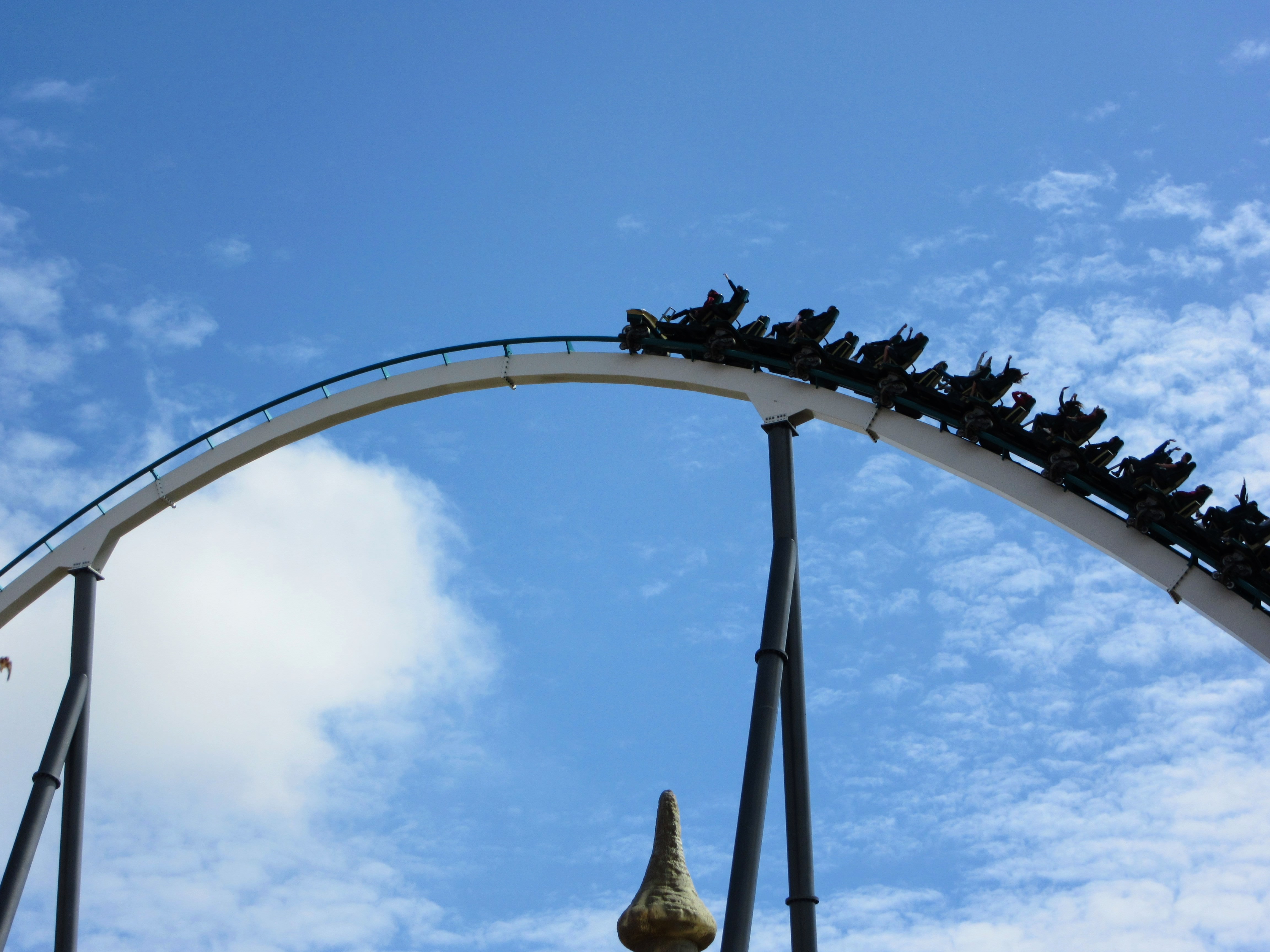 It's currently my favorite hyper coaster in the world.
The ride ends with a water feature – a quick splash that wakes you up from the ethereal experience.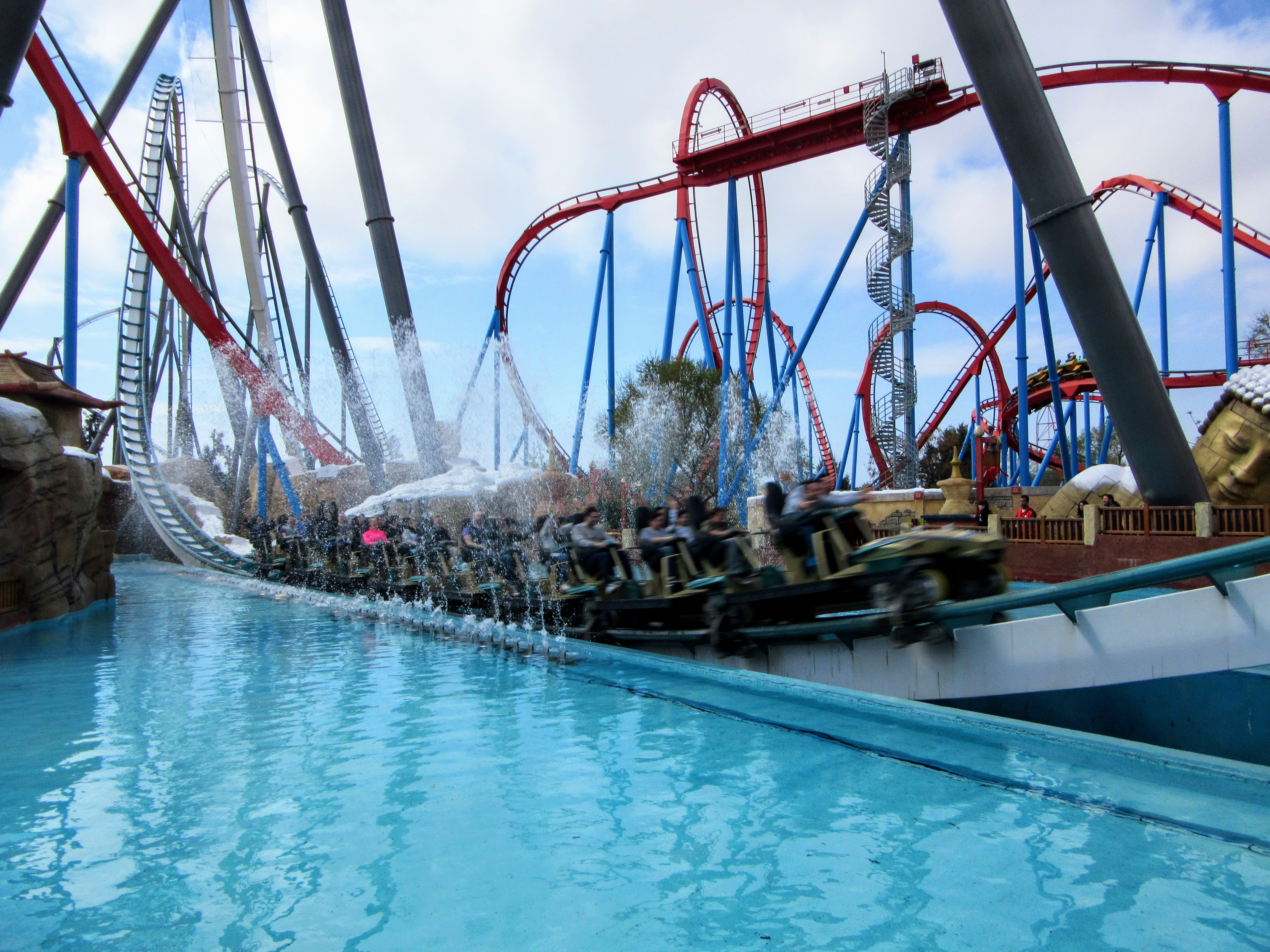 The juxtaposition of Shambhala and Dragon Khan is quite spectacular; it almost seems like they are racing each other at times.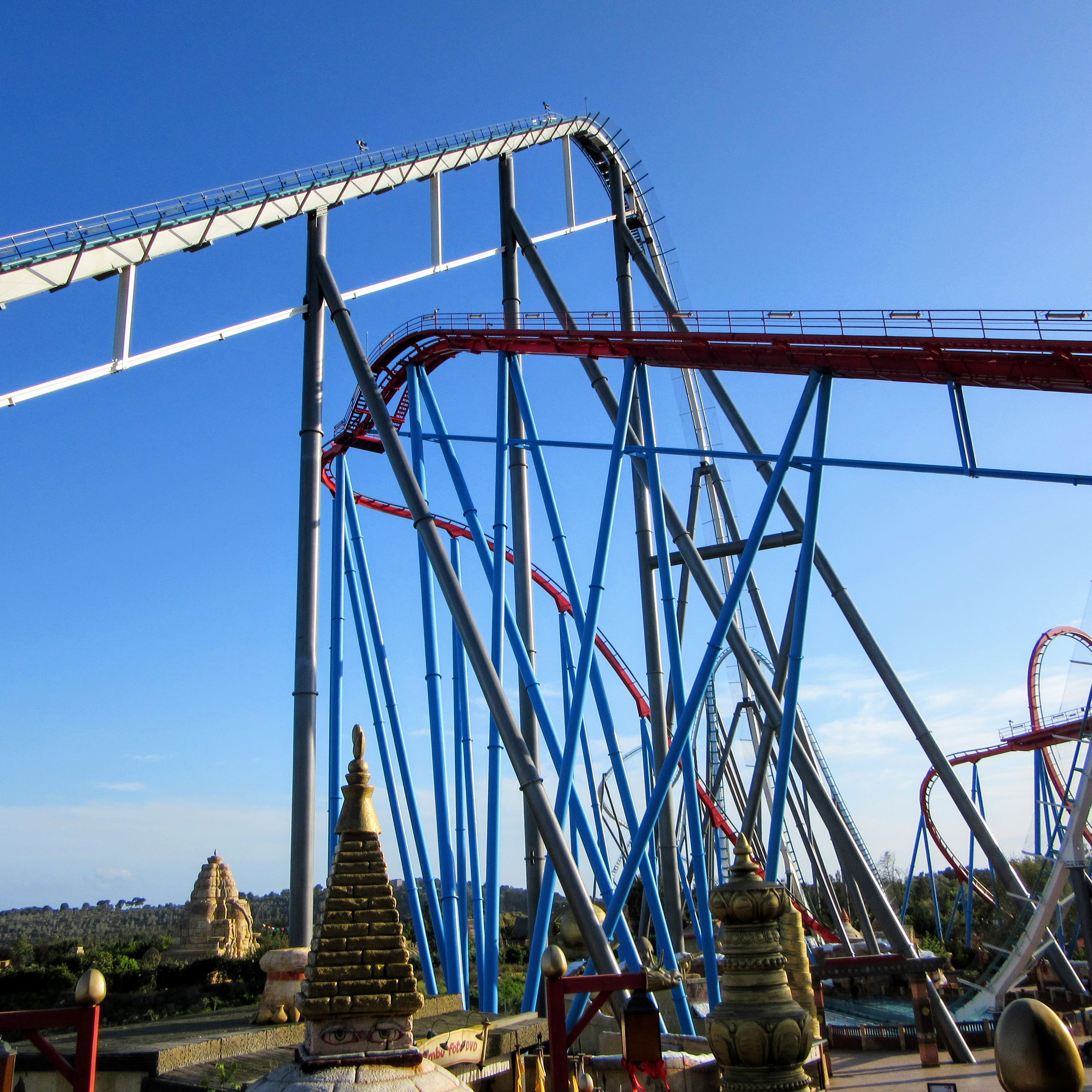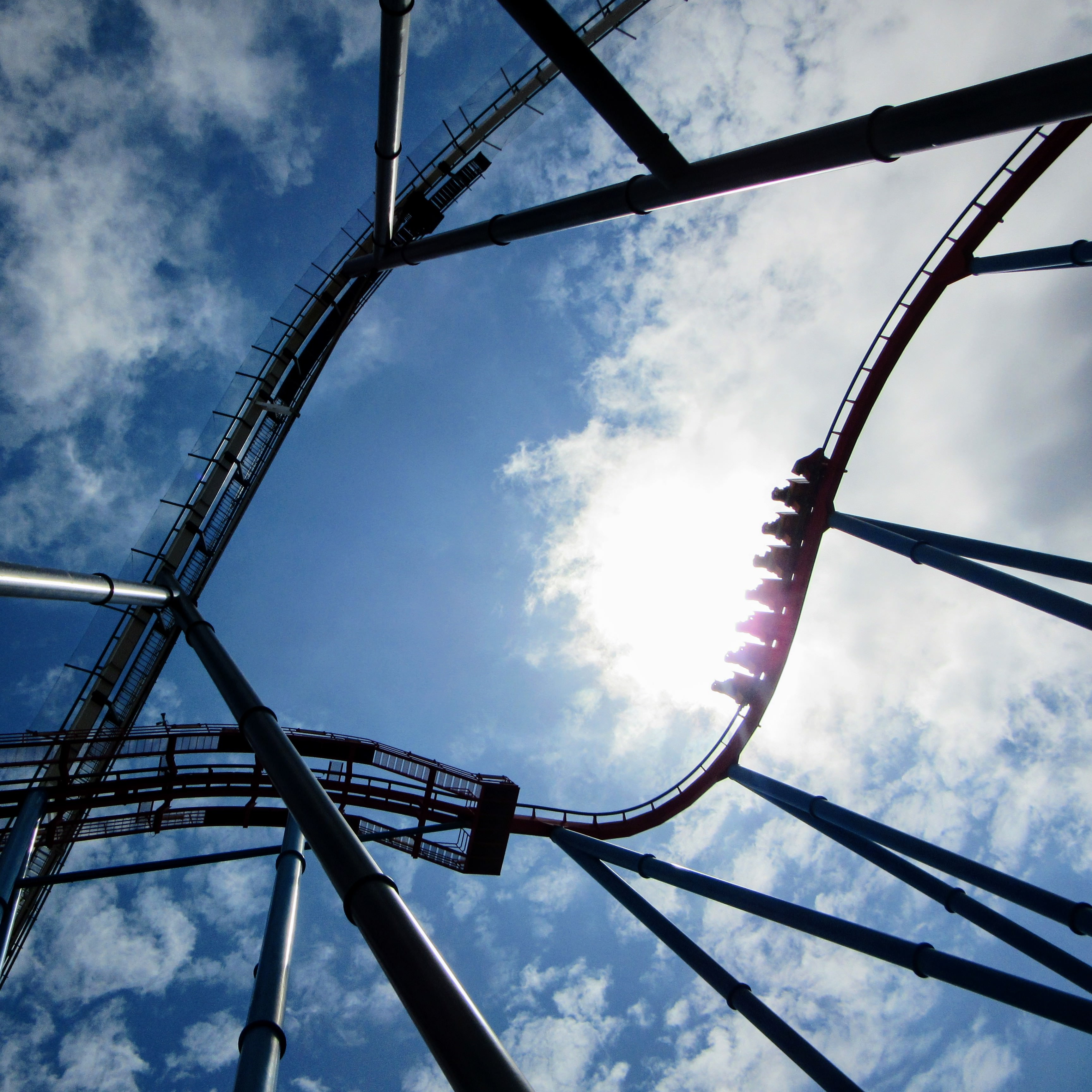 Despite the frustrating one train operation, these two coasters are still magnificent and create an awesome landscape across the park.
Coasters 3 – 7.
There are five more coasters at the park; I'll give you a brief overview of each.
Furious Baco – a launched wing coaster that will shake you like a maraca.  It's really a shame that the coaster design has led to such a rough ride.  If you do insist on riding, try to sit on the inside seats or near the front of the train.  You can see photos of it here.
Diablo – a moderately thrilling mine coaster with three lift hills and no inversions.

Stampida – a moderately thrilling wooden racing coaster.
Tomahawk – a family themed wooden coaster that I found quite painful.
Tami-Tami – a colorful kiddie coaster.
Other rides.
The park has a drop ride, the Hurakan Condor, which offers a 100 meter / 328 foot free fall.  I opted out (no surprise there), but Mr. Meena loved it (no surprise there either).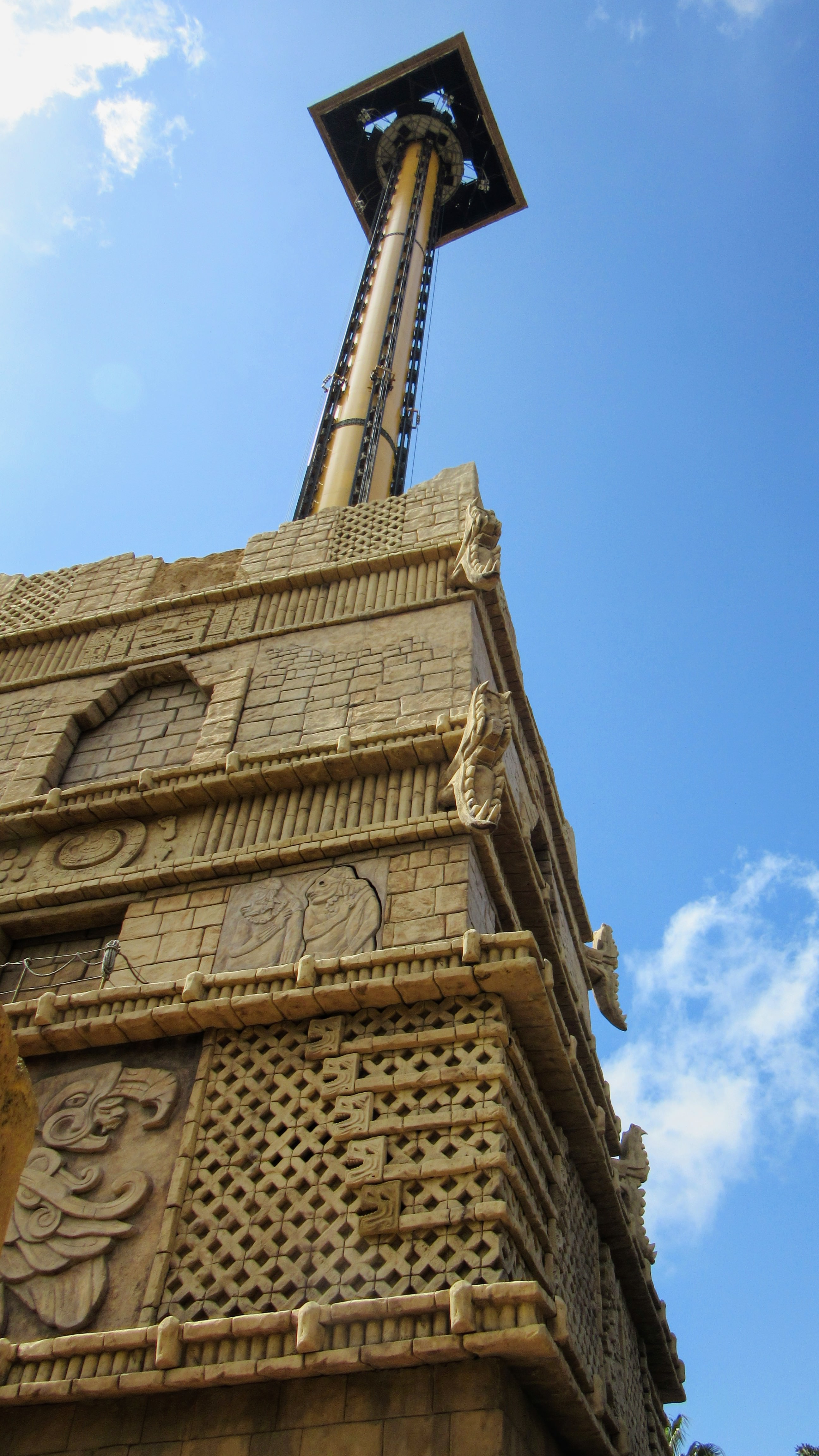 For my part, I rode (and loved) three spinning rides:
+ The Serpiente Emplumada, one of my favorite styles of spinning rides.
+ The huge Tea Cups, a childhood favorite of mine.
+ The VolPaiute, a pivoting ride that also spins.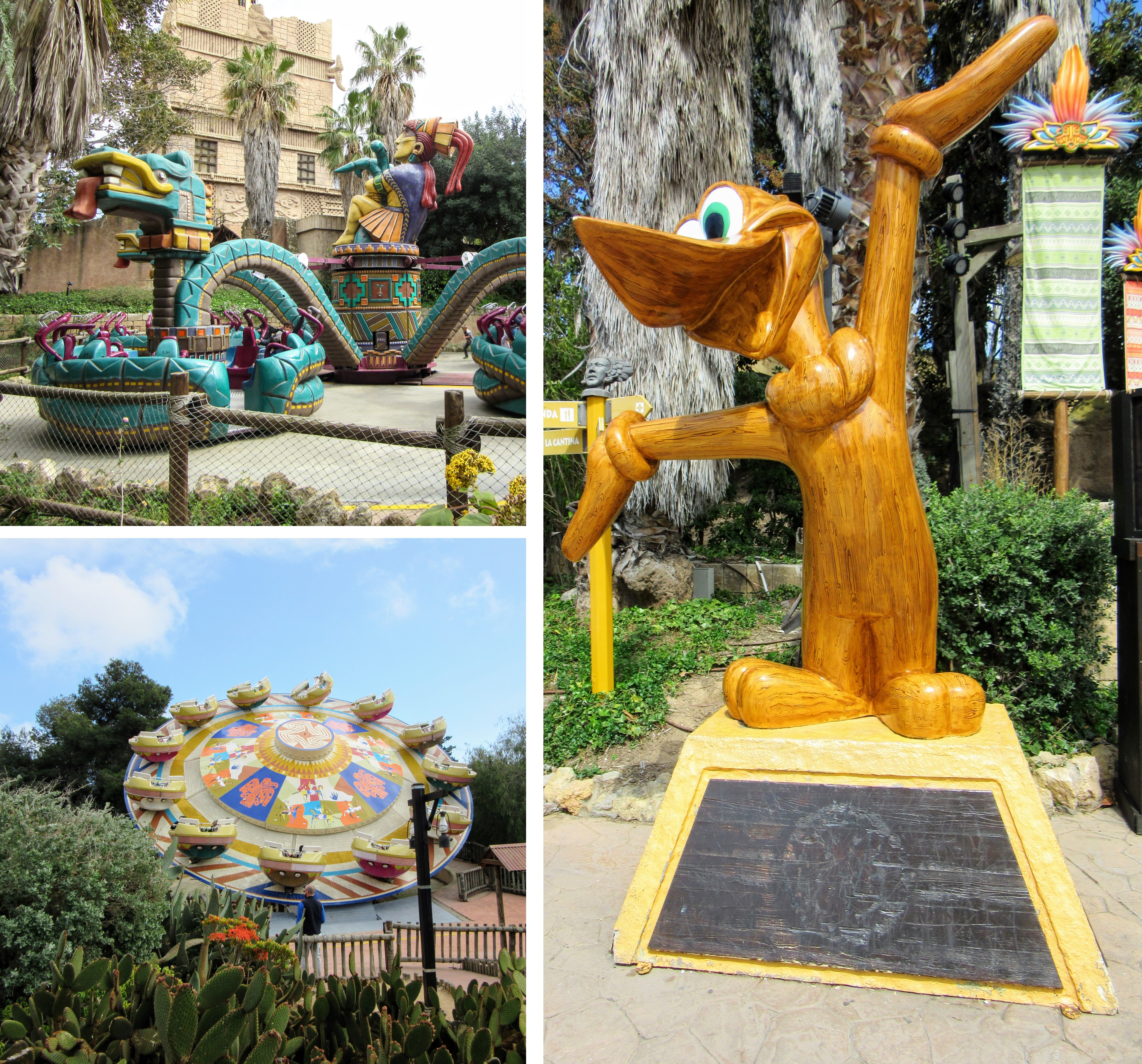 Recommendations: I would have loved to ride the spinning Crazy Barrels and the rather unusual Magic Fish ride.  For water ride enthusiasts there are several options, one being the Tutuki Splash which bursts out of a volcano.
I don't recommend the Ice Age: The Ride, as it feels like an extremely turbulent airplane ride and only shows a small clip of the film (in Spanish).
The best part of our day at PortAventura.
There was a tropical bird show in the afternoon and zero chance I was going to miss it (as I am a total bird fanatic).  The show was in either Spanish or Catalan, I can't be sure which, but we understood enough to laugh along with the rest of the audience.  Birds came from every place imaginable around the stage and performed tricks for the audience, sometimes flying inches above our heads.  It was a delightful experience and we got to meet some of the birds afterwards.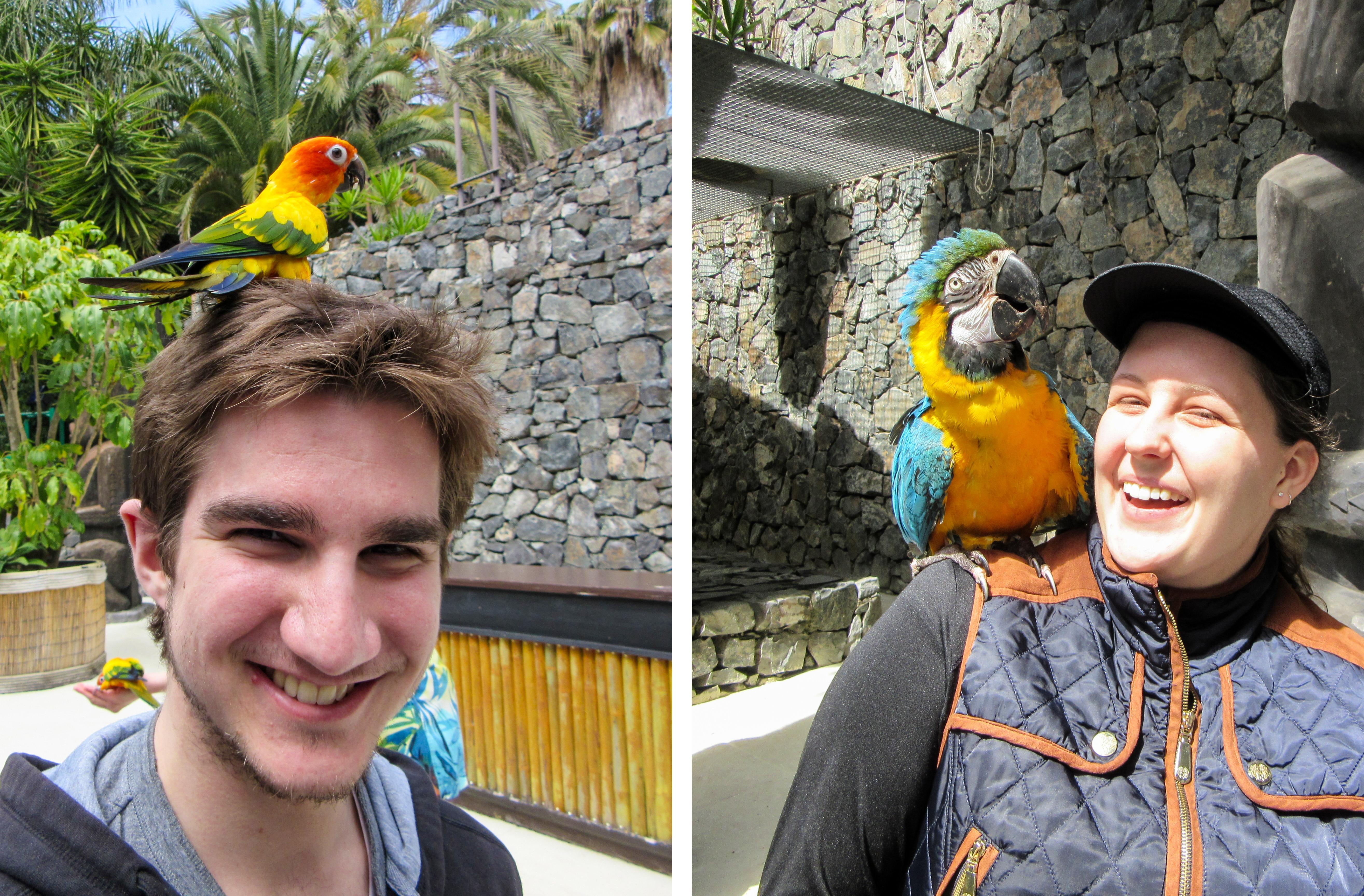 The macaw was kissing everyone.  It was slightly uncomfortable and also hilarious.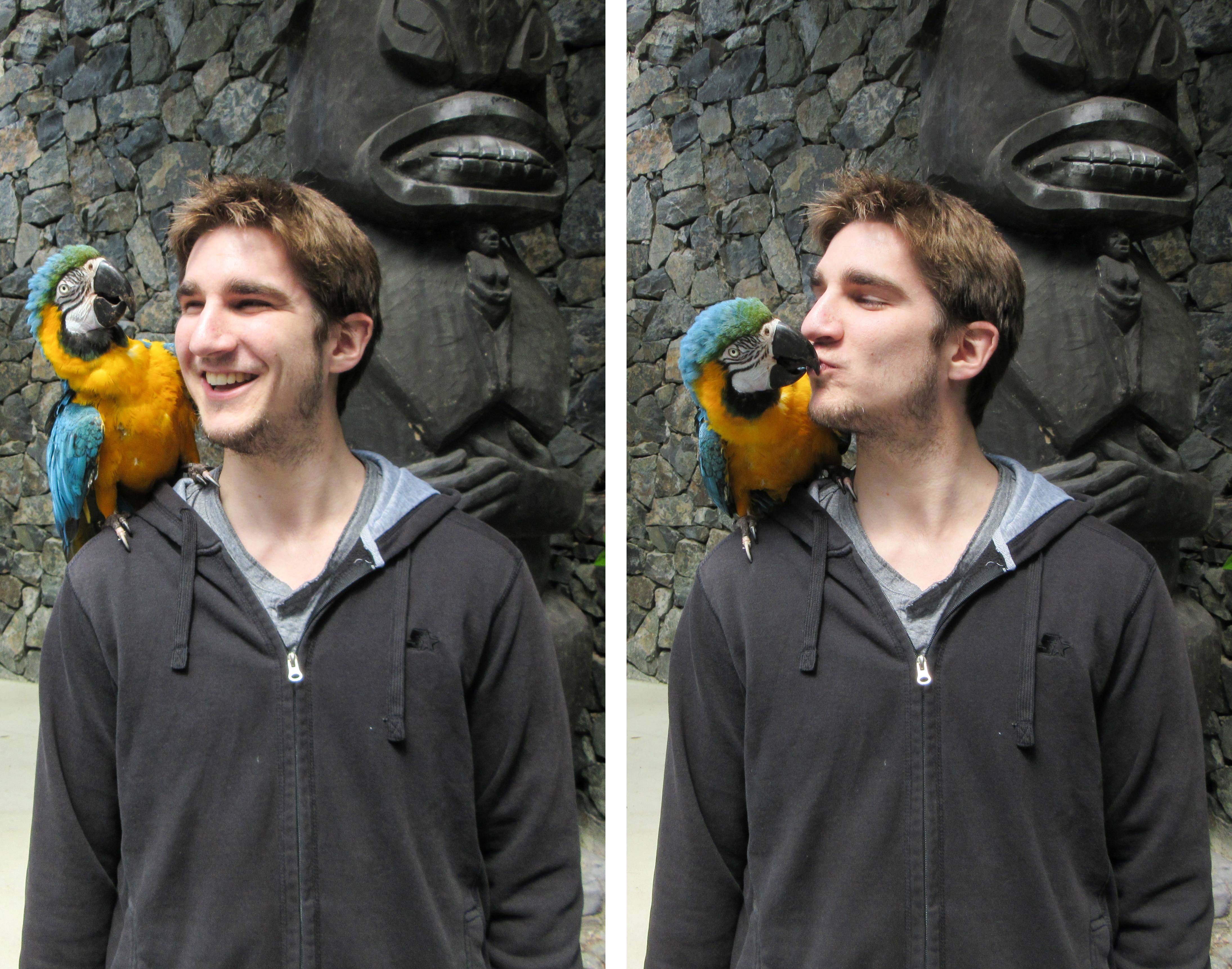 You can see all of the shows currently offered at PortAventura here.
Other attractions.
I've already listed everything we rode and saw at the park, since we were only able to see a portion of it in one day.  Here are three other attractions we didn't get to but I would recommend:
+ Riding the steam train in the Far West.
+ Taking a boat ride on the Port de la Drassana, which shows you the park from one end to the other.
+ Wandering through El Secreto de los Mayas – a huge, colorful maze.
Overall.
Positives.
The park theming is excellent.  If you are a Disney fan then you will enjoy strolling through the six different worlds and taking in all the details.
China was our favorite.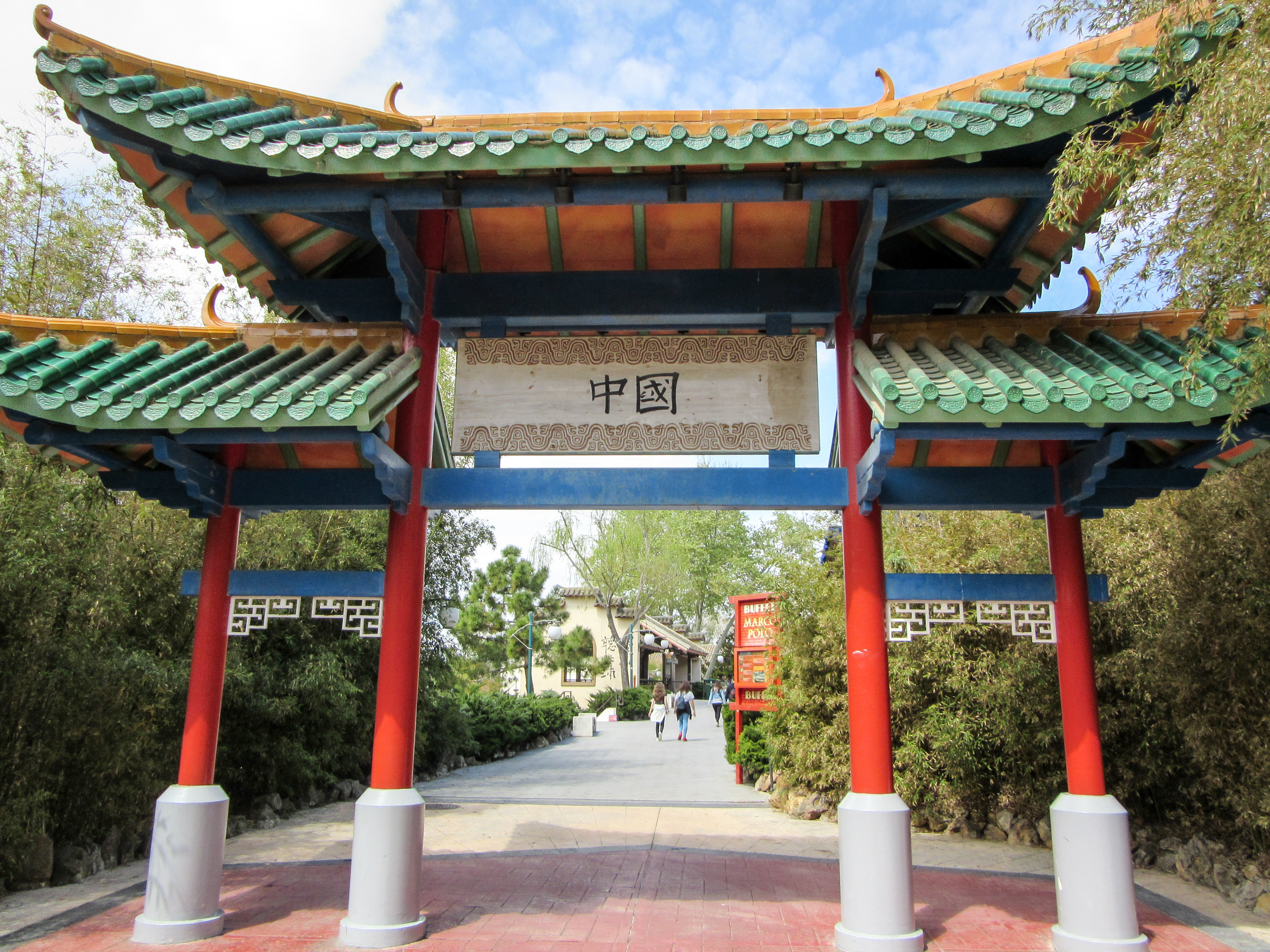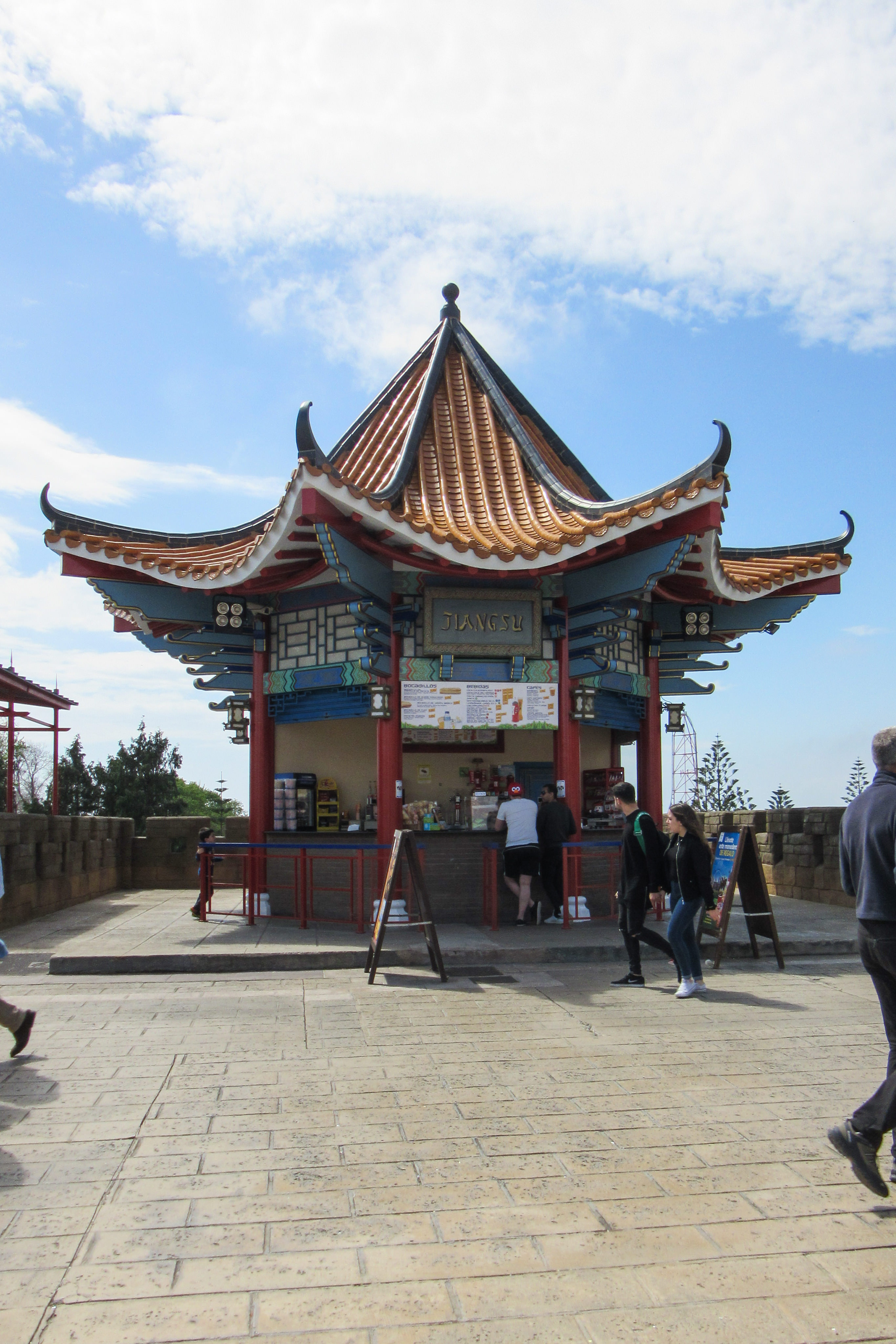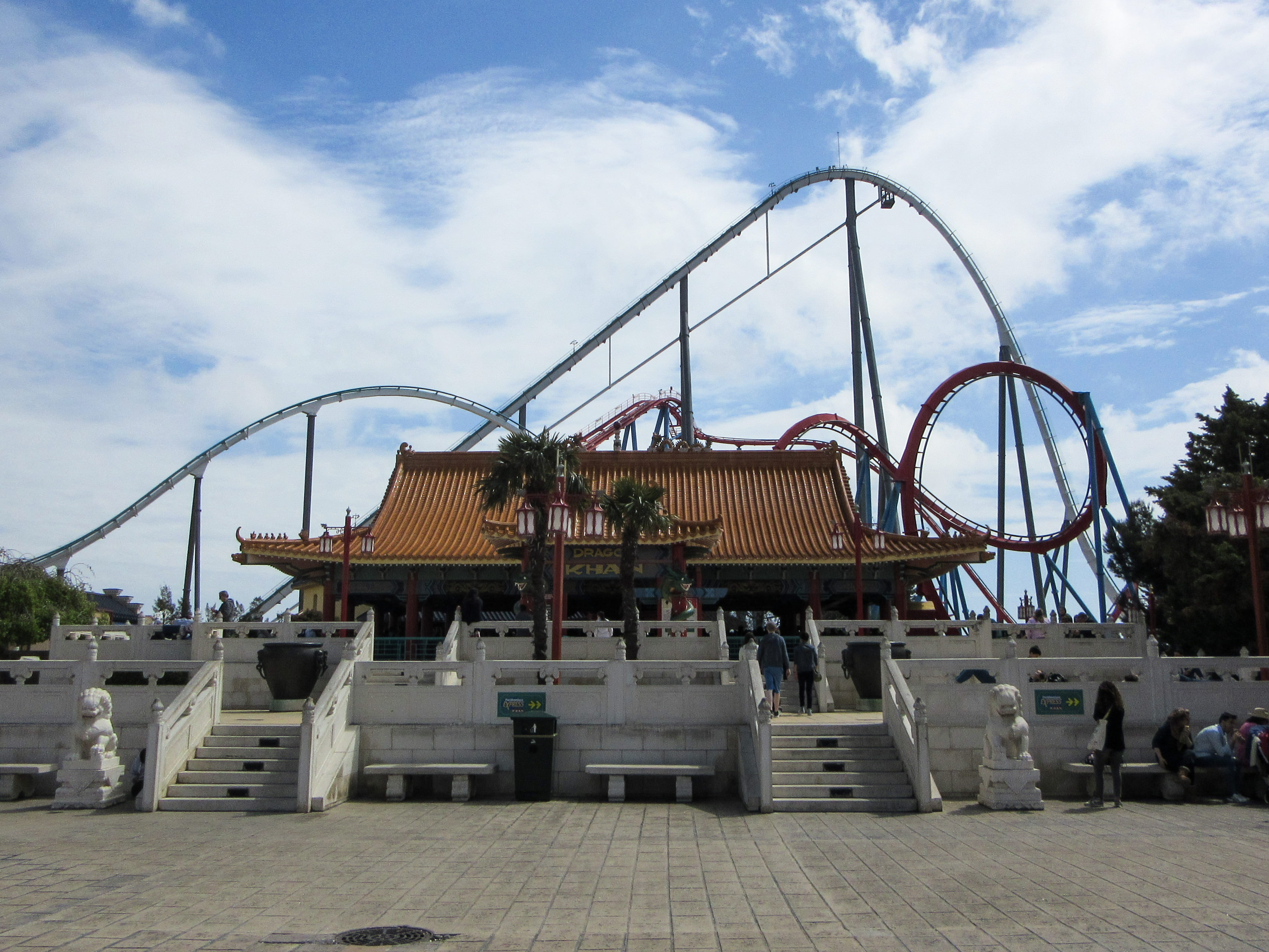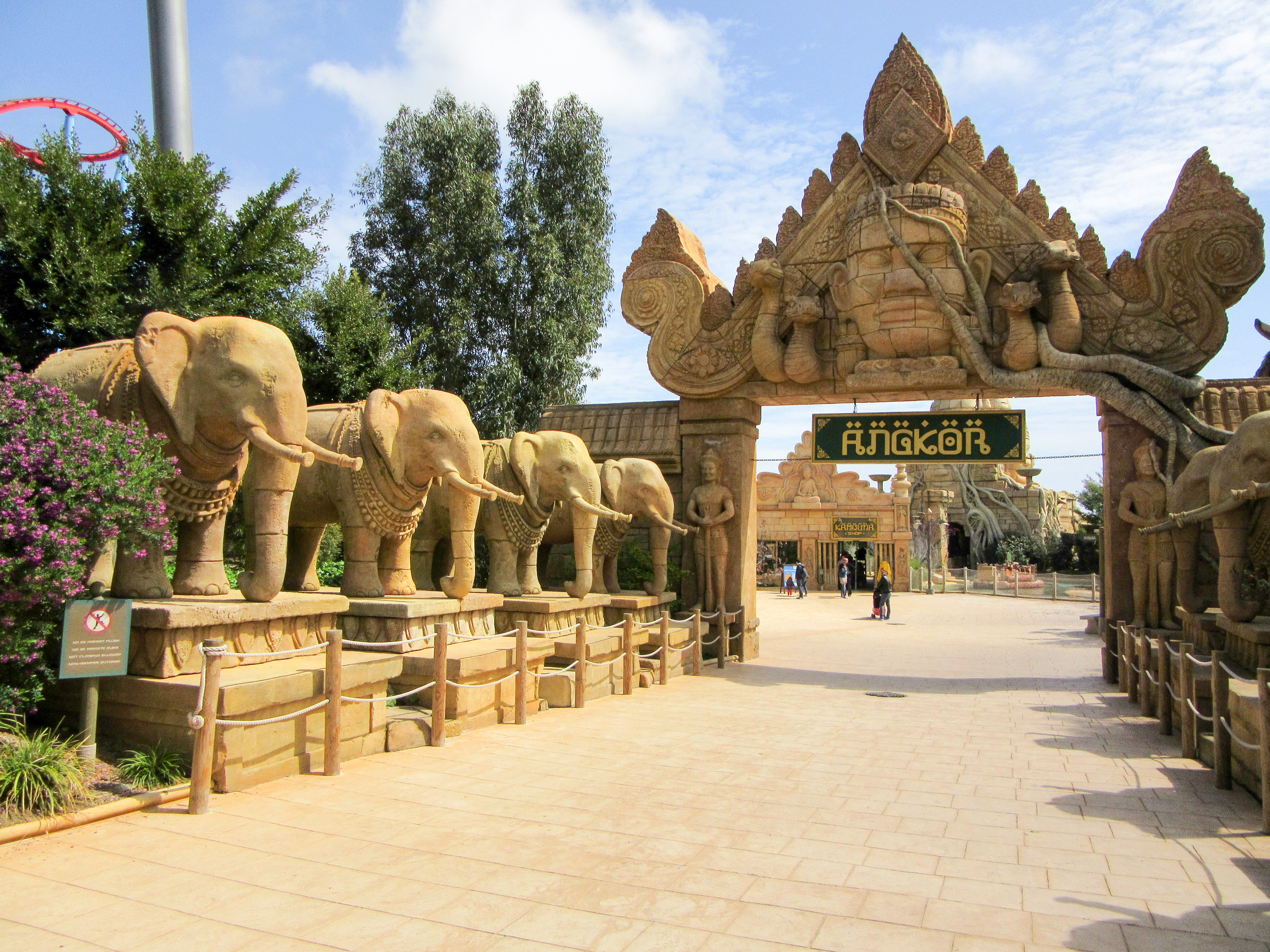 The Polynesia section has a lot of water rides, so we didn't spend much time there.  But it resembles a lush paradise.
Mexico was very relaxing, we even found some park goers taking a siesta in the artificial ruins.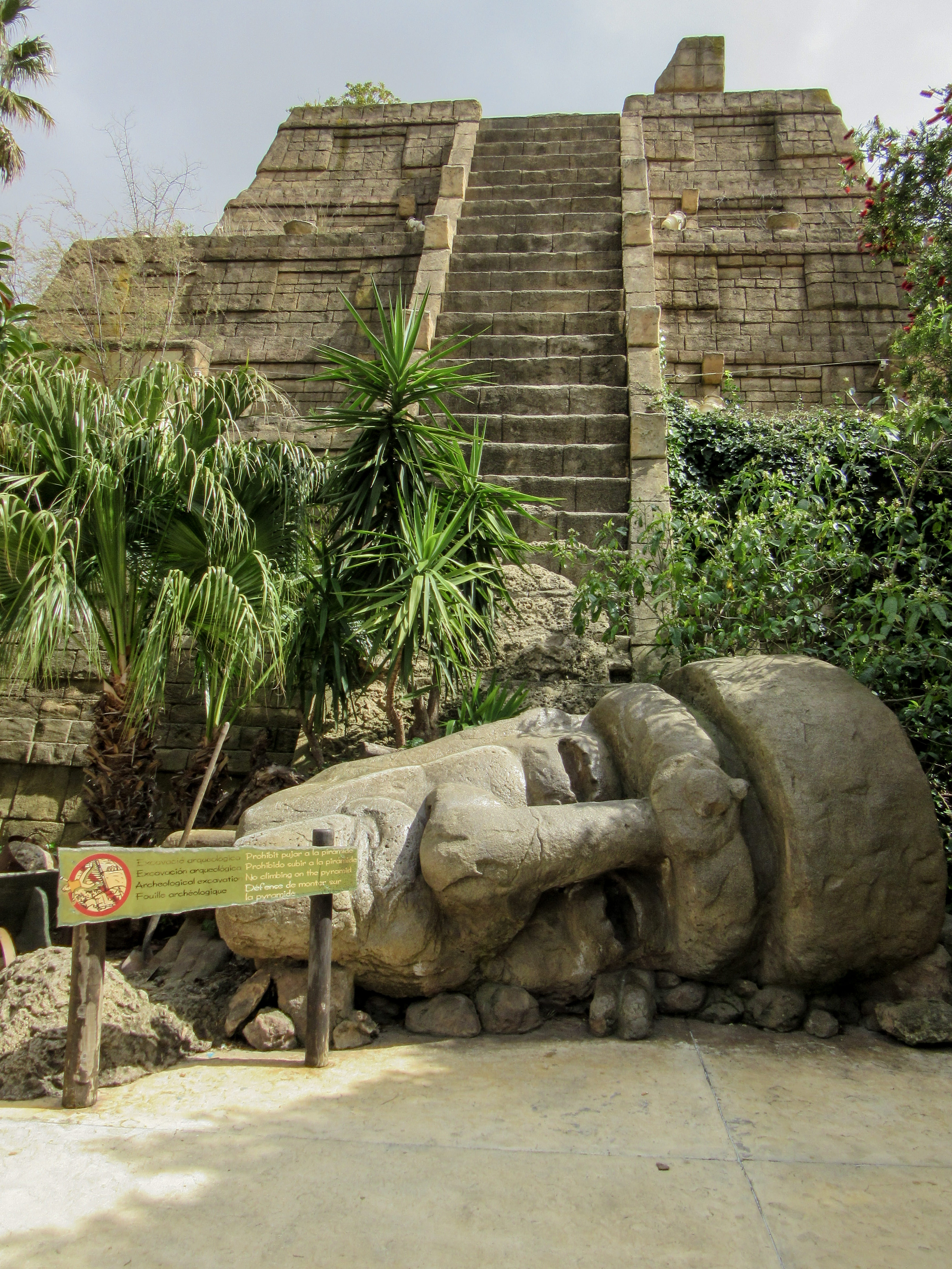 The Far West made us feel like we were home for a moment (we were living in Germany at the time).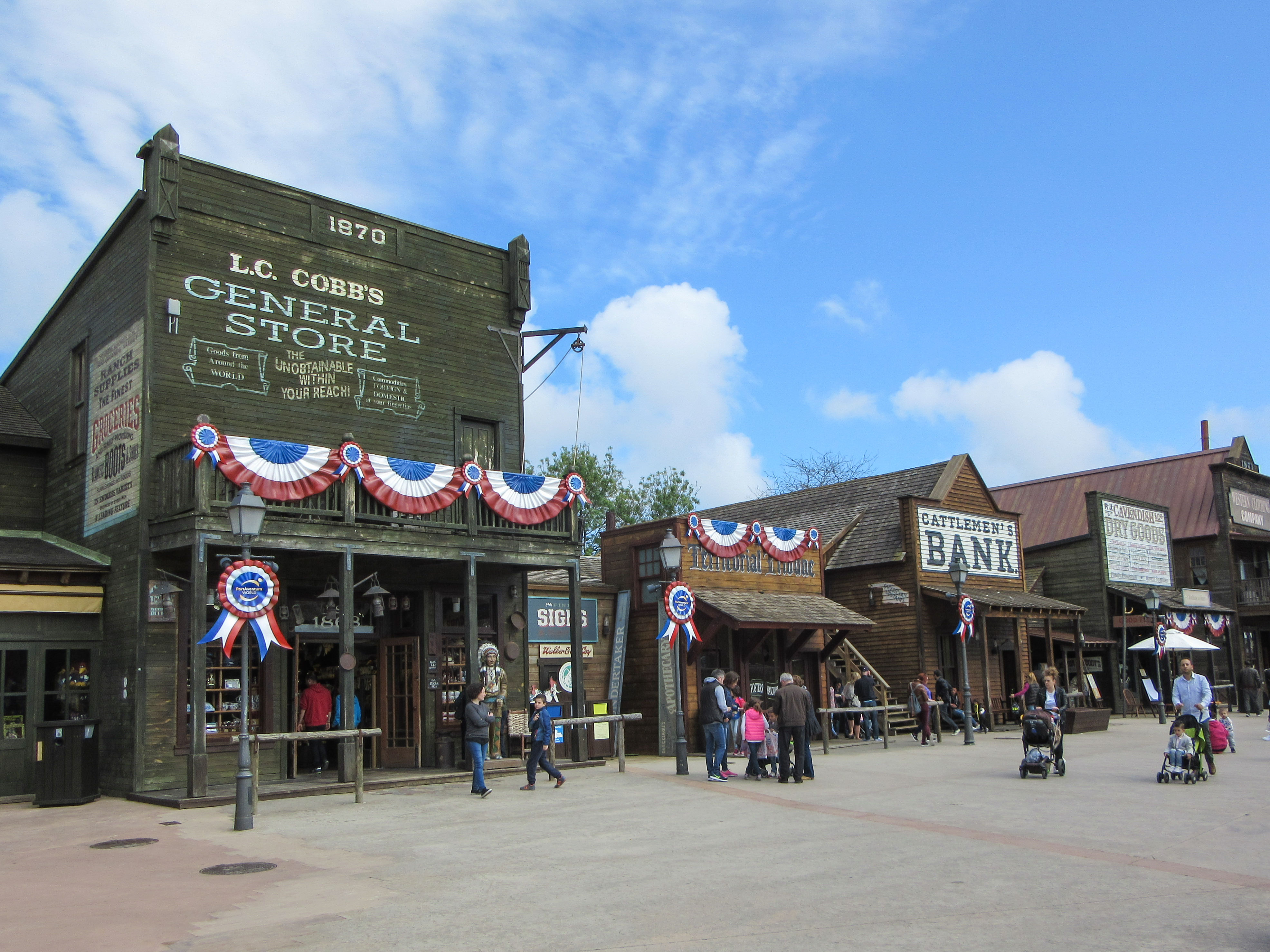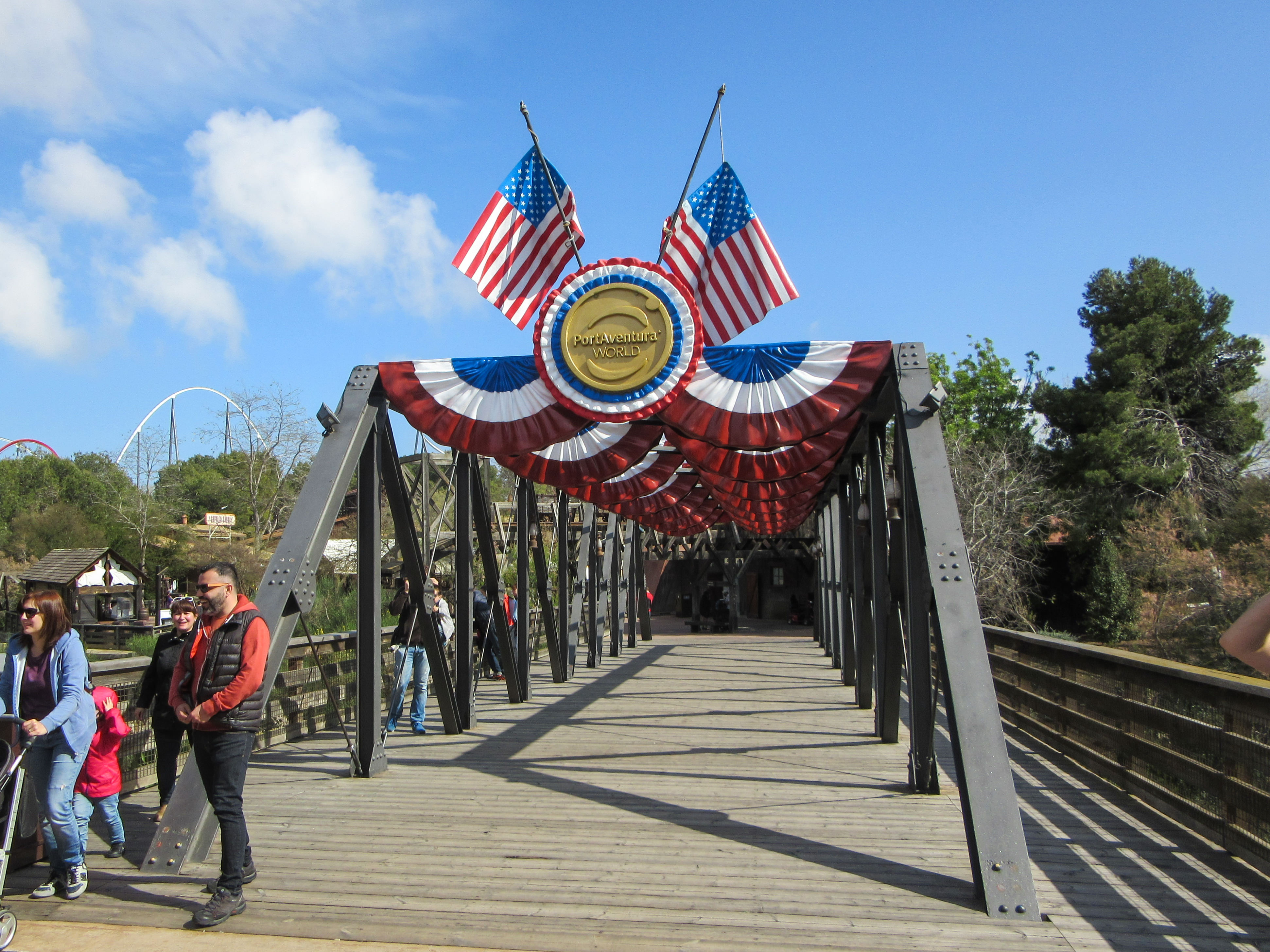 The Mediterranean was beautiful.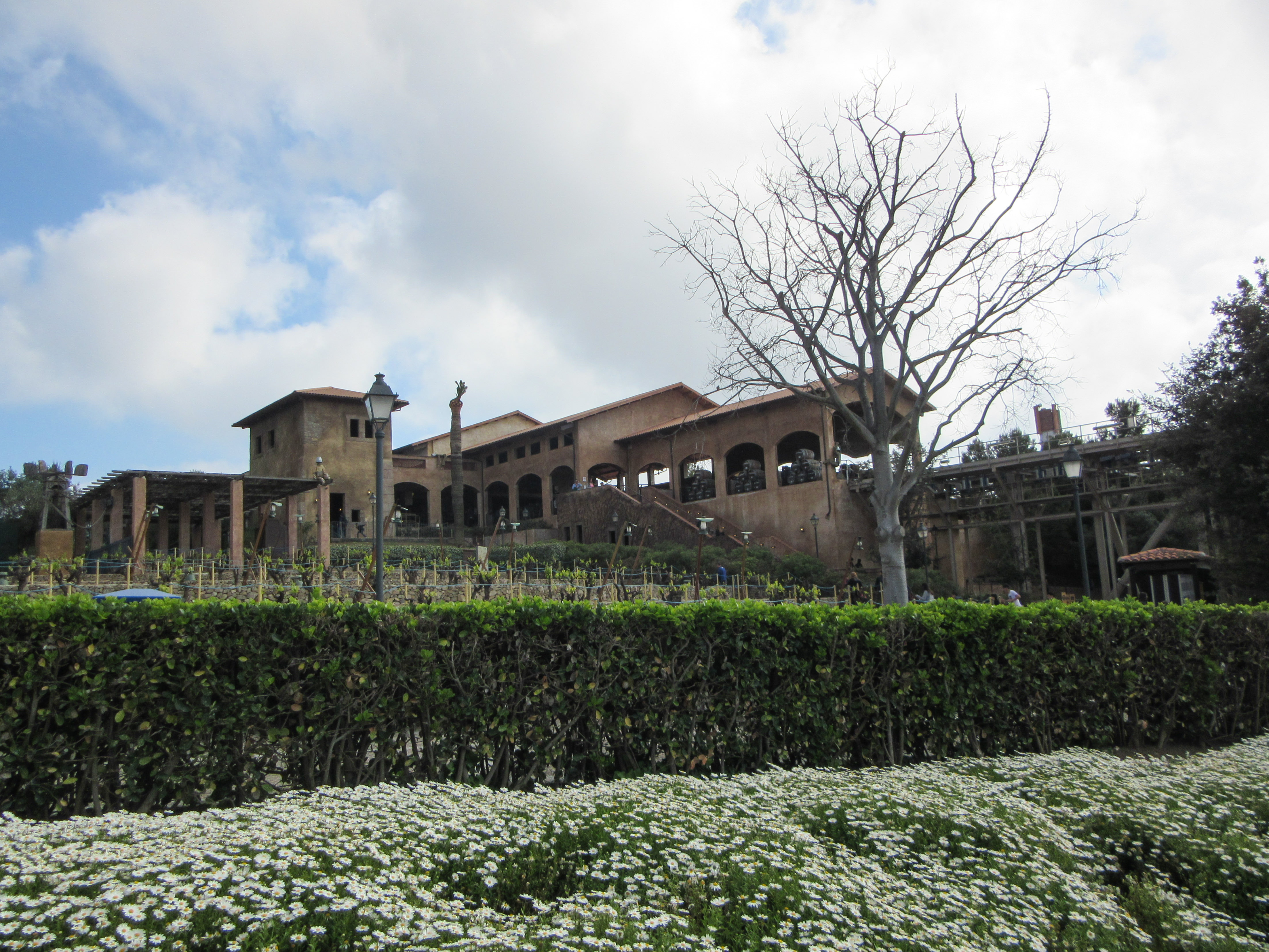 Sesame Street was a lot of fun, we did ride a few of the kiddie rides there.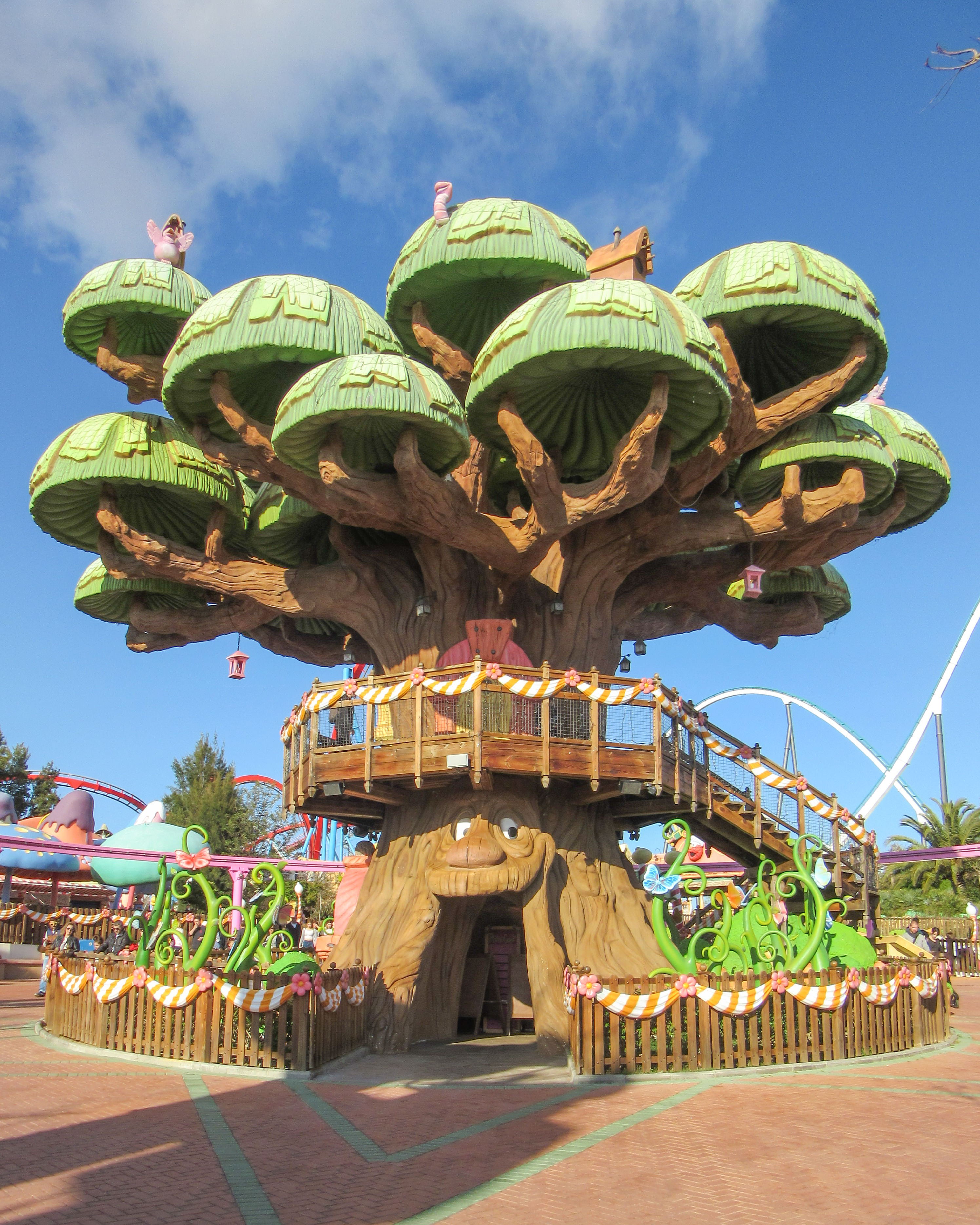 Overall, the park is bright and welcoming, filled with colorful flowers, friendly people, good food, and cheap cerveza.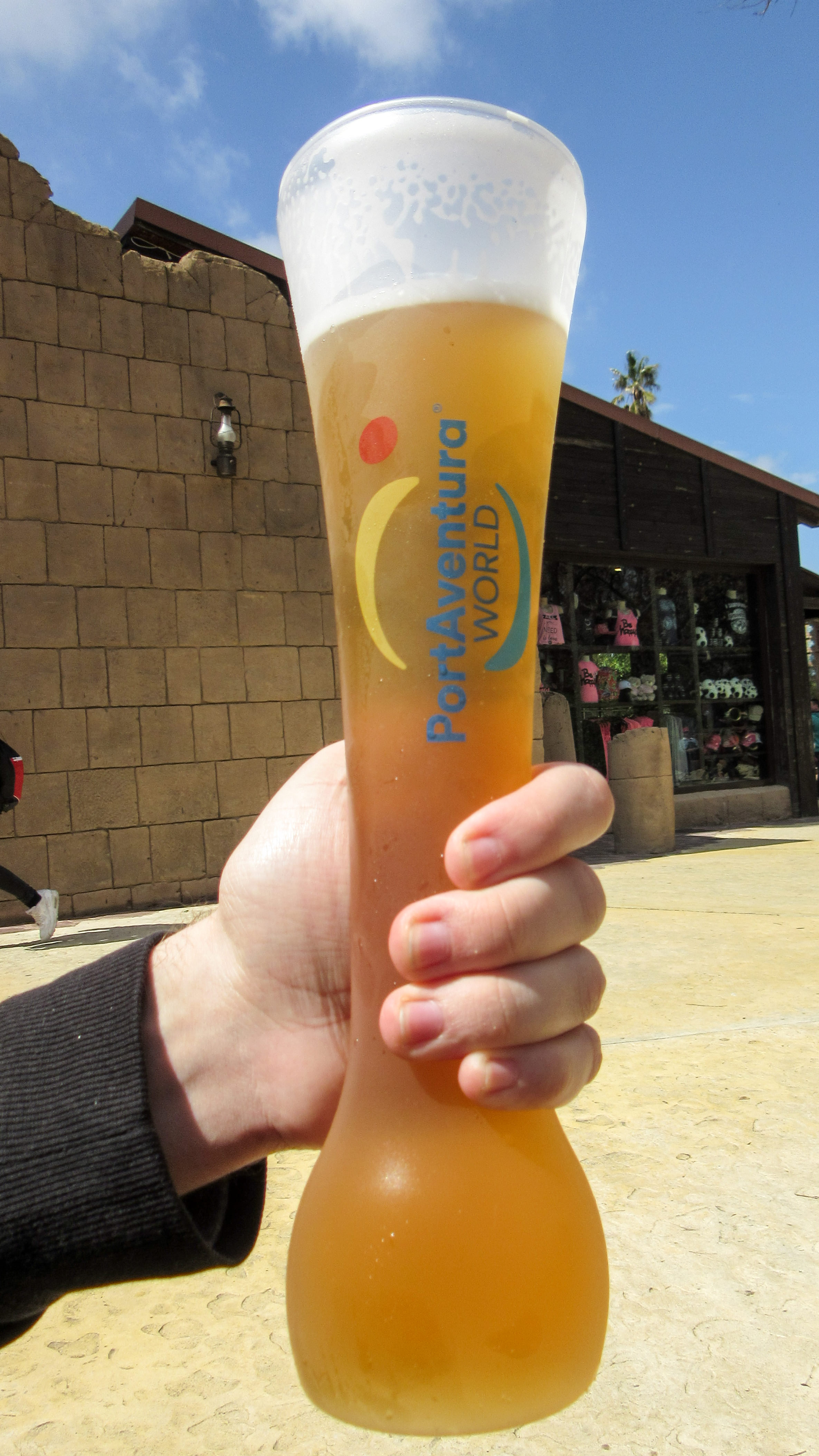 Negatives.
+ As I mentioned previously, the worst attribute of PortAventura Park was the long ride queues.  We spoke to a ride attendant that told us a bit about the procedures (and minimum numbers) for adding a second train to the coasters.  As far as we are concerned, the park management artificially created a crowd – they wanted financial profit from the line skip system more than they wanted happy customers.  (For perspective, our home park, Carowinds, often runs three trains on Fury 325 even when there are no crowds.)
+ The electronic wait time signs throughout the park were not accurate.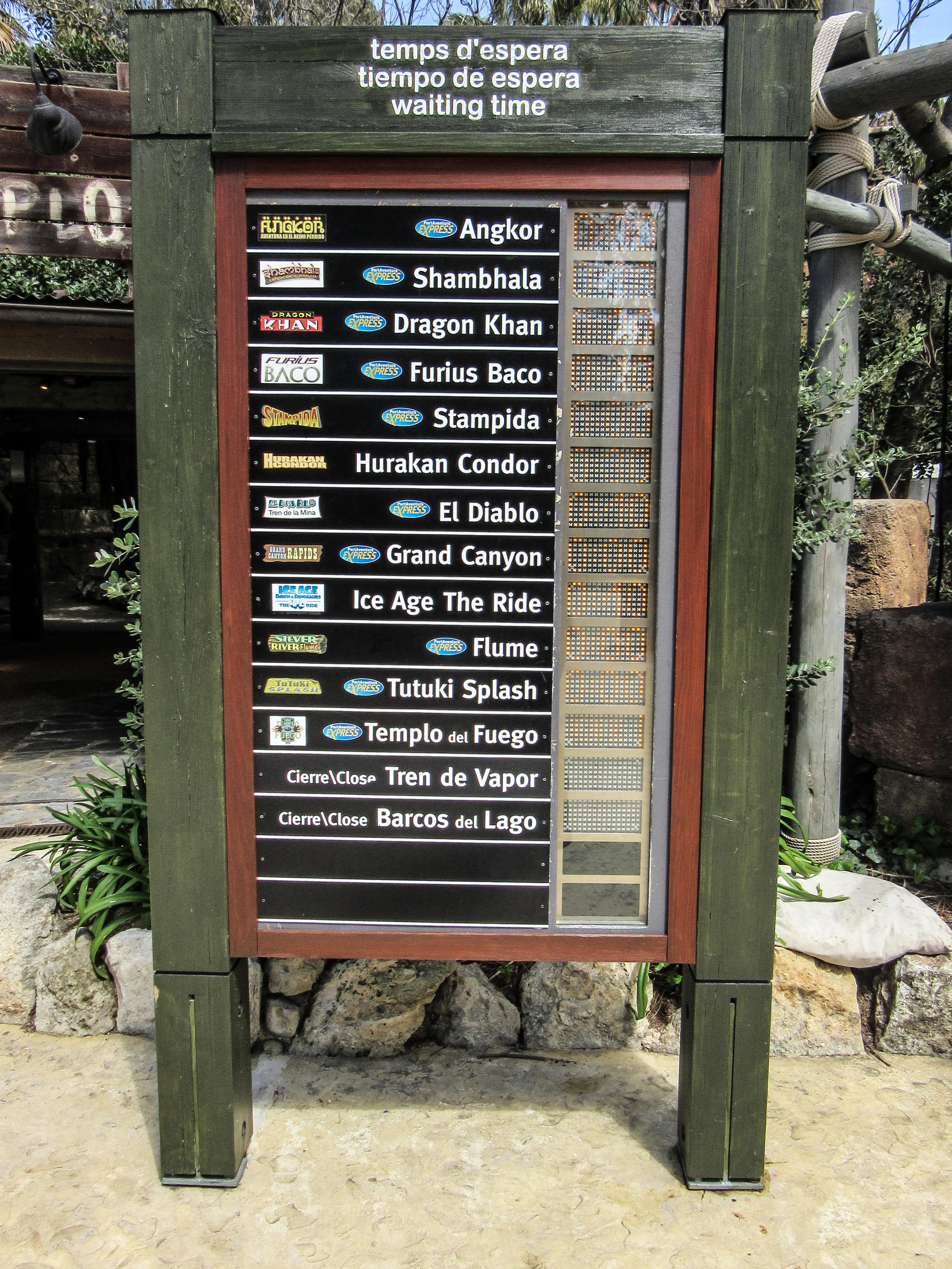 + It seems like everyone at the park is smoking.  In fact, all of the trash cans at the park have built-in ashtrays.  This didn't bother us much, but it could definitely be a negative for others.
+ We don't like that you have to pay separate entrance fees for the different theme parks at the same location.
This is a park that is definitely worth visiting once, but I strongly doubt that we will return.
Tips.
+ You'll want to keep in mind that the park is located in the Catalan region of Spain (so don't rely on your high school Spanish lessons).  There are four languages included on signs throughout the park.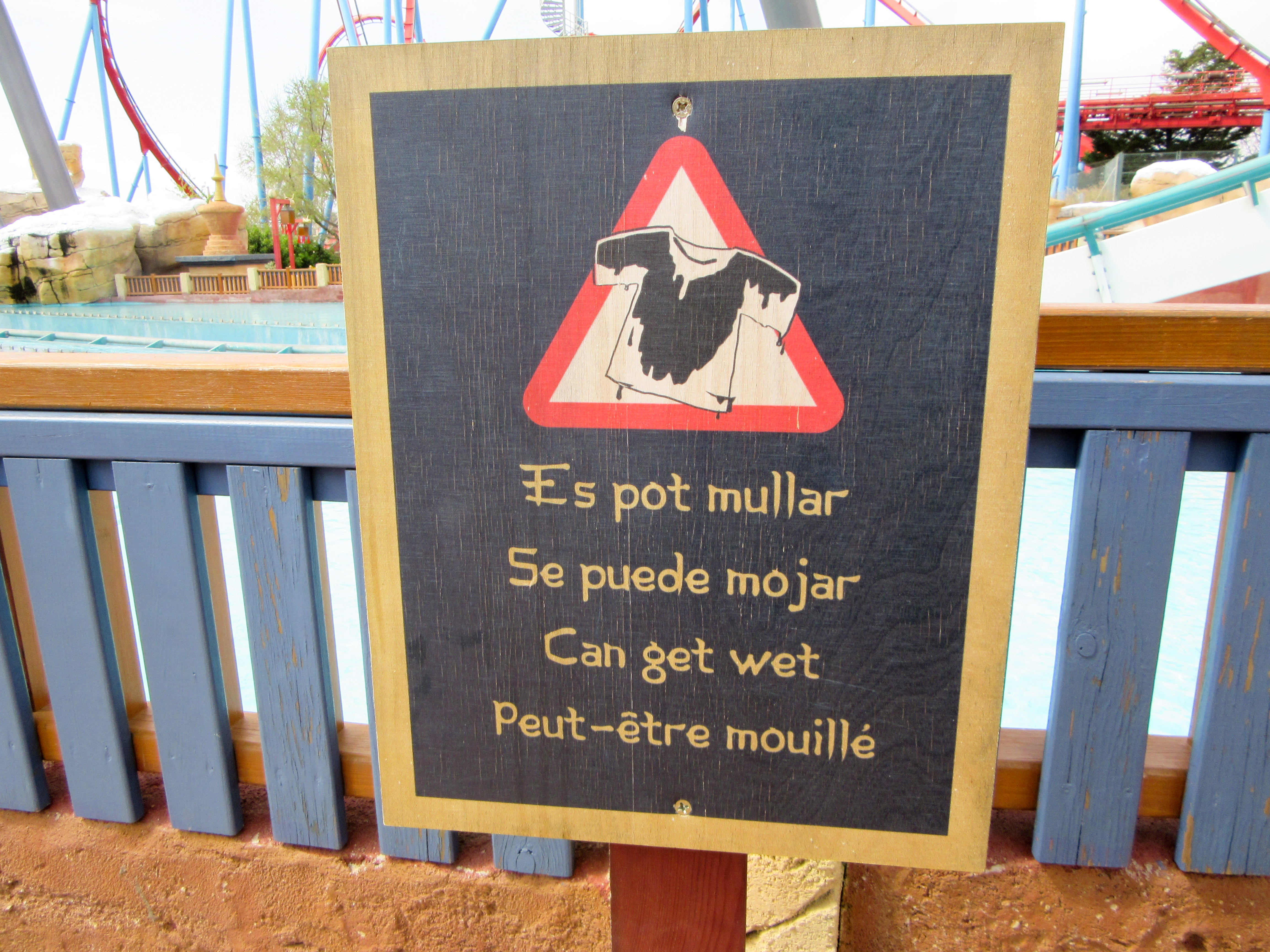 + This park is huge – you don't want to spend half the day wandering back and forth around it.  Have a game plan and utilize the park train if necessary.
+ If you are driving along the coast from Barcelona there are quite a few tolls.  I think we paid around $10 total and every toll booth accepted credit cards.
---
Want to go?  You can plan your visit here.
Visiting PortAventura Theme Park in Tarragona, Spain.
Click To Tweet
Pin this: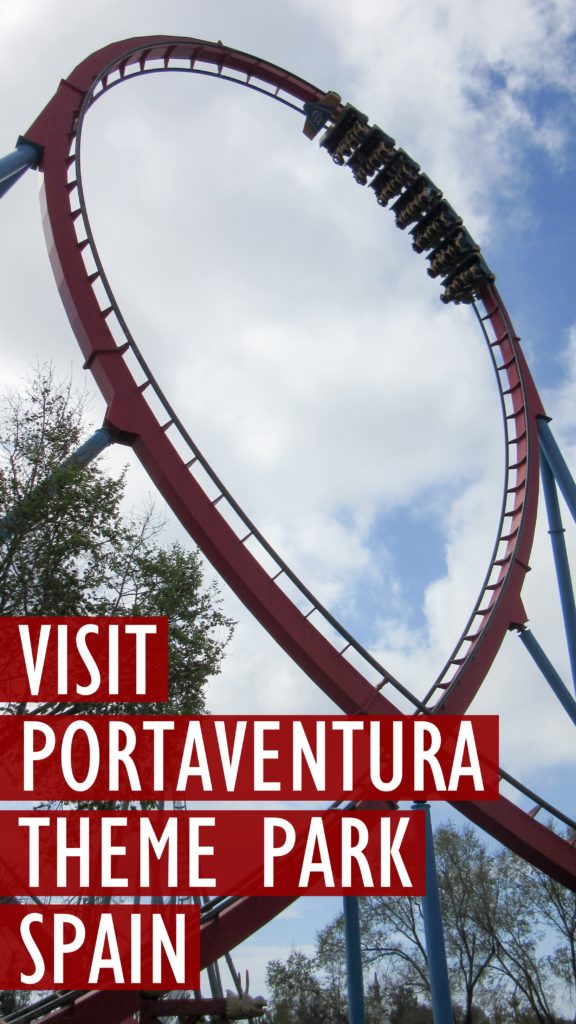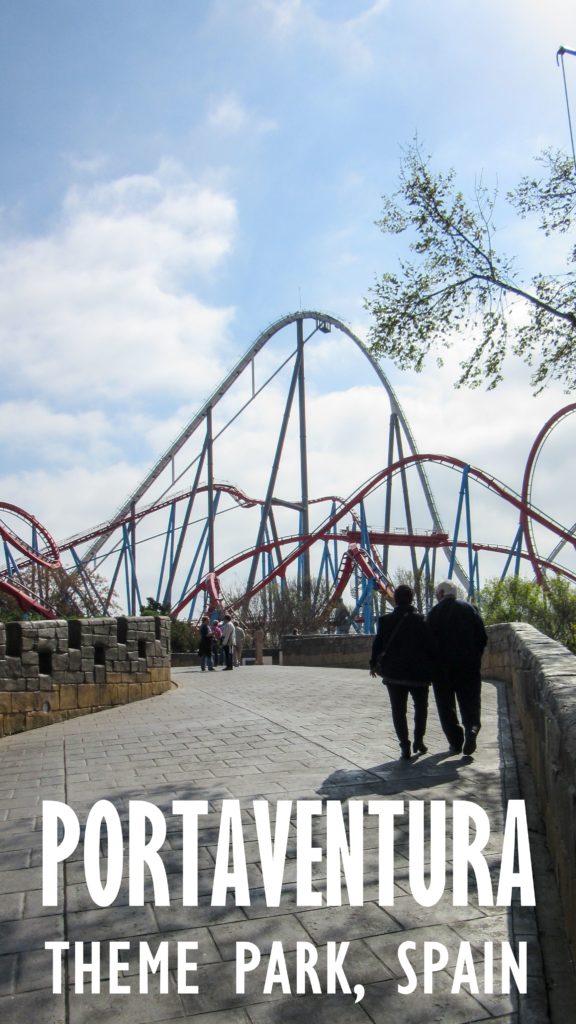 :
This post is linked up with Fly Away Friday and Feet Do Travel: