This was a pretty special trip for us.  Mr. Meena's grandparents live near Busch Gardens Tampa Bay, and he's visited the park several times on family vacations over the years.  We've driven past the park each time we were in the area (so that he could gaze fondly upon the coasters) and hoped that we'd soon be back and have time to visit this park together.  So after about three years of wishing for this trip (and also almost three years of marriage), we finally made it!
I'm going to walk you through our day in the park, review the coasters and other attractions we visited, and include plenty of tips and resources along the way so that you can make the most out of your visit.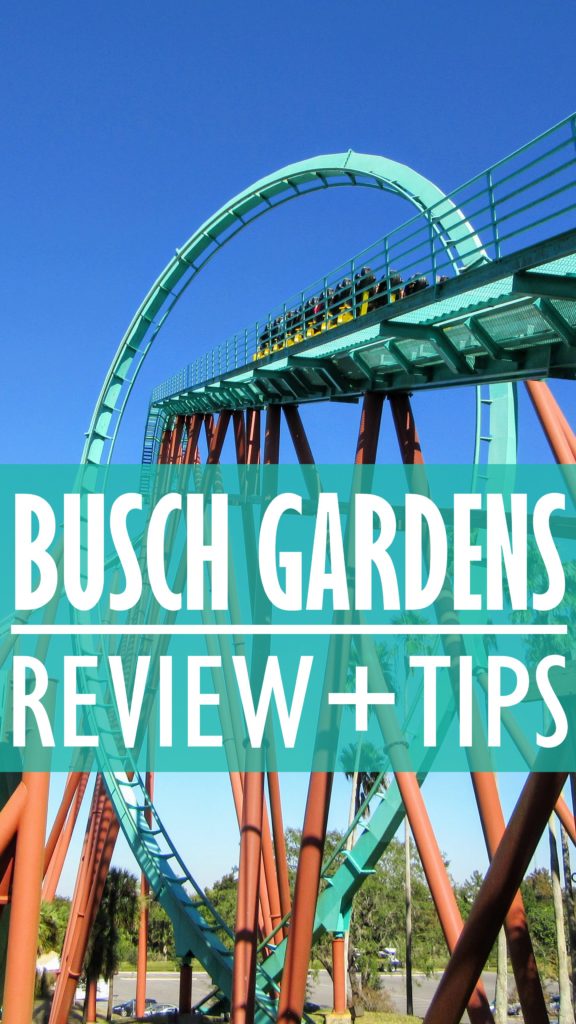 Disclosure: I was given complimentary tickets to Busch Gardens Tampa Bay in exchange for this post. As always, all opinions (and fascination with spinning rides) are my own and were not influenced by the sponsor.
Visiting Busch Gardens Tampa Bay: A Review + Tips.
Arrival.
For perhaps the first time ever, we arrived to the park almost an hour before it opened.  We were pretty excited about this until we realized that the parking lot didn't open until 9:30 am (which is later than usual, in our experience).  After waiting a bit, we were one of the first 20 or so cars to enter the park.  We parked near the tram stop and boarded the first tram of that unusually cold – for Florida – November day.  It appears that you must take the tram if you park in the regular parking lot, as there weren't sidewalks along much of the tram route.  This could be convenient or frustrating depending on how you look at it, but we didn't have any problems getting on the tram quickly when we needed to.
Tip: Preferred parking doesn't appear to be worth the additional price; I observed some park goers walking pretty far to get to their vehicle in that section.  If you are able to park near the tram pick up in the regular lot it seems like a shorter distance to walk overall because the tram drops you off at the park entrance.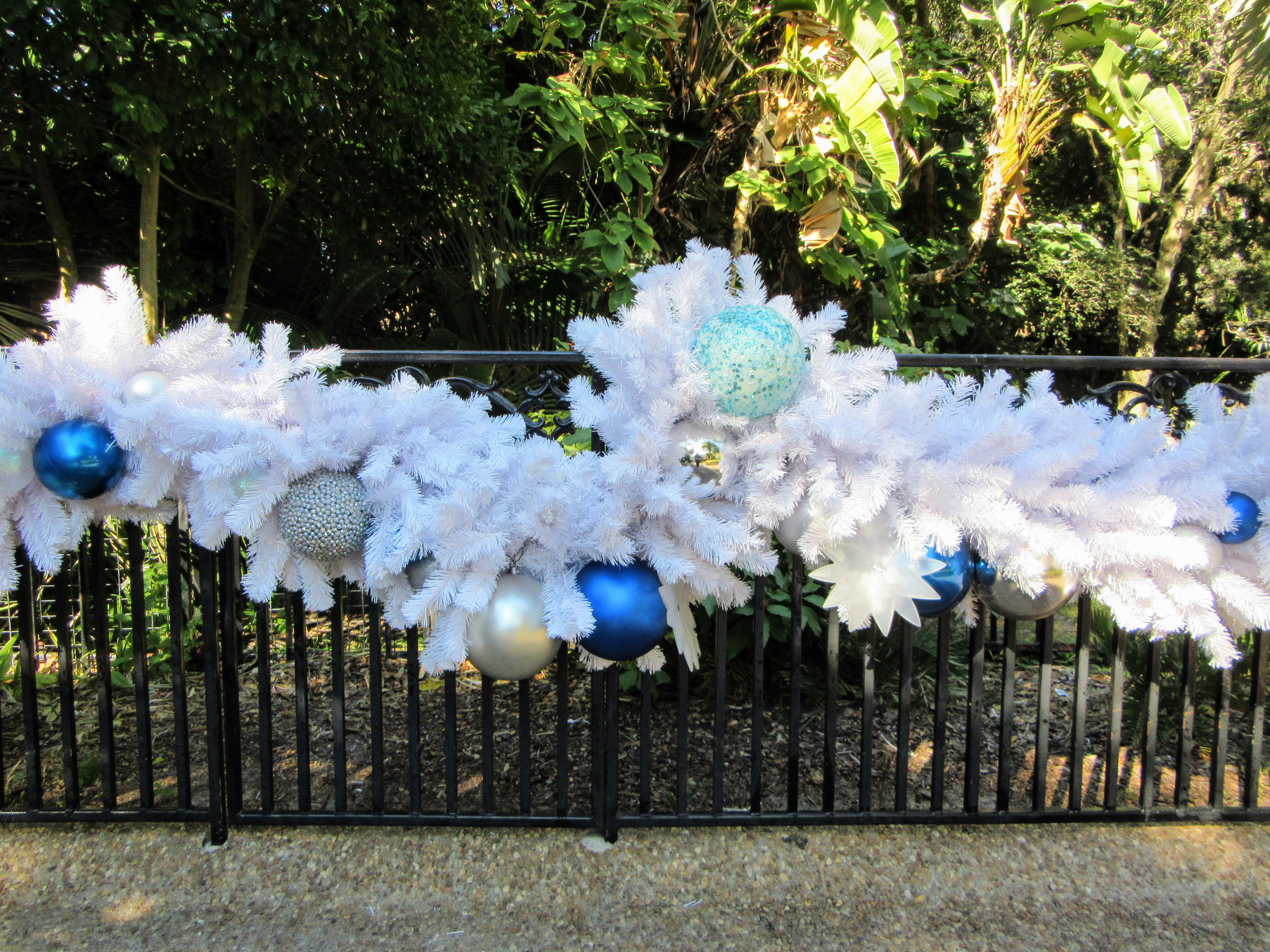 After the short tram ride we got our tickets, went through the gates, and had about 15 minutes to spare before the park opened (if you arrive early you'll be waiting in a roped off area at the front of the park).  That was when we noticed that some of the rides, primarily those located in the back of the park, weren't opening 10:30 am (which was 30 minutes after the park opened).  This changed our game plan for the day (we usually head to the back of the park first to avoid the crowds as much as possible) and we were frustrated, especially since I had scoured the website looking for details like this in order to better plan our trip.  As theme park enthusiasts, we take pre-planned park routes seriously.  Of course, it could very well take almost 30 minutes for some park goers to reach the far section of the park.
Our day at Busch Gardens Tampa Bay.
We rode the coasters Cheetah Hunt, Cobra's Curse, and Montu, which are located in the front of the park, first.  Mr. Meena then rode the new drop tower twice and we opted to have a quick, delicious smoothie for lunch so that we could keep moving through the park.  This is a great tactic if the park is busy – or massive – because the wait times are often less during meal times.  We then proceeded to ride several coasters in the back of the park and visit the bird gardens before resting our feet on the Serengeti Express train ride.  We stopped for a late afternoon meal before enjoying the Opening Night Jitters theatrical show at 5pm.  Afterwards we managed to get in night rides on SheiKra, Cheetah Hunt, and Montu before the park closed and we were one of the last groups to leave the park.  This was a huge chronic pain win for me, since I often have to miss out or leave early if I'm in too much pain.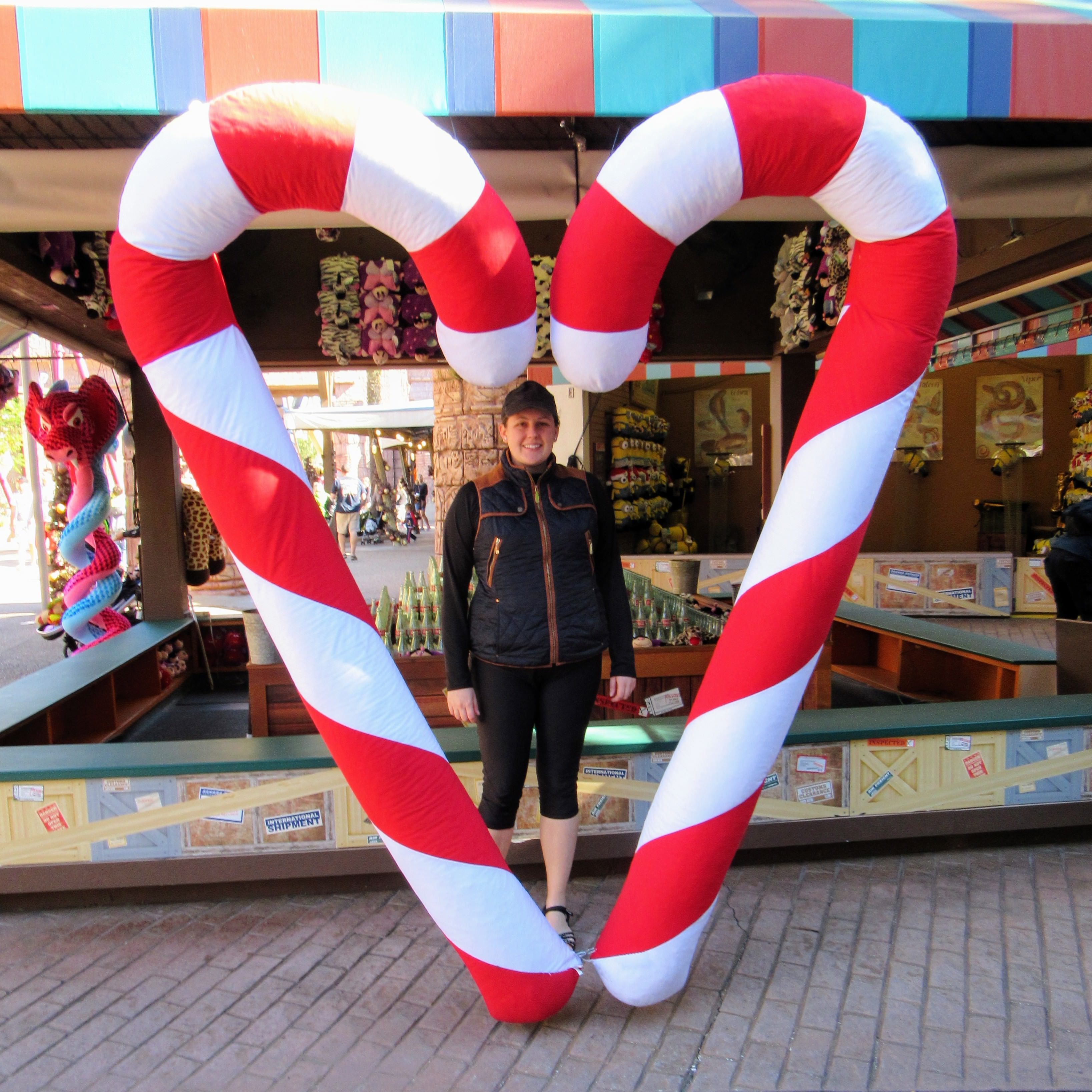 Tip: You can continue to enter the ride queue in a theme park until the park closes.  Some people aren't aware of this, instead thinking they need to exit the park by closing time, and end up missing out on some of the best rides.
Riding at night or at the end of the day usually means that the queues are shorter and the rides are at their fastest speed (thanks to running for hours and warming up).  Just keep in mind that the queue for the front row will either close early – the case at Busch Gardens – or you'll be asked to redistribute throughout the train in order to fill the seats as the park is preparing to shut down.
One of my favorite things about Busch Gardens Tampa Bay was that we would occasionally find ourselves entrenched in lush scenery as we explored the park, almost as if we'd entered a jungle.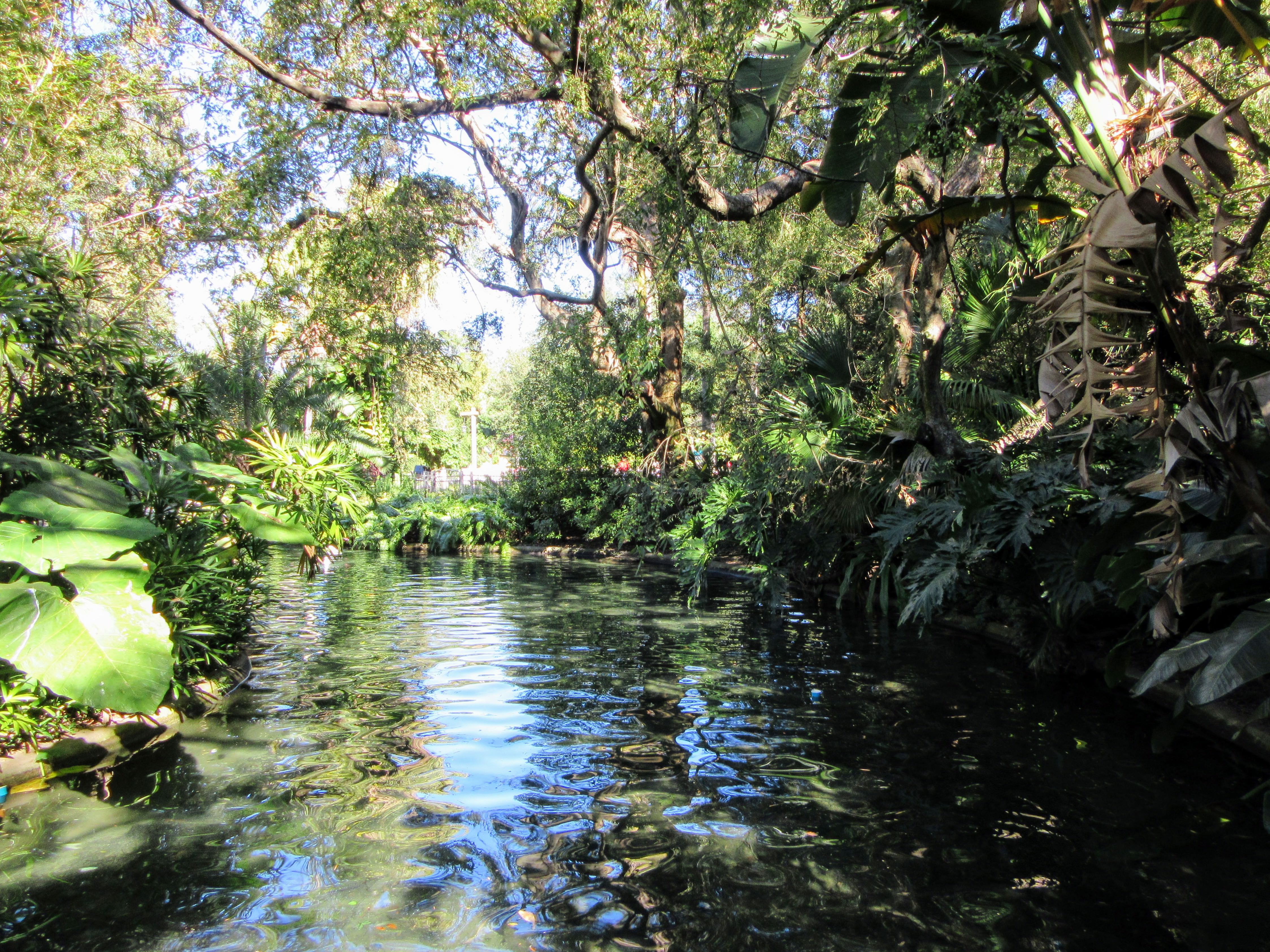 That's one of the things that makes Busch Gardens so unique – they have a strong emphasis on animals and their natural habitats in addition to having thrill rides.
The park is also full of colors and details that create a distinctive theme in each of the various sections.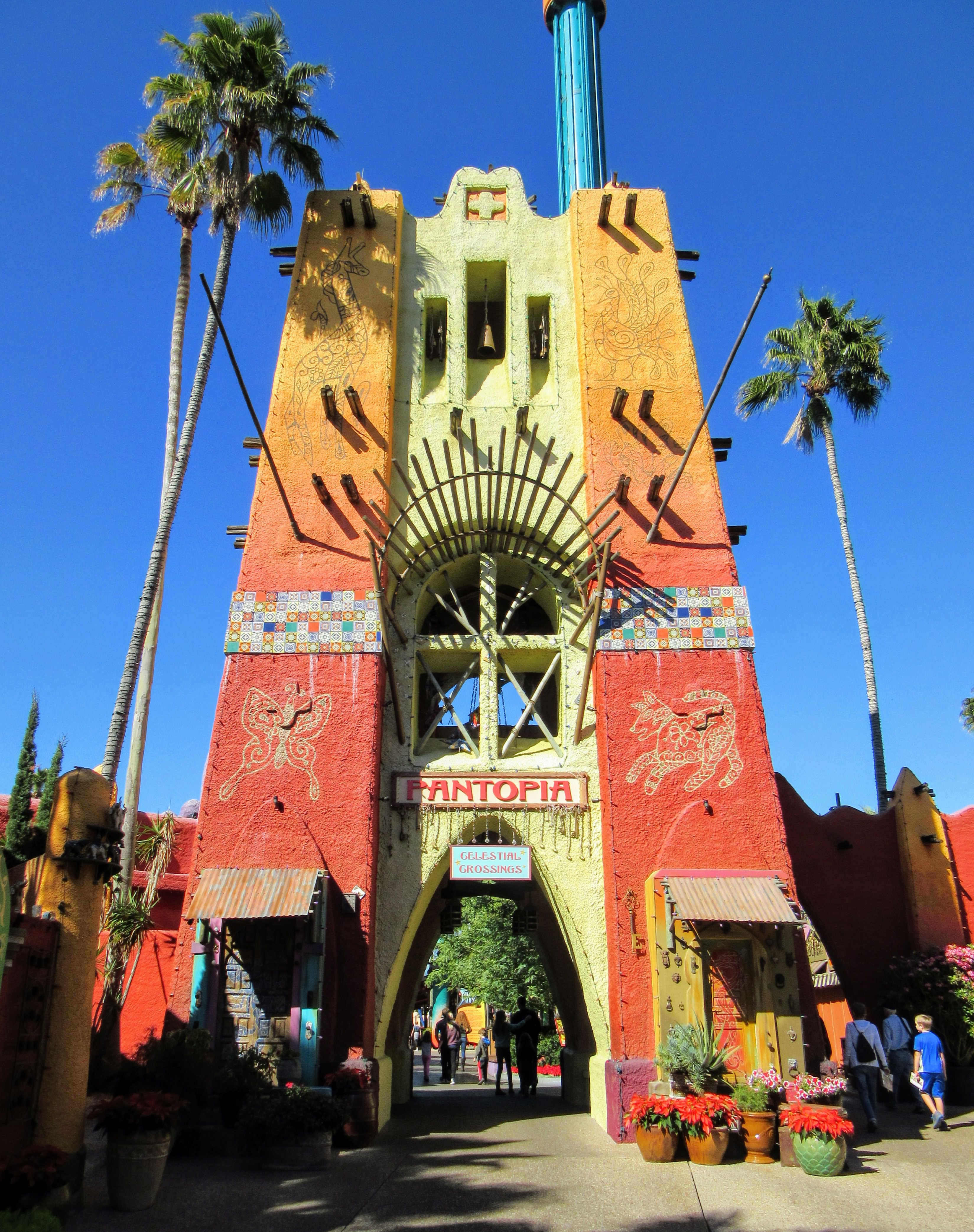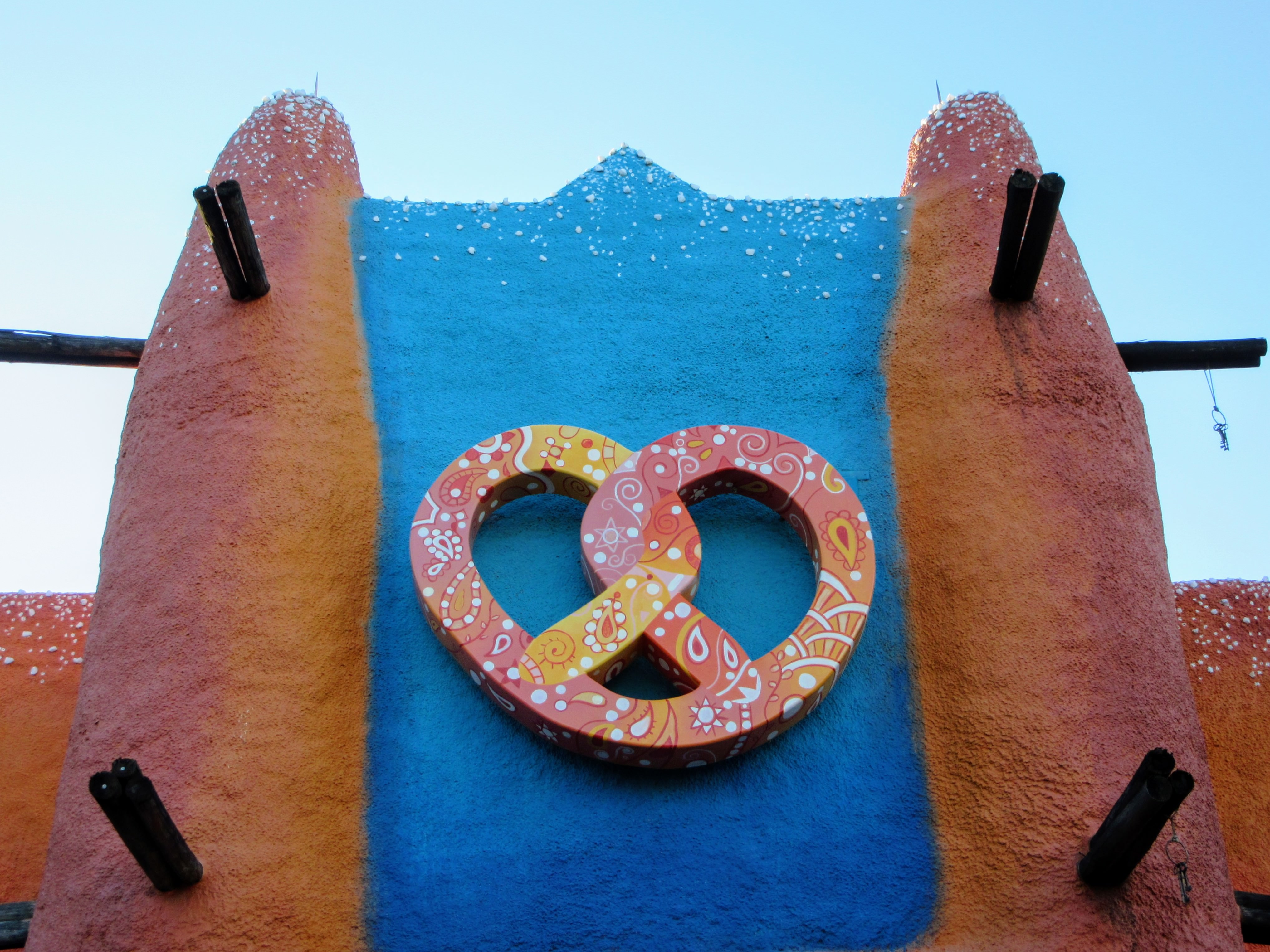 Coasters.
I've ranked the coasters from best to worst, starting with our favorites and working down the list.
Montu.
This coaster is massive.  At 150 feet tall it may not be the tallest coaster in the park, but its sprawling layout makes the ride feel like it's bounding across the terrain.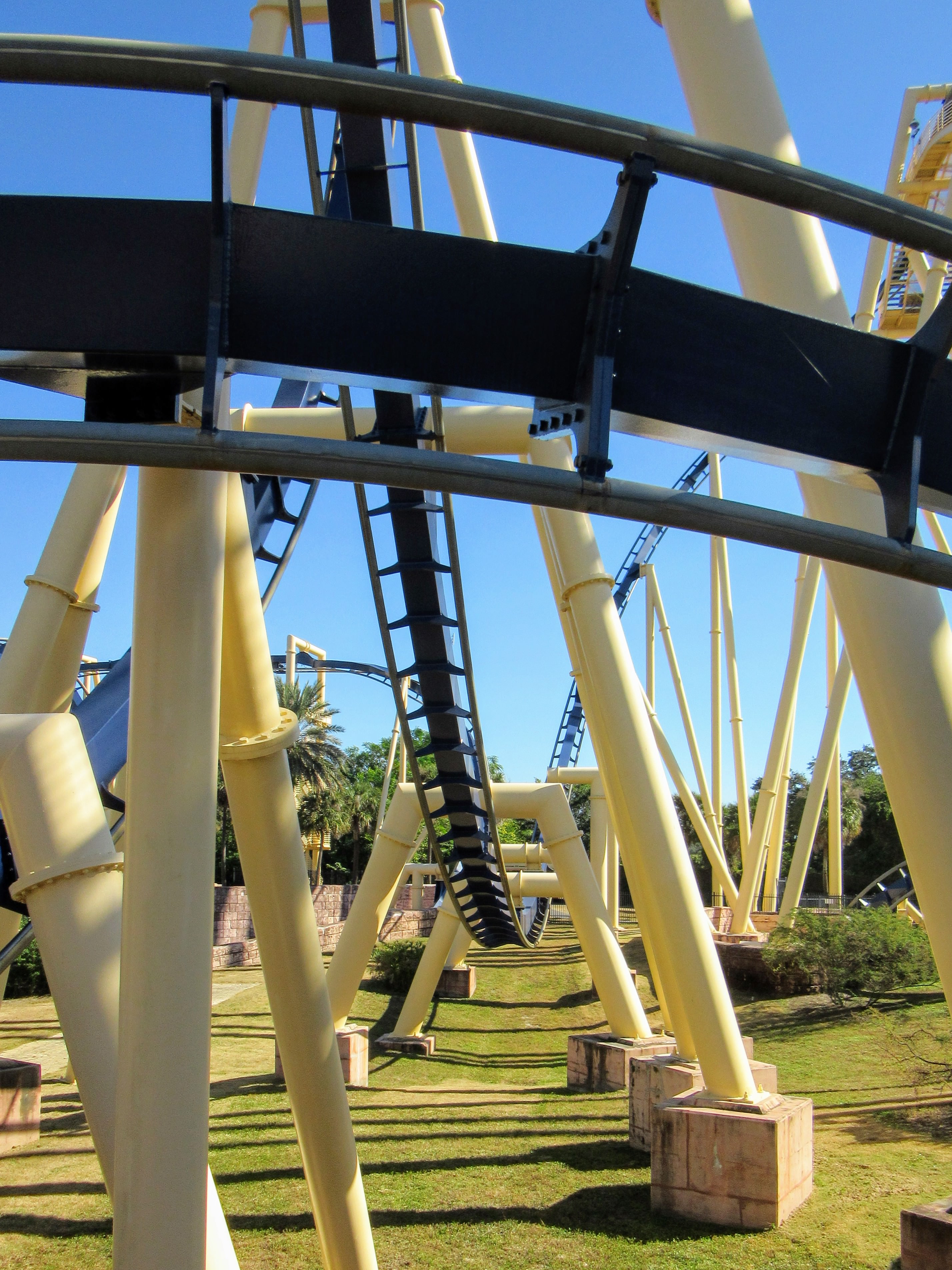 The coaster is named after an Egyptian god of war, which may be why it seems to be furious throughout its seven inversions.  Montu is very smooth for its age of 20 years and I experienced the most intense, yet non-violent, whipping sensation in the back row of this inverted coaster.  Mr. Meena and I both absolutely love it and would happily ride it all day (with plenty of motion sickness medicine for Mr. Meena, of course)!  It is our favorite coaster at Busch Gardens Tampa Bay.
I especially like how it dives into and out of various trenches.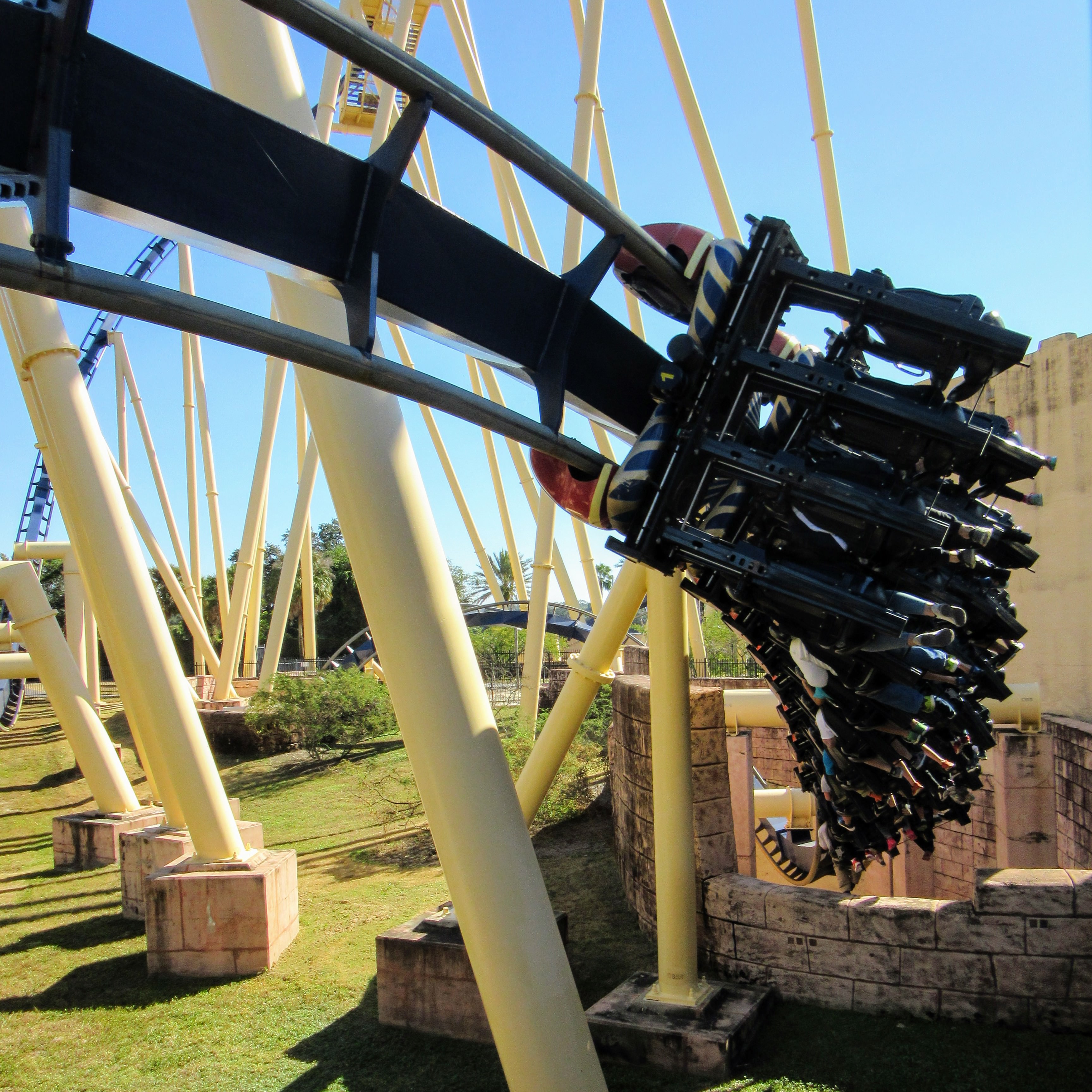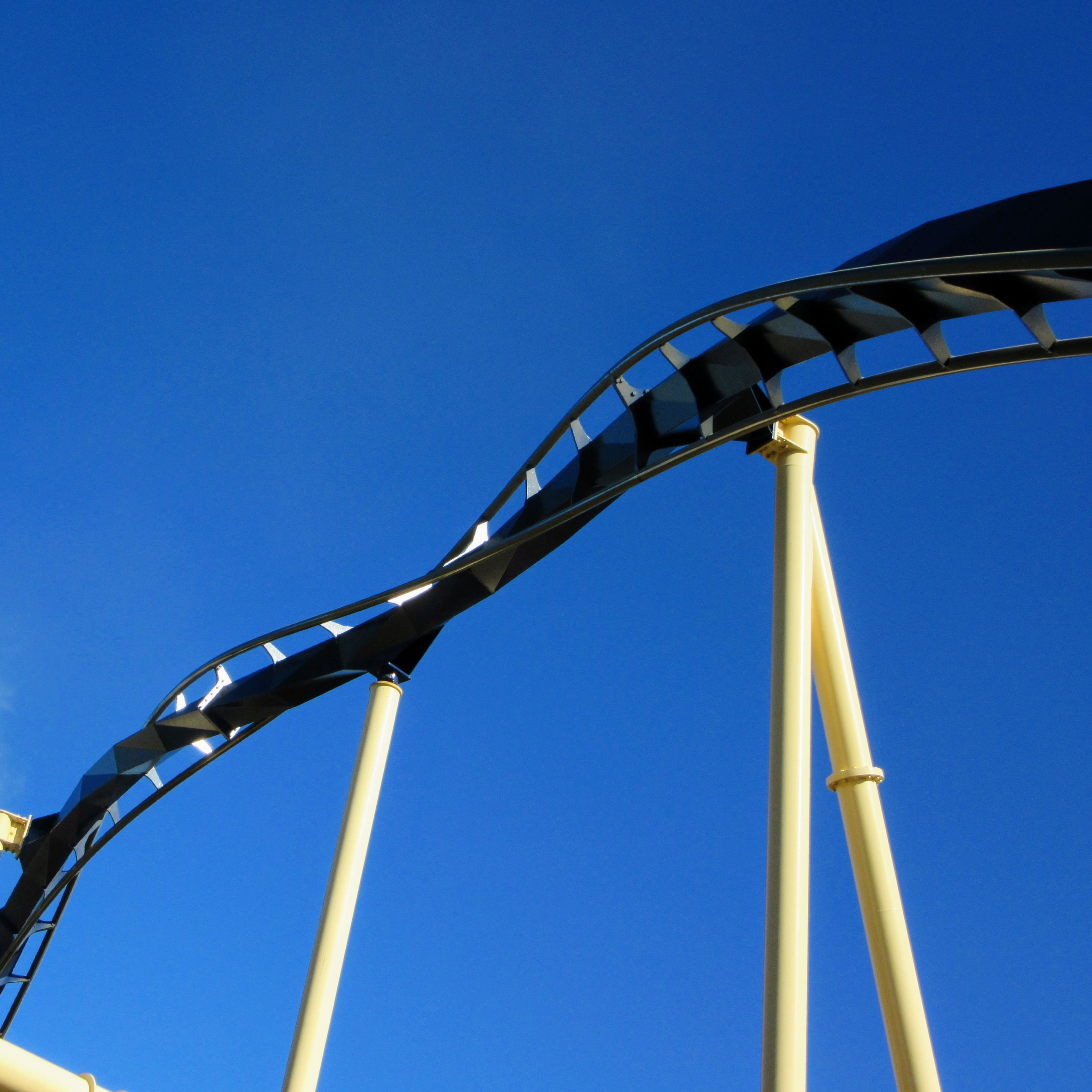 Fun fact: Live crocodiles once inhabited the area between the station and lift hill for this ride.  Which was alarming to me because the ride isn't all that far from the ground in that area (and crocodiles have been observed to jump on land before).  Seeing live crocodiles underneath my feet would scare me far more than any roller coaster!
Rating: 5/5 giraffes.

(Why giraffes?  Because you can find them in the Serengeti Plain at Busch Gardens and they've always been a strong symbol of the park.)
Cheetah Hunt.
This coaster is exciting from the moment you are launched via electro-magnetic propulsion – and that's only the first of three launches throughout the ride.  The ride imitates a cheetah hunt; it bounds up a hill to slowly survey the countryside, then takes off in pursuit of prey.  It twists, turns, and accelerates throughout the thrilling chase.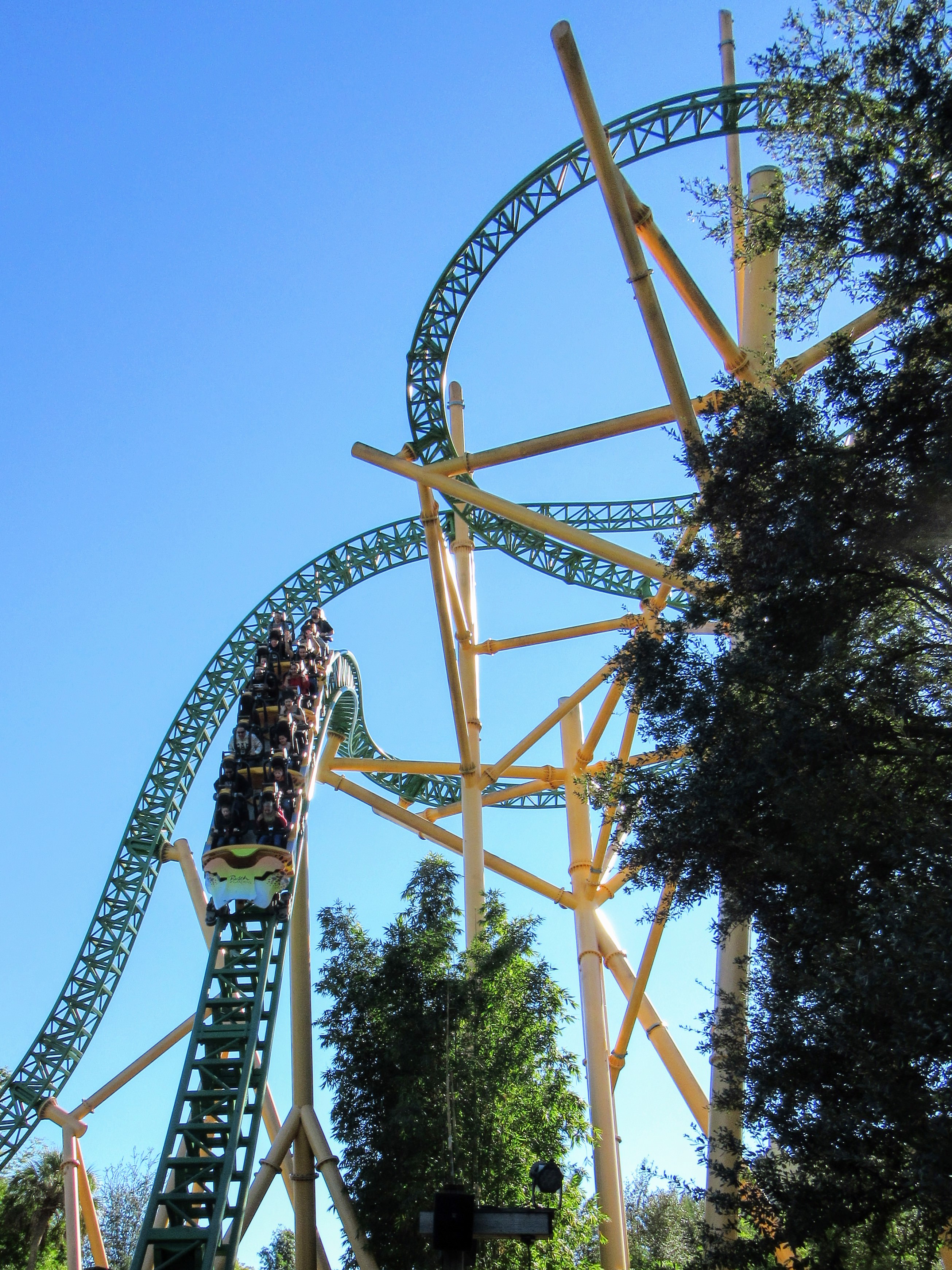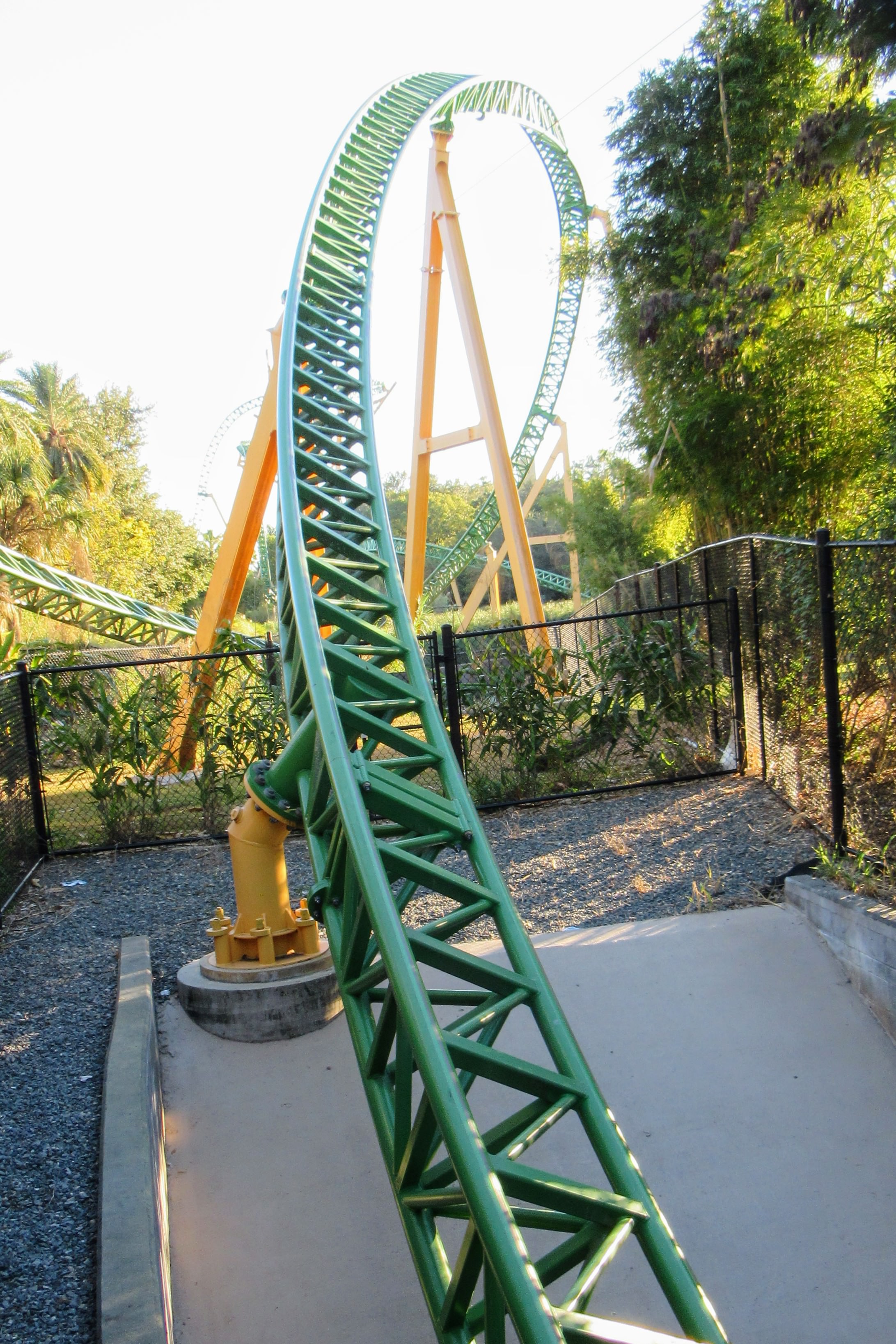 I really enjoyed the slow circle eight that allows you to look out over the park after the second and biggest launch.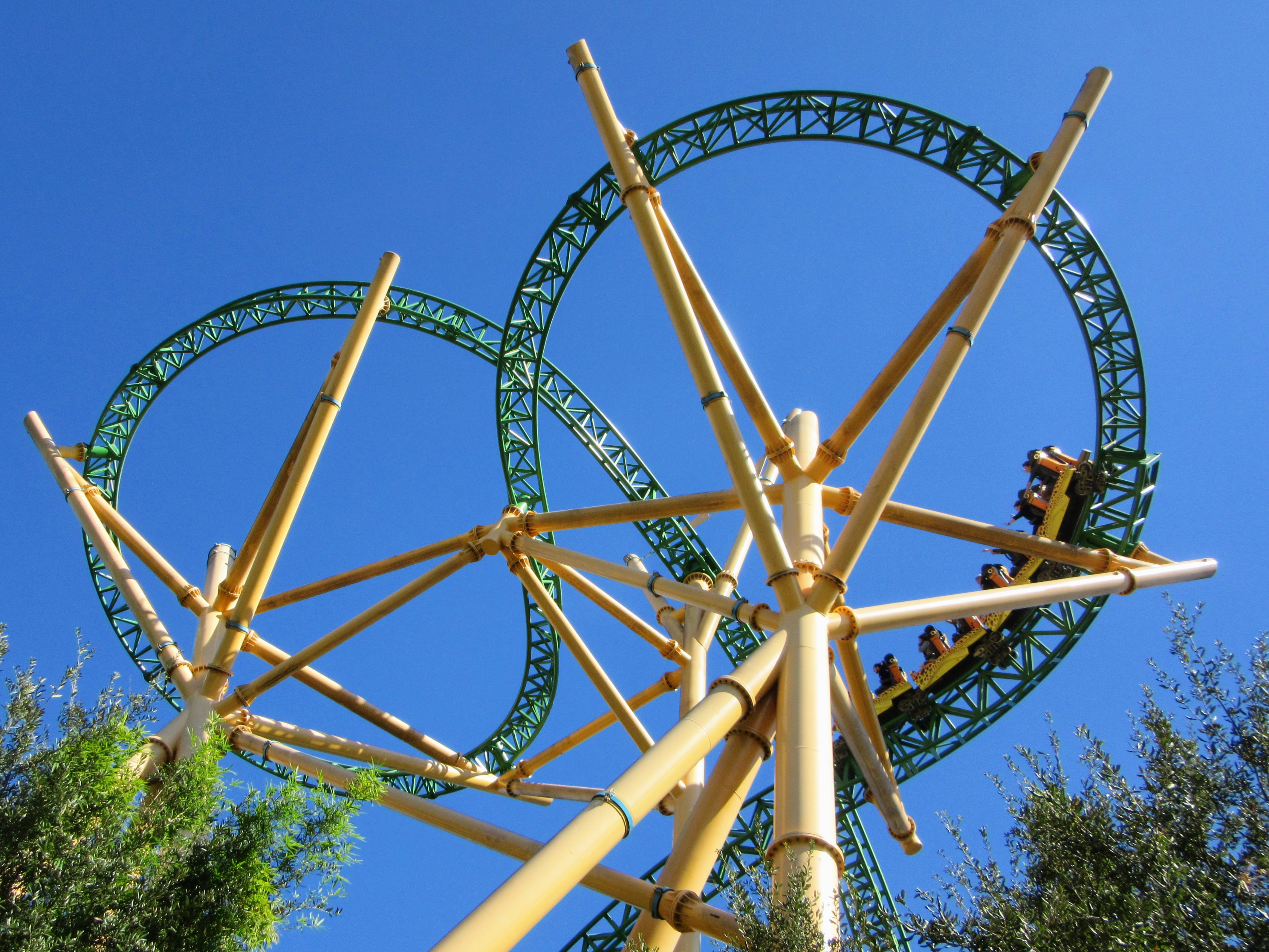 Tip: Go to the second station in the queue, especially if you want to ride in the front row, because it's typically shorter and people frequently don't notice that it's there.
Rating: 4/5 giraffes.

The main reason this ride isn't a 5/5 is because it could be faster and more intense… but then it wouldn't be a family coaster.  Additionally, the heart line roll is awkwardly slow and the shoulder restraints are painful in the back of the train during airtime.

Kumba.
We were a little sad to see that Kumba, which was previously Mr. Meena's favorite ride at the park, gave a rough ride despite being closed for 10 days of maintenance one month prior to our visit.  It isn't unusual for coasters to get rougher with age (Kumba is 23) and it's still a great coaster, but I recommend sitting near the front of the train where the jostling isn't as bad.
Kumba means "roar" in African Congo, and hearing the coaster's roar from across the park is likened to hearing the roar of a lion in the distance.  It's a fast paced, extreme coaster with an unforgettable ride experience.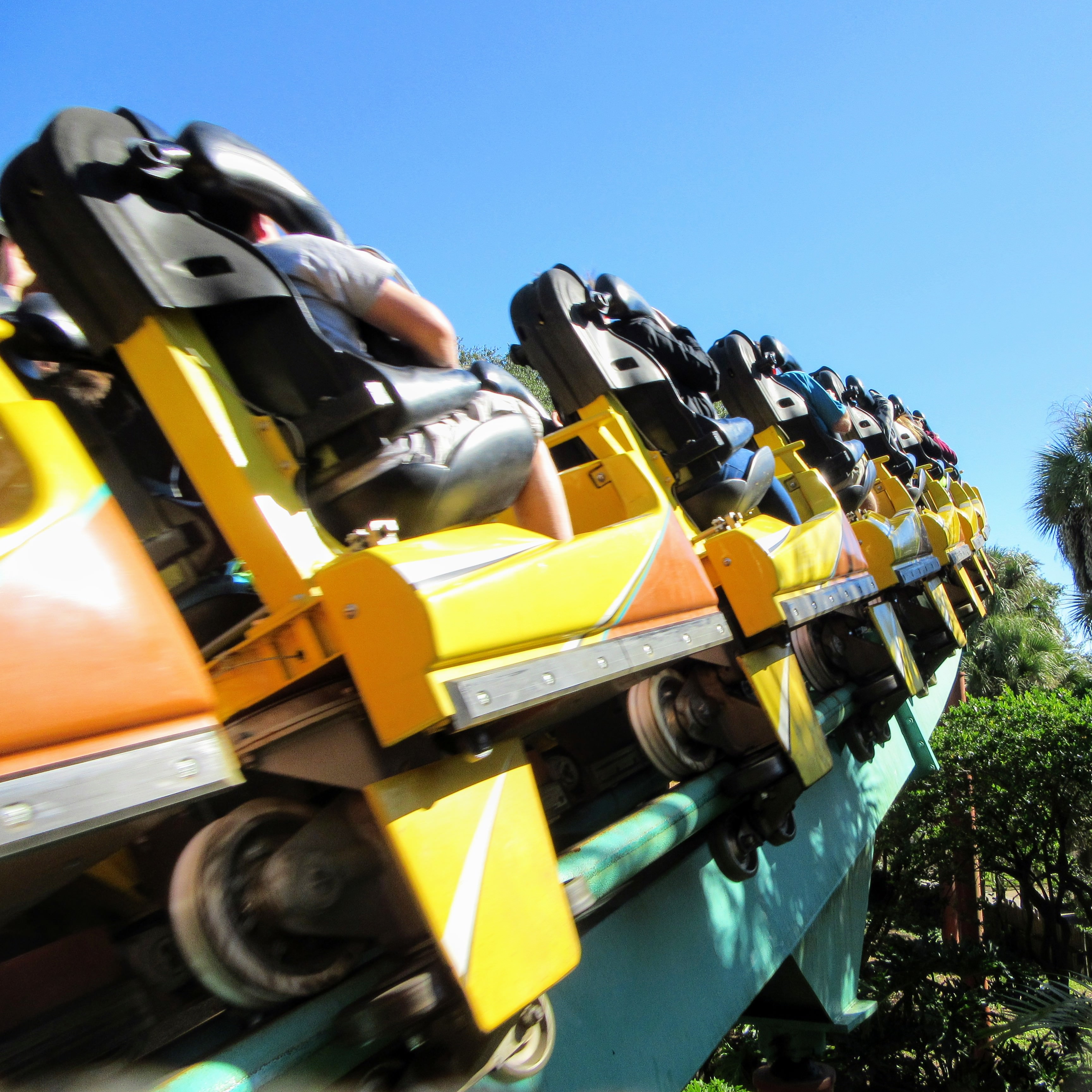 Kumba has seven inversions, including these beautiful and fun interlocking corkscrews.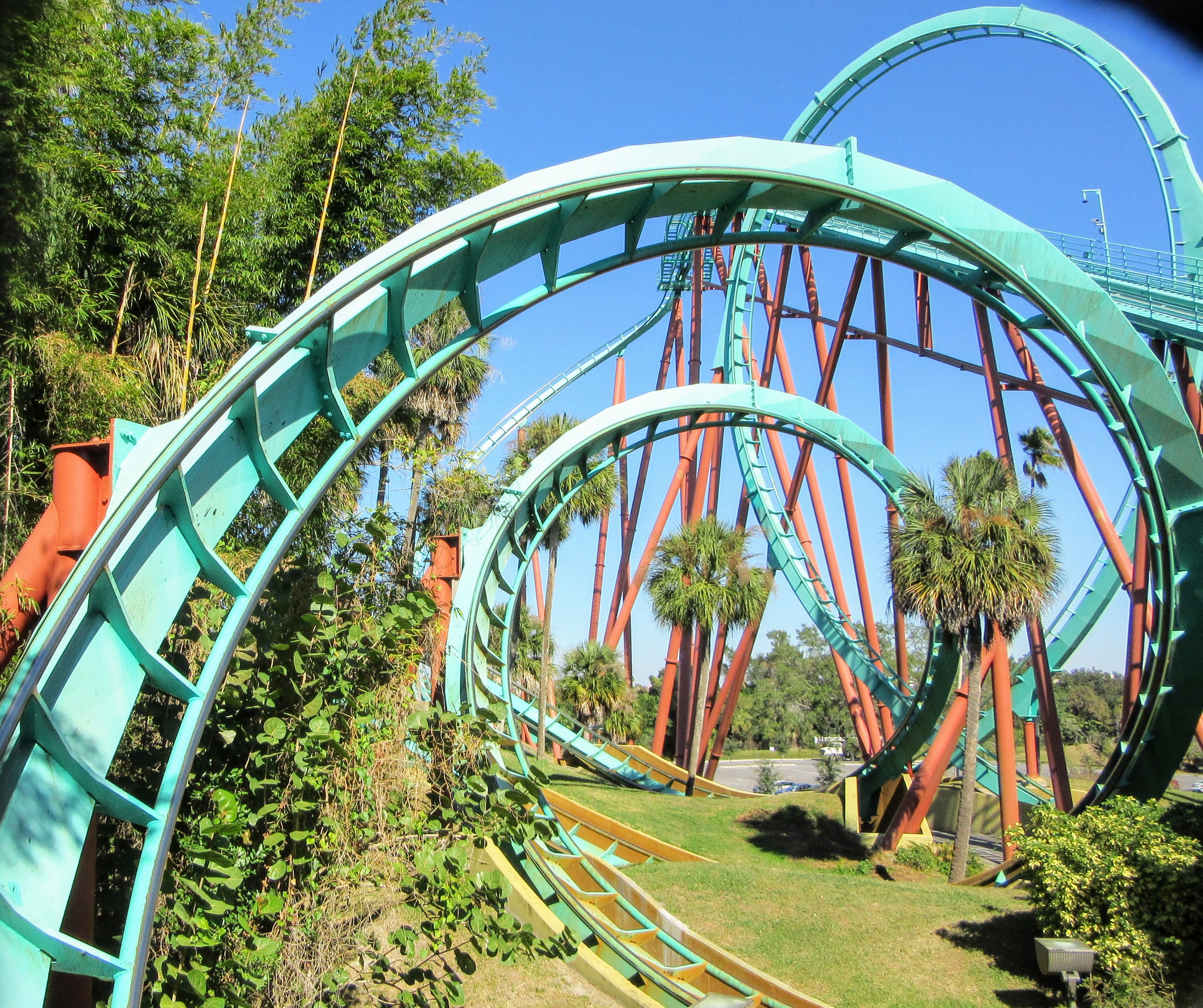 The loop circling the lift hill is a favorite as well.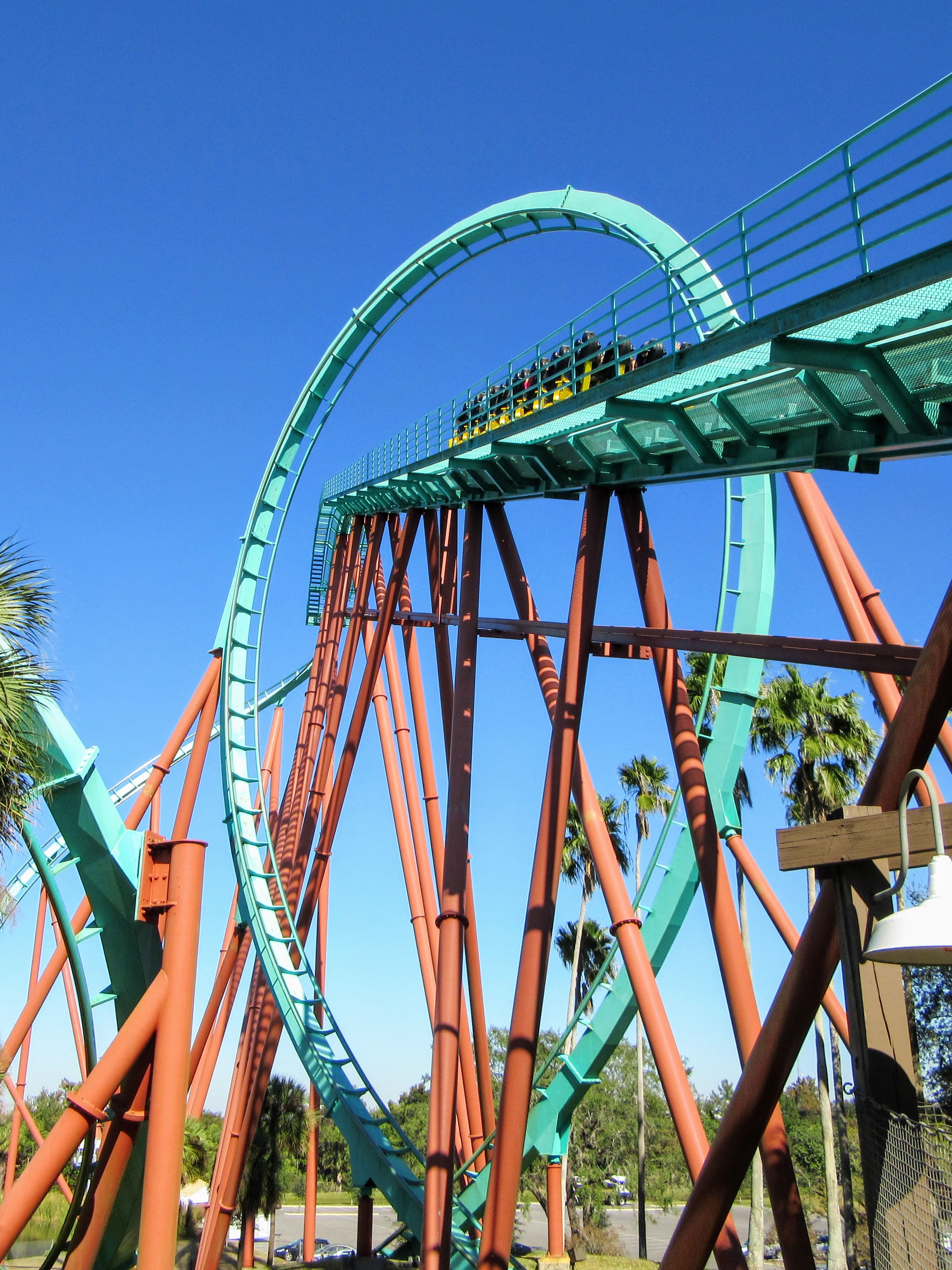 Rating: 4/5 giraffes.

The roughness of this coaster is the only reason why it lost a giraffe.  I should mention, however, that Mr. Meena disagrees with me and stills ranks this living legend as a 5/5.
SheiKra.
SheiKra is a dive coaster, which means it holds you over the edge of its 90˚ first drop before plummeting 200 feet downwards.  The trains are very wide, with three tiered rows that hold eight people each.  For my first ride on SheiKra I was seated off-center in the back row and I became pretty panicked when I experienced the ride shaking as we were held at the drop.  But the second time I was seated in the center of the front row and I was much more comfortable and able to appreciate how smooth and fun the coaster is.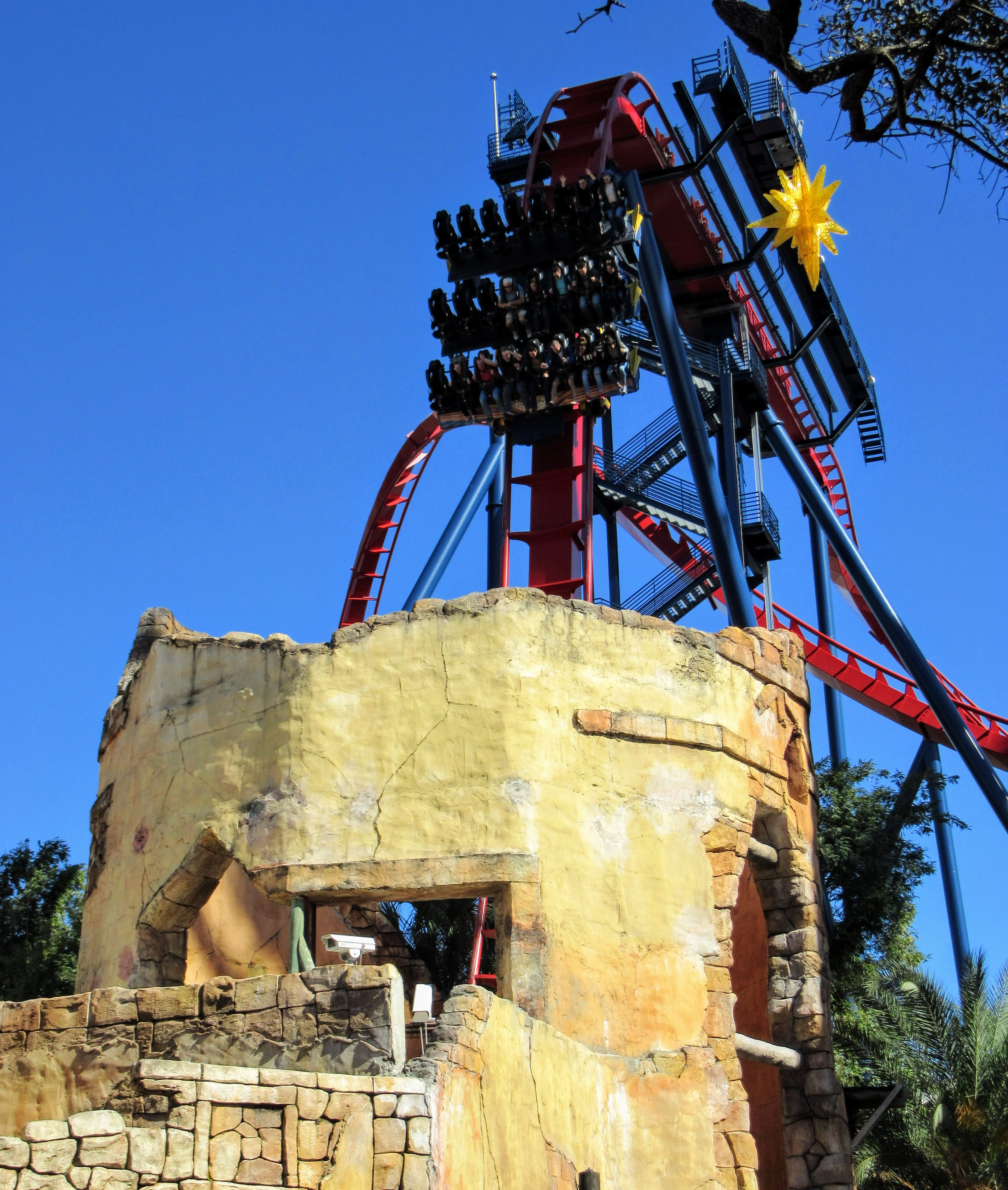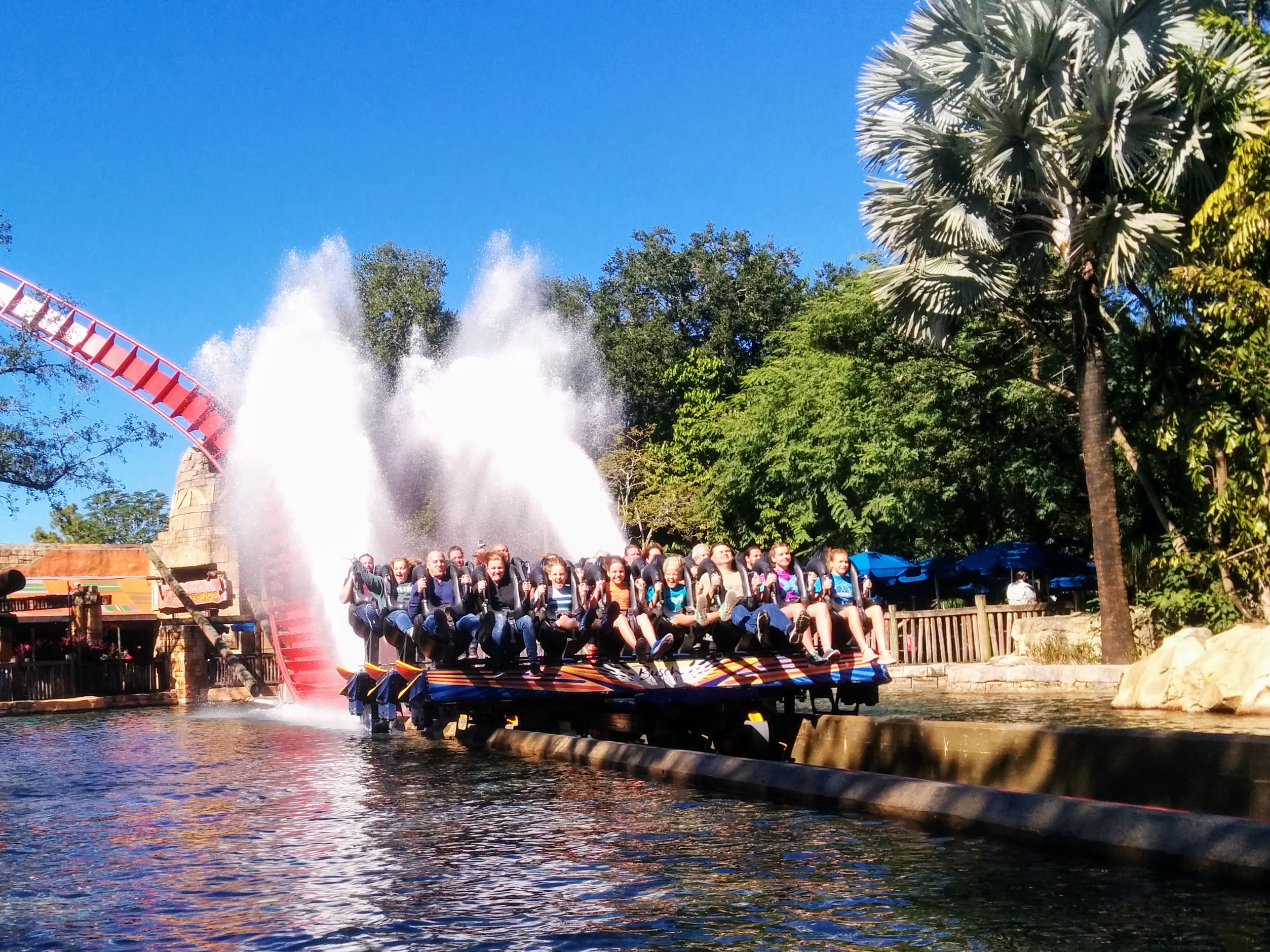 Be sure to watch out for SheiKra's splash zone – it's really intense and you'll get drenched (like I did while taking the above photo).   Don't worry, you won't get wet as a rider.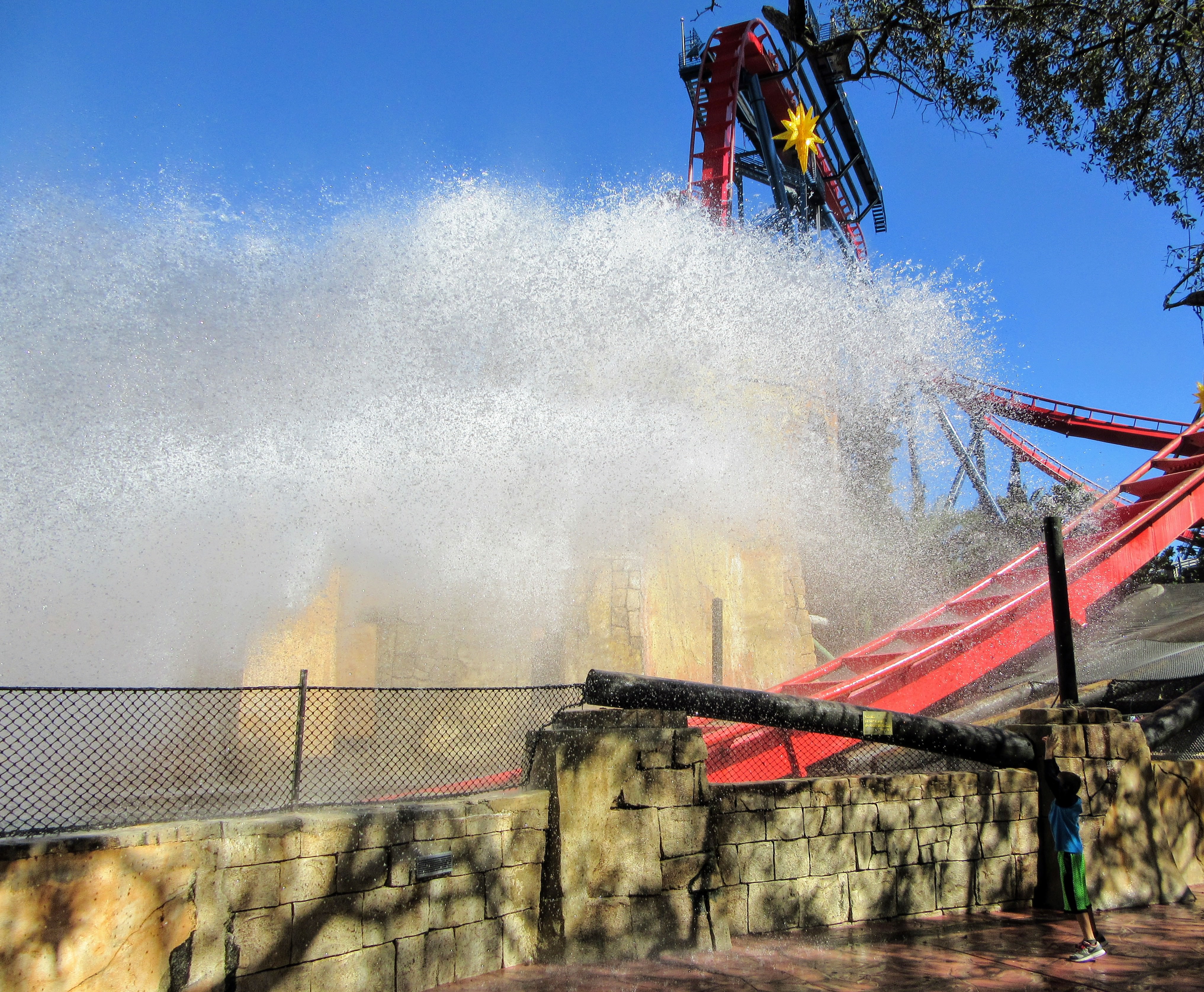 This somewhat terrifying coaster is named after an African hawk that is known to drive straight down after its prey.  If you are brave enough, this ride will give you an excellent view of Tampa from the sky – especially at sunset.
Tip: Sit in the center, over the rail, if this type of ride makes you nervous.
Rating: 3/5 giraffes.

While this is a great dive coaster, it still focuses on the main dive element and leaves me wishing for something else at the end of the ride (plus, as I've mentioned, I find it kind of terrifying).

Scorpion.
This is a Schwarzkopf coaster, meaning it was made by the German engineer and ride designer Anton Schwarzkopf, and (like any ride by him) is generally revered by coaster enthusiasts.
It is pretty unusual to see a ride like Scorpion at a park like Busch Gardens.  Schwarzkopf coasters like this one are normally traveling coasters found in Europe; we've ridden others like it at German fairs in Nuremberg and Schweinfurt.  We even traveled to Vienna, Austria, to ride Olympia Looping, which is the largest operating transportable roller coaster in the world.
So, there aren't many coasters like Scorpion in America, and this one has been running since 1980.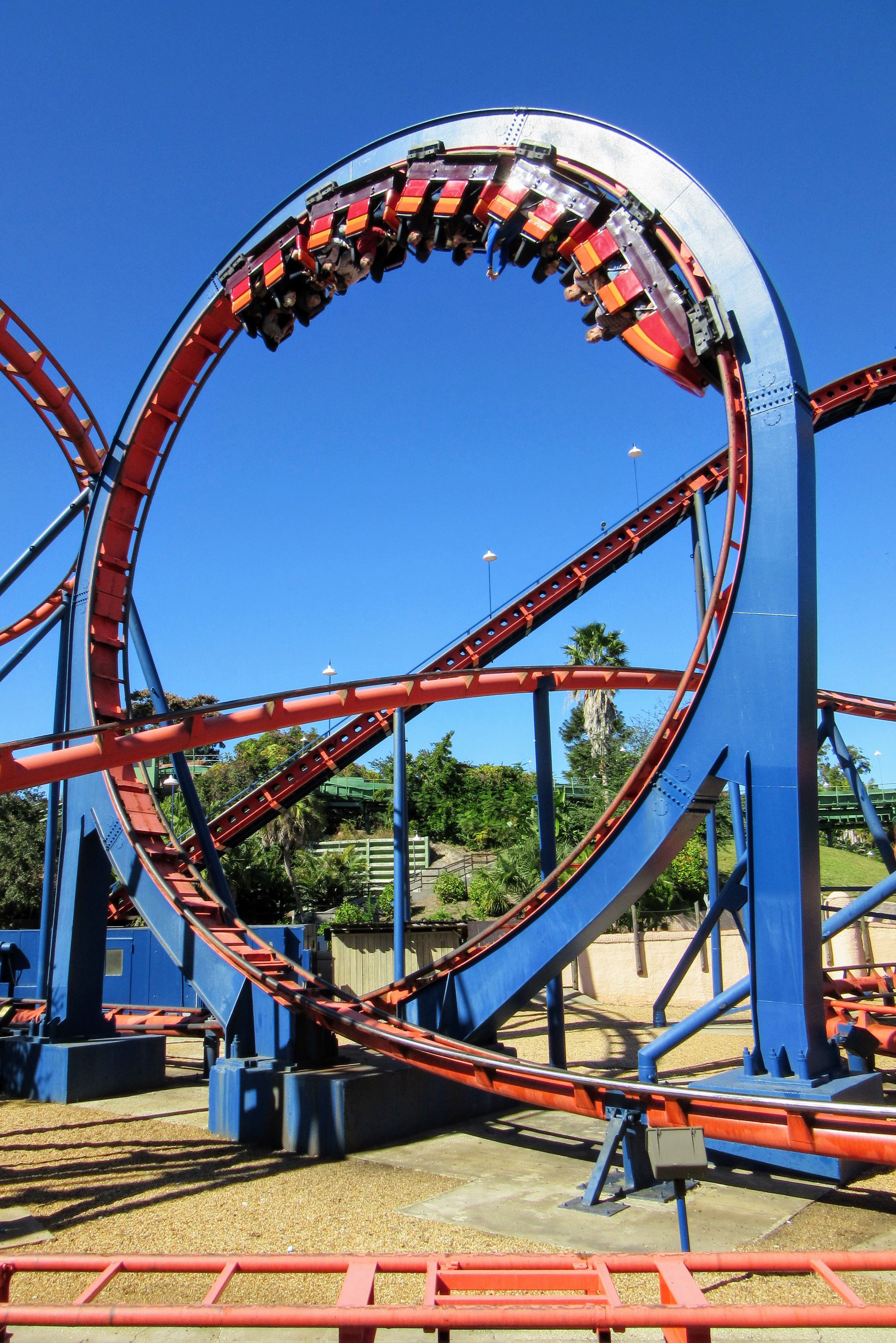 We opted not to ride it that day because there was only one train running and we wanted to focus on new ride experiences.  But Scorpion is certainly worth a ride, especially if you haven't ridden anything like it before.
What makes Schwarzkopf coasters so much fun is that the loops are more circular, creating stronger forces compared to inversions that are elliptical.  This coaster has one loop and features a fun helix towards the end of the ride.  Another fun feature is the lap bar on the trains instead of an over the shoulder restraint – which is rather uncommon on rides with loops.
Rating: 3/5 giraffes.

Cobra's Curse.
This brand new family coaster featured some impressive stats that made us pretty excited to ride it.  The outdoor vertical lift (which is like an elevator) takes you 80 feet up into the air, facing a massive snake, before the spinning trains (one of my favorite features on coasters) take off and promise a spinning frenzy at the end of the ride.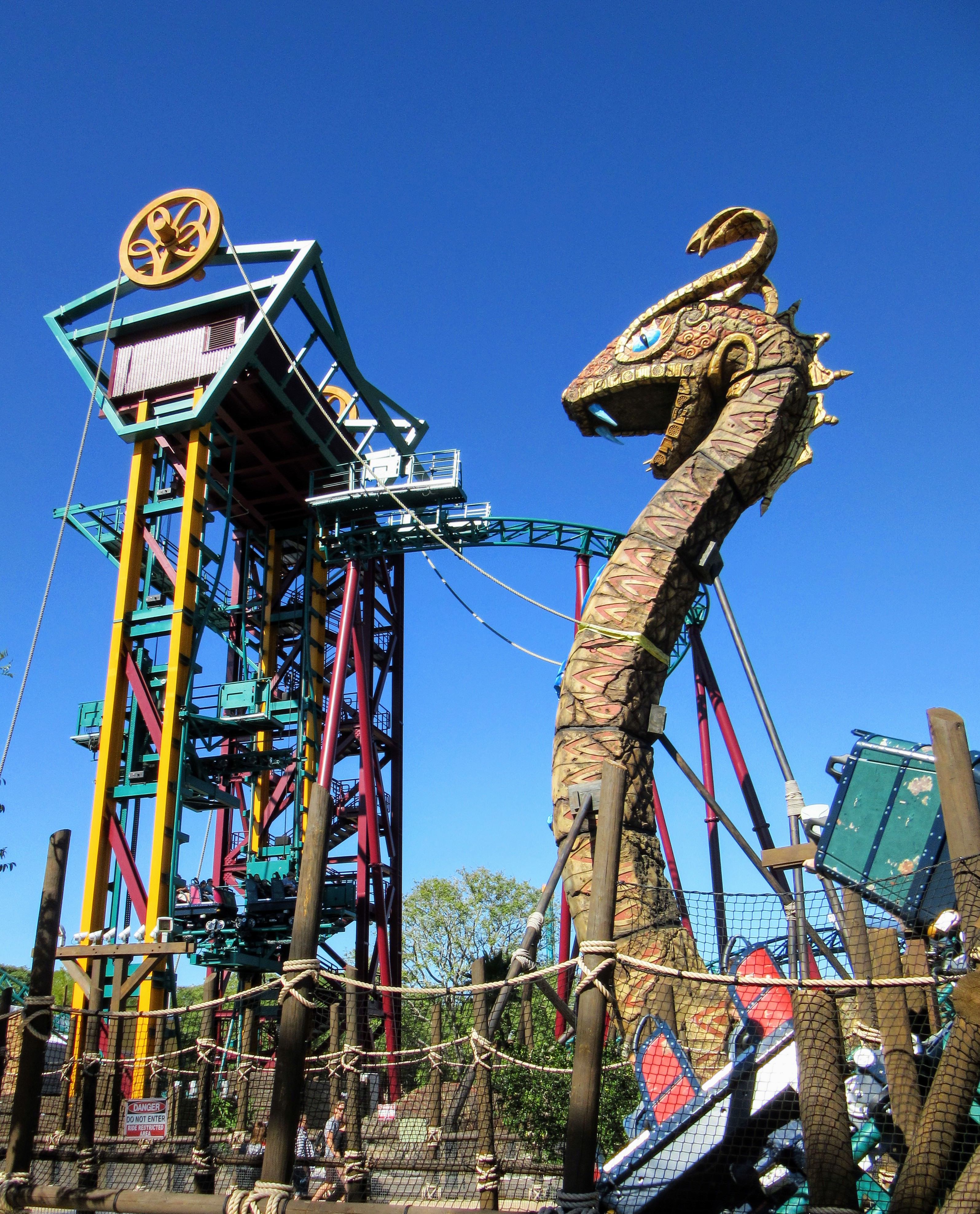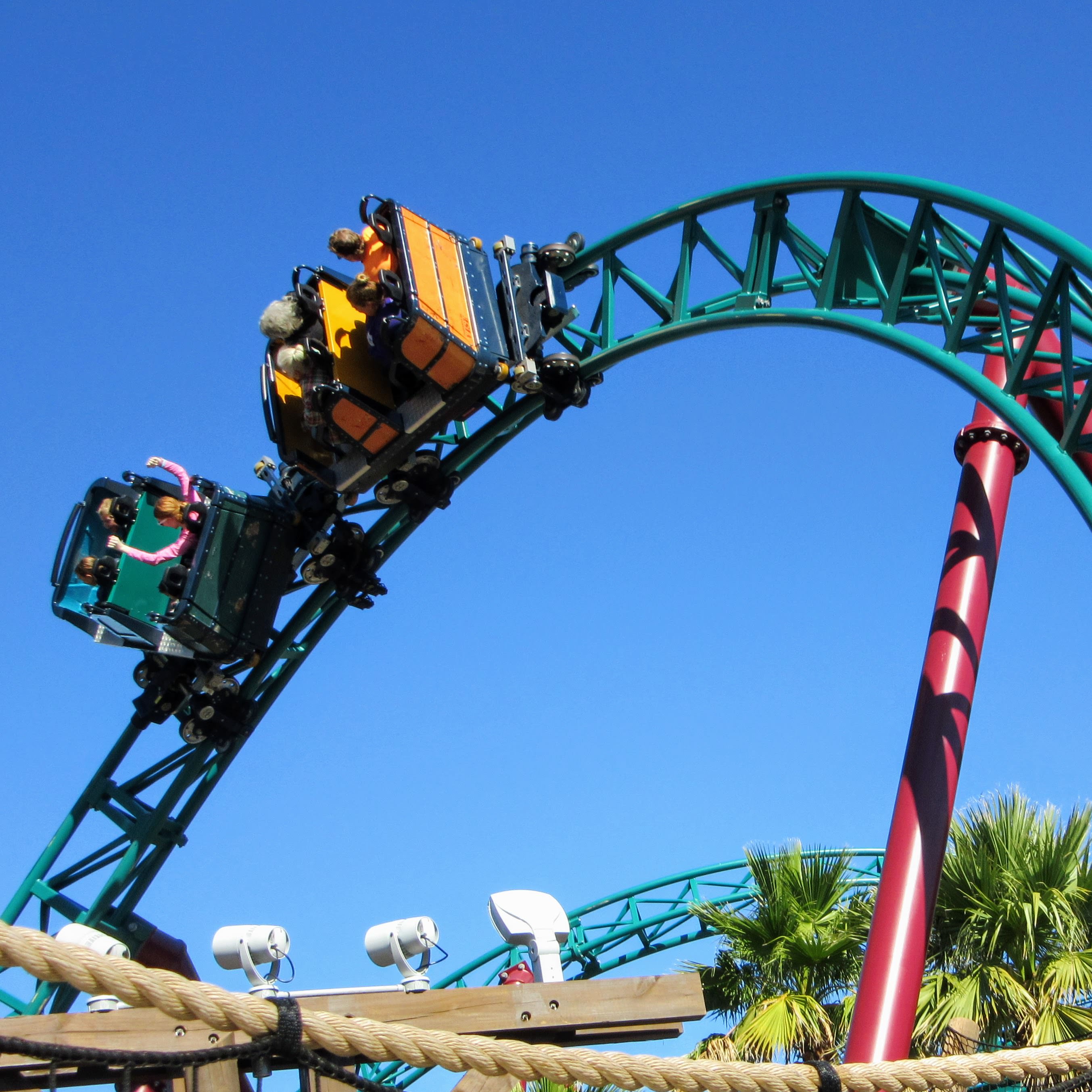 As it turns out, the vertical lift hill is really not very impressive as far as these types of rides go.  It's not very fast and there's no exciting dips or angles as you ascend.  And, unfortunately, we didn't spin much, at least not intensely or for more than a revolution or two (this could have to do with rider weight and/or distribution).  We much prefer other spinning rides with vertical lifts such as Winjas at Phantasialand or Maskerade at Prater.
This is a short ride with relatively small thrills for what can be an exceedingly long wait time.  Furthermore, the queue line is very dark and parts of it can seem scary, which may (and did in fact) scare some young children.
Rating: 2/5 giraffes.


Sand Serpent.
Unfortunately, this coaster is an older wild mouse ride with nothing particularly special to offer.  If you are looking for another family coaster then this five-story, curvy ride will fit the bill, but it's not worth going out of your way to ride.
Rating: 2/5 giraffes.


Air Grover.
This is a kiddie coaster that will let adults ride sans children (a plus for all those credit seekers out there) and has pretty good banking on the turns.
Rating:  2/5 giraffes.

Other rides and attractions.
Falcon's Fury.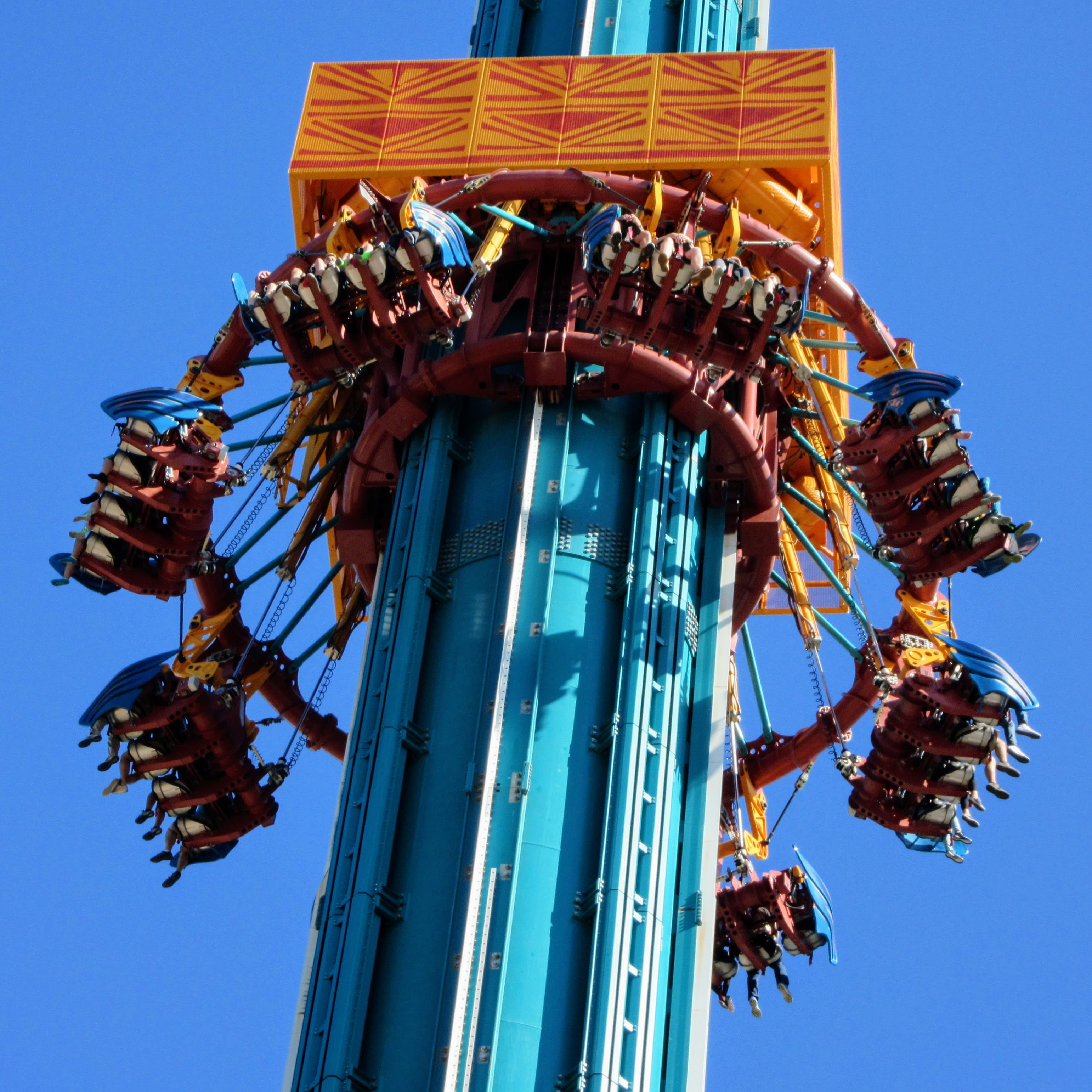 This is a unique drop tower, in fact, it's the tallest of its kind in North America – standing at 335 feet.  If that's not enough for you, after reaching its impressive height this ride turns its riders downward 90 degrees so that they face the ground before dropping them in that position.  For a few seconds you'll be flying towards the ground at 60 mph before slowing down and returning to a normal angle.
Fun fact: The amount of time that you are hanging in midair before dropping is variable.  You won't know how long it takes, which helps to maximize the suspense of the ride.
I wasn't brave enough to ride this one, but Mr. Meena reported that the ride restraints are comfortable and allow for an extremely comfy ride (that is, if you aren't too terrified to notice).
Opening Night Critters.
We chose to see this show because I'm an animal bird fanatic.  The rescued animal costars have learned some impressive tricks that help share a funny, heartwarming story on stage.  We enjoyed seeing all sorts of animal actors during the show including dogs, cats, birds, pigs, a miniature horse, and even a skunk!  The moral of the show – that you can accomplish anything if you try hard enough – was wholesome, encouraging, and adorably reinforced by the furry and feathered cast members.
See all of the shows currently offered by the park here.
Tip: During the show we learned that Busch Gardens has partnered with the Humane Society of Tampa Bay and they will give two complimentary park tickets those that adopt from the shelter!  Read more about the program here.
Serengeti Railway.
Relaxing on this train ride is a great way to see Busch Garden's expansive Serengeti Plain.  You'll see lots of animals, such as giraffes, zebras, and antelopes, and learn about them on the leisurely ride.  You'll see some of the coasters from unique vantage points and learn about them as well.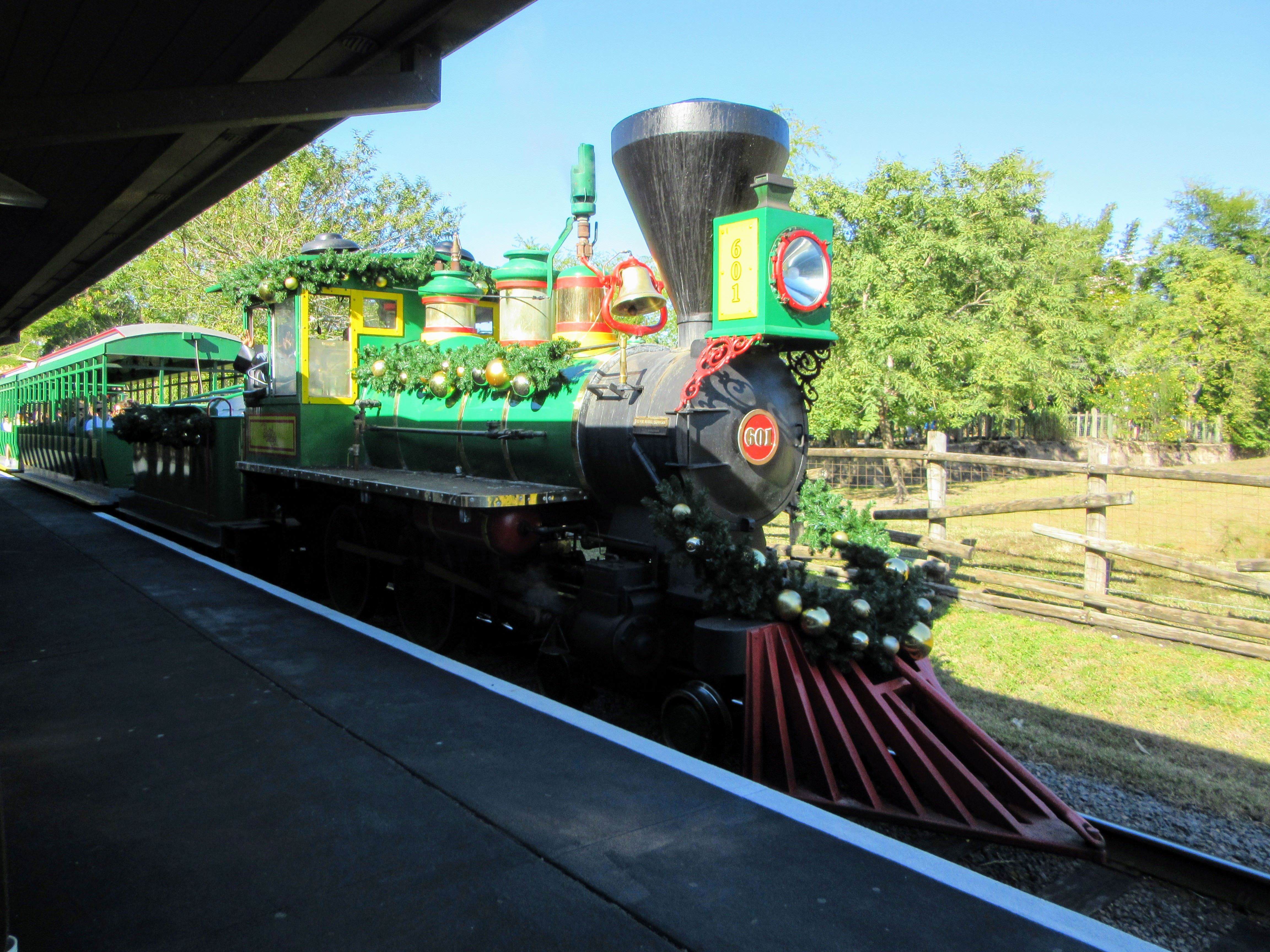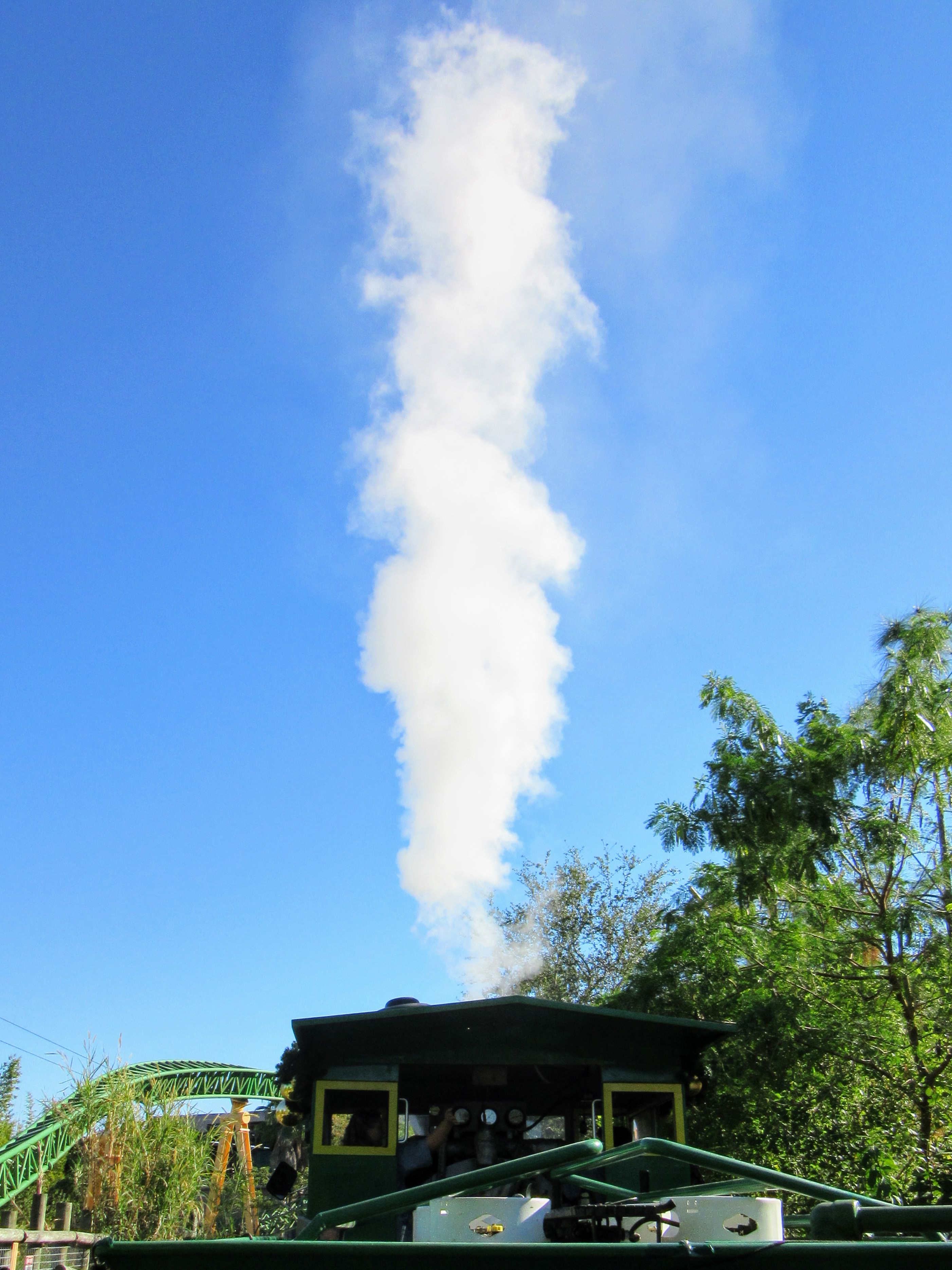 The train circles the park, stopping at the Nairobi, Congo, and Stanleyville stations.  We hopped on at the Nairobi station and rode the entire circuit.  This is how we learned that the Nairobi to Congo section is a lovely ride through the Serengeti Plain (and you'll want to sit on the left side of the train for the best view), the Congo to Stanleyville section is rather boring, and the Stanleyville to Nairobi section returns to the Serengeti Plain for another educational ride.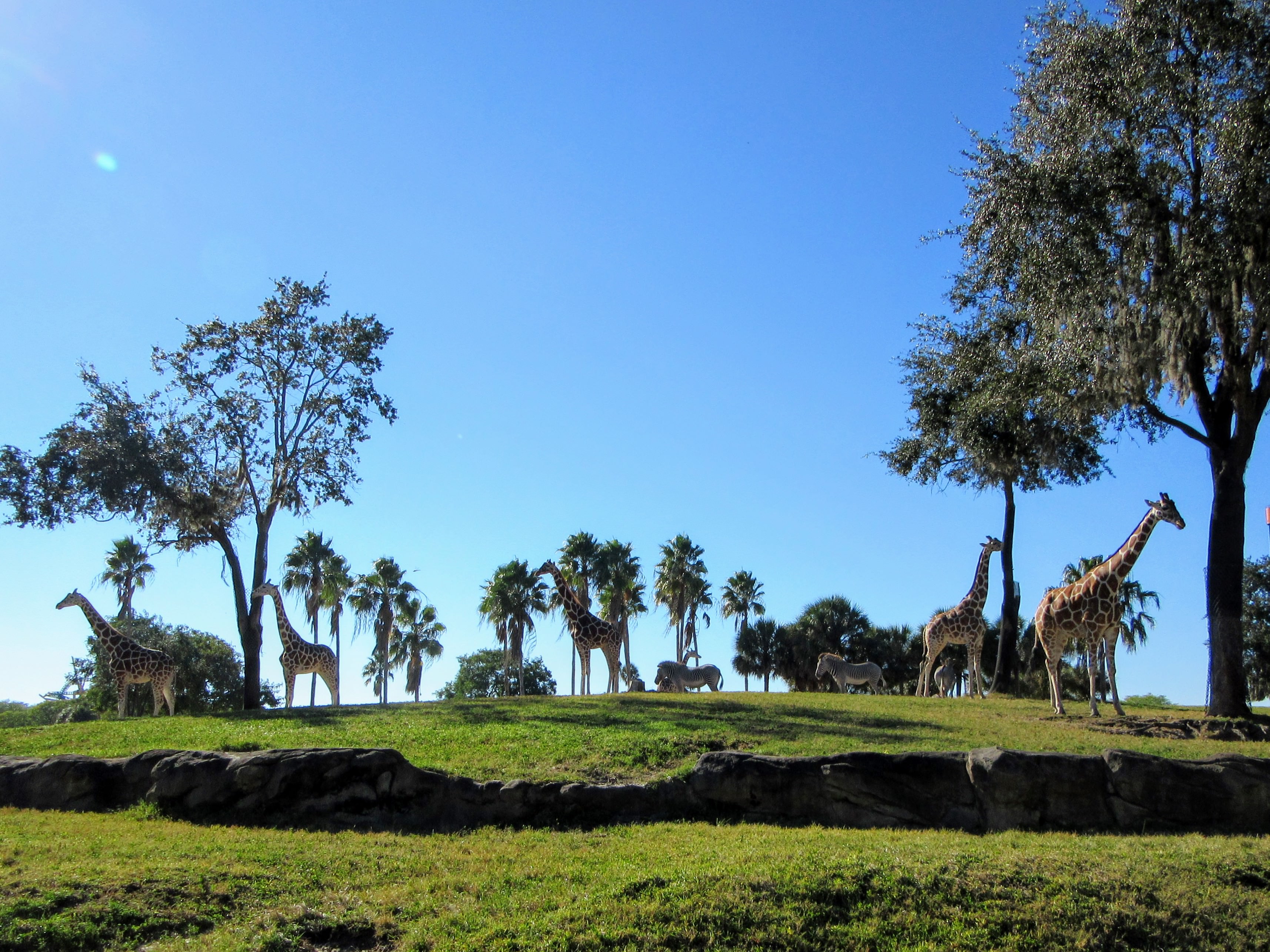 Furthermore, the 1200 gallon water tank for the steam engine gets topped off at the Stanleyville station, which means the train has to stop there for several minutes.  This gives you ample time to board and was the point where the train was the emptiest.  The Nairobi station, where most people board, is near the front of the park and can get quite crowded and you may miss out if the train hits max capacity before you board.
Tip: Catch the Serengeti Railway at Stanleyville and take it until Congo for the best ride experience.
Bird Gardens.
I was so excited that Busch Gardens had a large bird section and really enjoyed meeting the various birds.  There are several places where you can get close to the birds.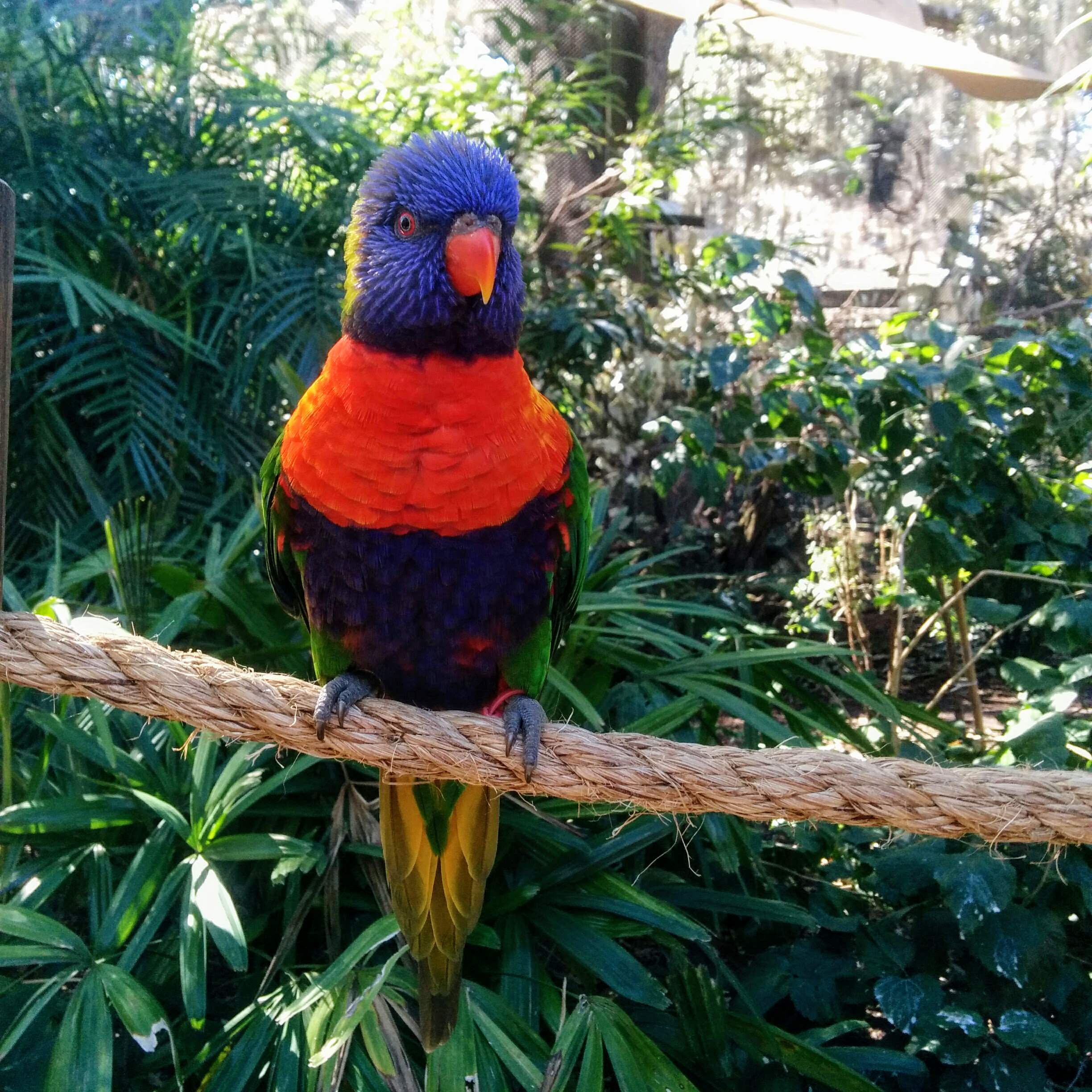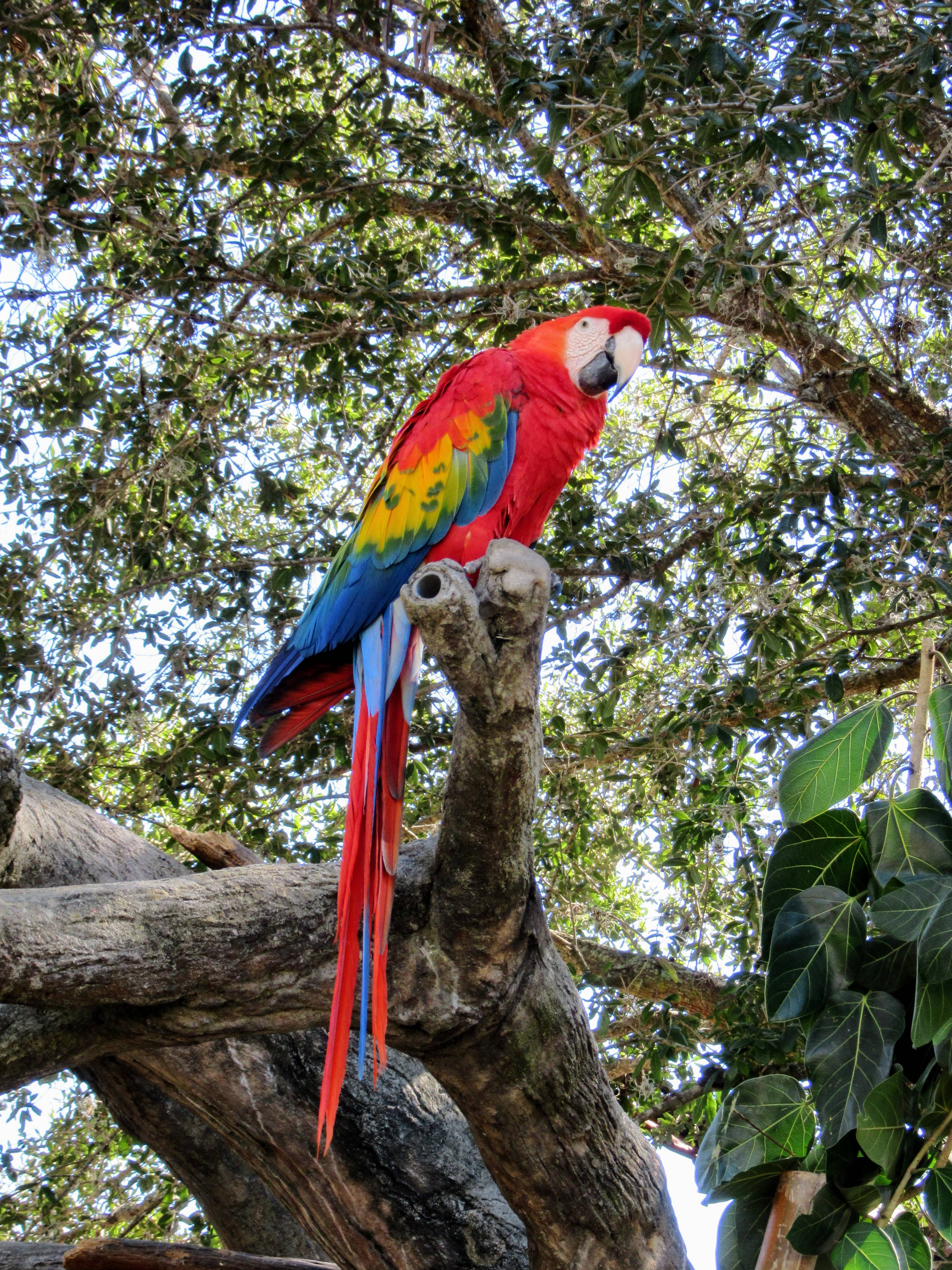 However, as much as I enjoyed spending time with the colorful, feathered inhabitants of the bird gardens, I was upset that the nectar at Lory Landing can only be purchased with a photo (for a total of $7.49).  I've visited bird parks all over the world and I've never been charged more than one dollar (or one euro) for a cup of seed or nectar, nor have I ever been forced to purchase a photo that I don't want in order to buy nectar.  Furthermore, the photo we received was blurry and not worth the price we paid for it.  I was also mauled by pushy parents and children once I had my overpriced nectar (because they didn't want to pay for their own) and I had to physically remove myself from children who were harming the birds.
Tip: My advice is to visit the bird gardens early in the day if they are important to you, and to avoid Lory Landing and the expensive nectar (unless you are a bird fanatic).  The good news is that since so few people purchase the nectar, if you have some then the hungry birds will be your best friends for about 1.5 minutes.
Overall.
Negatives:
1| The park website needs to be updated and more upfront.  It would have helped us to know when the parking lot opened and that some of the rides would not be opening right away – details that we have known in advance for most of our other trips.  We also had planned on eating dinner at the Serengeti Overlook Restaurant, only to arrive too late to do so since they closed at 4pm (another detail that could easily be added to the website).  You can minimize any issues like this by coming prepared with alternative options in mind and giving yourself extra time.
2| It's easy to spend too much money on in-park features.  Just like we spent $7.49 because I was so excited to feed the birds, you could easily spend more than you planned for by going on a safari tour ($30/person).  If you are on a budget, be sure to plan ahead and take advantage of the wide variety of rides and shows that are included with your park ticket.
3| Avoid the Serengeti Overlook Pub, which is where we headed after finding out the Restaurant was closing.  We found the food to be sub-par and I was disappointed that there weren't any safari-themed cocktails (which were promised on the website).  In fact, there wasn't a cocktail list of any kind available.  If you are looking for a quick meal head to Zagora Café instead – it seemed very popular and also smelled delicious when we walked by.  See all the dining options in the park here.
4| The park is very dark at night, so much so that people were using flashlights on their phones and complaining to other parkgoers.  Be careful if you're visiting at night and keep a close watch on children that are with you.
Positives:
1| Complimentary insect spay was offered throughout the park at gift shops.  This was a reassuring gesture that the park cares about your health and the fact that you probably don't want to carry a bottle of the stuff around all day.
2| There are recycling bins everywhere – be sure to use them!
3| The park is very handicap friendly and offers a Virtual Queue system for guests who are unable to wait in line.
4| Busch Gardens Tampa Bay is a super family friendly park that has so much to offer.  You can be sure to find something that everyone in your group will enjoy.
More tips + resources.
+ Check the maintenance schedule before you go!
+ Take chap stick, face lotion, or something to protect your face if you visit in colder weather.  My face and lips were painfully windburnt after riding coasters all day in 60˚ weather.
+ Download the park map and/or mobile app on your phone before you go.  While the app didn't work well for my Andriod phone, I observed many iPhone users using the app throughout the day.
+ Take the Busch Gardens Shuttle for free if you are coming from Orlando!
+ Estimate what you will spend.  Here is the cost breakdown for our day:
Parking: $20
Two regular adult tickets: $177.60
Food (2 meals, 1 smoothie, 2 ice cream bars): $38.59
1 beer + 1 cocktail: $16.58
Lory Landing: $7.49
Total: $260
Keep in mind that we were likely under average per person, since we only ate one full meal each (despite being at the park for nine hours) and didn't purchase any upgrades or tours.
Start planning your trip to Busch Gardens Tampa Bay!
---
Check out these tips and resources to help plan your trip to Busch Gardens Tampa Bay!
Click To Tweet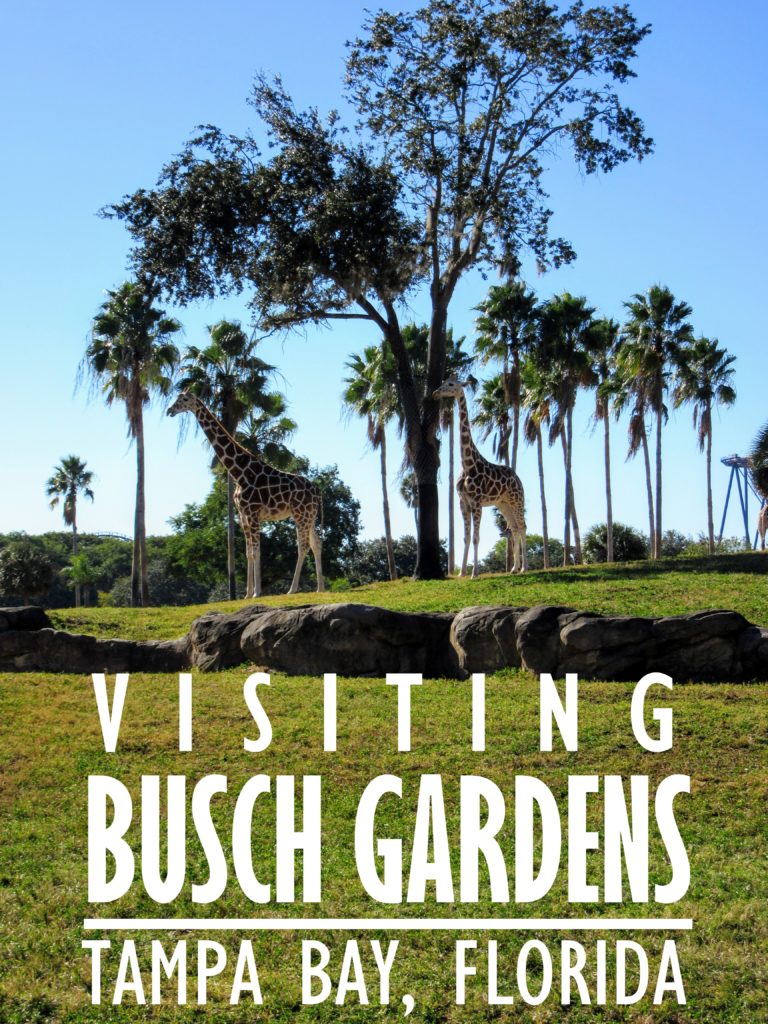 This post is linked up with City Tripping, Wanderful Wednesday (with hosts Lauren, Isabel, Van, and Marcella), Faraway Files, Weekend Wanderlust, Fly Away Friday: