Vianden is a small city in Luxembourg located only a few minutes' drive from the German border of Rhineland-Palatinate.   Despite its small size and inhabitance, Vianden is a popular tourist attraction thanks in part to the recently restored Vianden Castle.  Large and beautiful, the towering castle has a checkered history but can now be toured as a museum.
We visited in late September on our second to last weekend as expats in Germany; it was a farewell tour of sorts.  On Friday we spent most of the day leisurely driving up from southern Germany with a spectacular detour to Eltz Castle.  We checked into our hotel, Auberge De L'Our, late that night and woke up the next morning to a chilly, overcast day.  Our small but comfortable room looked out at the Church of St Nicholas.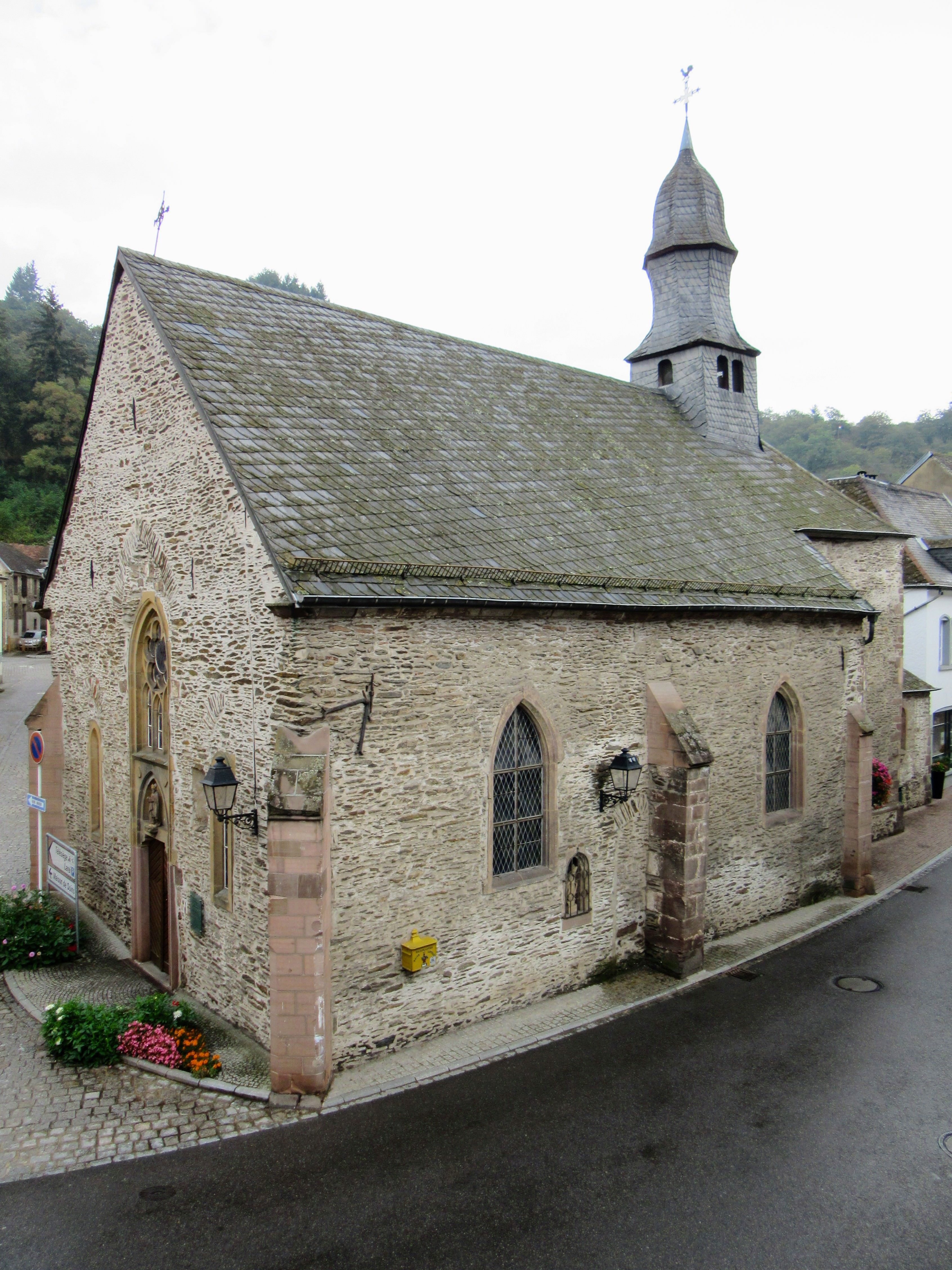 After breakfast we stuffed our bags in our rental car and began touring the city by walking along the Our river.  We met some friendly ducks and one skeptical swan.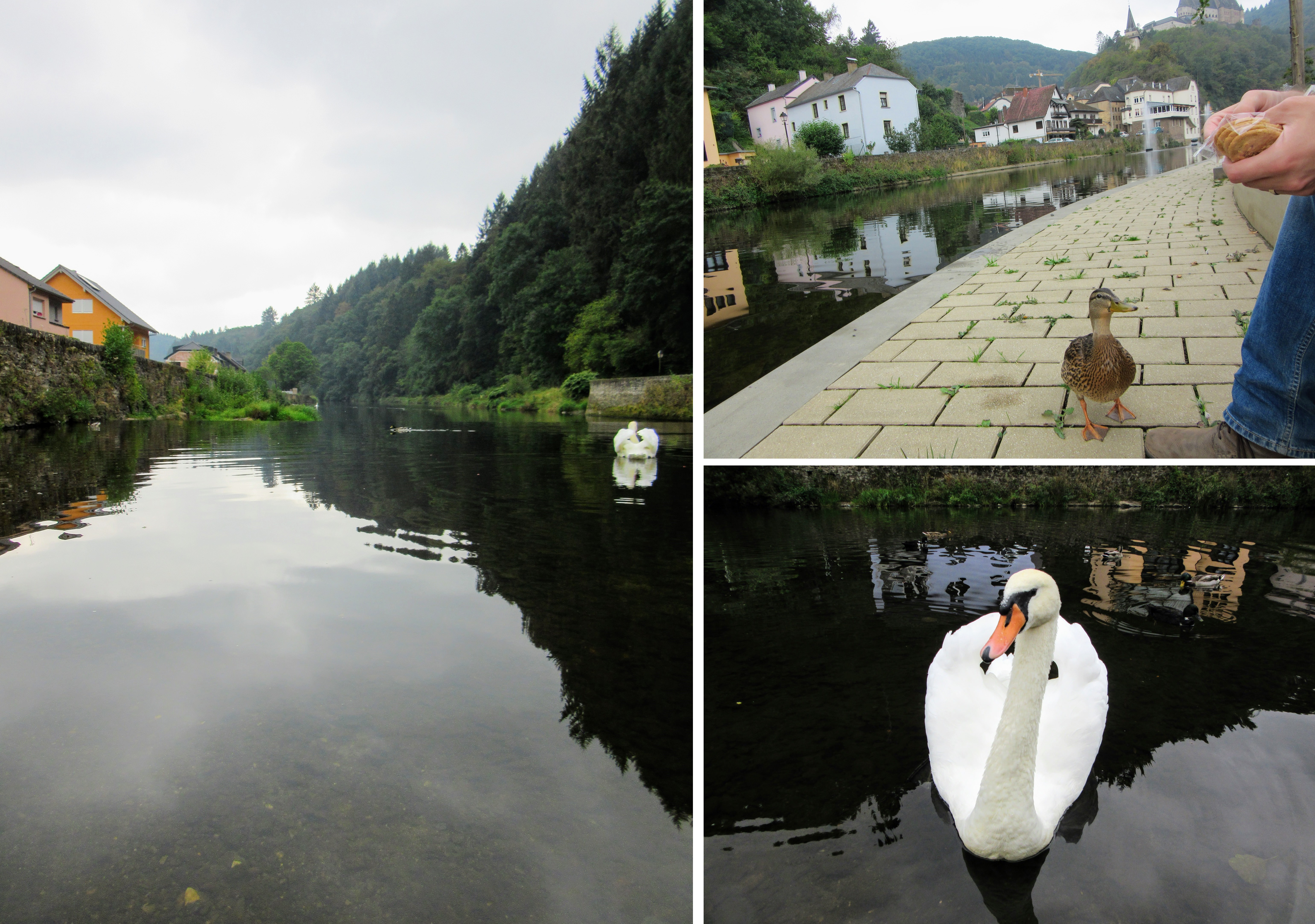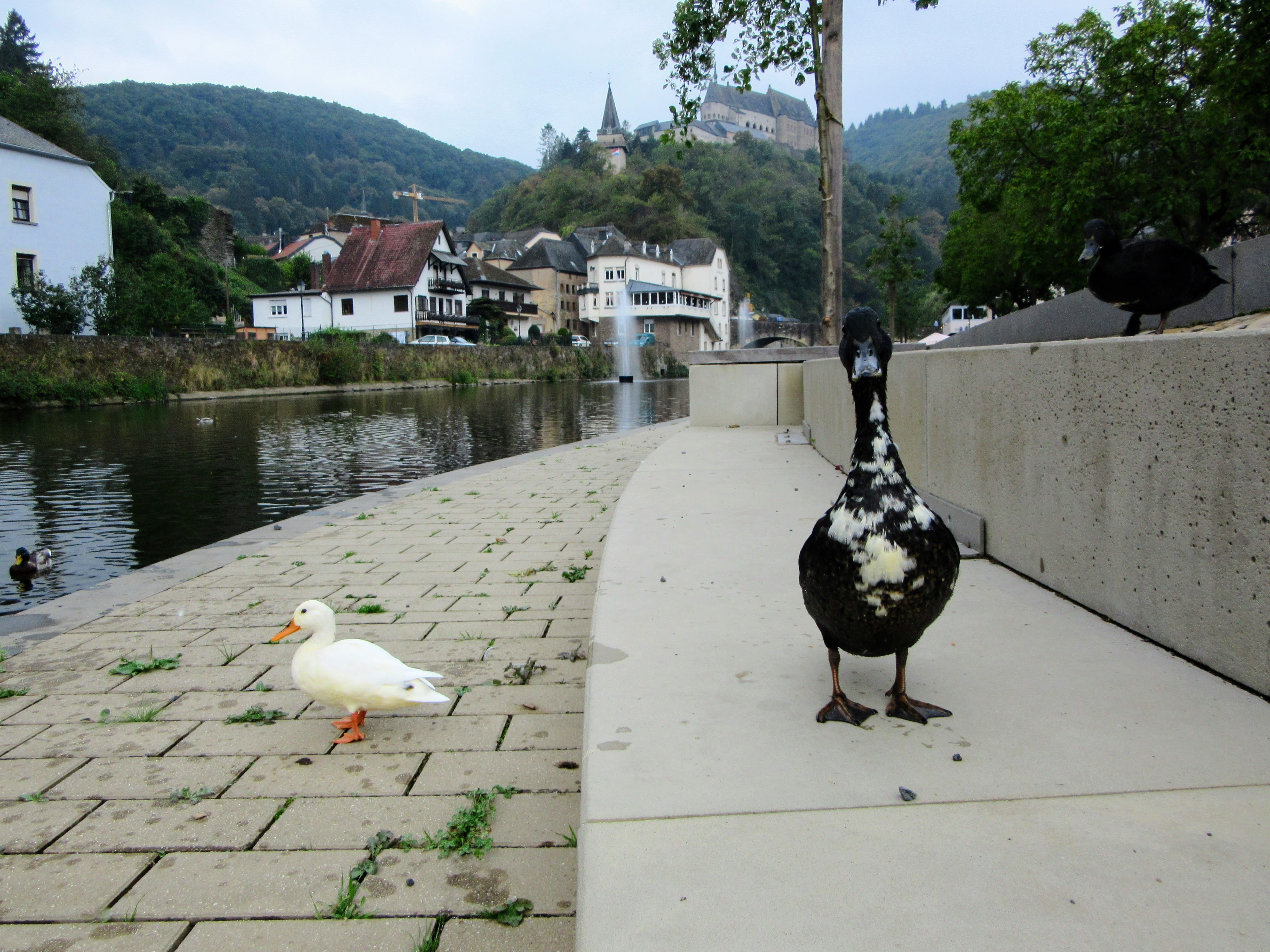 The ducks were very entertaining as they kept jumping up and running circles around us.  We had a great time playing with them while enjoying the scenic view, as the Vianden Castle can be seen from most locations in the compact city.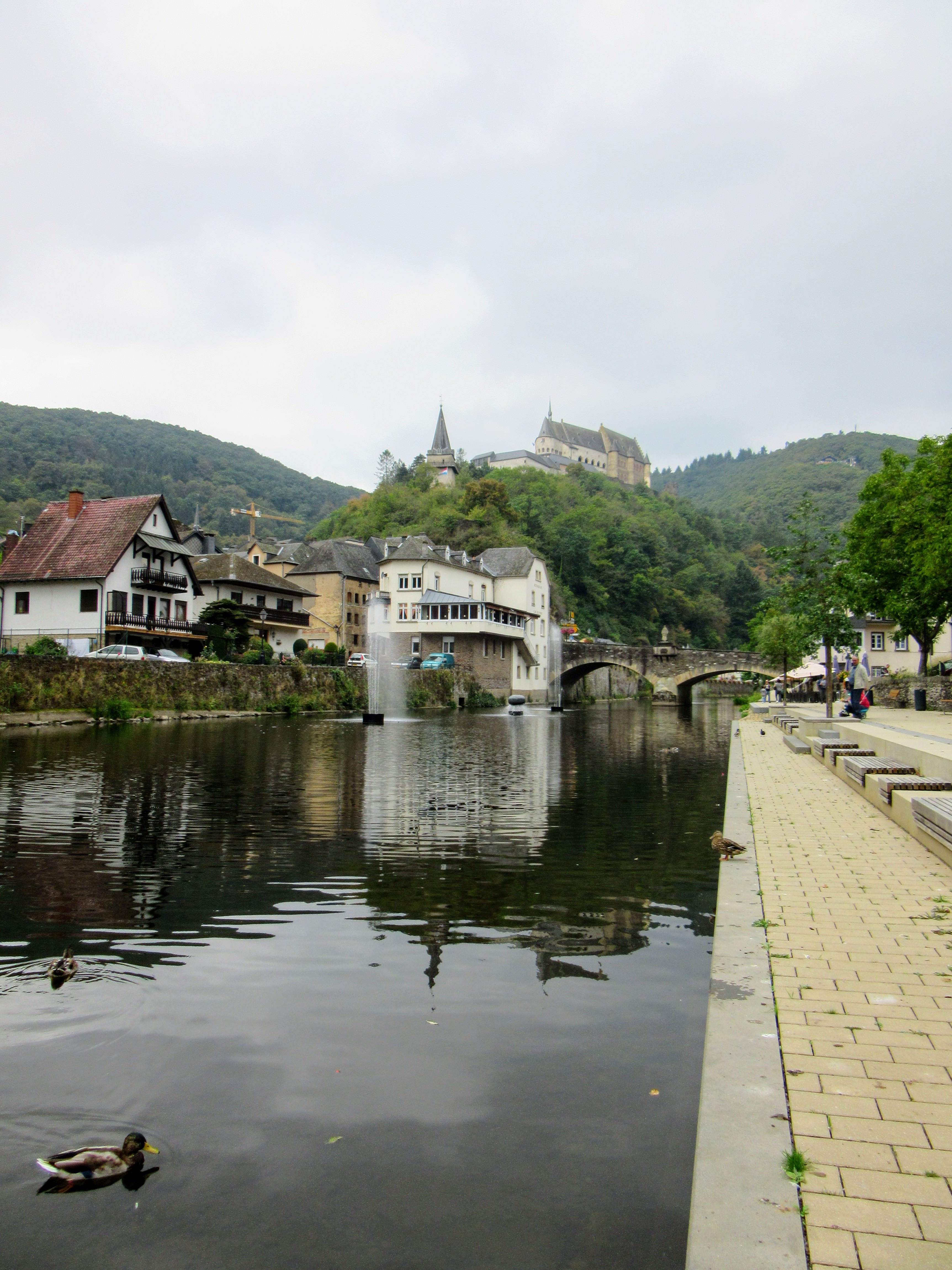 After feeding the ducks every last bit of our biscuits, we strolled along the streets of Vianden over to the chairlift.  It takes just a few minutes to climb up to a somewhat alarming height of 440 meters.  At the top you can enjoy stunning views of the castle, city, and countryside from Adventure Park.  It's a must do activity in my opinion as it only costs €4.80 per person round trip.
The chair lift starts out bumping gently along over someone's backyard, then crosses the river and a road before starting its steep incline upwards.  The chair is only secured with a lap bar, so it may require some courage on your part to hop on.
After hopping off at the top, you'll circle through a café and can wait as long as you'd like before taking the lift back down.  With views like these, though, you may want to plan for a long break.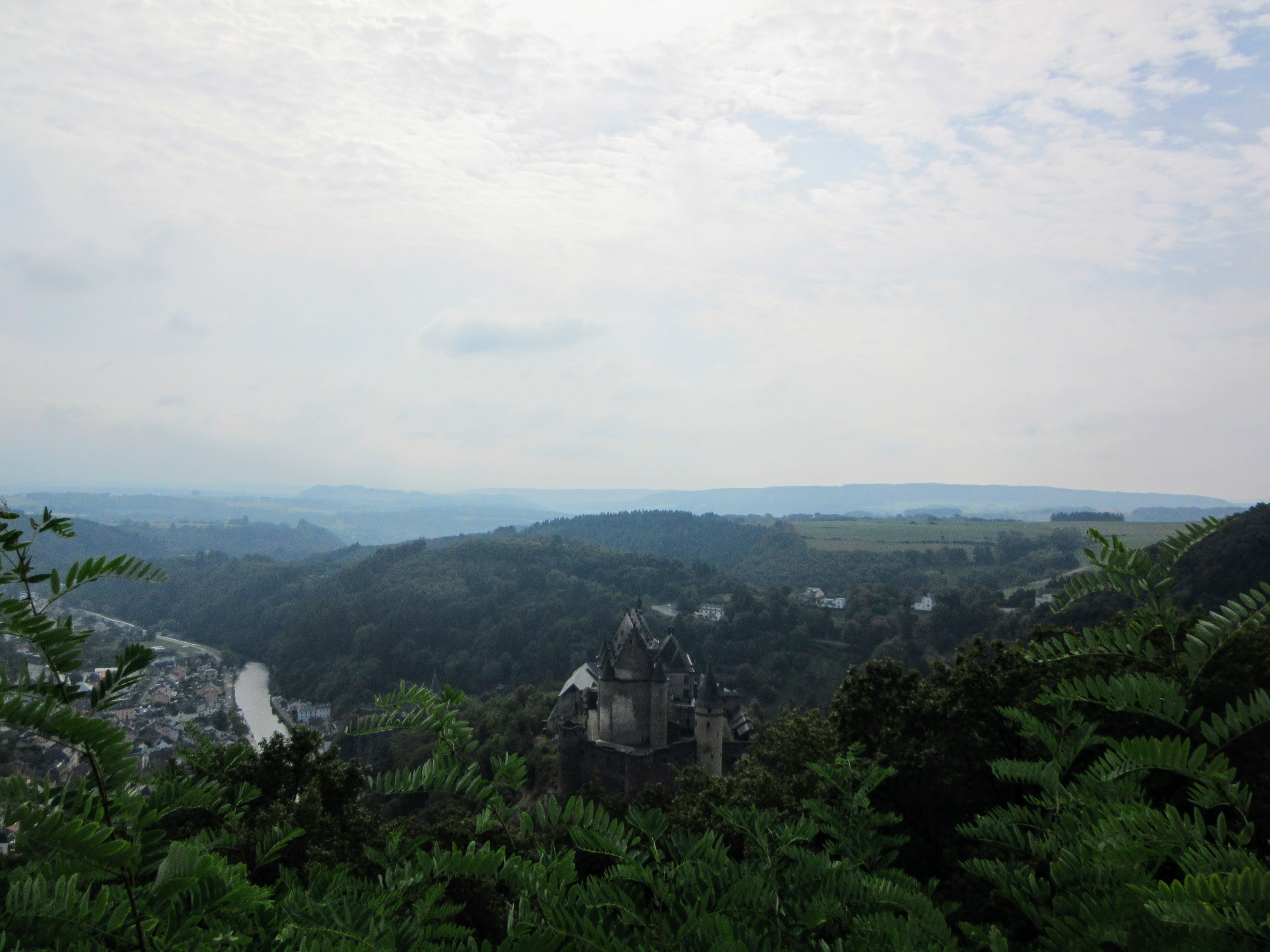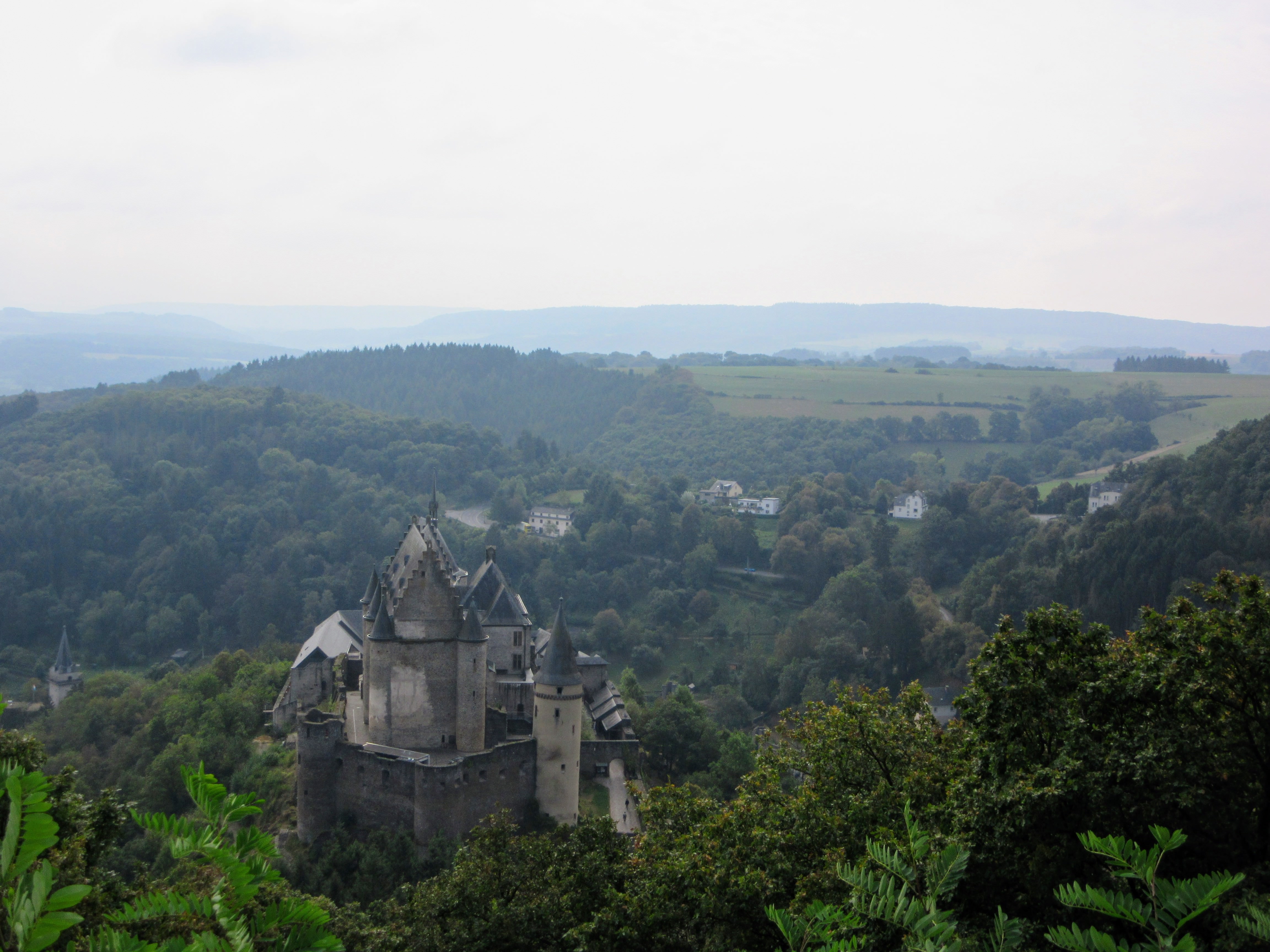 There's a trail that connects the overlook to the castle, in which case you could purchase a one way ticket on the lift and then hike over to the castle.  According to Google Maps, the trail is 300 meters long and takes less than 10 minutes to complete.  Keep in mind that the road from the castle back down to the city isn't too long at about one km but is steep.
As tempting as it was to stay, we didn't linger for long since we were driving to Cologne that afternoon.  Going back down on the chairlift was a bit harder to swallow for me, but fortunately I was distracted by the views of the castle on the right and the city below.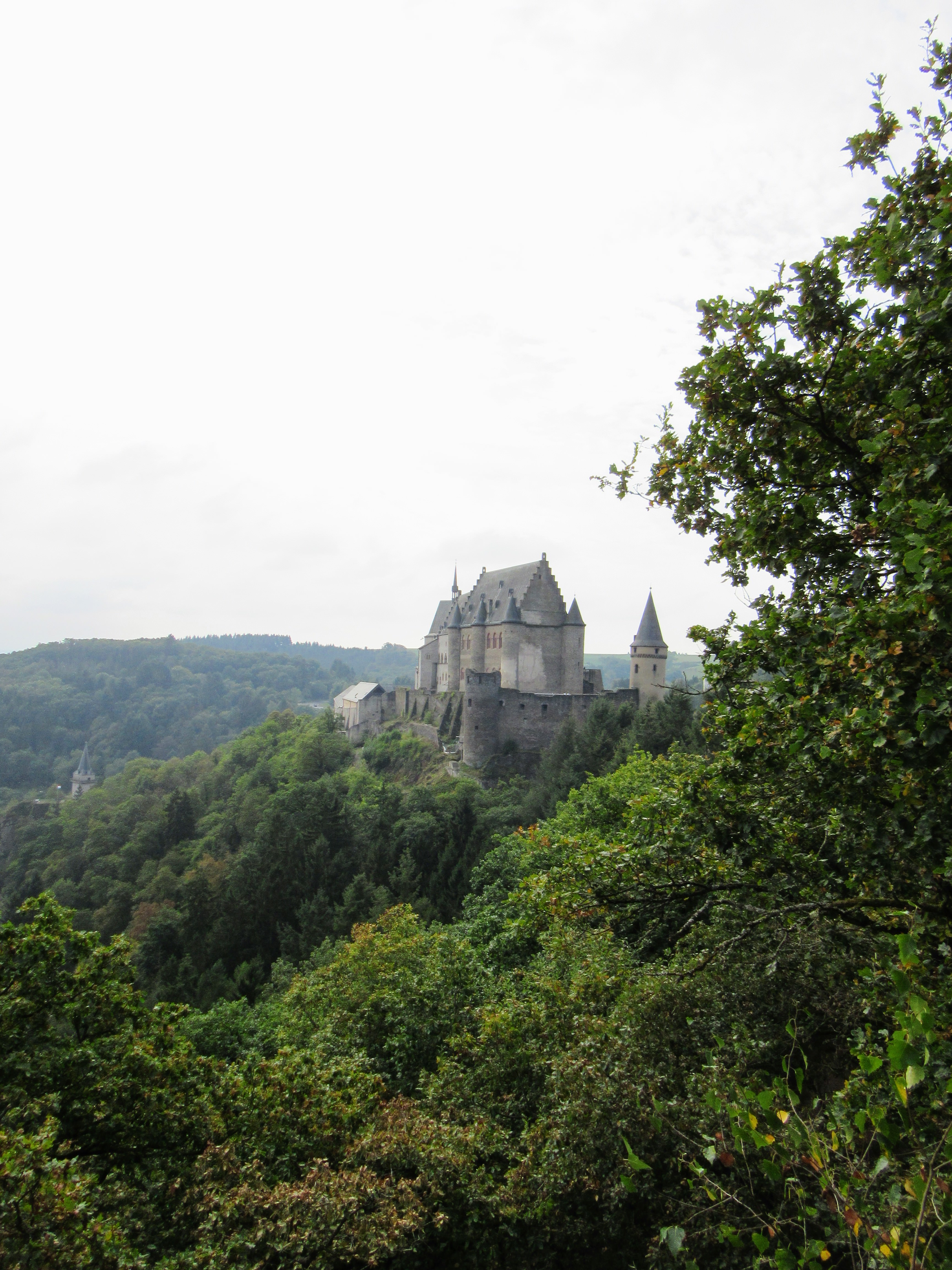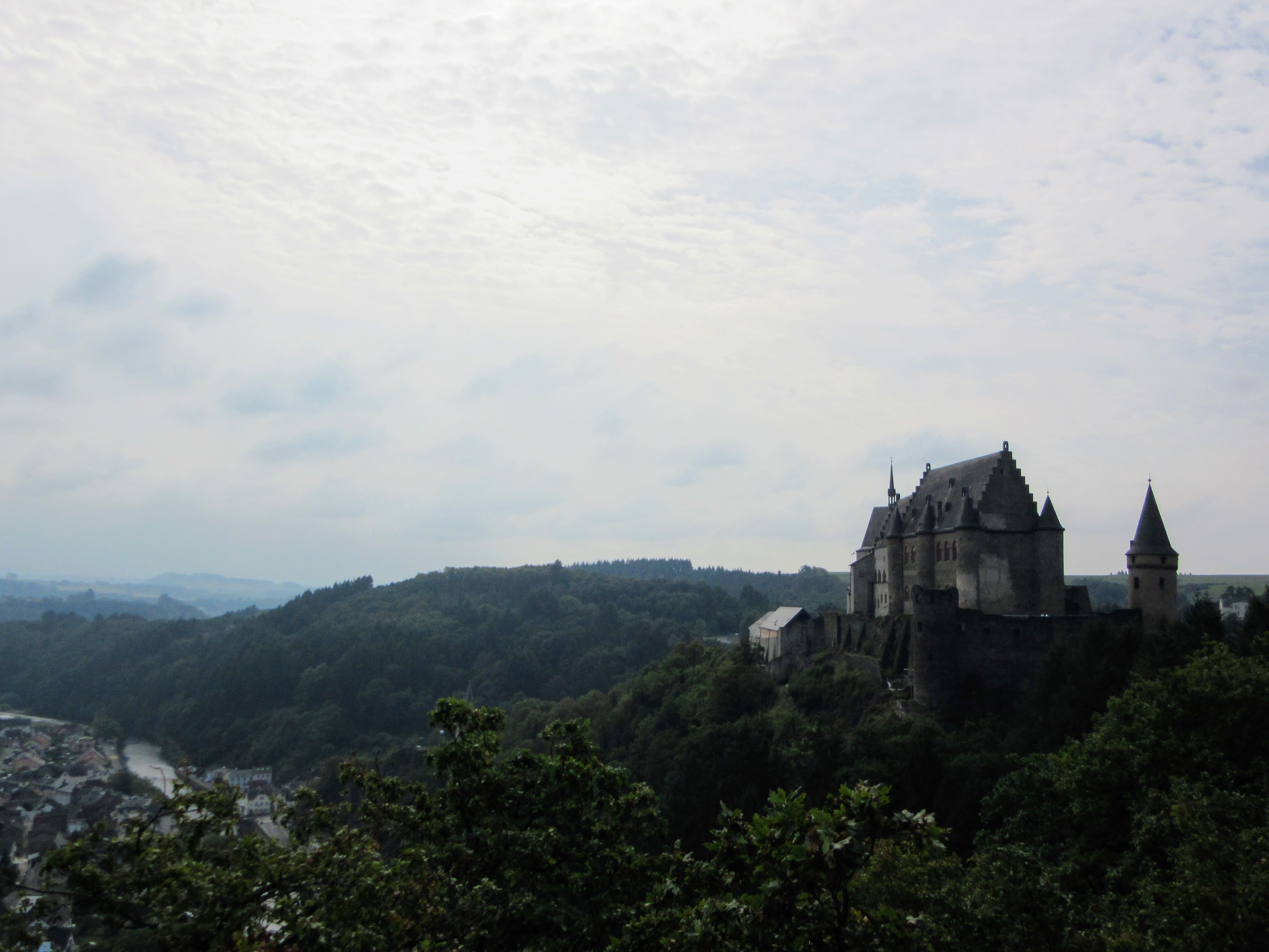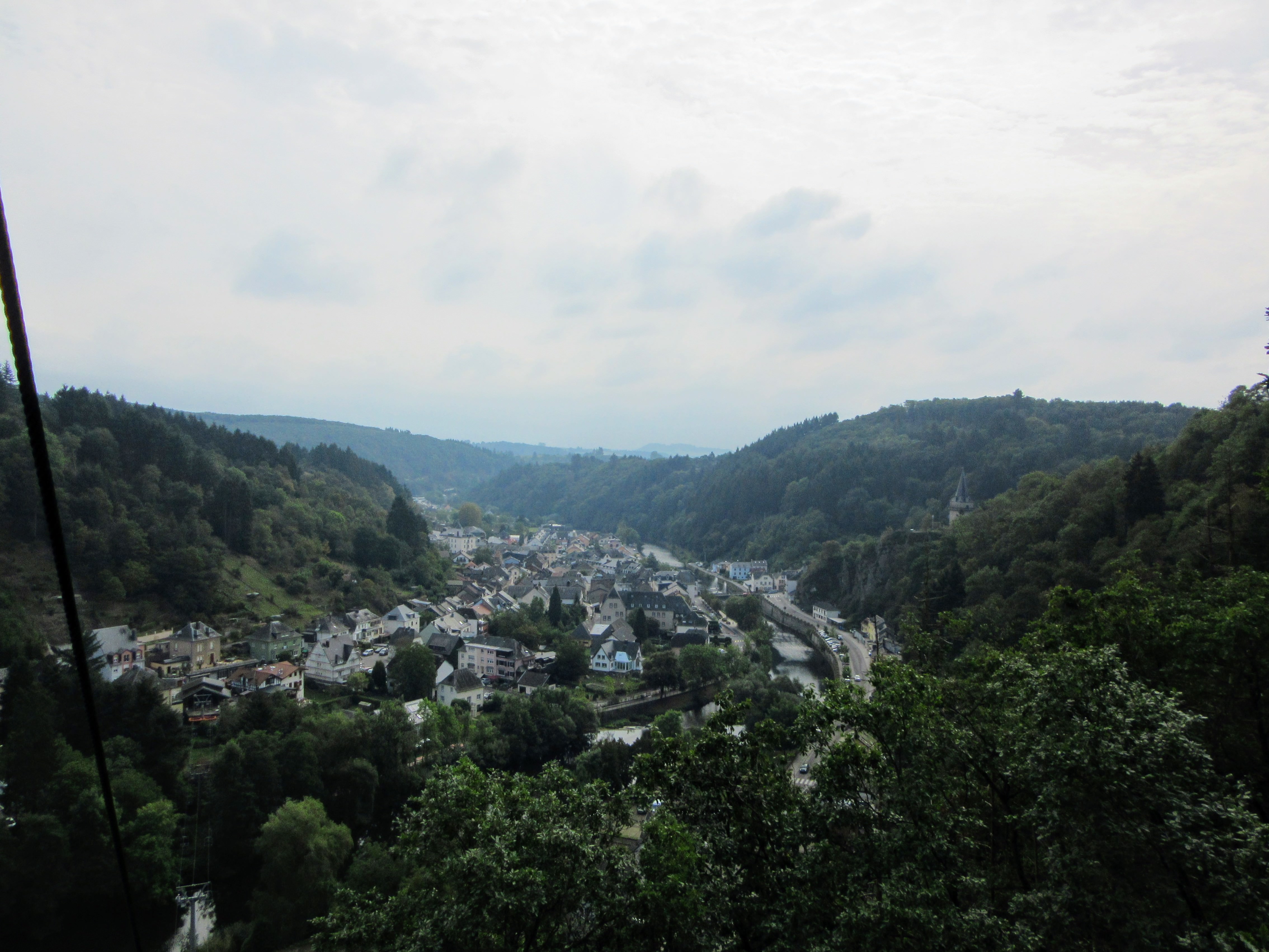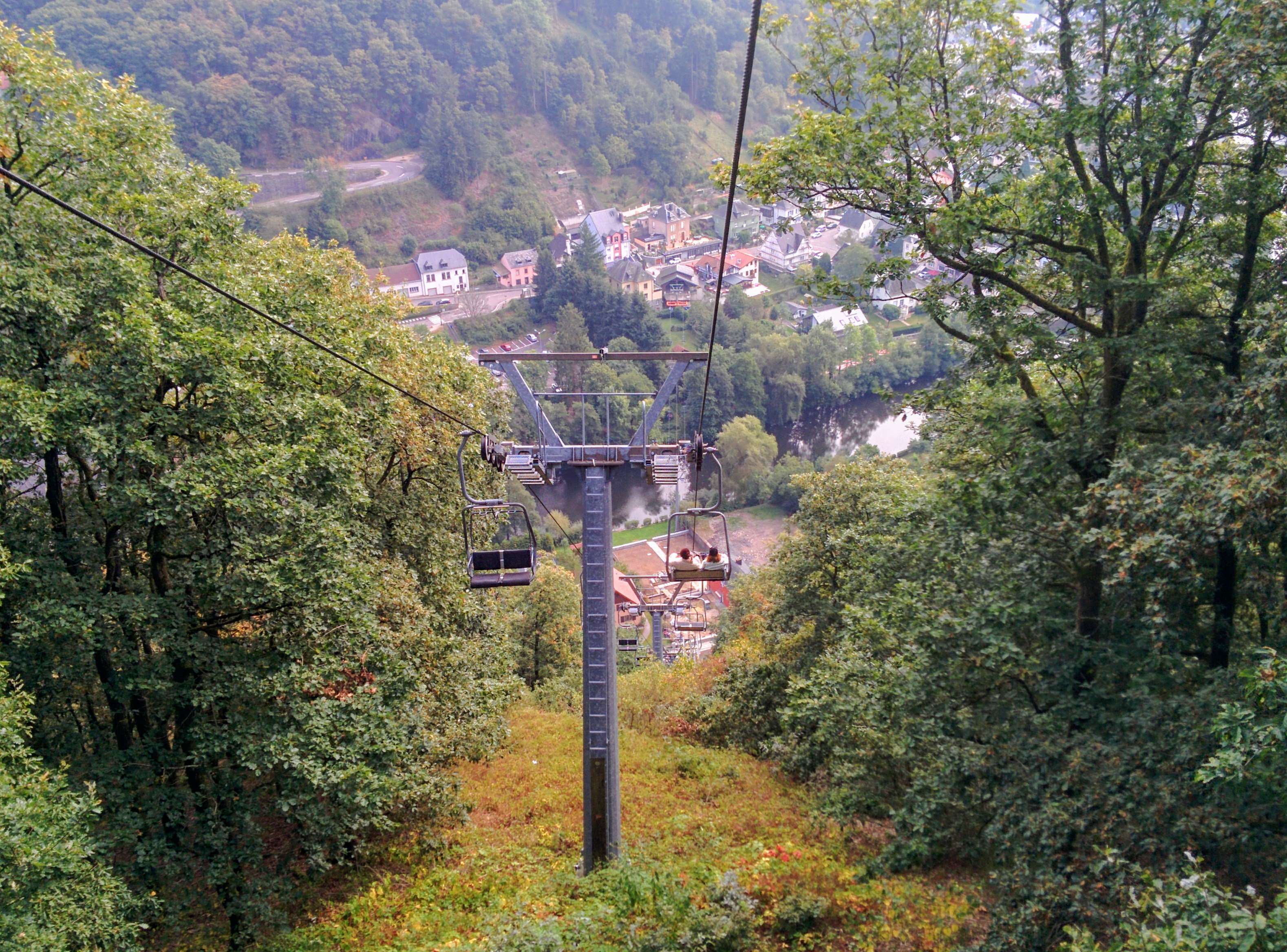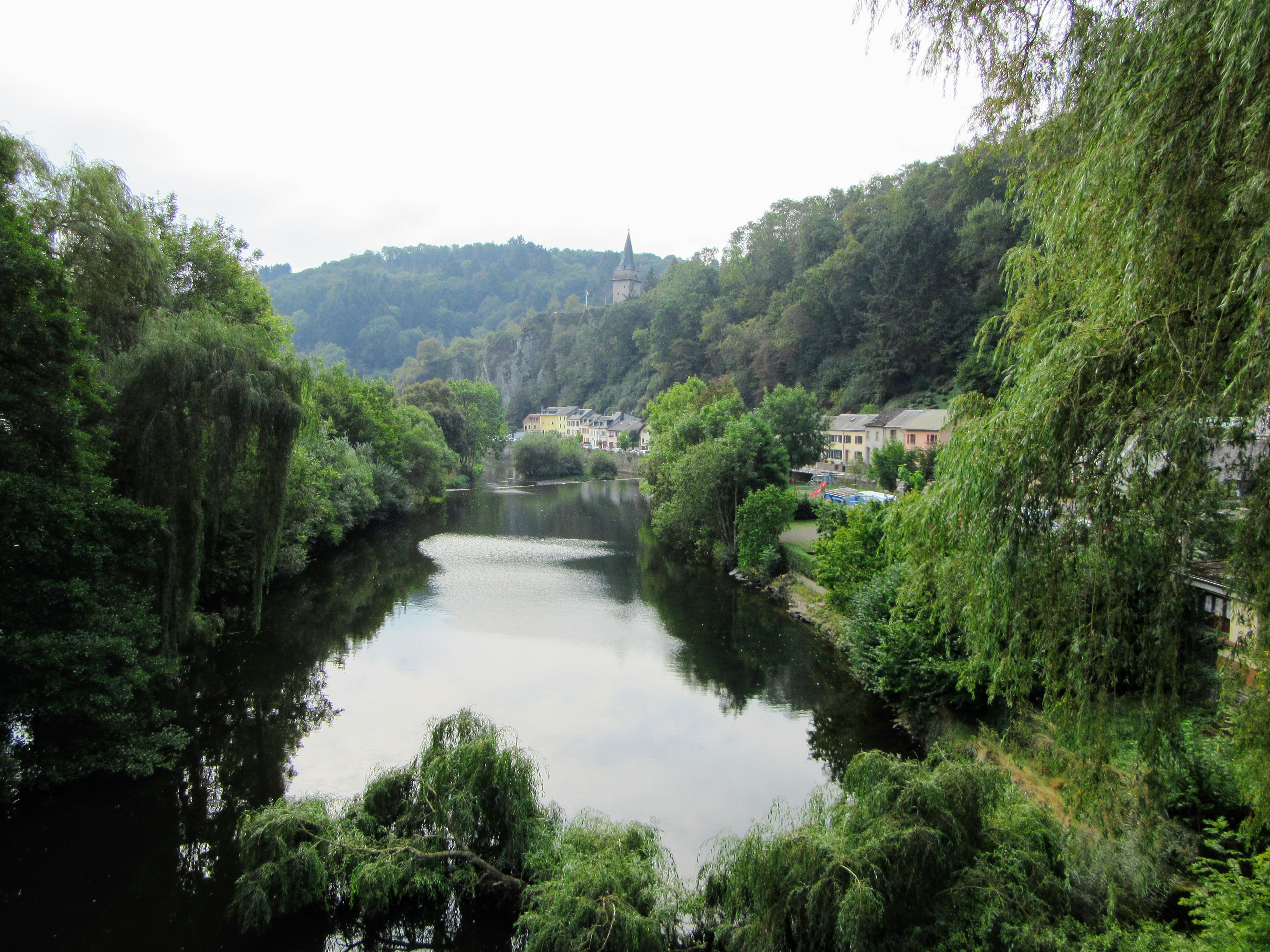 Once our feet were safely on the ground we slowly made our way back to the car, wishing we could stay for longer in one of the cozy cafes along the riverfront.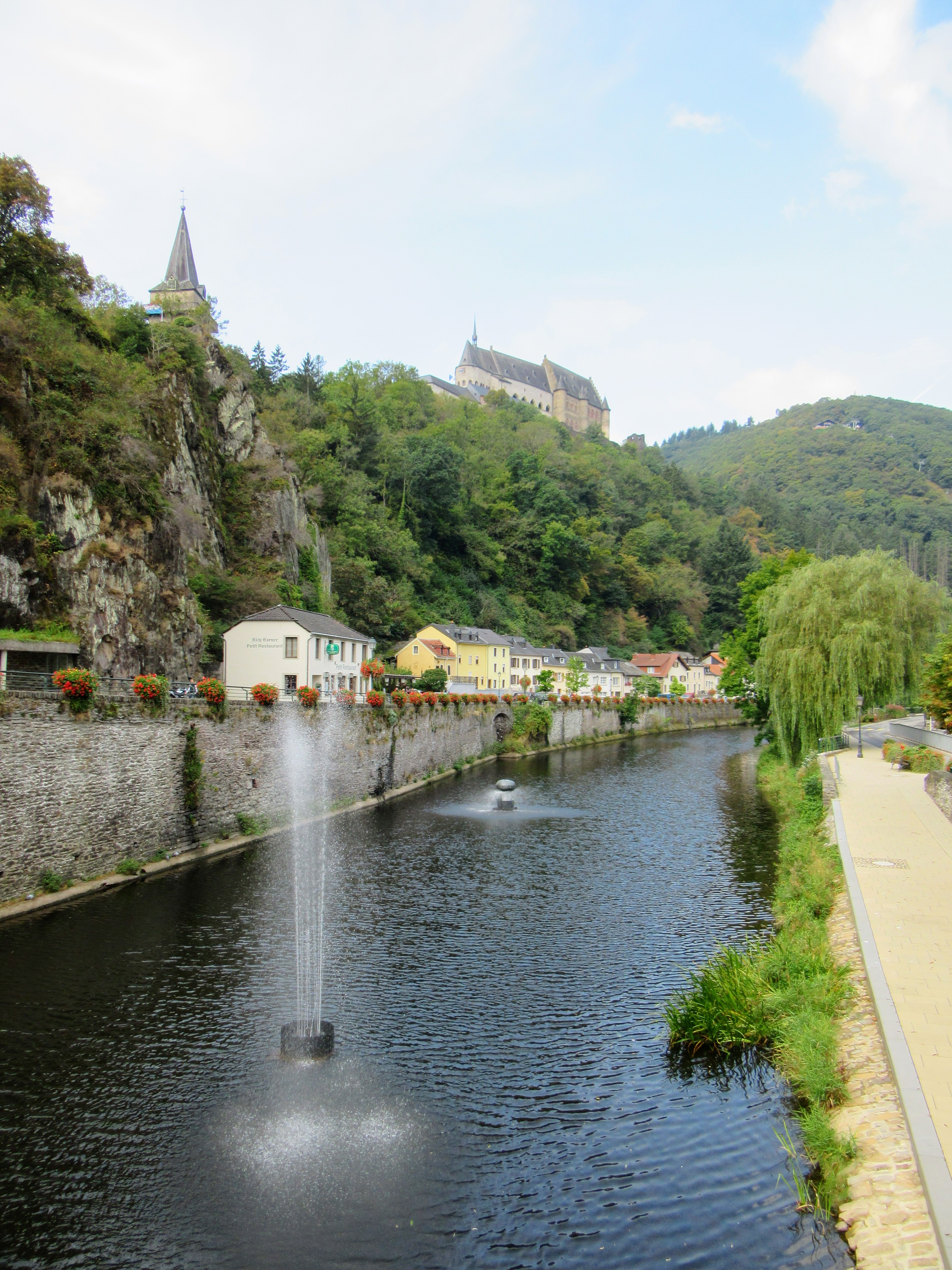 On our way out of the city we planned to stop at the castle for a closer look, but it was quite overrun with tourists and we were unable to find a parking spot.  The tourist season was certainly not over yet – we had difficulty navigating through the people crowding the cobbled city streets.
The small, peaceful city of Vianden was a treasure that we were sad to leave.   We were in awe of the rolling hills dotted with windmills as we drove north in Luxembourg – a country that's high on my list of places to return to.
Have you been to Vianden, Luxembourg?  Share in the comments!
---
Here are the locations from this post:
Resources for planning your trip:
Vianden Castle & City on Visit Luxembourg
Vianden Castle Site
Chairlift Info
Wiki Travel Guide
Pin this: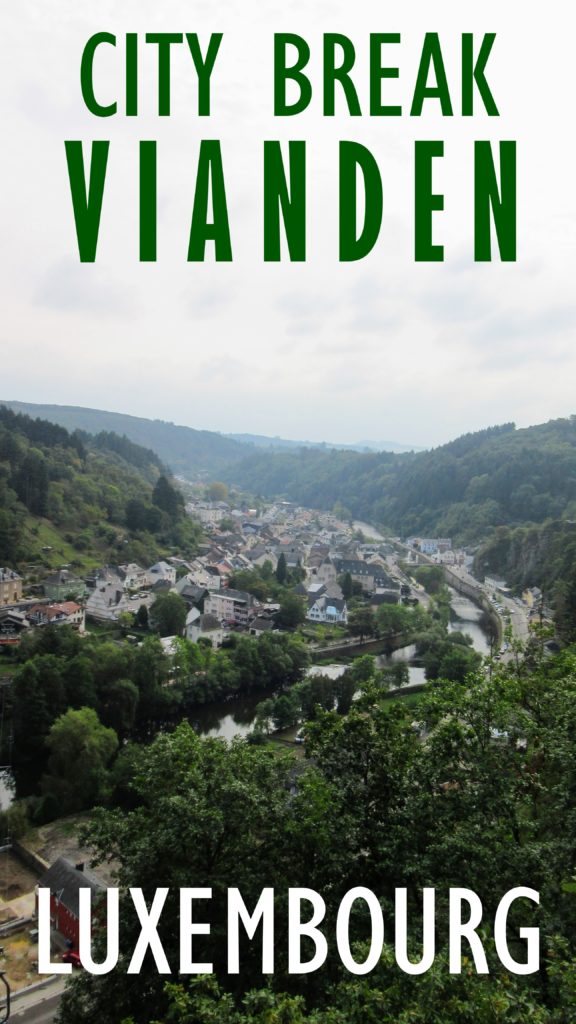 This post is linked up with Weekend Wanderlust, Fly Away Friday, The Weekly Postcard, Monday Escapes, City Tripping, and Faraway Files: