Living with chronic pain and illness has driven me to the edge of my sanity at times, and once or twice it's taken me right over the edge into delirium.  I've tried so many different things to relieve my chronic pain from fibromyalgia and lupus.  This includes trying ice, heat, exercise, salt baths, bed rest, massage therapy, physical therapy, and at least a dozen medications.  I will keep trying things as much as my ability and finances allow (I have a long list of things I want to try in the future).  I tried cannabis in Amsterdam, which didn't go very well, and one of my recent endeavors has been trying hemp based CBD oil (CBD stands for cannabidiol) products, including a CBD Topical Roll-On Applicator from Premier Biomedical.
In this post I'll be sharing about hemp based CBD oil products, Premier Biomedical, their roll-on topical applicator, and whether or not I recommend using it for chronic pain.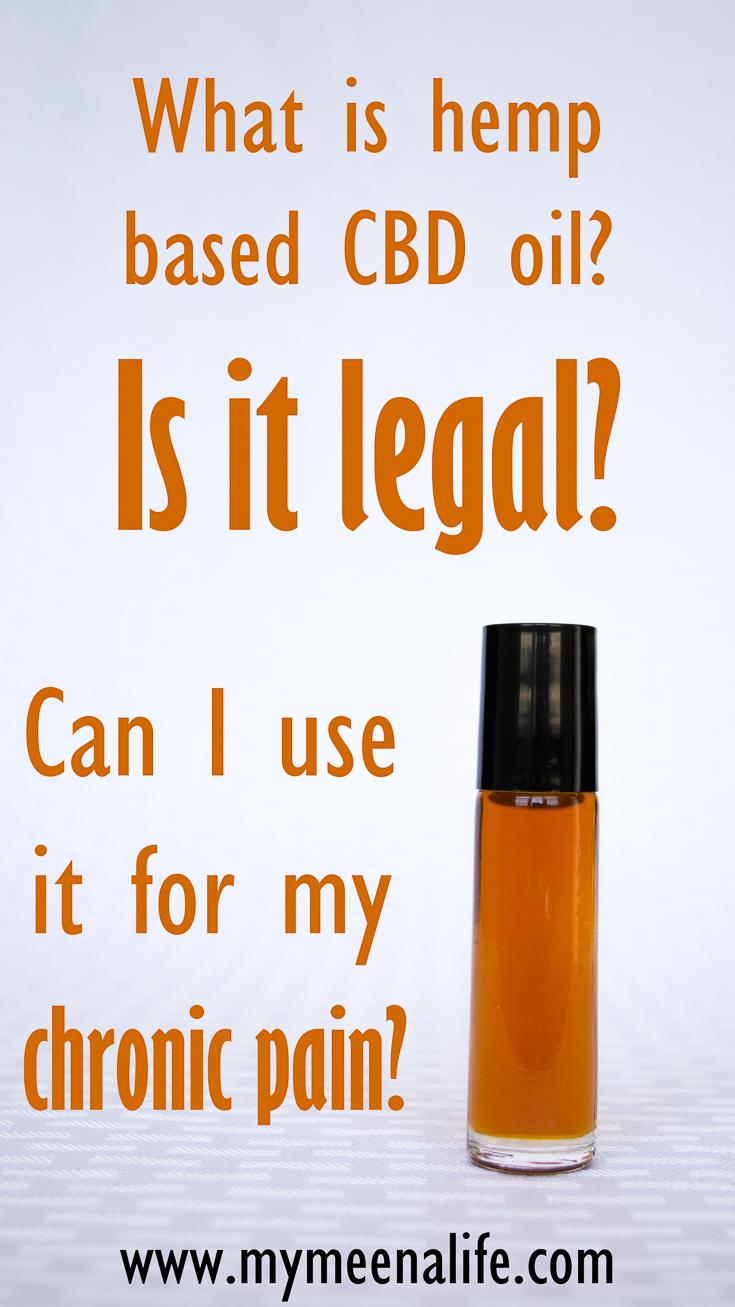 Disclosure: I have been given this product as part of a product review through the Chronic Illness Bloggers (CIB) network. Although the product was a gift, all opinions in this review remain my own and I was in no way influenced by the company.
What is hemp based CBD oil?  And is it legal?
CBD, or cannabidiol, is one type of cannabinoid found in cannabis out of over a hundred.  CBD oil can be either hemp based or cannabis based; in this post I'm discussing a hemp based product. Hemp and marijuana are both members of the cannabis family, but they are two separate and distinct plants.  Cannabis based CBD oil is potent, psychoactive, and is only available in US states where cannabis has been legalized.  Hemp based CBD oil contains trace amounts of THC (less than 1%), which is the psychoactive component of marijuana.  In other words, hemp cannot get you high.  However, hemp based CBD oil is not regulated, which means there is uncertainty for the consumer about the concentration of CBD in a product and whether or not it is safe, especially since hemp is known to be a bio-accumulator (i.e., it naturally pulls contaminants from the soil it's grown in).
Most of the legislation concerning hemp revolves around growing it.  In 1970 the USA made it illegal to grow any form of cannabis, including hemp.  Recently, laws have been passed that have allowed farmers in certain states to grow hemp with a permit and several restrictions.  However, it's okay to import hemp from other countries as long as the THC levels are low enough.
The bottom line is that it is legal to possess hemp and hemp based products, but you can't grow it (unless you have special privileges) or use it to make drug products.  Theoretically, products like Premier Biomedical's CDB roll-on topical applicator are legal as long as the CBD is extracted before it's imported to the USA.  At least, this was the case until the DEA passed a new drug code in December 2016 which cracked down on cannabis extracts.  This action has been heavily debated, however, since technically the DEA doesn't have the authority create new laws – only enforce current ones.   Of course, Premier Biomedical states on their website that their products contain no psychoactive compounds and are legal in all 50 states.  In my opinion, any CBD oil manufacturer carries some inherent legal risk, especially since the recent DEA ruling, but it isn't illegal for consumers to possess a non-psychoactive hemp based CBD product.
If you want to know more about CBD, its legality, and using it for chronic pain, then you may want to read the following:
Sourcing CBD: Marijuana, Industrial Hemp & the Vagaries of Federal Law and CDB Misconceptions on Project CBD.
How Does Cannabidiol (CBD) Work? on Elixinol.
CBD vs. THC: Why Is CBD Not Psychoactive? on Leafly.
What you need to know about CBD oil and fibromyalgia on Fed Up With Fatigue.
CBD-Rich Hemp Oil: Cannabis Medicine is Back – I have not read this book personally but it was recommended by Do More Be More.
Disclaimer: I'm not a legal expert nor a doctor; this post should not be considered as legal or medical advice.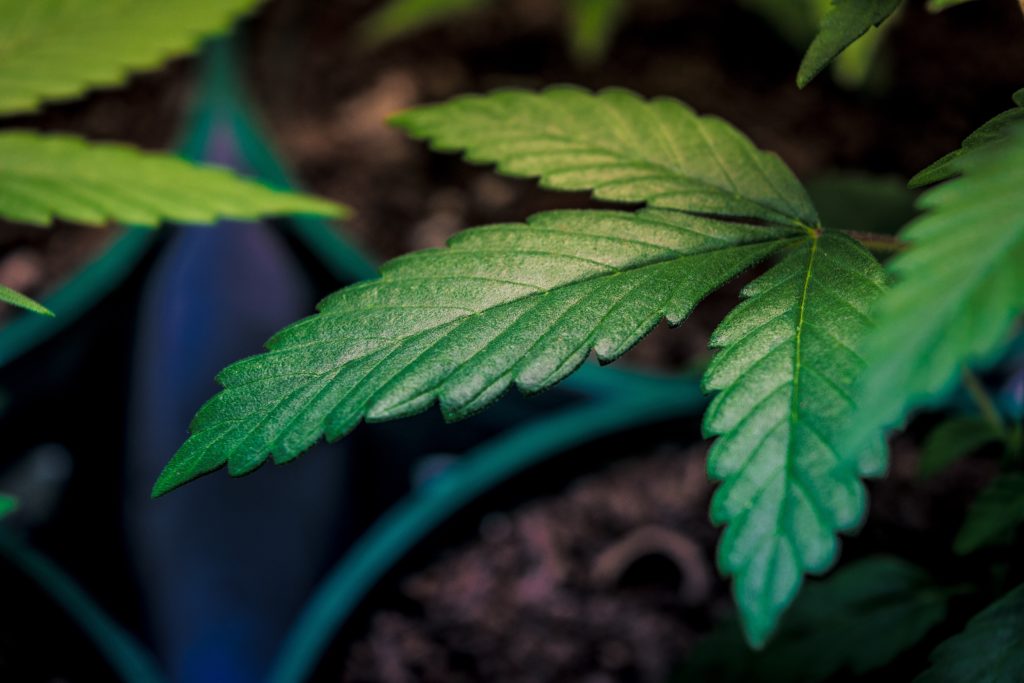 Photo by Esteban licensed under CC0 1.0.
About Premier Biomedical and their products.
Premier Biomedical Pain Management Solutions is a combination of two companies, Premier Biomedical, Inc. and Advanced Technologies Solutions.  The former is a biotechnology R&D company with a focus on innovative medical treatments, while the latter produces pain management devices and is a leader in transdermal patch technology.
Together they offer topical hemp based CBD oil patches and roll-on applicators in regular and enhanced varieties.  The topical roll-on applicator that I received is their regular version – a 10 mL vial with 110mg CBD oil.  Its other ingredients include coconut oil, lecithin, aloe vera, sweet almond oil, oleic acid, red palm oil, shea butter, sunflower oil extracts, persea gratissima oil, eucalyptus oil sage and citrus essential oils, and nano crystalline C particles.  The oil is applied directly to the skin for mild to moderate analgesic relief of aches and pains.
You can find more information on Premier Biomedical and their products on their FAQ page.
My experience with the topical roll-on applicator.
This is the second time I've tried using a hemp based CBD oil product to treat my chronic muscle pain.  The first product I tried was the Hemp Oil Extract (HOE) Warming Muscle Rub from The Fay Farm, which I chose after reading several positive reviews from the CIB network.  While I really liked the product overall, it was so waxy that I felt like I could never get it off my skin or hands after applying it.  It also stained my clothing and I had to be careful not to lean against anything while using it.  Eventually I was only using it in the bathtub and then bathing immediately afterwards.  This process didn't really work well for me, so I was on the hunt for another CBD / HOE product to try when the opportunity to work with Premier Biomedical showed up in my inbox.
After my frustration with the messy process of applying the HOE muscle rub, I was very excited to see that Premier Biomedical offered a roll-on applicator.  I didn't have to touch the oil at all!  I've been using IcyHot in the form of a roll-on applicator for years now and I absolutely love it – I wish all my topical medications came in roll-on form.  I received the product, a small vial (approximately 3 ¼" x ½") filled with orangey-brown liquid, quickly after accepting the campaign.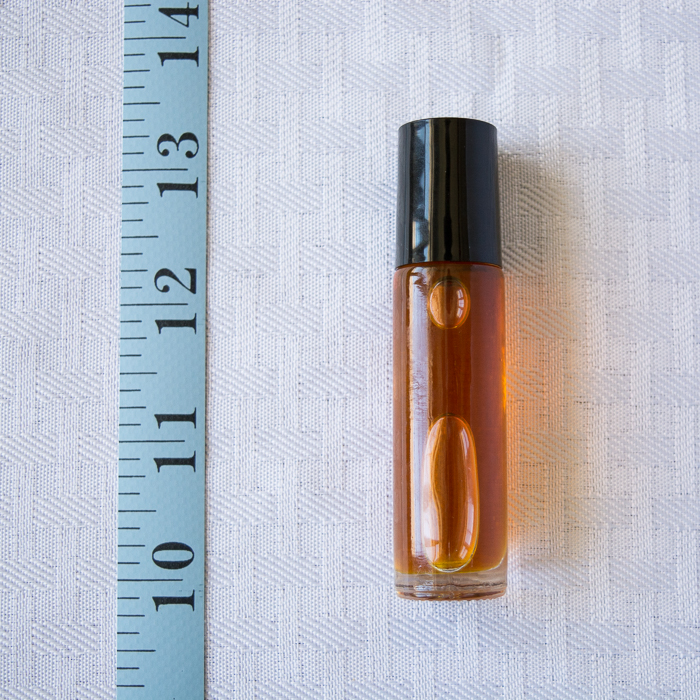 To my dismay, the product was the only thing inside the package when I opened it.  I was able to go online to Premier Biomedical's website to find their instructions for use, but I was a bit put off that the directions weren't included as I wanted to apply the oil right away.  The instructions are simple: don't apply to broken skin, start with a small application, and reapply after twenty minutes if needed.  You can repeat the process if you'd like, as a maximum tolerable dosage has not been established.
I've been using the oil generously on a biweekly basis over the past month and I haven't quite used a quarter of the vial.  I estimate that the vial would last me anywhere from three to six months depending on how often I use it and how much I apply each time.  The oil has a heavy, earthy smell (which I wasn't crazy about at first but is quickly growing on me), is very easy to apply, and wipes off clean after use.  It does tint my skin orange to the extent that I wouldn't go out with a freshly applied coat on.  It doesn't seem to stain, at least as far as I can tell.  After my issues with the HOE muscle rub ruining one of my shirts, I tested this oil by rubbing it on a shirt, waiting a few hours, and then washing it without treating for stains (with the idea that I probably wouldn't notice the light stain when washing my clothes).  I'm happy to report that the shirt came out clean.
My experience with this hemp based CBD oil has been positive and calming.  I use it when my pain is mild to moderate and I usually feel some pain relief right away and have less pain for at least an hour.  I feel calmer when I use it and this helps me cope with being in pain.  Since my fibromyalgia and chronic muscle pain can be exacerbated by anxiety, the combination of moderate pain relief and relaxation in one treatment can be very powerful.  I also really like that it doesn't cause any negative side effects, which is a problem with most of my pain medications (NSAIDs give me terrible heartburn, opiates make me dizzy and constipated, and even my beloved IcyHot will burn me if I'm not careful).  Overall, I'm pleased with the potency and quality of the product I received from Premier Biomedical.
I have only three complaints; the first is that the roller ball is rather tiny, so it takes some time to apply to a large surface area.  In my opinion, the vial would be much improved if it was wider and had a bigger roller.  I think this would also help prevent the roller from grabbing at the fine hairs on my neck, which is annoying.  My second complaint is that the bottle is glass; I'm afraid I'll accidentally break it and waste the valuable contents.  I've dropped it twice onto carpet from a height of about four feet and it didn't break, but I would certainly worry less if it was in a plastic vial.  Lastly, I'm not convinced that this type and strength of CBD oil helps with joint pain.  However, my joint pain can be rather severe due to lupus, so it is possible that it doesn't help enough for me to notice.
Furthermore, you should be aware that most of the health claims about using hemp based CBD oil for pain are anecdotal.  I'm hopeful that this will change soon as the US becomes more cannabis friendly and more research can be done on the medicinal qualities of both hemp and marijuana.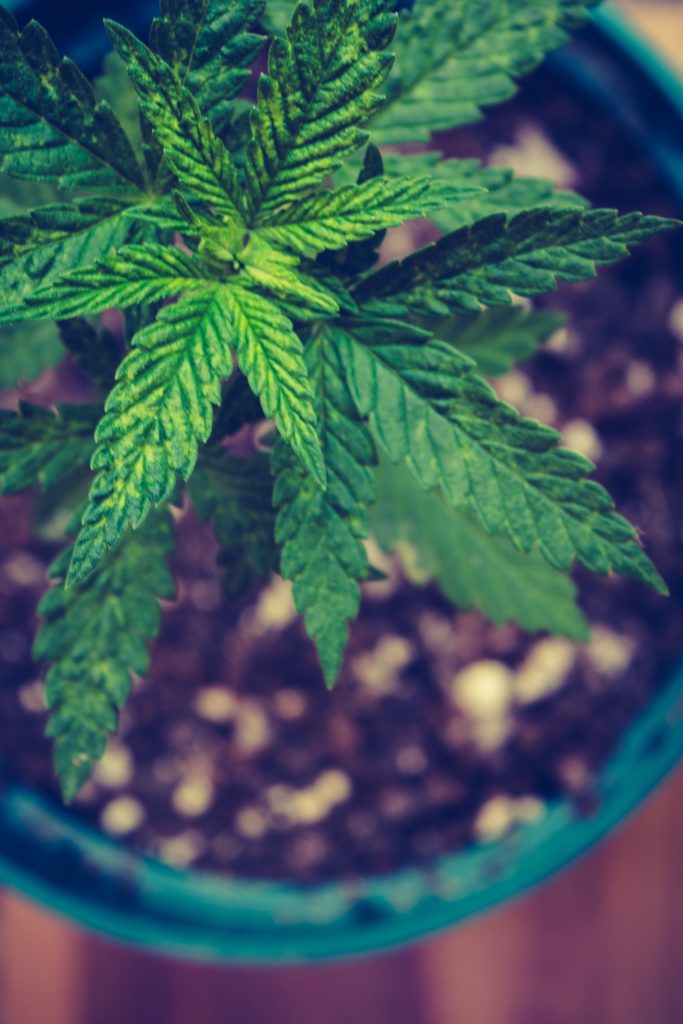 Photo by Esteban licensed under CC0 1.0.
What are others saying?
So far I've only found reviews of the topical patch, not the roll-on.  I've included them here and I will add to this list as I find other reviews.  However, I must mention that the patch is more expensive compared to the roll-on.  The regular patch costs $20 and has a one-time use of 96 hours whereas the regular roll-on applicator costs $27.50 and could be likely be used for up to three to six months
CBD Patch by Premier Biomedical Pain Management Solutions on The Girl With The Five Lads.
Review: Premier Biomedical CBD Patch on Not Standing Still's Disease.
There are also some product reviews on Premier Biomedical's website, which is great – I'm always happy to see a product website with reviews available directly.  Seven of the reviews are five star and one review is a one star review – so most of the reviewers really like the product.
"I've used the CBD roll-on for some leg tendon strain/pain and the oil relieved the pain within minutes and the relief lasted overnight…"
– John
My verdict.
As far as I can tell, Premier Biomedical is a reputable, honest company to purchase products from.  The price for their topical roll-on is reasonable, and it provides me with mild to moderate relief from muscle pain and anxiety with no negative side effects.
To be perfectly honest, I would prefer to use regulated cannabis based CDB oil if it was available to me.  But unless I move to a different state, hemp based CDB oil is currently my best non-prescription pain relief option with the fewest side effects.  Furthermore, even if you live in a legal state you may still want to chose hemp based CBD oil because it doesn't show up on drug tests.
I recommend trying the roll-on applicator from Premier Biomedical if you are looking for something new to try in order to alleviate your chronic muscle pain or fibromyalgia pain.  You can visit their website here.
---
What do you think about hemp based CBD oil products?  Let me know by leaving a comment.
Hemp Based CBD Oil Roll-On from Premier Biomedical (Product Review).
Click To Tweet
What are hemp based CBD oil products? Can I use them for chronic pain?
Click To Tweet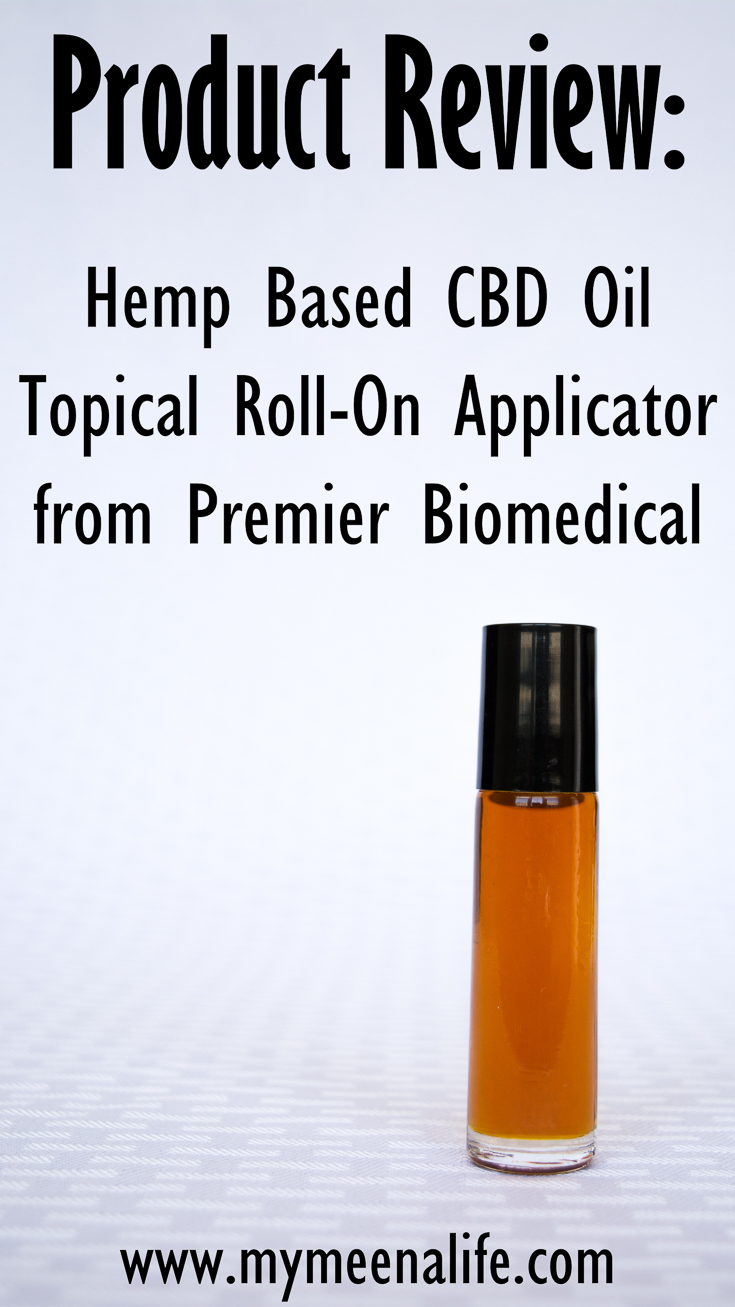 This post was also published on Do More Be More.