Three chronic illnesses?  Lupus?
Are you kidding me?
In November of 2015 I began suffering from debilitating pain while living in Germany.  This pain, along with other symptoms, has made it very difficult for me to function normally. Going to the doctor in Germany (several doctors, actually) turned out to be less than helpful, and so I've looked forward to the start of this year when I'd be back in the United States and my health insurance deductible would reset.
So far, in the first six weeks of 2017, I've been to see a doctor seven times (nine if you count my therapist) and it doesn't look like I'll be slowing down anytime soon.  It's been a frustrating journey that has led to my third diagnosis in two years – lupus.  This is not like my first two illnesses (osteoarthritis and fibromyalgia).  This one is a different beast.
Diagnosis Number Three: Lupus.
So, what is this all about?  Let me share what I've learned so far with you; lupus is an autoimmune disease where the body's overactive immune system attacks healthy tissues.  My body is currently at war with, well, itself.  You could say that my immune system has gone off the deep end.
While I wasn't expecting to receive a new diagnosis during my search for answers, I did at least have some warning.  My rheumatologist pointed out the butterfly rash (also called a malar rash) on my face as indicative of lupus at my first appointment.  This facial rash looks like the wings of a butterfly unfolding across one's cheeks and it's one of the most distinctive signs of lupus.  I had previously thought that my frequent rash was a result of being overheated.
After my appointment I started reading about the disease and I was absolutely convinced I'd be diagnosed with it at my follow up.  That foreknowledge didn't make things any easier, however, as I sat in that small room listening to my doctor talk about the inflammation markers in my blood work.  While my blood confirmed an undifferentiated connective tissue disease, my symptoms narrowed it down to lupus.  Before I left, my doctor asked if he could show the medical student my classic butterfly rash – it was a good learning opportunity.  I was happy to help but I also felt a deep sadness as he pointed out the contours of bright redness on my face.
This was my face.  My diagnosis.  My future.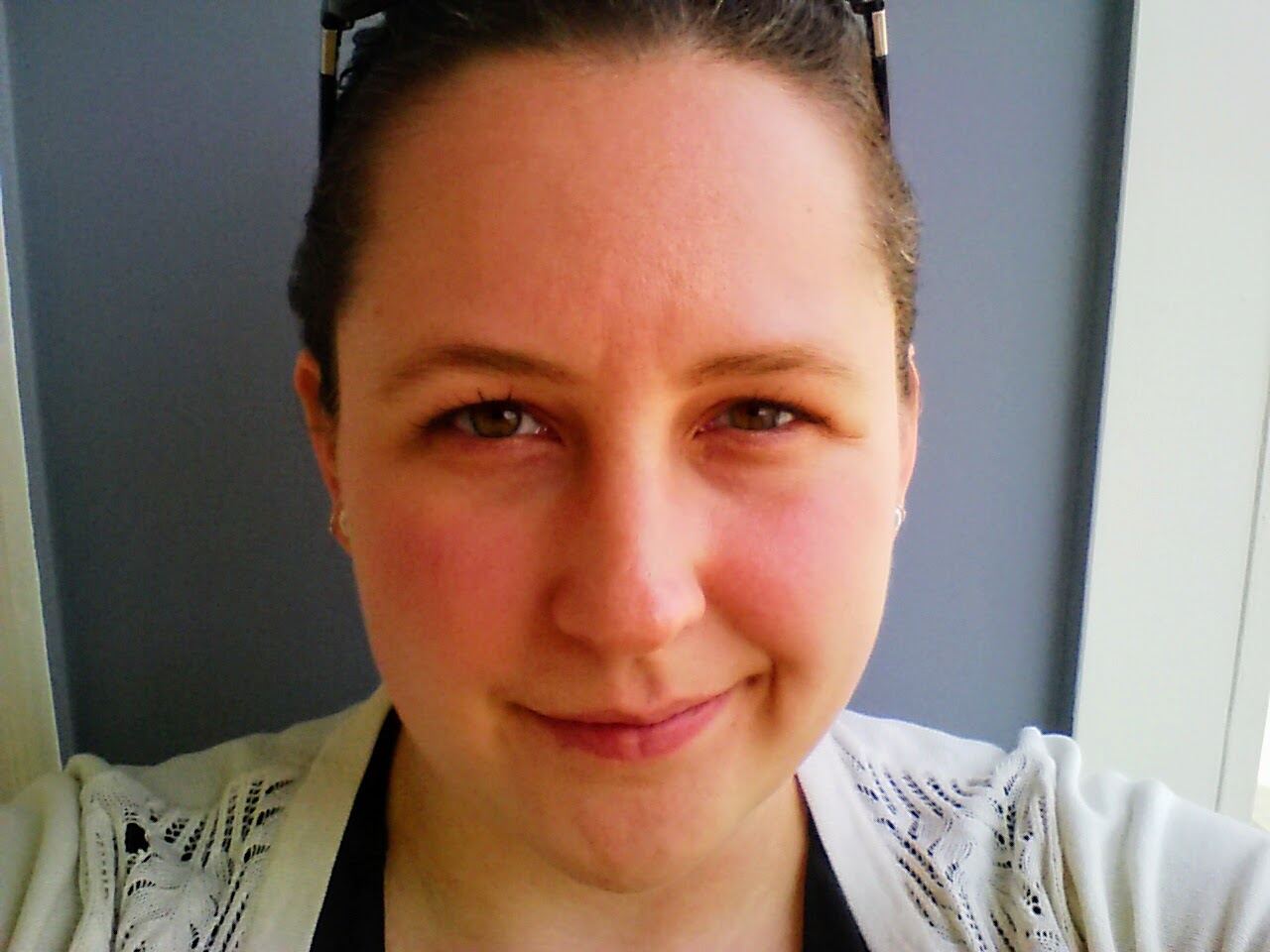 What does it mean to have lupus?
 I'm still figuring that part out myself – and it's not fun.  You see, a normal, healthy body produces proteins (called antibodies) that attack viruses, bacteria, and/or germs that enter the body.  My lupus riddled body makes these proteins constantly and they get confused and attack my healthy parts.  This is what causes my inflammation, pain, swelling, fatigue, and general unhappiness.
This diagnosis doesn't actually change my life that much.  I'm fairly certain that I've already been suffering from lupus for at least a year and maybe as long as four years.  But I will finally be treated correctly for my illness and be armed with knowledge that will hopefully improve my life and make it easier for me to function.  That being said, educating myself about lupus has been rather stressful.  Here are some facts about the disease:
1| It's chronic and can't be cured.
2| It's a flare and remission disease.  In other words, my symptoms will fluctuate – sometimes getting worse and sometimes getting better.
3| Having lupus makes me more vulnerable to infections because my immune system is confused and weakened.  (I've had two infections in the last two months, actually.)
4| Pregnancy is riskier for me.  I have a higher chance of suffering from miscarriage or preeclampsia, and there is also some risk for the baby.
5| I need to limit my time in the sun, as exposure is very likely to trigger flares (goodbye tan lines).
6| Lupus can damage any part of my body (skin, joints, tissues, organs).  So, over time, my health care team may expand to include immunologists (immune system), nephrologists (kidneys), hematologists (blood), dermatologists (skin), neurologists (brain), cardiologists (heart), and/or endocrinologists (hormones).  This is in addition to my current team that includes my primary physician, rheumatologist, and therapist.  I'll be going to the doctor a lot.
And the fact that bothers me the most:
7| "Lupus can range from mild to life-threatening… With good medical care, most people with lupus can lead a full life."
Lupus.org
This is the way that lupus is different from my other health conditions.  It could actually kill me.  I've read that full blown lupus can kill people within five years if it's not treated.  Also, since I'm pretty sure that I've had lupus for one-four years already, you can imagine how that statistic makes me feel.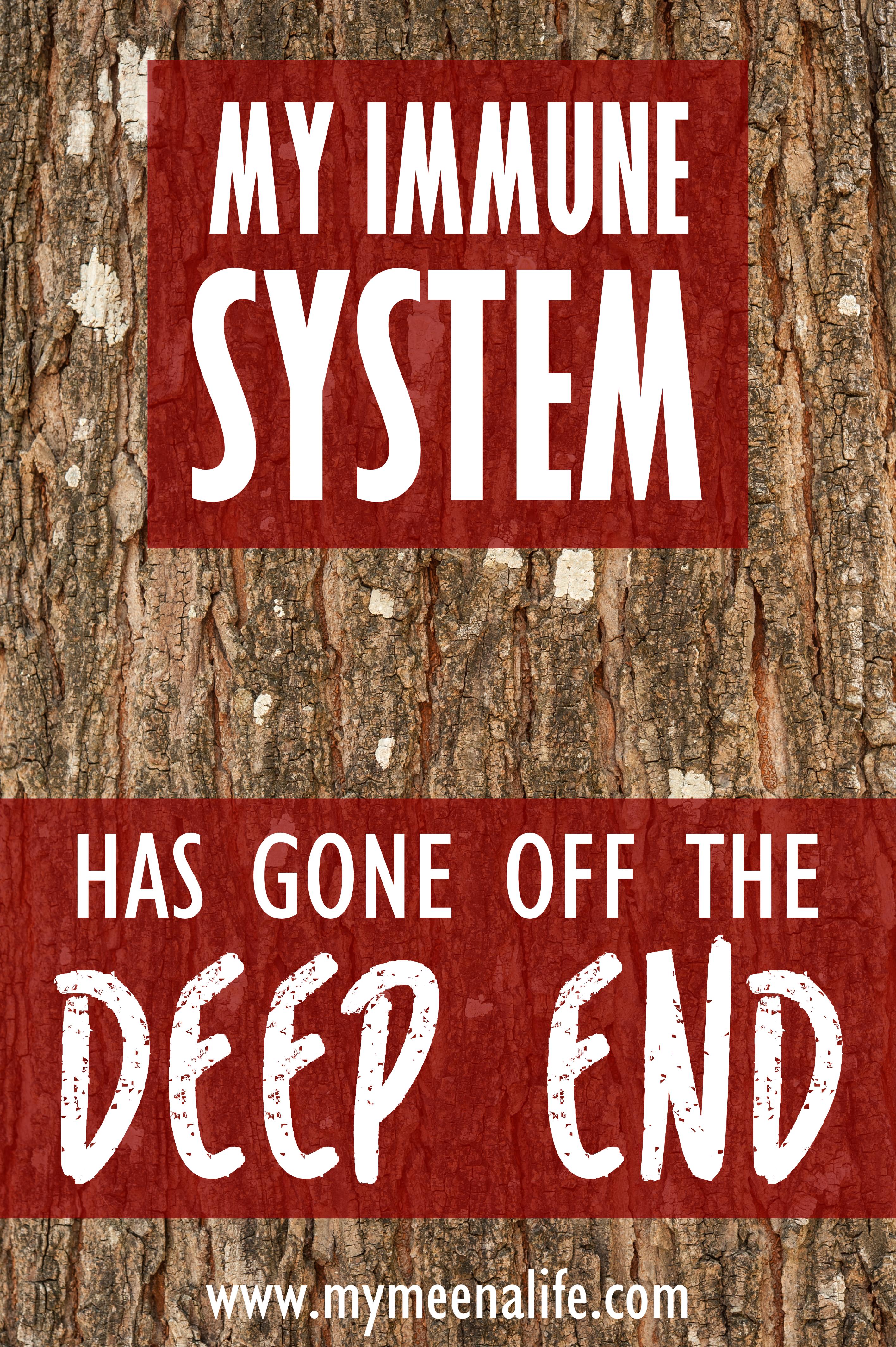 How could lupus kill me?  It could make my body attack my organs, bones, or blood vessels to the point where they malfunction or fail.
Oh, and the medication I'll take to prevent lupus from killing me?  It could kill me, too.  It will suppress my energizer bunny immune system and make me more susceptible to catching a virus or infection.  I will soon be part of that population that really, really needs you to get vaccinated and stay home when you are sick.
Am I being dramatic?  Maybe.  But this is my body, my lupus, and I'll be as dramatic as I want to.  Once you've racked up three chronic illnesses – including a potentially lethal one – you'll find that you have a lot less patience for what other people think.
This is a scary diagnosis for me, and it's going to take time for me to come to terms with it – especially since I'm still coming to terms with the last two.  I'm still only 26 years old and I didn't expect to have my body go haywire so early in life.  I also didn't expect to have a treatment plan that primarily consists of avoiding and or reducing organ damage.  I'm concerned that my need to be closely monitored – and see so many different health professionals – will make it difficult to move to a new city or country (I'd love to be an expat again).  And I'm exhausted.  My body can't handle more than an hour or so of physical activity before it shuts down and I can't get out of bed.
But I have a lot of hope.  I hope that the local support group I've found is a good one.  I hope that I don't suffer terrible side effects from my medications.  I hope that I continue to see excellent doctors, have good health insurance, and receive support from my friends and family.  I hope that my body will calm down for goodness' sake and allow me to wear my wedding ring again.
But my biggest hope is that this diagnosis is not followed by a fourth one.
---
If you want to know more about lupus, I recommend reading How to Explain Lupus to People with Functioning Immune Systems by Lisa from Damsel in a Dress.  Her post is accurate, informative, and hilarious.
On being diagnosed with #lupus.
Click To Tweet
Pin: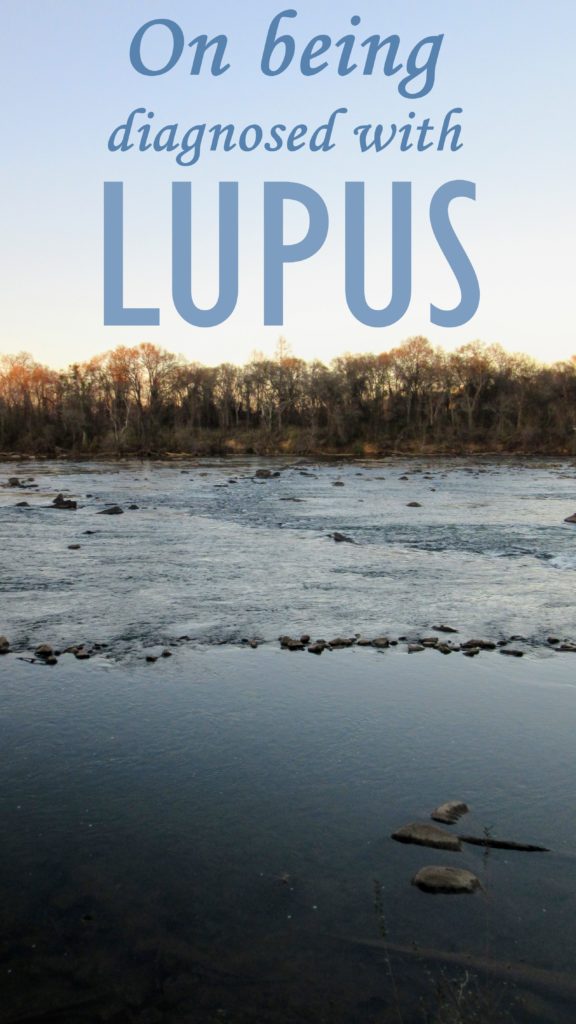 Backgrounds for graphic images by Mypik.