At the beginning of 2017 Mr. Meena and I had been back in the USA, after living in Germany, for less than 100 days.  We were living in an apartment of our own choosing for the first time and generally feeling very conflicted about the direction of our lives.  I guess repatriation tends to do that to you.
Now, 12 months later, we are settling into our first house, preparing to have a baby (!!), and feeling much more certain about who we are and what we are doing.  There are so many important moments from 2017 that it's hard to decide which ones are worthy of this digest.  I'll cover highlights from this blog, our travels, our personal lives, and also include what has happened throughout my 2017 chronic illness journey.
Blog highlights.
My Meena Life turned 2 years old in July.  Woo!
I wrote 28 blog posts this year; quite short of the 72 posts I was aspiring to write!  I wanted to write six per month and I had a seemingly endless supply of ideas – but no ability to work on them for most of the year.  I have been focusing more on longer, higher-quality blog posts, which inevitably means I will post less often.
My blog traffic grew by nearly 250% compared to 2016 and my Pinterest and Twitter channels also grew significantly.
My top five posts from 2017 were:
Tips for Cooking with Chronic Pain.
Grocery Shopping in Germany (Compared to the USA).
A Day in the Life with Lupus.  (Which was just published about three weeks ago.)
Missing Germany: 50 Things I Miss the Most. 
Glamping NC: Staying at the Sky Ridge Yurts near Bryson City.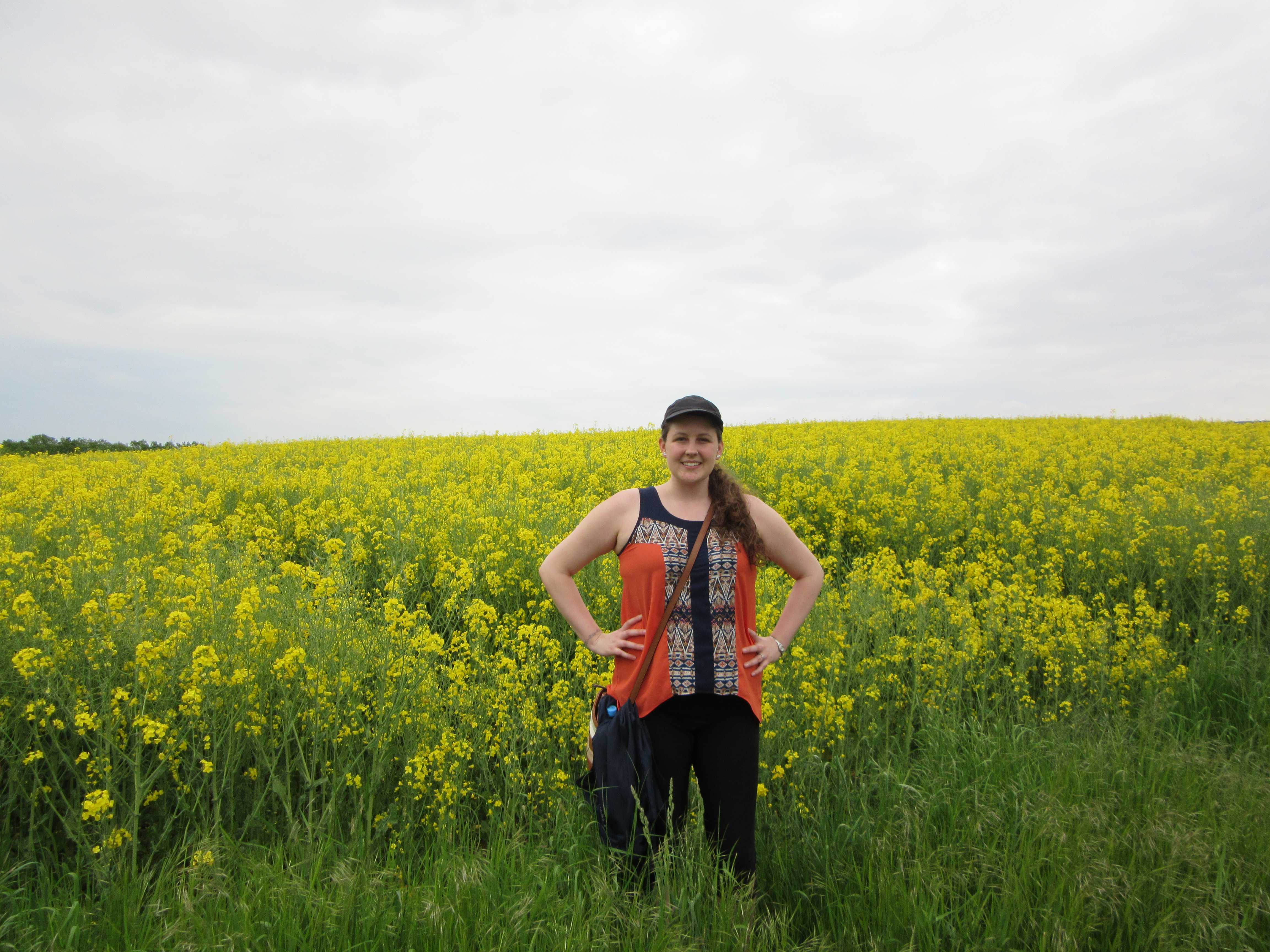 From my Missing Germany post.
Five of the top 10 performing posts in 2017 were published in 2016.  I suppose my blog is old enough now for this to happen.
This year I received a complimentary stay at Sky Ridge Yurts and was later invited to the Stecoah House in exchange for sharing my experiences.  I also received two tickets to Busch Gardens Williamsburg in exchange for a blog post.  I did my first product review (Using Hemp Based CBD Oil for Chronic Pain) and my first sponsored post (13 Haunted Places to Travel for Halloween).
I wrote two guest posts: Germany through American eyes for Anna of Lifestyle Crossroads and Facing Forward, an interview on living with a chronic illness, for Mariah of From This Point. Forward.
I contributed to Episode 53 of The Thoughtful Travel Podcast by Amanda Kendle on Travel with Disability and Chronic Illness, which was recorded in 2016 but published this past May.
My article On Being Thankful for My Spouse as a Chronic Illness Sufferer was republished on ProHealth.
Overall, I was very happy with my blog growth – especially since my blog has started focusing on chronic illness just as much as (if not more than) travel experiences.  I'm really grateful that I can share my life and travels with lupus with other people through this blog.
Travel highlights.
We took eight overnight trips this year, ranging from one to four nights in duration.  We visited three theme parks, took plenty of day trips / hiking trips, and explored quite a bit of our home city (Charlotte, NC).  It doesn't seem like much travel compared to 2016, but I am grateful that we could travel as much as we did considering that my lupus was raging out of control for most of 2017.
My favorite travel experiences were:
+ Catching the sunset at Jockey's Ridge State Park and visiting all five lighthouses in the Outer Banks (North Carolina).
+ Visiting New Bern, the birth place of Pepsi and home to some wonderful bears (North Carolina).
+ Crossing the Mile High Swinging Bridge at Grandfather Mountain State Park (North Carolina)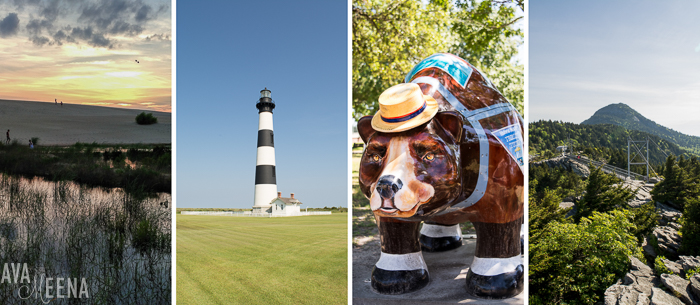 + Driving on the beautiful Blue Ridge Parkway (North Carolina, Tennessee, Virginia).
+ Seeing Linville Falls from across the Gorge (North Carolina).
+ Staying at a luxury yurt for our fourth wedding anniversary and hiking Humpback Rock (Virginia).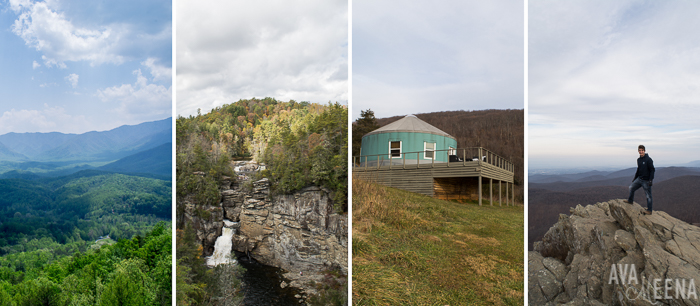 + Visiting Huntington Beach State Park and the Atalaya "Castle" (South Carolina).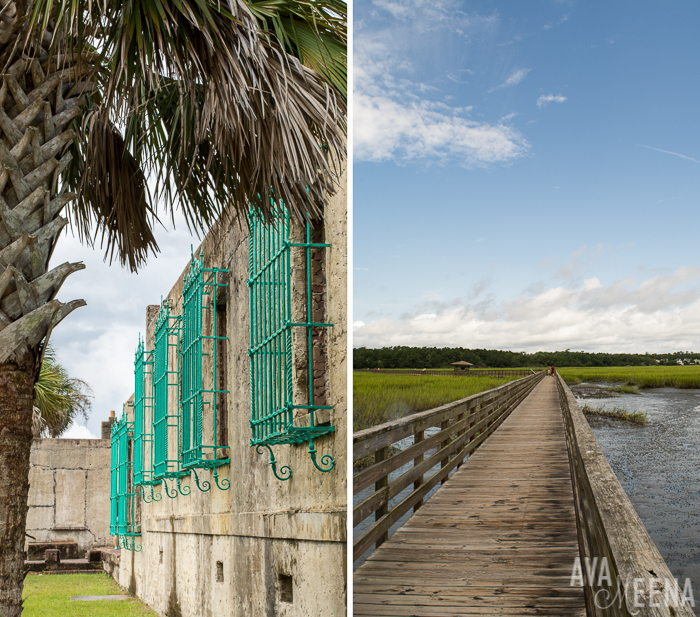 We had some rather strange travel experiences, too.  Such as the time we drove to Elloree, SC just to see a giant, defunct teapot.  And when we found this adorable police station in Ridgeway, SC.  Oh, and when we didn't realize that the Cape Henry Lighthouse was on a military base until we arrived at the gate and had to have an impromptu car inspection.
Our most disappointing experiences included a ride on the Great Smoky Mountains Railroad in Bryson City (North Carolina), visiting Asheville (North Carolina), and visiting Colonial Williamsburg (Virginia).  Each time we were surprised because most people love visiting those places.
And we canceled many trips in 2017 because I was too sick to leave home.  I'm not sure if this is something that will improve over time as I try different treatment plans or if it's simply part of life with lupus that I'll have to learn to adjust to.
Finally, my favorite travel related blog post from 2017 was Koopa the Traveling Pet Budgie.
My 2017 chronic illness journey.
I've been gradually getting sicker since 2014, but I was diving towards my personal rock bottom when 2017 started.  I was exhausted all the time, my joints were painfully swollen, and my muscle-related pain was out of control.  I was diagnosed with fibromyalgia in Germany in 2016 and told repeatedly that anxiety medication and weight loss would solve all my problems.  Fortunately, my primary doctor in the USA disagreed with that sentiment and referred me to a rheumatologist straightaway.
I had my first appointment with my rheumatologist on January 3rd, 2017.  He took one look at my malar rash and told me that he suspected lupus.  I returned three weeks later and my lab work (in addition to my symptoms) confirmed it.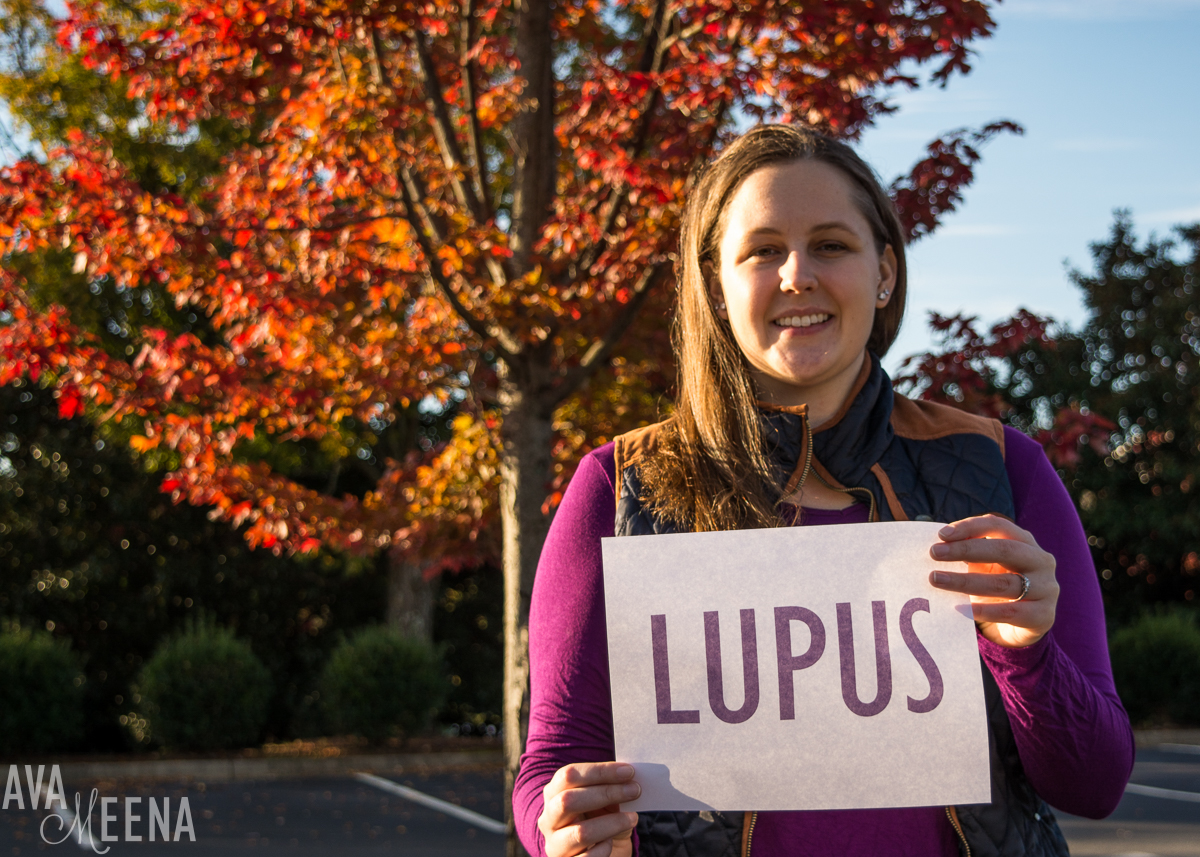 It was life-changing to learn that something was fundamentally wrong with my body.  I felt equally validated that my symptoms had a real cause and distraught that I had such a serious autoimmune disease.  It took me most of the year to come to terms with the fact that having lupus meant that my immune system had failed horrifically.  My body was (still is, actually) trying to kill me from the inside.
Fun fact: The German immunologist Paul Ehrlich did not believe that it was possible for the immune system to attack the body that hosted it: in fact, he described the very concept as "horror autotoxicus" in 1904.
I spent the beginning of 2017 learning about what it means to have lupus while continuing to get sicker.  I read endlessly and started going to a lupus support group in Charlotte.  Educating myself about lupus helped me understand so much about my life – I learned that my frequent bouts of chest pain are caused by pleurisy and that staying out of the sun could help me avoid flare-ups.
For the first six months post-diagnosis my lupus treatment was pretty standard; it consisted primarily of plaquenil and anti-inflammatory medications.  Unfortunately, I saw insignificant levels of improvement on that regimen.  I received opioid pain medication for the first time in May and was eternally grateful to find out there was something that could actually provide relief from my pain.  I went to physical therapy for about two months and found relief from that as well.  Finally, in July, my rheumatologist acknowledged that I was still absolutely sick and miserable and put me on an immunosuppressant, which finally helped!  Now I have very little ability to fight off infections but at least I am slightly more functional and my pain levels are bearable most of the time.
I've written several articles about my lupus journey in 2017:
Diagnosis Number Three: Lupus.
In the Depths of My Sickness with Lupus (and Learning to Put My Health First).
10 Things I Didn't Realize Would Happen After I Was Diagnosed with Lupus.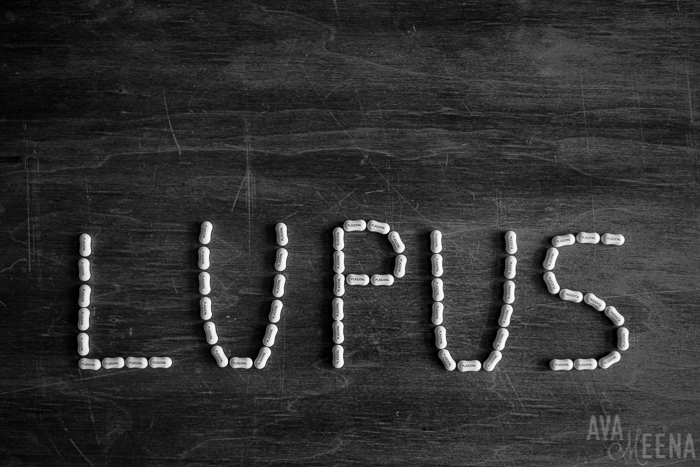 I also dealt with health issues other than lupus (although I'm sure they're linked to lupus in some way).  In May I began suffering from chronic dry eye – which is so much worse than I ever thought it would be – and I saw three different eye specialists who all told me that there simply isn't much you can do for it.  That didn't stop me from trying about a dozen different things and I'm still planning on seeing a fourth specialist in a few weeks.  I have learned this year that I can't just accept poor health, even when doctors try to convince me that I should.
I also began treatment for my chronic high blood pressure this year – starting one medication in April and then switching to a slightly different one after I became pregnant.  I've had hypertension for at least three years, but at each appointment doctors and nurses would just chalk it up to nerves or stress.  I finally demanded to be treated for it and I'm glad that I did because it was at least somewhat controlled prior to my pregnancy.  Sometimes we have to fight for our own health!  (Okay, a lot of times.  Most of the time, in my case.)
To me, 2017 will always be my "year of diagnosis" and the year that changed the course of my life.  It's the year that I learned my body is broken and I will always be limited in what I can do.  It's the year that my husband learned what it means to be a caregiver.  It's the year that we spent an obscene amount of money on healthcare.  But it's also the year I learned that I can withstand tremendous agony and still persevere to have a life worth living.
Personal highlights.
Almost immediately after we returned home from Germany it became clear that Mr. Meena needed to find a different job.  There were many issues with the US branch of his company that we found unacceptable.   So the start of 2017 was also the start of Mr. Meena's job search.  It took eight long, stressful months of applying to jobs before he finally matched with the right company.  The process took a toll on us; Mr. Meena would come home and (in addition to having to take care of me and do household chores) have to spend the evening looking for job openings, editing his cover letters, or preparing for phone interviews.  He had to use or keep in reserve most of the seven (!) annual vacation days that his company allowed him to actually go to a few interviews.  This is part of the reason why we weren't able to travel much.  We also couldn't make plans far in the future because it was possible we would be relocating for his next job.
It was a huge relief in August when things were finally settled with his new job and he was able to take a (much needed) week off in between jobs.  His new company was also in Charlotte which meant that we would be sticking around long enough to purchase a house.  We closed on our new home right before Thanksgiving.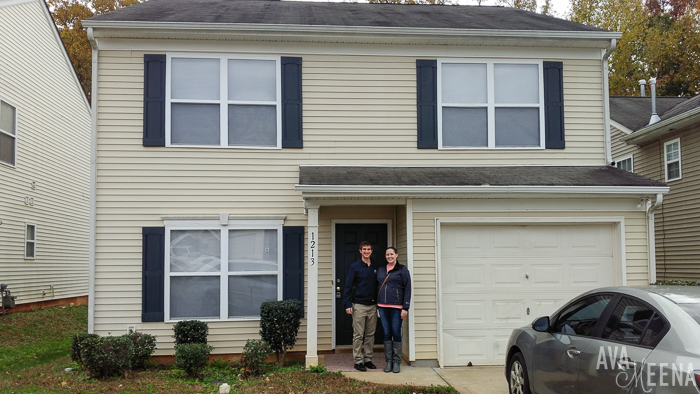 The Charlotte real estate market is a little crazy right now so we just snatched up the first house close to his job that we could afford and we're making the best of it.  It needed some serious TLC.
Another reason why we decided to buy a house is that we discovered at the end of September that I was pregnant!  This wasn't exactly something we planned on and so the last few months of 2017 have been interesting as we've started preparing to be parents.  Nonetheless, we are definitely looking forward to being a family a three.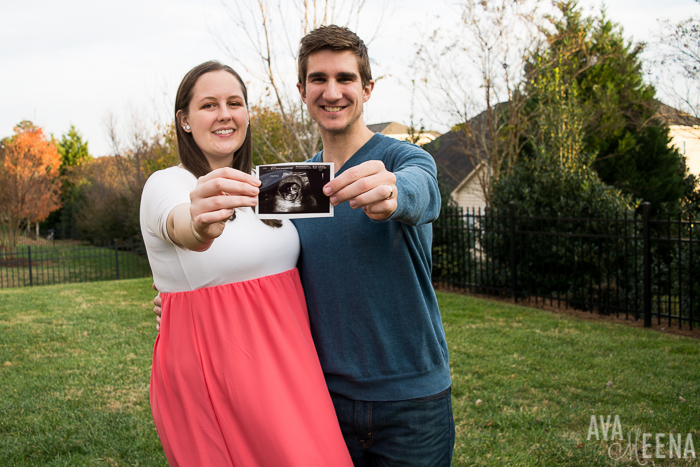 Between a new baby arriving in May(ish) and moving into our house (which is actually happening this weekend), I'm really grateful that we were able to achieve our goal of downsizing this year.  We sold nearly 130 of Mr. Meena's childhood Lego sets on eBay, took a dozen boxes of stuff to Goodwill, held a sizable garage sale, and gave several items away to our friends and family members.  Mr. Meena's goal was to own next to nothing and my goal was to be reasonably minimalistic and, for the most part, we happily met in the middle (except for the time he donated my hot water bottle – that didn't go over very well).
Overall.
I never expected 2017 to be so full of struggles and new beginnings.  I thought our whirlwind year of living in Germany and traveling Europe together couldn't possibly be outdone.  And while our 2017 travels were certainly limited by a shortage of vacation time, health issues, and spending most of our money on healthcare expenses, this year still gave us so many valuable things.
I'm grateful that we were able to identify the cause of my sickness, that Mr. Meena found a job that he's happy to go to each day, that we found a home to make our own, and that we (somewhat inadvertently) created a new life together.
Looking back at 2017 as a whole makes me feel a bit awestruck – and it also makes me realize that anything can happen between now and next year!
What has happened in your life in 2017 – what are you proud of or grateful for?
You can read my 2016 Yearly Digest here.